There are thousands of fungi species in North America, and only a small amount of them are edible. And, among the edible species, some might be safe to eat but don't taste that great or are a huge pain to forage. This top 25 list of edible mushroom species to forage features North America's more accessible, best-tasting species.
Most of these species are relatively easy to identify with a little bit of studying and time out in the woods. If you're primarily interested in foraging edible mushrooms for the table (not the psychoactive ones), then this list is a great place to start.
While all these species grow somewhere in North America, they don't all grow in every region. You'll need to determine which species grow near you so you can focus on which ones to study and look for foraging.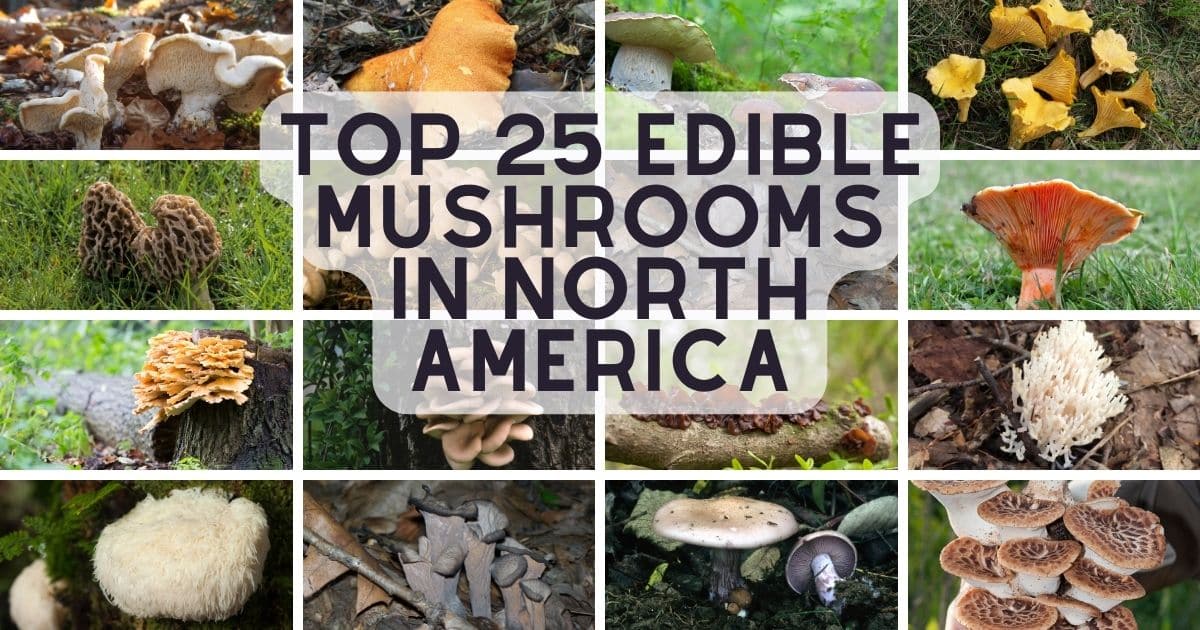 Jump to:
Top 25 Edible Mushrooms Species of North America
Chicken of the Woods
One of the absolute best edible mushrooms, chicken of the wood's brilliant orange coloring and growth habits make it pretty easy to identify.

Morels
Oh, the famous morel! Morels grow across North America — make sure you read the guide to understand which ones fruit in your area and what trees to look under.

Oysters
There are around 6 species of "oyster" mushrooms in North America. They aren't all technically the same family, but they do closely resemble each other and are commonly all called oysters.


Chanterelles
Sweet golden chanterelles are gold for any forager. Their sweet, delicate flavor improves any dish. There are many species here. Many know the golden yellow ones, as those are the most common, but there are also red and white chanterelles.

Hen of the Woods/Maitake
This fall fruiting species likes cool weather and oak trees. It is more common in the northeast and midwest. Maitake is one of the best edible species for its versatility in cooking and excellent flavor.


Black Trumpets
These rich mushrooms appear in fall in vast patches, but they're hard to find because they are finicky and blend right into the forest floor. They're worth the effort, though, for their intense umami flavor and delicate texture.
.
Hedgehogs
Little hedgehog buttons are adorable and delicious. These mushrooms with teeth instead of gills fruit in autumn and have a dense, meaty, and very pleasant nutty taste.

King Bolete (Porcini)
The king bolete is a superstar among edible mushrooms with many common names, including piggy, cep, and porcini. It is widely foraged across the world and valued for its extremely dense, meaty texture, and divine flavor.

Dryad's Saddle (Pheasant Backs)
An early spring mushroom that often gets overlooked, dryad's saddle is worth seeking out. You have to get them when they're young or else they're super tough, though. They are succulent and incredibly flavorful. And bonus, they're often found in dense clusters and make many meals. They're also strikingly beautiful!

Saffron Milky Caps
The saffron milky cap stands out on the forest floor with its brilliant orange coloring. It is relatively easy to identify due to the coloring and the way the gills stain green. They're an excellent edible mushroom species with a mild flavor and dense texture.

Indigo Milky Caps
Like the saffron milky cap, the indigo milky cap is identifiable by its brilliant coloring and staining. In this case, though, the cap is blue with stunning blue gills. Indigo milkies might have a mild mushroom flavor or be a little peppery; there is a lot of variation between specimens.

Big Puffballs
Is it a volleyball sitting in the middle of the field or a massive puffball mushroom?? Make sure you investigate because if you find a giant puffball, you'll be eating well for days. These massive mushrooms don't have a lot of flavor, but like tofu, soak up the flavors of what you cook it with.

Little Puffballs
Like their big brothers, little puffballs are edible and an excellent species to know. They're much smaller and it takes a lot of make a dish, but they like to fruit in massive, scattered groupings.

Shaggy Mane
These striking shaggy capped mushrooms have a superb flavor and texture. They're a delight to find and a true delicacy of flavor. Shaggy manes fruit in late summer and fall in grassy meadows and along roadsides, so keep your eyes alert for them in season.

Beefsteak
This edible mushroom species is an odd one, to say the least. It looks like a slab of steak growing out of a tree. While it looks like a red steak, it doesn't taste like that; instead, it has a tangy, almost sour flavor. It's a fun mushroom to find and experiment with in recipes.

Blewits
The blewit is beloved for its late season fruiting. It can be found in late autumn and even into winter, sometimes fruiting when there is snow of the ground. They're not the most choice edible mushroom species, but they are delightful when there is so little else out in the woods to forage. Plus, they're beautiful!

Crown-tipped Coral
With an appearance remarkably similar to ocean coral, the crown-tip is a delectable little foraging find. It is appreciated for its fine, crunchy texture, and nice flavor.

Matsutake
Also known as the pine mushroom, matsutake isn't an easy species to find since it is rather unremarkable looking from above. However, it is worth the hunt for its prized, strongly aromatic, flavor and meaty texture. Asian cultures value this species highly; it is seriously unlike any other mushroom taste-wise.

Cauliflower fungus
If you are lucky enough to find this edible mushroom species, you're in for a treat. This isn't a difficult species to identify, but it is uncommon, making foraging it more a matter of happenstance. The most important key to foraging cauliflower fungi is knowing the absolute gem you have stumbled upon.

Lion's Mane
This is a top edible mushroom species that is really having a moment. They're easy to cultivate, have a dense, meaty texture, and are super adaptable in recipes. You can find them in the woods too, in autumn. There are three species in the Hericium genus that get called Lion's Mane interchangeably. They're also known as bearded tooth, bear's head tooth, coral tooth fungus, and coral hedgehog — common names that get mixed up with other edible species with similar names.

Lobsters
A mushroom that's the same color as the sea lobster AND tastes a bit like seafood — yes, Mother Nature is having fun with us. This edible mushroom is actually the result of a rather boring species being parasitized by the lobster fungus, to create a transformative delicious species.

Wood Ears
These bizarre fungi look almost freakily like ears, but they're a fine, delicacy, and highly valued especially in Asian cultures. Wood ears are slightly rubbery, still a bit crunchy when cooked, and have mild flavor. They add an interesting texture and bulk to soups and stir-fries.

Brick Caps
A late fall species, brick caps appear in huge, dense clusters around dead and dying logs and stumps. While they aren't the absolute tastiest mushrooms, they are an excellent foraging find due to their substantial numbers.

Prince Agaricus
The prince of mushrooms is grand eating. It is big and usually appears in significant numbers, so you'll be eating well for days. Prince Agaricus is pretty easy to forage because it smells intensely like almonds!

Yellowfoot
A relative of the chanterelle, yellowfoot mushrooms are a must-know edible species. They fruit in massive patches, are easy to identify, and taste delicious. They tend to appear later in the season and in the PNW, can be found throughout winter in some areas.

How To Get Started Foraging Mushrooms
If you're new to foraging, the breadth and variety of mushrooms can be overwhelming. It's easier if you start out with a few simpler species and focus on identifying them 100%. The best ones to start with are chicken of the woods, oyster mushrooms, lion's mane, hedgehogs, and puffballs.
These guides will also help you get started on your foraging journey: