The term "lion's mane" sounds like something you'd find roaming the plains of the Serengeti. Yet did you know the lion's mane mushroom is also the common name for an edible mushroom with promising medicinal properties?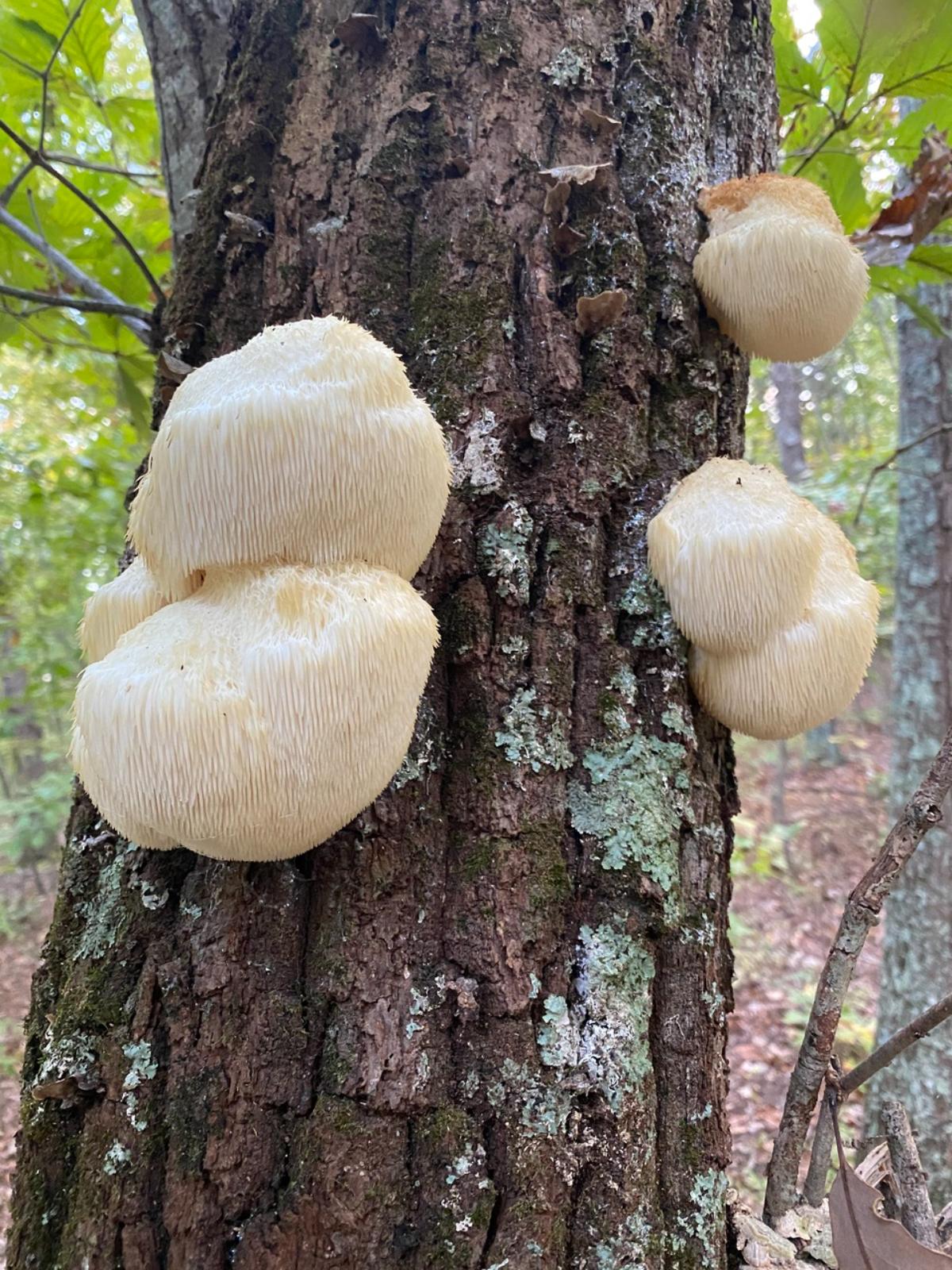 Hericium erinaceus is one of the more interesting-looking types of mushrooms out there. In place of the traditional mushroom cap is a large clump of teeth, which are spine-like structures a few millimeters long.
The purpose of these teeth is to manufacture and release spores, the "seeds" of a mushroom that allow the fungal organism to reproduce. Many different types of mushrooms have teeth instead of a cap, but the lion's mane mushroom and other members of the Hericium genus are some of the most recognizable.
These mushrooms provide more than just a visual treat. They are a gourmet edible, with a wonderfully chewy texture and taste slightly reminiscent of seafood.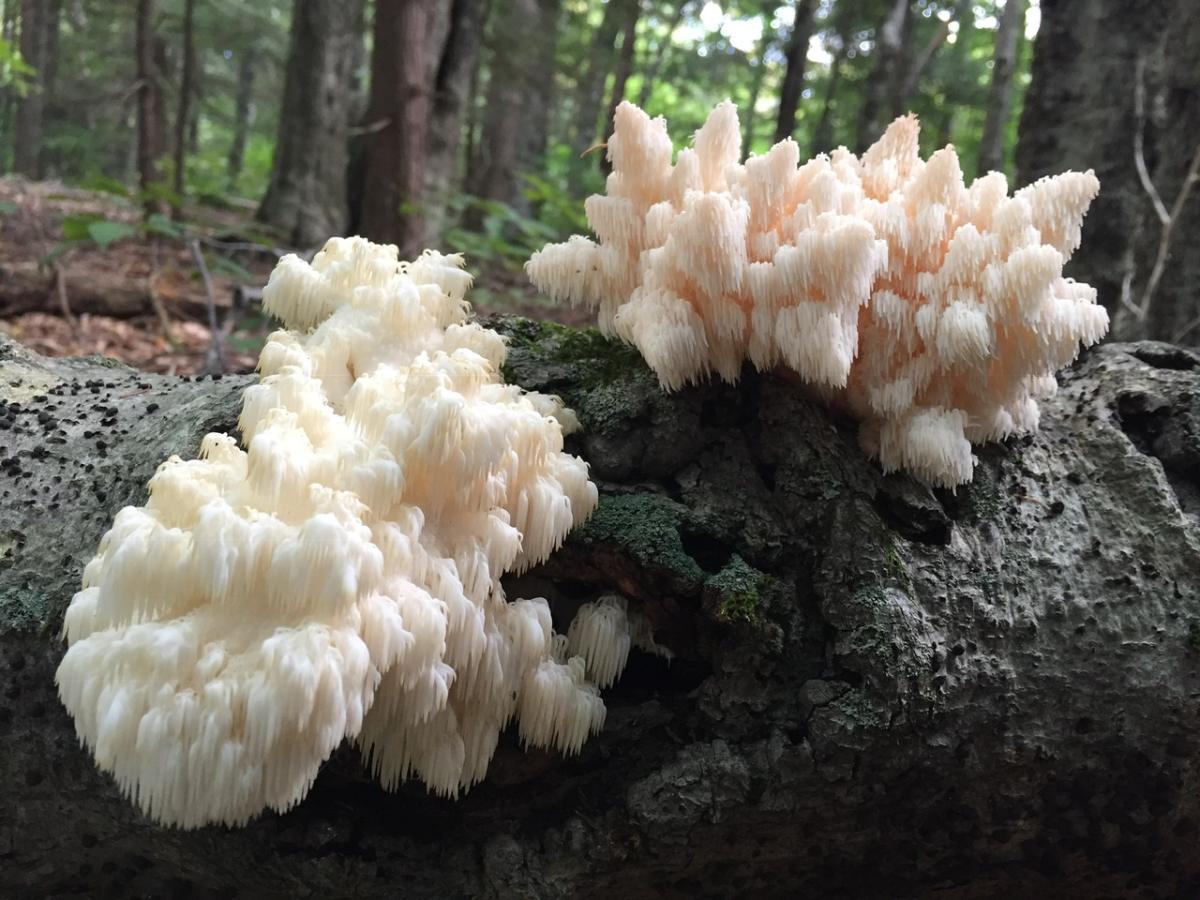 The lion's mane mushroom has also been the subject of more and more medical studies in the past decade. They appear to have nerve regenerating properties, stimulating nerve growth and aiding those with cognitive impairments. Yesterday's funny-looking mushroom may be part of tomorrow's dementia treatment.
Intrigued? There's a lot more to learn about Hericium erinaceus!
Jump to:
Lion's Mane Mushroom Facts
This species has many names including the bearded tooth mushroom and the pom pom mushroom. It is sometimes called the hedgehog mushroom, although that name usually refers to a different species altogether, Hydnum repandum.
All species of Hericium are considered saprotrophs, meaning they feed on dead material. Hericium erinaceus is also a parasite, meaning it attacks and kills living trees.
Lion's mane mushrooms are found in late summer to fall on dead or dying hardwood trees, especially oak and beech. One western species grows on conifer trees and has a longer season. They grow in North America, China, Japan, and Europe.
This doesn't look like your typical mushroom. It has no real cap and no stem. Instead it sports long spines (greater than 1 cm) coming out from a single clump.
The lion's mane mushroom color is mainly white, although they become brown or yellow with age. Their spore print is white as well.
This is not a common species of mushroom, so finding one may be a rare treat. They grow higher up on trees rather than at the base, which means that they're also often missed during a mushroom hunt.
North American Lion's Mane Species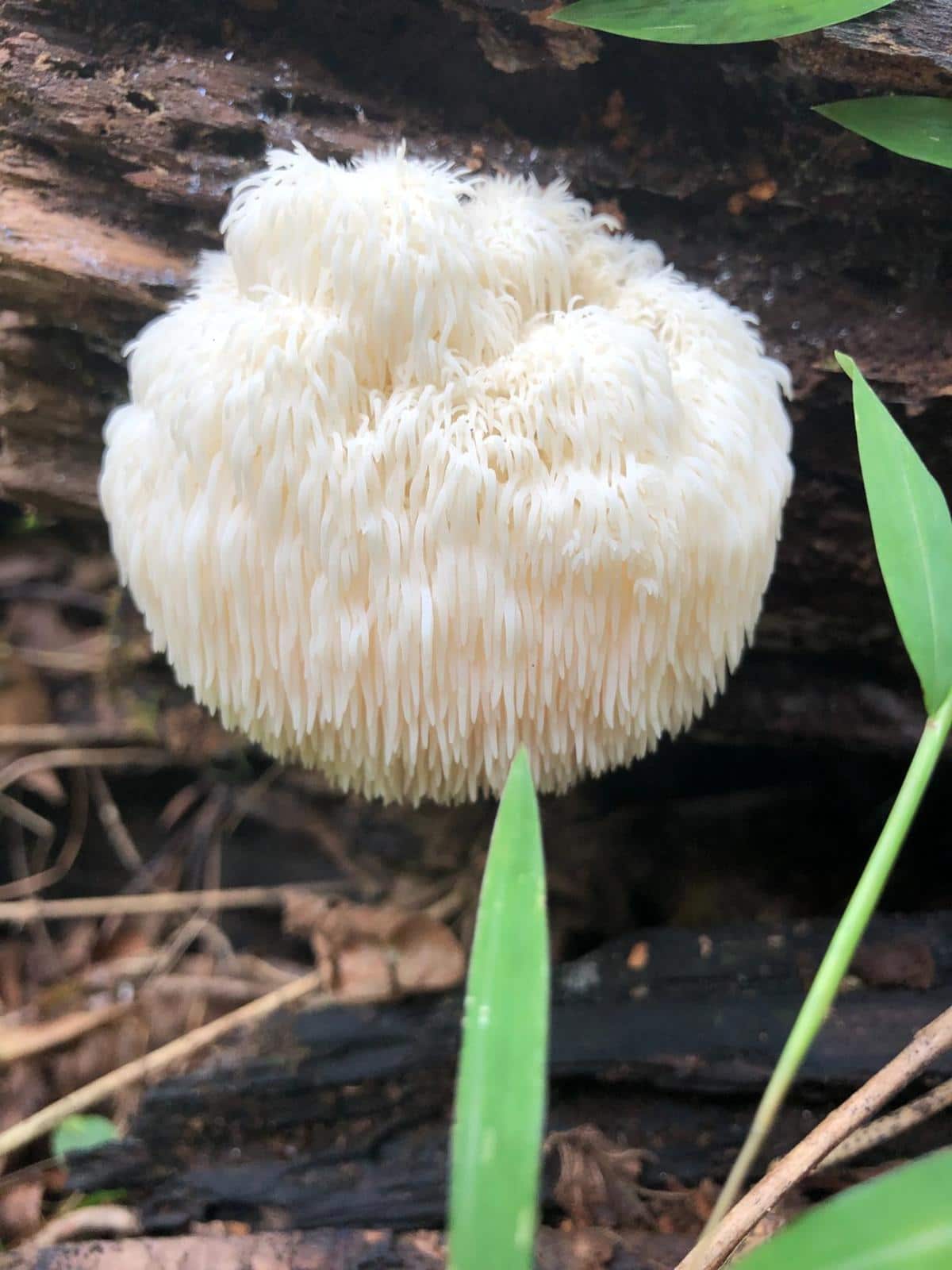 Lion's Mane (Hericium erinaceus)
Also known as: Bearded tooth fungus, Mountain priest mushroom
This is the type species of the Hericium genus. It is commonly named and known and most people use this name to describe all species in the genus. Lion's Mane mushrooms are distinctive, easy to identify, and one of the best tasting edible mushrooms.
This species is usually easy to differentiate from the other Hericium because it is the only one that forms a single clump without branching.
Region: across North America
Season: Late summer to fall, sometimes into winter
Habitat: Dead or dying hardwoods, preferring maple, oaks, and American beech trees
Size: 2-15.5 inches diameter
Shape: Rounded, compact, with .25-1.75 inch long spines and no branching
Color: White or cream
Notes: This species is red-listed in Europe due to poor germination and reduced habitat.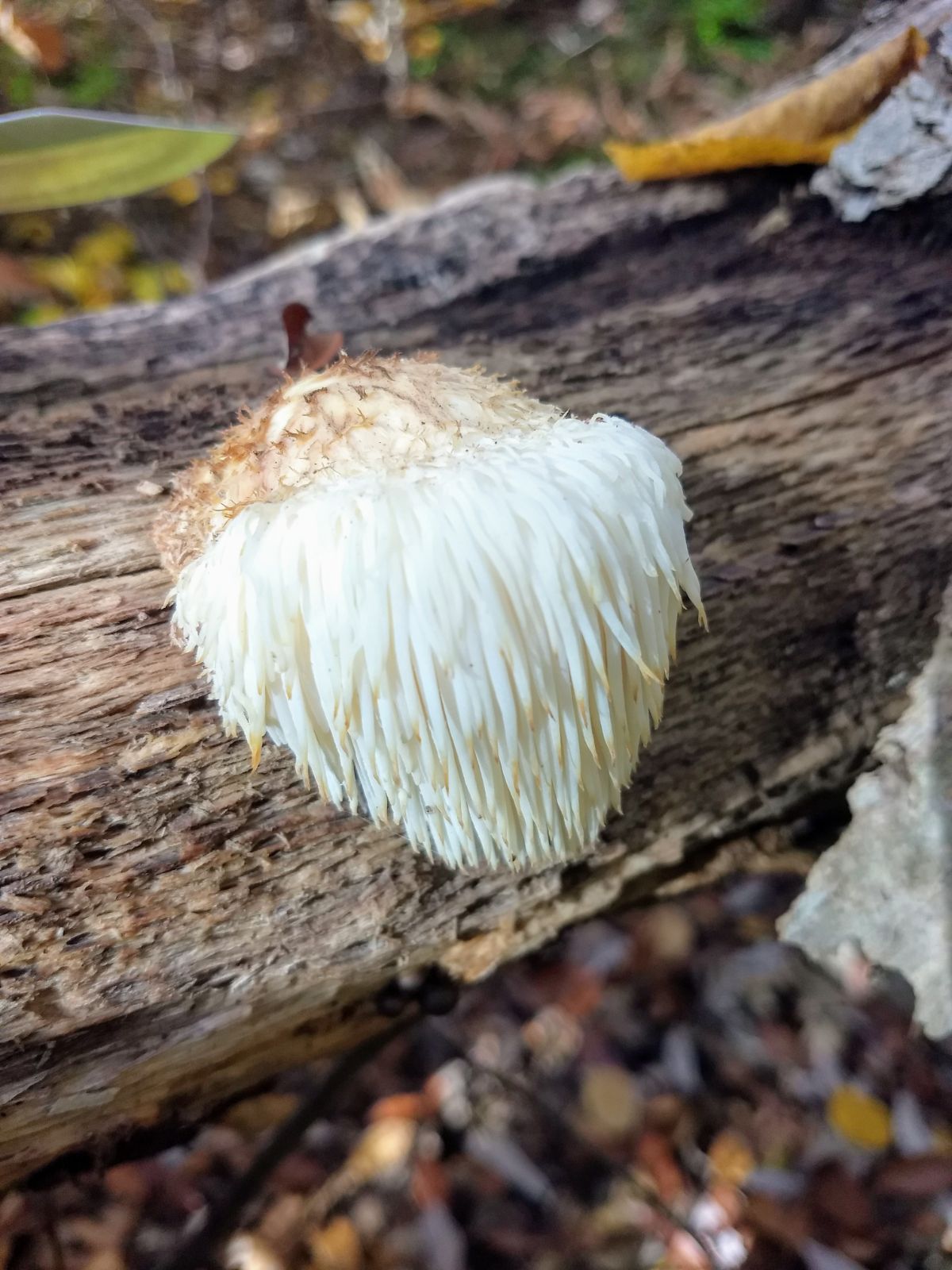 Bear's Head Tooth Fungus (Hericium americanum)
Region: east of the Great Plains
Season:
Habitat: Dead and dying hardwoods, less frequently on conifers
Size: 5-11 inches wide
Shape: Many cascading branches, tightly arranged, with long spines
Color: White or cream
Notes: Looks very similar to Coral Tooth, but the spines of Bear's Head are longer and the branching is not as outstretched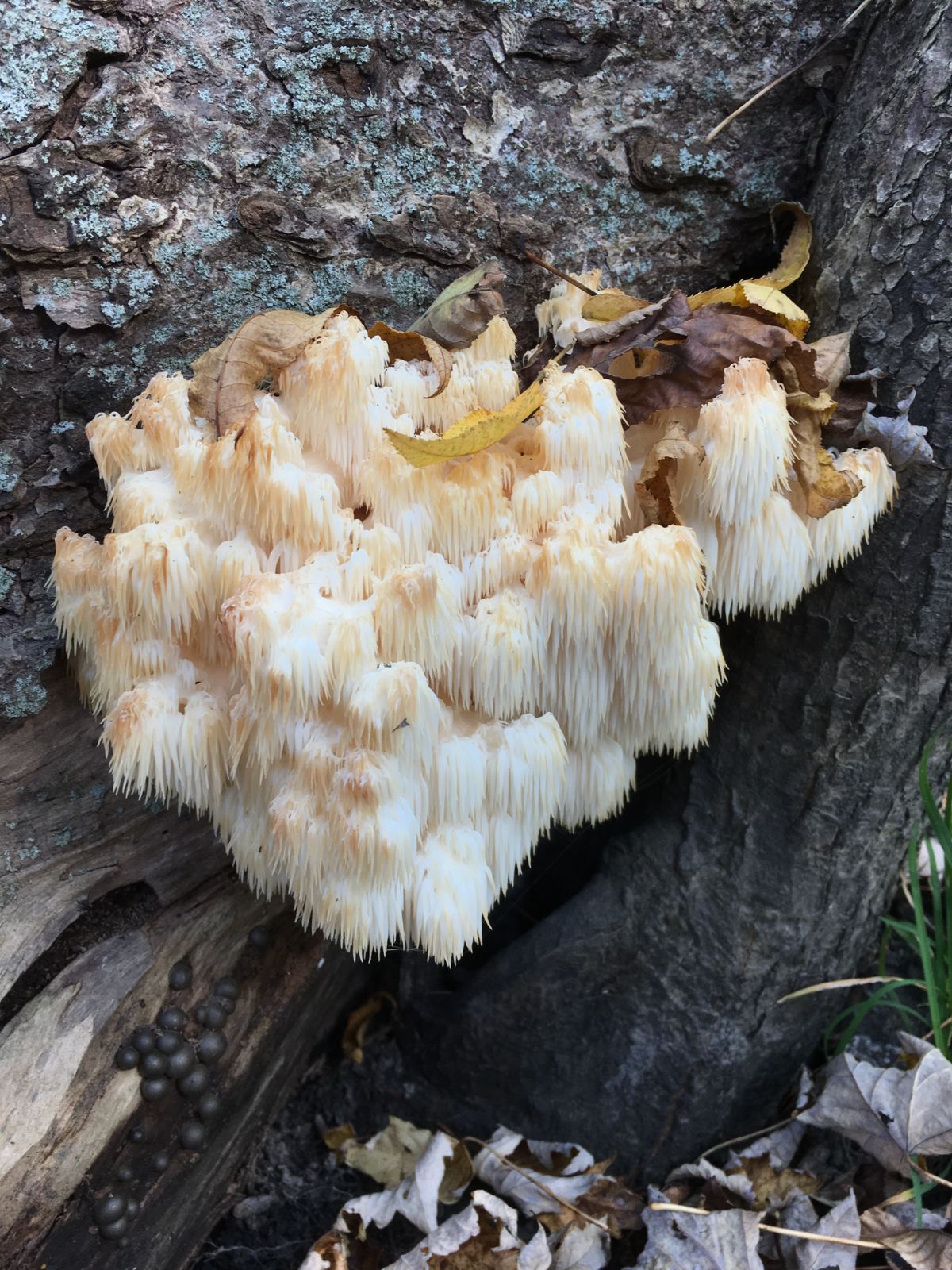 Coral Tooth Fungus (Hericium coralloides)
Also known as Comb tooth
Region: North America
Season: Late summer into fall, possibly winter
Habitat: Dead or dying hardwood trees
Size: 3-8 inches wide
Shape: Many wide delicate outstretched branches that grow in rows and short spines. Looks like many cascading short icicles.
Color: White
Notes: The spines on this species look like snowflakes or coral growth – this sets it part from all the others.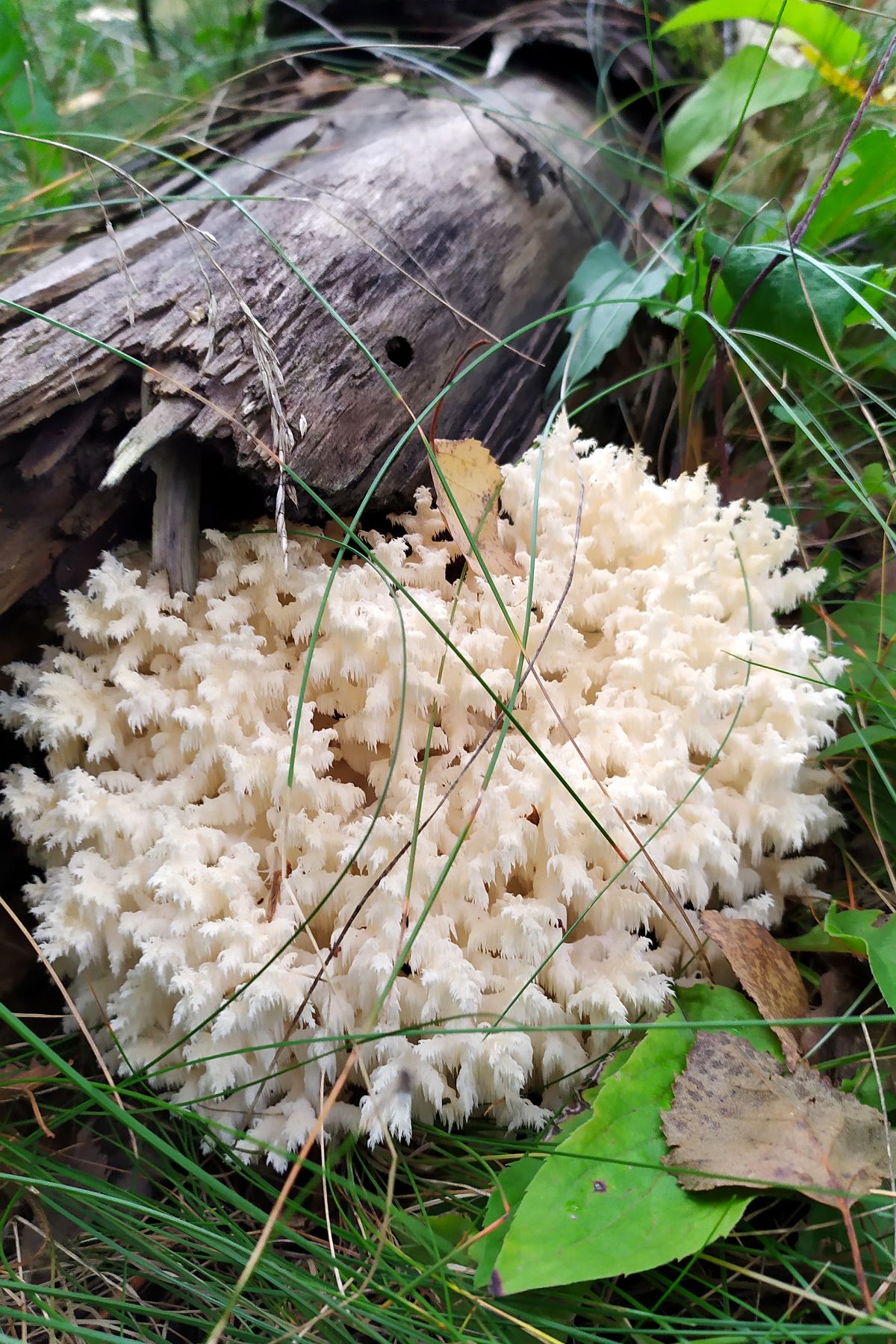 Coral Hedgehog (Hericium abietis)
Also known as Bear's Head
Region: Northwestern North America (northern California to Alaska)
Season: Fall and winter
Habitat: Conifer stumps and logs, especially Douglas fir
Size: 4-30 inches tall and wide
Shape: Many branches growing compactly; long white spines in clusters at the end of the branches. The peaks of the branches often have short spines and then there are longer spines flowing beneath it.
Color: White to yellowish, sometimes pinkish
Notes: May look like H. erinaceus when young, but that species grows on hardwoods and this one grows on conifers.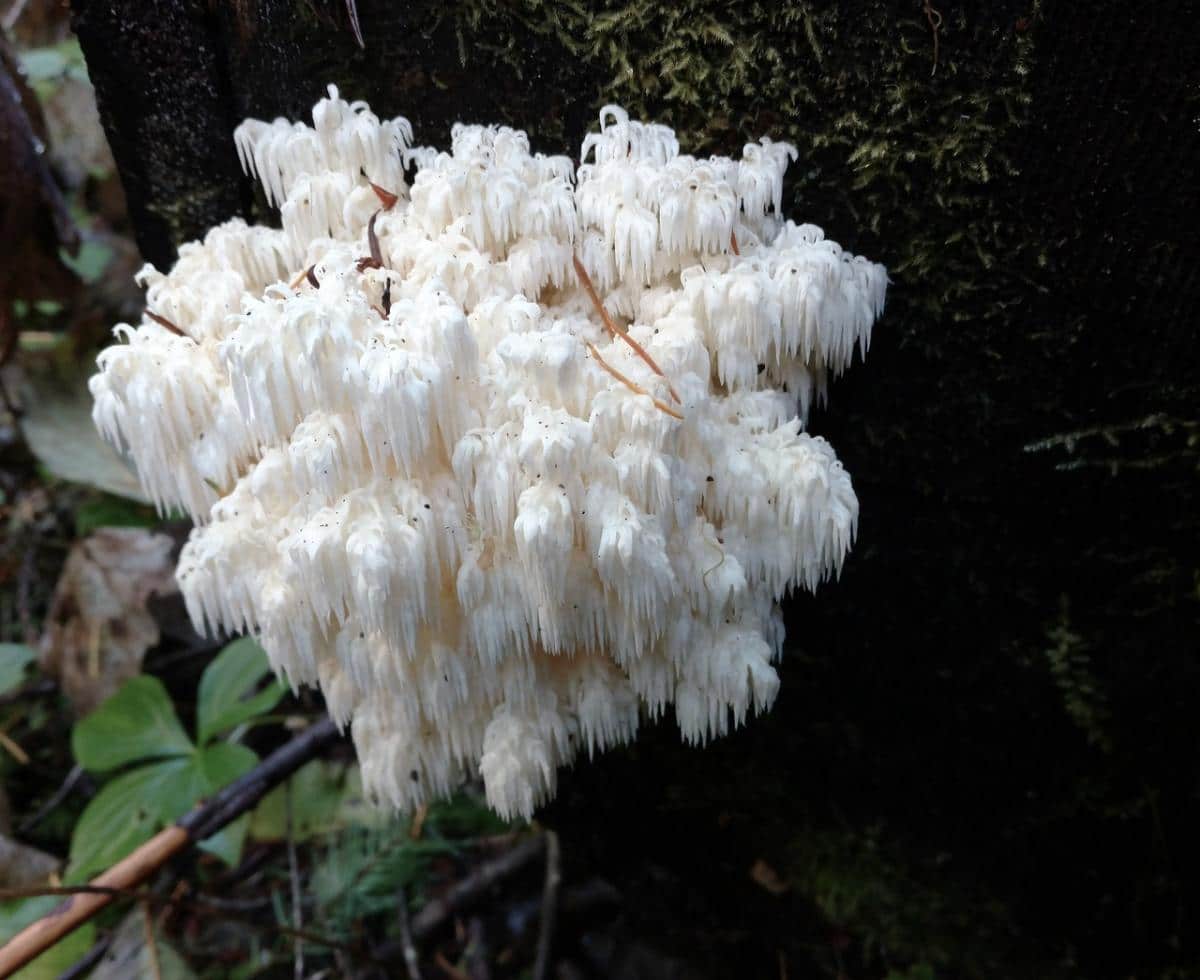 Foraging Lion's Mane Mushrooms
Season
Late summer through fall is the most customary time to find all the Hericium species. However, there is some variance based on regions, climates, and species. On the west coast, you should keep looking in winter and spring. They won't grow if it's freezing, so northern folks won't see them in winter.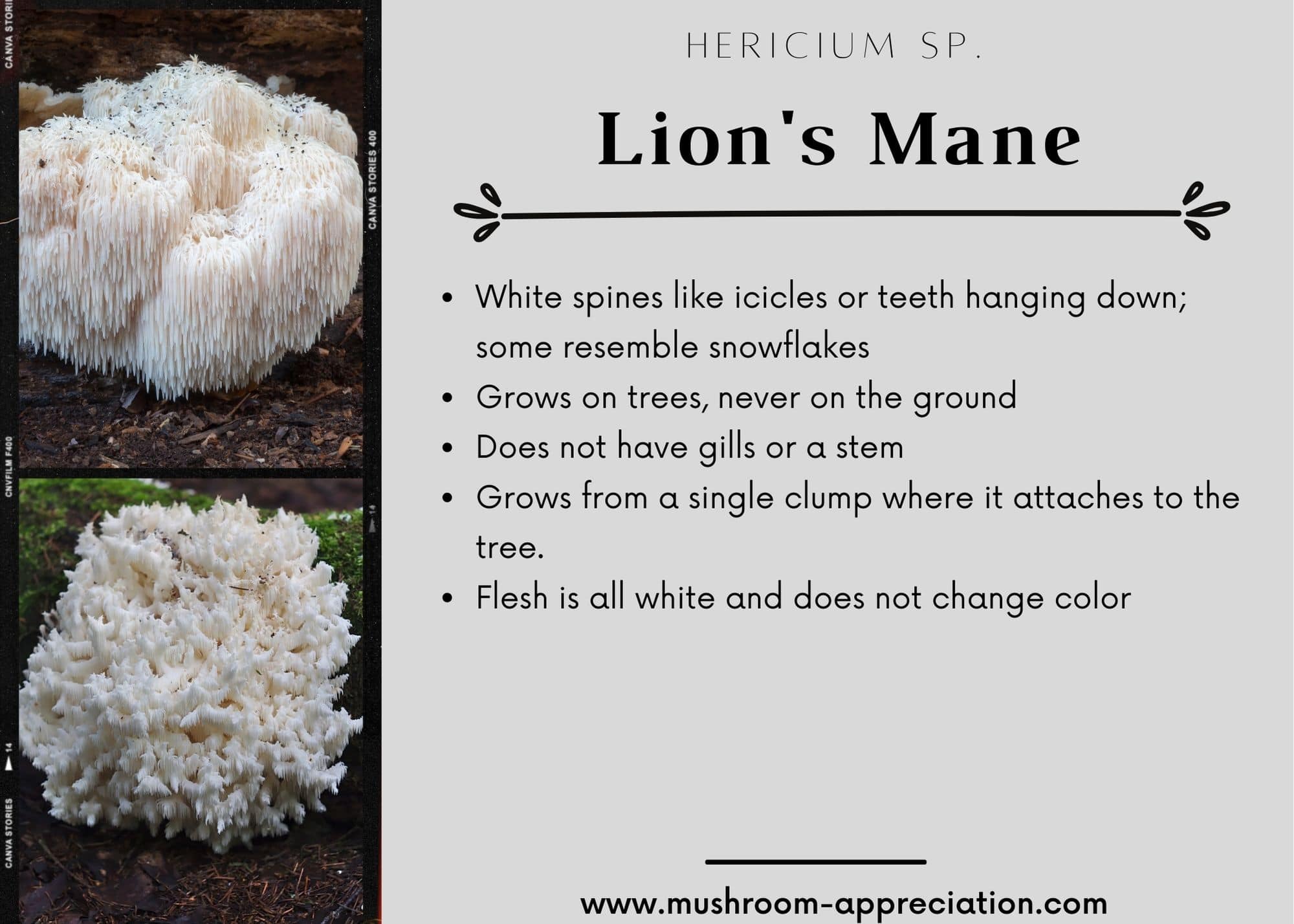 Habitat
Dead or dying trees. On the east coast, it is most common to find them on hardwood trees while on the west coast it is more common to find them on conifers. However, this is just commonality. The most widespread species, H. erinaceas, the "true" Lion's Mane grows on both hardwoods and conifers.
Hericium species grow on dead or dying trees. It is normal to find them on dead stumps or logs on the ground and higher up completely dead or dying trees.
On The Lookout
Lion's mane are easy to spot in fall in regions with primarily deciduous trees. When all the trees have lost their leaves, the bright white lump on the tree is eye-catching. Keep your eyes peeled for the flash of white – there is very little else white in the forest at that time.
These mushrooms also stand against the deep green foliage of conifer trees. They may not be as easy to spot since the tree branches often block the mushroom, but a little glimpse of white should send you looking for it.
There is no trick to foraging Hericium species; just keep looking, especially in fall. And, don't forget to look up as many times they'll be growing out a dead portion of a tree. This is when tree-climbing skills come in handy!
Foraging Tip: I've foraged many a lion's mane after seeing a flash of white while speeding down the road. This is especially true for those further up a trunk and easier to see. In October, a bright white lump growing on the side the tree has a 90% chance of being a Lion's Mane species.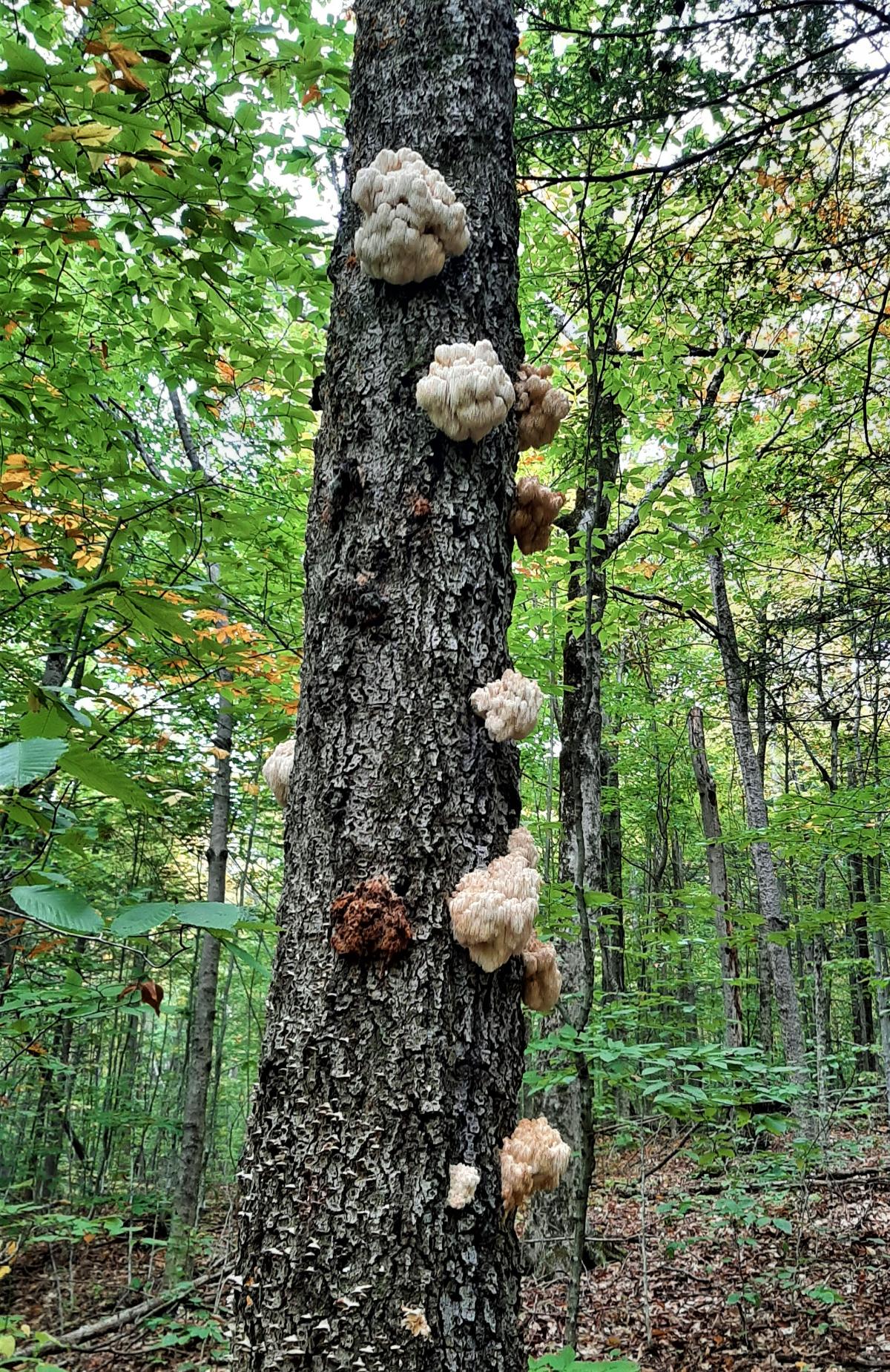 Medicinal Lion's Mane Mushroom – A Dementia Treatment?
Lion's mane has many uses beyond just looking really cool. This strange specimen is considered a medicinal mushroom.
Traditional Chinese Medicine has long prescribed it for stomach problems and cancer of the digestive organs. Modern research suggests that these mushrooms also have antibacterial and anti-inflammatory properties, as well as support the immune system against certain types of cancers.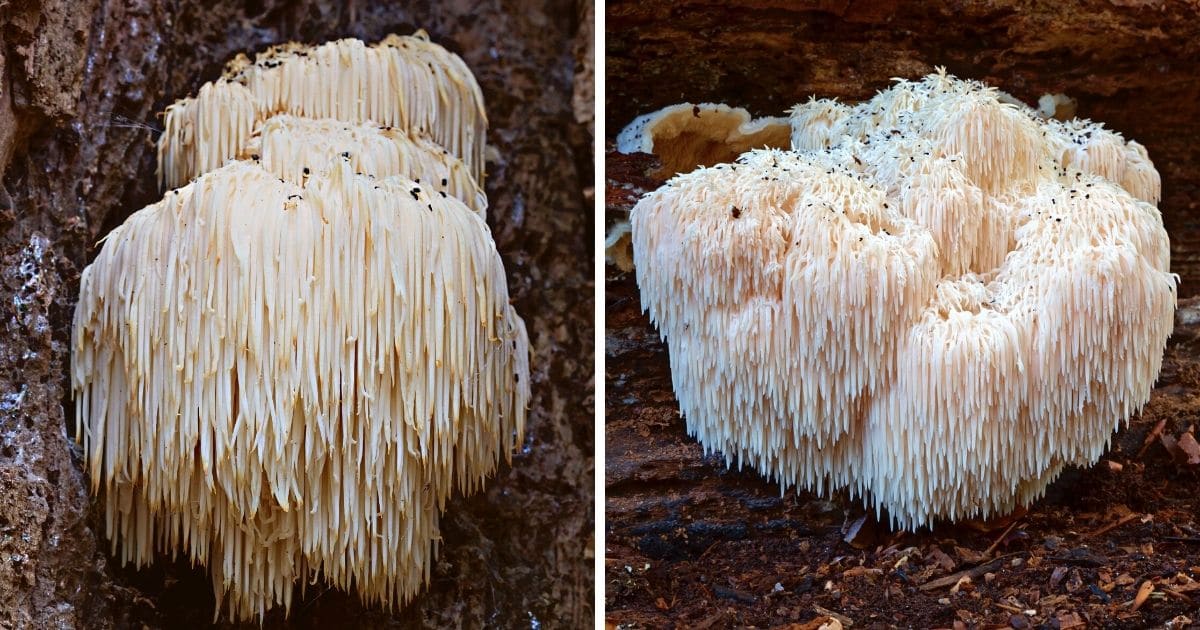 Yet the most exciting discovery about this mushroom is its ability to possibly heal nerve tissues. It contains molecules known as hericenones and erinacines, two compounds suspected to stimulate nerve growth factor (NGF).
NGF is a protein necessary for nerve cells that send information to the brain to function properly. Lack of NGF is considered a cause of certain neurological problems such as Alzheimer's and dementia.
Unfortunately, this protein can't pass through the blood-brain barrier. So treating dementia by injecting NGF into the body isn't going to work.
This is where the lion's mane mushroom comes in! Due to their low molecular weight, the nerve regenerating compounds in this mushroom does pass the blood-brain barrier. This allows them to stimulate and repair nerve cells in the brain itself, increasing cognitive function.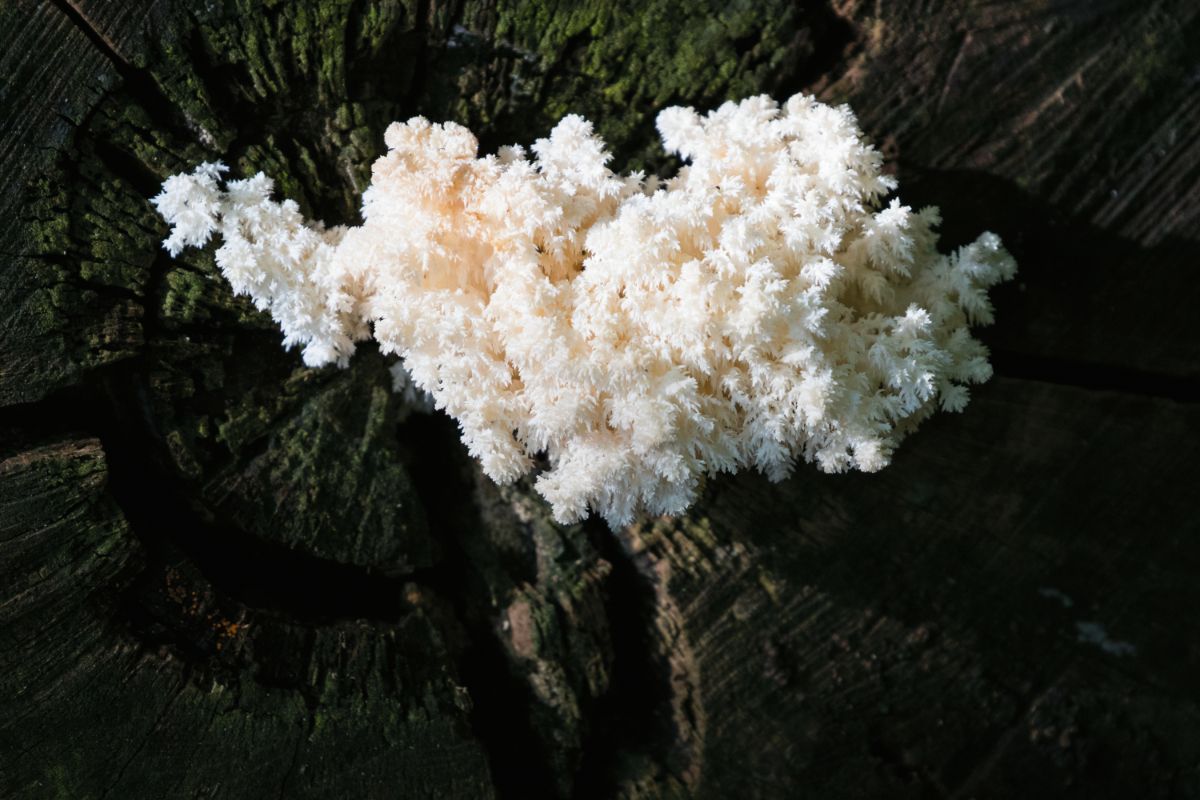 Healing neurons and myelin (the sheath surrounding nerves) may be useful in treating:
Dementia
Alzheimer's
Muscular Dystrophy
Senility
Parkinson's Disease
Other Neurological Conditions
I say possibly as more research still needs to be done before we call this a concrete dementia treatment. Many initial studies seem very promising, including this one done in Japan on people with mild cognitive impairment.
If you want to start supplementing then it's important to buy from a reputable company. There's a lot of hype surrounding Hericium erinaceus, so research carefully before purchasing. If you have any experience with using this mushroom medicinally feel free to share your story here.
An Edible Mushroom
Besides supplementation, it's easy to gain the medicinal benefits of lion's mane mushroom. These are edible mushrooms, and quite tasty too! They're great alone or in a dish with other ingredients.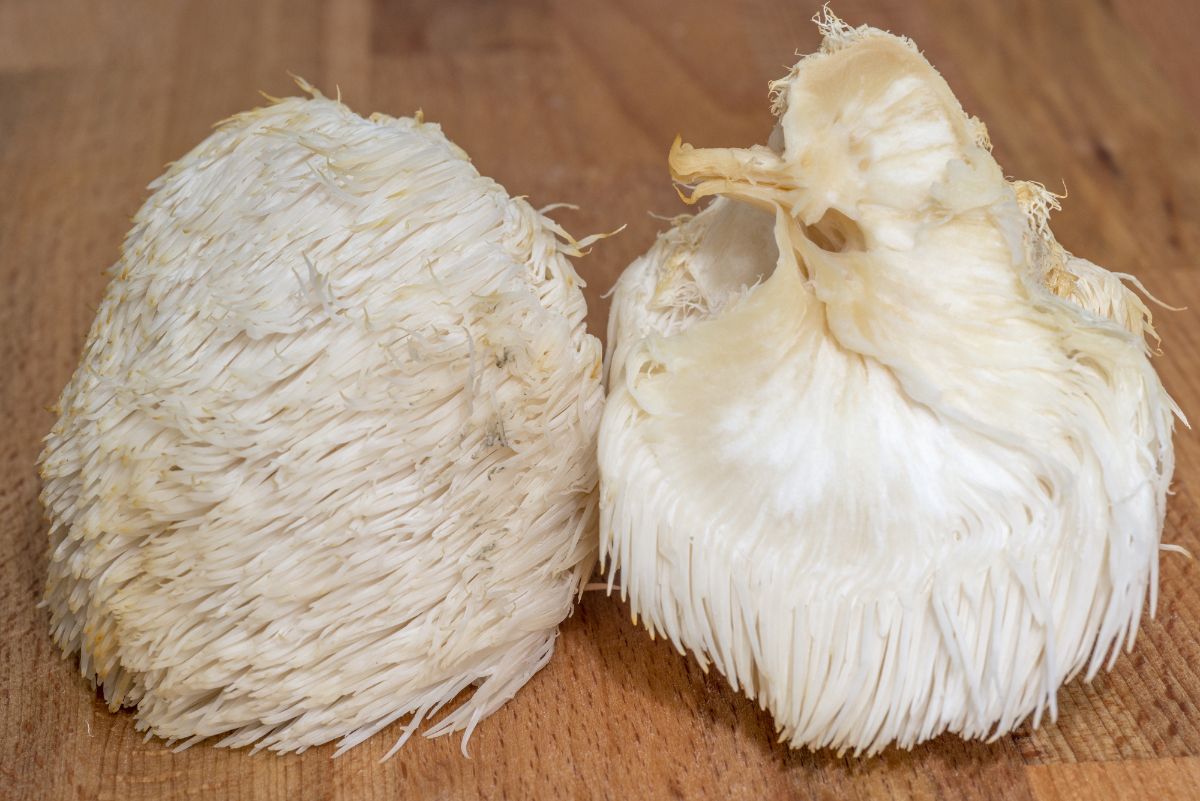 When cooked, the lion's mane has a seafood-like flavor without being too overpowering. Many liken it to the taste of shrimp or lobster. Thus if you love the taste of seafood but you're a vegetarian or allergic to shellfish, try spicing up your next meal with lion's mane.
The trick to preparing all edible mushrooms in the Hericium genus is to cook them slowly. These are tough and watery mushrooms that need longer periods of heat to cook off moisture and make them chewy. The extra cooking time is well worth it.
For the best flavor, heat a pan to medium-high to high heat. Add the mushrooms, cover the pan, and cook until the water is cooked out and the mushrooms start to brown. Add a bit of oil or butter and salt and cook them until you've reached your desired crispiness.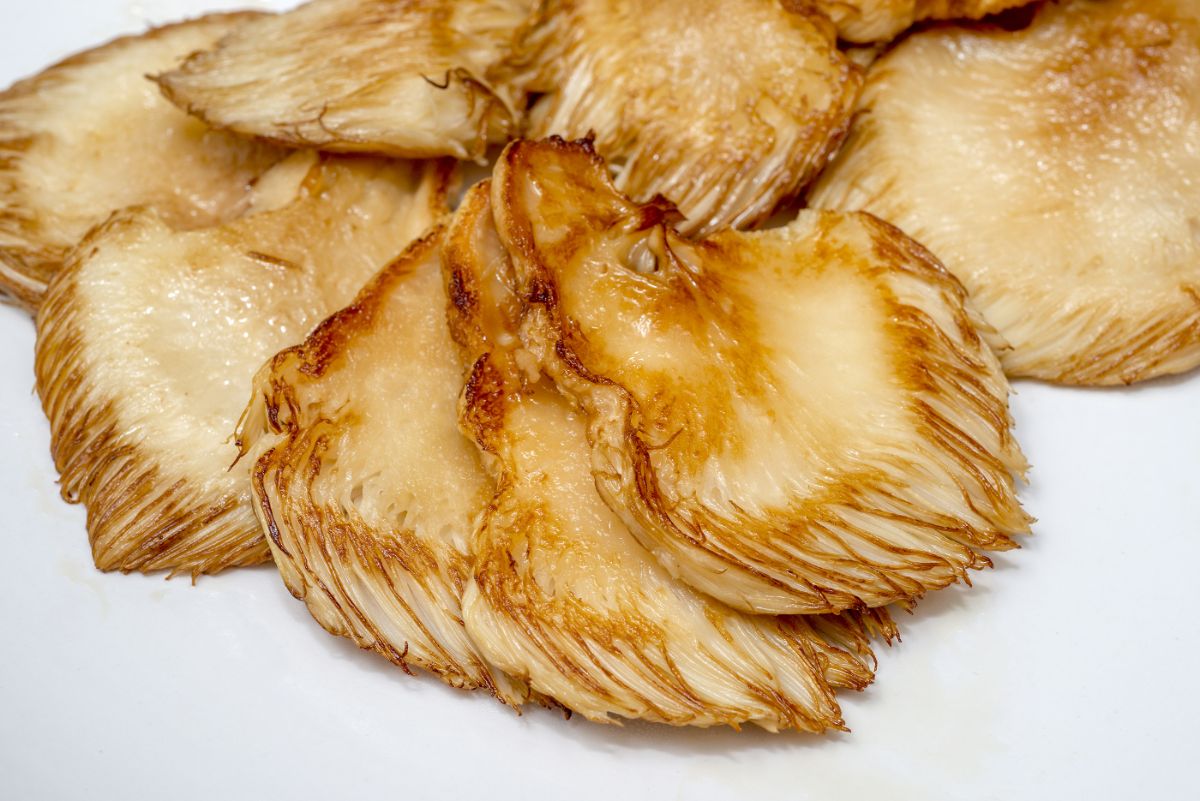 Don't bother adding spices and butter until you're closer to the end of the cooking time. These mushrooms give off a lot of water at first so save your delicious additives until the end.
Their high moisture content also makes drying a real pain. The best way to preserve lion's mane is to sauté and then freeze them for later. See the article on freezing mushrooms for more information.
Ready to try some Hericium cooking?!? With such a great texture and ability to absorb other flavors, I certainly think these unique mushrooms are worth a try at least once. Here's a simple recipe to get you started:
Lion's Mane Mushroom Recipe
Here's a simple lion's mane mushroom recipe that's delicious on pasta or crackers. The butter and cream are a little heavy, but you can substitute olive oil and milk for a lighter mushroom recipe.
This cooks down to gravy, although you can omit all the liquids if you like and still have a delicious topping for pasta, tofu, or other dishes.
Ingredients:
1/2 lb lion's mane mushroom, cleaned and thinly sliced
3 tablespoons butter
2 cups light cream
1/2 yellow onion, chopped
2 cloves garlic, chopped
3 tablespoons flour
Melt one tablespoon of butter in a skillet over medium-high heat. Add the mushrooms and cook until they seem to have given off most of their liquid.
Throw in the onions and garlic and cook until the onions have softened and the mushrooms are brown.
Add the flour and the remainder of the butter. Cook several more minutes, stirring frequently to mix the melting butter with everything else.
Slowly pour in the cream. Turn down the heat and allow the mixture to simmer until it has reached your desired consistency.
Serve on top of pasta, rice, or crackers. Delicious!
Hopefully, this article has brought you a new appreciation for these unusual mushrooms. They're so much fun to find and examine. So the next time you're on a mushroom hunt, remember that it never hurts to look up!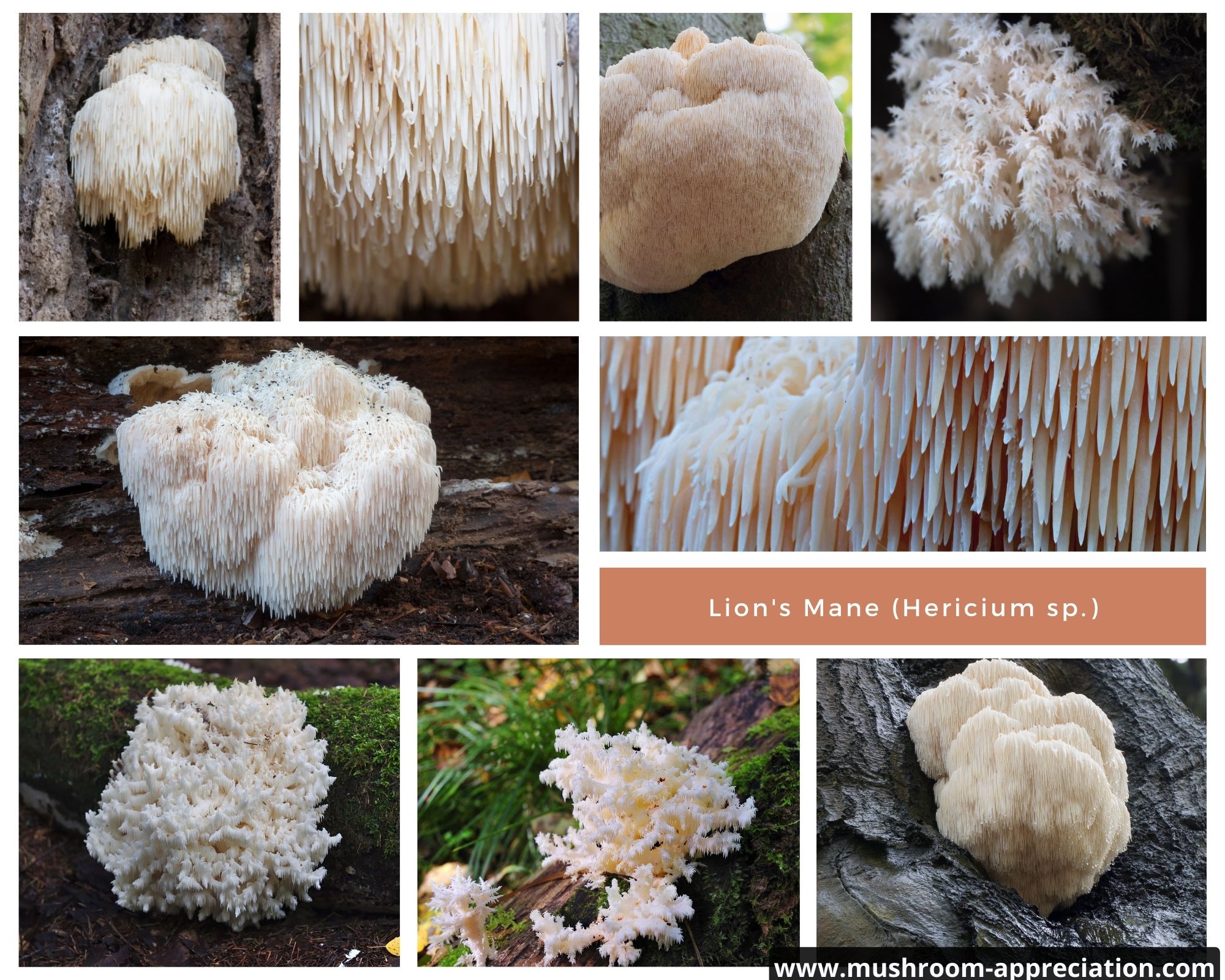 Lion's Mane Common Questions
What does lion's mane taste like?
Lion's Mane on it's own doesn't have a strong flavor. However, when you cook it, there is a slightly seafood-like aroma and taste. It is excellent used to make faux steaks or crab cakes.
The best thing about Lion's Mane is it's texture. It "meat" is easily torn, like cooked chicken or crab, and is works incredibly well as a substitute in meat dishes.
Can I grow Lion's Mane?
Yes! This is a mushroom that is widely cultivated by commercial growers. You also grow it at home. Check out our mushroom growing kit guide for the best companies to get Lion's Mane from to grow at home.
What are the benefits of Lion's Mane?
Research shows that Lion's Mane may reduce anxiety, alleviate depression, repair nerve damage, and protect against dementia. Lion's Mane is strong in immune-boosting components and antioxidants.
Is Lion's Mane hard to find?
Lion's Mane isn't difficult to find, but you have to keep your eyes open and looking and get out in the forest to find it. There is no way to predict where it will grow – it fruits on dead or dying trees but of course, those can occur anywhere.
If you aren't having any luck foraging, you can check out a local farmer's market. Many local growers sell at farmer's markets. Another great option is to grow your own. Check out our guide to mushroom grow kits for some great Lion's Mane options.