Lately, I've received a number of emails asking me about oyster mushroom identification. The most recent one came in early December from a reader named Tracey. She writes:
Wondering if you could help me. I took photos of mushrooms growing on tree stumps that I had that I could not split and set upright to dry out. This is in Western Pennsylvania a few days ago. Our winter has been very mild so far (40-50 degrees) and damp. Is this the oyster mushroom? And are there mushrooms that could look like this and be poisonous?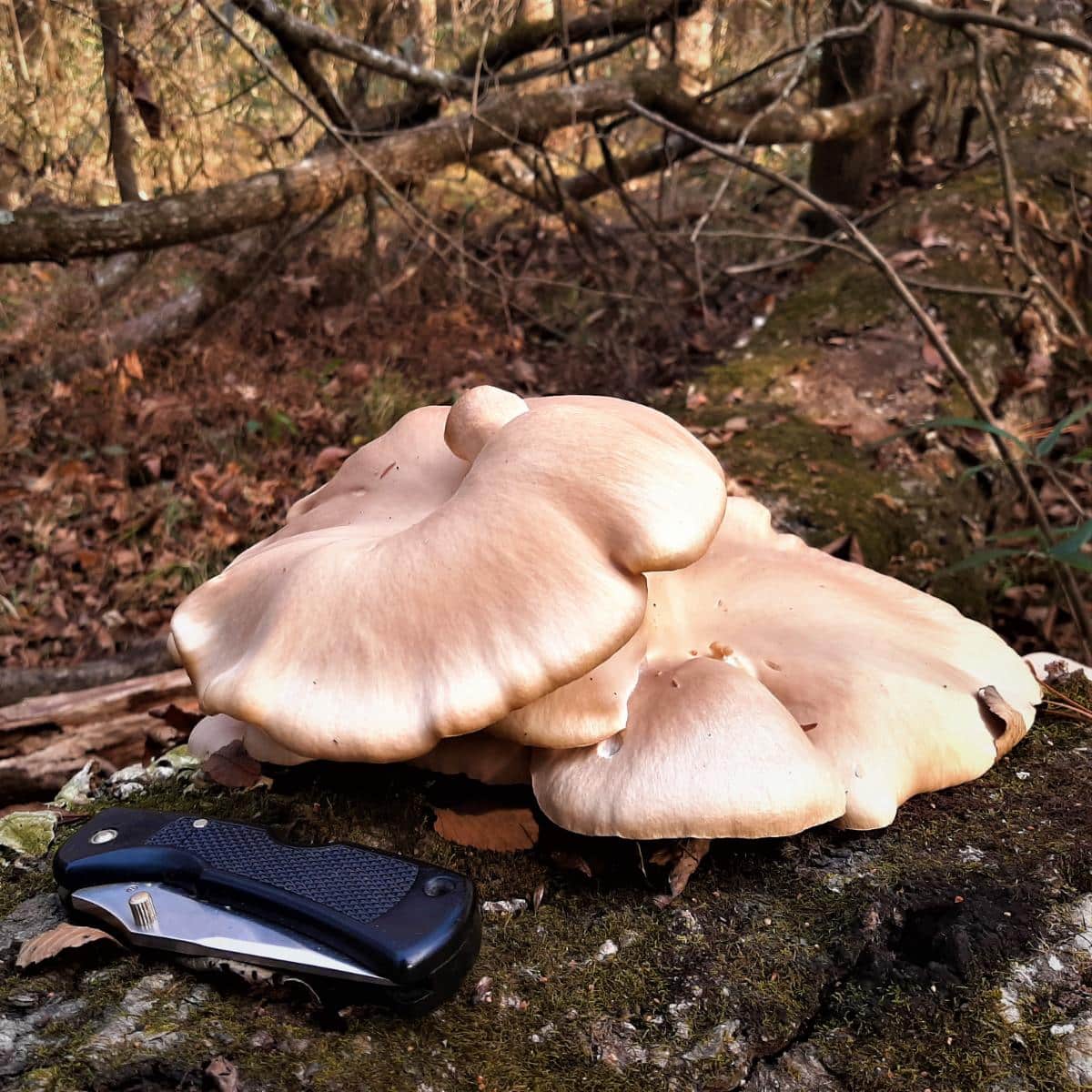 Great questions, Tracey! Let's take a closer look at oyster mushroom identification.
Please remember to never eat any mushroom if you're not absolutely sure what it is. The Internet is a great resource, but if you're a beginner you should show your find to a real live expert to be safe. Nothing beats an in-person identification!
Jump to:
All About Oyster Mushrooms
They're easily cultivated and one of the top commercially grown mushrooms.
You can grow oyster mushrooms at home! Check out our guide to mushroom grow kits which includes recommendations for growing oysters.
Oysters are FAR more than just a simple edible mushroom. They possess incredible abilities to absorb and clean up pollution, mitigate oil spills, and are being used to make mushroom leather. If there is one mushroom that will change the world, it is the oyster! Oh, and they're medicinal!
Oyster Mushroom Identification
Pleurotus ostreatus, is a common edible known for its oyster-shaped cap. One of the first things you should look for when trying to identify this mushroom is the presence of decurrent gills.
Decurrent means that the gills are attached to and run directly down the stem. Take a look at the close-up. Can you see how they run into and down the stem?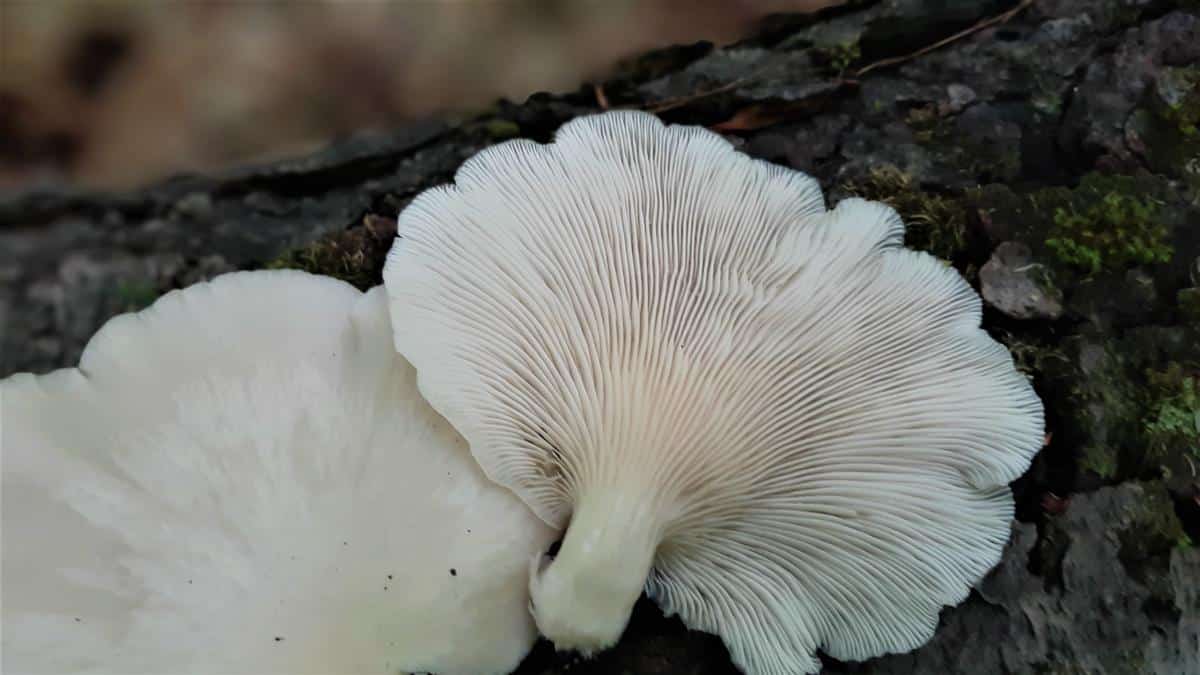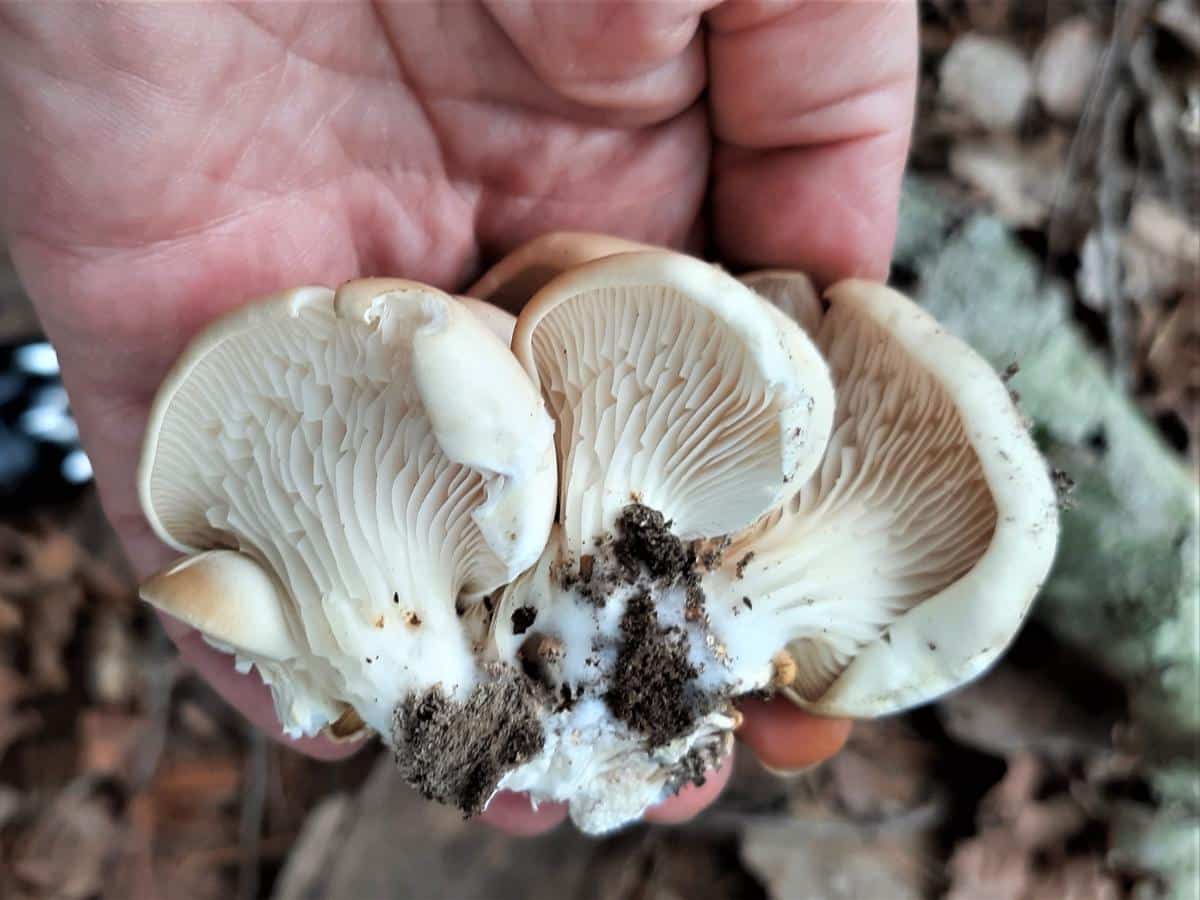 Other identification features:
Cap
Oyster or fan-shaped, usually 2-10 inches across (5-25 cm).
Often grow in a shelf-like formation with overlapping clusters.
Smooth, with no warts or scales.
Usually white to light brown with firm, white flesh.
The gills are white and are attached to and running down the cap and stem (decurrent).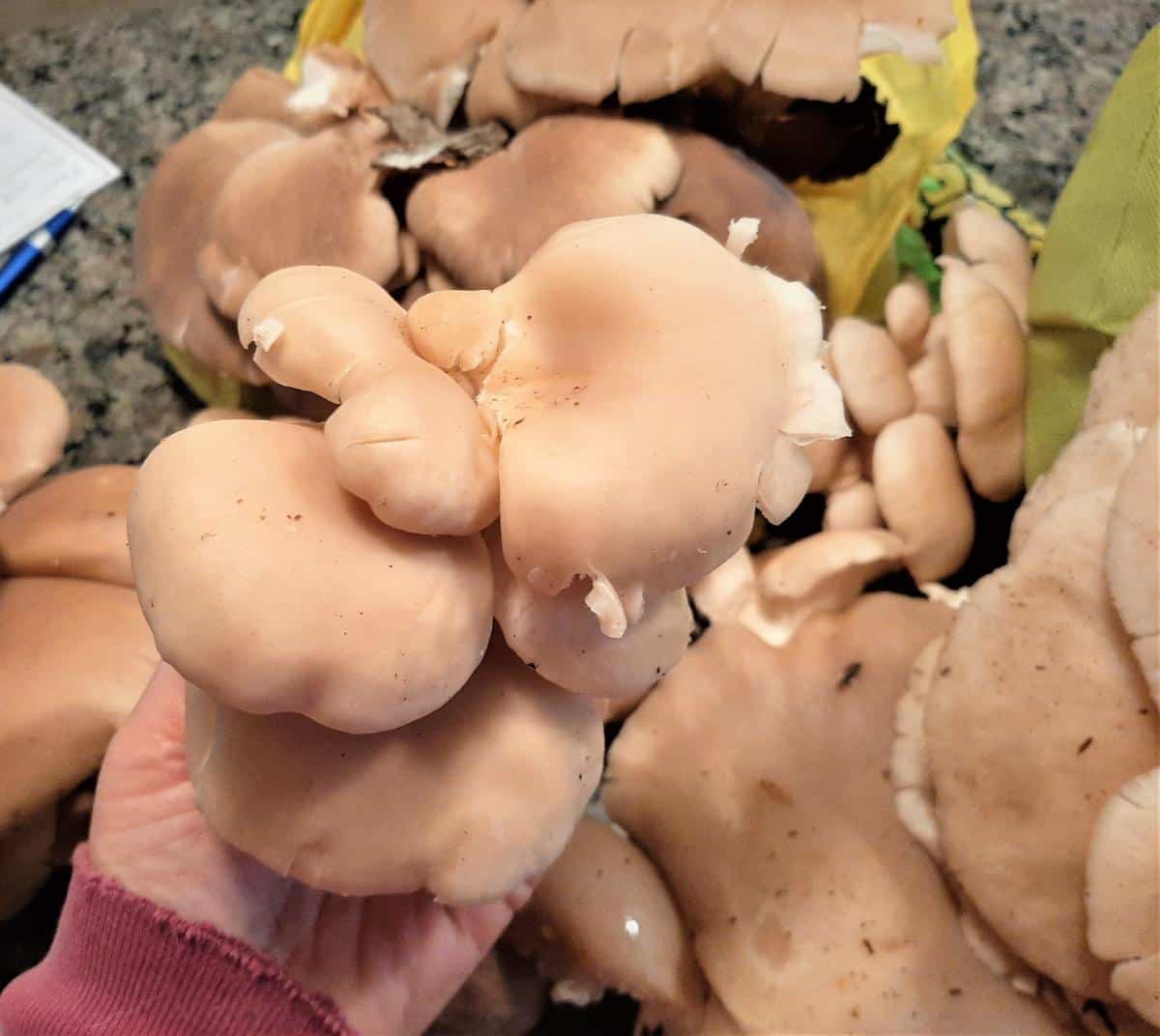 Stem
They may not have a stem. If they do it will often be stubby and off-center if the mushroom is growing on the side of a log. If it's growing on the top you will see a more well-developed stem.
No ring around the stem, and no sack around the base.
The flesh is white.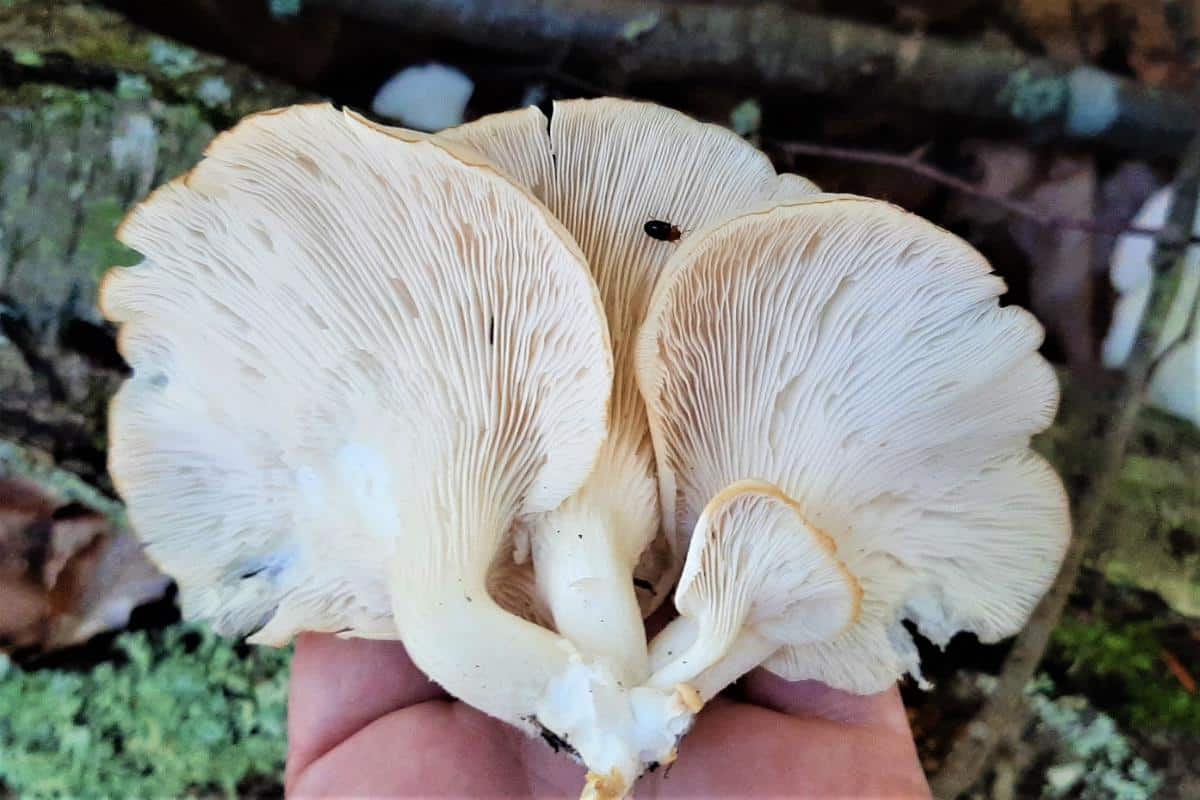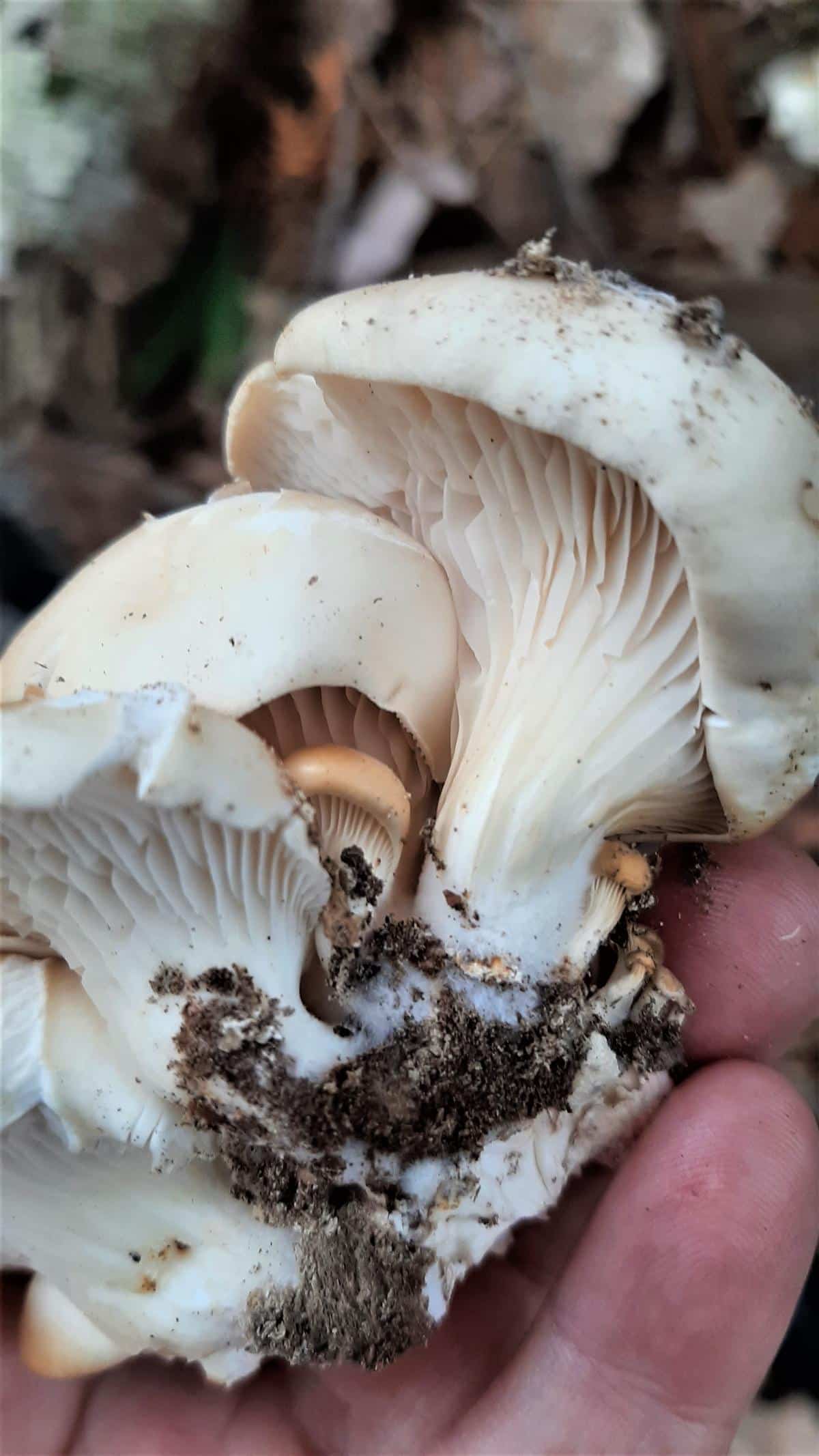 Spore print
White to lilac-gray. It's best to make the spore print on a dark background.
Habitat
These mushrooms are saprotrophic, meaning they feed on dead material, in this case wood. Thus you'll find them growing on logs or sick or dying trees.
Most often found on deciduous hardwoods (trees that lose their leaves). Beech and aspen trees are common. Sometimes found on conifers as well.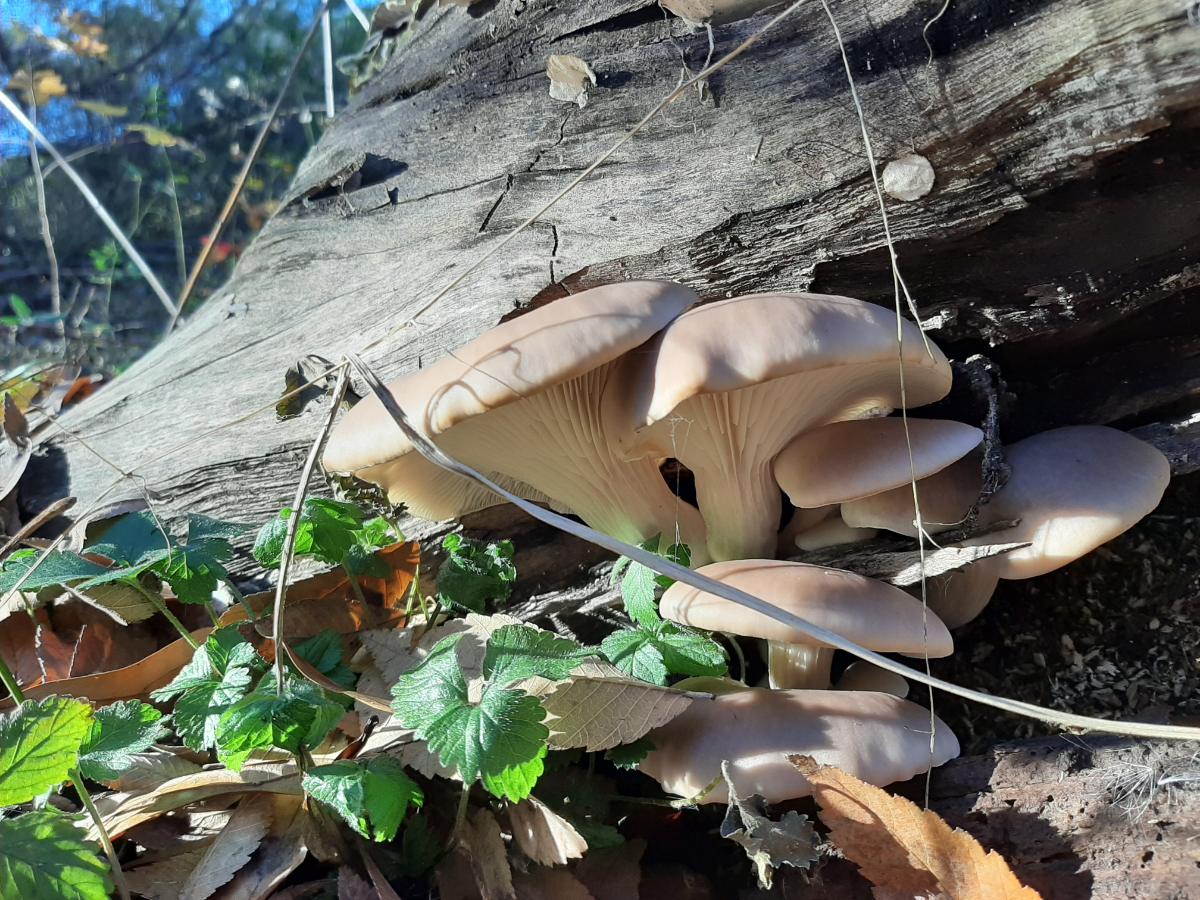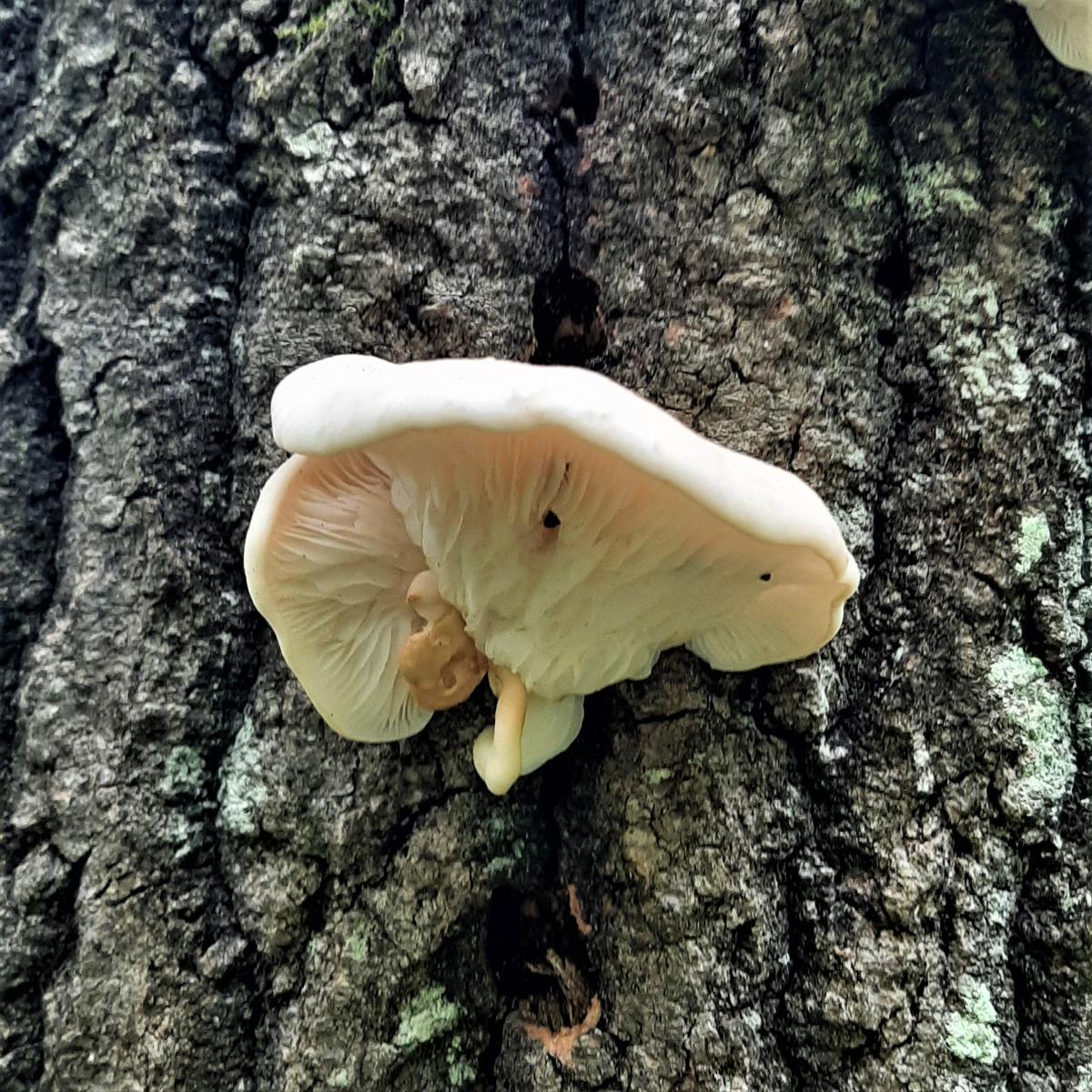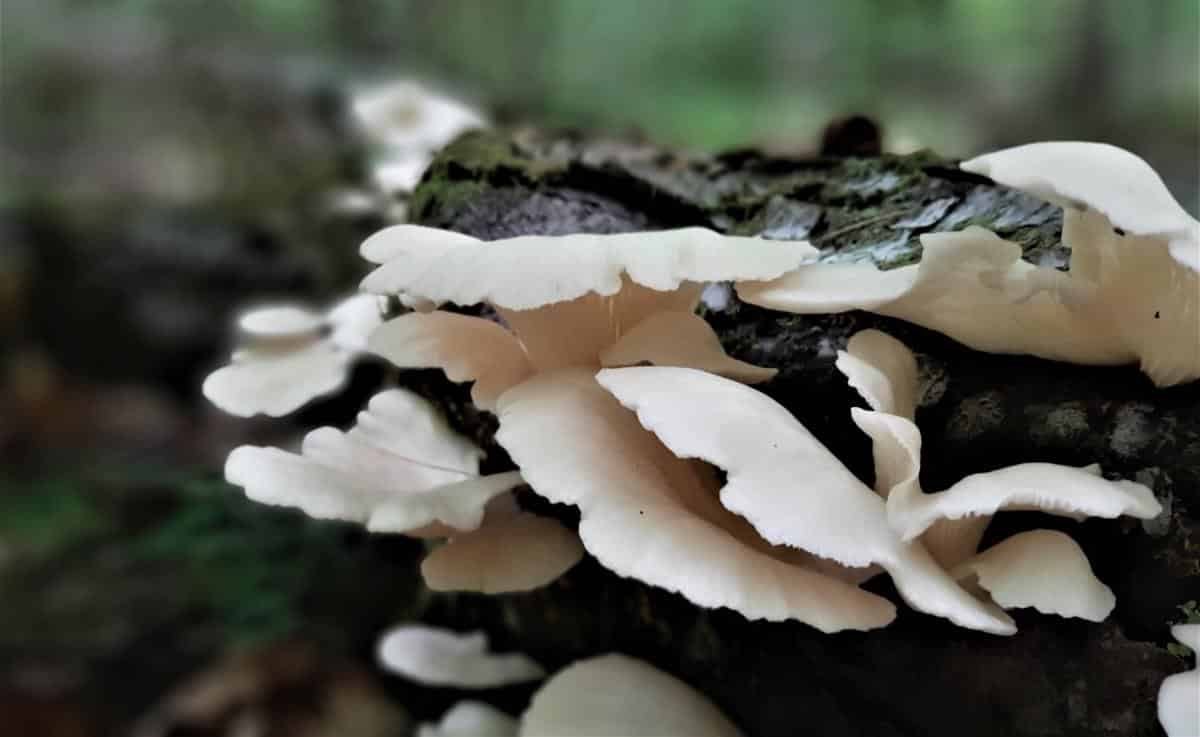 Smell
Oyster mushrooms have a mild anise odor, meaning they smell a little sweet like licorice.
Time of year
Summer and fall, or winter as well in warmer areas.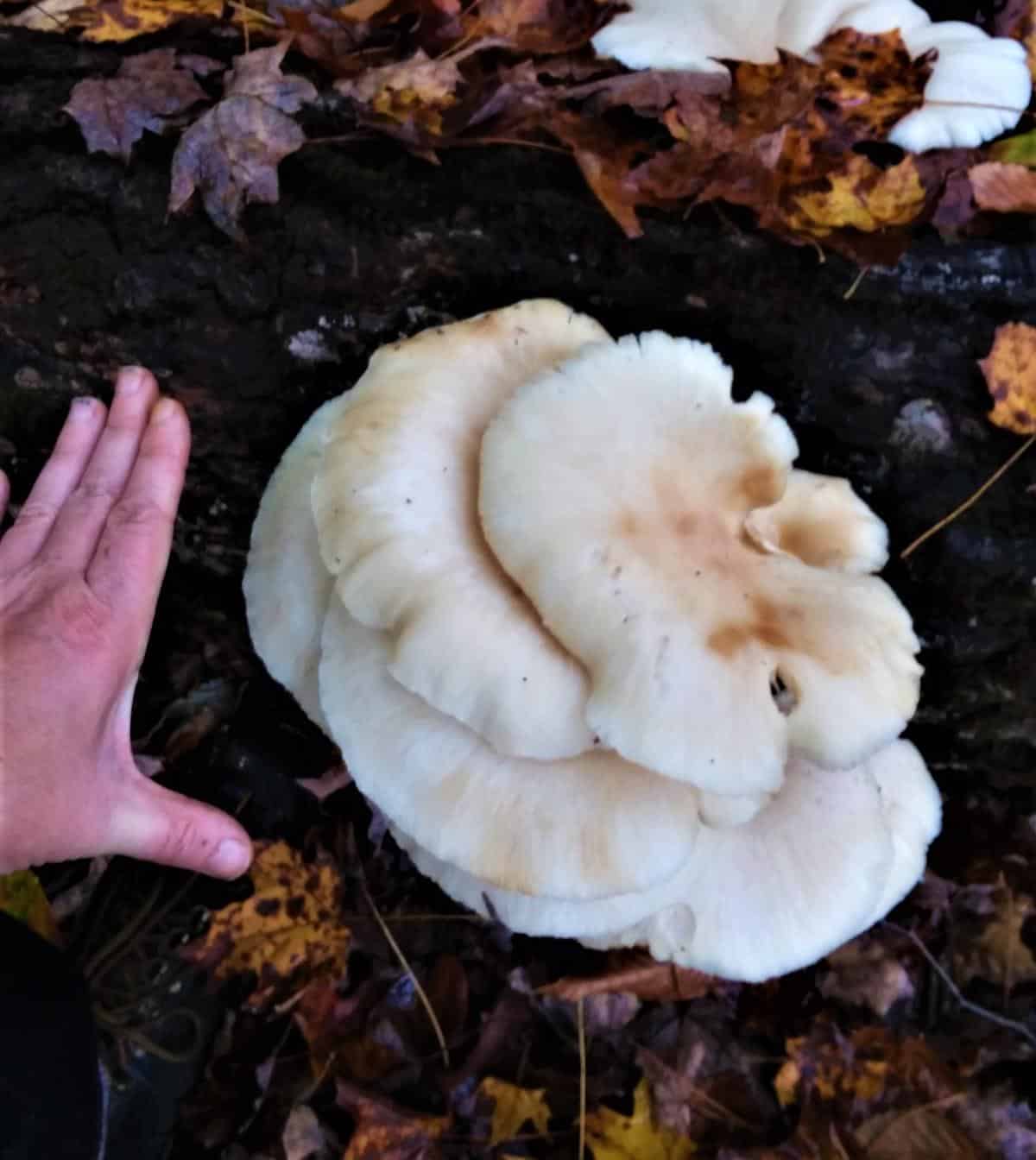 The Oyster Bugs
It is so common to find these little black beetles in oyster mushrooms that it can also be used as an identification point. If I ever question whether it's an oyster, than see the beetles, then I'm sure. They're not always there but probably at least 80% of the time, there are at least a few.
On older oyster specimens (older, as in a 3-5 days old), they're extremely common and likely. The beetles aren't problematic unless they've chewed up tons of the mushroom. Then the mushroom isn't very good to eat anymore.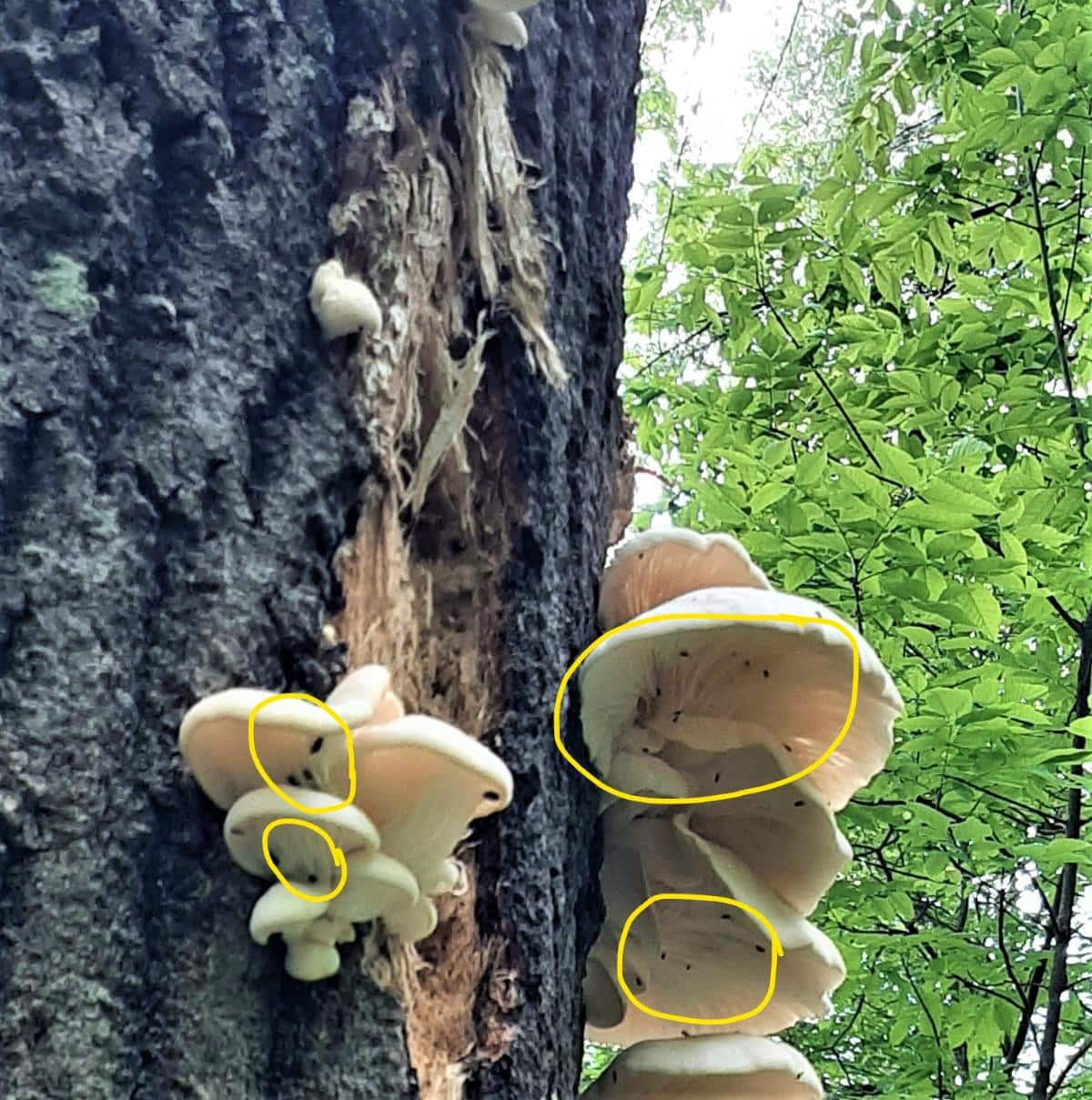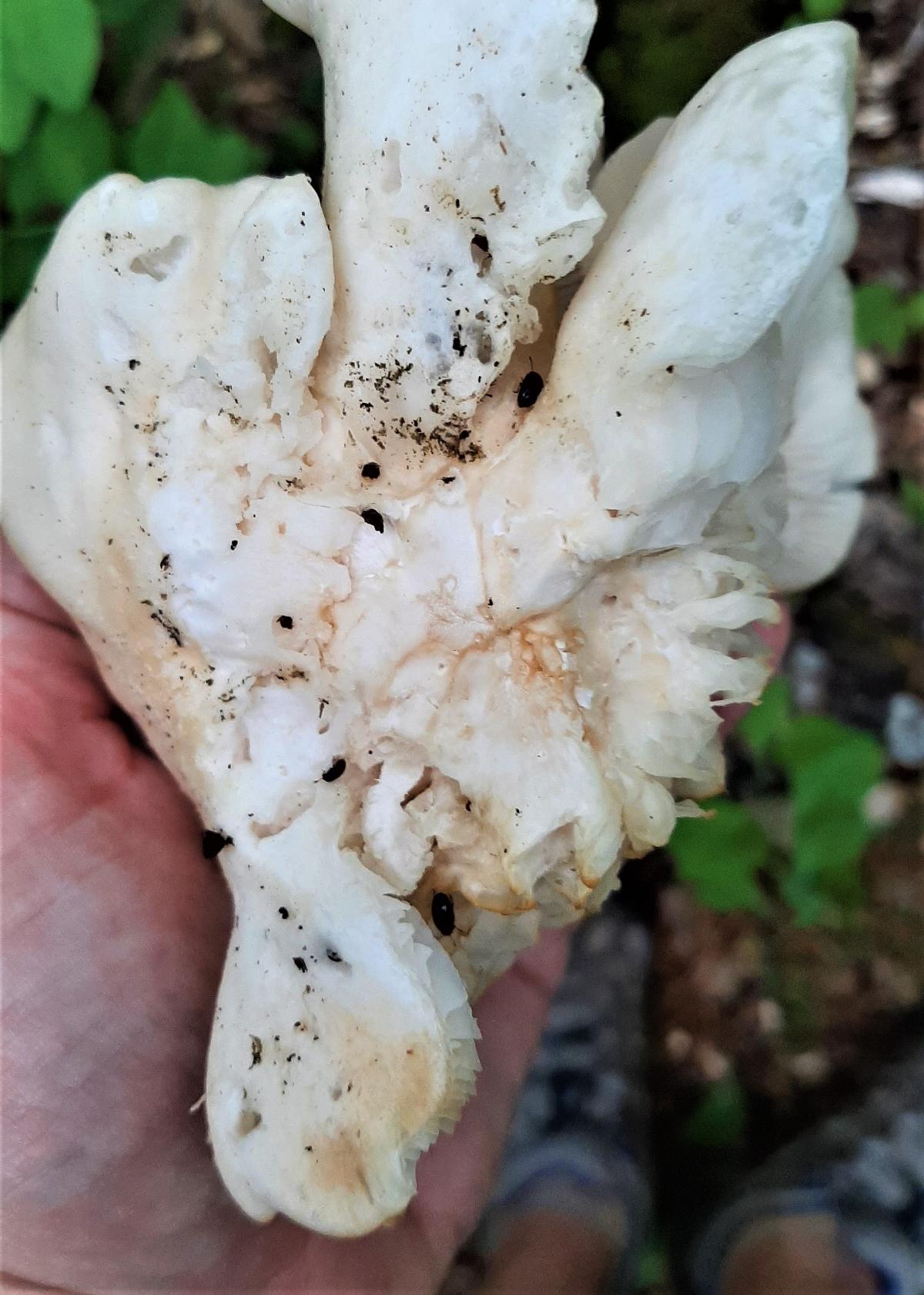 These beetles are actually one of potentially 30 or so different beetle families with around 136 different species. Many of them are obligatory mycobionts. This means they need fungi for food.
They are not limited to P. ostreatus, but they do like the oysters a lot. Some of these black beetles may live their entire lives in the mushroom. Other bug species are predatory on mycobionts, so that they too are dependent on the mushrooms.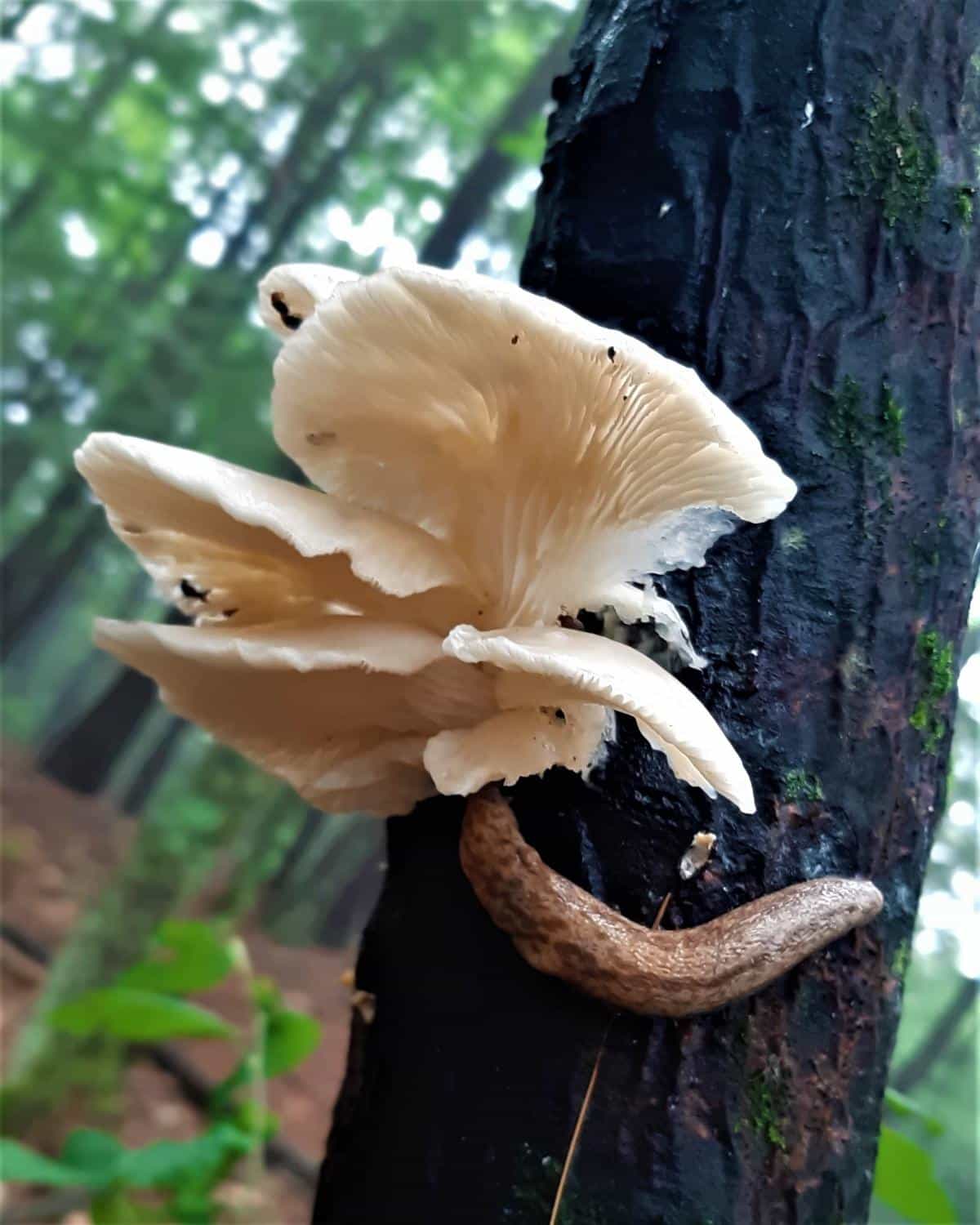 Oyster Mushroom Look-Alikes
This page tells you how to identify Pleurotus ostreatus, the common oyster mushroom. However, there are other mushrooms in the Pleurotus genus that are also referred to as oysters. A few examples are:
These species are all edible, so if you mistake a phoenix oyster for a true oyster, you will not be poisoned.
To tell an elm oyster from a true oyster, take a look at the gills. The gills of a true oyster run down the stem, the gills of an elm oyster does not. The elm oyster is edible, although some say not as tasty.
So are there any poisonous look-alikes? The poisonous Omphalotus nidiformis is sometimes mistaken for an oyster. It grows in Japan and Australia so become familiar with it if you live in those countries.
The same rules apply here as with any other species. Become familiar with them through reading and pictures, try to find them in the wild, and check your finds with someone who knows in real life. Taking a spore print and checking for gill attachment can be a big help.
Cooking With Oyster Mushrooms
Oyster mushrooms are incredibly versatile. They taste great pan-fried with butter and garlic and also deep-fried with a crumb coating. Because oysters are one of the easiest mushrooms to grow, restaurants have easy access to them for trying new recipes. This means there is literally a glut of recipes out there for these delicious mushrooms.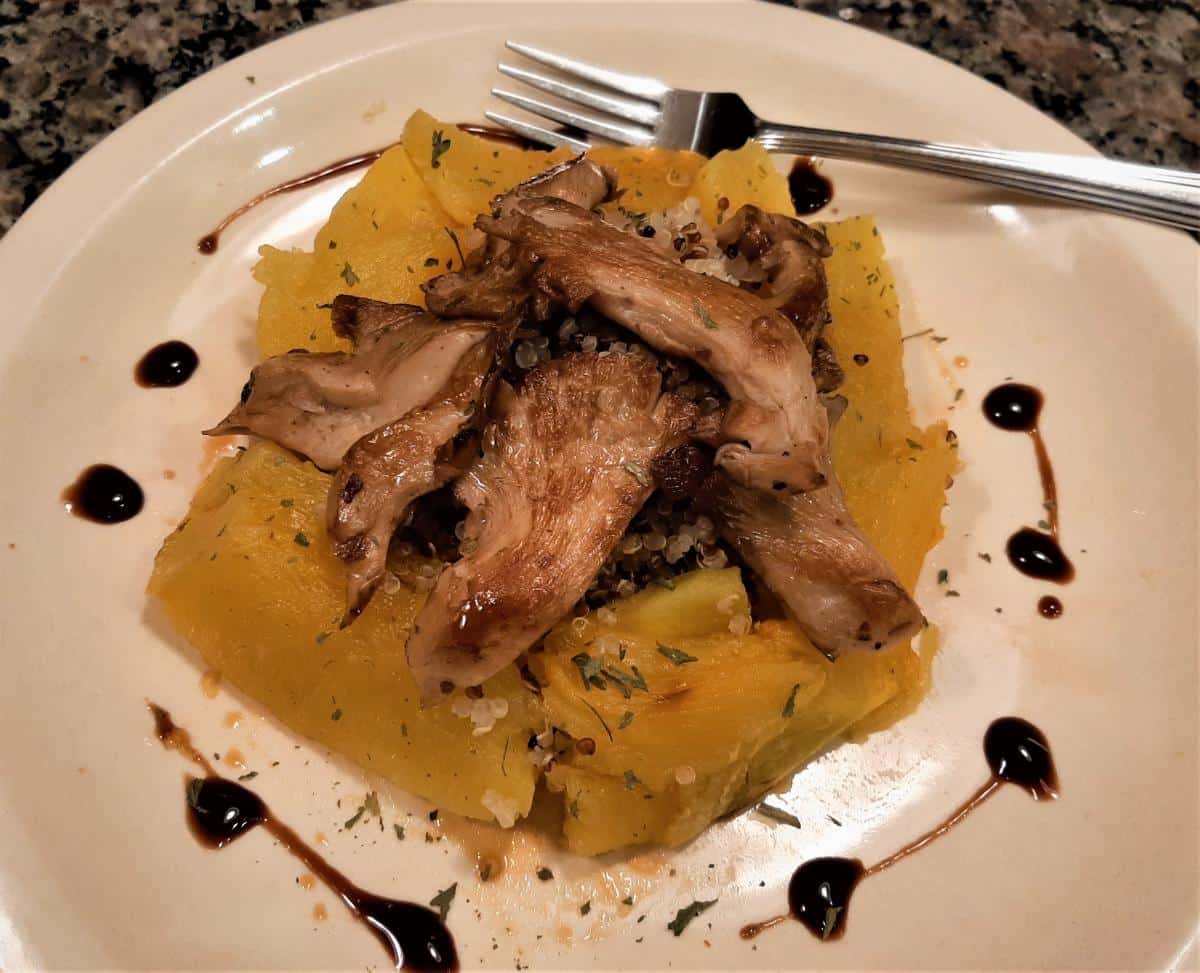 The oyster mushroom doesn't have a lot of flavor, but that's actually good. It is sort of like chicken — it isn't super flavorful but it does have a nice mild umami taste. When you prepare it with something else, though, it really shines.
These mushrooms are dense, don't lose their texture, hold up in all types of cooking, and can be cooked almost any way possible. Here's some great recipes to get you started: