Lion's mane is an edible mushroom with a long history of use in traditional medicine. Over the last decade, Lion's mane (Hericium erinaceus) has gained immense popularity as a superfood and functional mushroom. Most of this attention focuses on its cognitive-enhancing properties. Is this real, though, or a passing fad without any truth or proof behind it?
Nowadays, you can find Lion's mane in everything, from tea to coffee to pills to energy drinks! It's really having a heyday among folks looking to improve their lives and well-being in more natural, nature-focused ways. While the benefits of this fungus could easily be discounted as wishful thinking, with nothing more than a placebo effect, the science says differently.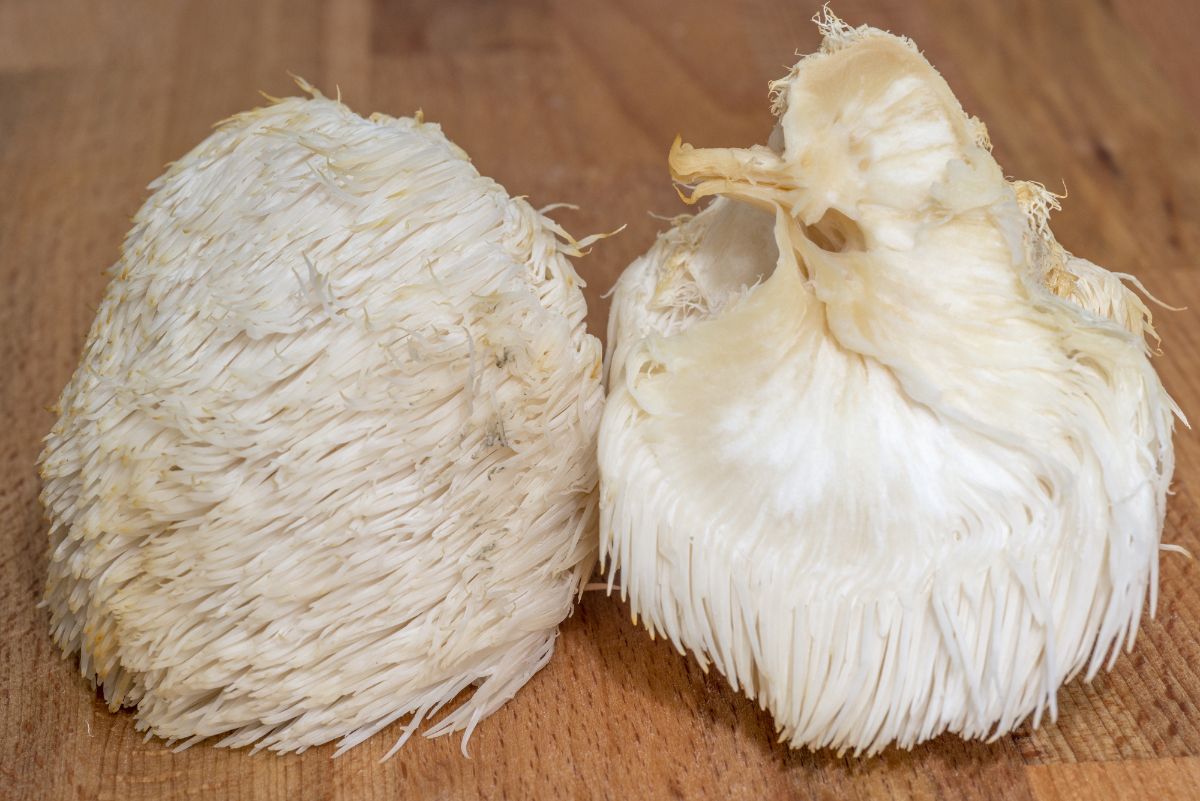 In addition to a bunch of medicinal benefits, this mushroom has an extremely unique look that makes it special just on its own. This guide unravels the components of Lion's Mane, from its historical usage and foraging history to its research-backed health benefits.
Note: Not all fungi are as well studied as this one. This article isn't a blanket declaration that all "medicinal" mushrooms work or have any benefits at all. We follow the science on this one. And we recommend you do as well. However, that being said, there is no downside to including Lion's Mane in your regimen – if you find it fresh from the woods, it's a delightful edible species. It's one of our favorite forest finds – Foraging Lion's Mane in North America.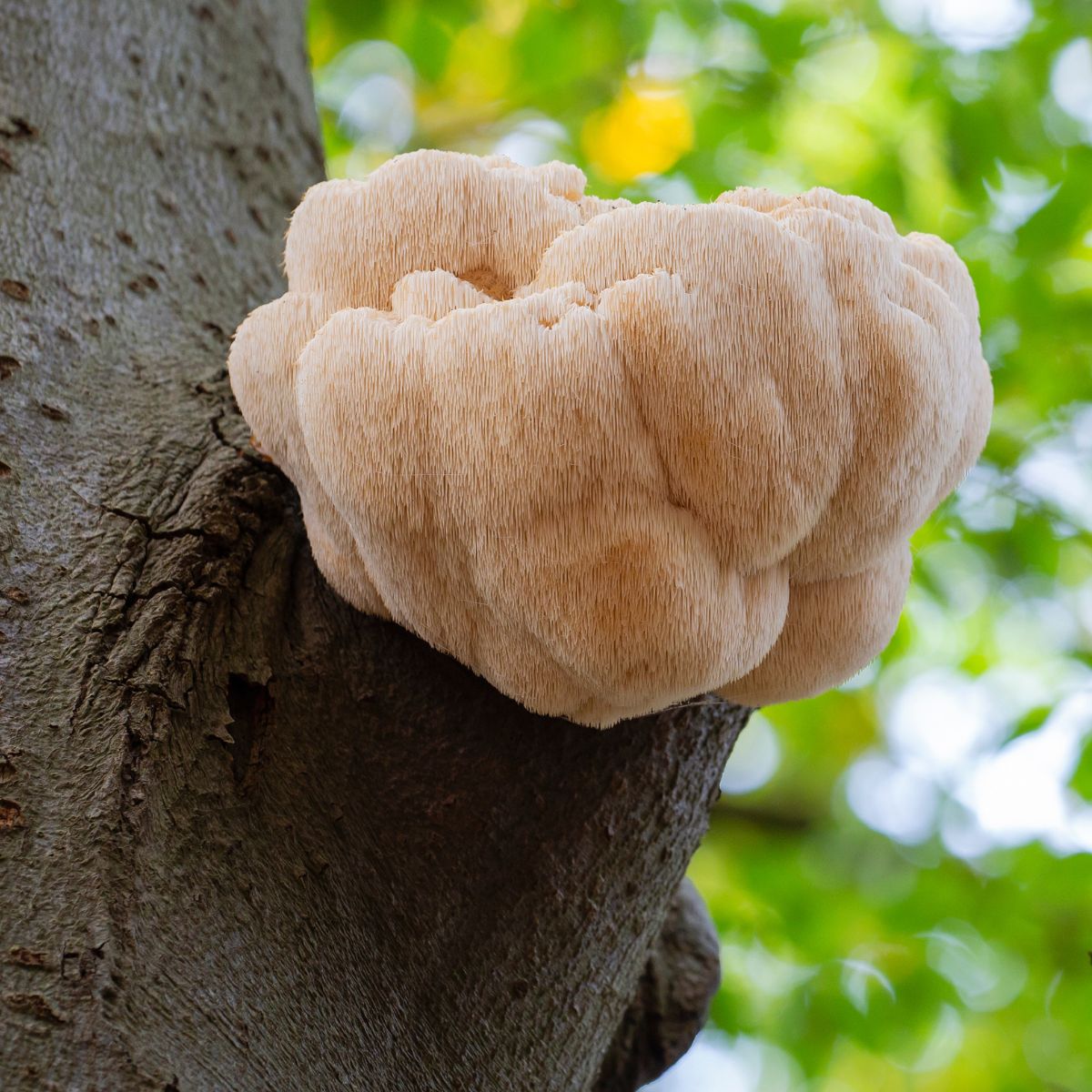 Jump to:
What is Lion's Mane?
Lion's Mane (Hericium erinaceus) is a tooth fungus characterized by its long white spines that resemble a lion's mane, hence its name. It is bright white, often rounded like a snowball, and the teeth (or spines) look as much like dangling icicles as they do a lion's mane. It stands out in the forest, to say the least. It is also commonly known as Old Man's Beard, Monkey Head, Pom Pom, and Hedgehog (hedgehog is the common name for another edible species, so we try to avoid using this one for Lion's Mane). It is called yamabushitake in Japan, which translates to "those who sleep in the mountains."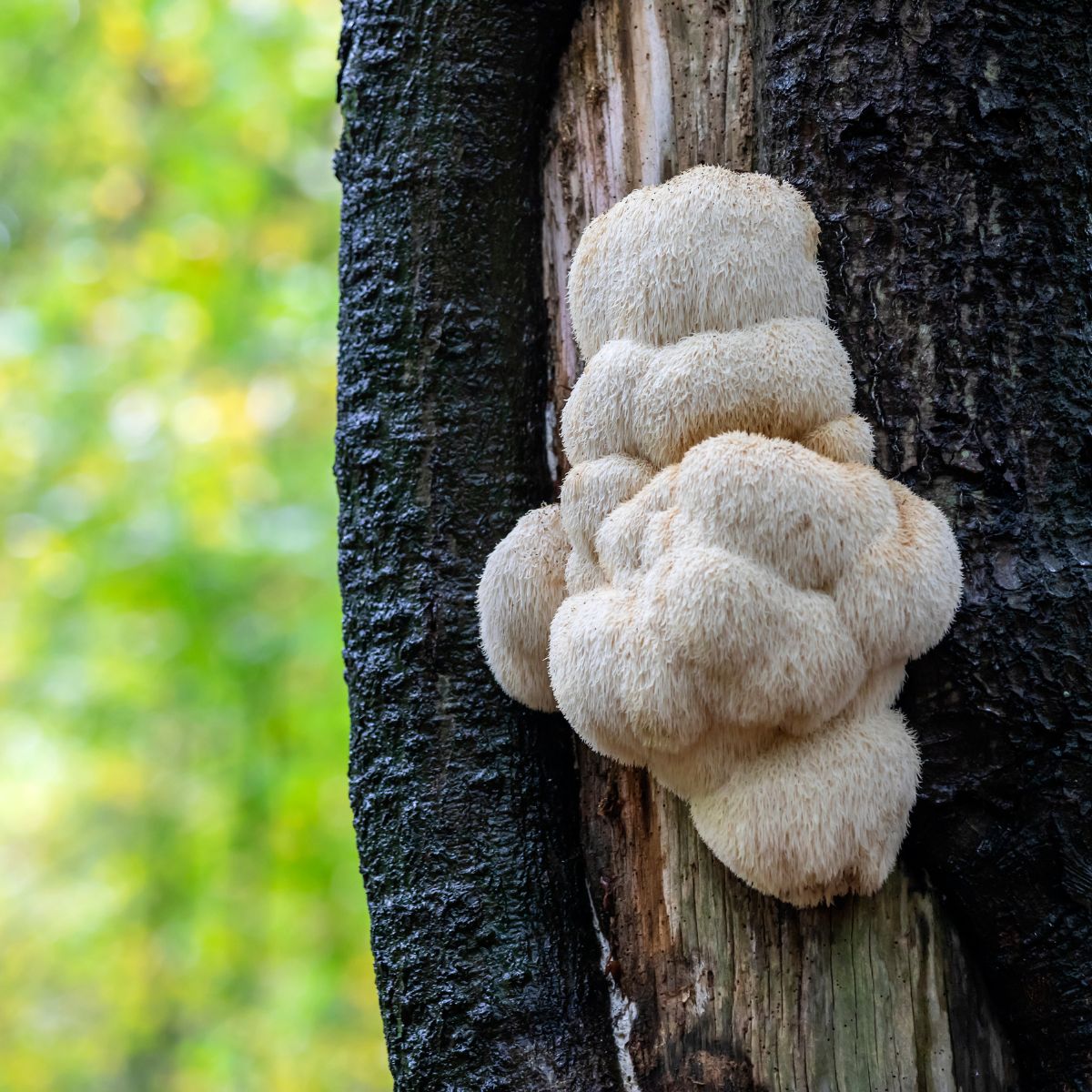 This mushroom fruits on hardwood trees in temperate forests across North America, Asia, and Europe. It is popular among foragers and chefs for its unique texture and mild flavor. It has a slight seafood-esque taste and a texture that resembles pulled pork or lump crabmeat.
In addition to the well-known Lion's mane, Hericium erinaceus, several other Hericium species exist in North America. These species have not been studied nearly as closely as Lion's Mane because they aren't as widespread around the world. However, they contain the same compounds as the original Lion's Mane.
North American Hericium Species
Hericium erinaceus
Hericium americanum
Hericium coralloides
Hericium abietis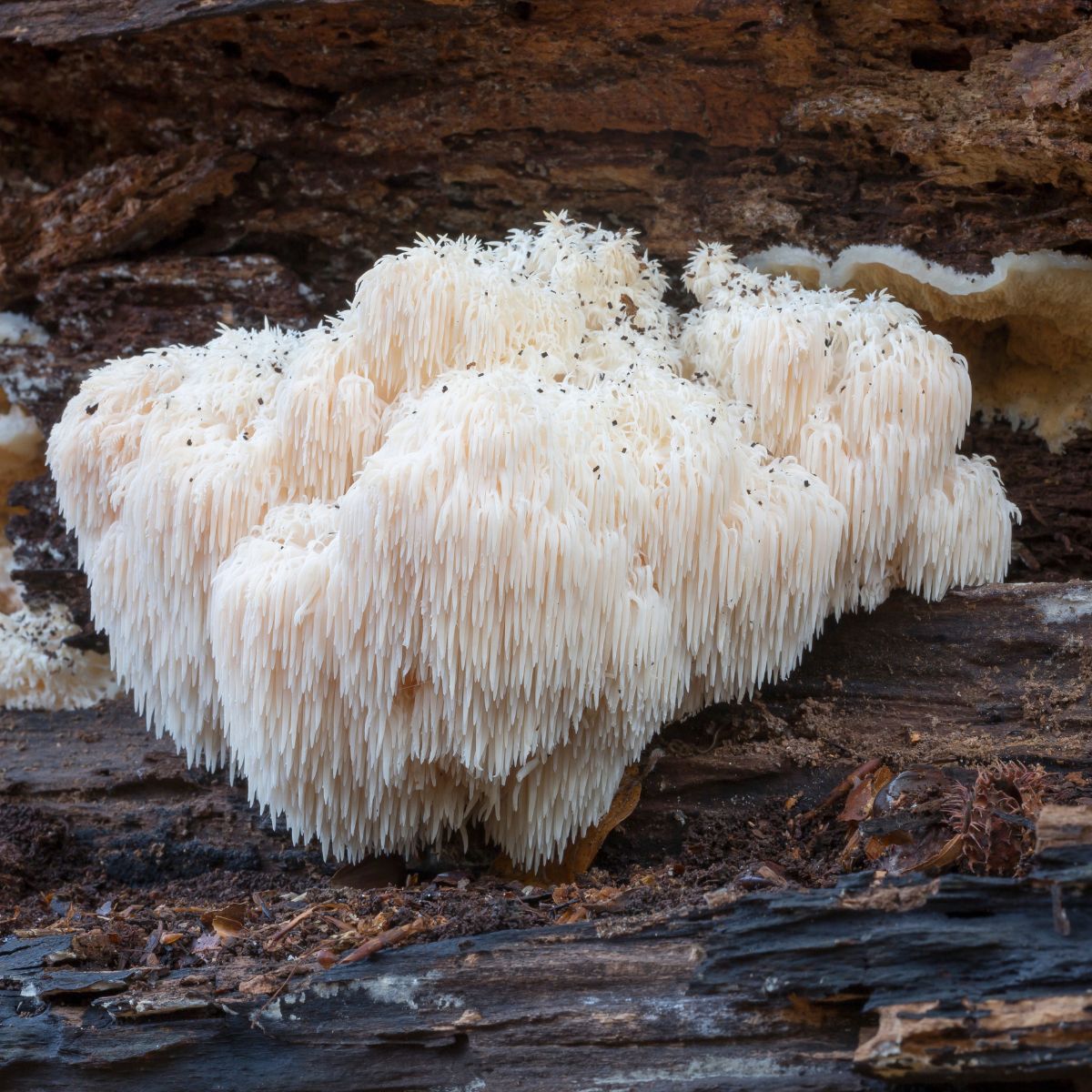 Lion's Mane in Traditional Medicine
Lion's mane has a rich history in Traditional Chinese Medicine (TCM), where it was revered for bolstering the health of all five internal organs: liver, spleen, lung, heart, and kidney. TCM practitioners also valued it for its ability to stimulate the Qi, or "life force."
The Yamabushi Buddhist monks of Japan reportedly consume Lion's Mane tea to enhance their focus during meditation, hinting at the mushroom's potential benefits for cognitive health.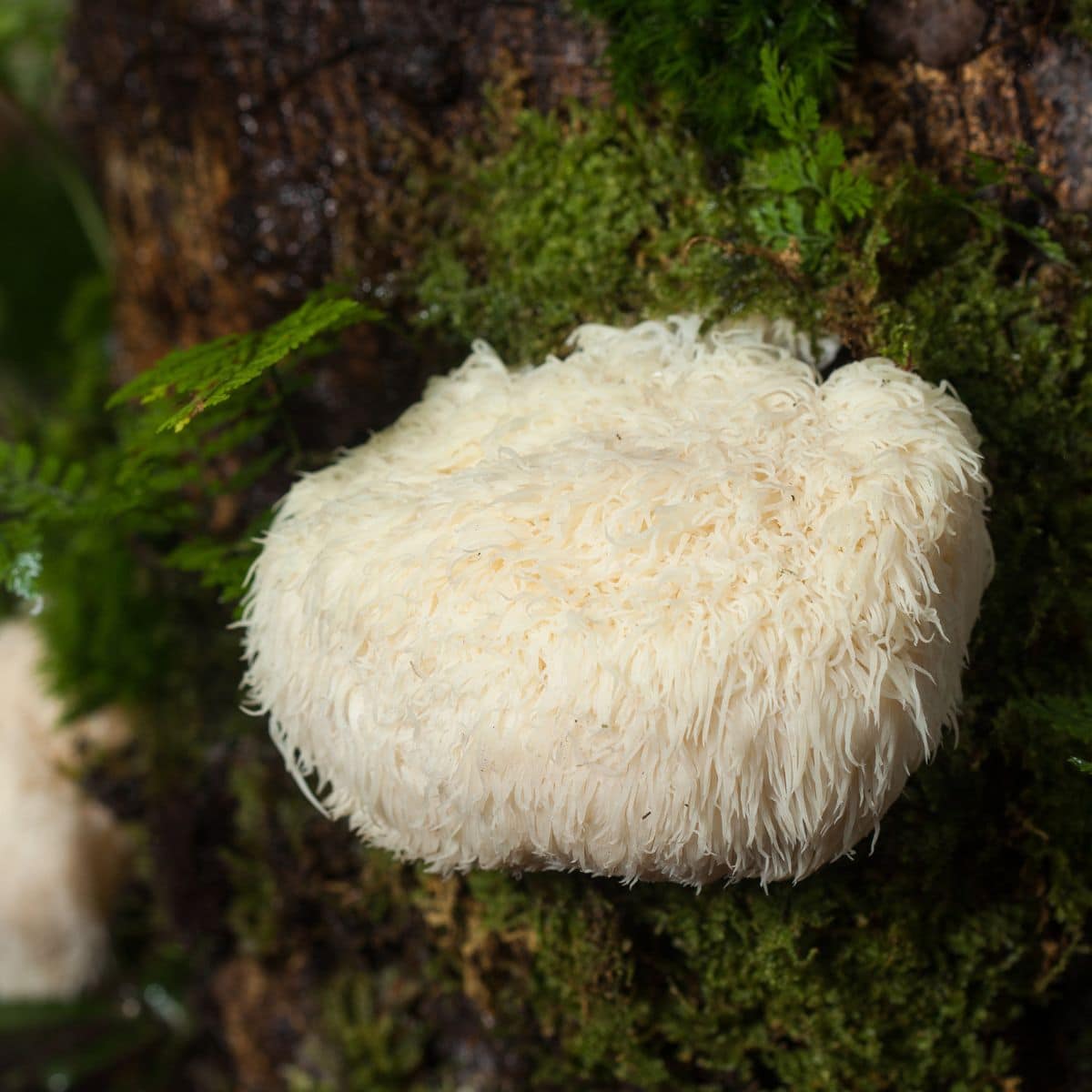 The Science Behind Lion's Mane
Lion's Mane and Cognitive Health
Lion's mane has earned the nickname "the smart mushroom" thanks to its potential brain-boosting properties. This mushroom contains bioactive compounds known as hericenones and erinacines, which have been shown to stimulate the formation of nerve cells in the brain. This is particularly beneficial in age-related memory loss or dementia, which affects millions of people globally.
Lai PL, Naidu M, Sabaratnam V, Wong KH, David RP, Kuppusamy UR, Abdullah N, Malek SN. Neurotrophic properties of the Lion's mane medicinal mushroom, Hericium erinaceus (Higher Basidiomycetes) from Malaysia. Int J Med Mushrooms. 2013;15(6):539-54. doi: 10.1615/intjmedmushr.v15.i6.30. PMID: 24266378.
Sabaratnam, V., et al. (2013). "Neuronal health – Can culinary and medicinal mushrooms help?"
Mori, K., et al. (2009). "Improving effects of the mushroom yamabushitake (Hericium erinaceus) on mild cognitive impairment."
Zhang, J., An, S., Hu, W., Teng, M., Wang, X., Qu, Y., … Wang, D. (2016). The neuroprotective properties of Hericium erinaceus in glutamate-damaged differentiated PC12 cells and an Alzheimer's disease mouse model. International Journal of Molecular Sciences, 17(11), 1810. https://doi.org/10.3390/ijms17111810

Lion's Mane and Mental Well-Being
This mushroom species also might have a positive impact on mental well-being. Research suggests that it can help alleviate symptoms of anxiety and depression. This is potentially due to its anti-inflammatory properties.
Chong, P.S., et al. (2019). "Therapeutic potential of Hericium erinaceus for depressive disorder."
Nagano, M., et al. (2010). "Reduction of depression and anxiety by 4 weeks Hericium erinaceus intake."
Lion's Mane and Physical Health
It has been shown to support heart health by reducing cholesterol oxidation. Lion's mane shows anti-diabetic properties; it inhibits an enzyme responsible for breaking down carbohydrates, which is what leads to low blood sugar spikes. Some studies also hint at its potential anti-cancer properties.
Bacha, S.A.S., Shujaat, A., Li, Y., Rehman, H.U., Farooq, S., Mushtaq, A., & Wahocho, S. (2018). Lion's mane mushroom; New addition to food and natural bounty for human wellness: A review. International Journal of Biosciences, 13(4), 396-402.
Liu J, DU C, Wang Y, Yu Z. Anti-fatigue activities of polysaccharides extracted from Hericium erinaceus. Exp Ther Med. 2015 Feb;9(2):483-487. doi: 10.3892/etm.2014.2139. Epub 2014 Dec 16. PMID: 25574220; PMCID: PMC4280918.
Nutritional Profile of Lion's Mane
In addition to its medicinal properties, this mushroom is also nutritional. It is packed with fiber, carbohydrates, and even some protein, along with various vitamins and minerals.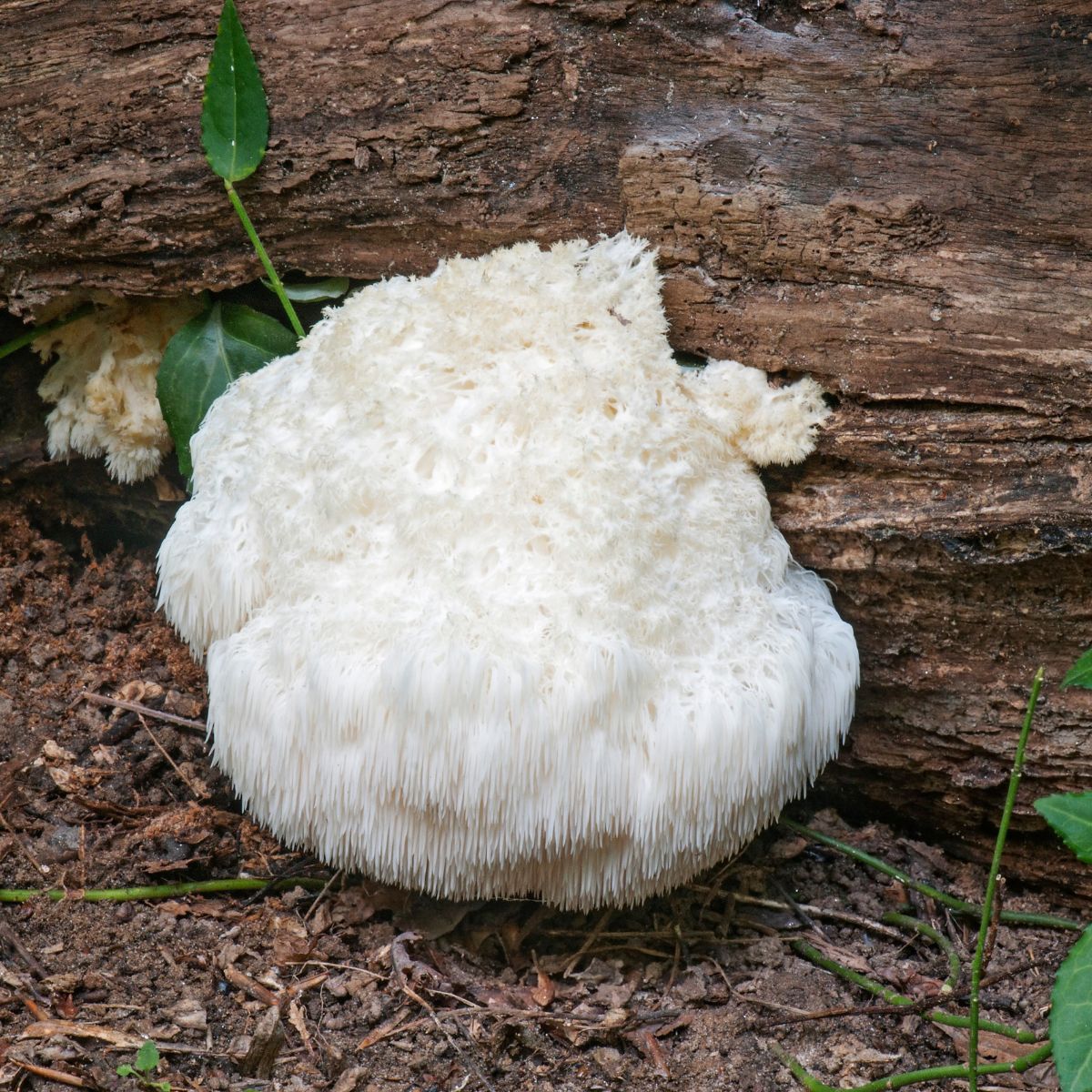 How to Incorporate Lion's Mane Into Your Diet
Cooking with Lion's Mane
The unique texture of Lion's Mane makes it a versatile ingredient in a variety of dishes. Its mild flavor and seafood-like texture make it a popular choice for soups, stir-fries, and even vegetarian crab cakes. Sautéing the mushroom in butter or deglazing it with saké or white wine can enhance its flavor.
While it is making its way into conventional grocery stores, fresh Lion's Mane can still be difficult to source. And it can get quite pricey, too. And, while we want to encourage more stores to carry it, the quality is usually not great in many supermarkets – the mushrooms are small and dried out.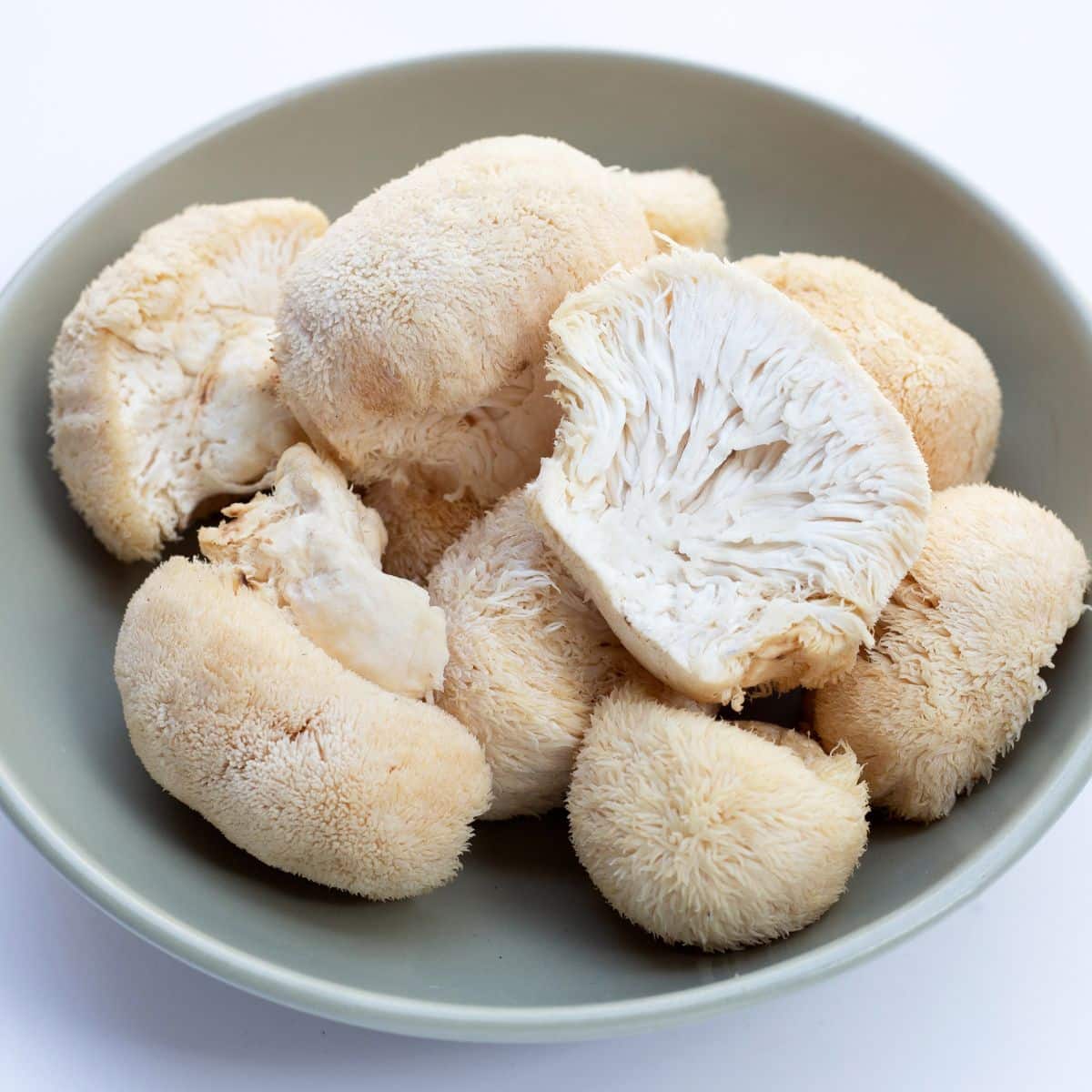 If you're lucky, you, or a good foraging friend who likes to share, will find some in the woods. Many people are getting into mushroom growing nowadays, too, and lion's mane is easily commercially cultivated. If you have a farmer's market in town, check for a local grower of mushrooms. Those will be the best and freshest. Or, see if there is a local supplier who you can buy directly from. Food coops are another great place to check for fresh and local fungi.
You can also look on sites like Foraged, where there are options to get fresh fungi delivered to you from a forager or buy products made from Lion's Mane.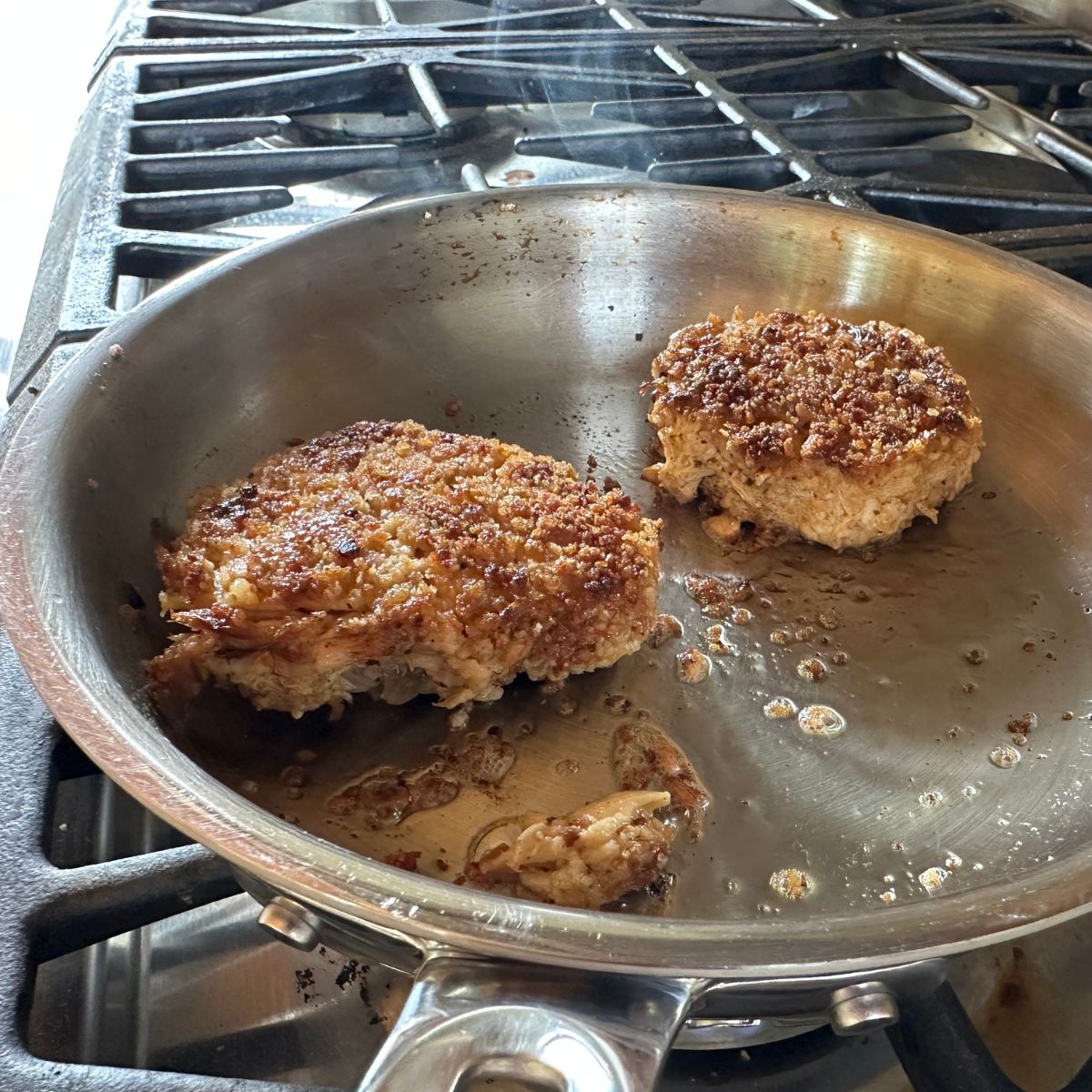 Lion's Mane Supplements
Lion's mane is also available in the form of supplements. These often come as powders, capsules, and tinctures and can be easily incorporated into your daily routine. As previously mentioned, you can get almost anything infused or made with lion's mane nowadays, from coffee to tea to sports drinks to gummies. Make sure you always buy from a reputable company as some are less than ethical about what and how much of the mushroom they add to the product.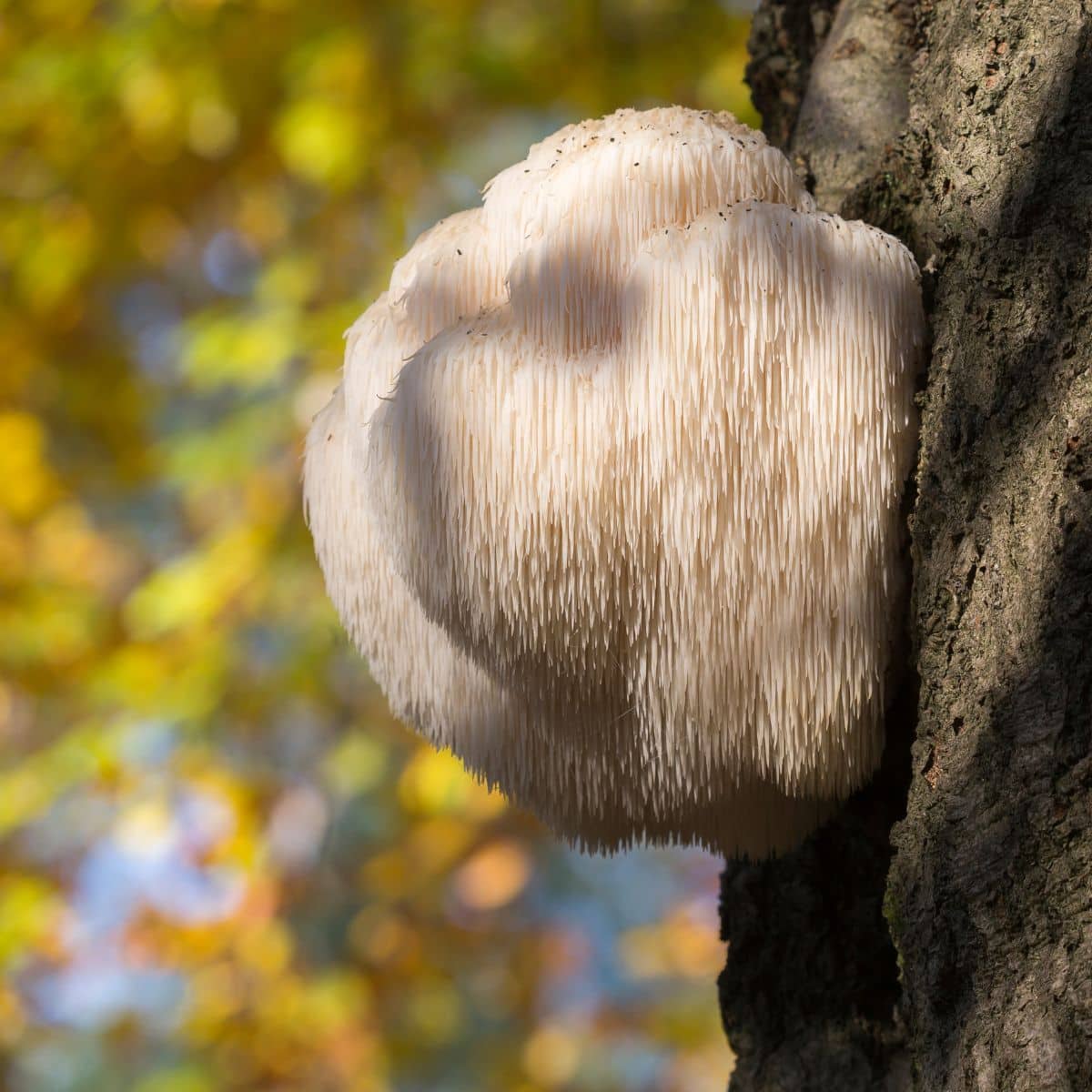 Foraging and Growing Lion's Mane
Mushroom Foraging
Foraging for Lion's Mane is a lot of fun. This mushroom is commonly found in hardwood forests in the late summer and fall. This guide to foraging Lion's Mane and related species is a great place to start.
This mushroom is native to Europe, Asia, and North American. It is on the Red List of Endangered Species in 13 European countries due to habitat destruction and specificity of growing conditions. If you live in Europe, please check the status in your country before wild foraging this mushroom!
Growing Your Own Lion's Mane
Another option is to grow your own Lion's Mane, which can be an ecologically mindful and rewarding endeavor. DIY mushroom growing kits have made this process much more accessible for beginners. These kits often include a colonized mushroom fruiting block, simplifying the growing process.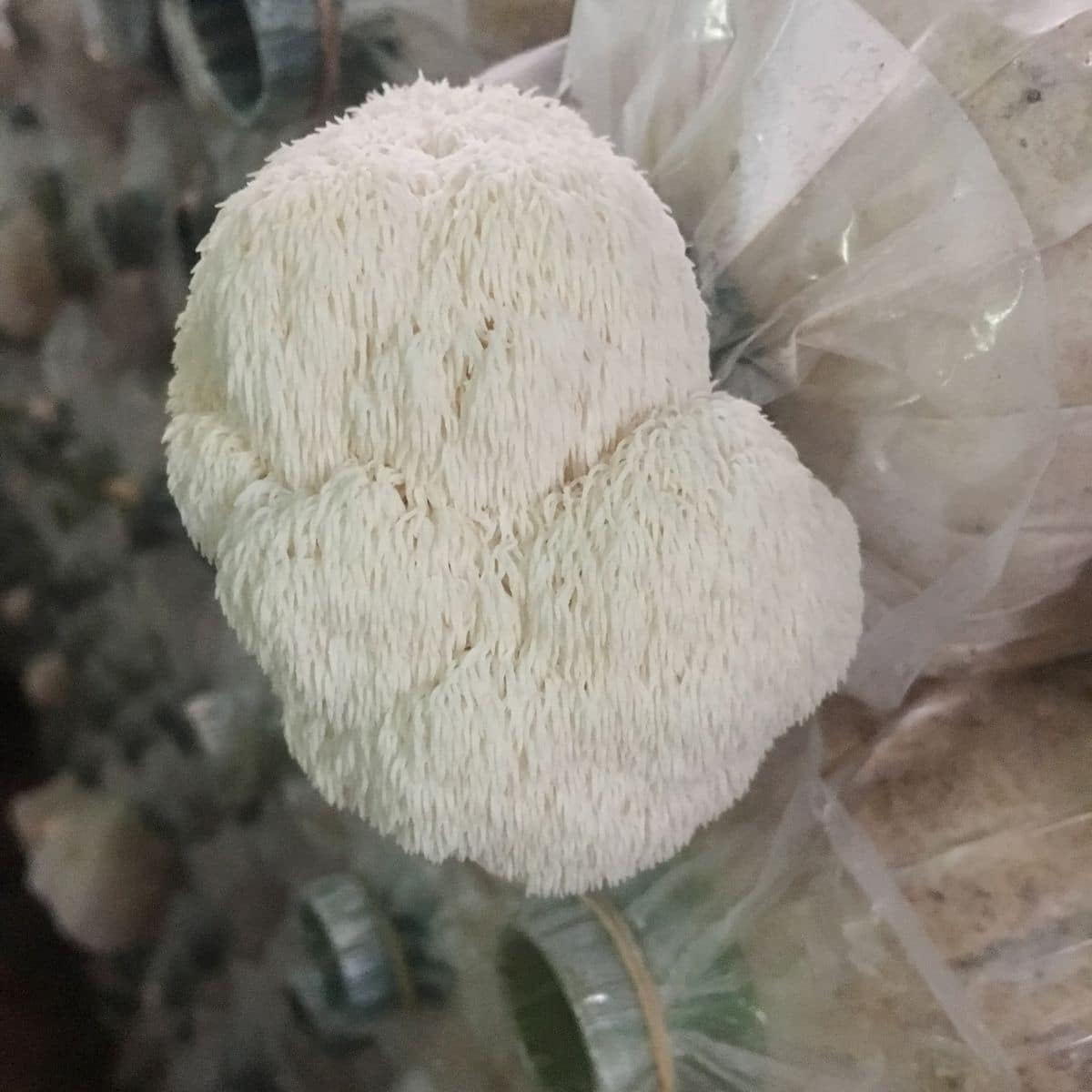 Lion's Mane Risks and Precautions
Lion's mane is generally considered safe with few side effects. However, some people are allergic to it, as a person can be allergic to any food. Anytime you try a new mushroom species, start with just a small amount to see if you have a reaction. Wait 24 hours before consuming it again, as allergic symptoms sometimes take a while to show up. Among the many, many people we know who eat this mushroom, only one had a reaction, breaking out in hives and throwing up. Not pleasant by any means, but not life-threatening either.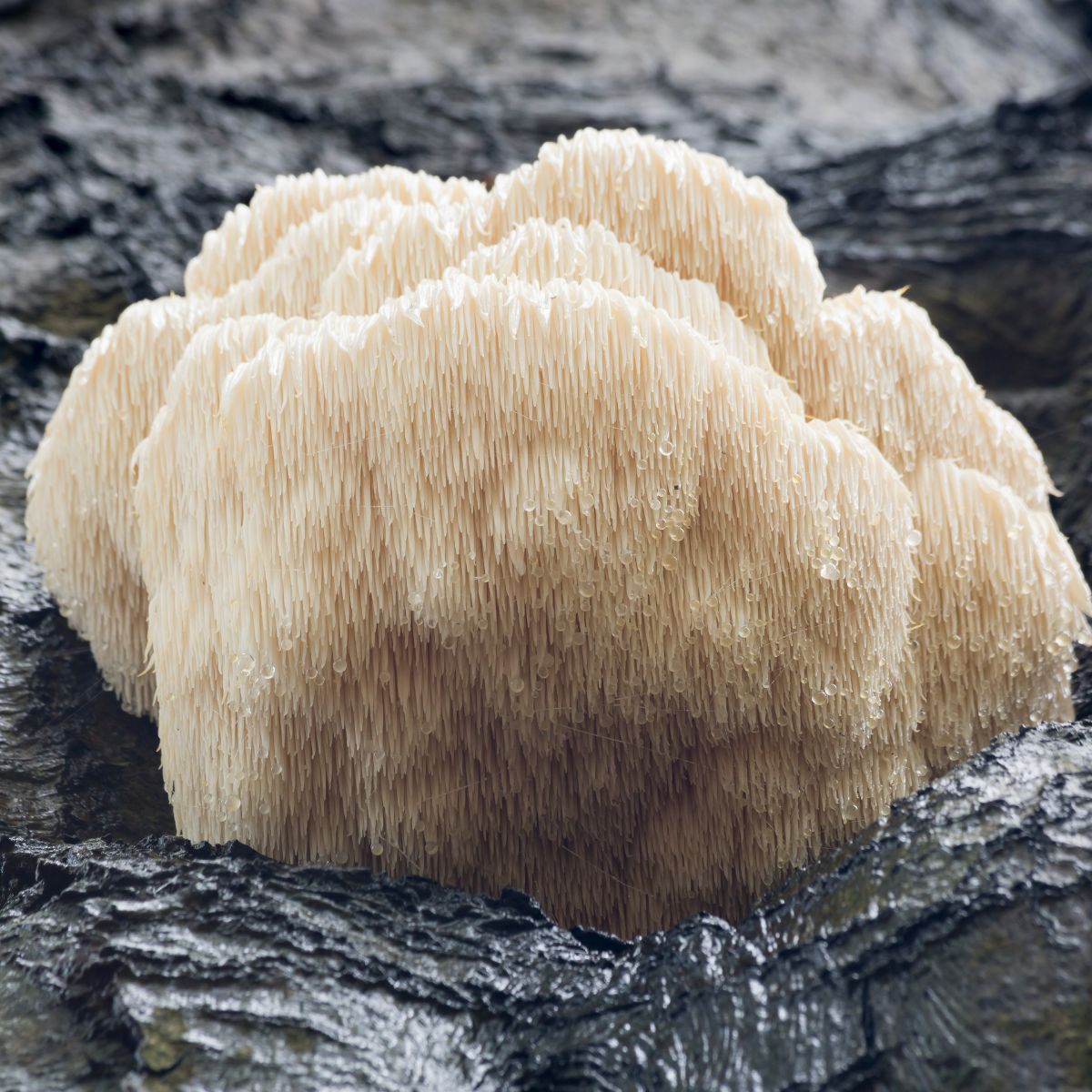 Common Questions About Lion's Mane
What are the medicinal benefits of taking lion's mane?
Lion's mane may assist in protecting memory, which in turn reduces or helps dementia. It is also showing promise for reducing depression, promoting quick nerve cell recovery, and reducing inflammation. It has been used for centuries as a means to boost the immune system.
Who shouldn't use or eat Lion's Mane?
Anyone with bleeding disorders. This mushroom has demonstrated blood thinning properties. Avoid taking lions mane if you have a bleeding disorder or take a blood thinner. It might slow down blood clotting or cause bruising.
Does lion's mane work immediately?
While some people experience benefits within just a few days, for others it may take weeks or months to notice any changes or differences. As with all new medications or supplements, it is best to start with a low dose and then gradually increase it over time to determine its effects on your body.
Does Lion's Mane have proven benefits?
Lion's mane is currently being studied for its ability to protect against memory loss, alleviate depression, reduce inflammation, and boost the immune system. While it shows very promising results, there are still more studies to be done.
References
Chong, P.S., et al. (2019). "Therapeutic potential of Hericium erinaceus for depressive disorder."
Hobbs, C. (1986). "Medicinal mushrooms."
Mori, K., et al. (2009). "Improving effects of the mushroom yamabushitake (Hericium erinaceus) on mild cognitive impairment."
Nagano, M., et al. (2010). "Reduction of depression and anxiety by 4 weeks Hericium erinaceus intake."
Sabaratnam, V., et al. (2013). "Neuronal health – Can culinary and medicinal mushrooms help?"
Bacha, S.A.S., Shujaat, A., Li, Y., Rehman, H.U., Farooq, S., Mushtaq, A., & Wahocho, S. (2018). Lion's mane mushroom; New addition to food and natural bounty for human wellness: A review. International Journal of Biosciences, 13(4), 396-402.
Nakatsugawa, M., Takahashi, H., Takezawa, C., Nakajima, K., Harada, K., Sugawara, Y., … Abe, S. (2003). Hericium erinaceum (yamabushitake) extract-induced acute respiratory distress syndrome monitored by serum surfactant proteins. Internal Medicine, 42(12), 1219–1222. https://doi.org/10.2169/internalmedicine.42.1219
Zhang, J., An, S., Hu, W., Teng, M., Wang, X., Qu, Y., … Wang, D. (2016). The neuroprotective properties of Hericium erinaceus in glutamate-damaged differentiated PC12 cells and an Alzheimer's disease mouse model. International Journal of Molecular Sciences, 17(11), 1810. https://doi.org/10.3390/ijms17111810