The artist's conk fungus is a unique and versatile mushroom that has been utilized for centuries in various ways, from traditional medicine to a canvas for creating intricate works of art. It grows widely across North America and is often overlooked due to its dull surface color. If you are an artist looking to expand your canvas, this is a cool fungus to know.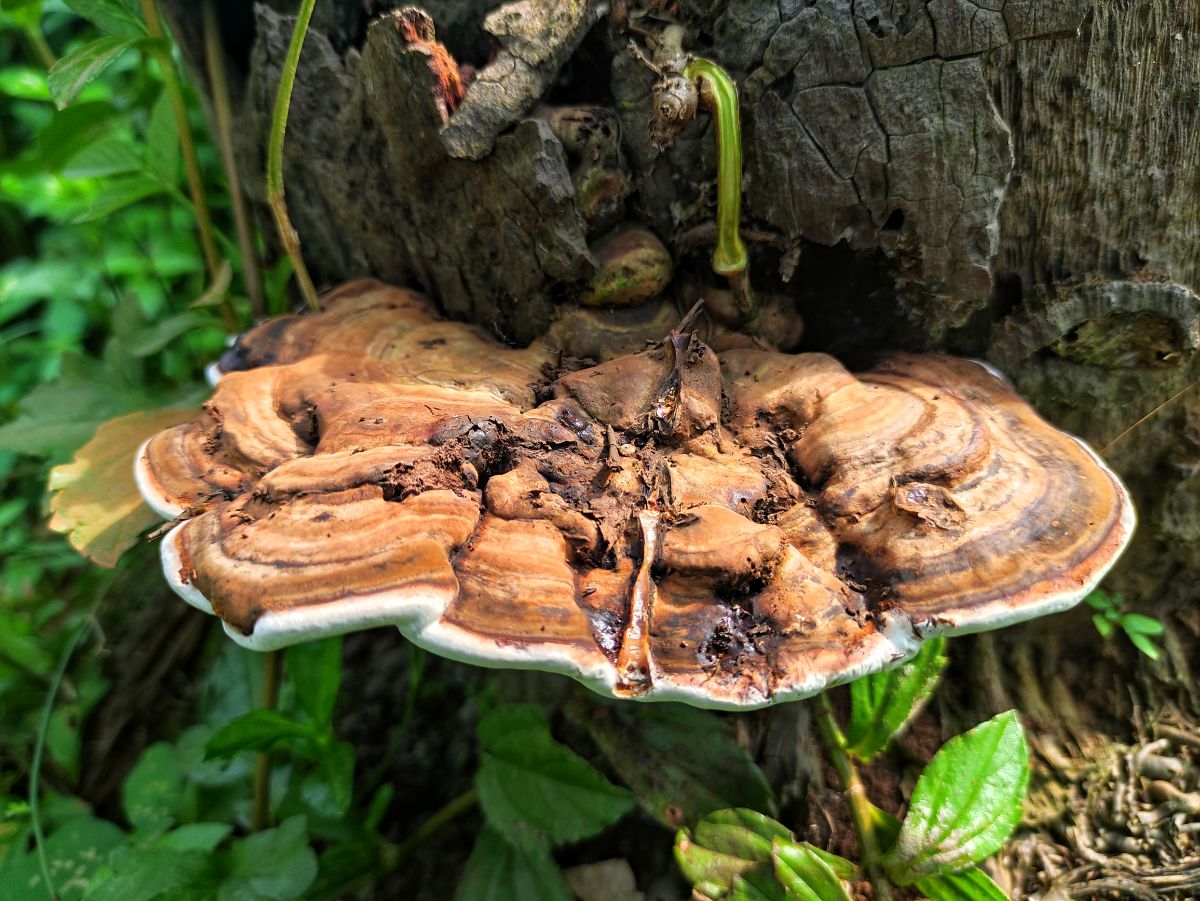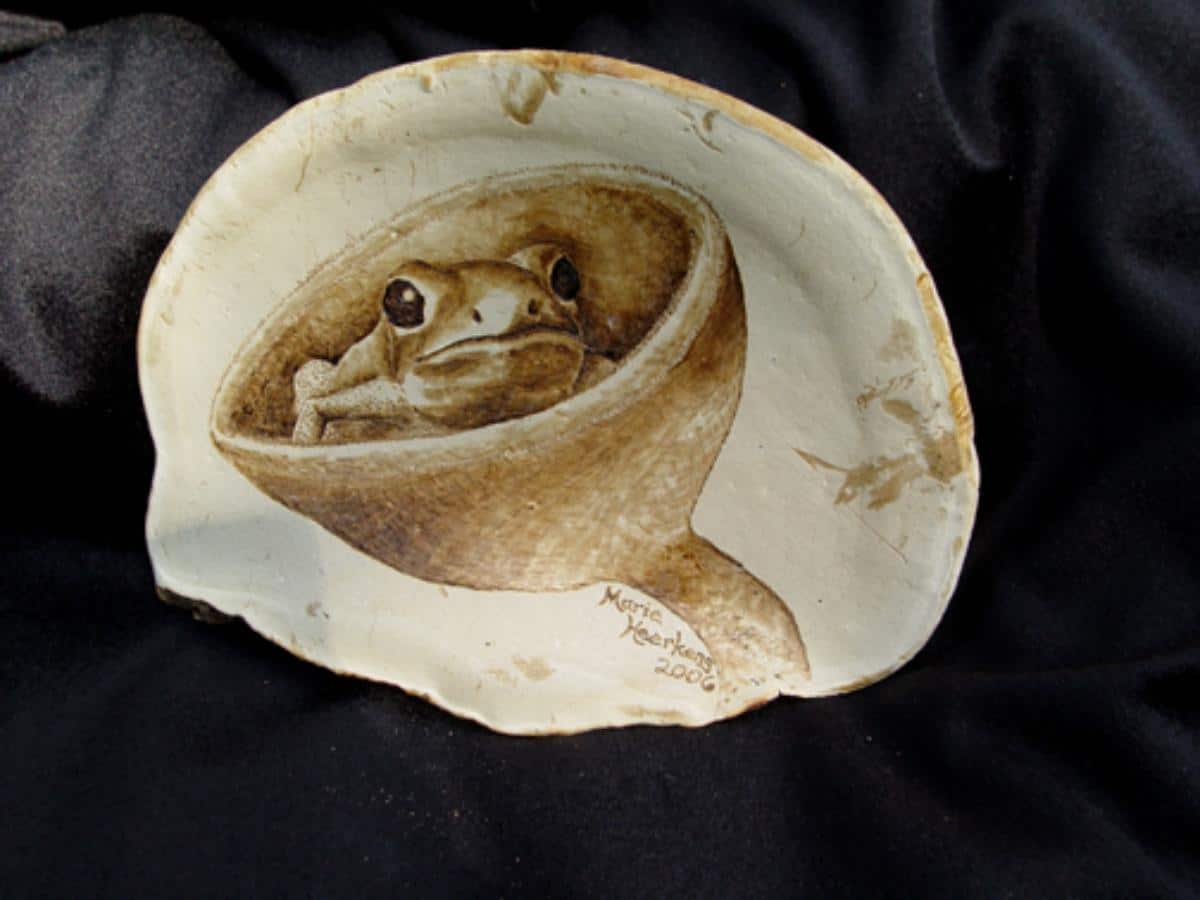 Jump to:
All About Artist's Conk Fungus
The artist's conk, scientifically known as Ganoderma applanatum, is a species of fungus that is part of the Ganoderma genus. The term "conk" is derived from the word "conch," referring to the fungus's hard, woody texture, similar to a seashell. This particular conk is commonly referred to as the "Artist's Conk" or "Artist's Bracket" due to its unique ability to retain markings made on its white pores, making it a perfect canvas for artistic expression. It is also known as bear bread.
The history of the Ganoderma applanatum spans centuries. In traditional Chinese medicine, the artist's conk is known as "shu-she-ling-zhi," and it has been utilized for its medicinal properties for over 2,000 years. The fungus was highly regarded in ancient China and was often reserved for royalty due to its rarity and perceived healing powers.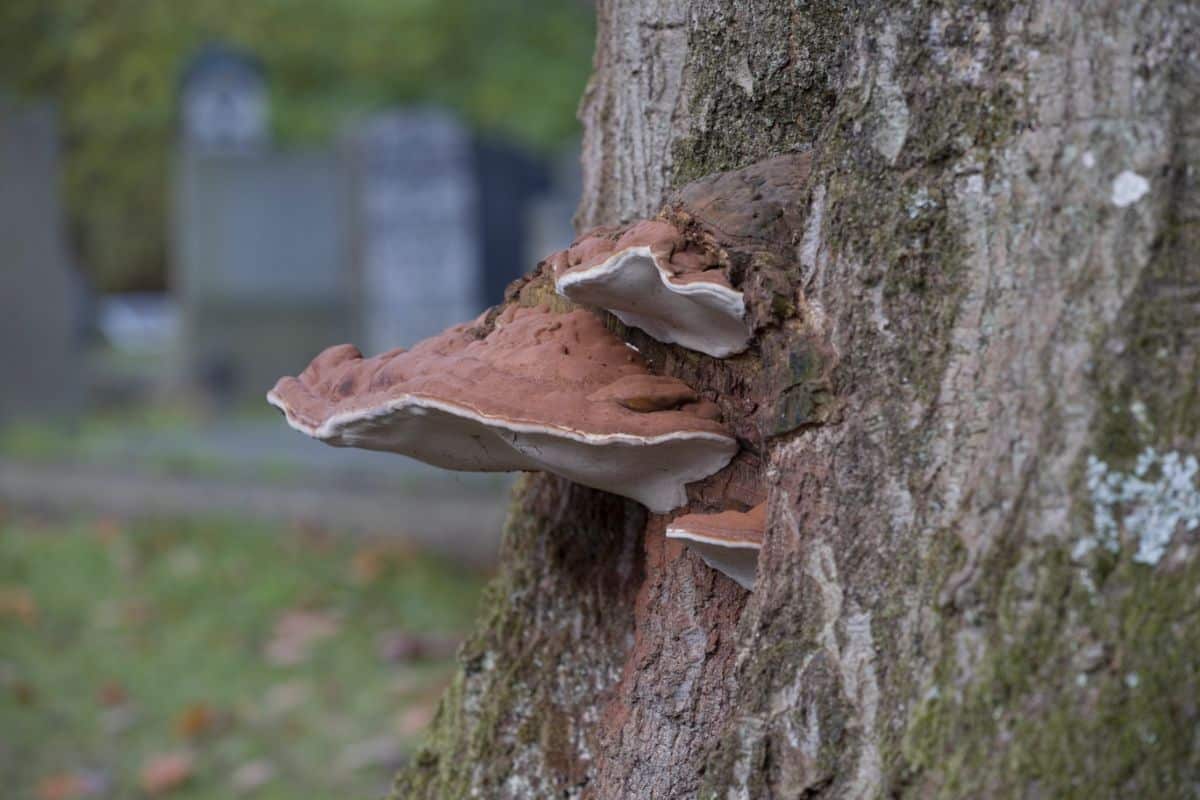 Similarly, in traditional Japanese medicine, the artist's conk is called "Kofuki-saru-no-koshikake," which translates to "powder-covered monkey's bench." This name is derived from the fungus's appearance, as the cap's upper surface can resemble a bench dusted with powder. In Japan, the Ganoderma applanatum was also used as a natural remedy for various ailments.
Throughout history, the artist's conk has been a symbol of longevity and rejuvenation in various cultures. In the 16th century, the renowned herbalist John Gerard praised the fungus's ability to "prolong and renew the age of man."
This fungus has been highly valued for its medicinal properties and versatility in art, but it also plays a significant role in the ecosystem. The artist's conk is parasitic and saprophytic, meaning it attacks and decomposes trees. It's particularly known to decay poplar and beech trees. This fungus is more common on dead trees than living ones. It can cause trees to die over time, but more importantly, it decomposes dead wood into rich organic material.
The artist's bracket is a tough mushroom, growing year-round in even the harshest of climates. They grow on dead or dying hardwoods, are adaptable to either, and tolerate a wide range of environmental and climate conditions.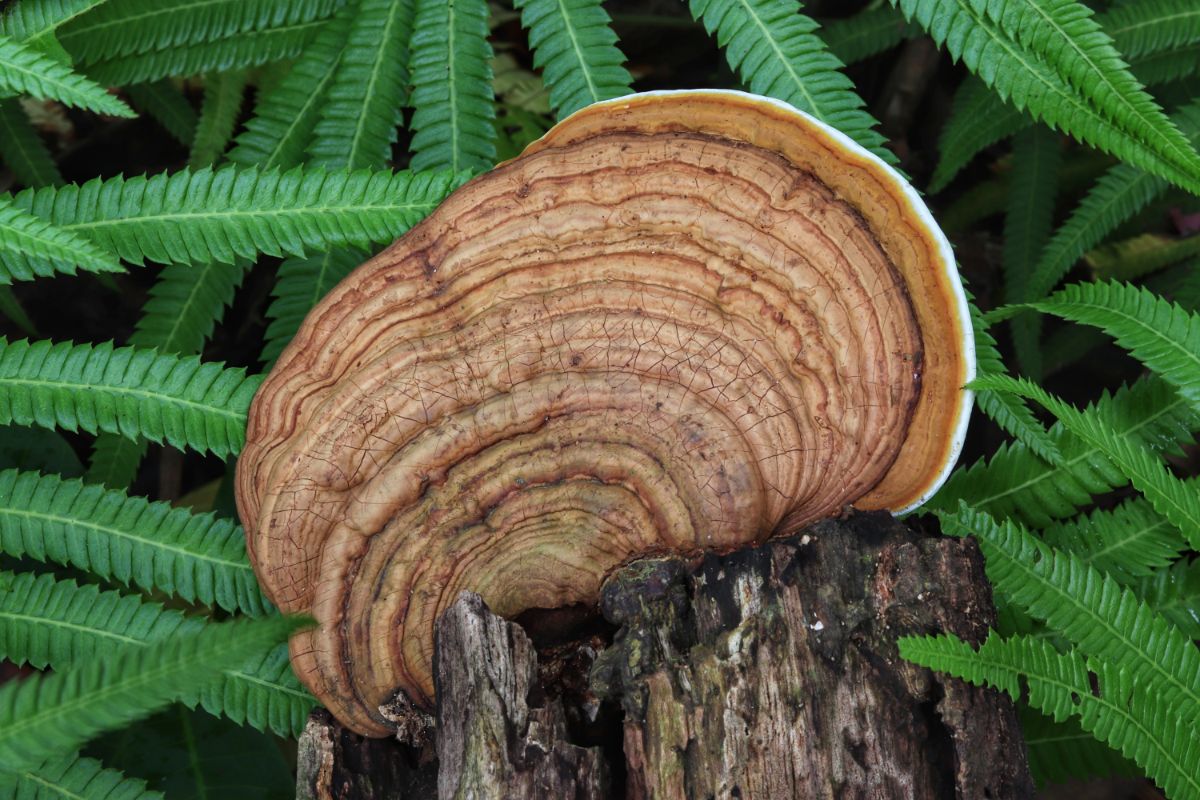 Fun Fact: A species of fly, Hirtodrosophila mycetophaga, uses the underside of the artist's conk exclusively to court and mate. The flies only choose brackets that are white or off-white (grayish) underneath – they like the fresh, spore-releasing specimens best because the white surface makes their dark bodies more visible to potential mates.
Artist Conk Identification
Season
Late spring to early fall, with the most abundant growth seen during the summer months.
Habitat
The artist's conk is a perennial fungus found all around the world. It grows on dead or dying hardwood trees, such as oak, maple, elm, poplar, and beech. It is a saprotrophic fungus, which means it decomposes dead organic matter, essentially recycling nutrients back into the ecosystem.
The conk prefers to grow on trees that have been affected by other fungi, insects, or environmental stress. This opportunistic nature allows the Artist's Conk to establish itself and continue its life cycle. The fruiting bodies of the fungus typically appear from dead or dying trees but also grow on living trees.
They might grow singularly but more often are found in dense groupings and even overlapping. The fruiting bodies survive for many years on a tree, growing in size each year. You may see specimens with many layers of pores on the underside. A specimen can be cut in half to determine age – the number of layers shows the age, similar to rings in a tree.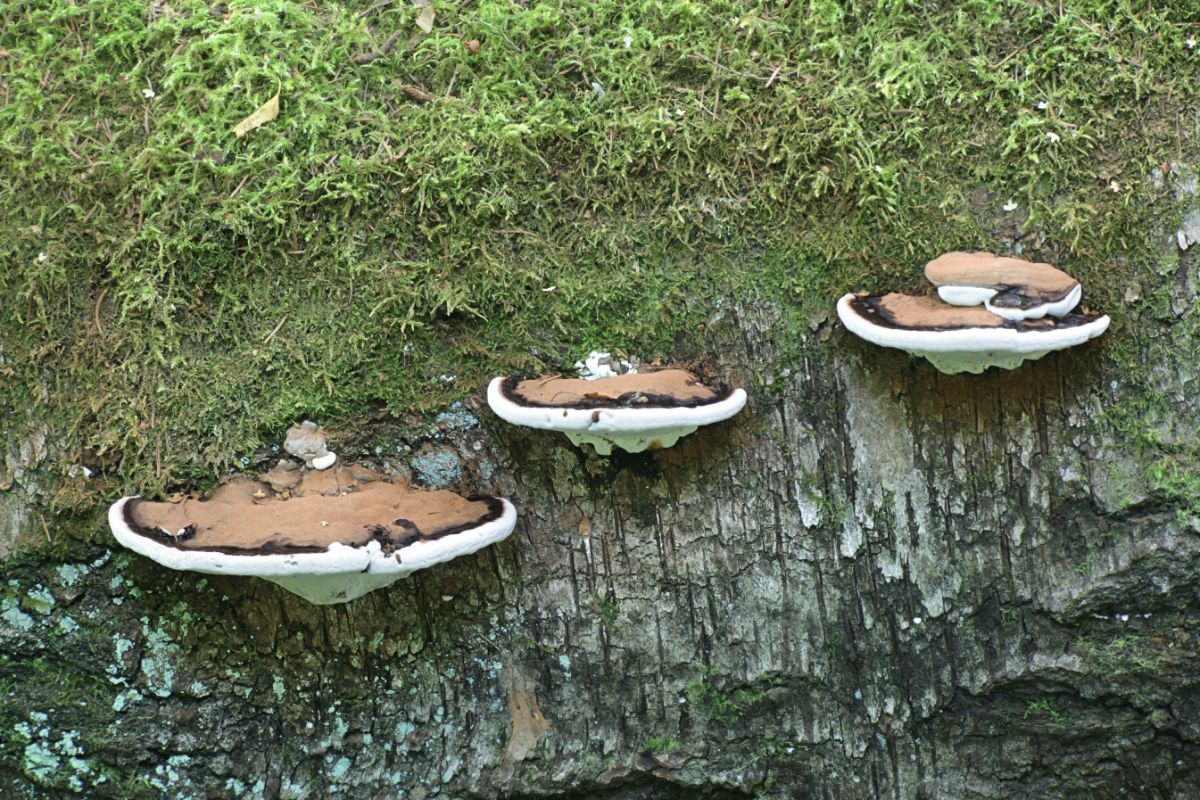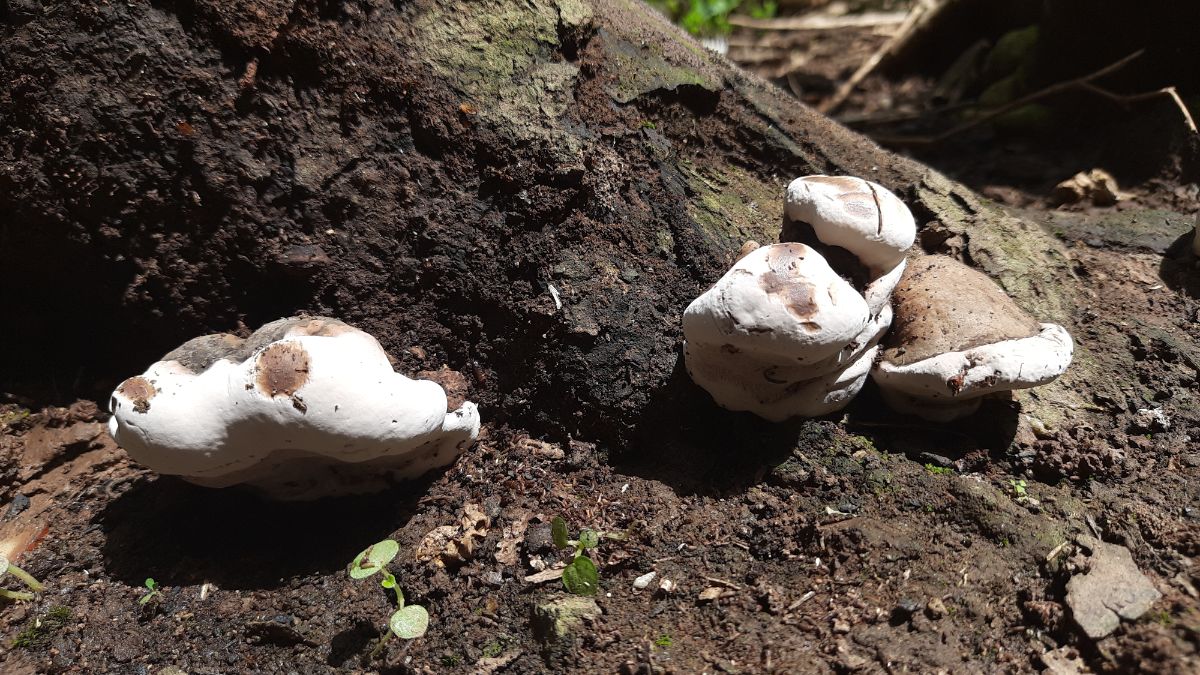 Identification
The artist's conk is a polypore mushroom, meaning it has pores on its underside instead of gills like many other fungi. This is an essential characteristic to look for when identifying the conk.
The cap of the artist's conk is typically fan-shaped or semicircular, with a tough, woody texture. It can range in size from a few inches to over two feet in diameter. When young, it is more hoof shaped, then as it matures, it becomes kidney-shaped.
The upper surface is typically brownish to dull gray and furrowed, with zones or deep bands with different color shades, though they're all in the brown to gray range. The cap's margin is often white or cream-colored, and the edges can be wavy or irregular. There is no stem or only a very short and stubby one; the fungus attaches directly to the tree and is not easily budged or removed.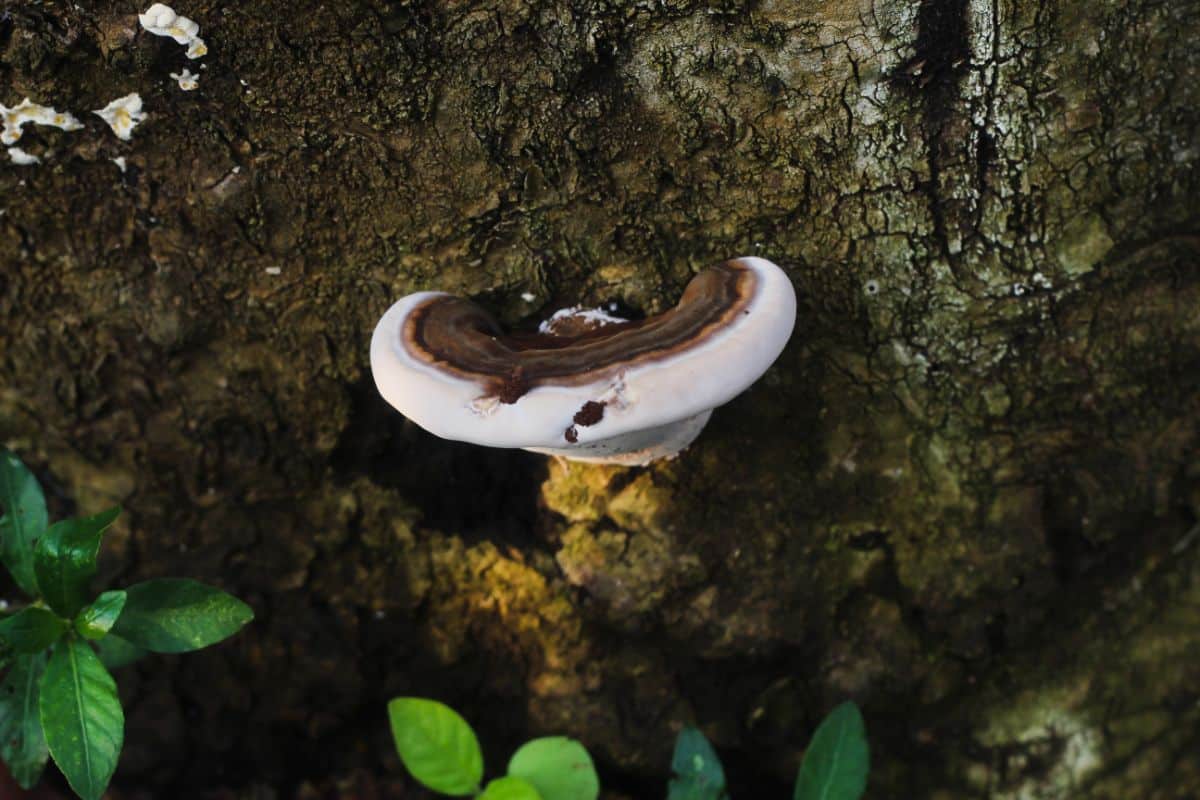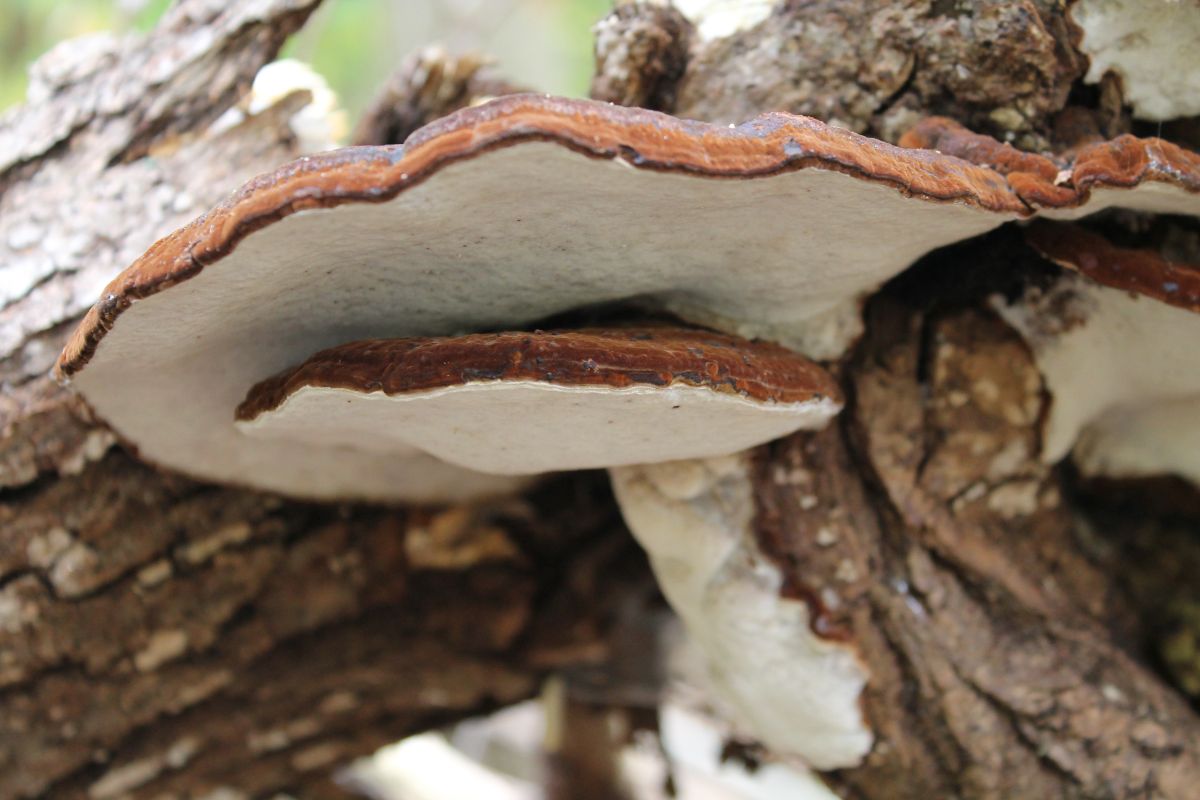 The most distinctive feature of the artist's conk is its white pore surface. When scratched or etched, the marks become a permanent part of the fungus. This unique attribute is what gives the artist's bracket its name and artistic appeal. As the conk ages, the pore surface may become discolored with shades of yellow or brown and turns completely dirty brown with age.
With maturity, the top of the mushroom is often covered with brown spores that look like a fine (or thick) layer of dust. It easily brushes off to reveal the gray surface below.
The flesh of the artist's conk is brown, dense, and woody. There is no distinctive smell other than "mushroomy." The spore print is brown to orange-brown.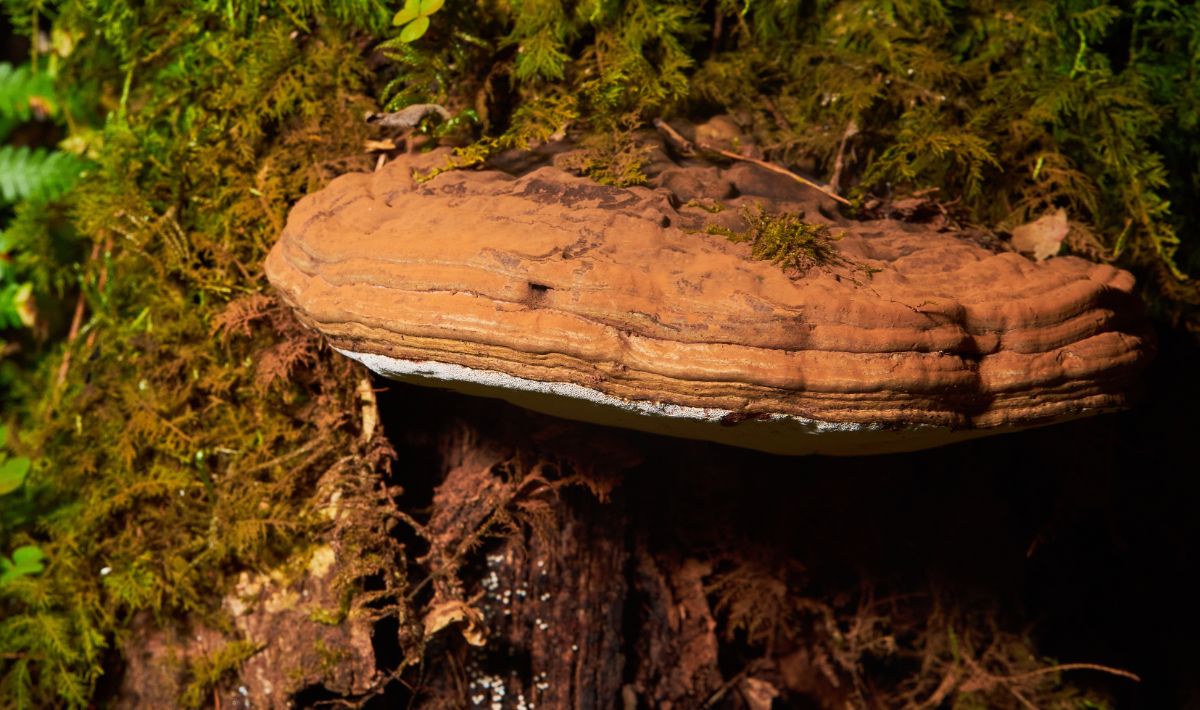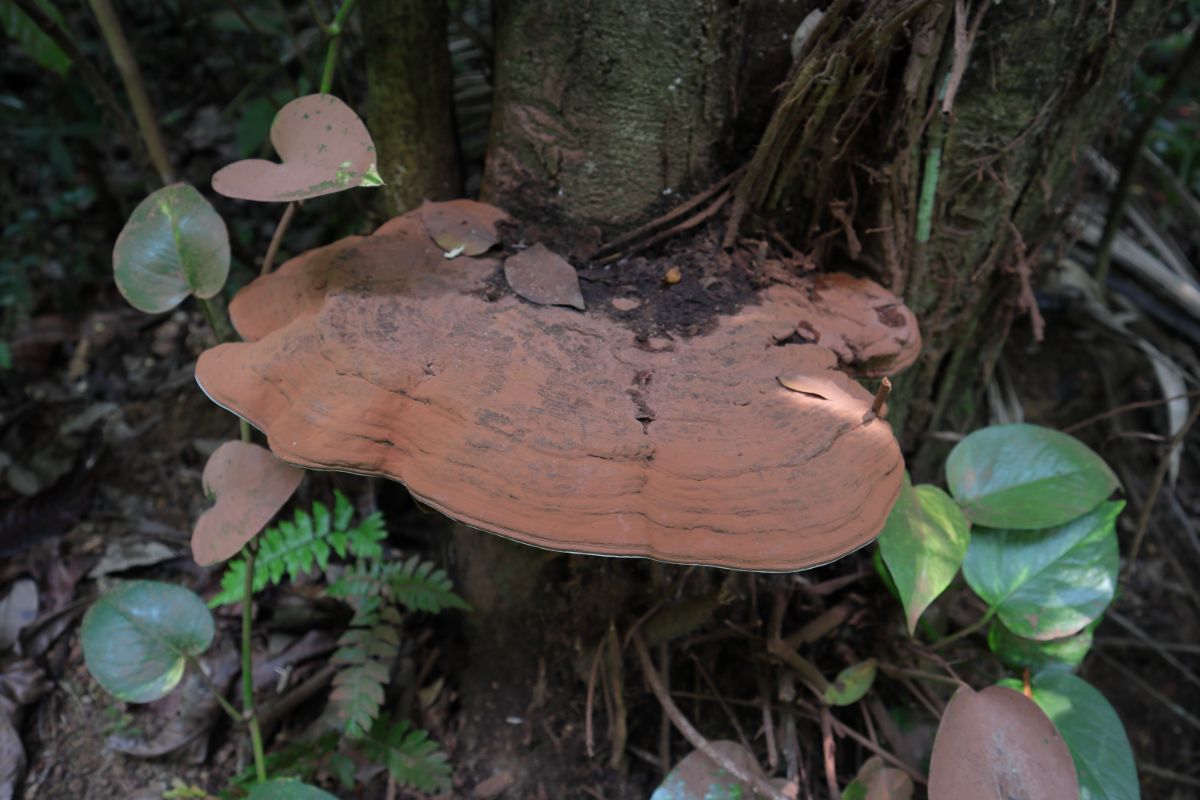 Ganoderma Applanatum Lookalikes
While the artist's conk is a unique and easily identifiable fungus, other conks resemble the fungus.
Red-belted Conk (Fomitopsis pinicola)
This conk has a similar woody texture and can be found on conifers, unlike the artist's bracket, which primarily grows on hardwoods. The Red-belted Conk also has a reddish band near the edge of the cap, which is glossy when young but turns dull with age.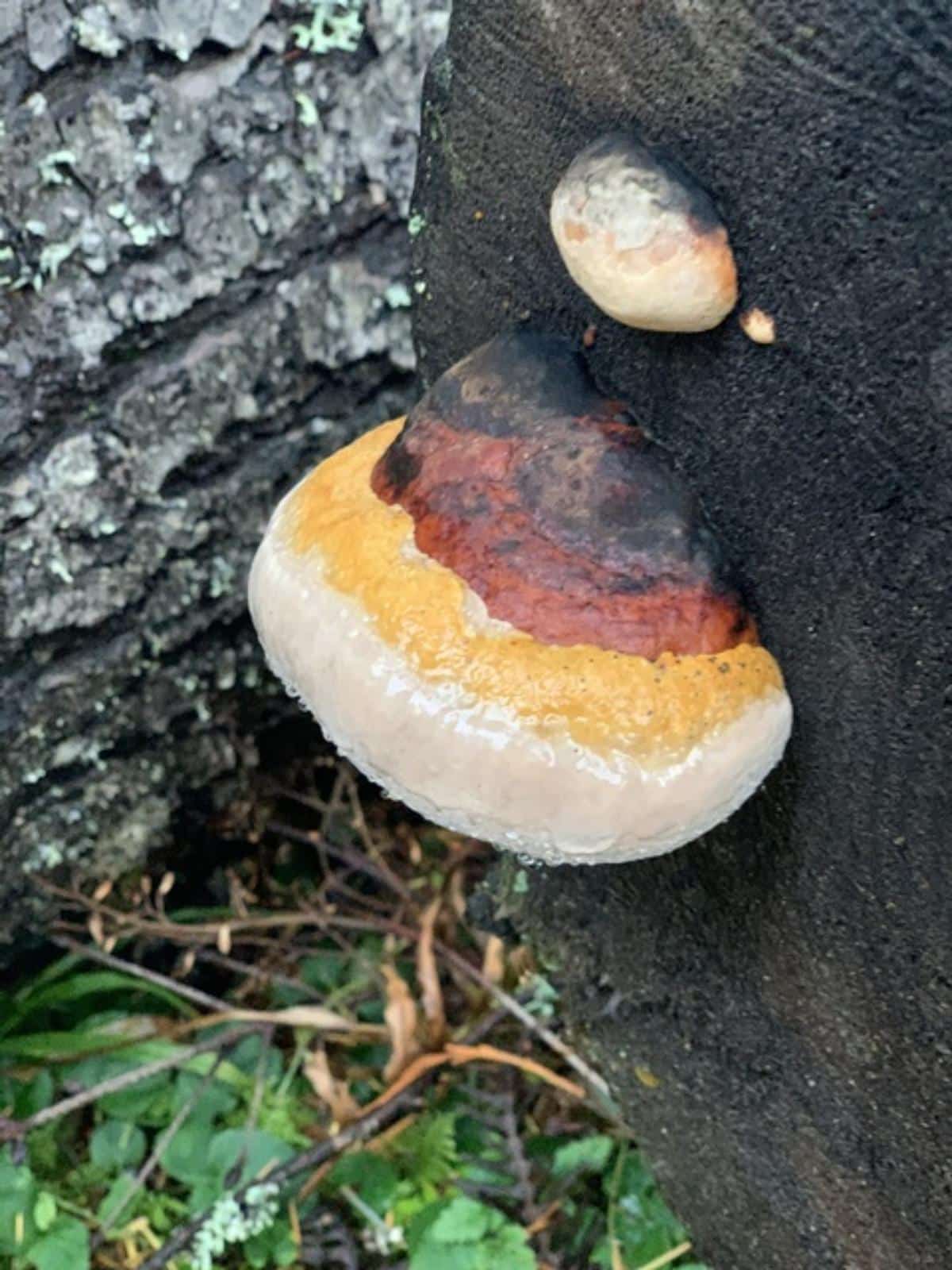 Turkey Tail Mushroom (Trametes versicolor)
The Turkey Tail has a similar white pore surface, but its cap is more colorful, ranging from shades of brown to blue and green. The fungus also has a softer, more flexible texture than the artist's conk, and it is much, much smaller.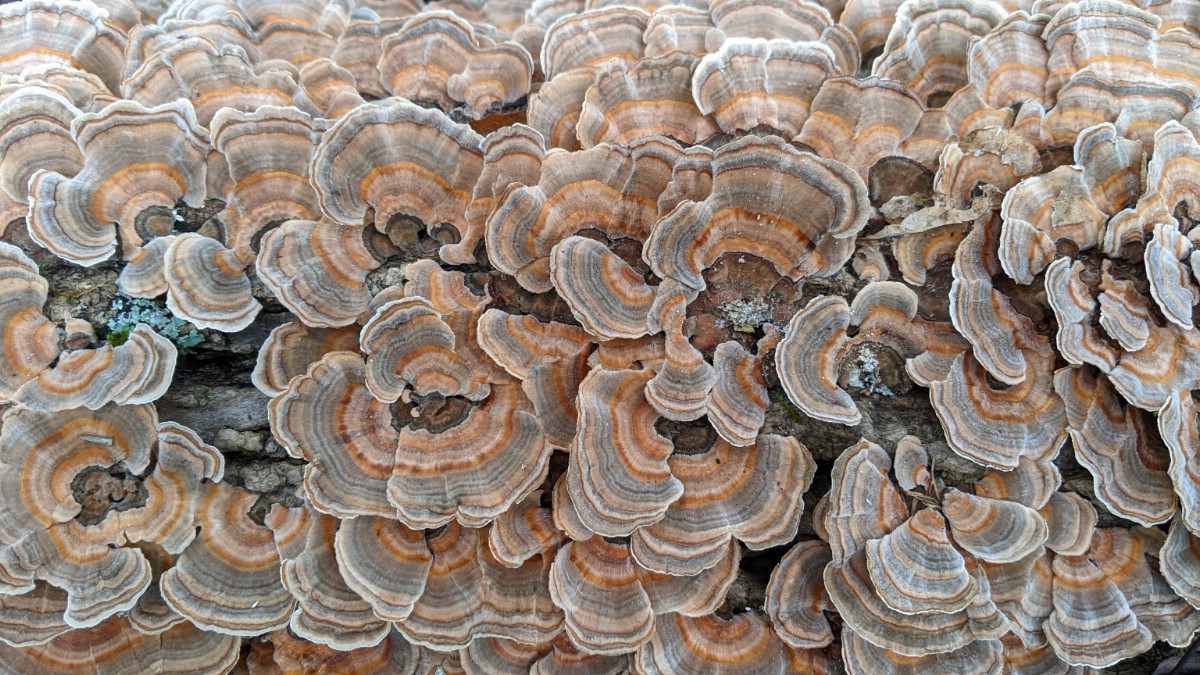 Reishi (Ganoderma "Reishi" species group)
Reishi mushroom caps are a deep red color, burgundy to brick colored, and very shiny when young. They look like they've been deeply polished. With age, they may turn dull reddish-brown and can be covered with brown dust like the artist's bracket. However, usually, if you buff the cap a little with a towel or your hand, the gloss will return. The glossiness and red of the cap differentiate it from the artist's conk.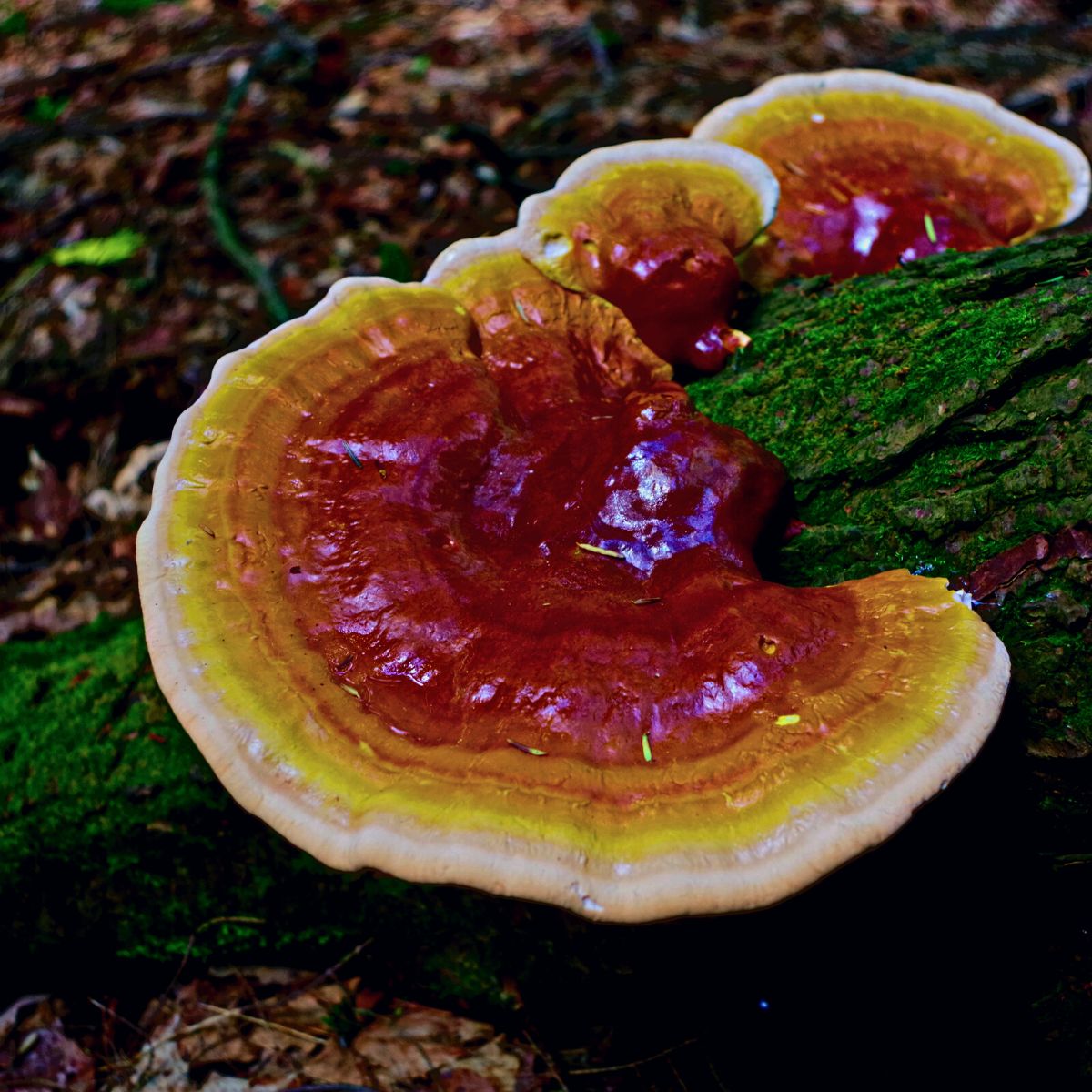 Ganoderma brownii
This lookalike from the Pacific Northwest has a brown top and white spore underside. However, it is thicker and darker in appearance, and the pores often are yellowish instead of white.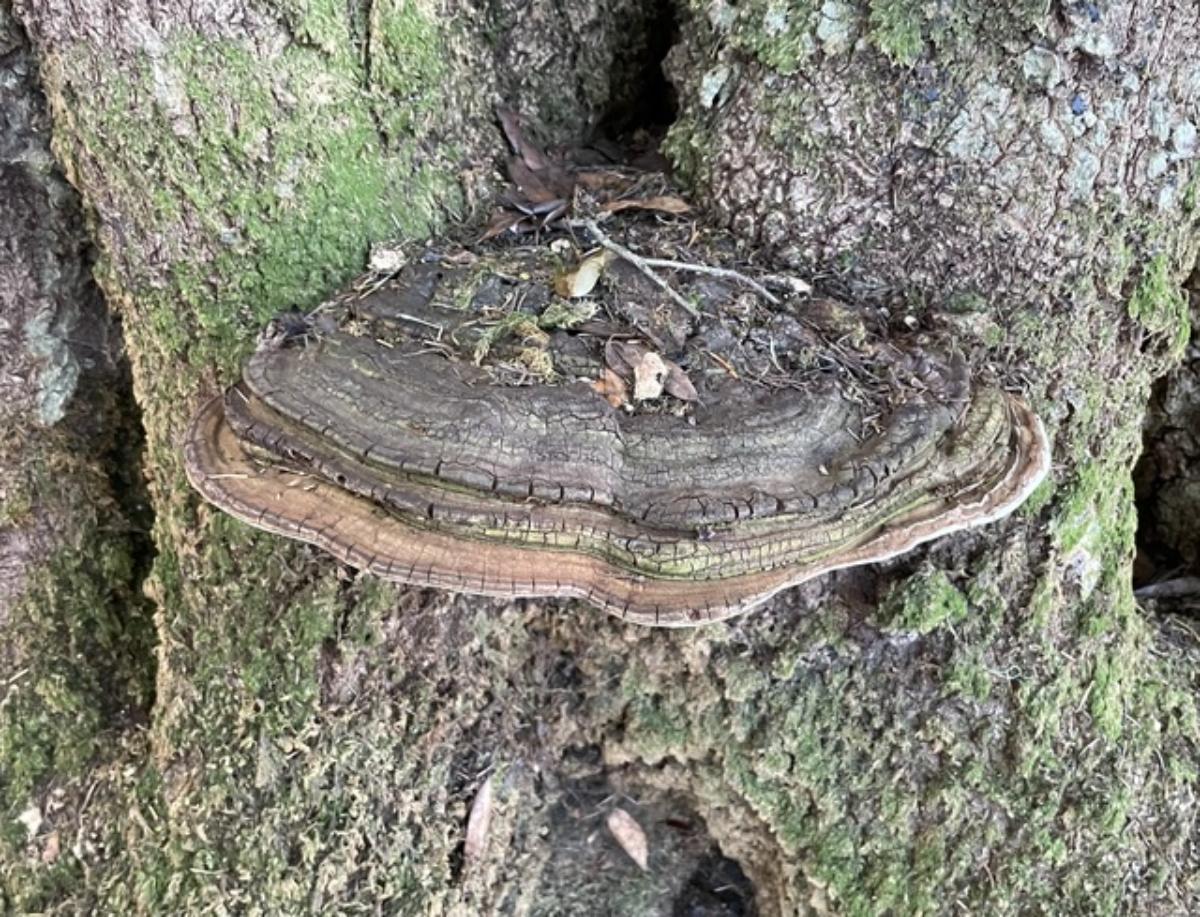 Artist's Conk in Traditional Medicine
Ganoderma applanatum has long been valued for its medicinal properties. In traditional Chinese and Japanese medicine, the fungus was used to treat a variety of ailments, such as digestive issues, kidney disorders, tuberculosis, and respiratory problems. The fungus is also believed to possess anti-inflammatory, anti-tumor, and immune-boosting properties.
The fungus is added to soups or made into tea to get the medicinal benefits. Depending on the age and toughness of the specimen, you may not want to eat the actual fungus. Instead, cook it to release the beneficial compounds and then remove it from the dish.
Scientific research has supported some of these traditional uses, with studies showing that the artist's bracket contains compounds with potential therapeutic benefits. These compounds include triterpenoids, polysaccharides, and ganoderic acids, which have been shown to exhibit anti-cancer, anti-viral, and anti-oxidant activity.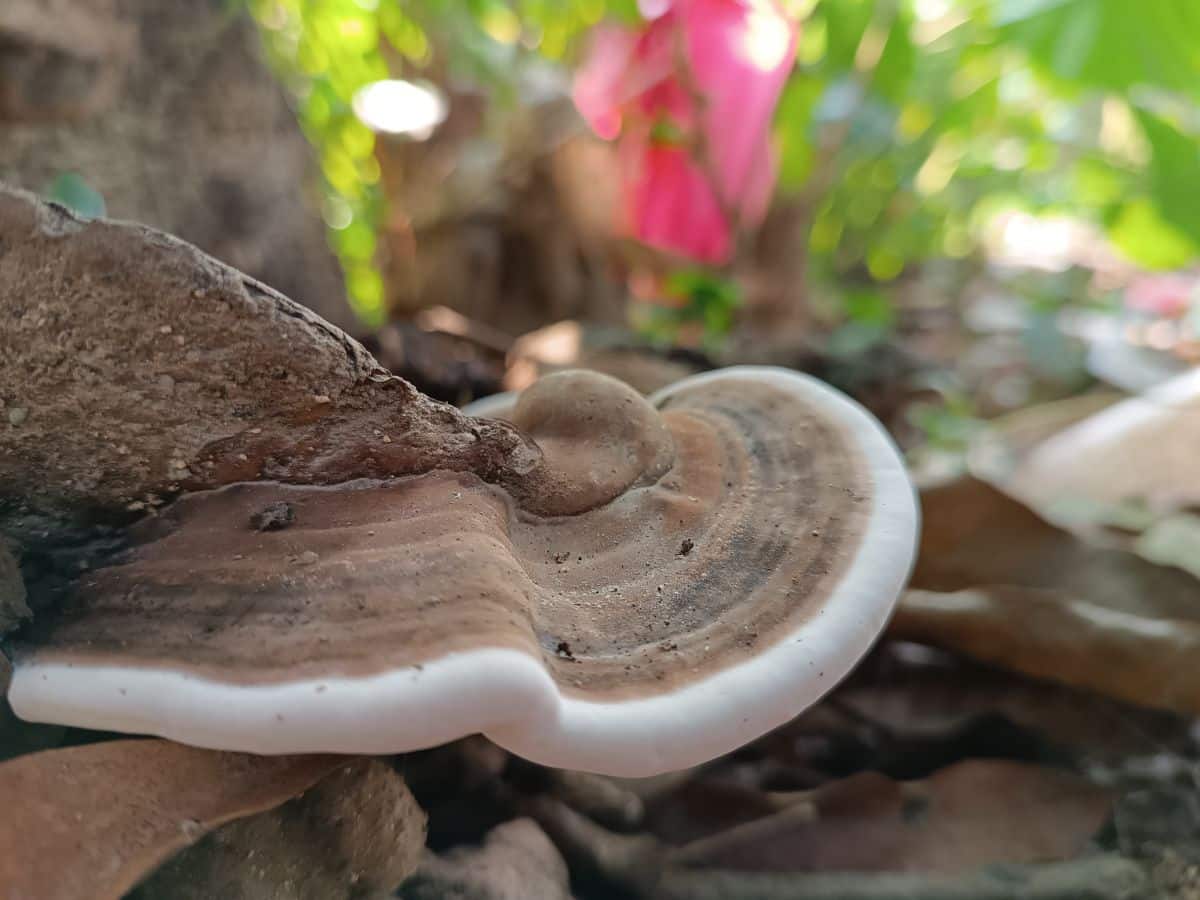 It is essential to note that while the Ganoderma applanatum shows promise in its medicinal properties, further research is needed to understand its potential applications in modern medicine fully. As always, it is crucial to consult a healthcare professional before using this or any other natural remedy as a form of treatment.
Art Made With Artist's Bracket
The artist's conk is not only a source of potential healing but also a unique canvas for artistic expression. The white pore surface of the conk allows for intricate etchings and drawings to be made directly on the fungus. These markings become permanent as the conk dries, resulting in a one-of-a-kind piece of art.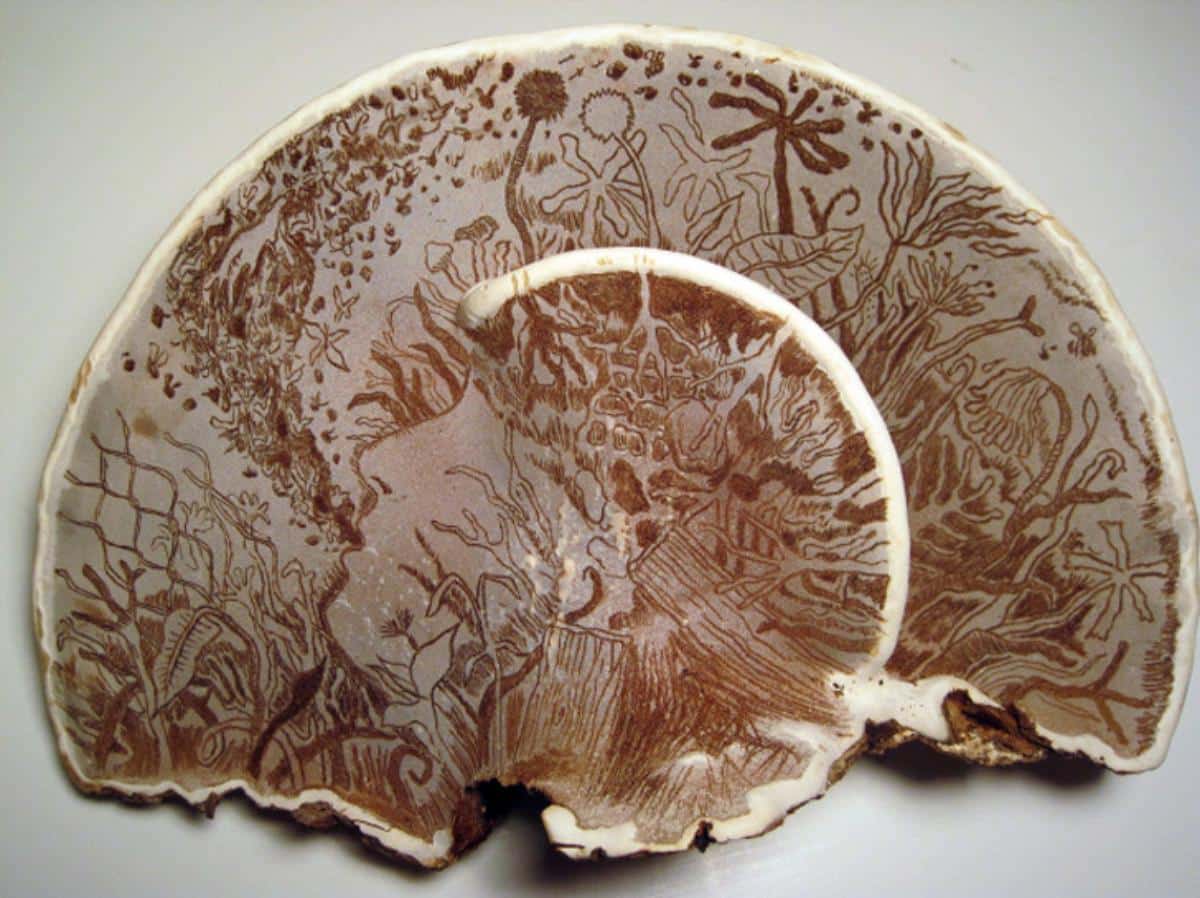 Artists have been using the artist's bracket as a canvas for centuries, creating intricate designs, landscapes, and portraits. The medium offers a unique challenge, as the artist must work with the natural shape and texture of the conk. This often results in artwork that is both stunning and harmonious with nature.
In recent years, there has been a resurgence of interest in creating art on the artist's conk. Social media platforms have provided a space for artists to showcase their work, inspiring others to explore this unique medium. The art made with this mushroom often pays homage to the fungus's history and highlights the natural world's incredible beauty and versatility.
The artist's bracket can only be drawn on when it has a fresh white pore layer, which occurs during the growing season. Specimens harvested in winter when the fungus is primarily dormant cannot be drawn on. They can be carved, though, even if the pores aren't white.
Artist Conk Artwork:
Harvesting Artist's Conk For Artwork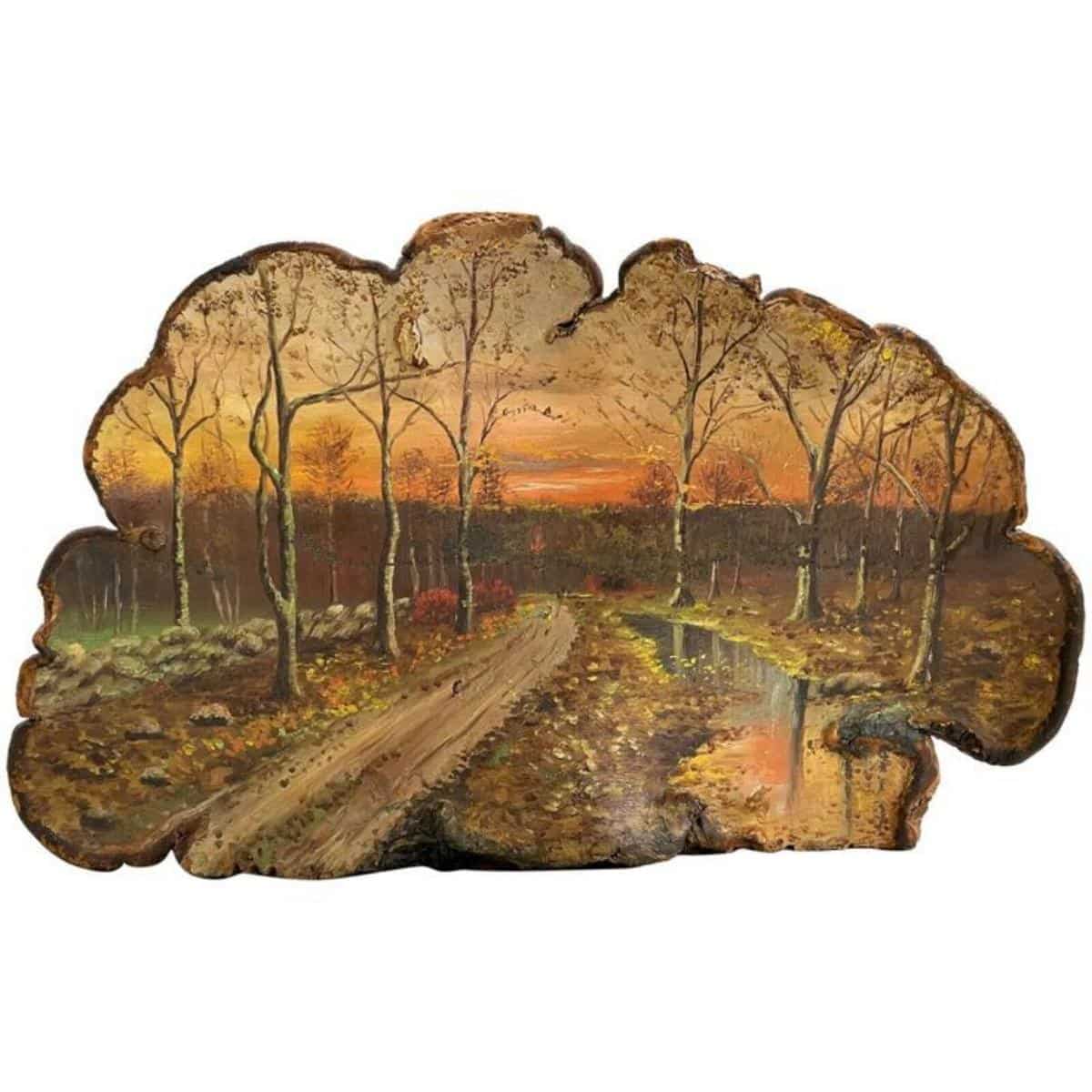 If you intend to use your found artist's conks for sketching, you need to harvest it very carefully. The white underside that makes it such a great canvas also bruises and discolors very easily from handling. If you even just lightly touch the white undersurface, you'll leave a mark.
The fungus must be picked very carefully, handling only the sides when you remove it from the tree. This can be difficult because it is very well attached. A super sharp knife and gentle hands goes a long ways.
Once you've picked it, then you need to get it home without marking it up too much. This can be complicated. Store it in a bag or even better, hard-sided container, away from other mushrooms that may discolor the white surface.
We like to wrap them loosely in newspaper and then put them in a basket by themselves, while also being careful not to stack them on top of each other.
Getting a species home without any marks at all is virtually impossible, but you can at least minimize the bruising. Chances are, fingers crossed, that you can work any imperfections or marks into the final design.
The Role of Artist's Conk in Ecosystems
Ganoderma applanatum plays a vital role in the ecosystems it inhabits. As a saprotrophic fungus, the artist's conk is responsible for breaking down and recycling dead organic matter. By decomposing fallen trees and branches, the conk helps release valuable nutrients back into the soil, promoting new vegetation growth.
The artist's conk also provides a habitat for various insects and other organisms. The fungus's fruiting bodies create sheltered spaces for insects to hide and lay their eggs. Moreover, the conk's decomposition process helps create hollows and cavities within trees, providing nesting sites for birds and small mammals.
The artist's conk is often harvested for its medicinal properties and artistic value, and while responsible harvesting can be beneficial, over-harvesting can negatively impact the fungus population. Leave some of the conks behind to ensure the fungus can continue to propagate.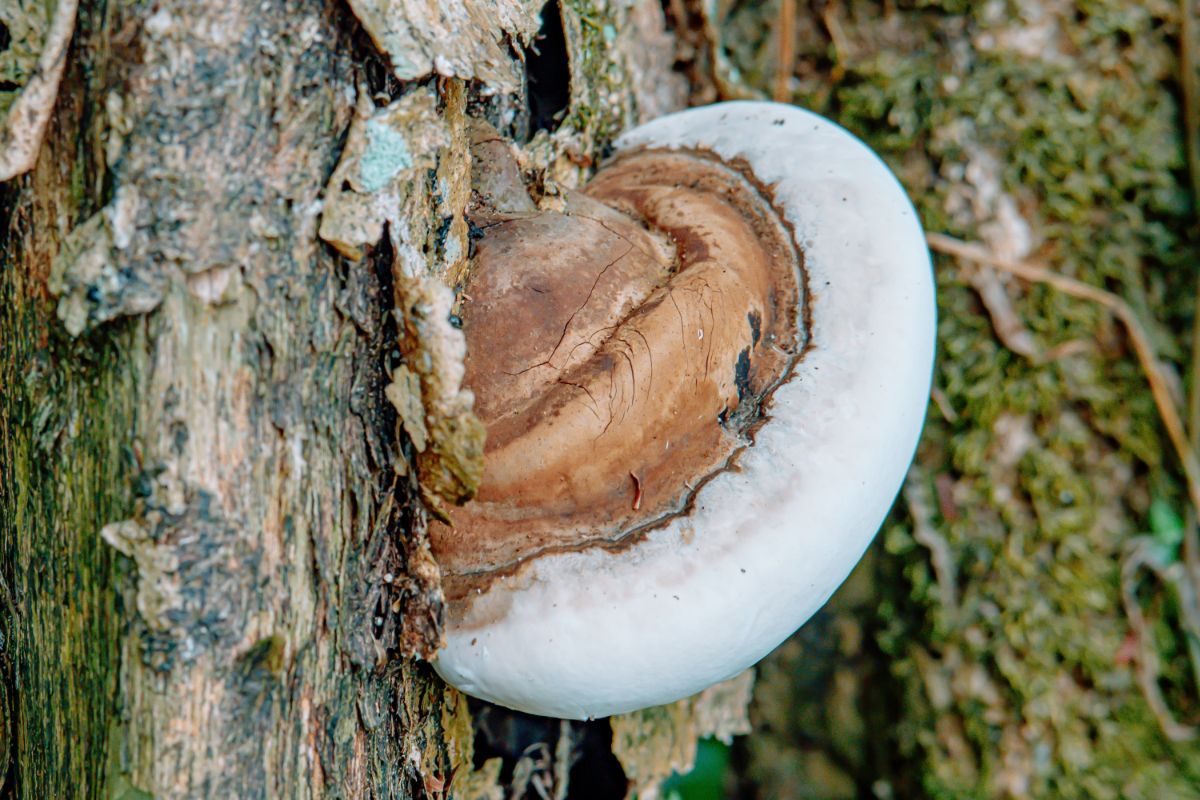 Common Questions About Artist's Conk
Is artist conk edible?
This polypore is edible in that it isn't toxic. However, it is not something you want to cook up and eat like an oyster mushroom or chicken of the woods. This is because it is far too tough. The fungus can be chopped into small pieces and used as a tea or added to soup stock then removed. Or, it can be dried, then ground into a fine powder that can be added into smoothies or soups.
How long does artist conk take to grow?
This is not a fast growing mushroom. Conks, in general, take a year or more to be ready for harvest after they first begin to grow.