The red belted polypore (Fomitopsis mounceae) is a shelf fungus that can be found in coniferous forests across North America. It is extremely common, especially in northern states. It is often one of the few fungi you'll see when it gets super cold out, since it is a tough, perennial species. This red-belted conk used to be known as Fomitopsis pinicola, but it turns out that is a strictly Eurasian species and does not occur in North America.
Scientific Name:

Fomitopsis mounceae

Common Name:

Red belted polypore, red-belted bracket fungus, red belted conk

Habitat:

Dead conifer trees, sometimes hardwoods

Edibility:

Inedible, possibly medicinal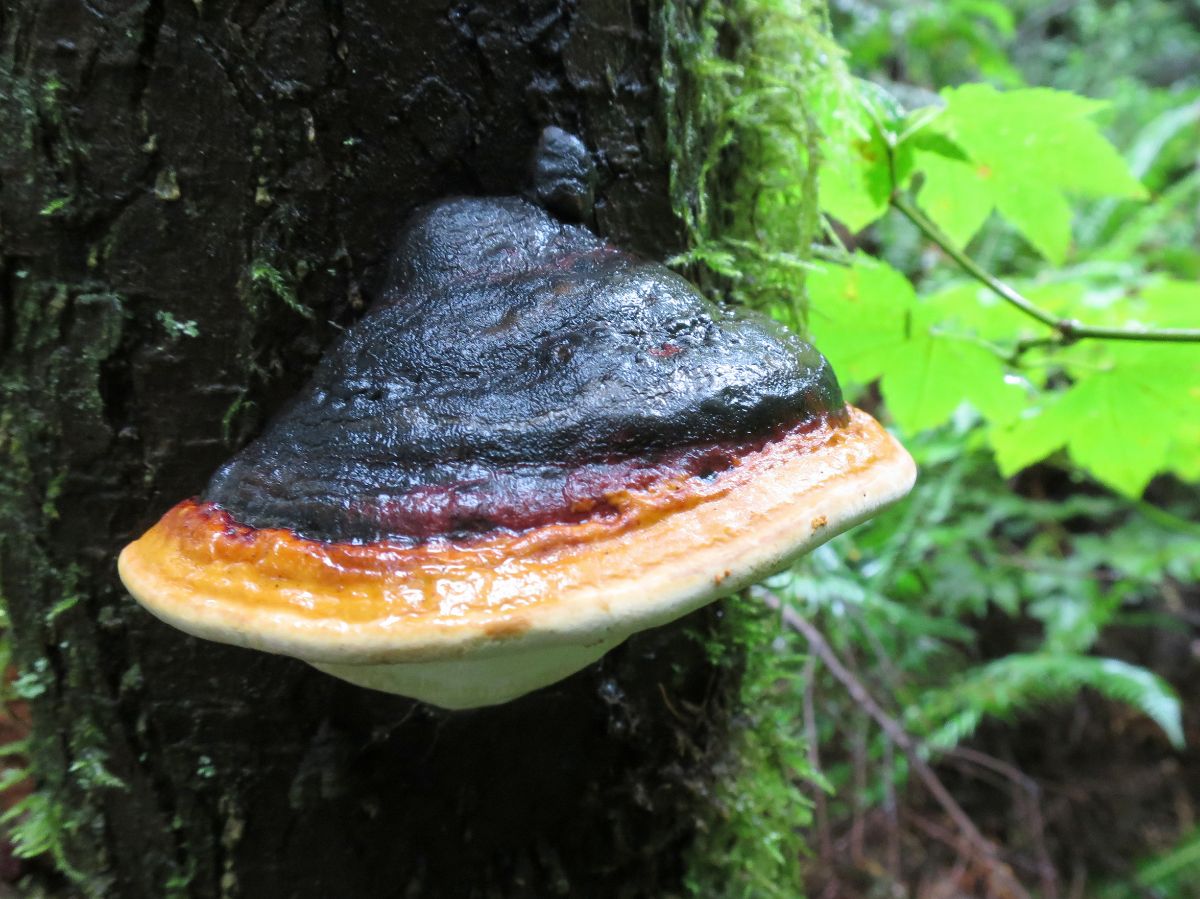 Jump to:
All About The Red Belted Polypore
In 2019, the red-belted polypore Fomitopsis mounceae was officially recognized as a distinct species. Before this, it was mistakenly identified as part of the Fomitopsis pinicola species complex. As it turns out, though, F. pinicola is a European species and does not occur in North America. In guidebooks, it is still very common to find this species with its old name.
The name Fomitopsis mounceae is a tribute to Irene Mounce, a pioneer Canadian mycologist who made significant contributions to the field of mycology, including significant studies on what was thought to be F.pinicola in North America.
In addition to Fomitopsis mounceae, two other species were separated out from the former F. pinicola species complex. Fomitopsis ochracea looks very similar to the red-belted polypore, except it lacks the red belt. Fomitopsis schrenkii is practically identical and is found at higher elevations in the Southwestern United States. Regional location is often necessary to differentiate them, or, microscopic analysis is needed where they overlap.
The common name, red belted polypore, is derived from the characteristic reddish band that is often found near the margin of the mushroom's cap.
Red belted polypores play a critical role in conifer forests. They cause a brown rot on dead and dying trees (sometimes living, but not as common). This may sound bad, but the remnants and residues of this brown rot are a vital component of soil in conifer forest ecosystems. These residues help create stable soil that benefits the entire forest.
On the other side, they also do cause quite a bit of damage to trees. In natural ecosystems, this isn't much of an issue. However, in cultivated or farmed forests, this is a problem.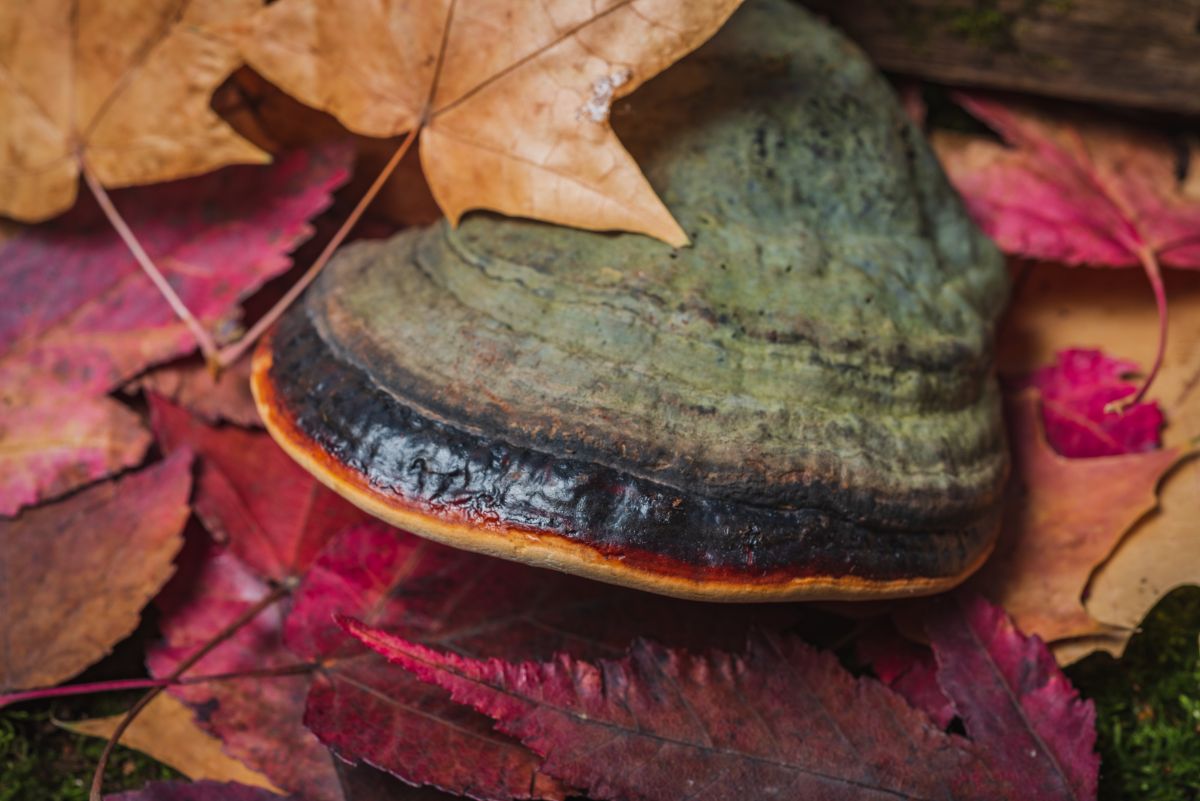 Red-Belted Polypore Identification Guide
Season
The red belted polypore can be observed year-round.
Habitat
The red-belted polypore is primarily saprobic, meaning it feeds on decaying wood. But it can also exhibit parasitic behavior on living trees. This species prefers coniferous trees, such as pines and firs, but it can also be found on hardwoods like aspen and birch. Fruiting bodies appear singularly on the sides of trees or logs or grow in scattered groupings.
Red belted polypores are perennial. They do not die out, which is why you can find them at any time of the year. Each year, they grow another layer of pores on their underside.
This polypore is widely distributed across North America, particularly in regions with coniferous forests. Its range extends from the 40th parallel northward, covering areas from Canada to the northern United States and even reaching as far south as northern California.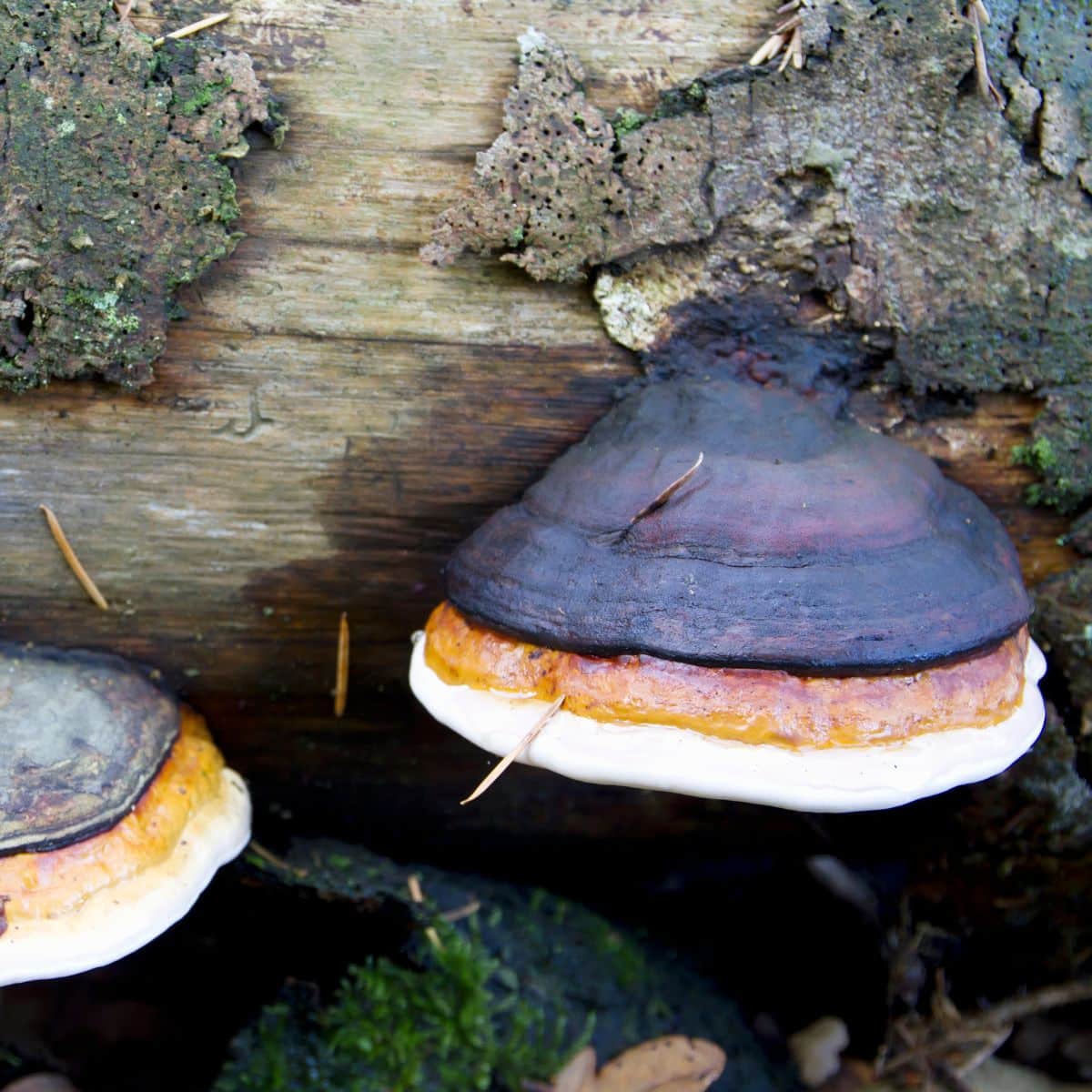 Identification
Cap
The cap of the red belted polypore can get quite big. An average specimen is 3-10 inches wide, but they've been known to grow up to 18 inches wide. The cap is also quite thick, reaching up to 7 inches deep. It is shaped like a shelf or a hoof; as it matures, it becomes more hoof shaped each year because it grows more pore layers.
Its upper surface is concentrically grooved, and these grooves often separate the zones (bands) of color on the cap, as well. When young, the cap is orange to red, with bands of coloring across it. Or, it may lack the zones and just be one color. Around the outer edge, there is a thick white or pale yellow zone. As the fungus agrees, the white band may completely disappear.
The primary distinguishing feature of this mushroom is the presence of a shiny, reddish band just behind the cream-colored edge. The width of this varnished-looking band varies. With age, the color bands turn red to brown to blackish.
The entire mushroom has a glossy look. This is due to a sticky, resinous coating that is often present.
When these polypores first appear on a tree, they look like someone stuck a bunch of marshmallows on the wood. They're bright white, lumpy, irregular, and hard to differentiate from other polypores that start out the same way. As they grow, they develop brown patches, which give them the appearance of a nicely toasted marshmallow!
Pore Surface
The pores of the red belted polypore are creamy white to yellowish, gradually becoming brownish as the mushroom ages. They do not bruise when touched or may bruise very slightly yellowish.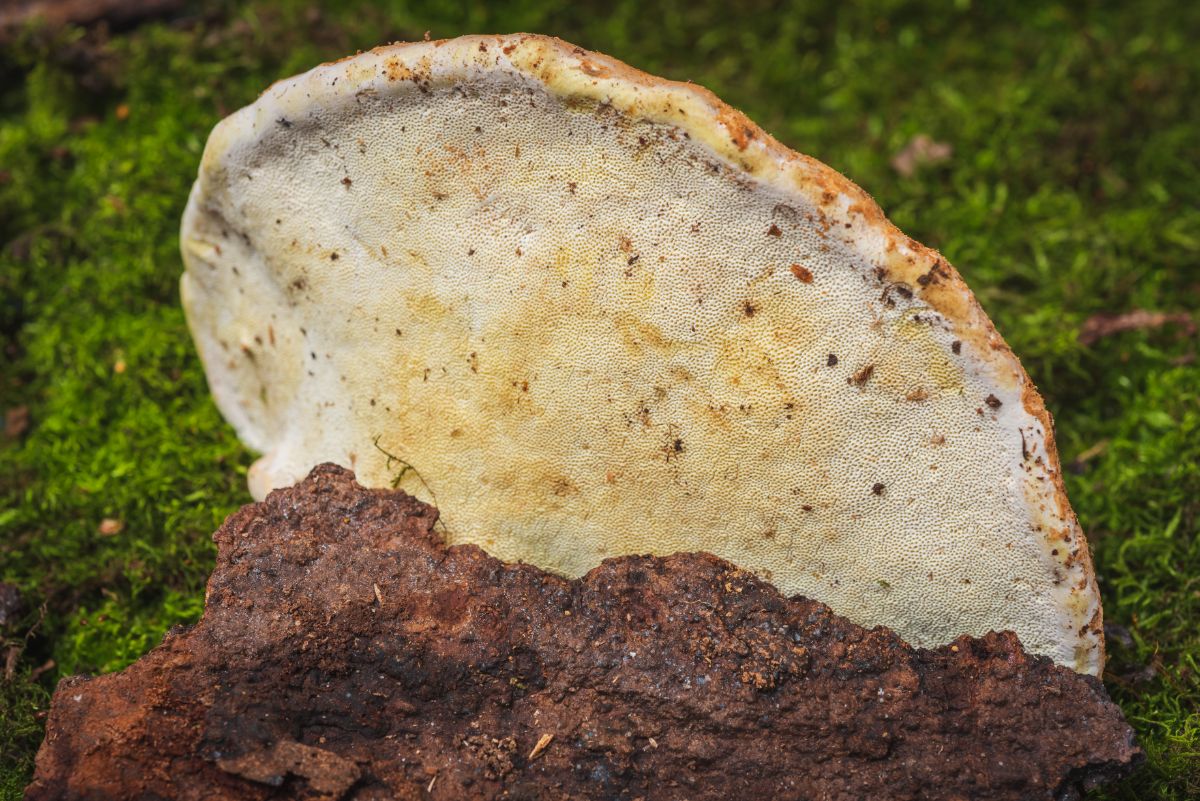 Stem
The red belted polypore does not have a distinct stem. It grows directly from the wood substrate.
Flesh
The flesh of the red belted polypore is creamy white in color and does not change when sliced. It has a faintly zoned appearance and is leathery to woody in texture.
Odor
When fresh, the red belted polypore emits a strong and fragrant odor.
Spore Print
The spore print is white to yellowish.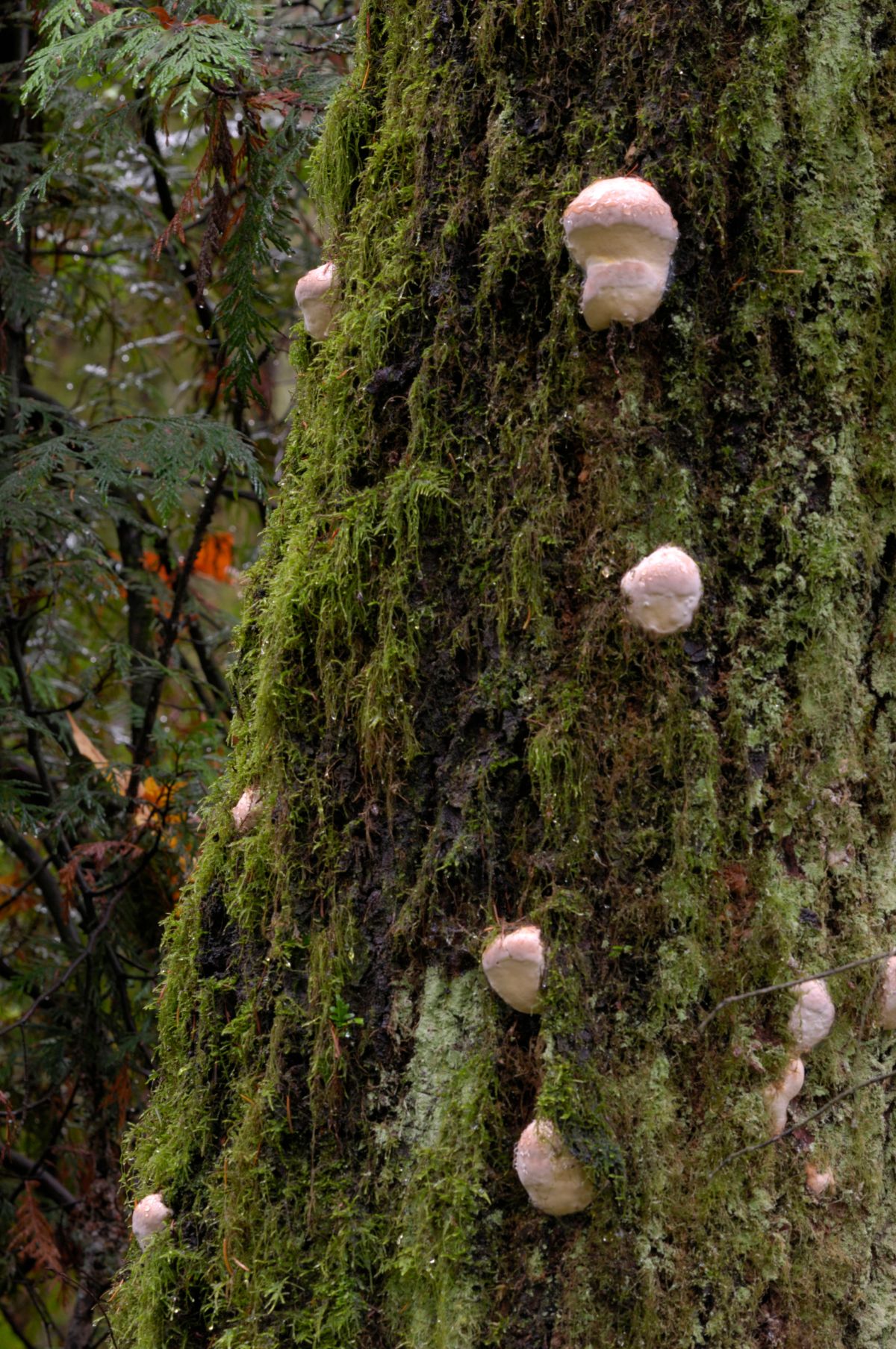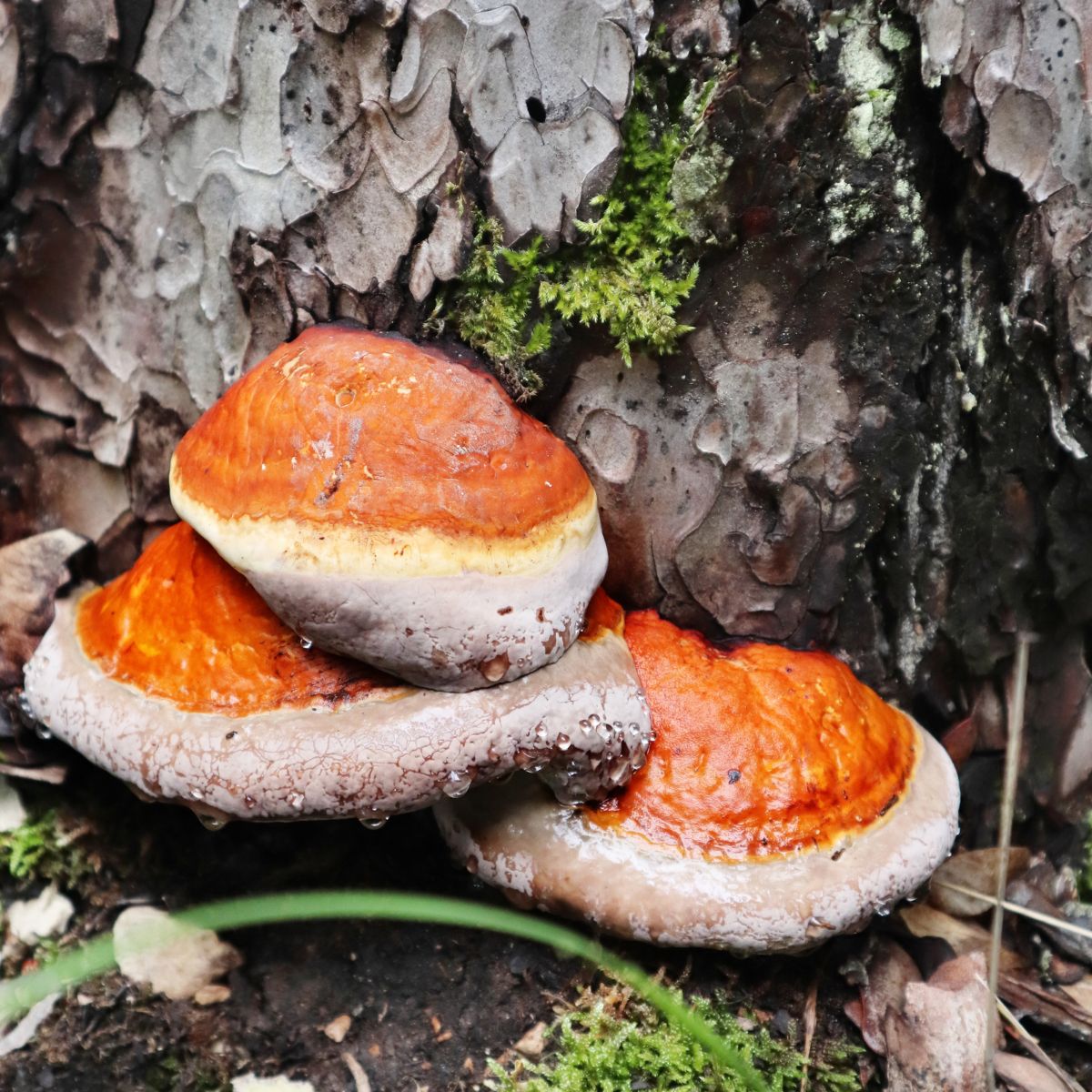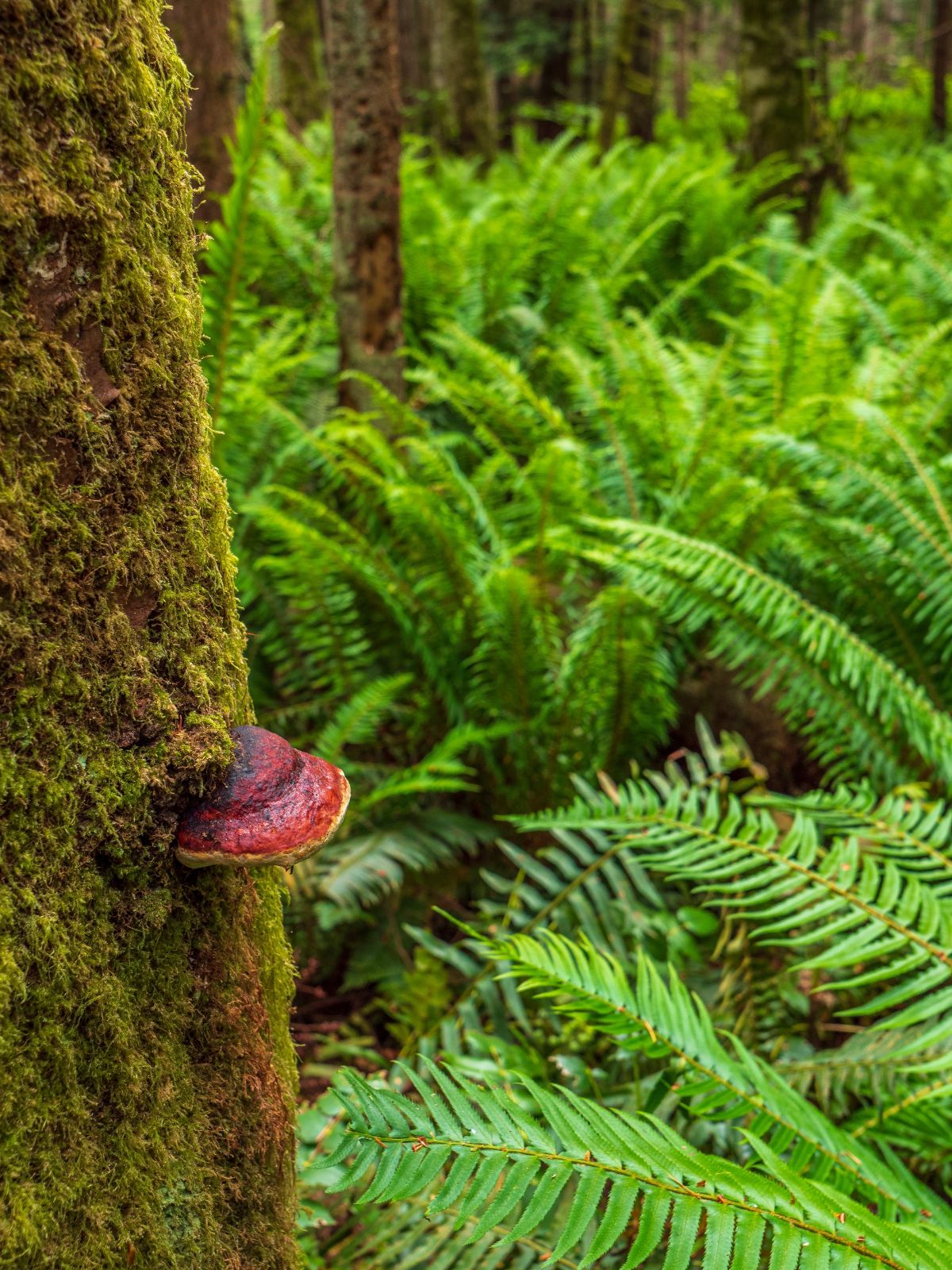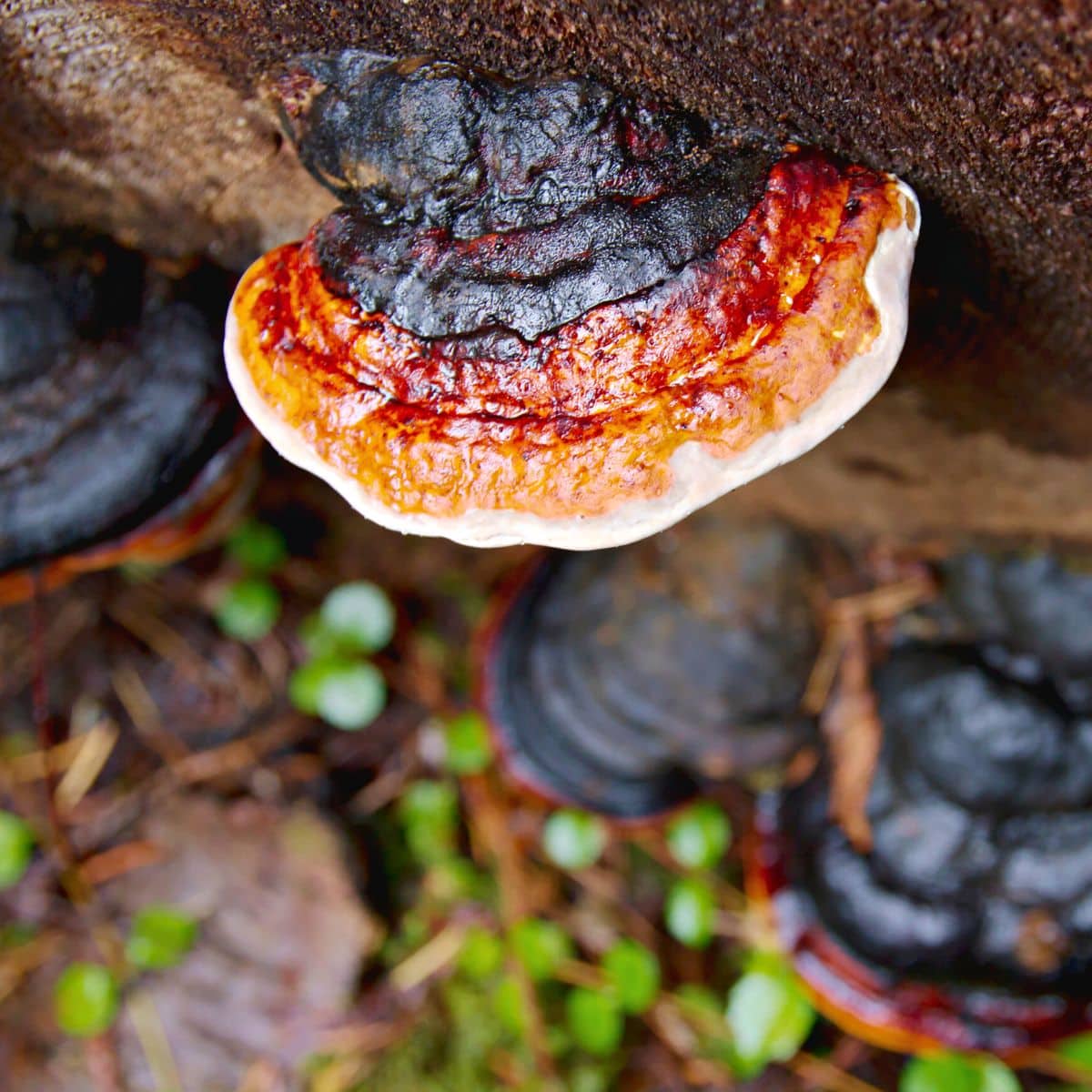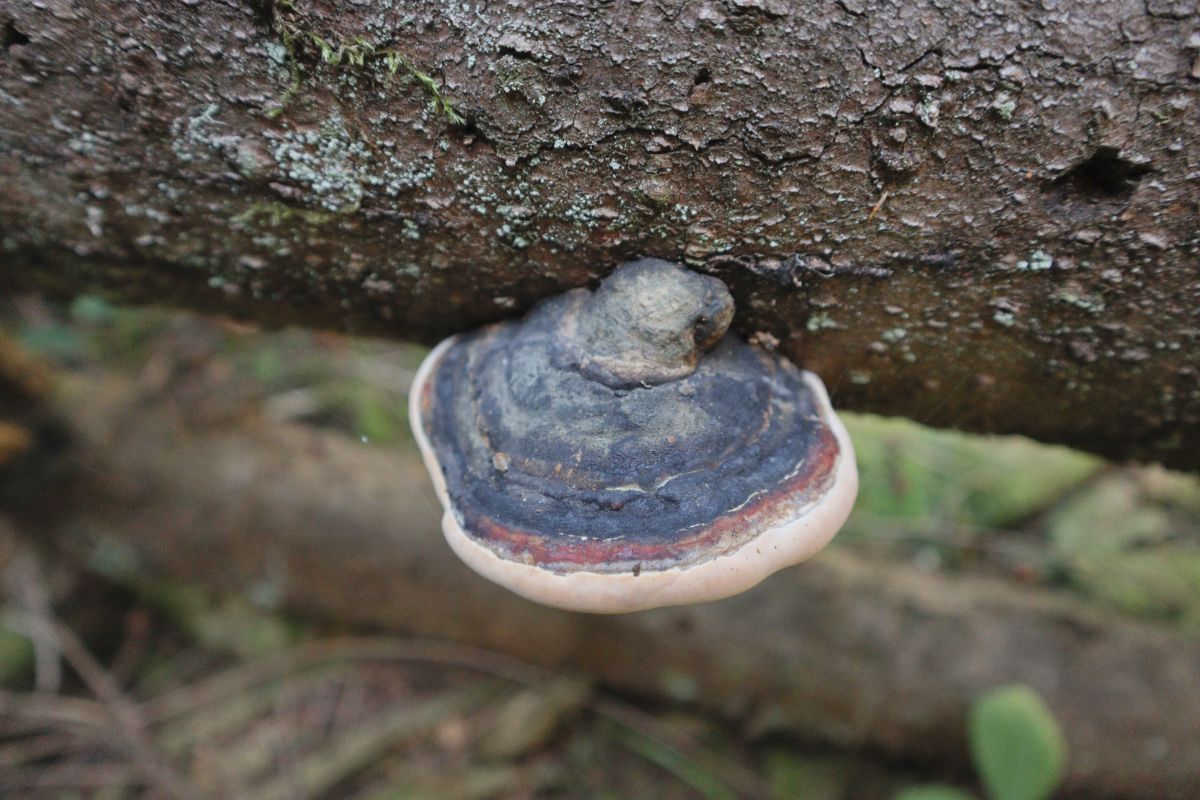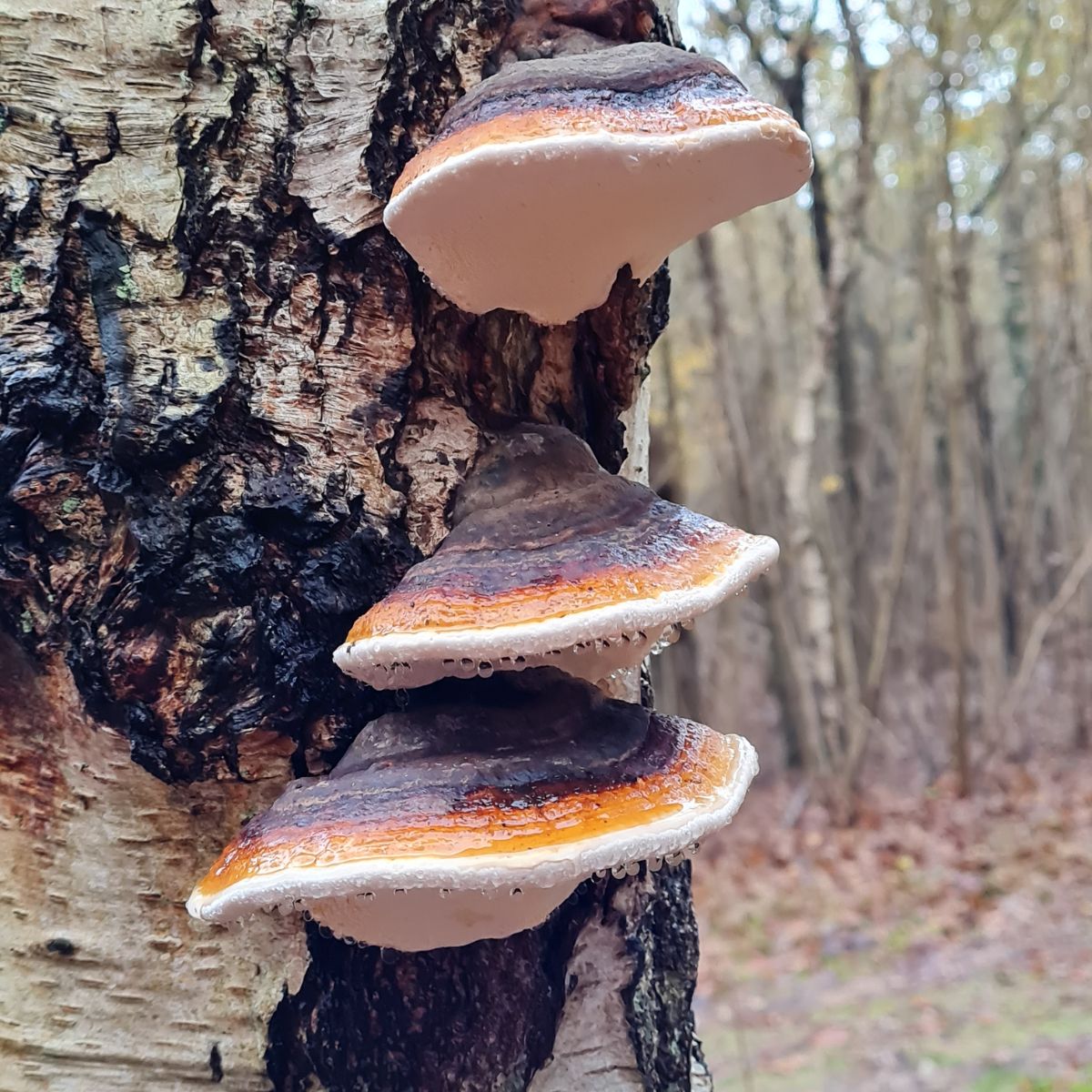 Red Belted Polypore Lookalikes
Shrenk's Red Belted Conk (Fomitopsis schrenkii, the other red belted polypore in North America)
To differentiate between these species, microscopic analysis is often necessary. They look exactly alike. They primary difference is location range. Fomitopsis schrenkii only grows from the Great Plains and the southern Rocky Mountains. The two species rarely overlap, so you can tell them apart based on where they're found.
Fomitopsis ochracea
This cousin species resembles the overall appearance of the red belted polypore but lacks the reddish marginal band.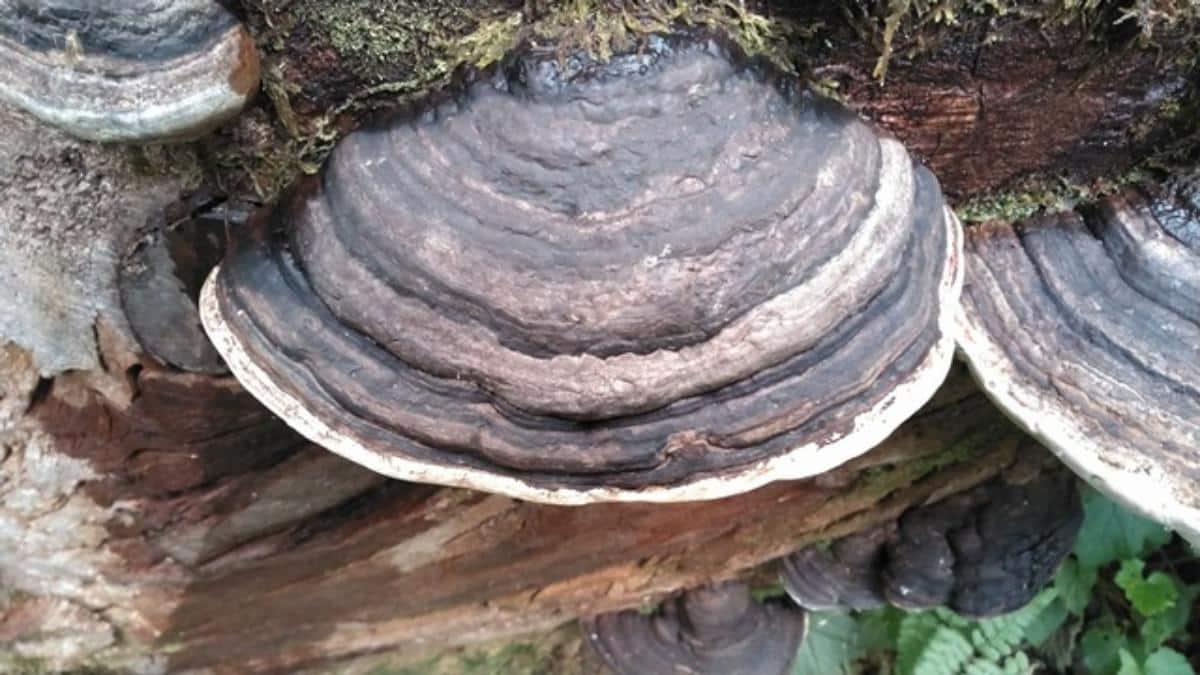 Fomitopsis pinicola
This is the Eurasian species. All North American versions were once mistaken for this red belted polypore. They look extremely similar and can only be differentiated by microscopic analysis.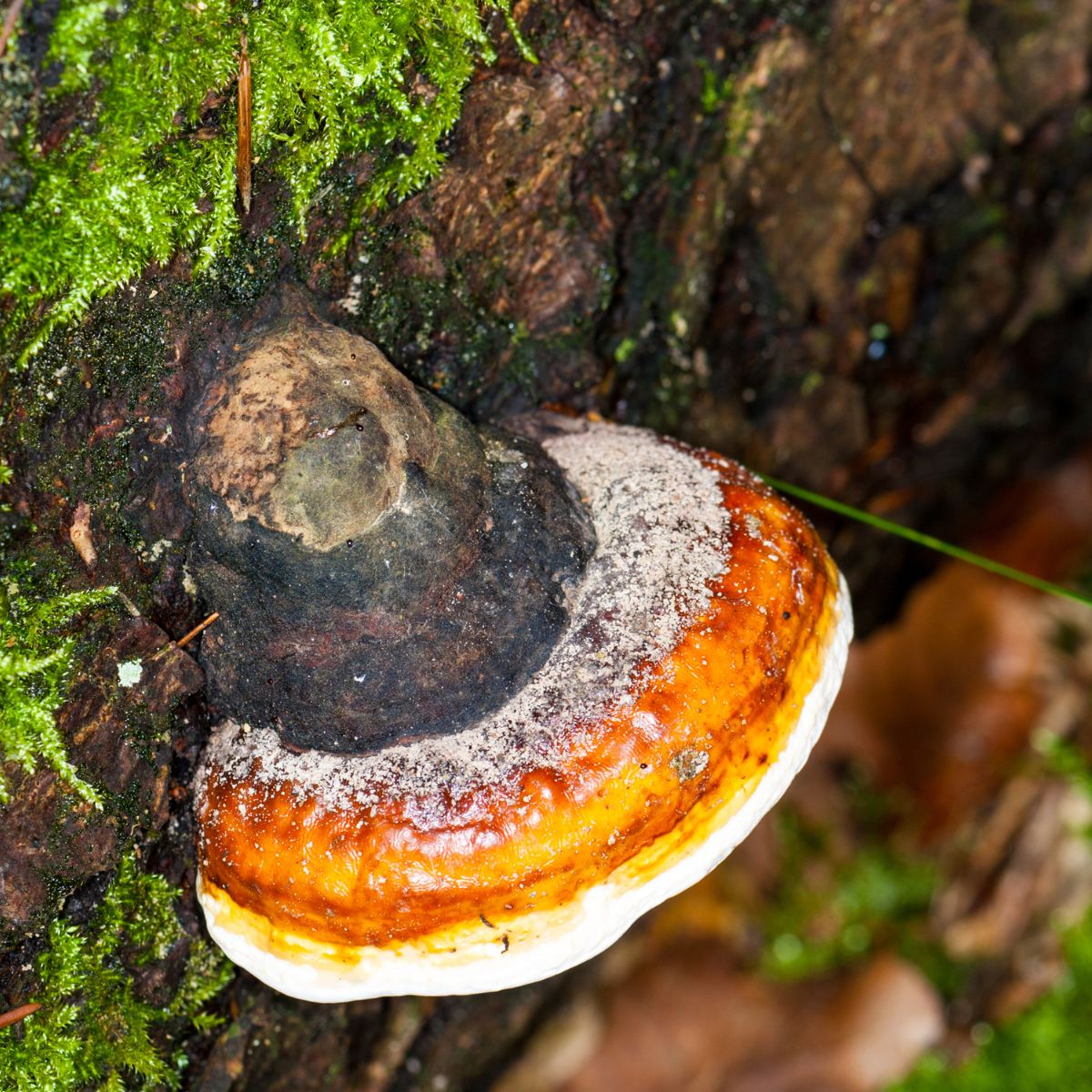 Ganoderma "Reishi" species
Reishi species can appear similar due to their varnished-looking red caps. However, they feature brownish flesh and very different microscopic features.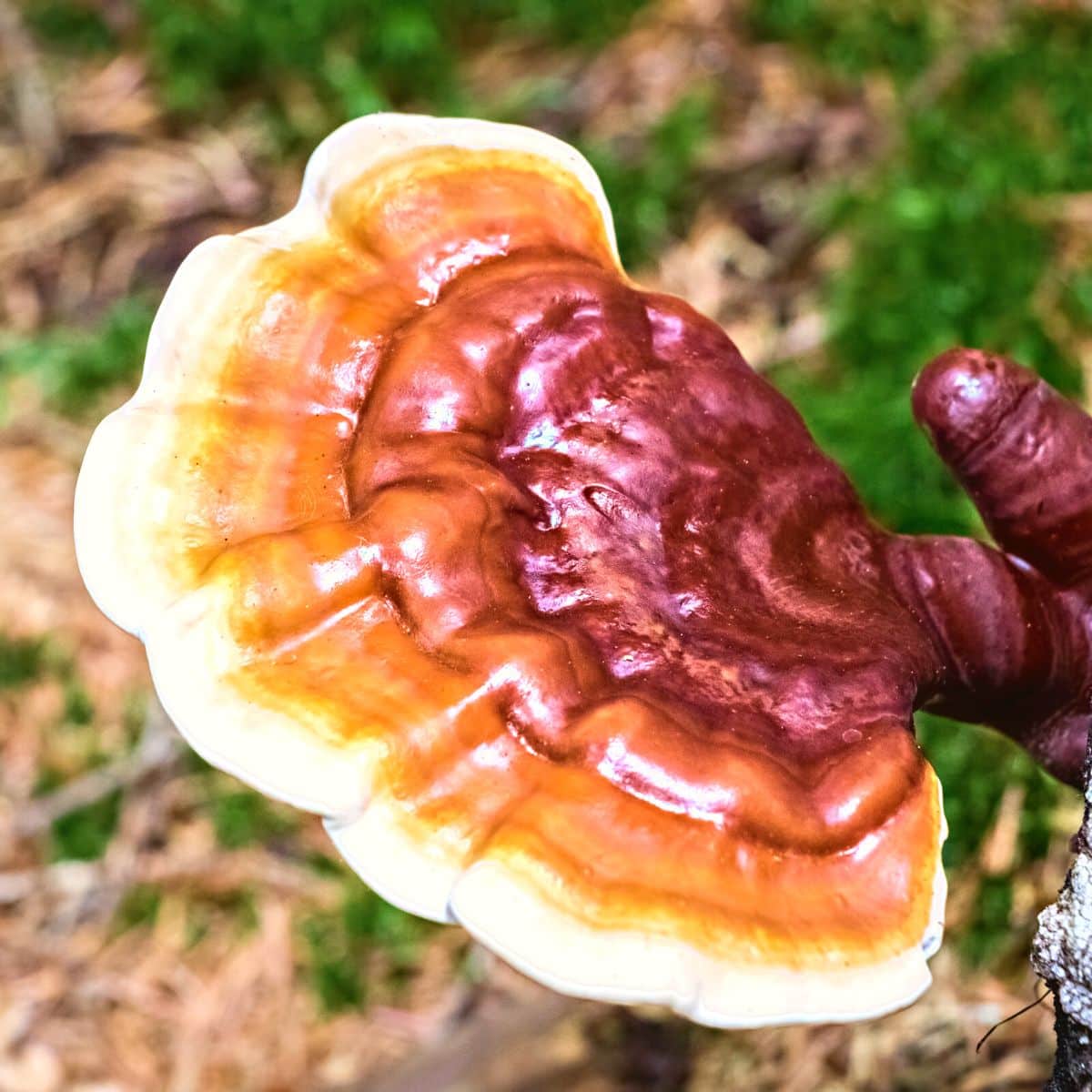 Red-Belted Polypore Edibility
The red belted polypore is inedible due to its tough and leathery texture.
Medicinal Properties
Fomitopsis pinicola, the name that this species previously was filed under, has been studied for its anti-cancer activities. While Fomitopsis mounceae has no documented studies, it is not unreasonable to think it contains the same or similar properties to its European cousin. Of course, it could be totally different, too.
Fomitopsis pinicola is used in traditional Chinese and Korean medicine to treat nausea and headaches and as a health supplement.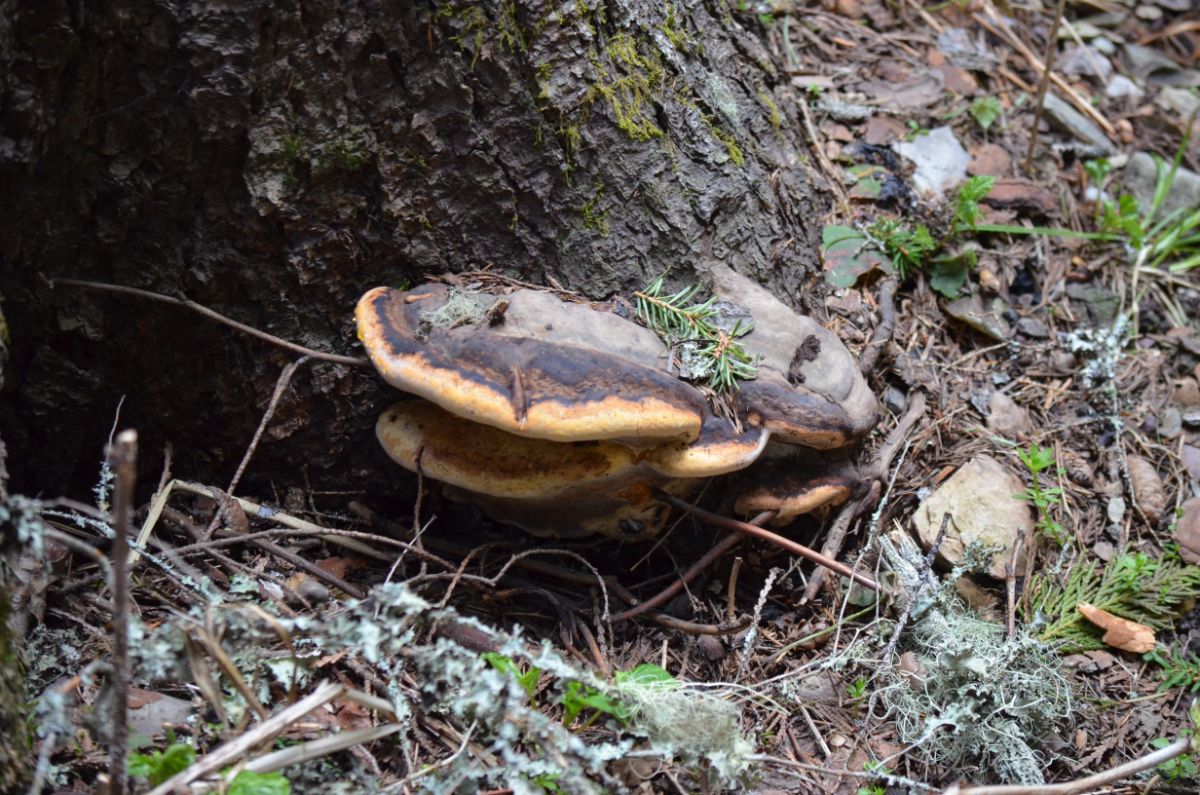 Common Questions About Red Belted Polypores
Is red-belted polypore edible?
It is too tough and corky to eat but it may have medicinal uses.
What is the difference between red-belted polypore and reishi?
The belts are sometimes the same color but the belts on the red belted polypore form distinct bands on the cap. Underneath the cap, the pore surface is yellowish, another difference from reishi. This polypore also never has a stem. The red-belted polypore is also very large, dense, and woody.