The wood ear mushroom species, also commonly called jelly ears, easily earned their weird name. These fungi have a very jelly-like texture and grow on wood. Wood ear fungi (Auricularia sp.) are pretty easy to identify, and many are edible, too. In some cultures, they're a highly sought-after fungus. But they haven't quite caught on as food in North America, although folks will use them medicinally.
Wood ears are also known as Judas's ear or Jew's ear – this is a reference to Judas Iscariot. The folklore around the mushrooms say that the fungi are Judas' returned spirit, a reminder of his suicide by hanging (strangulation) on an elder tree. And that the fungi being medicinal for sore throats is not a coincidence.
In Korean, the wood ear name translates to "wood jellyfish" or "tree jellyfish."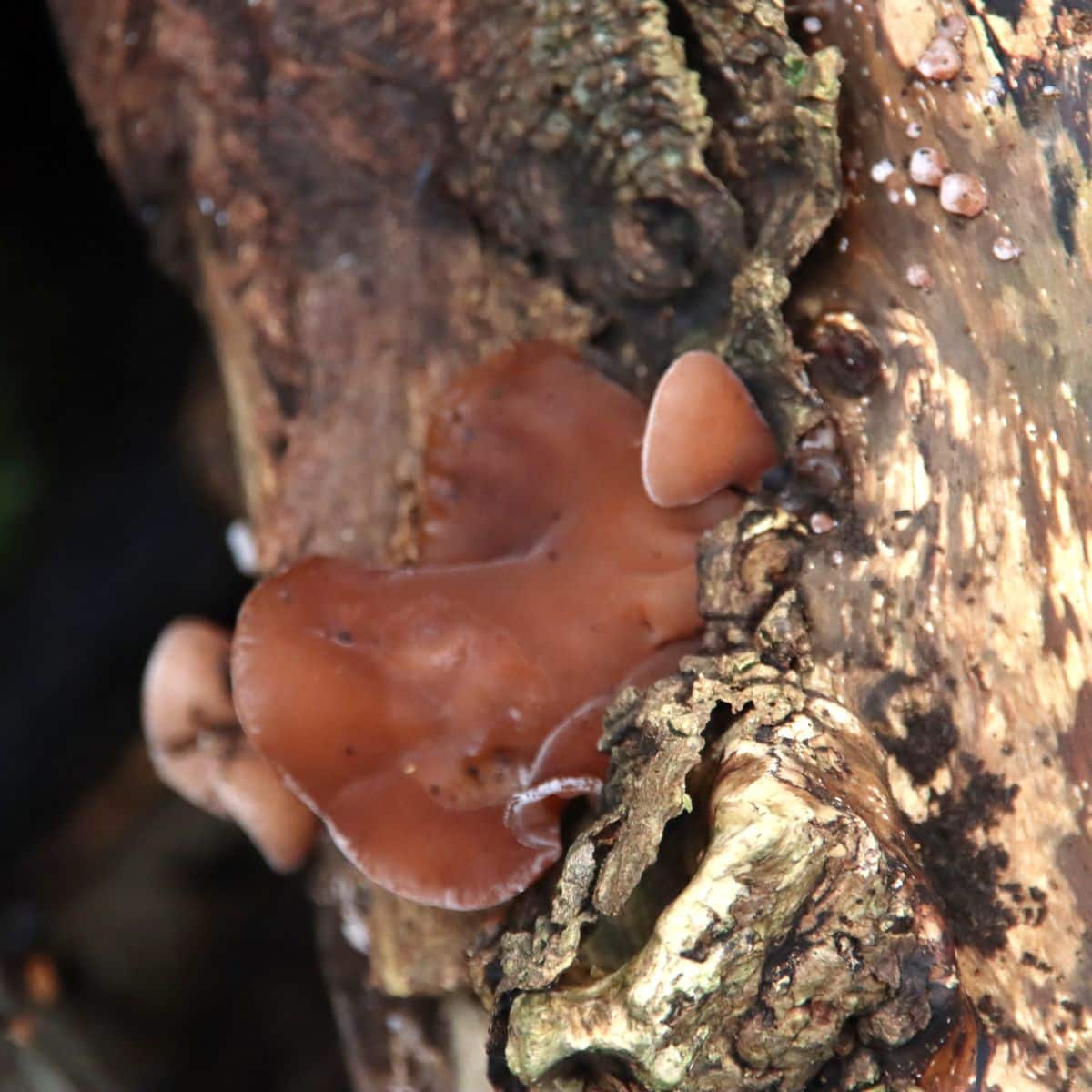 Jump to:
All About Wood Ear Mushrooms
The origination of the wood ear name is relatively easy to figure out once you see the fungus. Wood ears are ear-shaped, brown, and gelatinous. Their rubbery texture only adds to their ear-like demeanor.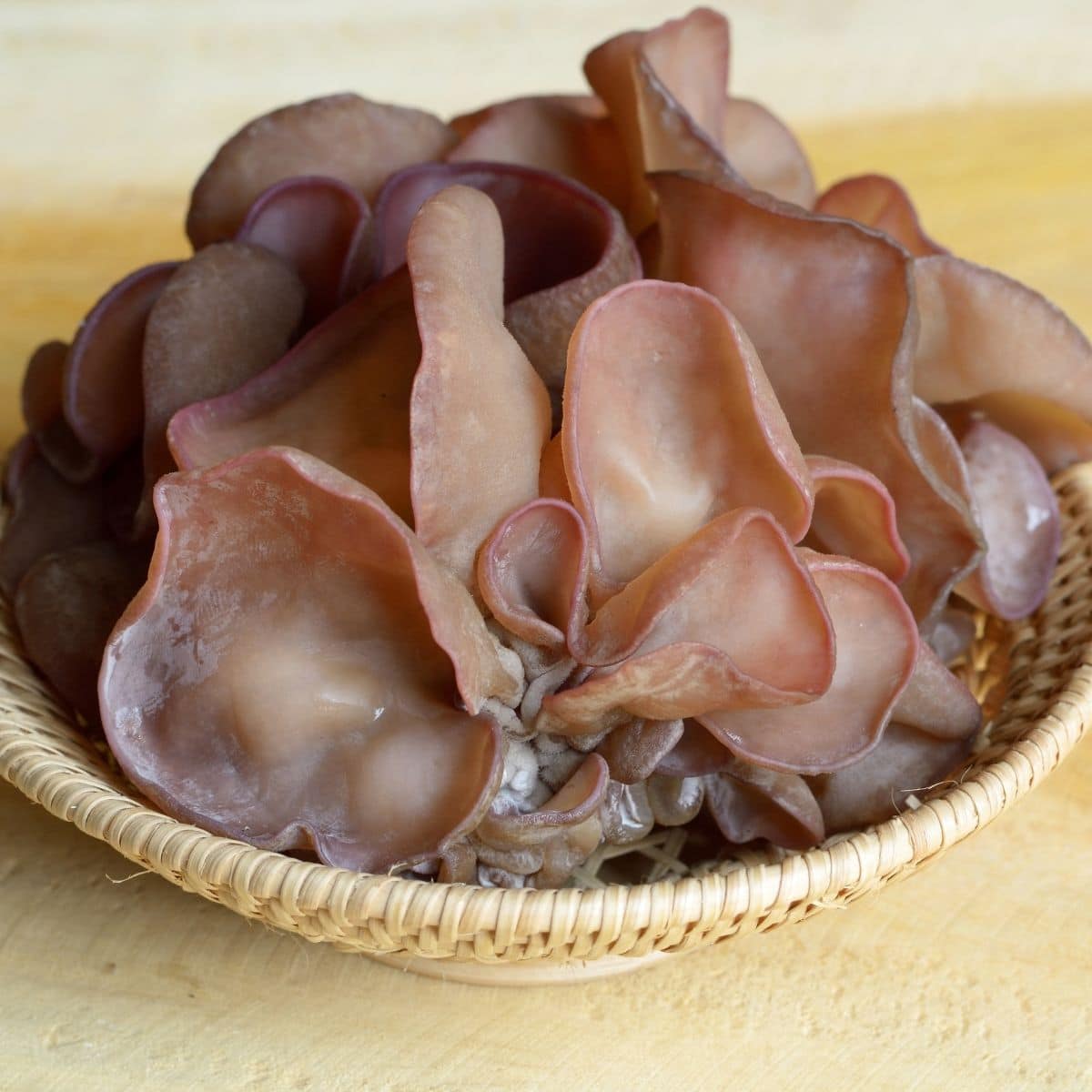 Wood ear mushroom categorization has been through a few changes through the centuries, as have most fungi, as we discover new identification techniques. Currently, four known species occur in North America.
Auricularia americana
Auricularia angiospermarum
Auricularia fuscosuccinea
Auricularia nigricans
The most commonly known wood jelly ear, Auricularia auricula-judae, does not grow in North America or China, as previously believed. DNA analysis demonstrates that this is only a European species. Many North American mushroom guides will still have this incorrect scientific name, so don't be surprised if you see it online or in books.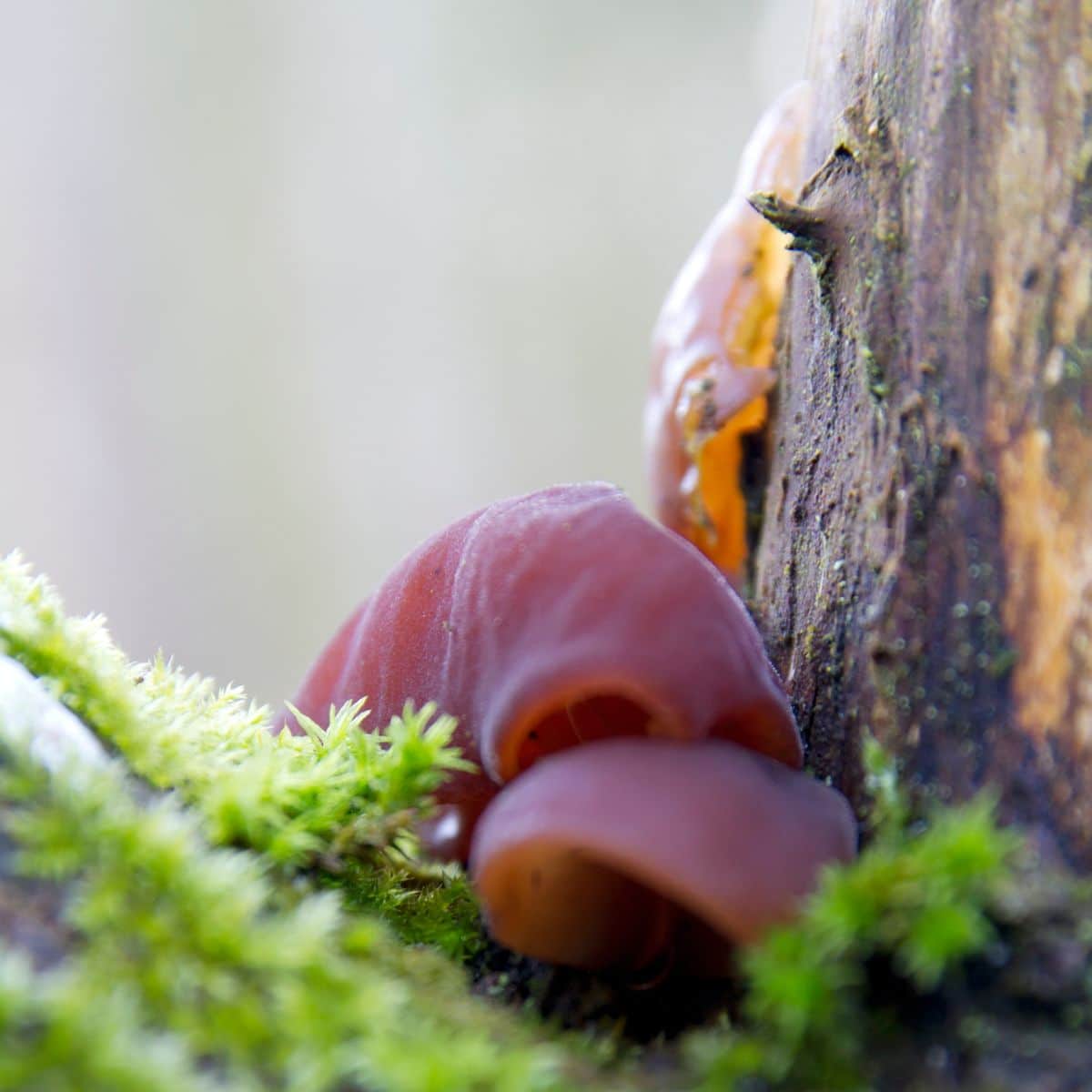 There are three primary wood jelly ear species in Asia that are cultivated commercially. These are the ones you'll see dried and for sale in stores and specialty markets:
Black wood ear (Auricularia heimuer)
Cloud ear (or just wood ear) (Auricularia cornea)
Auricularia villosula
Wood Ear Species Name Updates
In 2013 and 2015, DNA analysis showed that the North American wood-ear-looking species were genetically different from the European Auricularia auricula-judae and the Asian species.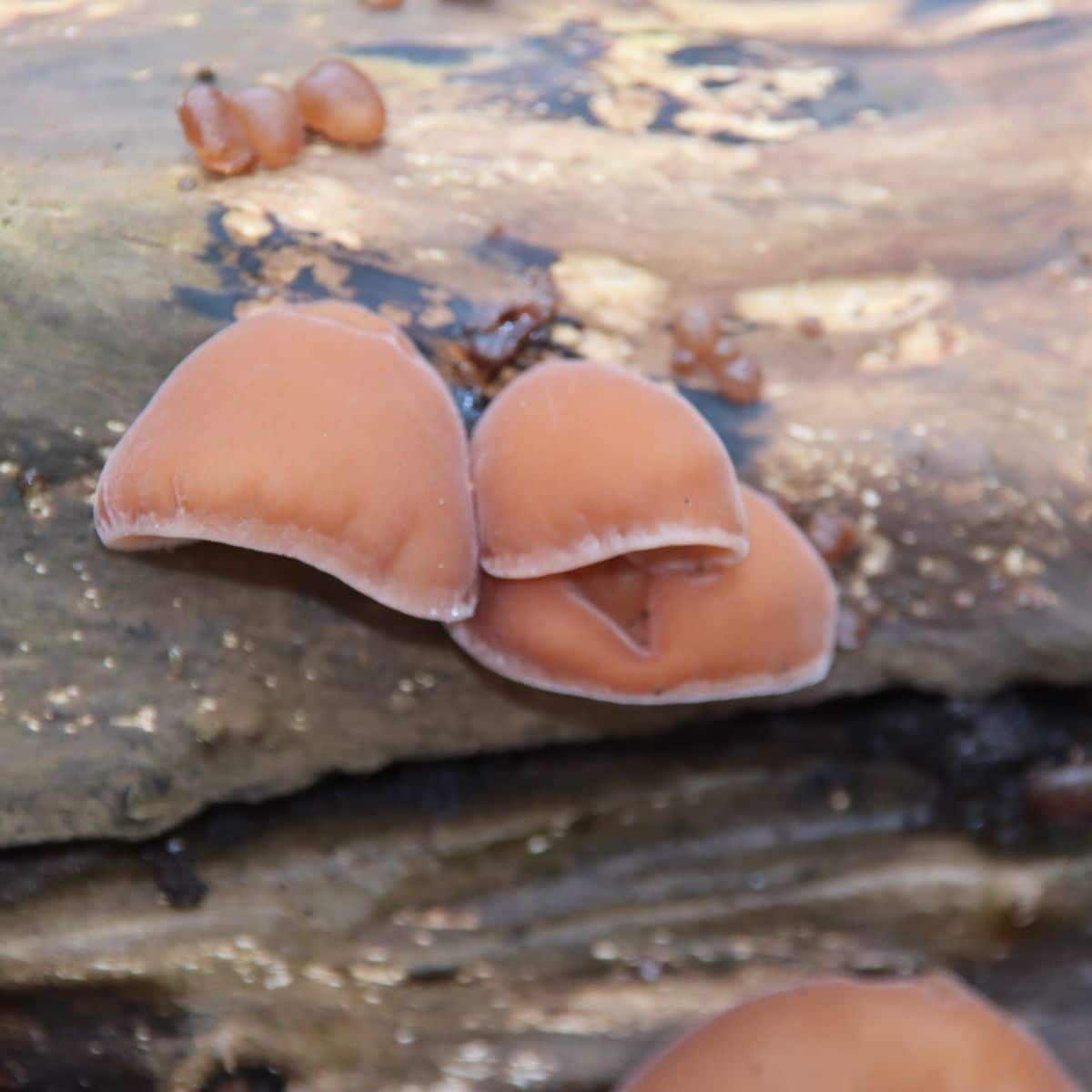 Wood Ear Mushroom Identification
Season
These are primarily a cool weather species, but they may appear anytime. More often, they'll fruit in spring or late fall, then stay on the tree a long time. They don't deteriorate super quickly, especially if the weather is cool enough to preserve them a little.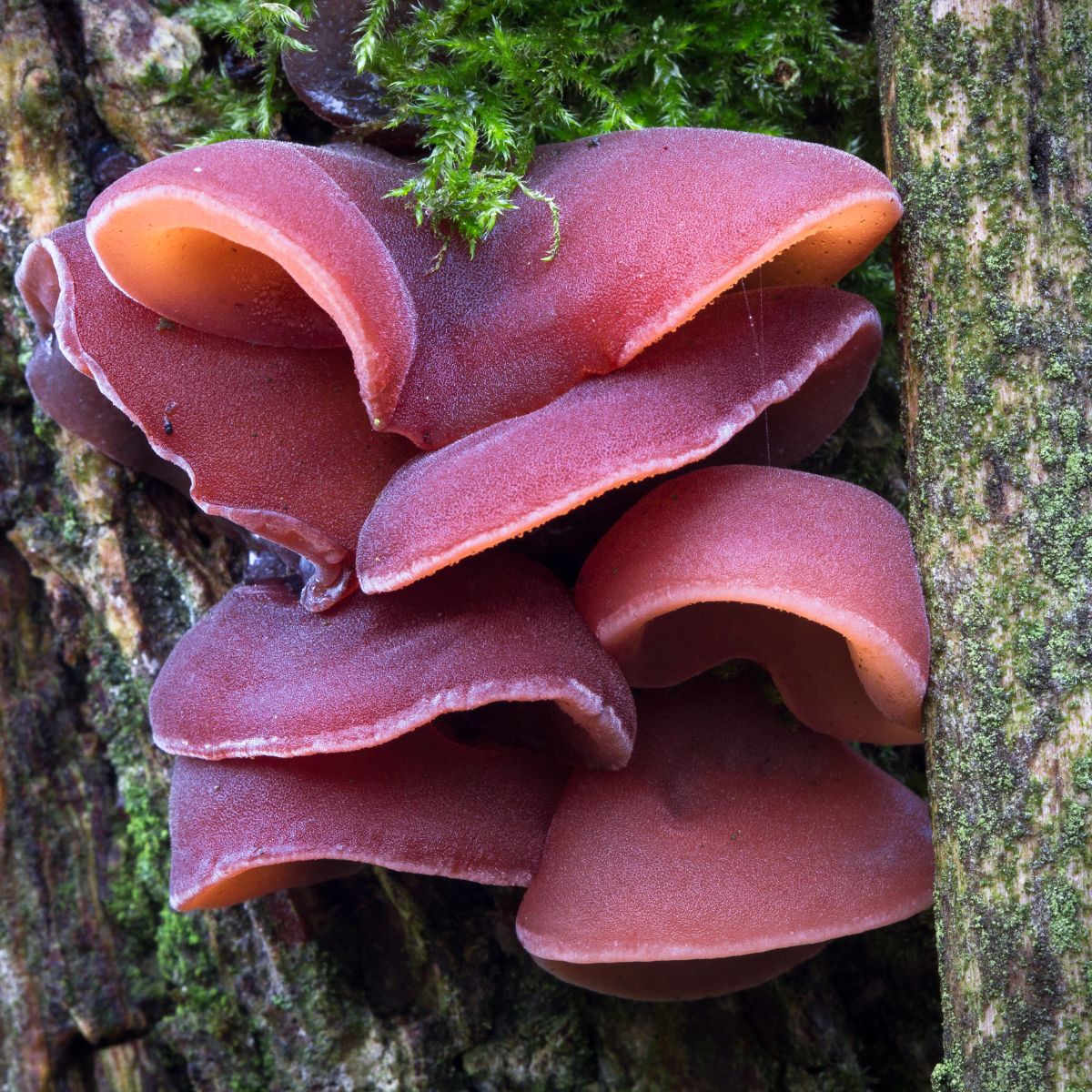 Habitat
All these mushroom species grow on wood. The majority grow on dead wood, either fallen logs or stumps. They may also occur on living trees, but it is less common.
Identification Traits
All Auricularia species are brownish with thin gelatinous flesh and an ear-like shape. The flesh is more rubbery than gelatinous, and the ear shape may be disheveled, rumpled, irregular, or distorted. They're often floppy or bent over a bit, so you must lift up the cap to see the ear-like indentations underneath.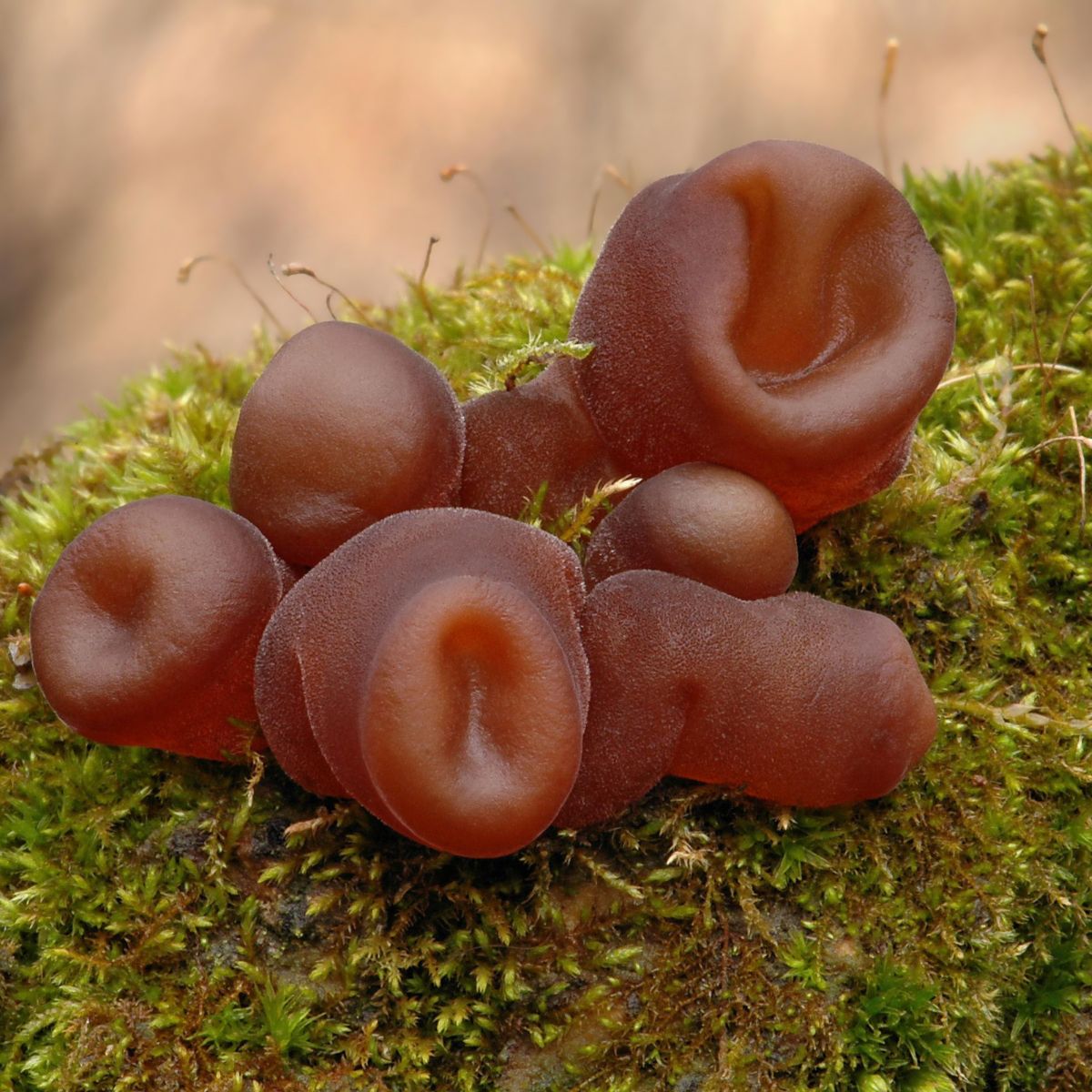 Wood ears vary quite a bit in overall shape, just like human ears. Some are more fan-shaped or cup-shaped than oblong ear-shaped. Others are wavy or wrinkled instead of flat or smooth. This variability actually contributes more to their eerie likeness to a human ear – just as human ears come in assorted sizes and shapes, so do the fungi.
The top of the ears is very lightly hairy, while the underside is smooth (not hairy or decorated) but with wrinkles or veins resembling the human ear's veins and folds. When they're young, the fungi might look frosted or even silver or gray, as if someone has sprinkled them with a fine dusting. This disappears quickly with a little more growth.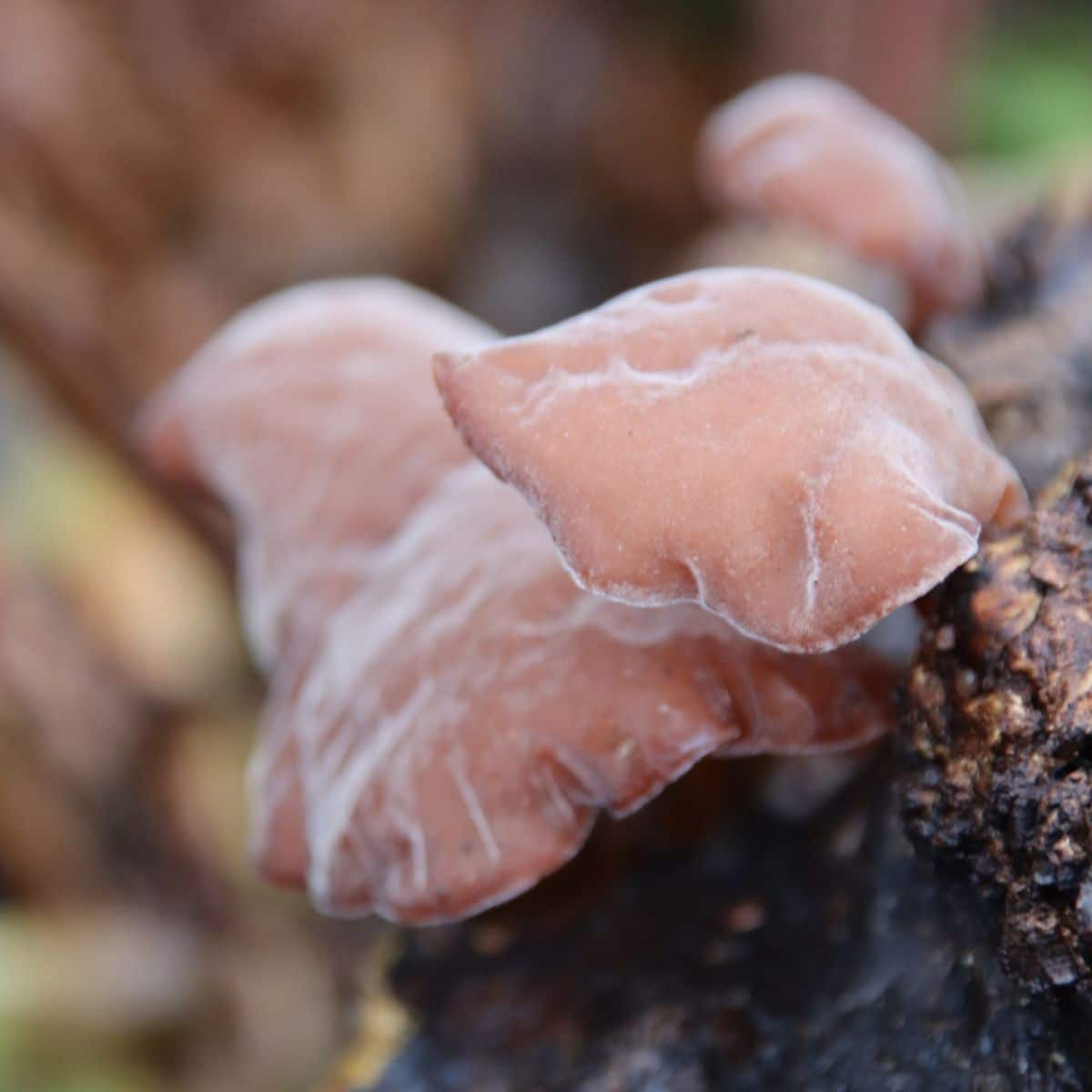 The fruiting mushroom bodies will grow singularly or in clusters. Each ear is generally discernible as its own specimen. So, even if they're growing in dense clusters, it's easy to make out each individual ear. This is a crucial identification tip because some lookalikes fruit tightly packed, and their ear-like growth is fused to the point where it's hard to identify each specimen in the cluster.
Dried out, past prime mushrooms are very dark to black in color. They'll dry out right on the log or branch and turn totally black as they lose moisture. This also happens if you dry them in a dehydrator. Black jelly ears aren't a separate species, just a matured or dried-out specimen.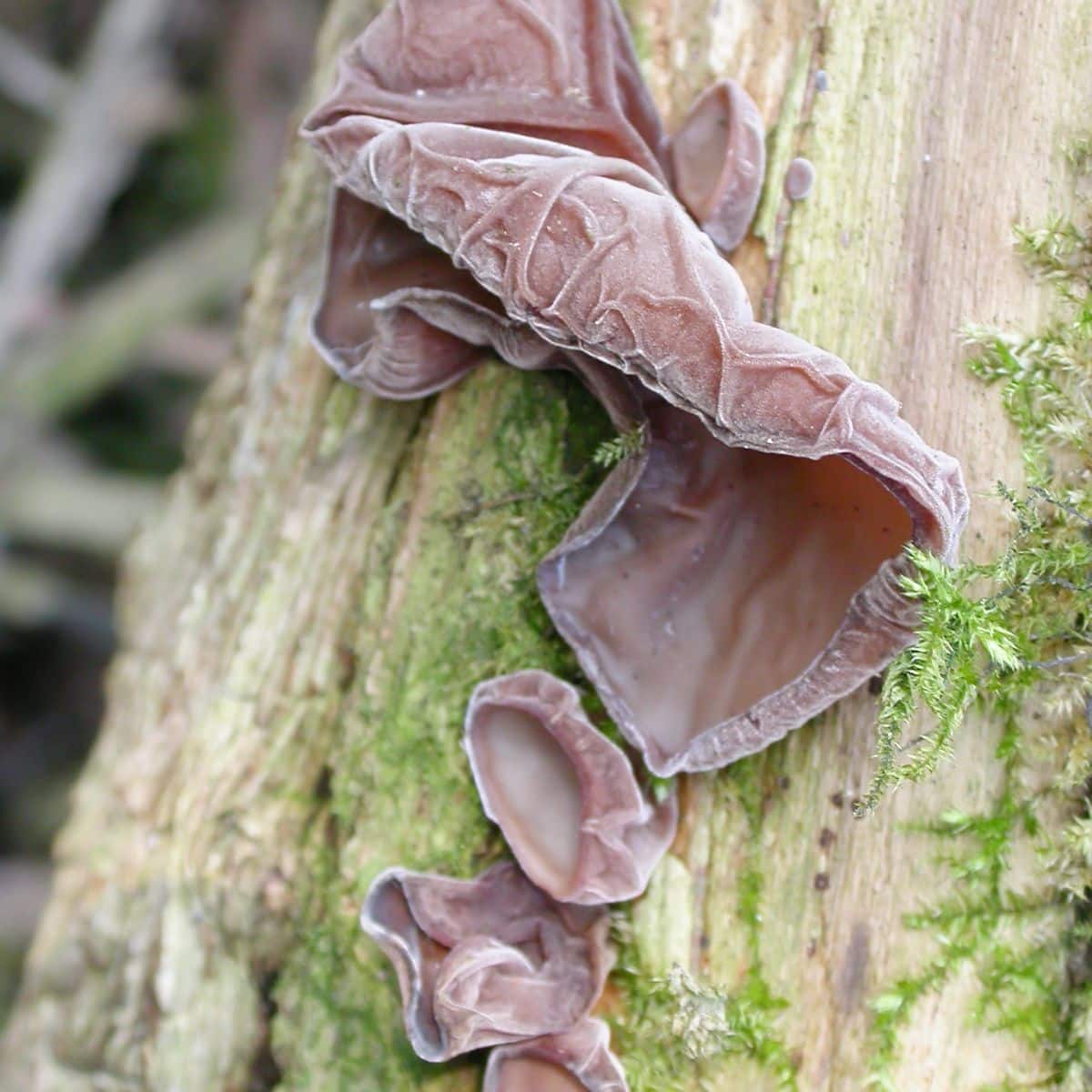 While a wood ear mushroom's general feel and texture are jelly-like or gelatinous, they don't compress easily. Wood ear mushrooms are more rubbery and keep their shape when squished or squeezed. Similar-looking species don't do this, so it is an important trait to make a note of when identifying the fungus. They fold easily but aren't so squishy that they'll change shape completely. They're more like molded jello than a spoonful of jam.
Species that crack when bent are likely a type of cup fungi and not the wood ear. And blobs that look like jam and are easily squished are probably a Phaeoremella species.
All-white albino specimens occasionally occur. These are not to be confused with the natural white snow fungus, which is a separate species.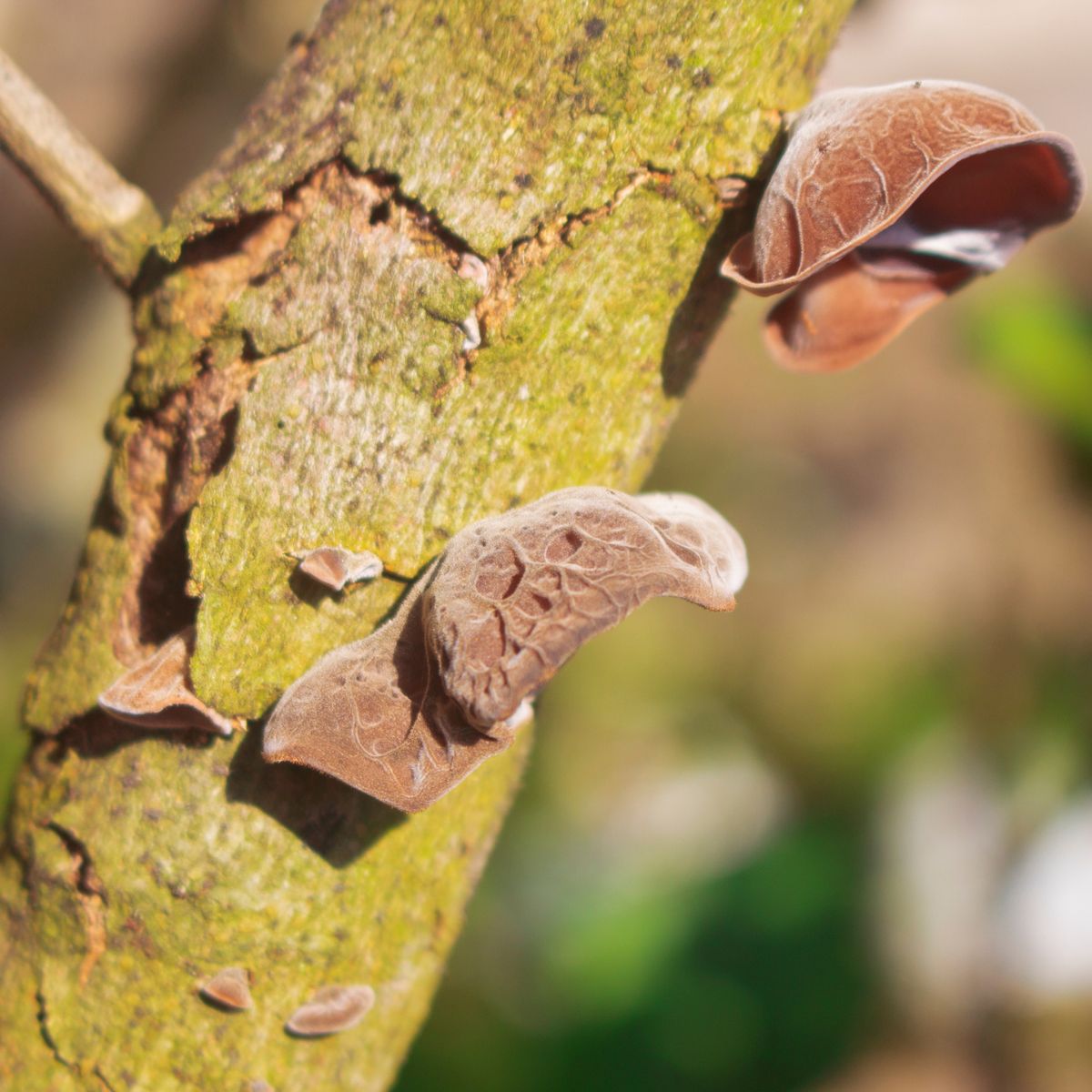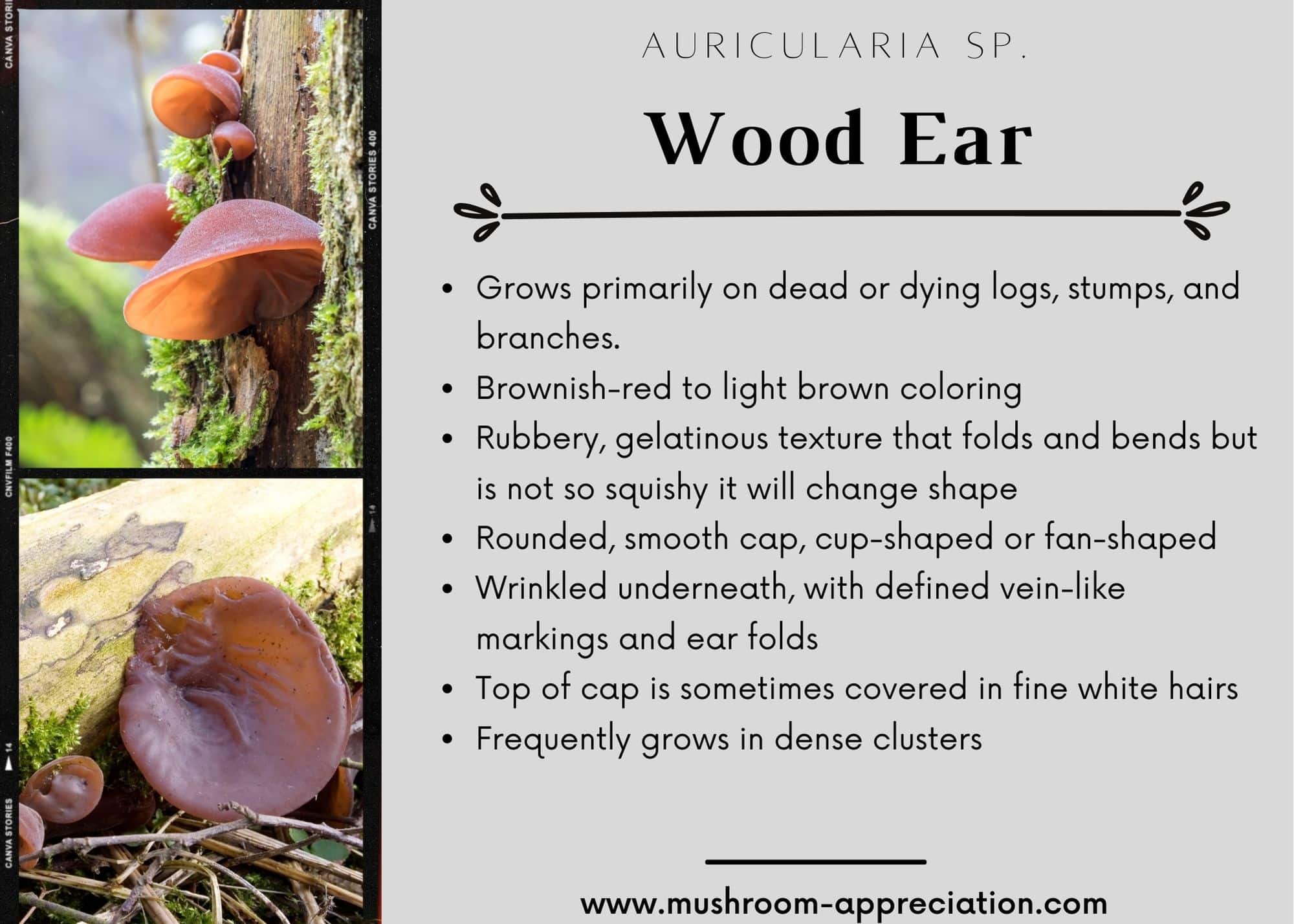 North American Wood Ear Mushroom Species
Auricularia americana
Grows on conifer logs and stumps from spring through fall. It is widely distributed across North America. The caps range from .75-4 inches across, with thin reddish-brown gelatinous flesh.
The exact distribution of this wood ear species is unknown since it was previously reported under a different name. This is the only species that grows on conifer trees in North America.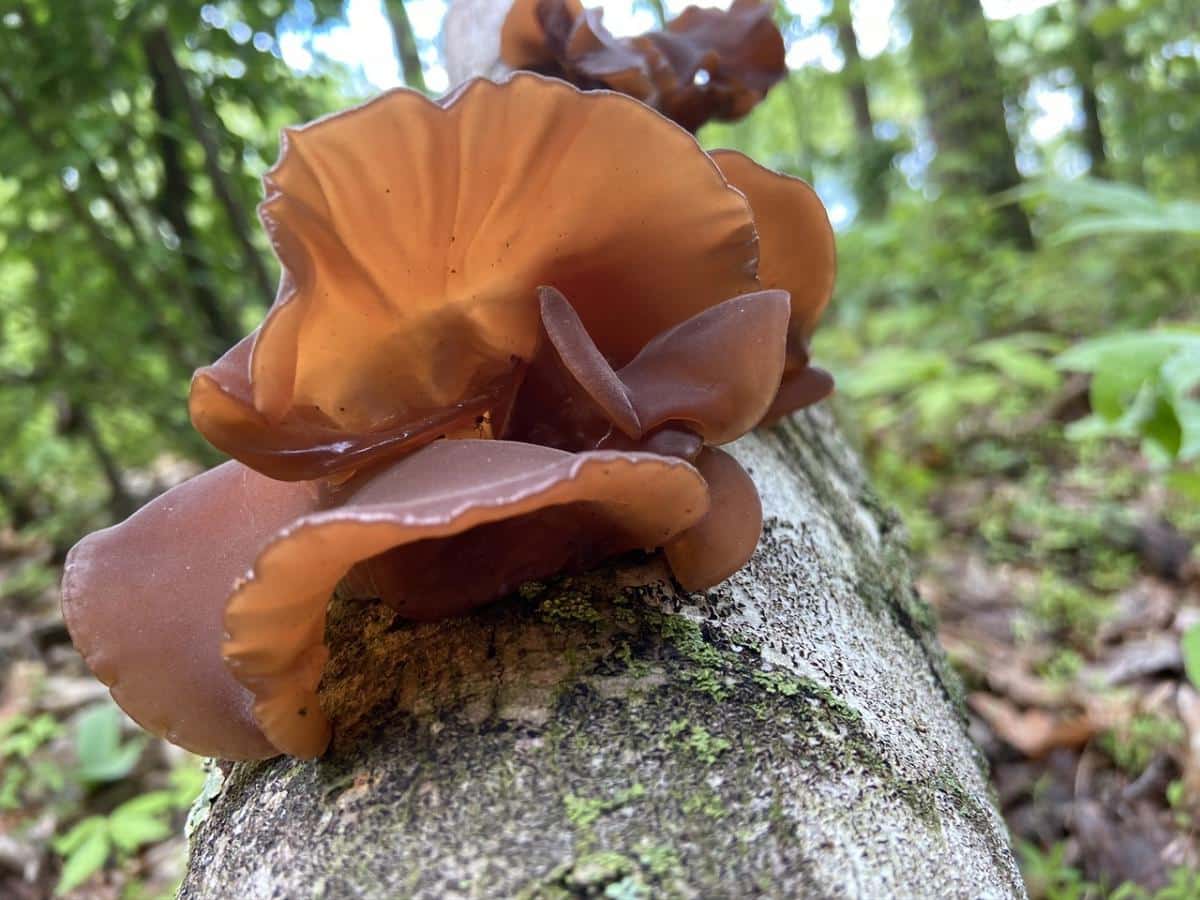 Auricularia angiospermarum
Almost identical to A. americana, except it grows on dead and dying hardwood trees across North America. The caps grow up to 3″ across and are reddish-brown. This species is widespread across North America.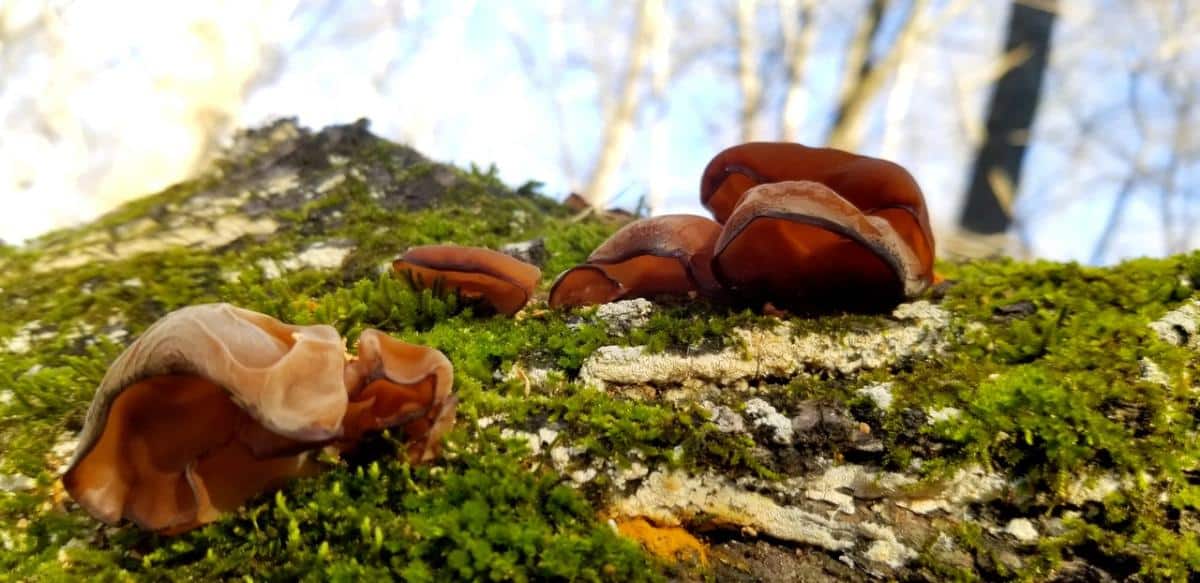 Auricularia fuscosuccinea
This species grows in southern North America. The primary difference between this and other wood ear species is its limited southern habitat and lighter coloring. A. fuscosuccinea caps are cinnamon brown or light purplish-brown. This is quite different from the dark reddish-brown of the other species.
A. fuscosuccinea grows on dead or dying hardwood trees.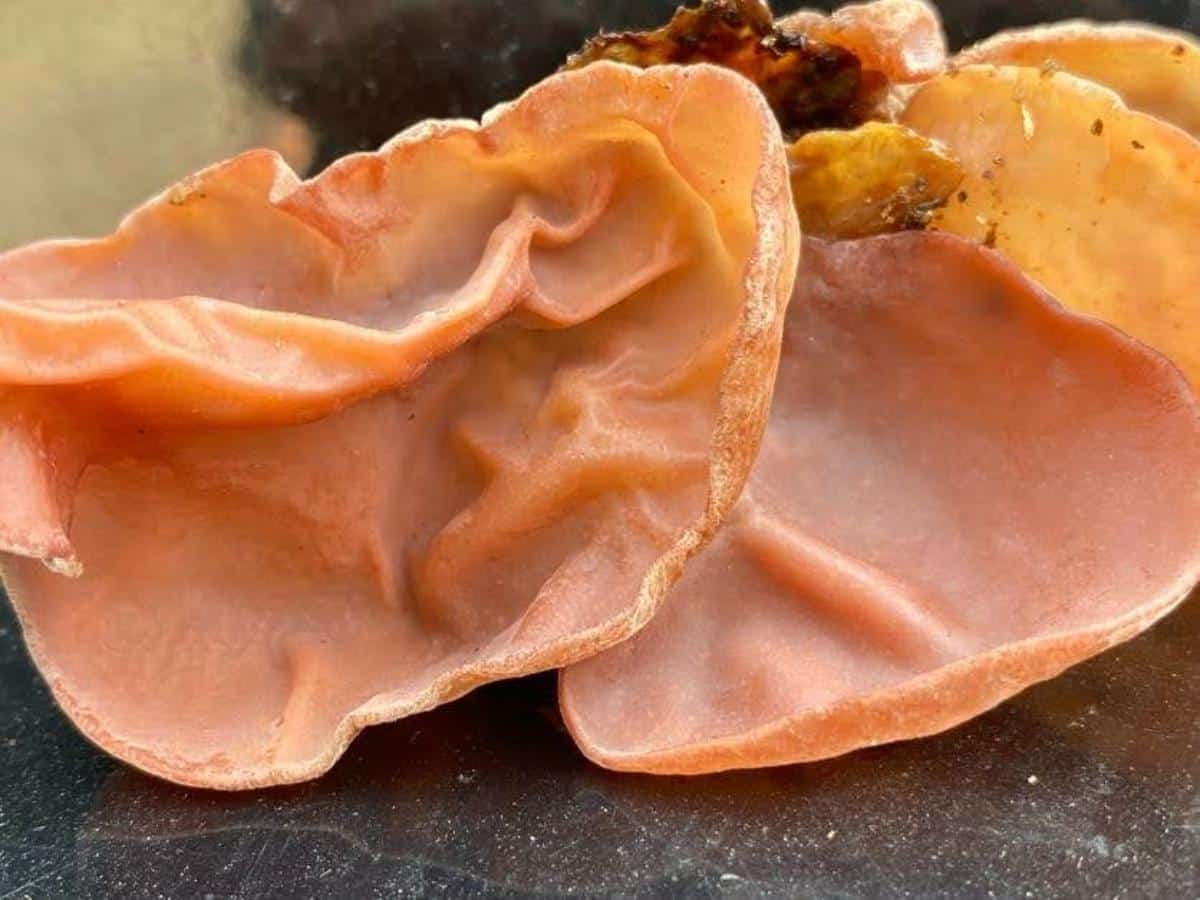 Auricularia nigricans
This jelly ear fungus appears on hardwood trees in the southern United States, the Caribbean, and Argentina. It is found specifically in Louisiana and Florida.
A. nigricans grows up to 2.4 inches across and is ashy-gray to yellowy-brown in color. In addition to its limited distribution in the US, this coloring makes it easy to differentiate from other species. The top of the cap is also densely covered in little hairs.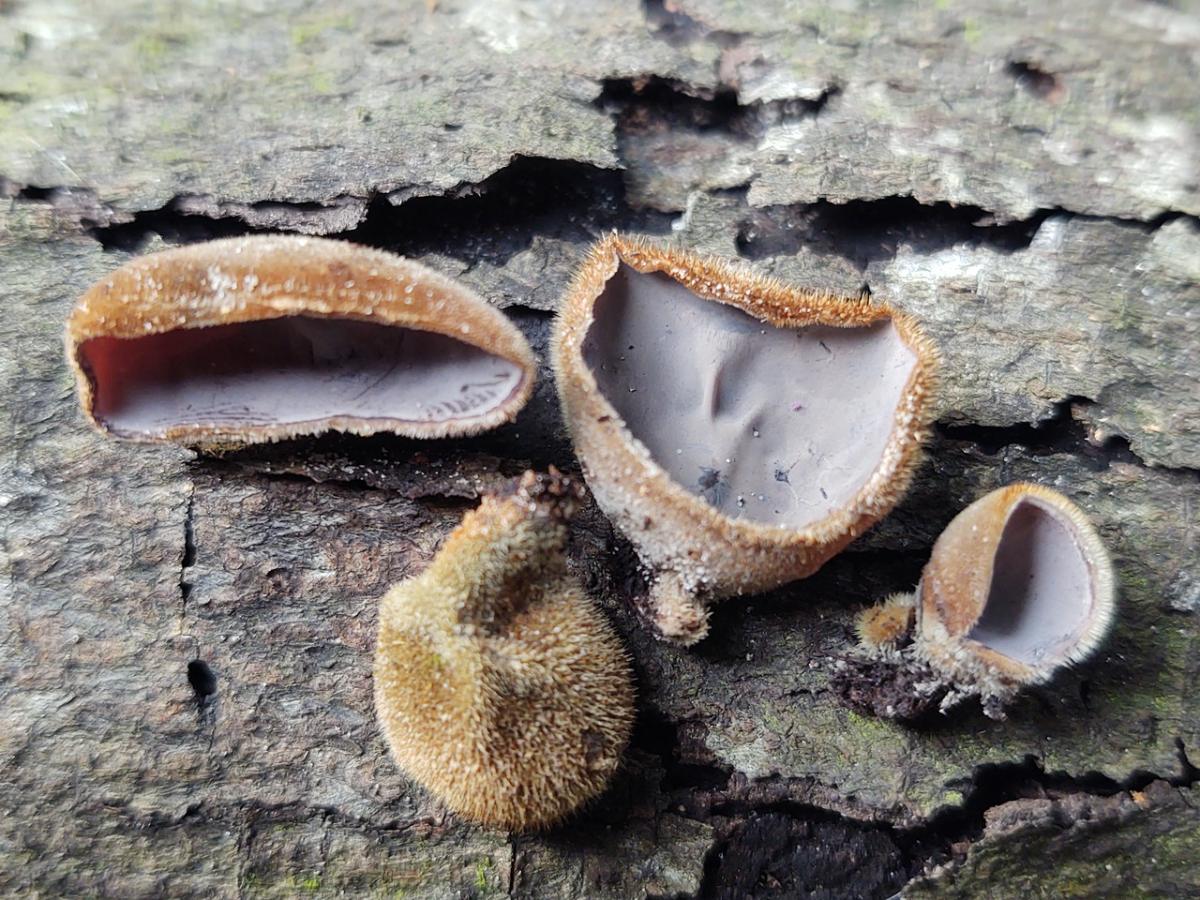 Wood Ear Mushroom Lookalikes
Amber Jelly, aka Brown Witch's Butter (Exidia recisa)
This gelatinous fungus looks almost exactly like a wood ear, except it is much smaller. Amber Jelly fungi are the mini-me of wood ears, rarely growing more than an inch across.
Amber Jelly fungus is reddish-brown, often even darker to purple-brown. The flesh is rubbery, bendable but not so squishy you'll break it, and grows on dead hardwood. They almost always grow in dense clusters, with individual specimens firmly discernible. The tops are smooth and bald, unlike the wood jellyfish, which are often covered with fine hairs.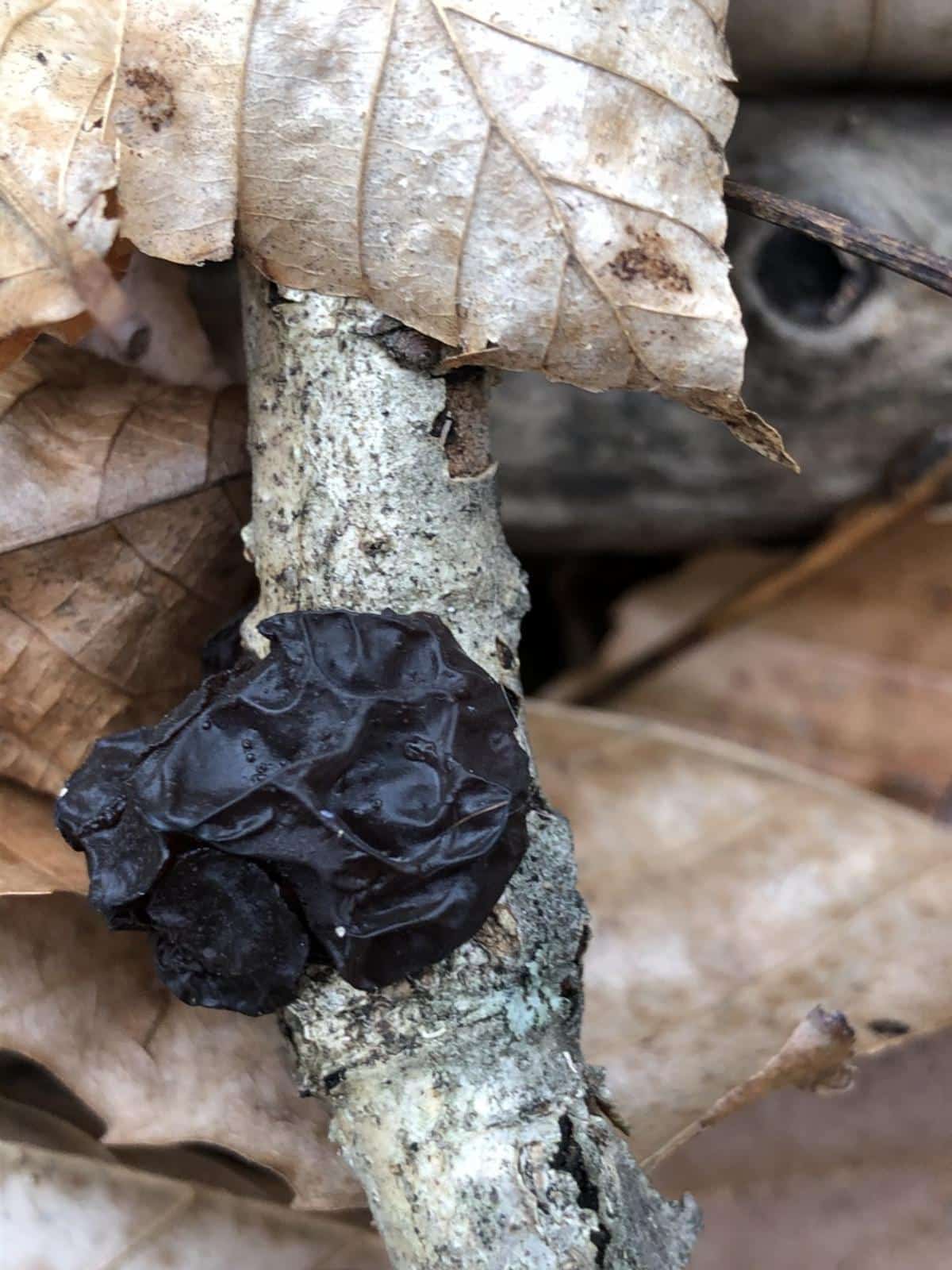 Leafy Brain, aka Jelly Leaf, aka Brown Witch's Butter (Phaeotremella foliacea, syn Tremella frondosa)
Like wood ears, this jelly-like fungus is brown and grows around 2-3″ across. This species only grows on conifers. It is missing the distinct ear-like shape of the wood ear, though. In general, Leafy Brain fungus is tightly clustered and intertwined, making it difficult to identify individual specimens.
The fungus is more like a mass of wavy gelatinous fronds, overlapping and very squishy and watery. If you squeeze it hard, you'll rip or make a hole in the fungus. The leafy brain looks more "brain-like," a mass of squishy, wavy, irregular growth that isn't as clearly defined. It is more translucent, too. Some describe it as looking like seaweed, with branches and rippled growth patterns.
Leafy brains are an edible mushroom. They're pretty bland and not really sought after to eat, but if you make a misidentification, it won't be the end of the world.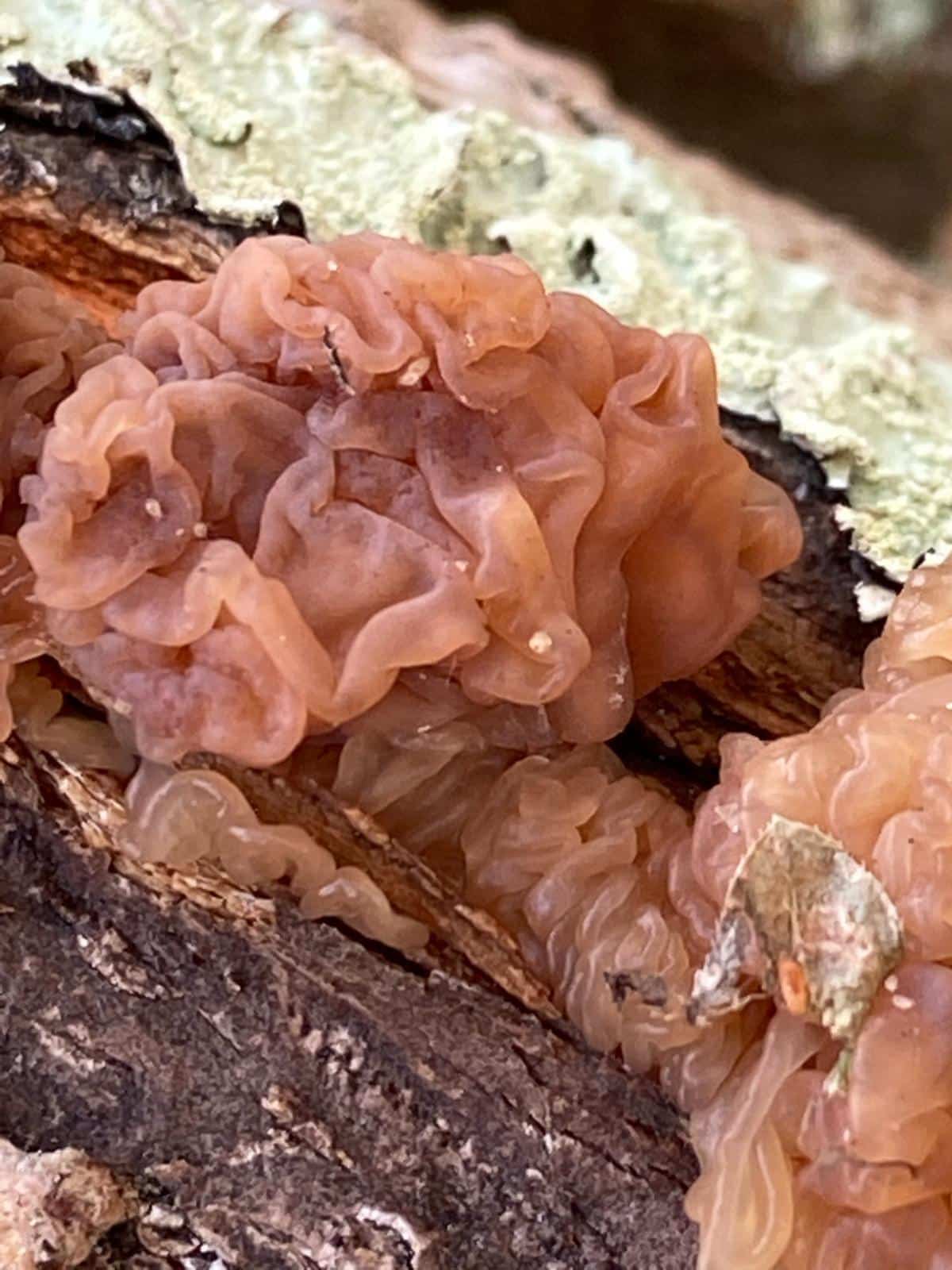 Phaeotremella frondosa (syn Tremella frondosa)
This species is very similar to the Leafy Brain (above), except it grows on hardwood trees instead of conifers. The fruiting bodies grow up to 3" across and are pale to dark brown in color. The overall appearance is more brain-like or seaweed-like than ear-looking.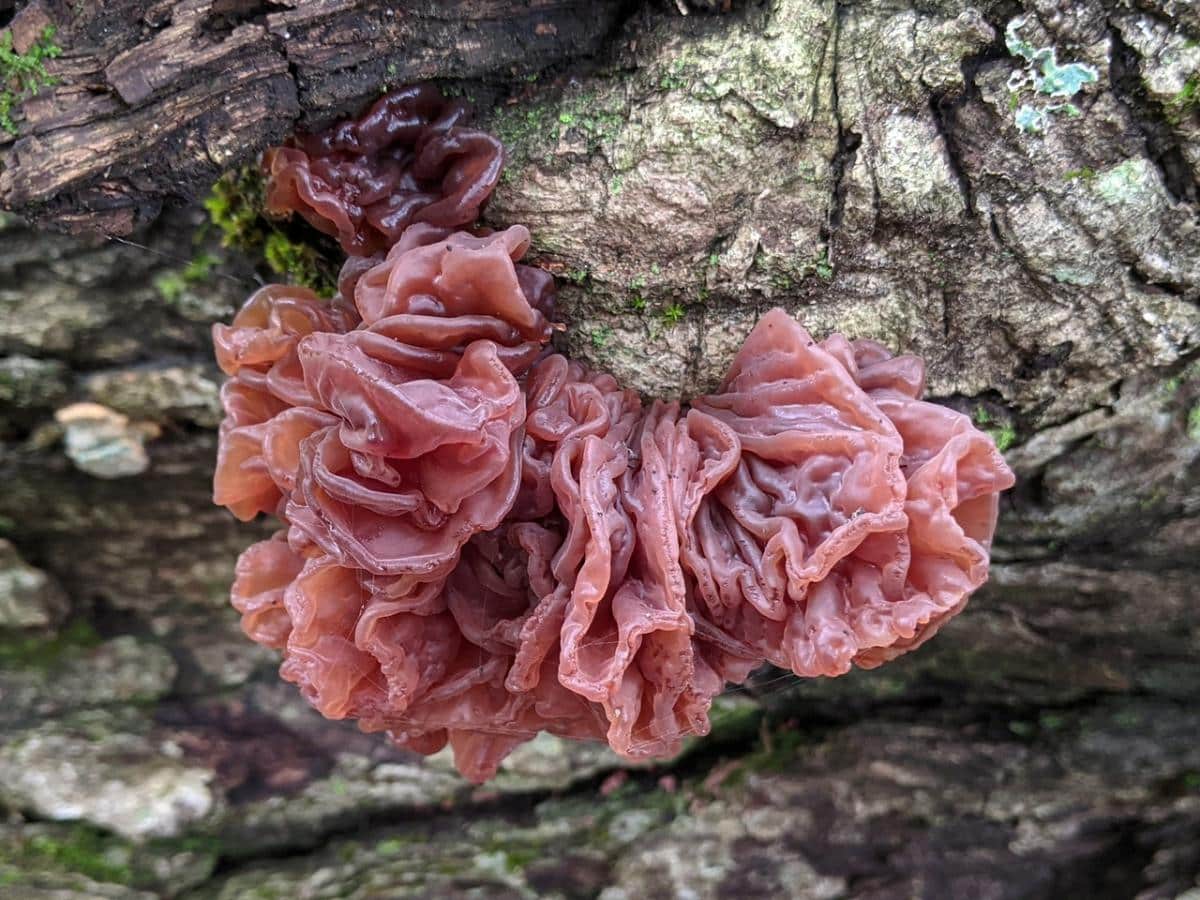 Cooking With Wood Ear Mushrooms
Black wood ear and cloud ear mushrooms are grown commercially in Asia and are a popular food there. They are used in soups and stews for a dense jelly-like chewy, yet crunchy texture. Its unique texture adds a novel experience to any dish in which it is included.
Traditionally, these mushrooms are a prime ingredient in hot and sour soup. The mushrooms are cut into strips and dried. Then, the dried mushrooms are added to the soup, where they are only partially reconstituted. This ensures a crunchy texture.
Jelly ears don't have a lot of flavor on their own. Most people consider them rather bland or just slightly woodsy tasting. The main reason for using them in recipes is their texture and medicinal properties. They also add an excellent bulk to a dish and will soak up the flavors of whatever they're cooked with.
The mushrooms are also reconstituted by boiling and added to salads and stir-fries.
Wood ear mushroom recipes: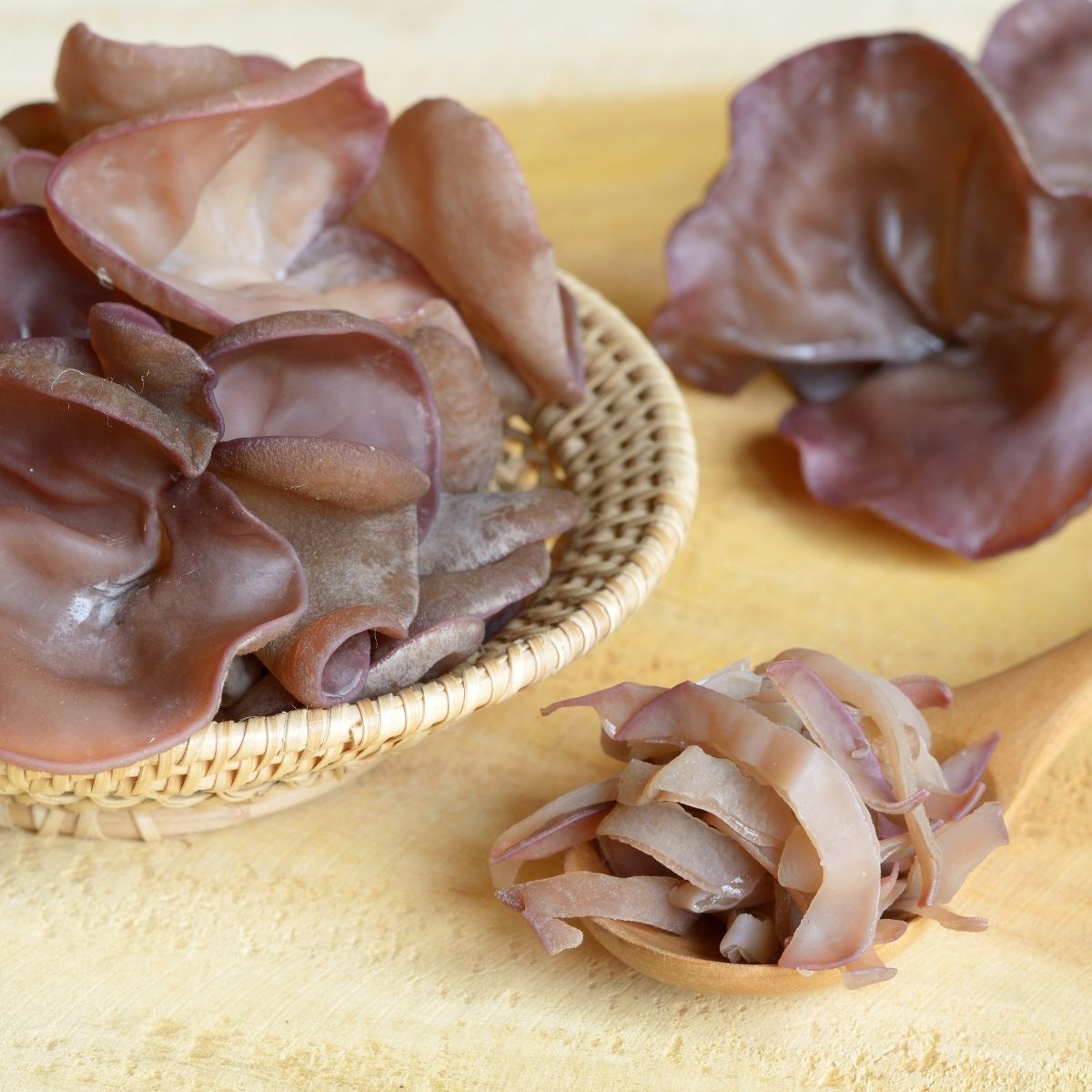 Medicinal Uses For Wood Ear Mushrooms
For centuries, these mushrooms have been a vital part of traditional Eastern medicinal practices. The primary uses for it include:
Lowering cholesterol
Regulating blood sugars
Inhibiting blood coagulation
Reducing tumors
Treating sore throats (classic traditional use)
To learn more about the medicinal properties of wood ear, this scientific research paper is a great place to start. Interested in learning more about medicinal mushrooms in general, check out our articles on medicinal mushroom species.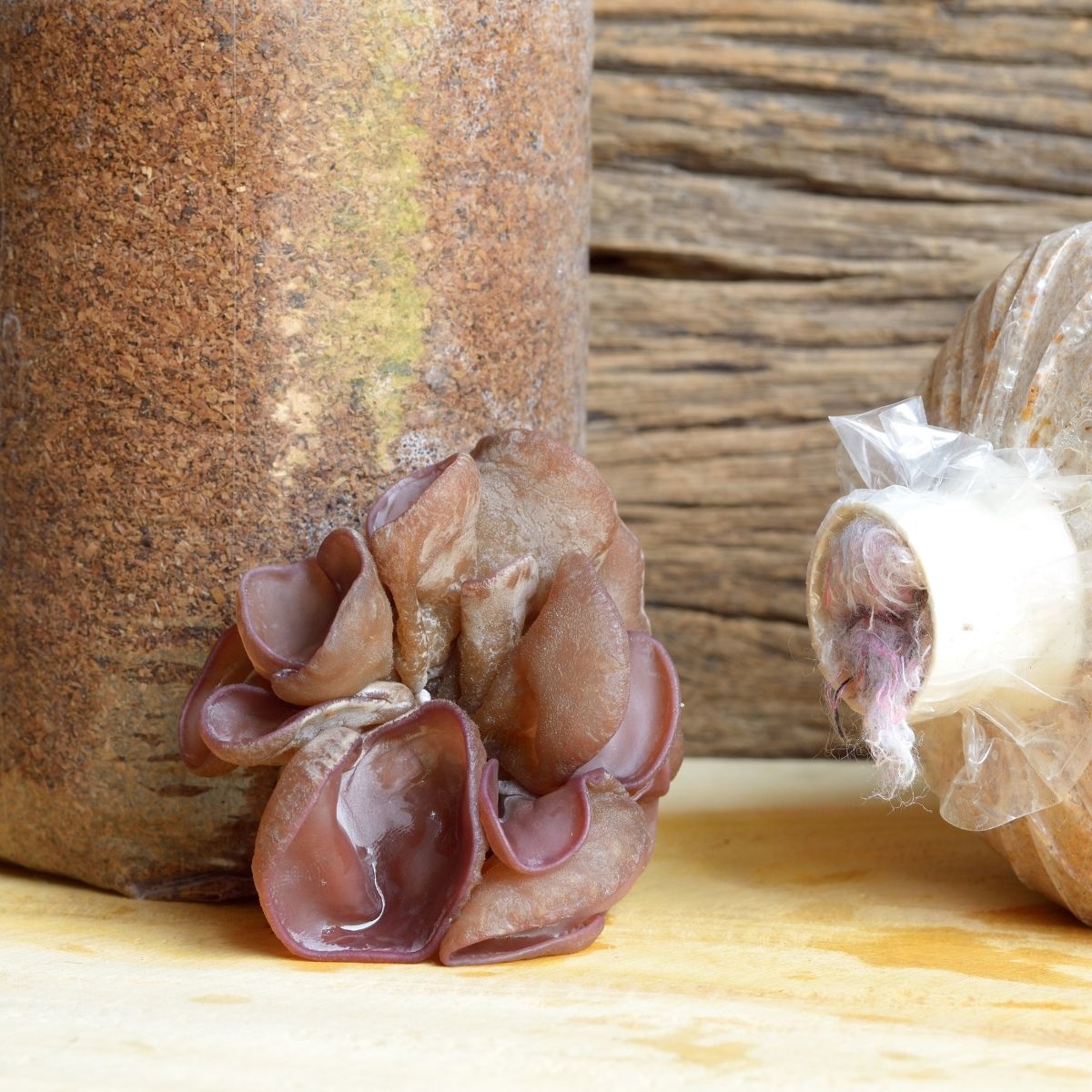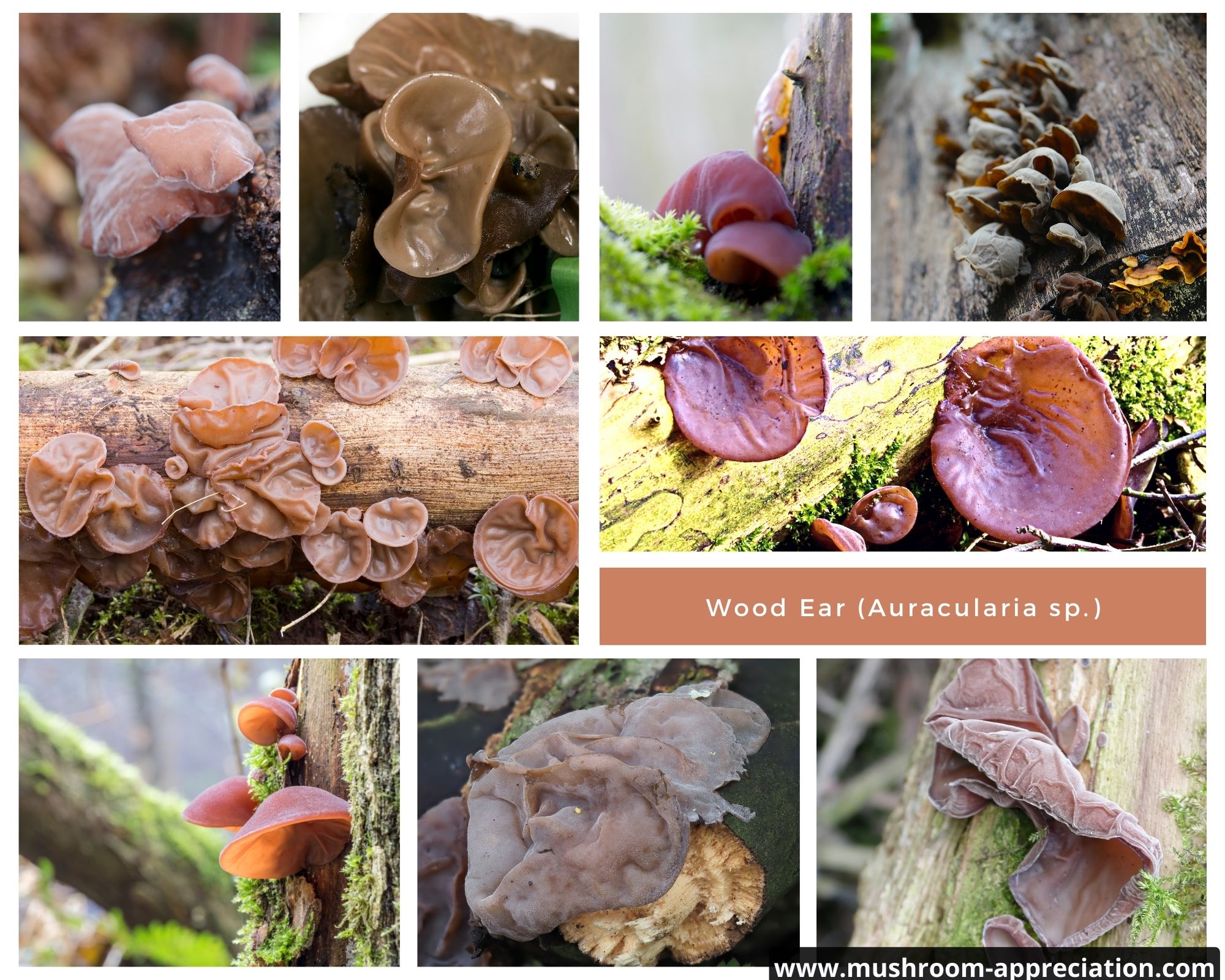 Common Questions About Wood Ear Mushrooms
Are wood ear mushrooms the same as black fungus?
Sort of….All Auricularia species might be called black fungus because when they are dried, they turn totally black. This is how it is most often sold commercially — dried and black. However, the "actual" black fungus is the Asian species, Auricularia cornea.
Are all wood ear mushrooms edible?
None of these fungi are poisonous, but some may not be as great or enjoyable to eat as others. All the species listed here are used for food in North America.