Like reishi and turkey tails, the maitake mushroom has been used for many years as a powerful medicinal. Although known in Japan, it only started gaining attention in the United States in the last 20 years.
Yet unlike its other polypore cousins, maitake is edible and tasty!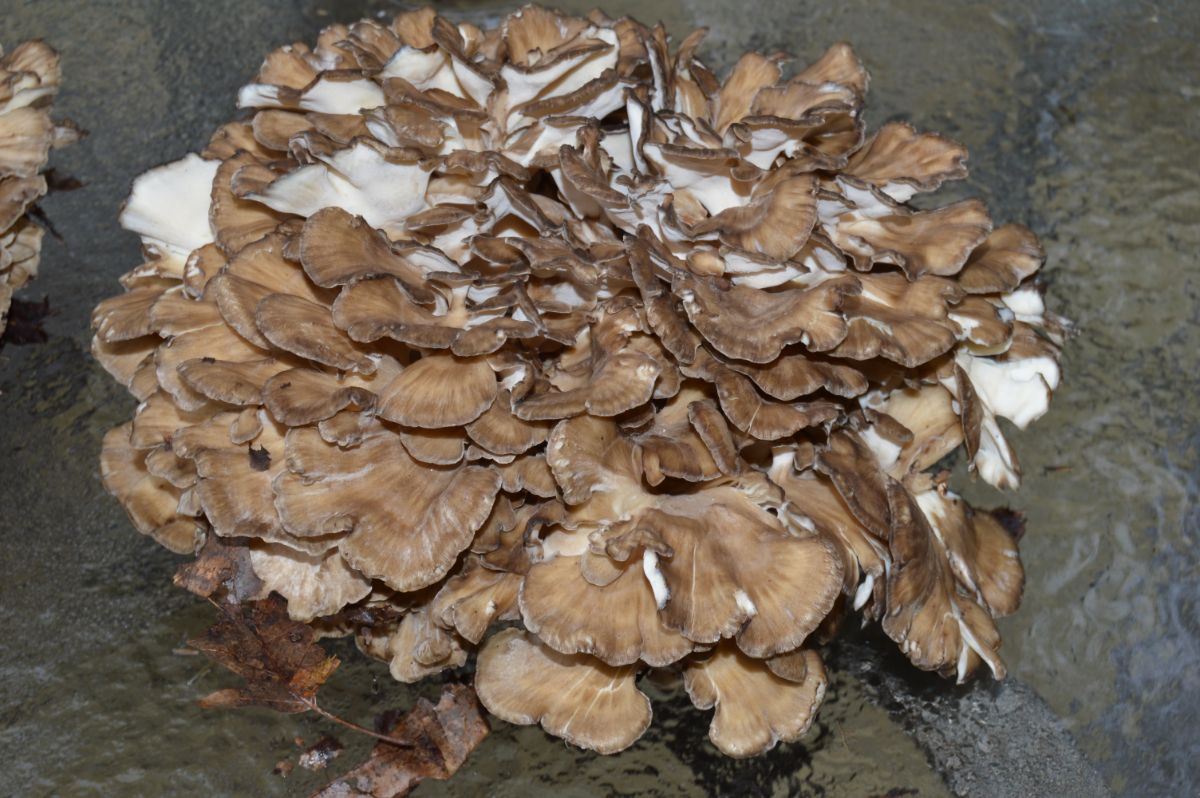 Jump to:
Maitake Mushroom Facts
The name maitake means "dancing mushroom" in Japanese. It is also known as the "hen of the woods", "sheep's head", "king of mushrooms" (due to its large size), and "cloud mushroom". The Latin name is Grifola frondosa, referring to the mythical griffin.
The maitake mushroom is a polypore. This means they have no gills on their undersides and release spores through small pores.
Grifola frondosa is mainly found at the base of oak trees but will appear under other trees such as maple or elm.
They are most common in the Northeastern areas of the United States and Canada. They also exist in hardwood forests in parts of Japan, China, and Europe.
Remember where you find maitake mushrooms! They often appear in the same place each year.
Maitake mushrooms fruit later in the season. Usually from early September to late October.
It is characterized by its layers of caps that are curved like spoons. These layers sprout from a large fist-sized, tuber-like structure located underground.
The brain-like folds of caps can grow fairly large. The entire fruit body can be a few feet across and can weigh as much as 40 or 50 pounds (around 18 to 23 kg)! Specimens as large as 100 lbs are said to exist.
The caps start out darker when young and fade to a lighter gray or yellow. The edges of the caps often remain a darker color.
Hen of the woods is a butt rot fungus, weakly parasitic and saprobic. It attacks live trees and also feeds off dead or dying ones. Because it is a weak parasite, it often takes many years to entirely kill a tree, if it does at all. This is good news for the forager because it means the mushroom will fruit from the same tree for many years.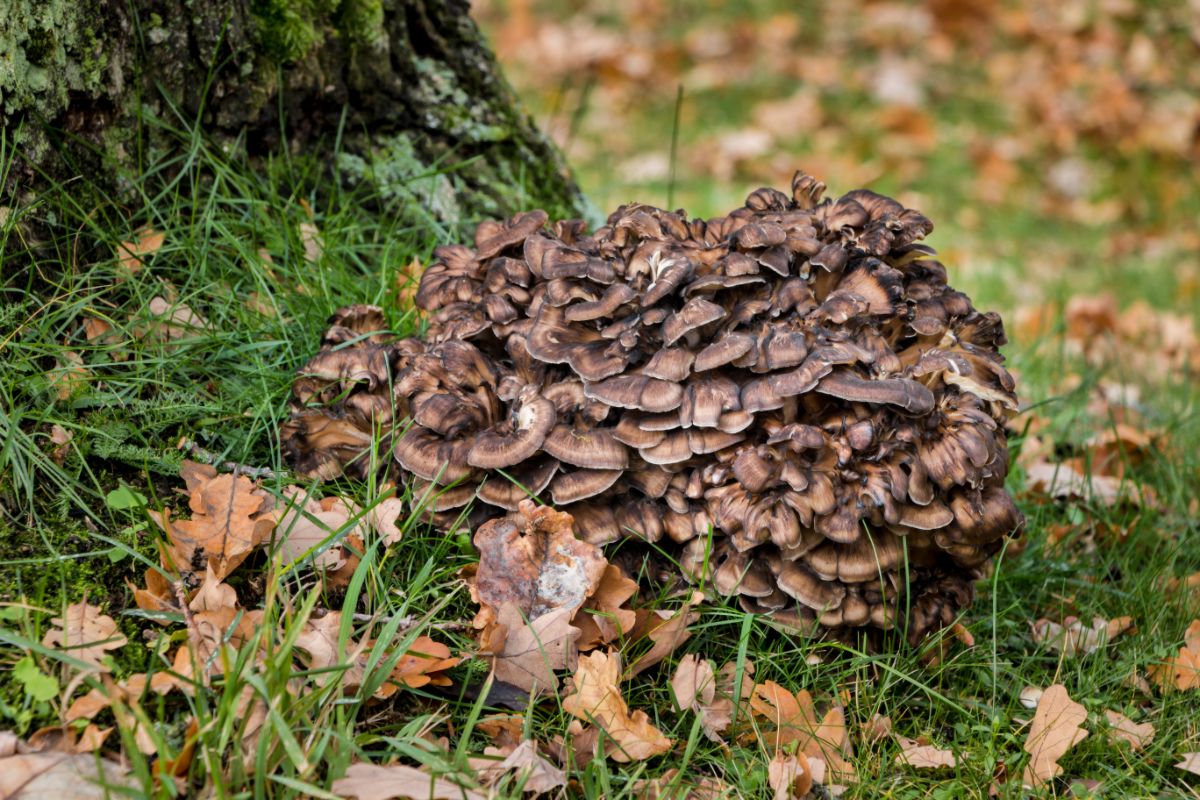 Note that people often confuse the hen of the woods (maitake) with the chicken of the woods, which is a completely different mushroom.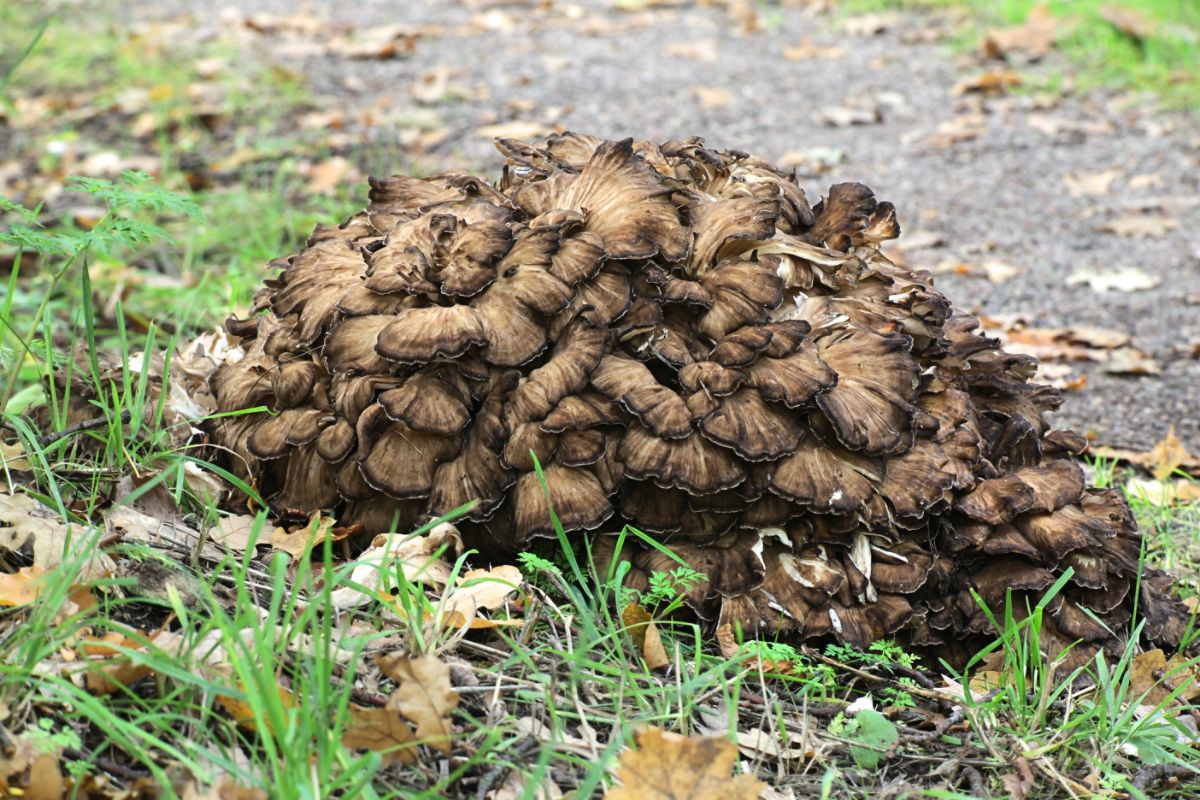 Foraging Hen of the Woods
Season
Late summer through fall. Sometimes, they don't appear until late in the fall, depending on where you live.
Habitat
Grows at the base of hardwood trees – oak trees are the most commonplace.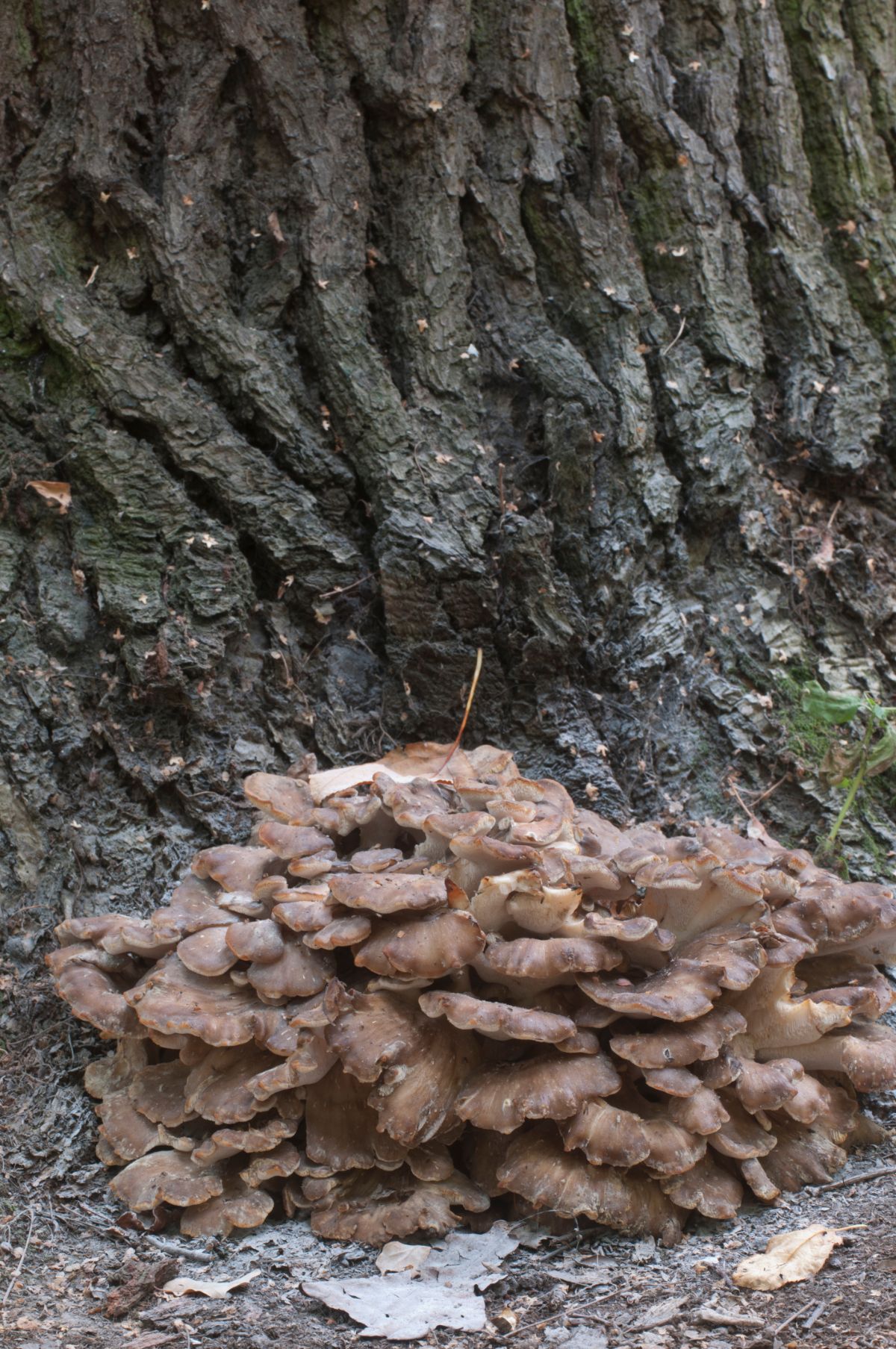 Identification
Maitake mushrooms grow in densely clustered rosettes. They grow from a single stem, with each branch arching out from the central base. The caps are called fronds, and they are pale gray to brown – there can be quite a difference in coloration between specimens.
The fronds usually have concentric zones of coloring, but it isn't always that defined or noticeable. The frond tops are often finely velvety with tiny hairs but are also frequently bald and smooth. Each individual frond is usually between 1-6 inches wide and shaped like a fan with wavy edges.
The entire mushroom is usually 6-16 inches across and 4-12 inches high. It's a big mushroom. Much larger specimens have been discovered over the years. In 2013, a New Hampshire man found a hen of the woods 24 inches across and 20 inches wide!
Underneath the fronds, the pores start out light gray and then turn white. They do not bruise when handled. This mushroom does not have gills. The pores are white and smooth, like a bolete.
The interior flesh is white and firm and does not change color when sliced. It has a mild mushroomy smell that most consider to be pleasant. The spore print is white.
As the mushroom ages, the tops and bottoms of the fronds turn yellowish and unattractive.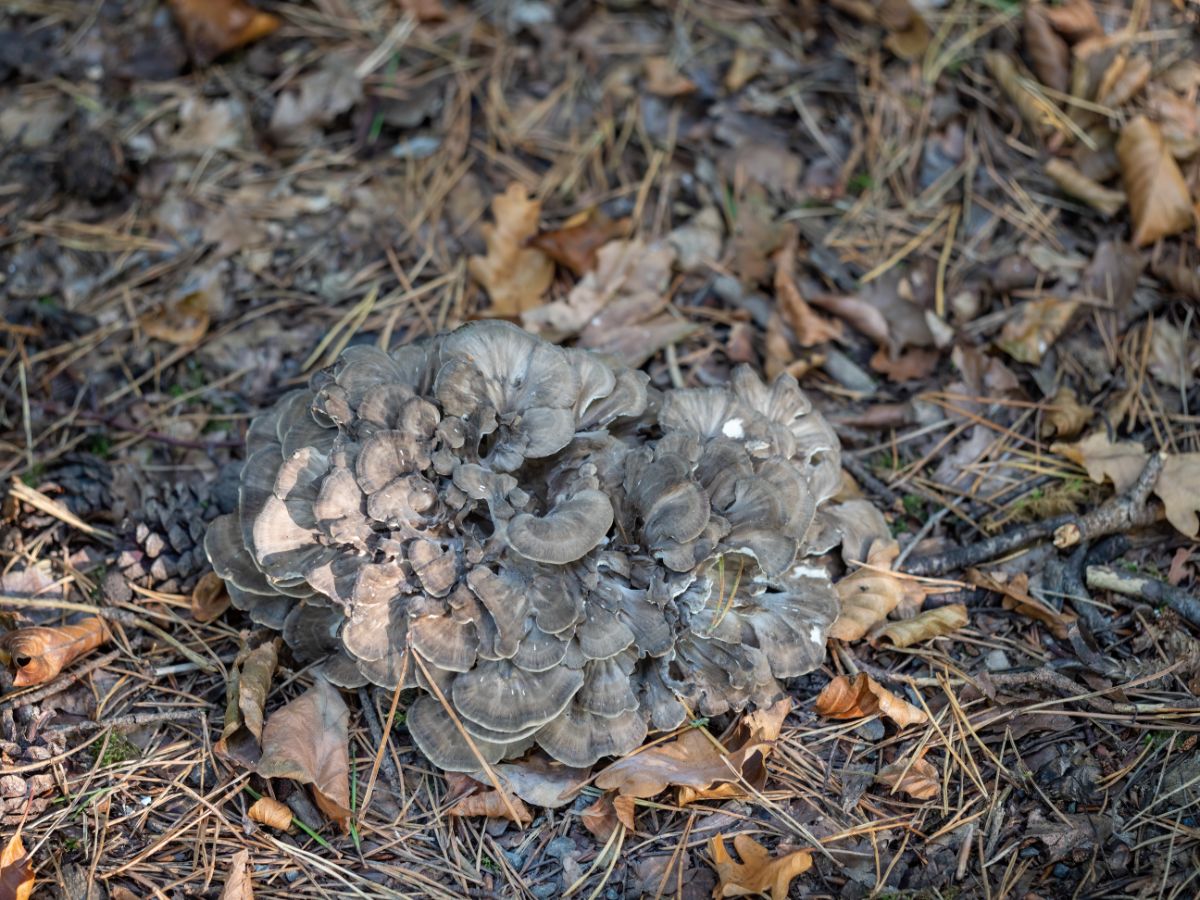 On The Lookout
The biggest problem with foraging the hen of the woods is finding them in the first place. The gray caps blend right in with the forest floor and the oak trees they grow around. It's super easy to walk right by one without even seeing it.
Determined foragers must pay attention and take the time to walk around each potential oak tree host, so they don't miss this prize. Maitake is most commonly found at the base of oak trees, but it will grow with other hardwoods, too.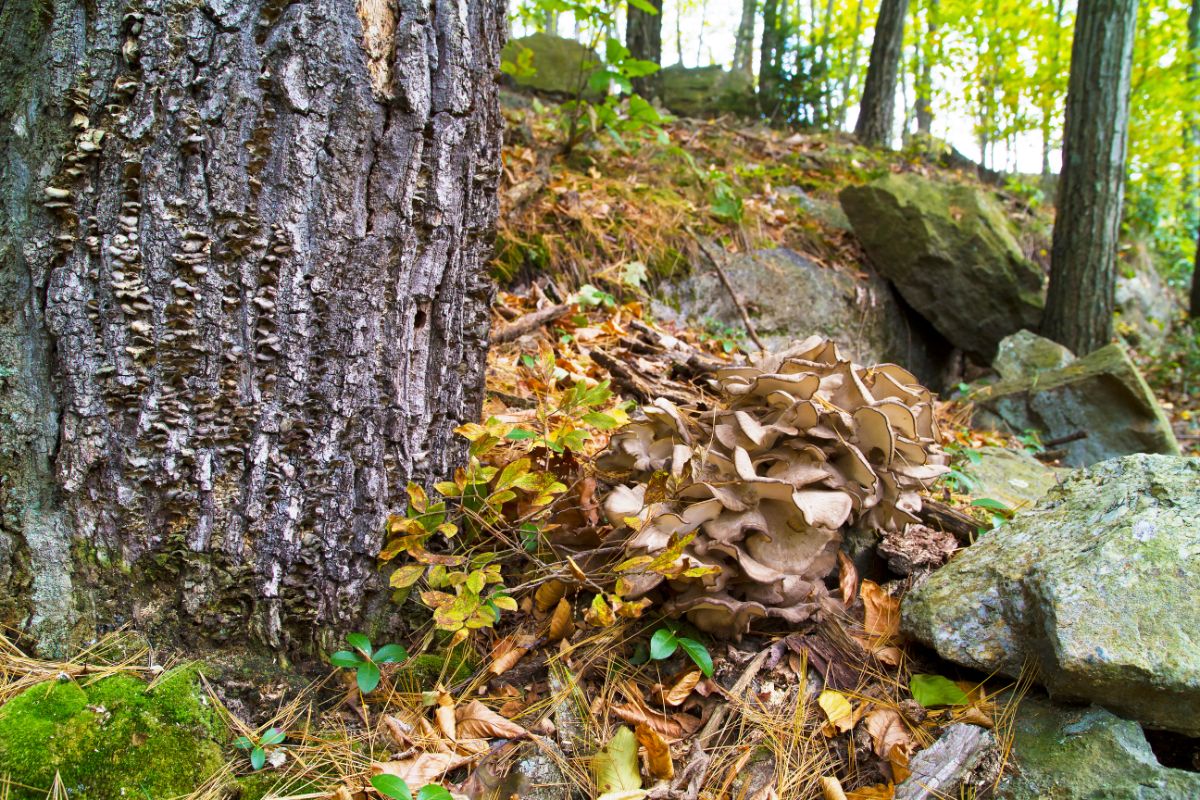 Hen of the woods fruits at the base of trees or very close to the base. They will not grow further up the tree trunk. This mushroom is actually growing from an underground tuber, called a sclerotium, which is about the size of a potato.
Harvest the fruiting body by cutting the stem at the base. Do this carefully so you don't damage the sclerotium – this is what determines fruitings in the future.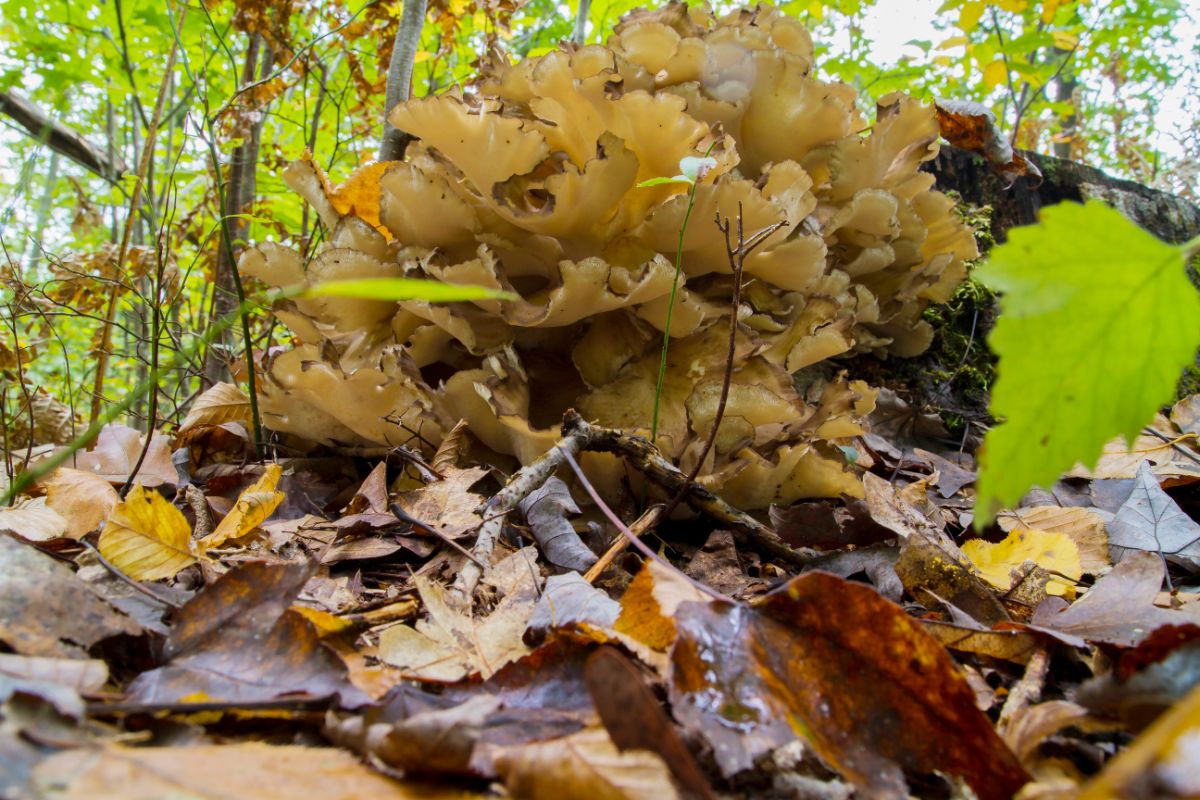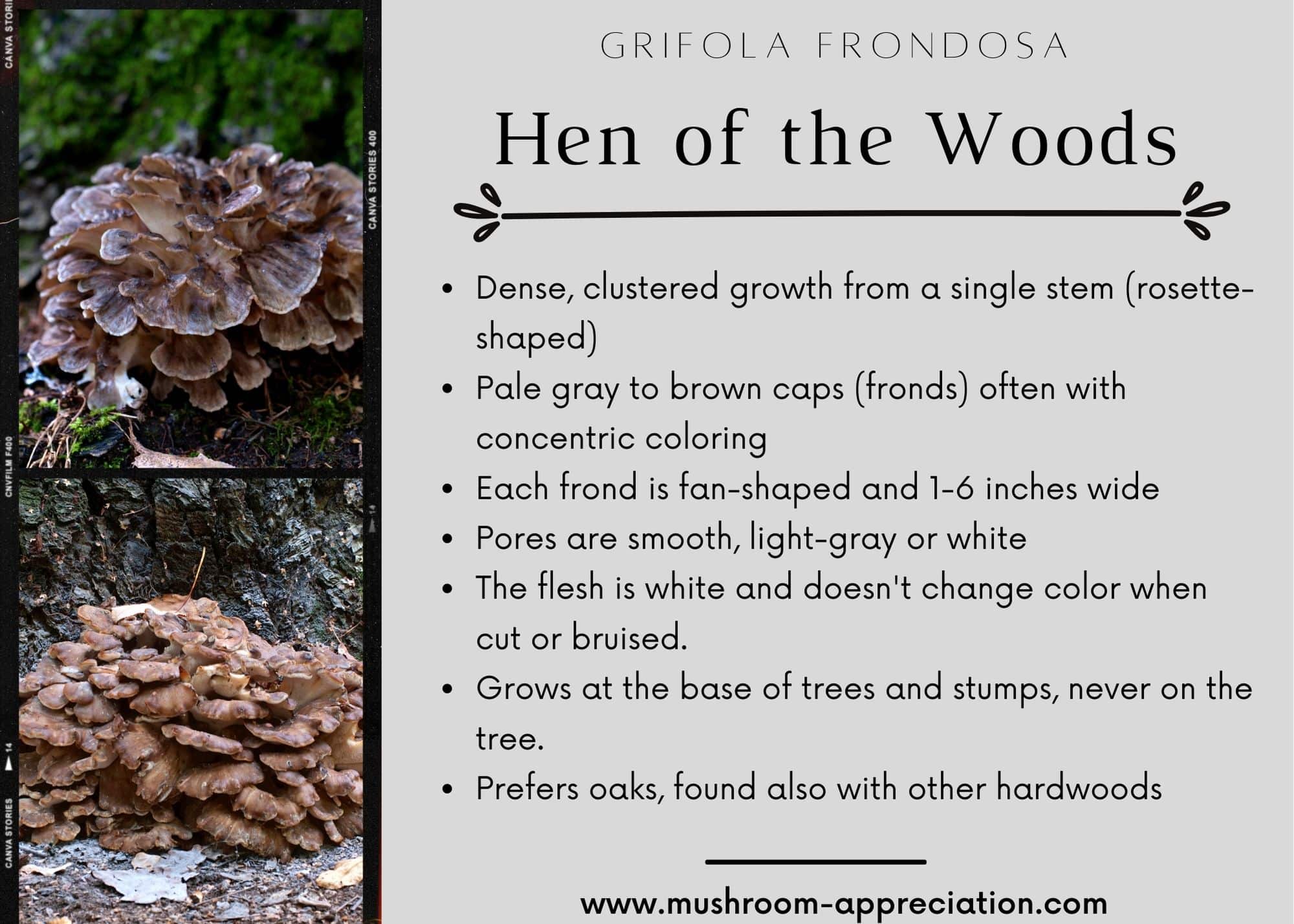 Hen of the Woods Lookalikes
Black-staining polypore (Meripilus sumstinei)
Almost everyone hopes they've found a hen of the woods when they stumble upon the black-staining polypore. It's not always a tragedy if it's the black-staining polypore. This is actually a delicious mushroom if you catch it young enough (like super duper young). With age, the fronds get extremely tough and totally inedible, even with lots of cooking.
When it's small and young, though, the black-staining polypore has a bit of tender steak texture and taste.
Like hen of the woods, M. sumstinei grows in dense rosettes of overlapping caps. It is also grayish to brownish in coloring, with concentric circles on top and white spores beneath. The black-staining polypore also grows at the base of hardwood trees. The similarities between the species are truly remarkable. They even fruit at the same time.
The best and easiest way to discern whether you've found hen of the woods or black-staining polypore is to turn a cap over and press your finger hard into it. If the pore surface turns very dark brown or black, you've got a black-staining polypore. If it remains primarily white, it's a hen of the woods.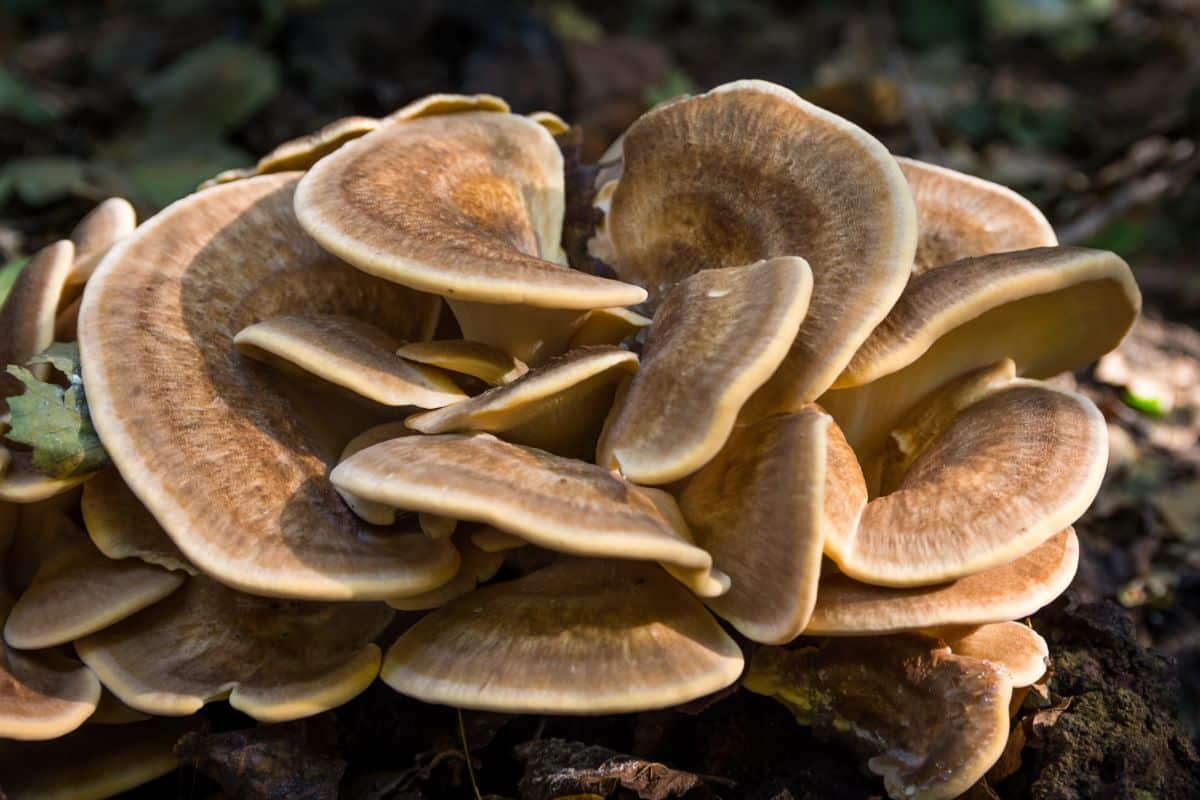 Other polypores
There are hundreds of polypore species across North America. Many of them feature gray or brown caps with concentric coloring and grow in overlapping formations. Most of these grow on logs, branches, and tree trunks. This is a crucial difference. Hen of the woods does not grow directly from wood.
Because the name hen of the woods is easy to confuse with chicken of the woods, some people get them confused. They look completely different, though. Chicken of the woods is bright orange-yellow — learn more about this other fowl-named edible mushroom here.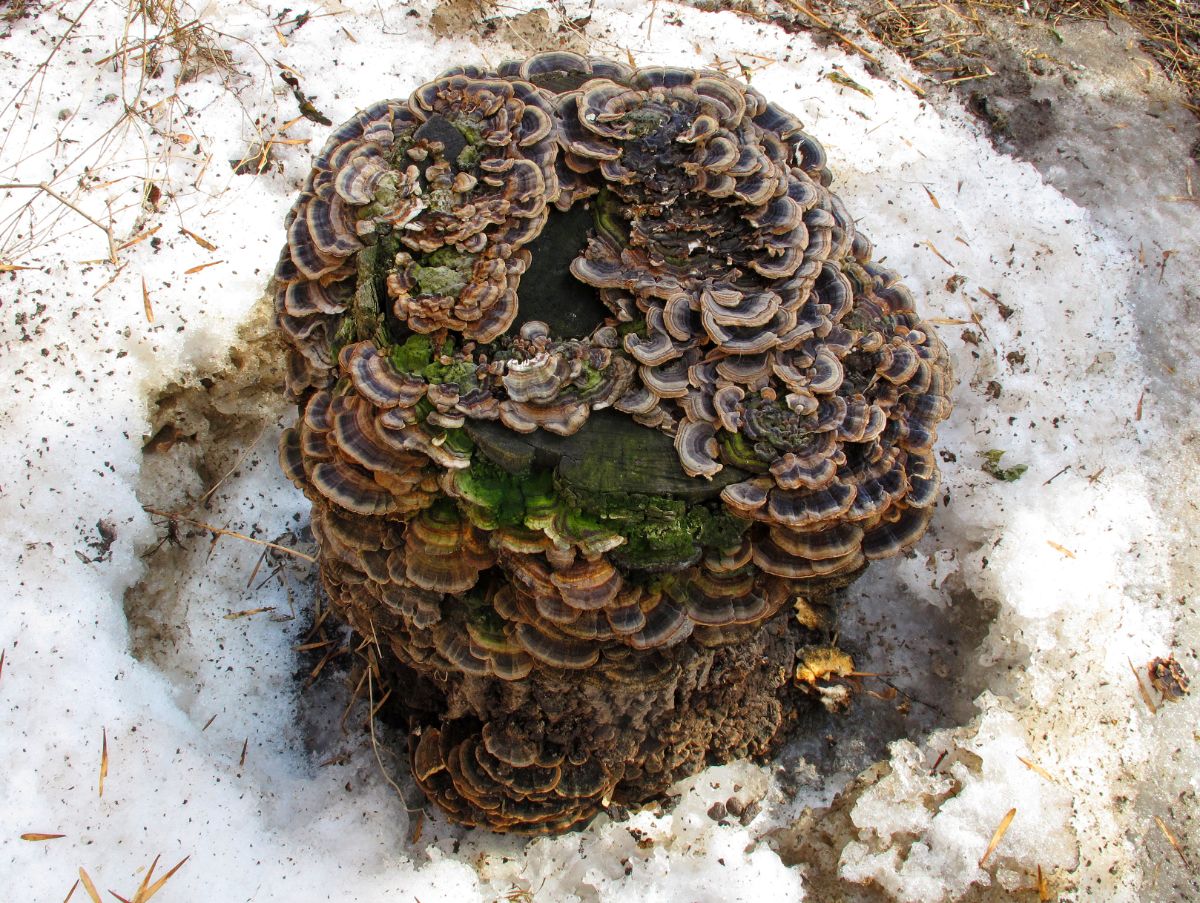 Eating the Hen of the Woods
You may not suspect it at first glance but maitake mushrooms are edible. Many people consider them quite delicious with a strong flavor. Others find it can upset their stomach so try a small amount before you make a meal out of it.
If you're not cultivating the hen and can't find it at your grocery store then it's time to hit the outdoors! Start looking at the base of oak trees near residential areas and at the edge of the woods. As always, make sure you check with someone knowledgeable if you're not absolutely sure of the mushroom you've found.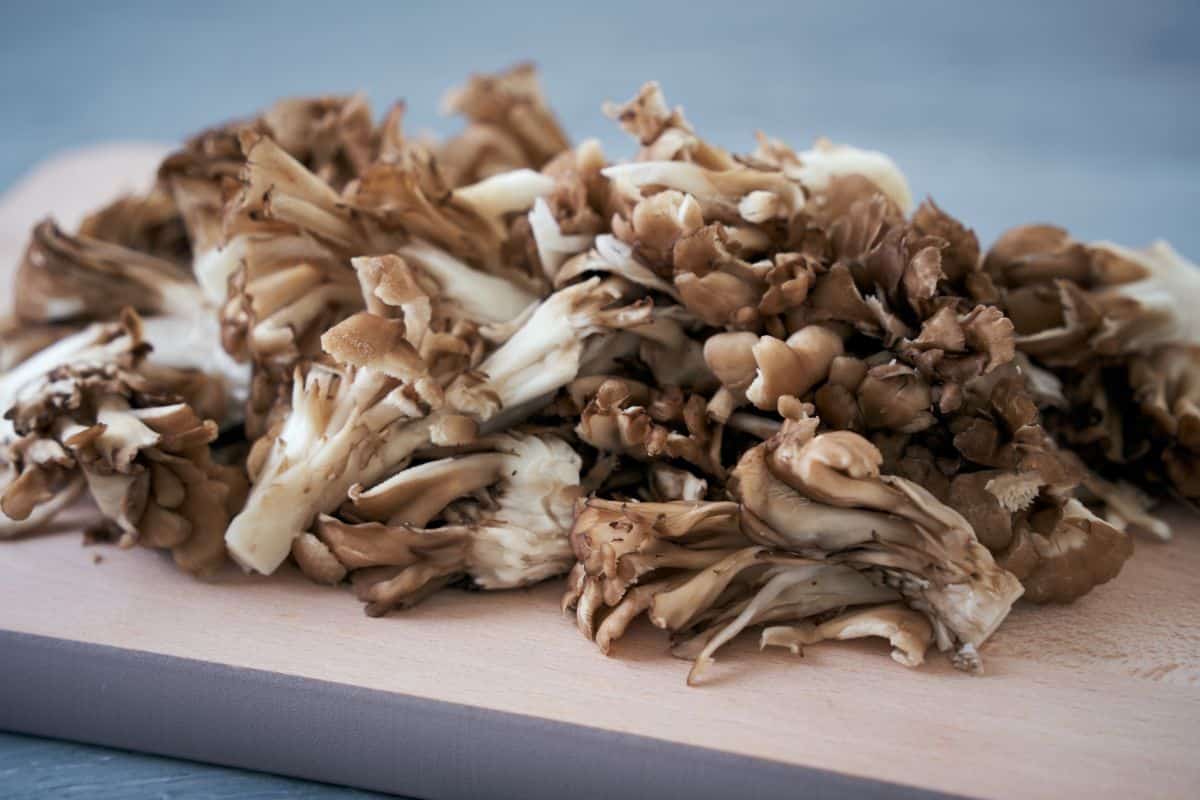 Since the stem is very tough only slice off the caps for cooking. They should be young and firm, not dry, old, or mushy like the picture to the left. Make sure you wipe them down, wash them, and dry them before eating. The base of a tree is not the most hygienic place!
Once you have clean maitake mushroom caps there's no limit to how you can cook them! They can be stir-fried, baked, sautéed, stuffed, or made into tea.
One of the most popular recipes is to simply fry them in oil or butter until crisp. Maitake can replace button mushrooms in any recipe for a more flavorful result.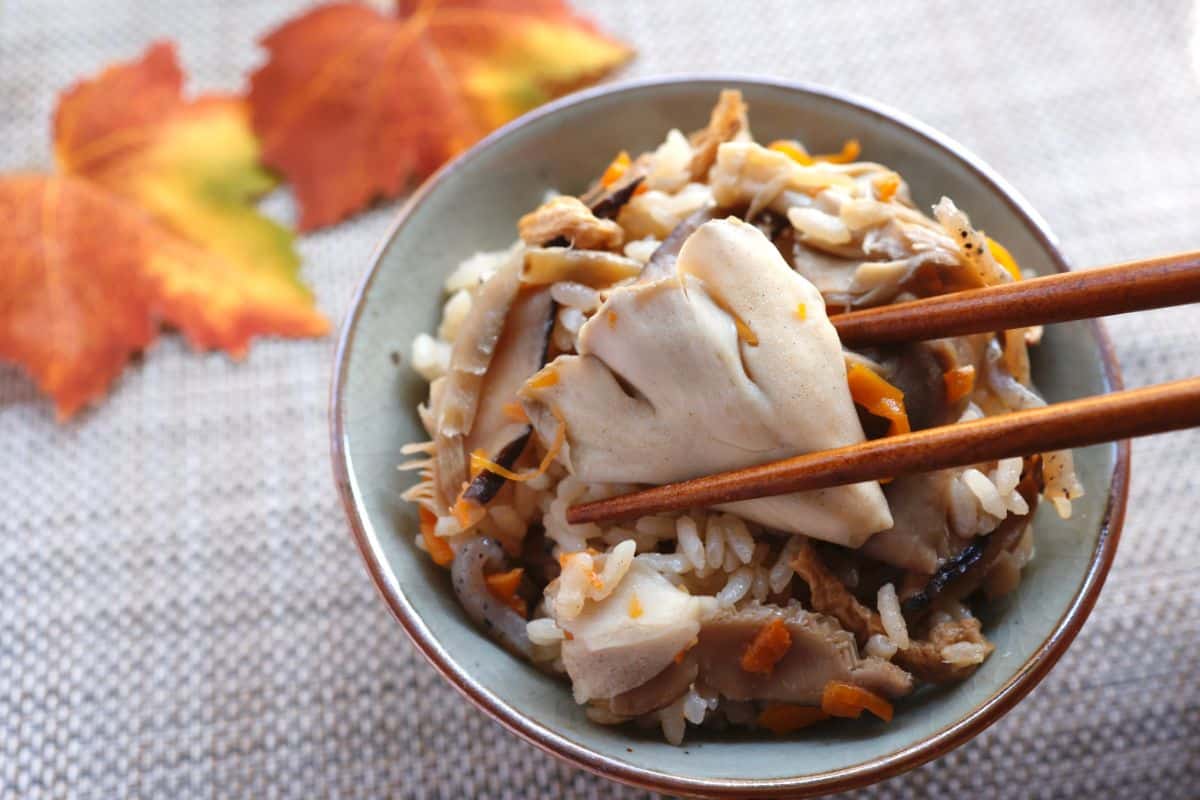 Many people also freeze them before cooking. The mushrooms freeze well so don't hesitate to do this if you want to save some for later. The frozen caps will get you through the winter until morel hunting season!
Medicinal Effects of Maitake Mushrooms
Maitake is one of the most promising medicinal mushrooms. Like other polypores, maitake contains polysaccharides that stimulate the immune system.
A polysaccharide is a complex carbohydrate made up of smaller sugar molecules. These sugars stabilize blood pressure, blood sugar, and have an effect on free radicals.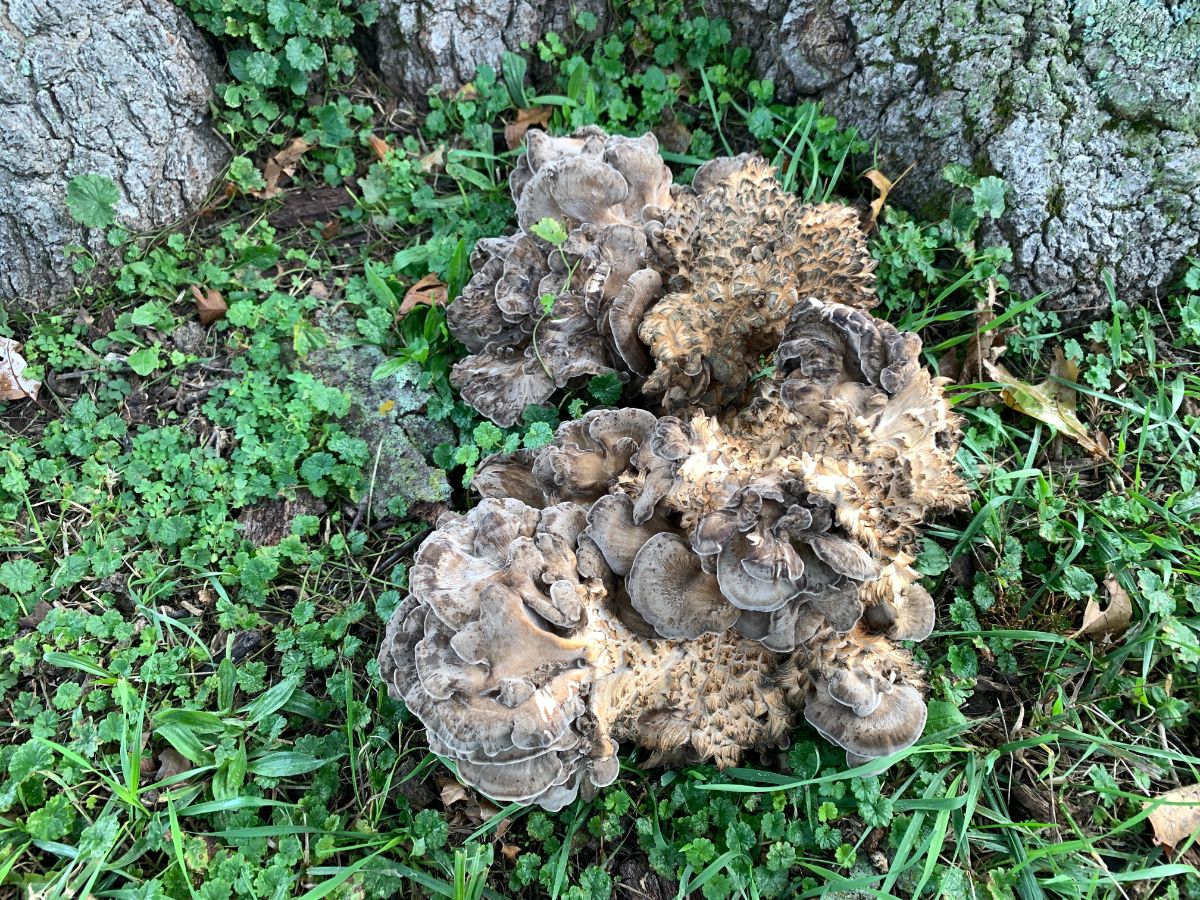 Specific polysaccharides, known as beta-D-glucans, are also suspected to stimulate the immune system to fight cancer. The exact cancer fighting action of these molecules is still not clear and is under study. Rather than attacking tumors themselves, some researchers believe they stimulate the production of T cells to fight the afflicted cells.
An extract of these helpful glucans was patented and is known as the maitake D-fraction. You'll see this term all over the internet when searching for maitake mushroom supplements. The terms "D-fraction" and "MD-fraction" are simply referring to a concentration of maitake polysaccharides.
So what do these D and MD-fractions do? Research has shown them to regress tumors, especially in breast, liver, and lung cancer. A summary of one such study can be found here. This is just a citation, not an in-depth paper, but it notes improvement in human cancer patients after using the MD-fraction.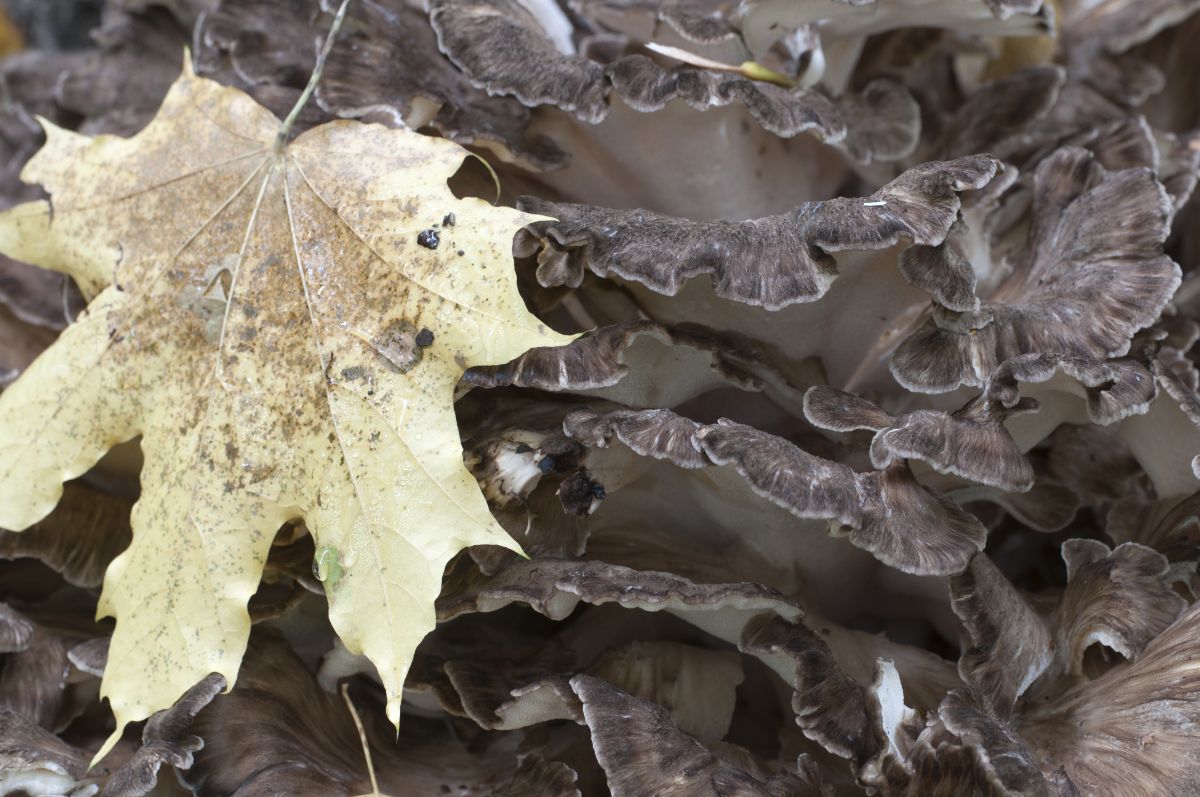 In addition to fighting cancer, maitake mushrooms show potential for helping other conditions as well. Studies are ongoing into its action against:
cancer (especially breast, liver, and lung)
diabetes (may control blood glucose levels)
HIV/AIDS
high cholesterol
high blood pressure
You can start supplementing with maitake by either purchasing an extract of the D or MD fraction or with powdered capsules of the whole mushroom. Doses range from 1 to 3 grams per day, up to 7 for those fighting disease (check with a health practitioner before taking a high dose).
Things to Keep in Mind
My personal recommendations are the Host Defense brand (more expensive but organic, made by famed mycologist Paul Stamets' company), or the Nature's Way brand (a maitake/shiitake blend, cheaper).
As with all supplements, talk to your doctor before starting something new.
Maitake's effects are cumulative. You probably won't notice anything after using it just once or sporadically. Take it every day and be patient. It can take a few weeks to 2 months to notice an effect.
Unlike reishi, maitake doesn't seem to have the same anti-inflammatory action. Thus those with autoimmune diseases and women who are pregnant should not take it.
Take all pills, powders, and teas with some vitamin C. Research shows that vitamin C increases the absorption of polysaccharides in the body. So add an orange or a multivitamin to your maitake routine!
Try to buy organically grown mushrooms only. They are safer and better for you.
Purchase from a company that gives as much information as possible about their product. A good company will tell you how the mushroom was grown and the polysaccharide content. The more you learn about what goes in your body the better. However….
Be aware of companies that make outrageous claims. Statements like "magic pill", "cancer cure", and "reverse aging" are simply not true.
Maitake mushroom research is still young here in the West! Hopefully, future studies will reveal more about its medical potential.
Hen of the Woods Common Questions
What does Hen of the Woods taste like?
Hen of the woods have a strong earthy mushroom-y flavor. Some people note a nutty or peppery taste.
Why it is called Hen of the Woods?
This mushroom earns the common name because it resembles a hen perched upon a nest.
Where does the name Maitake come from?
In Japanese, maitake translates to "dancing mushroom." Some say this name was given because the mushroom resembles the waving hands and kimono sleeves of dancing girls.
Others report it is called the dancing mushroom because anyone who finds one does an exuberant mushroom dance in the woods in celebration. As someone who has danced with joy at finding a maitake mushroom, this second definition really makes sense!