Cauliflower isn't just a vegetable! Actually, cauliflower mushrooms (Sparassis sp.) steal their name from cauliflower, the vegetable, because it is said they look similar. We personally tend to enjoy this cauliflower much more than the vegetable!
The cauliflower fungus is a top edible species with no lookalikes, not even non-poisonous lookalikes. This makes it an excellent beginner mushroom because it is virtually impossible to misidentify it. The problem – they're super hard to find!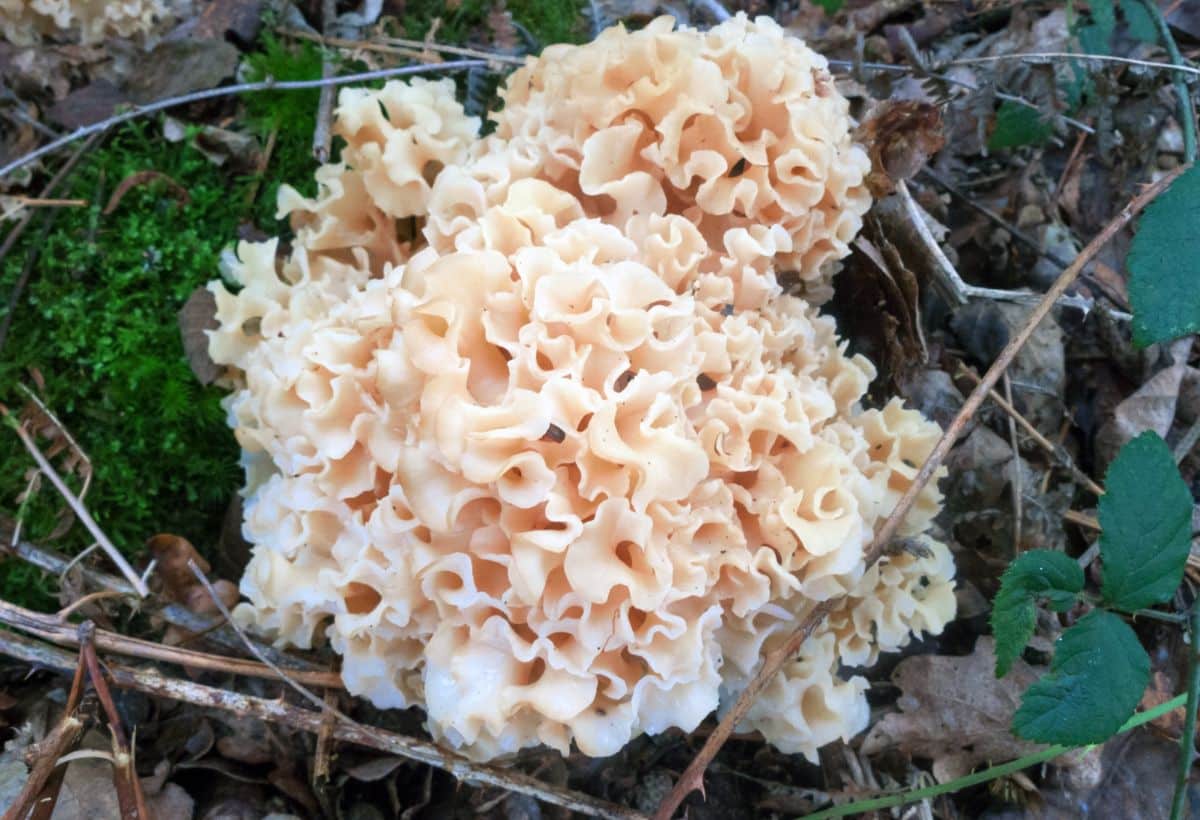 Jump to:
All About Cauliflower Mushrooms
There are around 17 species of Sparassis cauliflower mushrooms around the world. In North America, there are 3, possibly 4, maybe 5 types of cauliflower fungus. It all depends on how you classify things and who you read and agree with. Isn't mycology fun?!?! These species are further detailed in the North American cauliflower mushroom section.
Other names for these fungi are noodle mushroom, wood cauliflower, cauliflower of the woods, silver ear, snow ear, and cauliflower fungus.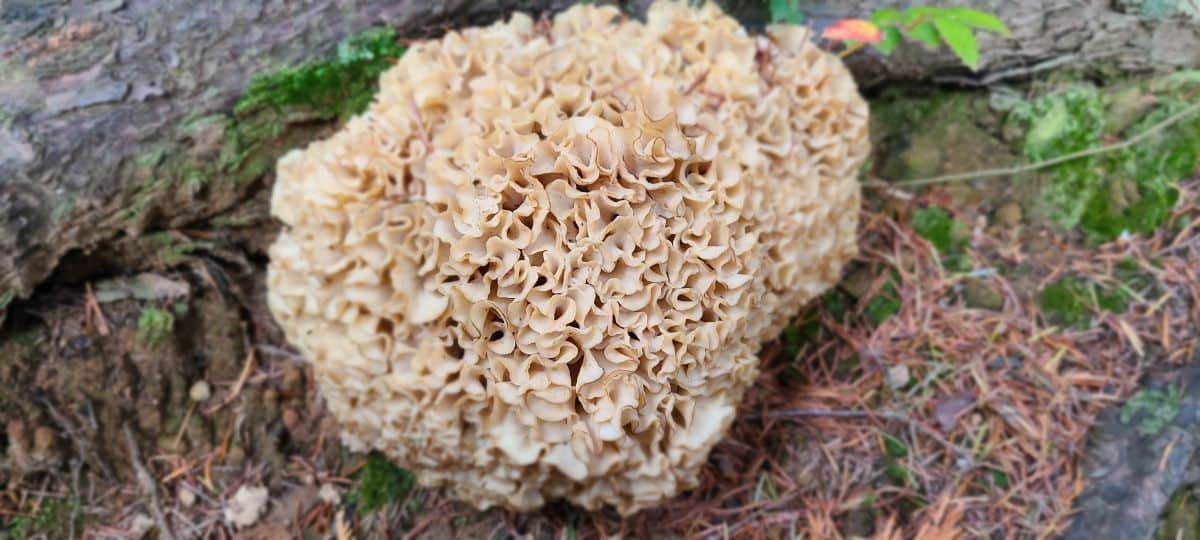 Sparassis crispa, the type species of this genus, was the scientific name applied to almost all North American cauliflower mushrooms until relatively recently. Of course, as it turns out, this is primarily a European species. So, any guidebooks you read that are more than ten years old most likely still use S. crispa for the cauliflower fungi species here. If you want to get more into the myco-nerdiness of this species, check out the evolutionary Cauliflower Tales, published by Ron Peterson and Karen Hughes.
Cauliflower fungi are parasitic and saprobic, which means they attack, decay, and feed off dead and dying organic material. It is a weak parasitic species, though, that takes years (or decades) to kill a tree. This mushroom is found at the base of trees, growing in association with specific tree species.
When it comes to the overall look of this fungus, I'm with Michael Kuo – the cauliflower fungus looks a lot more like someone dumped a massive clump of wide egg noodles on the ground, not like a cauliflower vegetable. However, when you cut the mushroom in half, it does sort of kind of resemble a cauliflower stalk a bit more. The coloring is correct, anyways.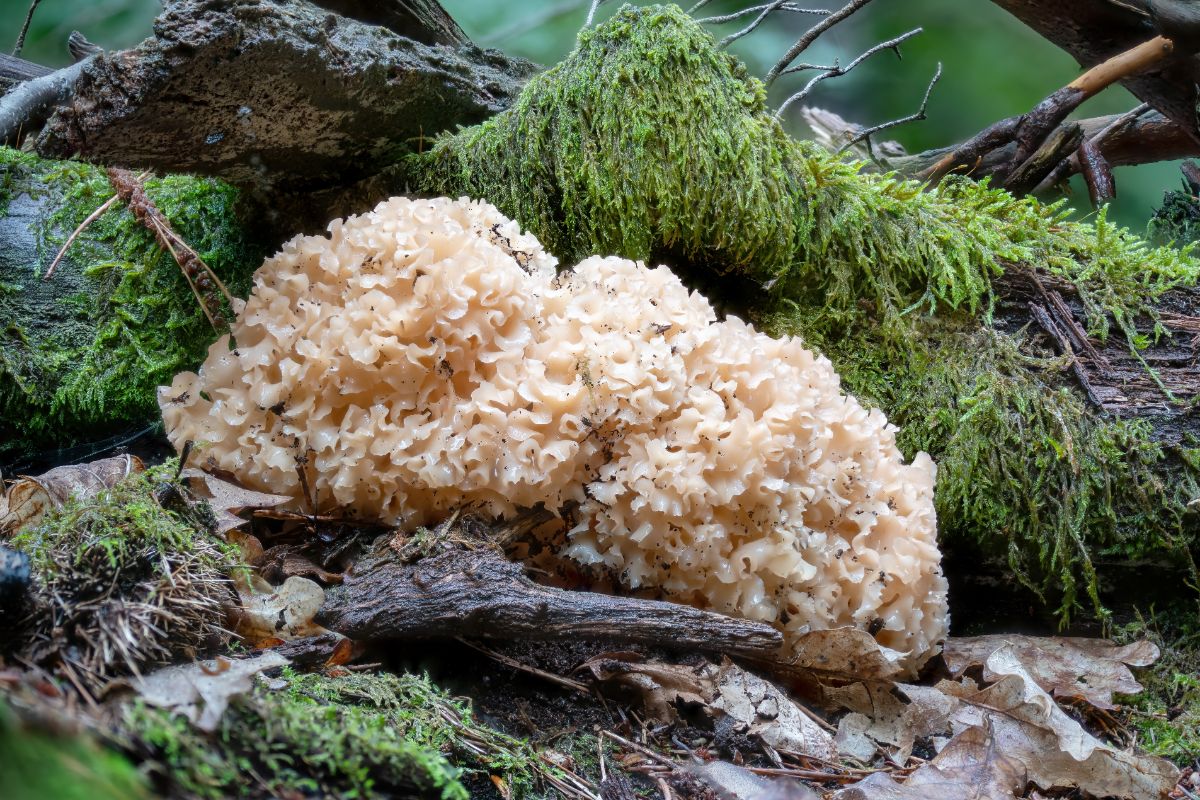 The overall appearance of the fungus is rather bizarre and very un-mushroom-like, especially if you're mainly accustomed to button mushrooms and the like. The cauliflower fungus grows in a generally rounded shape with many flat, wavy lobes intertwining and overlapping. It looks like a mass of lasagna or egg noodles that just came out of boiling water and were plopped on the forest floor.
Cauliflowers can get quite large. They average 4-10 inches wide, but enormous 24-inch wide specimens happen, too. Imagine finding that mushroom!
When the mushroom is young, the lobes are rubbery and tough. As it matures, though, the lobes soften. It is best foraged and harvested when young and fresh, as it stands up better to cooking and tastes better.
The biggest issue folks experience when seeking this top edible species is actually finding one. They're not rare or endangered, just relatively uncommon. They're a widespread species, growing all across North America, but are few and far between.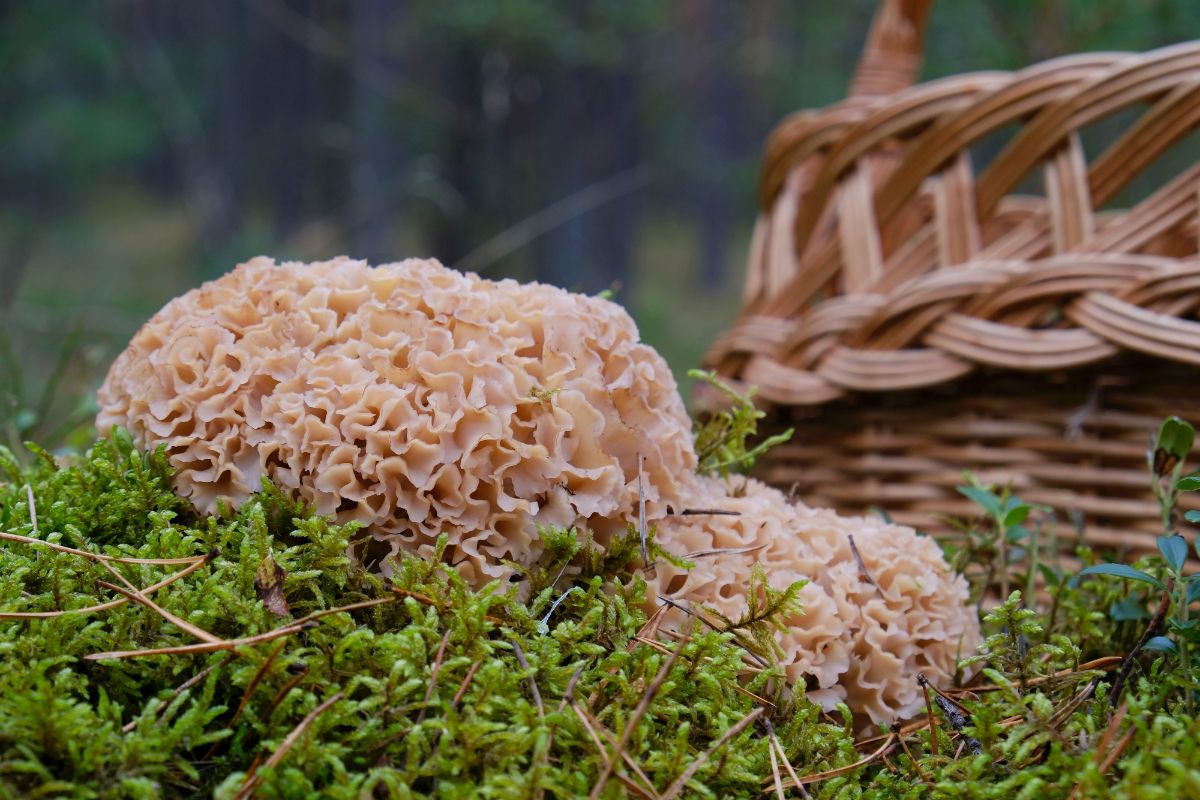 Identification Guide for Cauliflower Mushrooms
Season
It depends on the species and climate, generally summer or late summer through late fall or winter.
Habitat
Cauliflower fungus bodies grow in conjunction with specific tree species. Usually, they're found at the base of or very nearby a tree or tree roots. This is because they attach to the tree roots underground, either as a parasite or saprobe, or both.
These mushrooms only grow on the ground at the base of a tree. They never grow on the tree trunk.
Cauliflower mushrooms fruit in the same locations year to year. So, if you find one of these jewels of the forest, mark the spot! They may not appear every year, but they will likely appear multiple times as long as the tree roots can provide nutrients.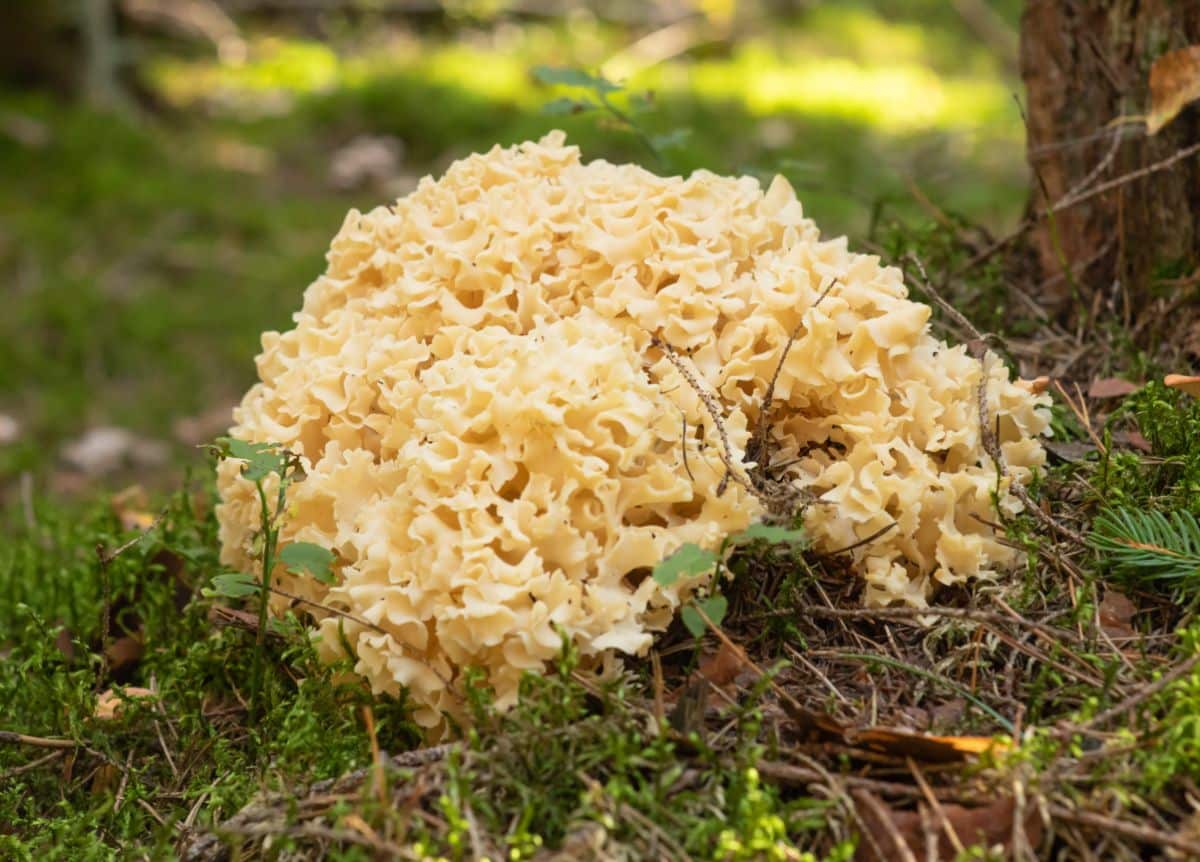 Identification Guide
Cauliflower fungus species range in color from creamy white to yellowish-gray to light yellow-brown. Most grow as overlapping lasagna noodle-looking balls, but some have a bit more structure. They range in size from 4″ wide to as big as 25″ wide (or bigger..?).
Foraging
It's best to forage this mushroom when it is primarily white. As it matures, it deepens in color, and the taste isn't as good.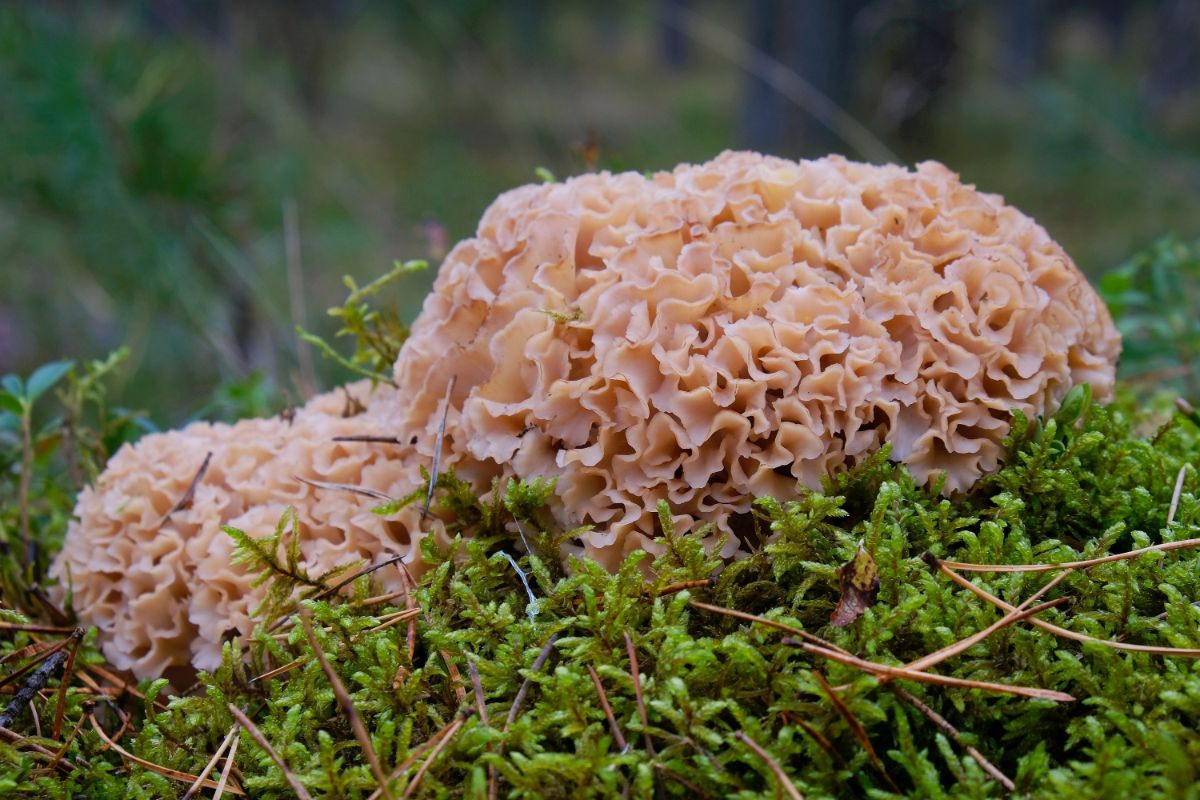 Cauliflower Mushrooms of North America
Sparassis americana
Region: East coast, east of the Great Plains, but rare or absent along the Gulf Coast and Florida
Season: Summer and fall
Habitat: Pine trees
Size: 3-10 inches wide, up to 6 inches tall
Color: Whitish or yellowish branches that get darker with age
Flesh Color: White, does not change color when cut
Notes: Resembles wavy-edged tightly packed lasagna noodles. Noodle lobes attach to a central base which may be rooted in the ground.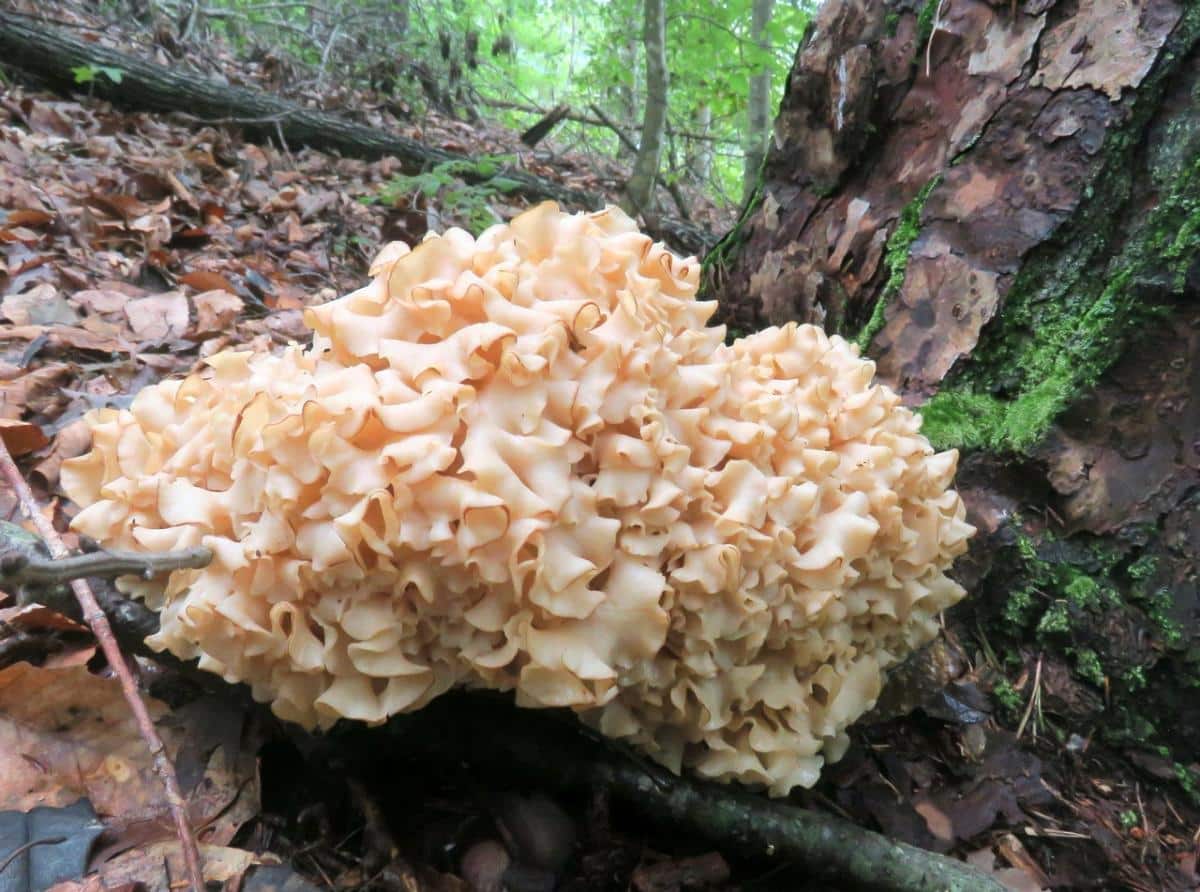 Sparassis americana var. arizonicus
Exactly the same as S. americana above, except it occurs in the southwest in association with Ponderosa pines. It is ecologically and geographically distinct but is not a completely separate species.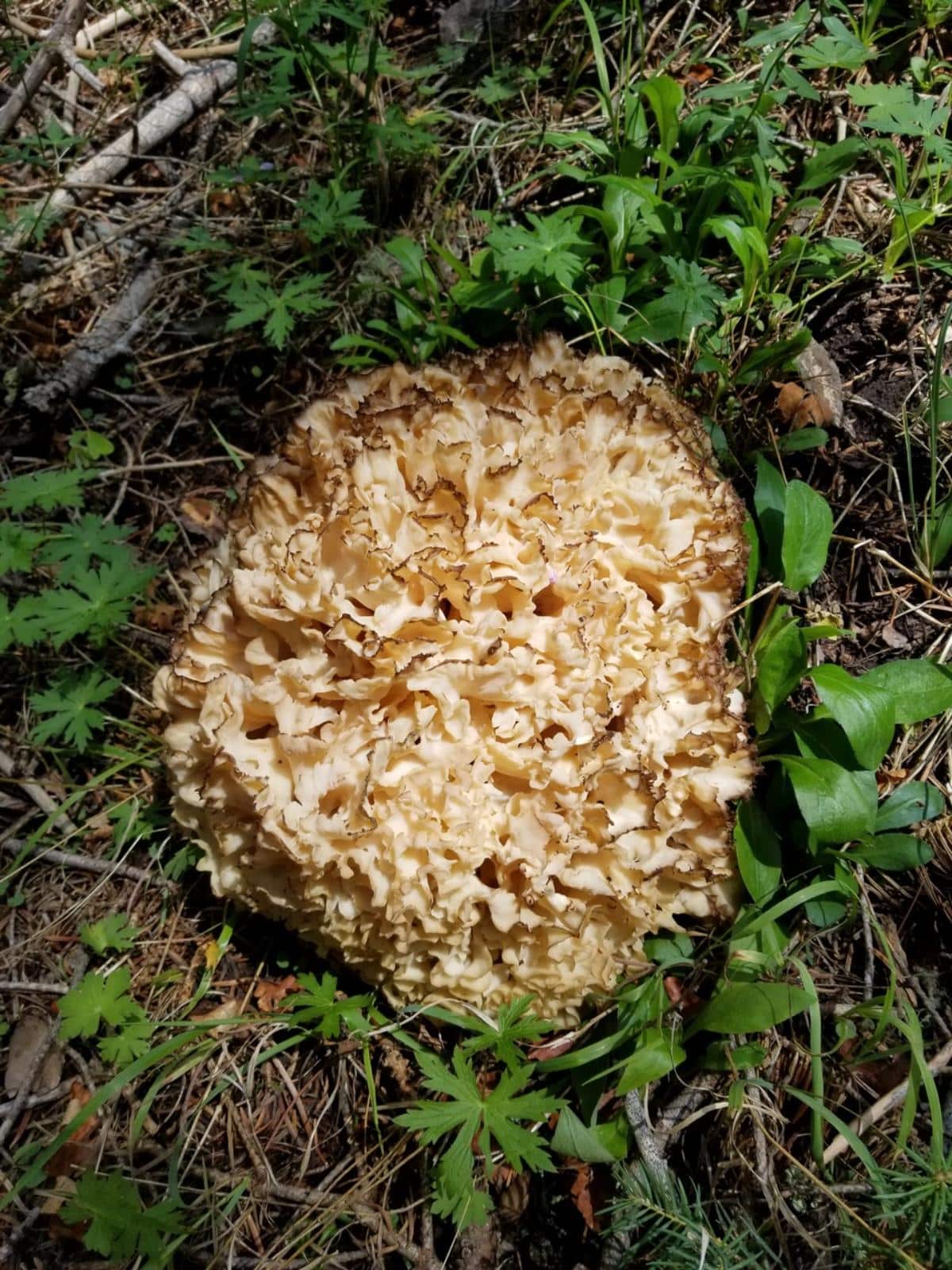 Sparassis radicata
Region: Western North America, specifically the PNW and northern California
Season: Fall through mid-winter
Habitat: Conifers, specifically Bishop and Monterey pines and Douglas fir
Size: 4-18 inches wide, up to 12 inches tall
Color: Whitish or yellowish branches that get darker with age
Flesh Color: White, does not change color when cut
Notes: Resembles wavy-edged tightly packed lasagna noodles. Noodle lobes attach to a central base which may be rooted in the ground. Has a somewhat spicy odor.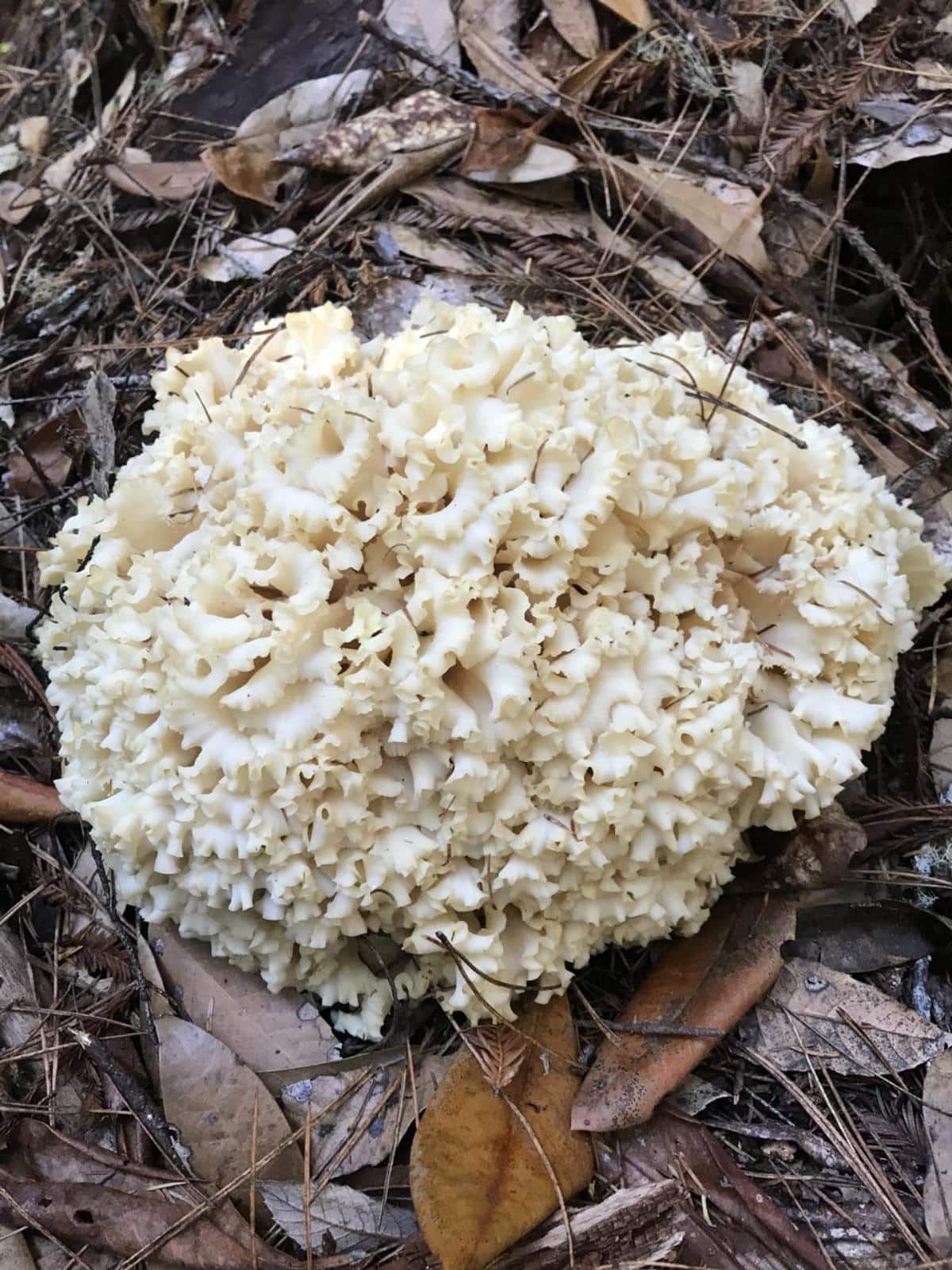 Sparassis spathulata
Region: East coast, east of the Great Plains
Season: Summer and fall
Habitat: Hardwoods, specifically oaks, and pines
Size: 4-8 inches wide, up to 6 inches tall
Color: Whitish, yellowish, or brownish branches with concentric zonal coloring
Flesh Color: White, does not change color when cut
Notes: Flattened noodle appearance, not curly like the other cauliflower mushrooms. Lobes look like a relaxed or flattened rosette with zones of coloring. Lobes attached to a central base. It occurs under hardwoods, which also sets it apart from other species.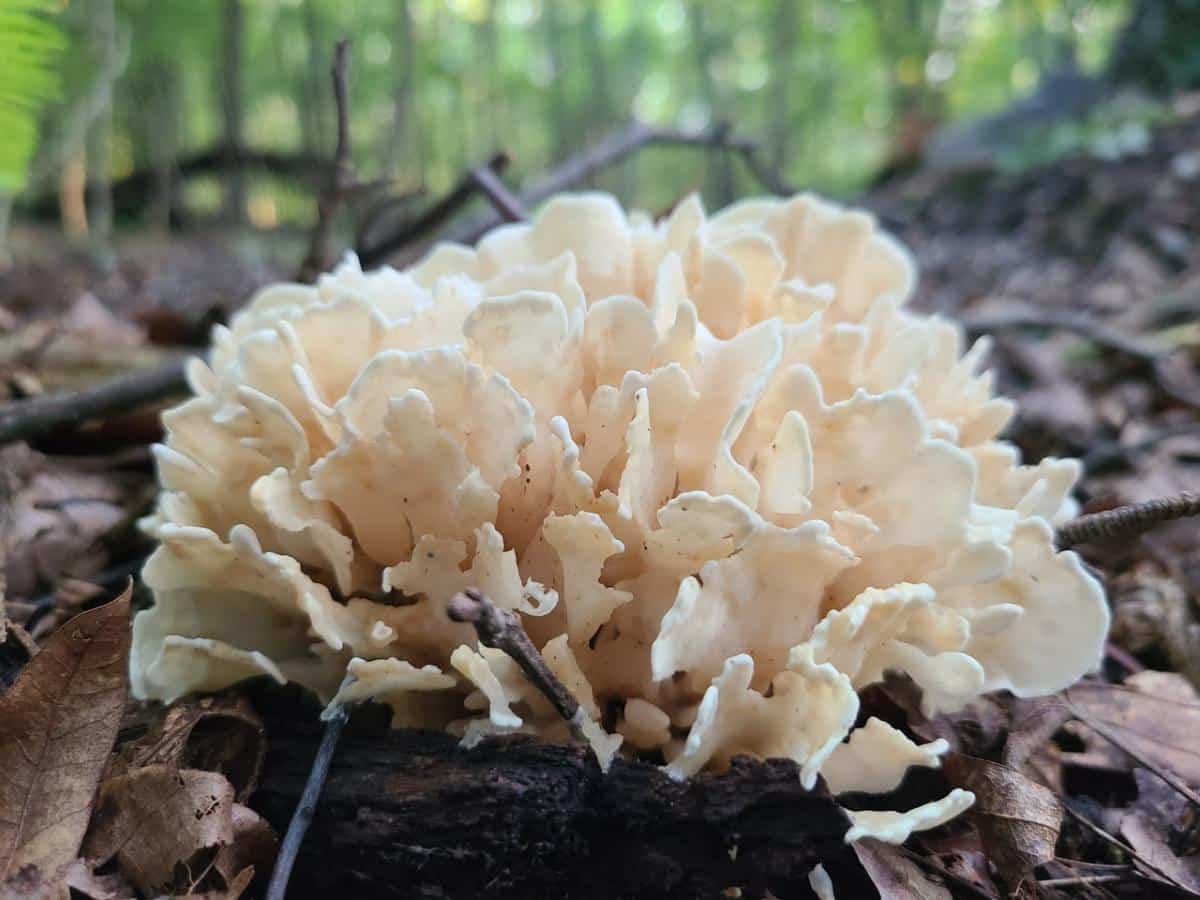 Sparassis spathulata var. herbstii
This used to be considered a unique species (S. herbstii) but is now shown to be a variant of S. spathulata with thicker branch tips.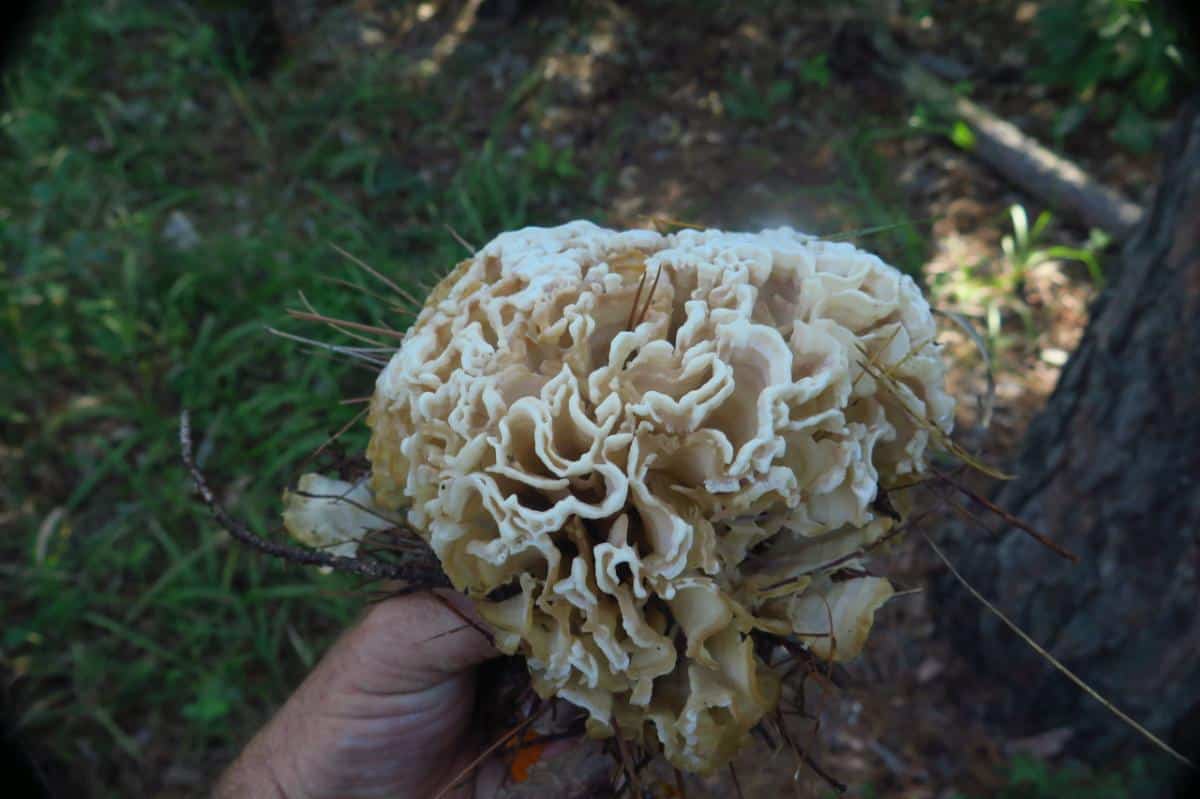 Cooking With Cauliflower Mushrooms
Cauliflower mushrooms are a little crunchy, with a texture akin to al dente noodles. They wilt with cooking, not holding their shape that well. Their flavor is earthy and slightly nutty but overall neutral, i.e., not super strong or distinctive.
The many folds of the fungus hide all sorts of dirt, forest debris, and bugs. Cauliflower fungi need a good cleaning to get all the bits out. Running water and a good toothbrush work well to get in between the folds and get rid of the dirt. Breaking off sections and swishing them around in a bowl of water also works really well.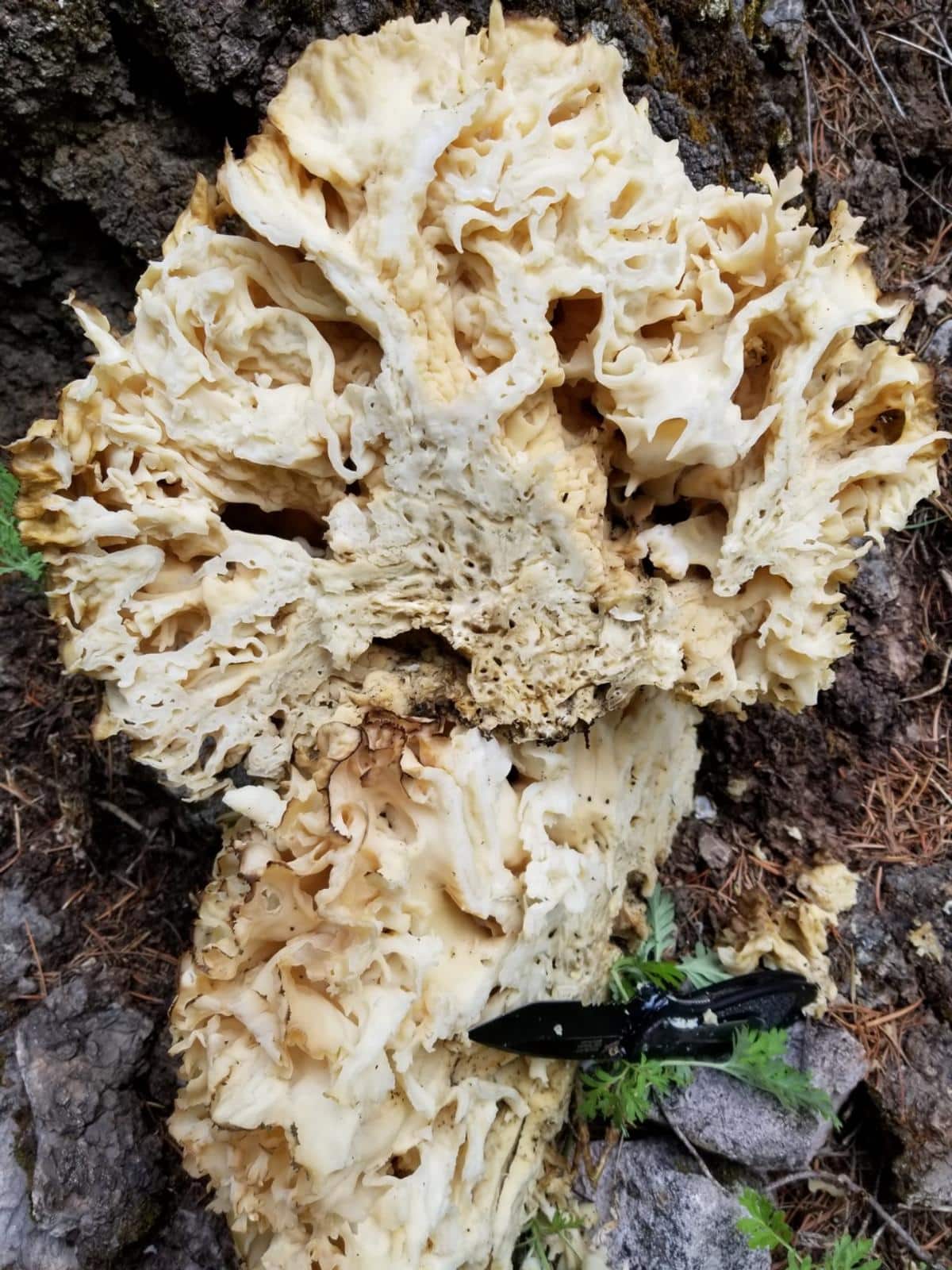 This fungus dehydrates and reconstitutes wonderfully, which is excellent news if you've found a huge specimen. You can absolutely preserve it for later use in soups, stir-fries, and pasta dishes.
Cauliflower mushrooms contain a lot of moisture, which is best cooked out before use in a dish. Dry sauteeing is the best option. If you cook them straight away with oil, butter, or broth, you'll end up with a very watery dish.
Cauliflower Mushroom Recipes:
Cauliflower Mushrooms Common Questions
Can I grow cauliflower mushrooms?
Yes. Several companies online offer liquid culture and sawdust spawn to inoculate your own logs and grow this mushroom. It is not for the beginner grower, though; i.e., there are no easy grow kits. Cauliflowers are becoming more popular as a cultivated mushroom, especially in Asia.
Are cauliflower mushrooms medicinal?
The cauliflower mushroom is prescribed in traditional Chinese medicine to stimulate the immune system. It contains antimicrobial and antiviral properties, as well as neuroprotective attributes.
How these properties interact and relate to human health is still being studied. There are not a lot of human subject studies to draw from at the moment.