In North America, there are three species of the treasured pine mushroom, Matsutake (Tricholoma sp.). It is revered for its umami flavor profile, powerful scent, and purported medicinal properties. Matsutake foraging is a journey of patience, practice, studiousness, and often just plain ol' luck. And, on top of the foraging struggle is a very serious question: should we even be foraging it?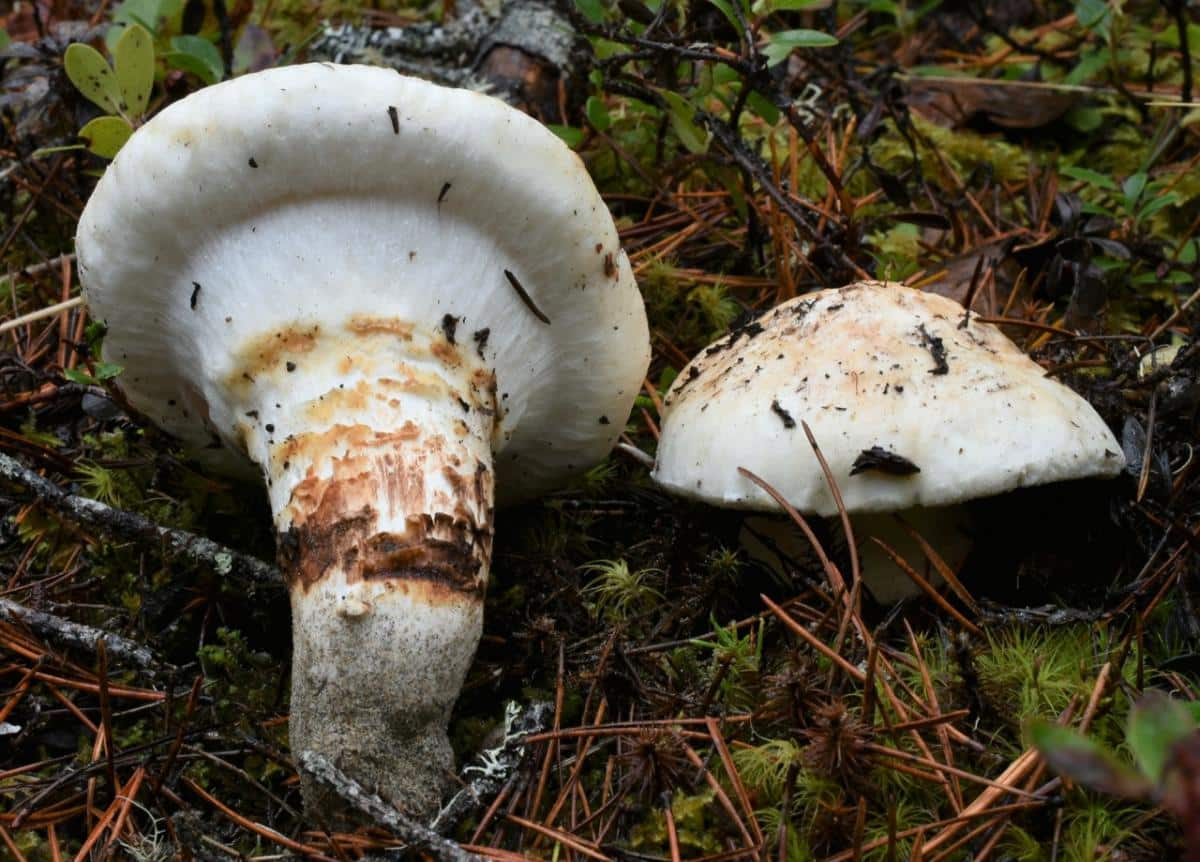 Jump to:
All About Matsutake
Matsutake mushrooms are among the most valued and expensive mushrooms in the world. They are especially esteemed in Japan and other parts of Asia. The matsutake famous for its medicinal qualities, especially in Asia, is Tricholoma matsutake – this is, of course, where the common name comes from. This matsutake species does not occur in North America; instead, we have three distinct species.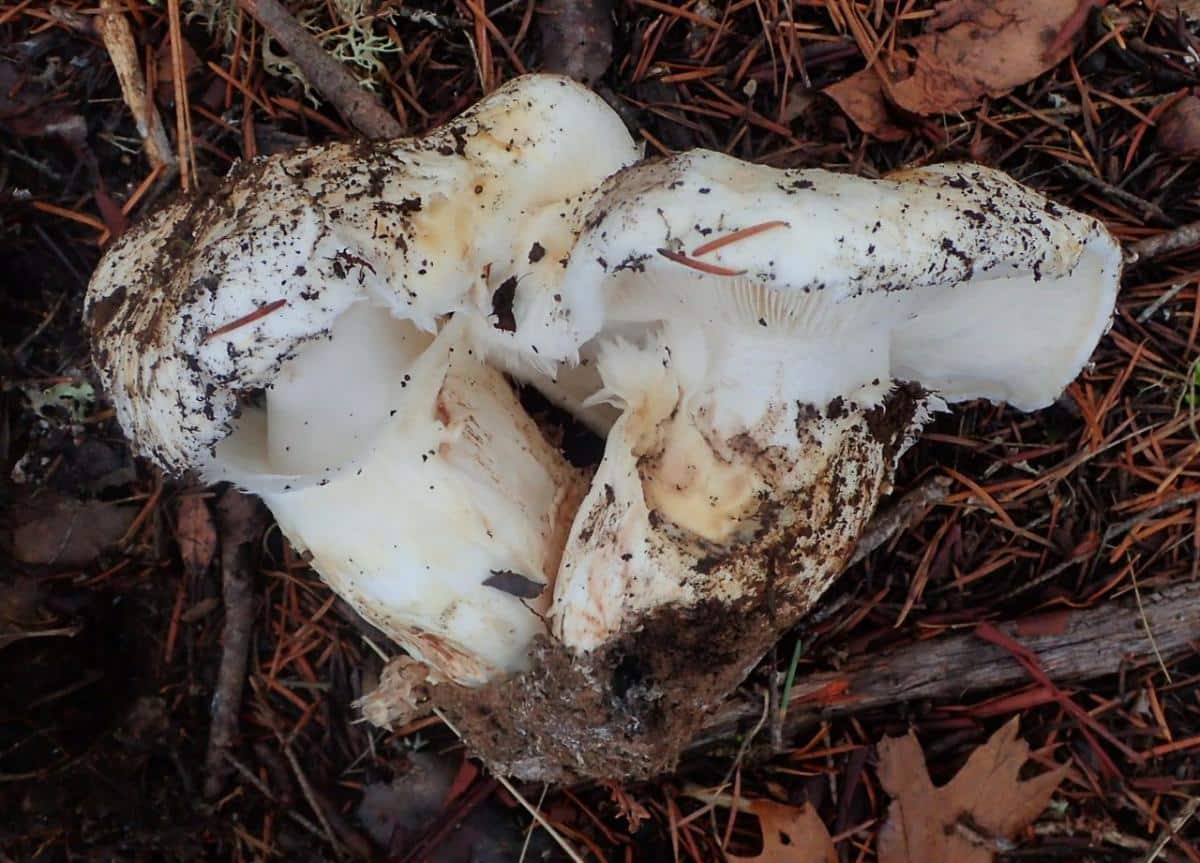 The species complex that contains the hallowed pine mushroom is Tricholoma caligatum; this complex contains 9-10 species, including the Asian/European species as well as the three North American species: T. murrillianum, T. magnivelare, and T. mesoamericanum.
Tricholoma matsutake is red-listed in almost every country it occurs, including China, Japan, Korea, Russia, Spain, the UK, Norway, Sweden, France, and Germany. The main issue is the decline (read – deforestation) of the pine trees they associate with on a mycorrhizal level. In three generations (50 years), Tricholoma matsutake populations have declined at a rate of 30% worldwide.
Due to the declining species availability and continued demand, Japan and other Asian countries that highly favor these mushrooms import specimens from North America. The majority of harvesting done in North America on a commercial level is for Asian markets.
Matsutake connoisseurs pay a lot for these mushrooms; that's not an exaggeration, either. The current market value for this pine mushroom is between $40-70/pound ($6-15/pound wholesale), depending on size and quality. The high prices drive more people to harvest the mushroom as a means of supporting themselves or just to make some extra money.
More about the history, cooking, culture, and uses of matsutake is here.
Should We Forage & Harvest Matsutake in North America?
There has been no study of exact species distribution in North America. All the studies done have been focused on Tricholoma matsutake, the type species from Asia and Europe. This doesn't mean that the North American species aren't in danger; it simply means we don't know the whole story at this moment.
This lack of information isn't surprising since it was only in 2017 that the N. American species were scientifically clarified. So, the question becomes, should we take care of how we harvest matsutake mushrooms to avoid creating the same species decline that is happening in other parts of the world?
While there is no scientific answer to this question, there are definitely things we can learn and apply to our foraging that will hopefully keep our pine mushroom species populations stable:
Matsutake is hugely dependent on tree species. The complex relationship between mushroom, tree, and forest is not fully understood. If we destroy the pine forests, we will destroy the species.
Clear-cutting, logging, over-harvesting, and poor harvesting techniques all contribute to species decline.
Many animals regularly eat pine mushrooms, including deer, bears, squirrels, and elk. Our harvesting may impact those wildlife species.
Raking the leaf litter negatively affects the size and production of future harvests in the same location.
Studies done on chanterelles and other mushroom species indicate disturbing the mycelium doesn't hurt future growth. It is the exact opposite for matsutake – how you harvest does make a difference!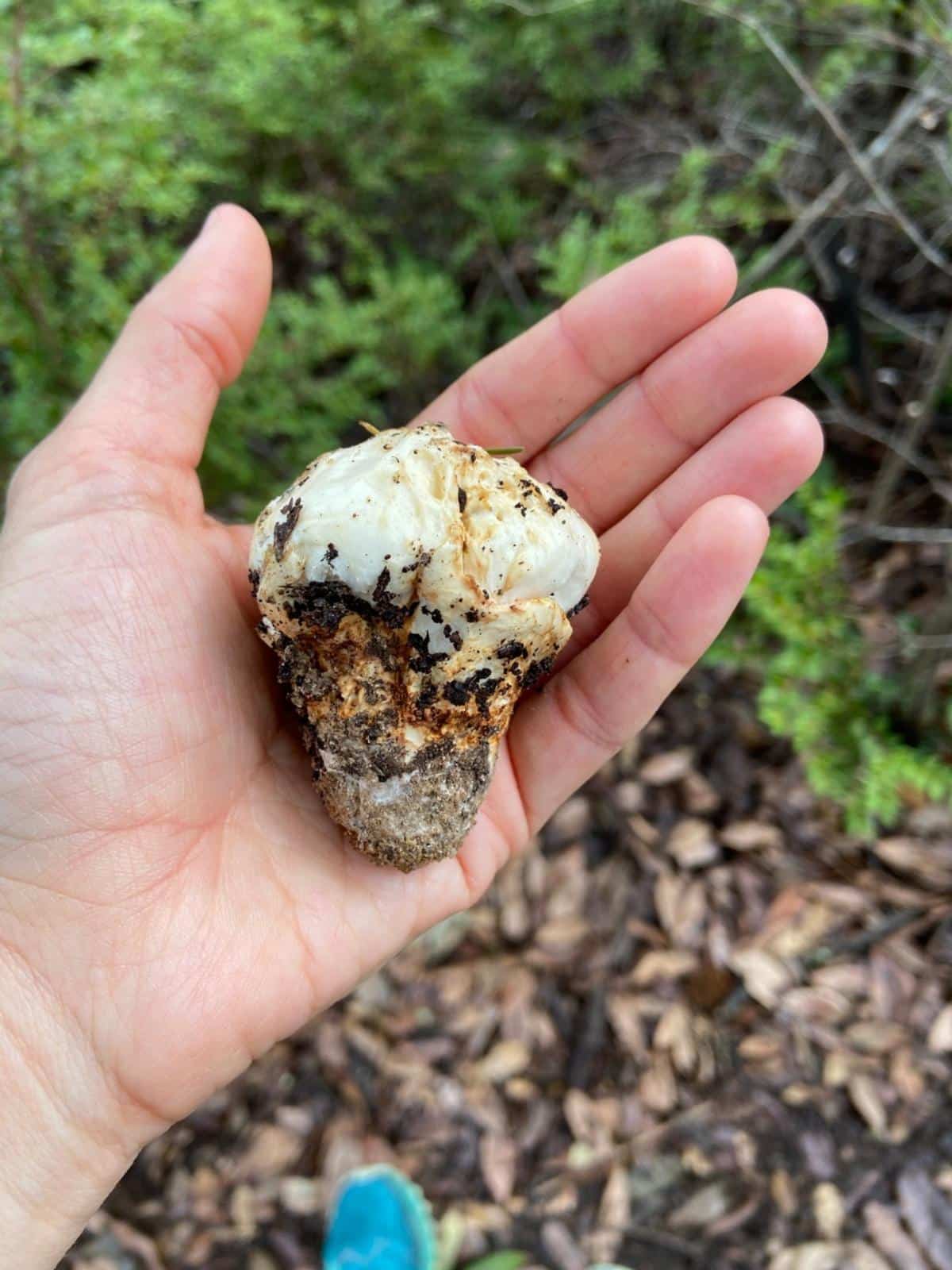 How To Harvest Matsutake Sustainably
Do not rake the ground to find the mushroom! A study done in 2006 of T. magnivelare (actually T. murrillianum), the west coast matsutake species, demonstrated that raking is detrimental to the habitat and hinders and reduces subsequent years' production. And that the removal or disruption of forest leaf litter impacted the fruiting for at least 9 years afterward.
Careful picking is not detrimental – pluck by hand or carefully pry the mushroom from the soil with a small prying tool. These methods cause minimal disturbance to the soil and leaf litter, preserving the patch for future growth.
Never pick an entire patch – leave at least half behind to keep the population strong and to feed wildlife.
Trample the ground as little as possible. Of course, you have to walk over it, but be mindful of your actual footprint. Don't tromp needlessly or excessively over the fruiting ground.
Think ecology before paycheck – this is probably the most difficult for big harvesters of matsutake. As we as a species have proven over and over again, we will happily destroy our environment to make more money. To make it long-term money, though, we must think about long-term ecology. They go hand in hand, as long as folks can look beyond a quick paycheck.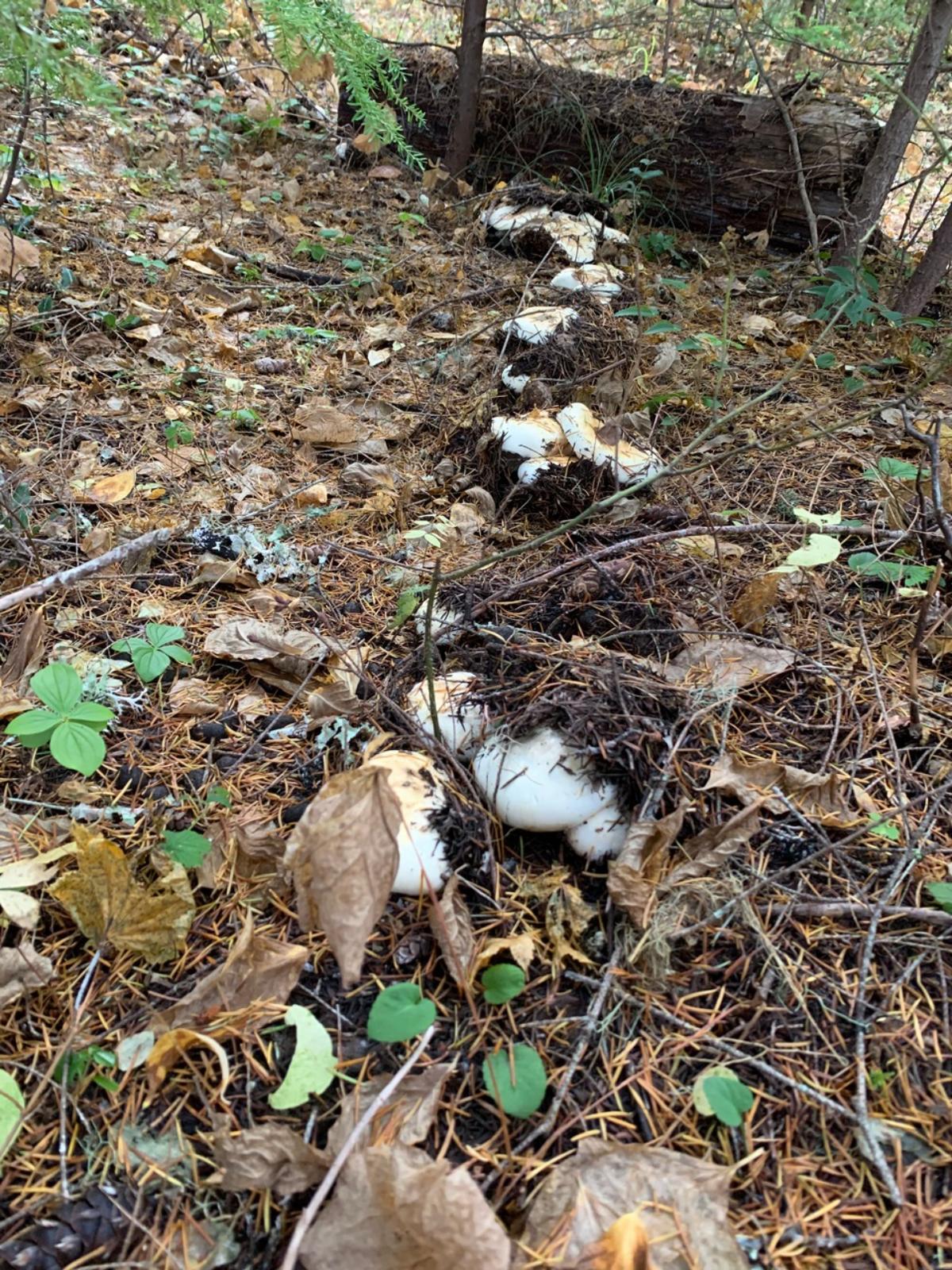 Matsutake Identification
Season
Matsutake are fall mushrooms, and in temperate areas of the west coast may grow through winter. They start appearing once the summer weather starts to cool down.
Habitat
The pine mushroom grows primarily with, surprise – pine trees! They like pine dominant forests with lots of leaf litter and needle duff to protect them as they emerge. Matsutake are often "hidden" in the ground by the pine needle duff.
This mushroom grows from the forest floor; it does not grow from trees or on trees. It is always on the ground. The mycelium is attached or intertwined with the tree roots underground, so it is important not to disturb it while picking the fruiting body.
Matsutake mushrooms fruit in spodosol or podzol soil – this is a gray sandy layer common in older, cool-season conifer forests. It is the 3rd layer beneath the needle layer, which is why the stems are caked in clay-like soil. This soil layer is a requirement for matsutake growth.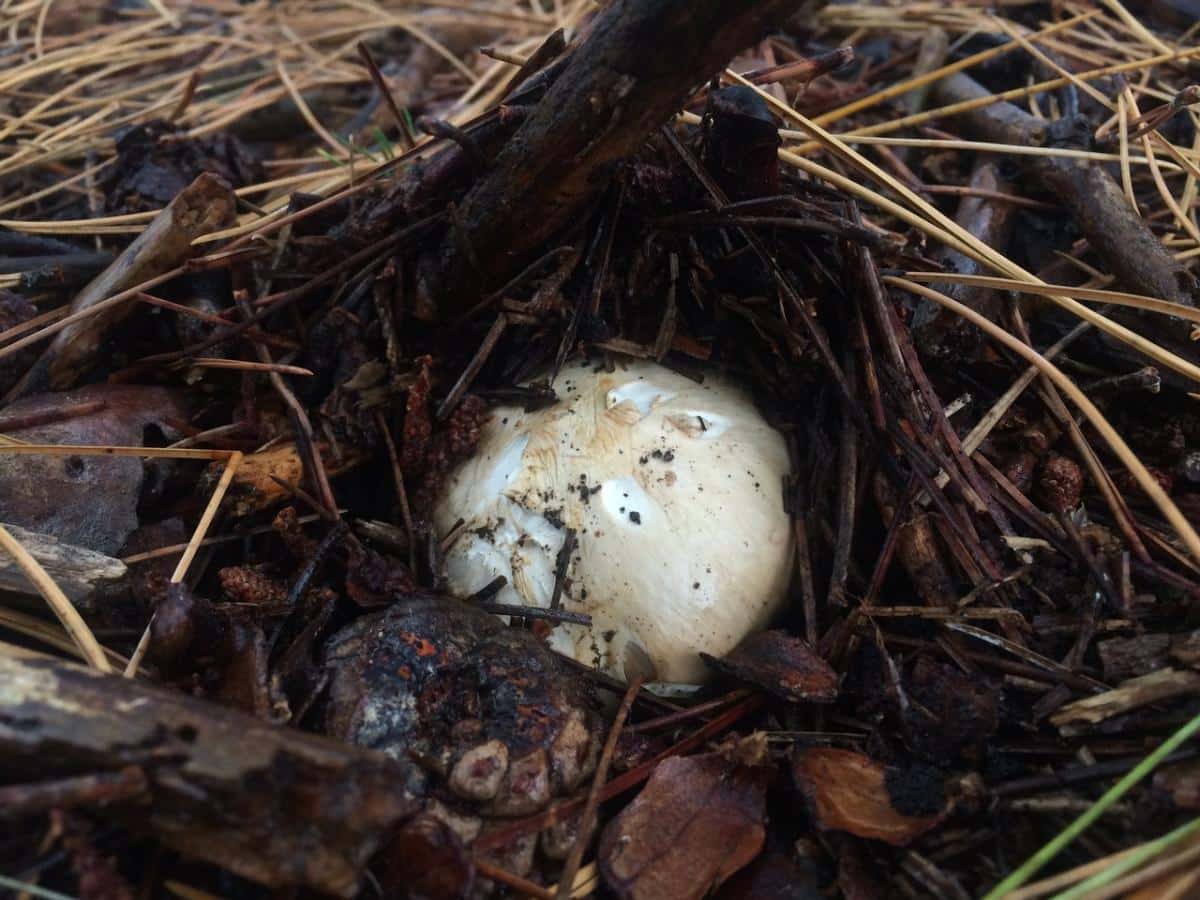 It can be quite challenging to spot these mushrooms growing in the pine needle duff because they are mostly obscured. The entirety of the stem is often in the soil, and just the cap is pushing up the needle duff to create a mushrump (shrumps) – a mushroom-shaped bulge under the surface that may be a mushroom or a rock or just a pile of needles.
The mushrooms grow in groups, often in a line, arch, or semi-circle. There is rarely just one. They tend to grow close together, but they are not overlapping or shelf-like at all.
It takes practice and a keen set of eyes to determine which are just regular lumps in the ground and which are mushrooms. There is usually quite a bit of heartbreak and disappointment along the way! You can develop the skills, though, with time and practice, so you're not getting excited at every slight bulge on the forest floor.
These mushrooms return to the same location yearly as long as the climate and forest conditions remain good. They might skip a year or two; it's been known to happen that the mycelium takes a break for reasons known only to it. Keep checking those spots, though, as they will likely reappear at some point.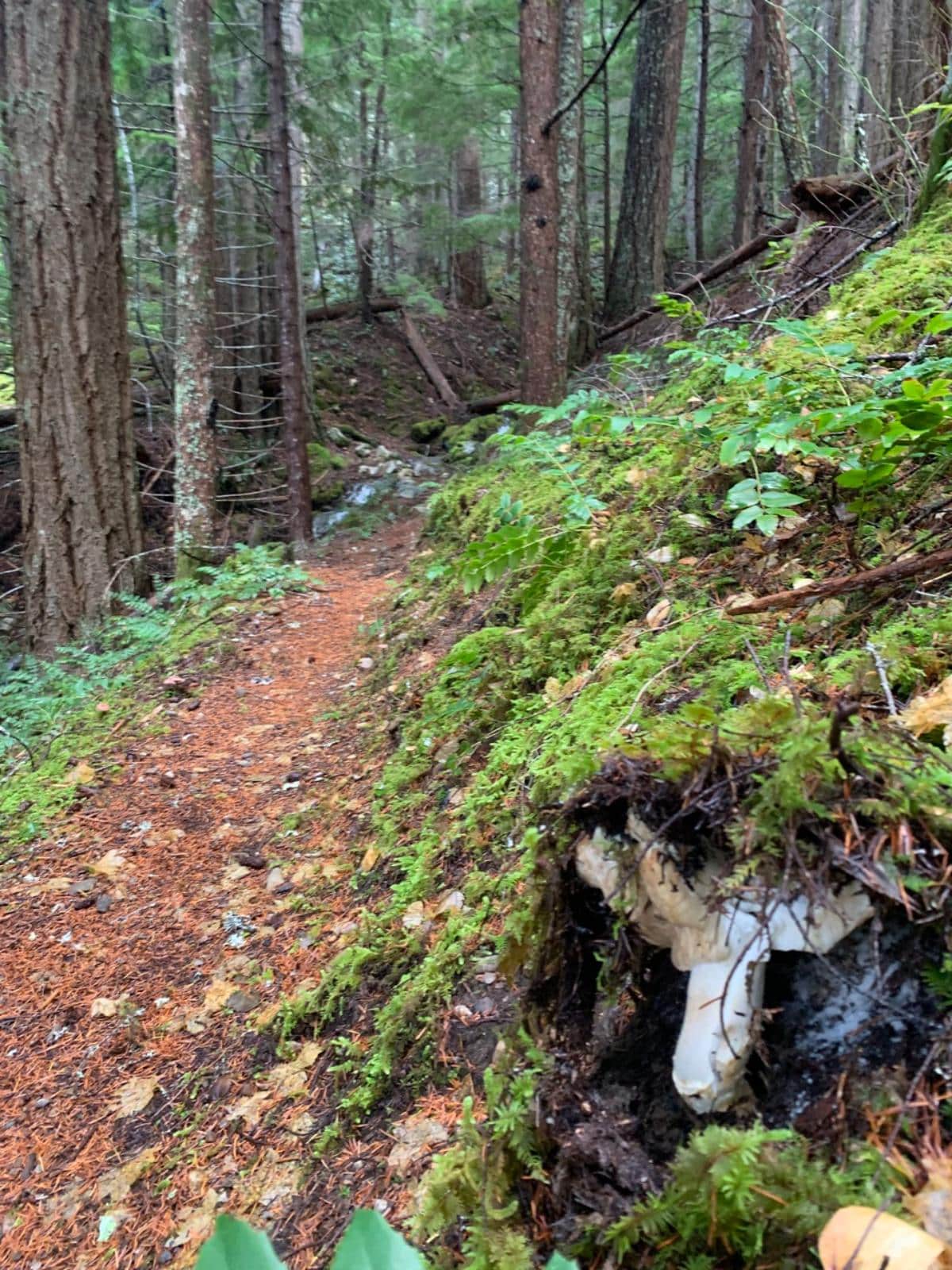 Identification
Matsutake mushrooms have a relatively simple and basic yet very distinct look. Their caps are white, as are their gills and stem. At a quick glance, they look like many other mushroom types, including the peppery milkcap (this one causes the most confusion). Once you look closer, though, you can really see some significant identification keys.
The caps start out with inrolled margins and can be dry or a little sticky. The caps flatten out or become inverted (funnel-shaped) as the mushroom matures. Cap range from 2-8 inches wide and may have brownish fibrous scales in the center. The scaling is usually darker in the center of the cap and lighter towards the edges.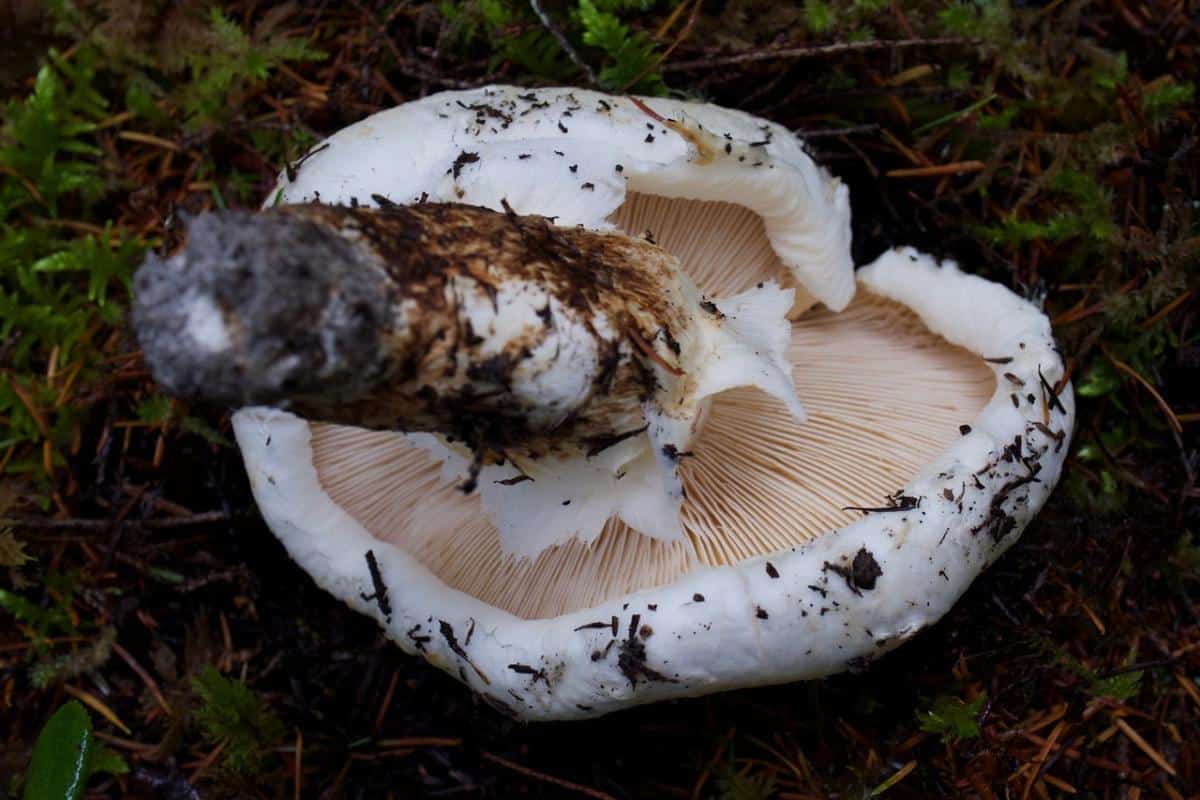 Around the white gills is a white veil that covers the gills in youth. As the mushroom grows, the veil breaks, leaving a ring around the top portion of the stem. Matsutake stems are dense, thick, robust, and usually have brownish or white shaggy fibrous scales like the cap.
The bottom of the stem is coated in dirt from being very buried in the soil. The overall appearance of this mushroom is chunky, thickset, and squat.
When you're out foraging this mushroom, don't forget to smell it! The smell of matsutake mushrooms garners lots of opinions. It is an "umami" smell, powerful, and often described as spicy or a bit foul. This forager agrees with David Arora's assessment that the smell is a cross between red hot candies and sweaty socks. Yea, it's pretty unique and unmistakable. If the smell makes you gag a little, you've found matsutake!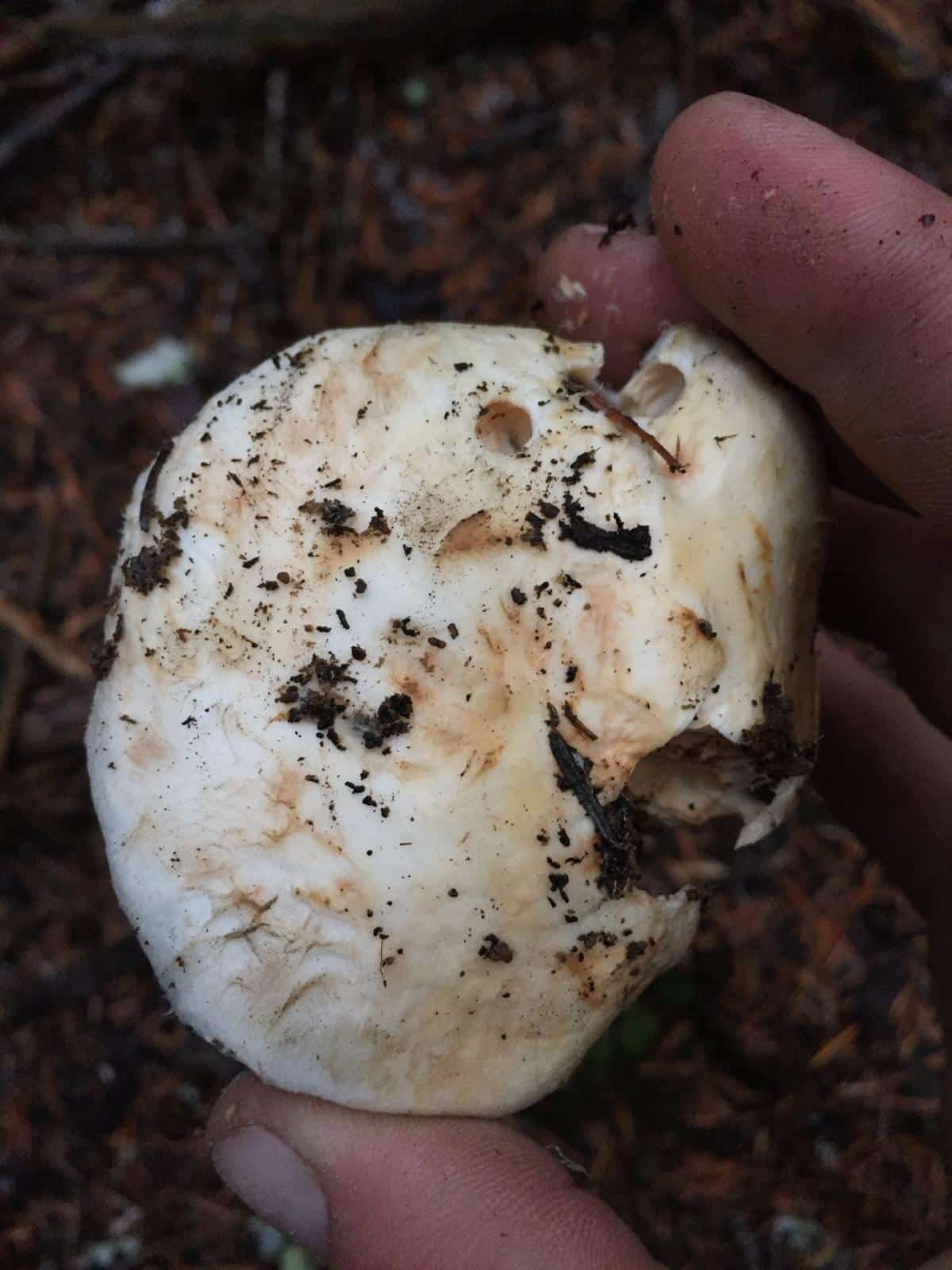 On The Lookout
Keep an eye out for suspicious-looking bulges in the needle duff when you're in pine-predominant forests in fall and early winter. A pine mushroom can be buried to the top of its stem in the ground, with only the cap pushing out.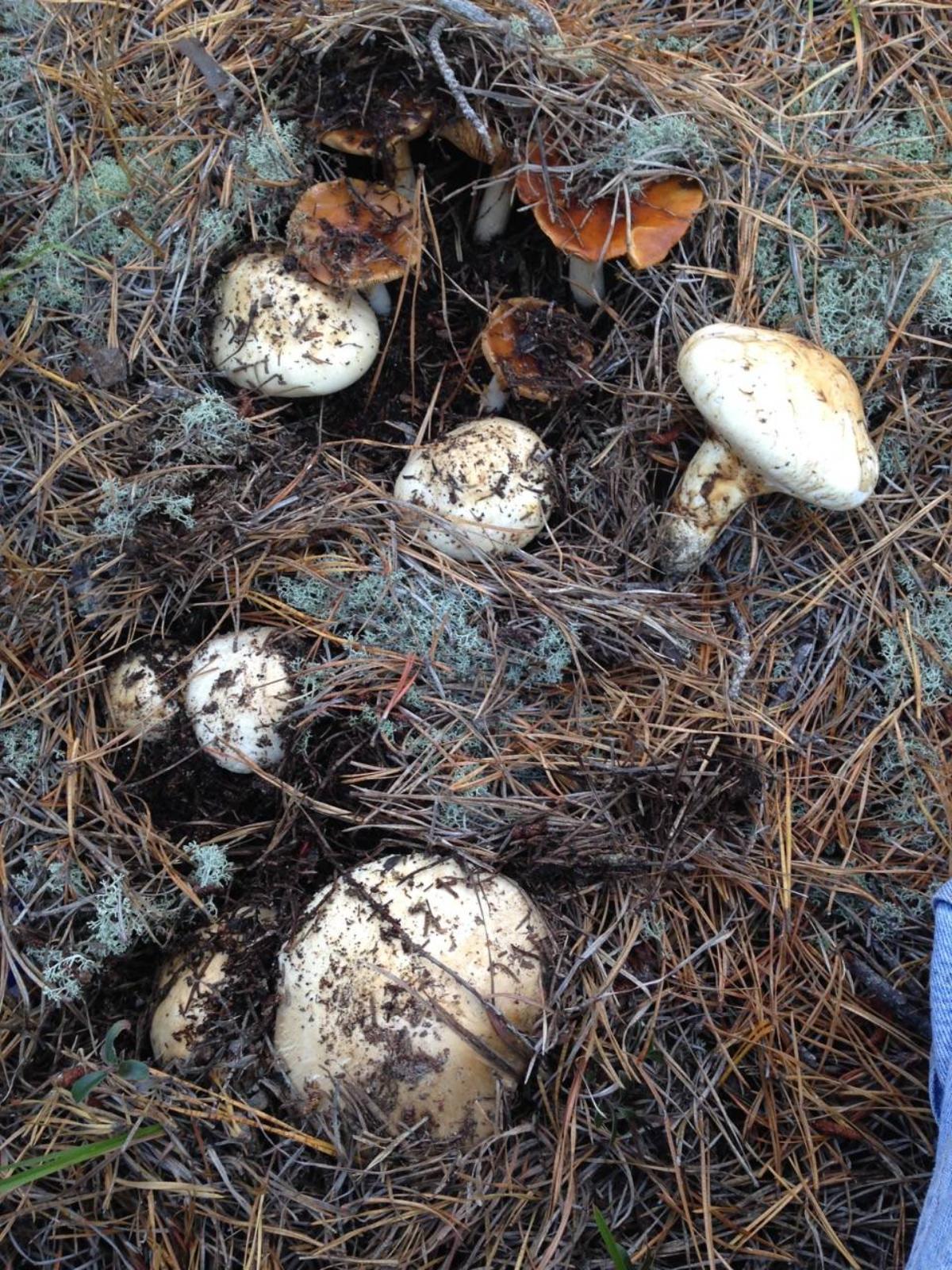 Sometimes you'll see the aftereffects of a deer or other animal having a snack – white mushroom bits or stumps peeking out with the majority of the mushroom enjoyed by whoever was lucky to find it. In these cases, mark the spot! These fungi return to the same location yearly (usually).
Another way to find good matsutake potential growth areas is to check the soil. Even when it's outside the season, you can dig up a small bit of soil in a pine or hemlock-heavy forest to see if the soil supports matsutake growth. If it isn't podzol, then you can cross it off the list of potential sites.
It is unlikely that you will find anyone to take you hunting for pine mushrooms – foragers keep their locations top secret, much like morel hunters.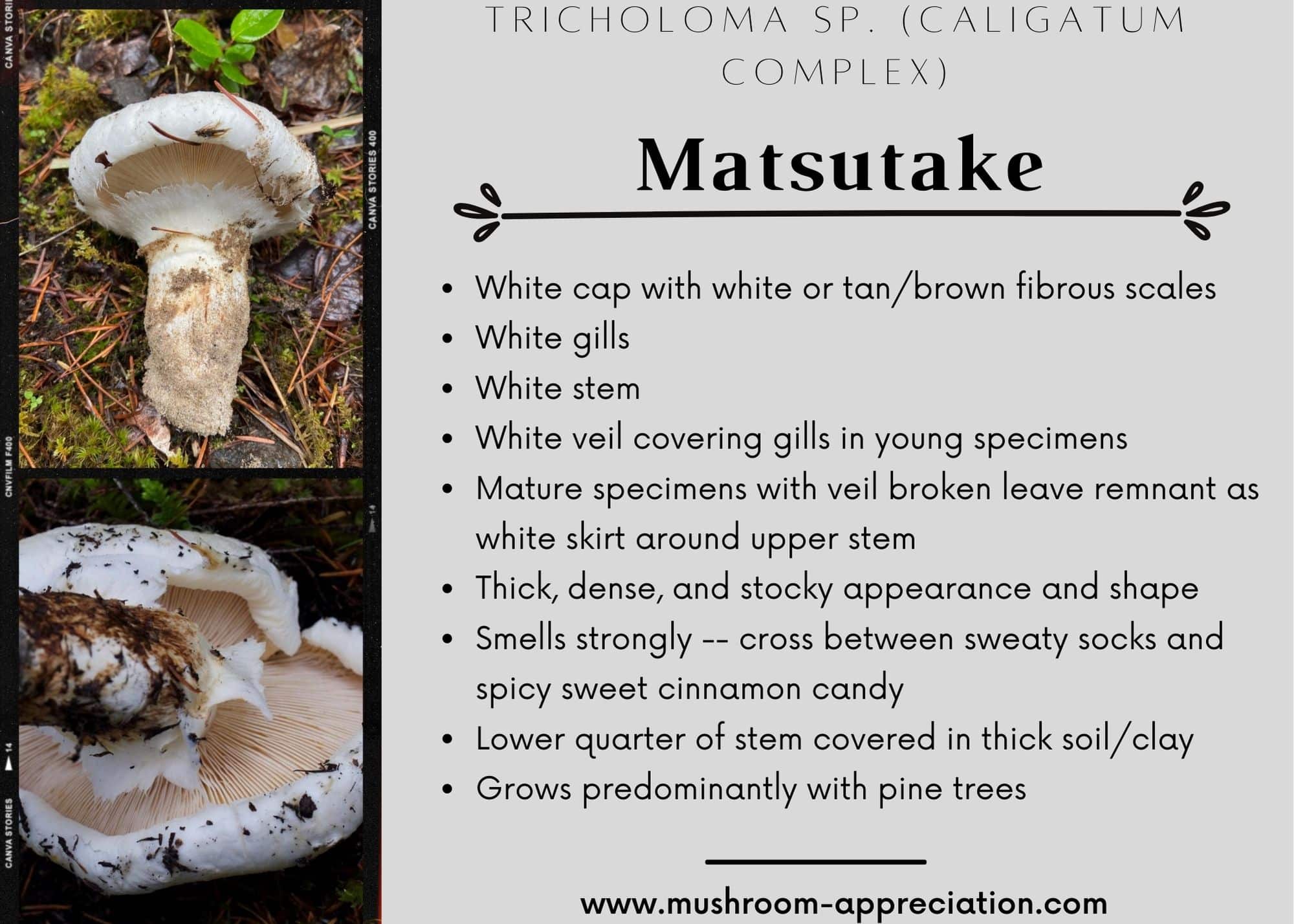 American Matsutake Species
In North America, there are three species in the matsutake complex Tricholoma caligatum. Tricholoma murrillianum is on the west coast, Tricholoma magnivelare is on the east coast, and Tricholoma mesoamericanum appears in Mexico. Previously, it was believed all the matsutake species in North America were Tricholoma magnivelare.
Due to how recently the species was clarified (2017), many guidebooks list the incorrect species for the west coast. If you're on the west coast, don't worry; nothing has changed about the mushroom except its name!
The three North American matsutakes are almost identical in looks, but they can be discerned from one another based on region. Their ranges do not overlap.
West Coast Matsutake
Tricholoma murrillianum
Region: West coast, west of the Rocky Mountains
Season: Fall into winter
Habitat: Mostly with conifers, primarily lodgepole pines. Known to also associate with Douglas fir, hemlock, tanoak, and madrone.
Size: Cap 2-4 inches wide, Stem 1.5-4 inches long
Cap Color: White to buff/brown with brownish scales
Gill Color: White, attached to stem. Sometimes they stain brown or reddish-brown with age.
Stem: Thick, solid, and white with brown fibrous scales. Usually tapered at the end and covered in a thick layer of soil. White above the skirt.
Notes: Partial veil is white, and when it breaks, it leaves a white skirt around the stem.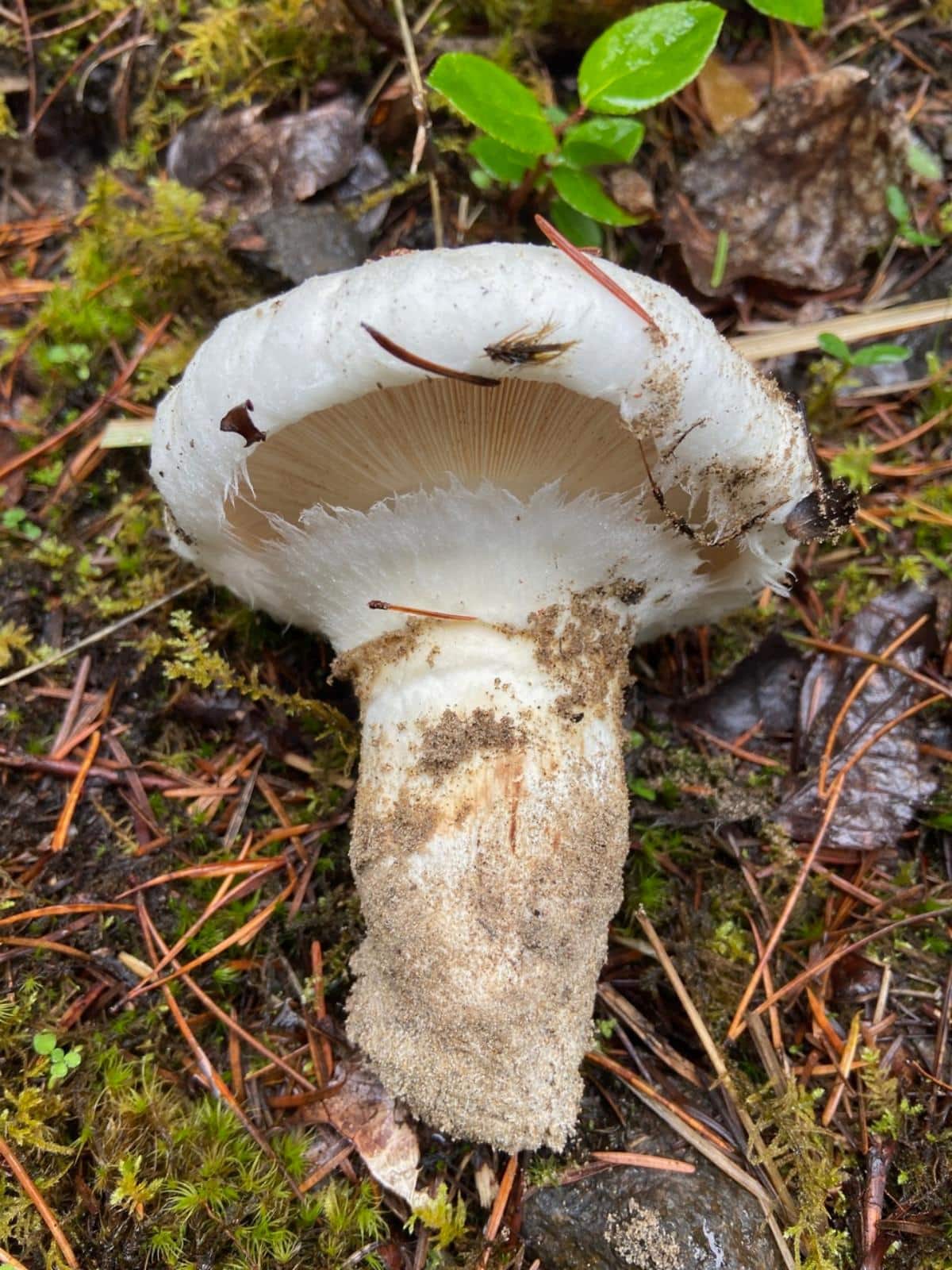 East Coast Matsutake
Tricholoma magnivelare
Region: East coast, east of the Rocky Mountains
Season: Fall into winter
Habitat: Mostly with pine, specifically jack pine (which only grows north of Indiana/Pennsylvania, making matsutake rare/uncommon south of that region). Also found with eastern hemlock.
Size: Cap is 2-8 inches wide, stem is 2-6 inches long
Cap Color: White with brown or reddish-yellow scales
Gill Color: White, attached to stem
Stem: White, dense, solid. Usually tapered at the end and covered in a thick layer of soil. White above the skirt.
Notes: Partial veil is white, and when it breaks, it leaves a white skirt around the stem.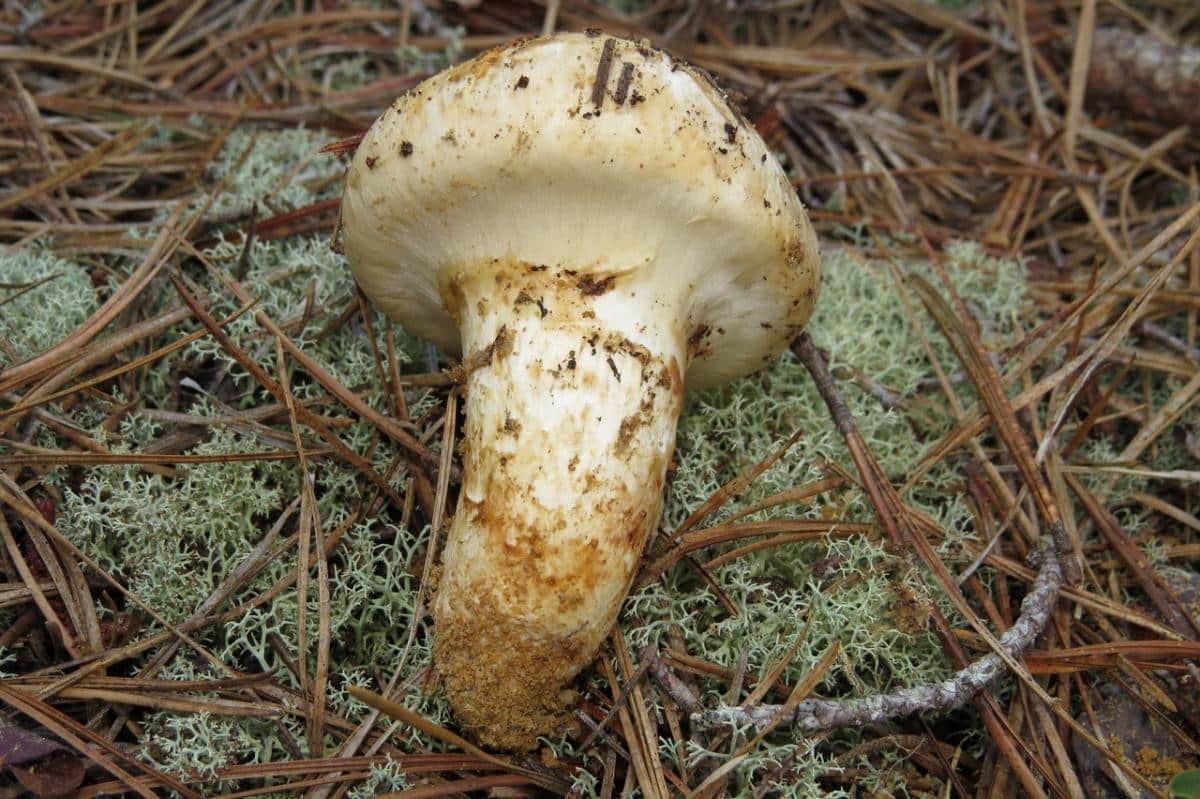 Mexican/American Southwest Matsutake
Tricholoma mesoamericanum
This species has been suggested to the Global Red List due to over-harvesting and raking practices that destroy the mycelium. Intensive collection of matsutake in Mexico for exportation has reduced the population by approximately 50% in the last 20 years.
Region: Mexico, Arizona (may be in more areas of the southwest)
Season: Fall into winter
Habitat: Mostly with conifers, primarily pine.
Size: Cap 2-4 inches wide, Stem 1.5-4 inches long
Cap Color: White to buff/brown with brownish scales
Gill Color: White
Stem Color: White with brown fibrous scales
Notes: Tends to take on a brownish appearance with age – much browner overall than the other two species.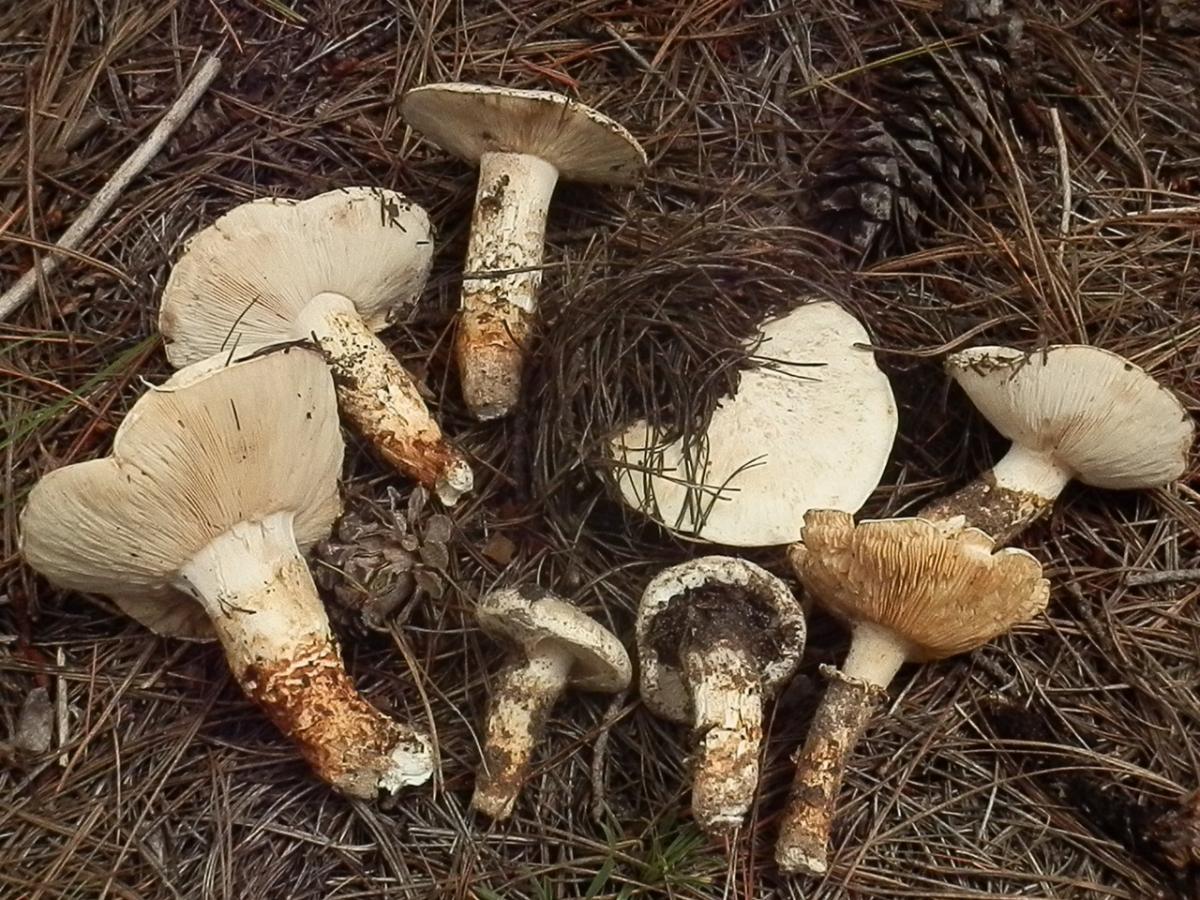 Matsutake Lookalikes
Other Tricholoma Species
There are over 300 species of Tricholoma around the world, with many in North America. Some of them look pretty similar to matsutake. The primary distinguishing feature is the smell – the pine mushroom has that unmistakable smell of cinnamon candy/sweaty socks.
Peppery Milkcap (Lactifluus piperatus) and other white milkcap species
The peppery milkcap is a big white capped mushroom with white gills that grows in mixed forests. It is easily confused with matsutake until you get up close. The milkcap gills bleed a white (spicy!) liquid when cut. Cut the gills and you'll know whether you have a matsutake or milkcap.
There are several other robust white milkcaps that resemble matsutake. Their gills bleed when cut (identification #1), and they don't smell like spicy sweat socks (identification #2).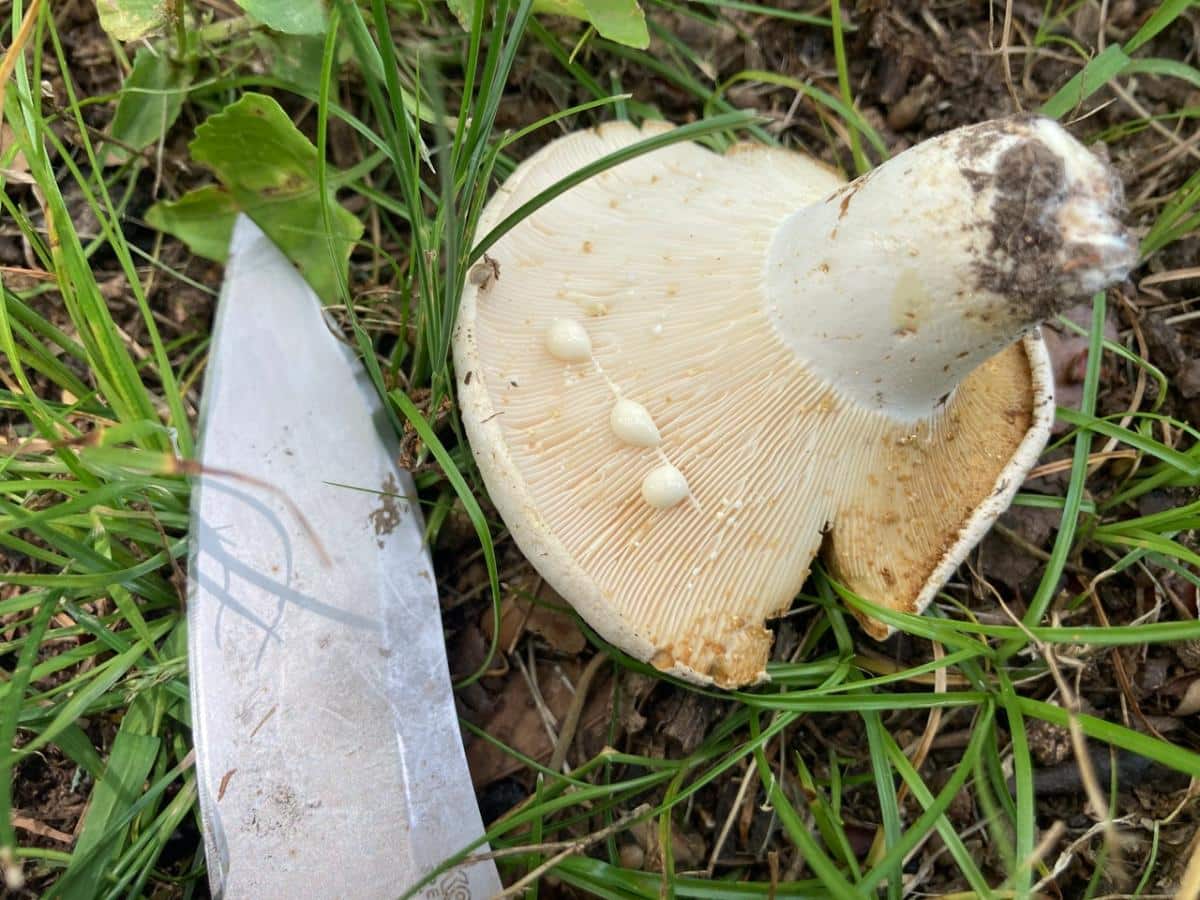 Imperial mushroom, aka False Matsutake (Catathelasma imperiale)
This gigantic white gilled mushroom grows in the Pacific Northwest with pine trees, which is why it is often confused with matsutake. It is much bigger than a matsutake (growing up to 15″ wide) and has a more orangy-brown cap. It smells like cucumber or melons or like flour. One sniff, and you'll know it isn't matsutake. However, from a distance, they are very similar in general appearance. It is edible but not that great and rather tough.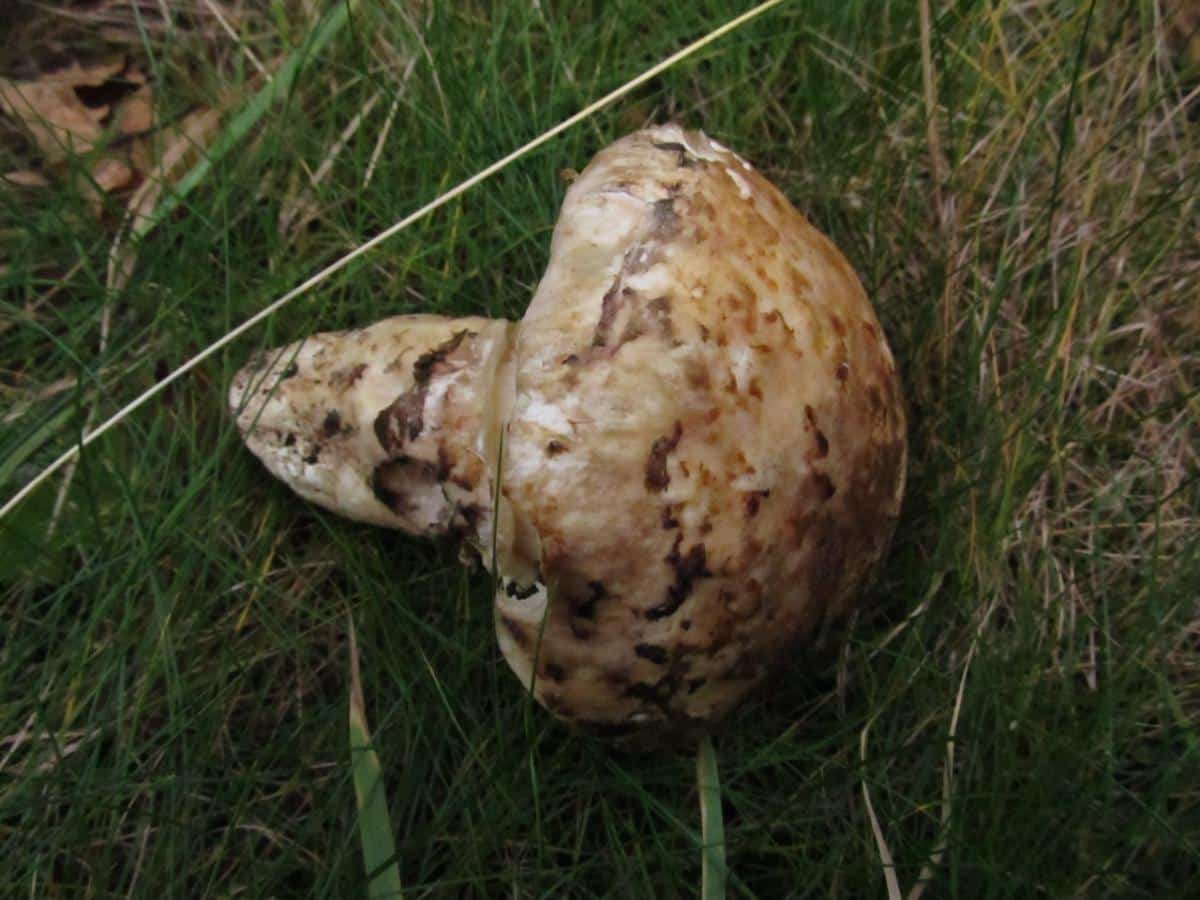 Short-Stemmed Russula/Stubby Brittlegill (Russula brevipes) and other Russula species
This massive white gilled mushroom resembles matsutake quite closely, but there are some key telltale signs it is not. It grows under conifer trees, has a white cap and gills, and is often partially buried in the needle duff. The main differences are smell (it doesn't smell like sweaty socks), lack of veil/veil remnant, and that it is all-around fragile. The cap and stem break apart extremely easily (hence, the common name brittlegill). This is in direct opposition to the matsutake, which is very dense and does not crumble easily at all.
There are other big, white russula species that can be mistaken for pine mushrooms. The tell tale test is to bend the stem – if it breaks apart, it is not matsutake. Also, no russula has the signature stinky smell.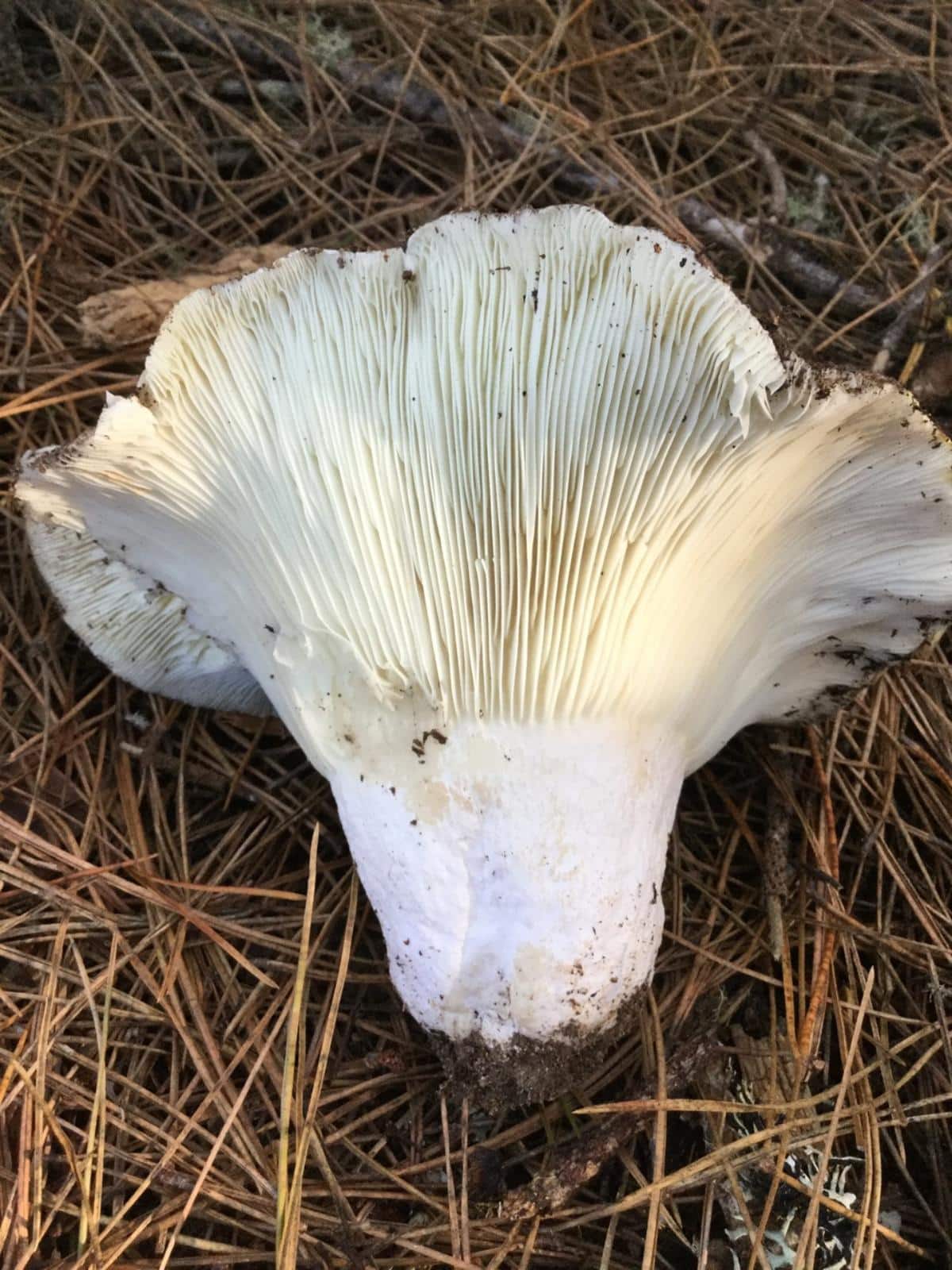 Smith's Amanita (Amanita smithiana)
Pay close attention to this lookalike. It grows in the Pacific Northwest and is a common cause of poisonings for those seeking the elusive matsutake. It looks like matsutake from a very surface level and probably looks more like one to someone who has been searching the woods unsuccessfully for weeks. Hope sometimes makes us make dangerous mistakes. But, it just takes a little bit of knowledge, and you will quickly tell it apart. The key is in education!
Smith's amanita has a white cap, white gills, and a white universal veil which leaves a white skirt around the top of the stem. It also grows deeply rooted in conifer-dominant forests. All of these are similar to matsutake. The big problem is that this amanita can and will grow alongside matsutake. So, even experienced gatherers might mistake it as they gather from a large matsutake patch with an amanita nearby.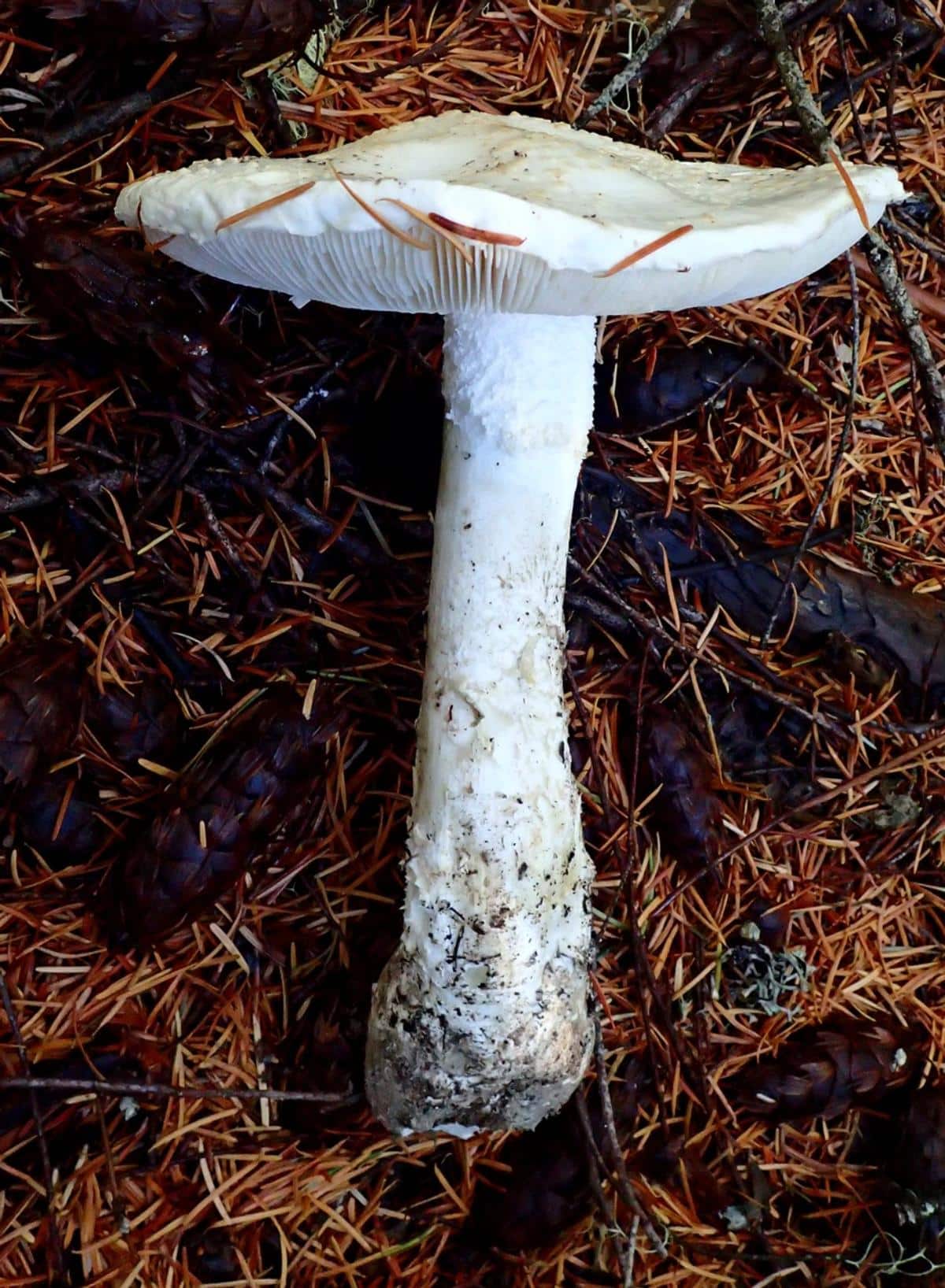 These are the key differences:
The stem of the amanita is fragile – if you squeeze it, it will crumble or be crushed. You cannot do this with matsutake's dense, robust stem. Always do a stem-break test.
Because of the fragile stem, it is difficult, if not impossible, to dig up Smith's amanita without breaking the base. Matsutake stems withstand much digging and won't crumble.
The amanita stem is usually longer than the cap is wide. Matsutake stems and caps are similar in length.
On the surface of the amanita cap is cottony-like veil remnants. They are white and often hang down from the cap margin. Matsutake caps have tan or brown decorations, if they have any at all – not white.
The odor of the amanita is terrible, but not in the same way as matsutake. It smells like decaying meat, not spicy, smelly socks.
The stem, like the cap, has white cottony veil remnants. Again, this is different than the matsutake, which has brown or tannish markings.
Smith's amanita will make you very sick but isn't usually fatal. The poisoning is quite intense, with severe vomiting, diarrhea, abdominal pain, and fatigue which lasts for 4-7 days. If not treated, it can lead to kidney failure.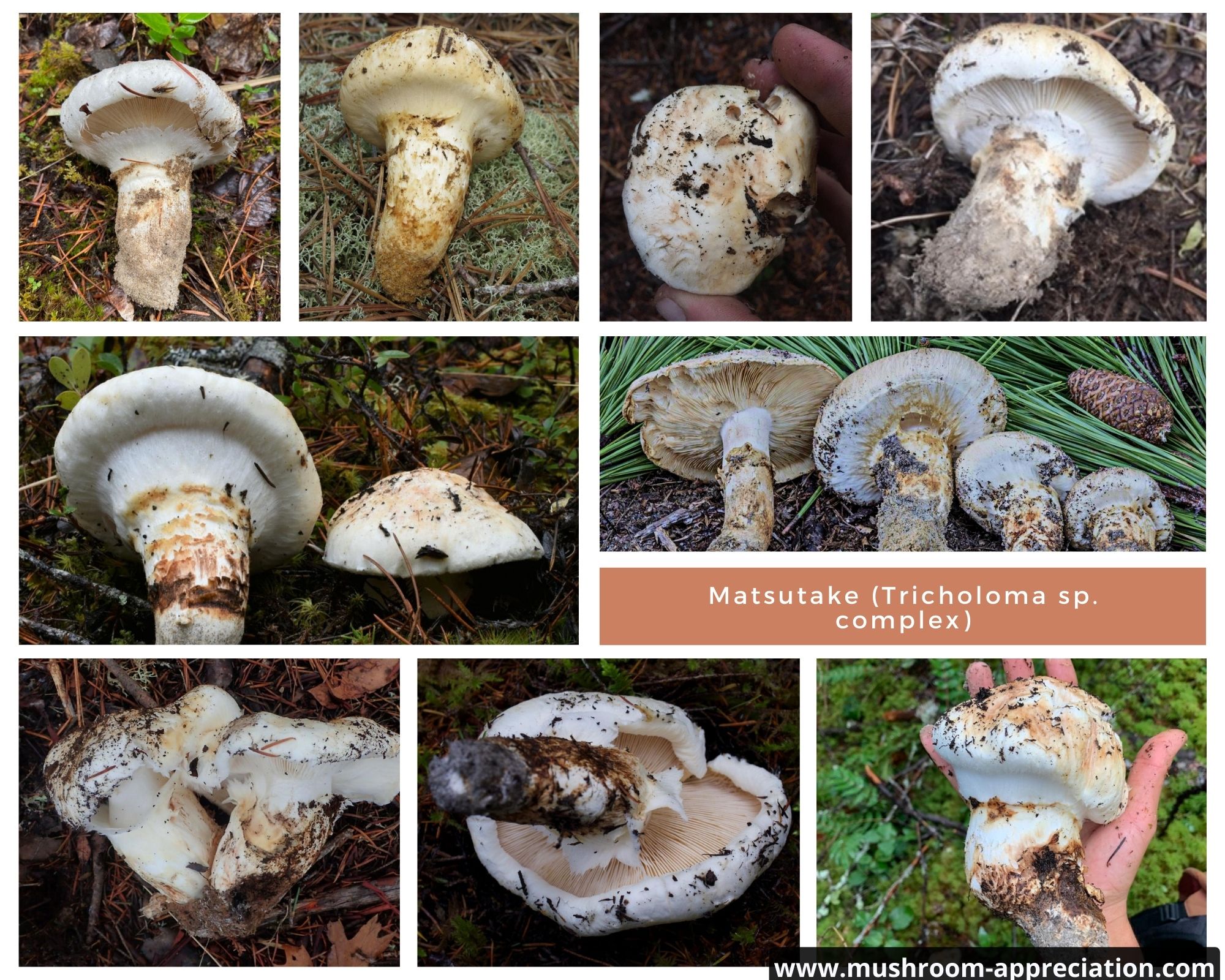 Matsutake Common Questions
Is it possible to cultivate matsutake?
Yes, but it's super complicated. There has been lots of investigation into this topic due to its popularity, high market demand, and declining population. Some Japanese growers have had great success, but that success is tied to the inoculated pine trees. And recent pest infestations have destroyed Japanese matsutake pine groves. All in all, it is not dependable and is commercially unreliable at this point.
The main reason for cultivation problems is that the relationship between fungus and tree species is very particular and not easily replicated.
What's the best way to prepare matsutake?
Consult our article on the history of and cooking methods for matsutake here.