The crown-tipped coral (Artomyces pyxidatus) is a distinctive and elegant coral fungus. All coral mushrooms are fun, but the crown tip holds a particular type of majesty. This is an edible species with a widespread distribution on the east coast. Recently, crown-tipped coral fungi were renamed to Artomyces pyxidatus, but many people still refer to it under its old name Clavicorona pyxidata.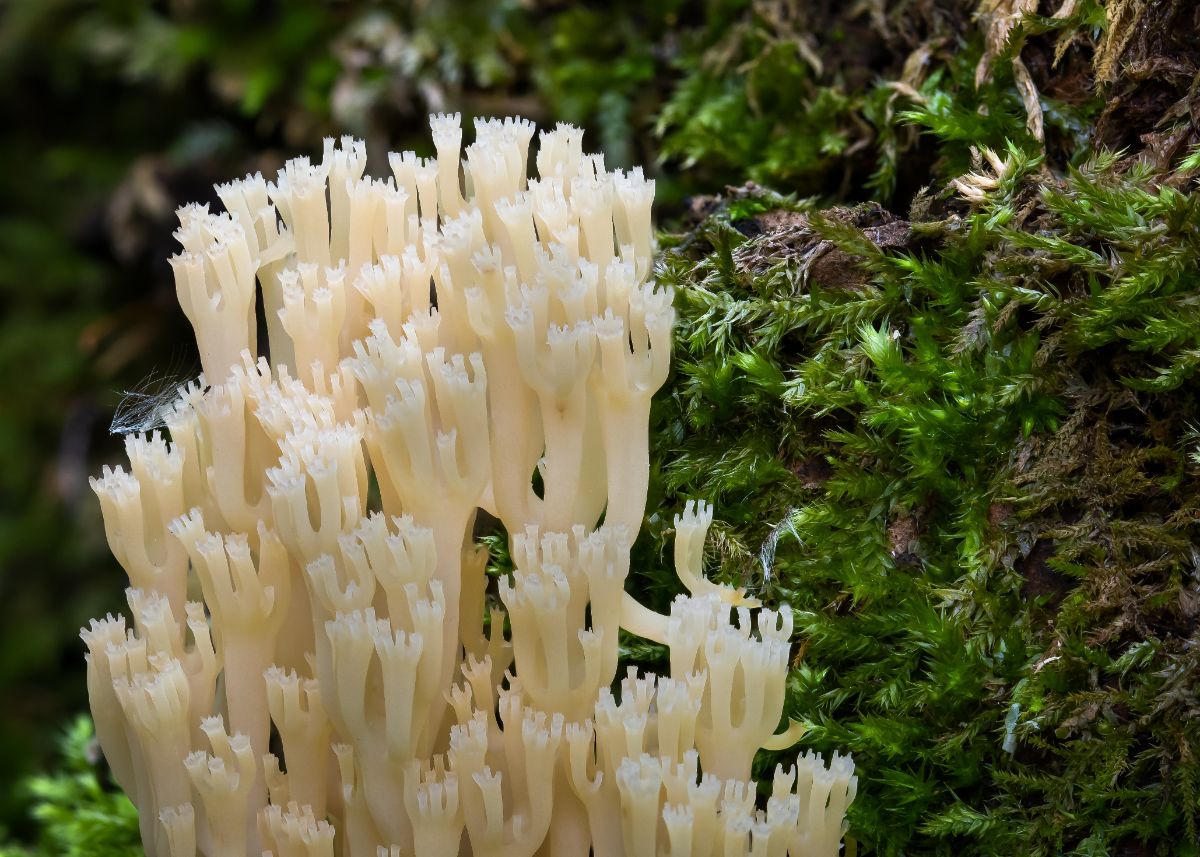 Jump to:
All About Crown-Tipped Coral
The crown-tipped coral is widespread east of the Rocky Mountains but is rare (or non-existent) on the west coast. It grows on wood, which is unusual for coral mushrooms and is also known as the crown coral or candelabra.
Identifying coral mushrooms can be seriously complicated. There are hundreds of species in more than a dozen genera. Many are not even closely related; they just have similar body shapes. Thankfully, the crown tip has some key distinguishing features that set it apart.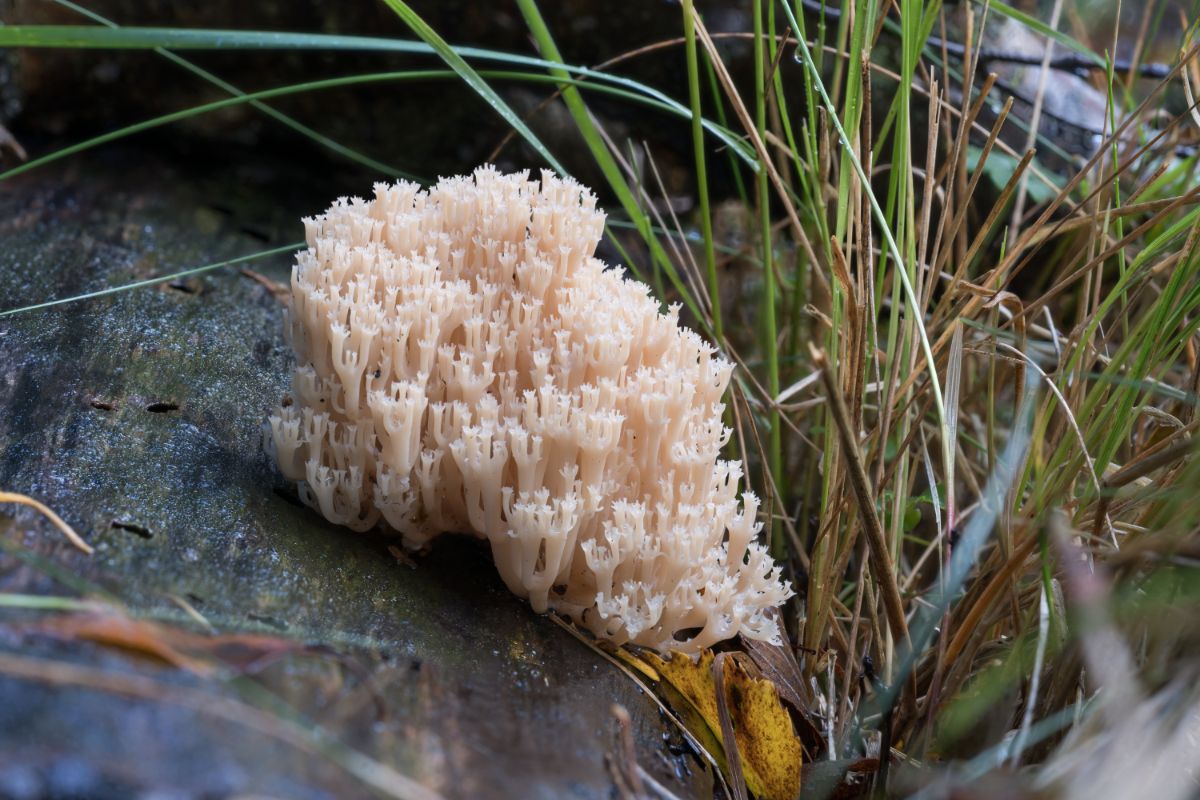 Some guides list this species as inedible, but it isn't clear why. It isn't poisonous and is collected as food in many cultures. It isn't the classiest or tastiest edible species, but that doesn't make it inedible. The main reason it is listed as inedible is that many specimens are small, making them not worth the effort.
However, crown corals are fantastic fried or pickled. If you find a large specimen, it's totally worth foraging. Or, use the small ones as an attractive garnish. They're also excellent included in soups or stews.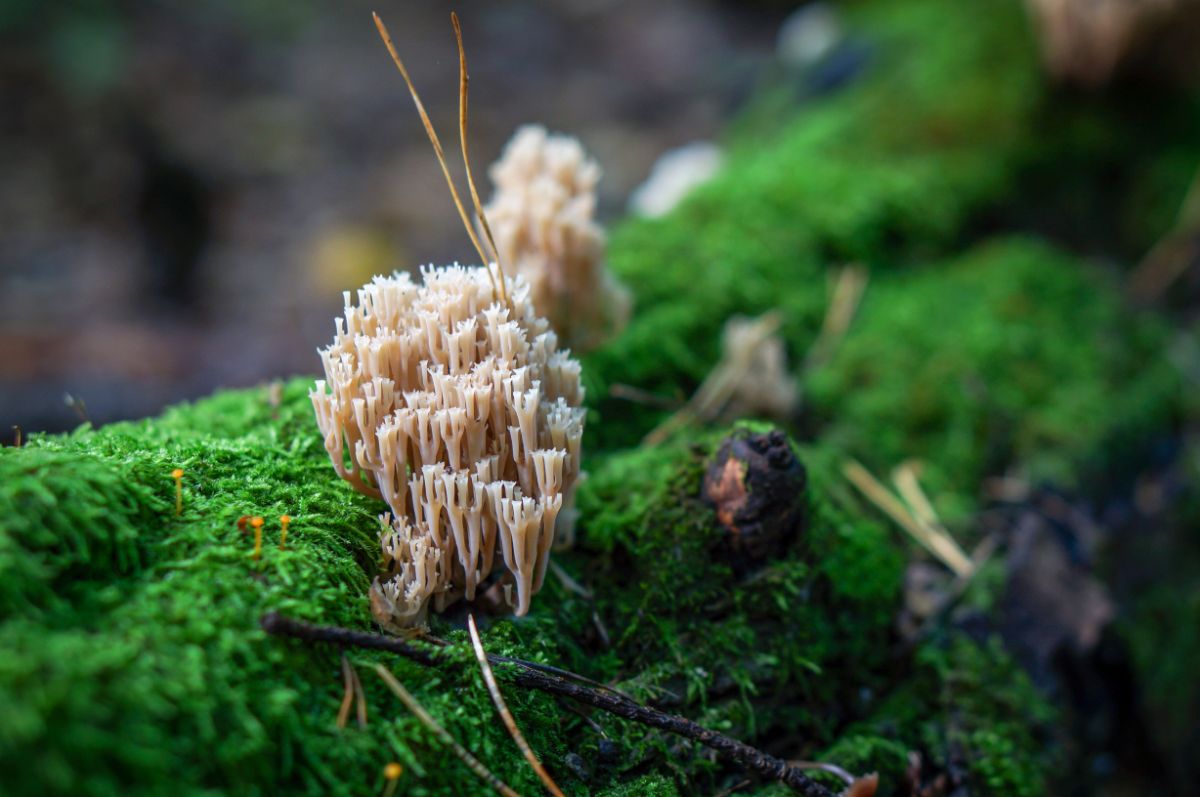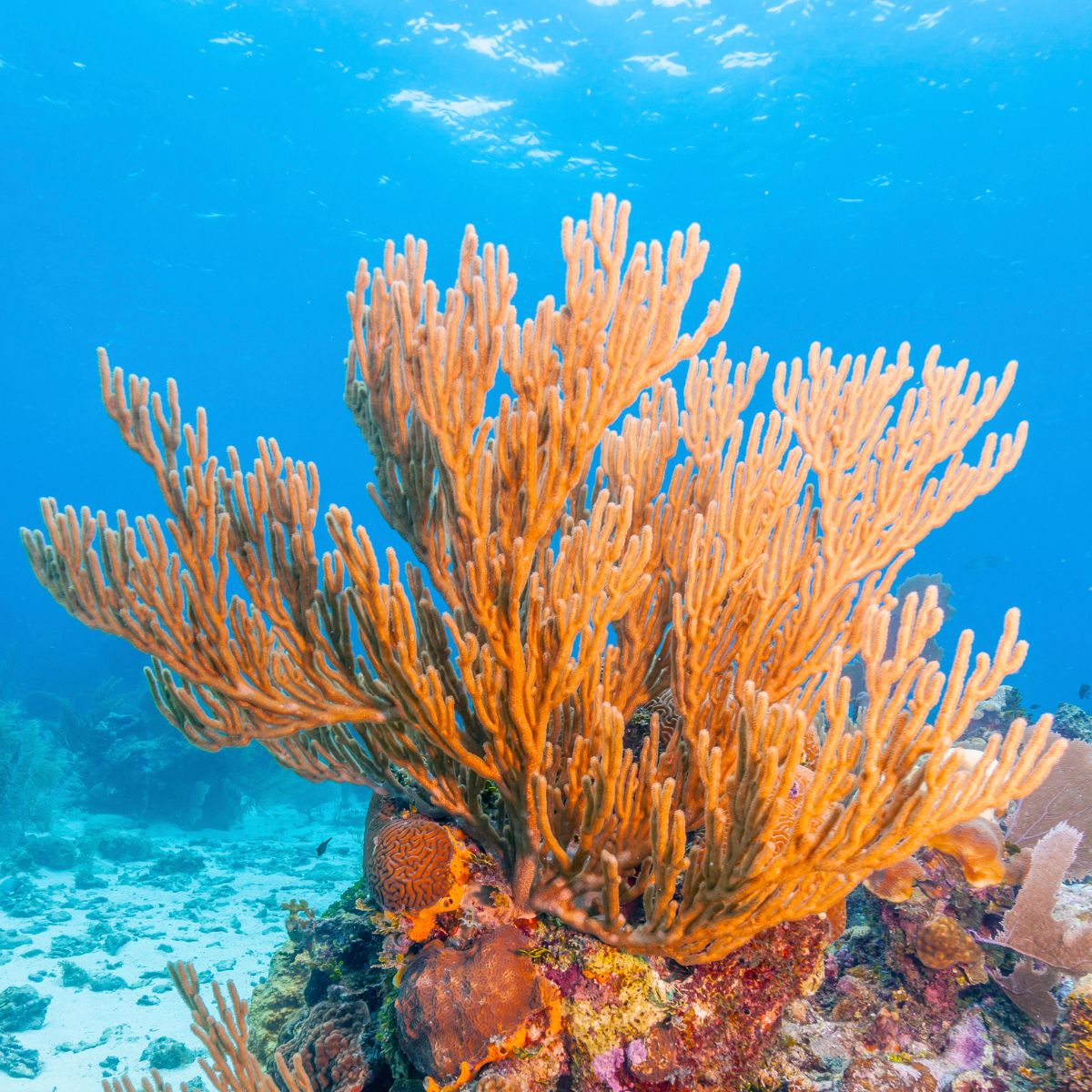 Crown-Tipped Coral Identification
Season
Spring through fall.
Habitat
These fungi grow on decaying hardwood. They never grow from the ground, although sometimes the wood is buried, so you have to double-check. They especially like maple, aspen, willow, and tulip trees. Crown tips grow singularly or in big groupings.
They grow widespread east of the Rocky Mountains but are rare on the west coast. It is not clear whether they grow on the west coast at all.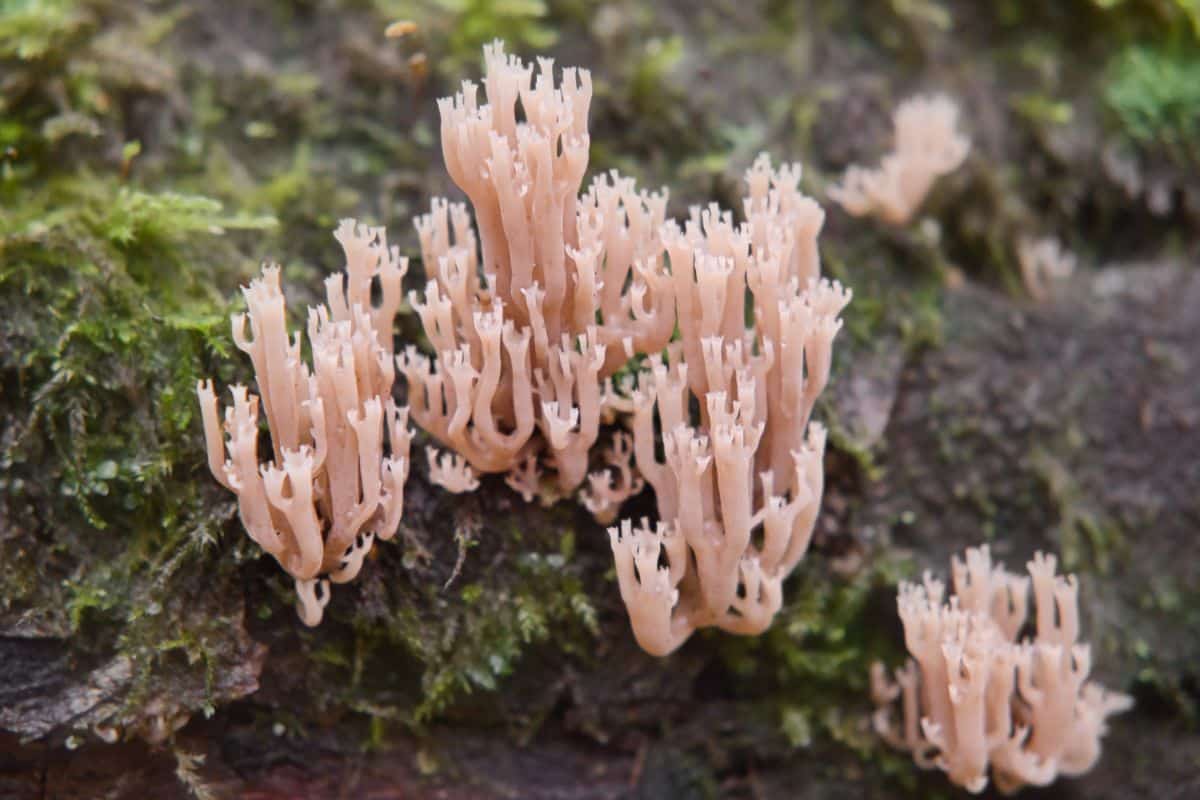 Identification
The body of the crown-tipped coral looks remarkably like the coral found in the ocean. Many branches angle out and upwards from a central point. It does not have a large central base; many other coral species have a swollen fleshy base structure. The crown coral has a very thin, or almost absent, central connection point. The base is also whitish or pinkish and slightly fuzzy.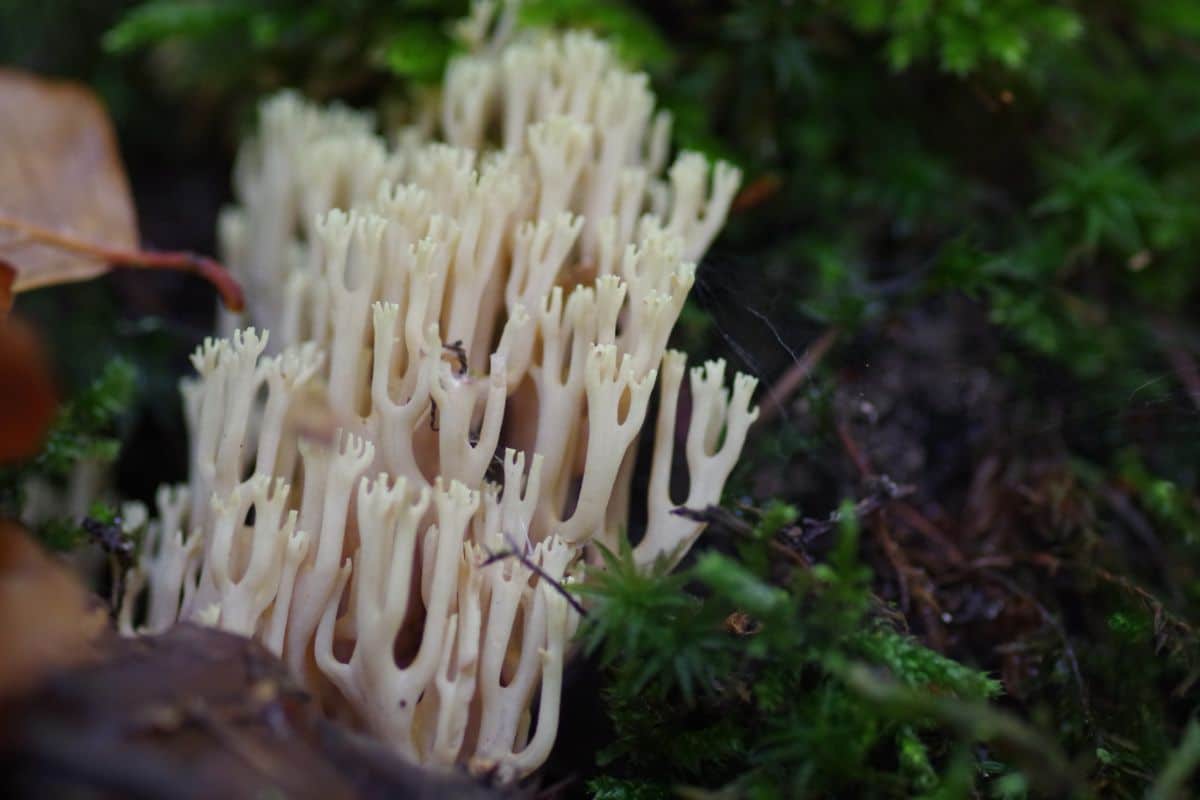 Crown-tipped coral mushrooms range from 1.5-5.25 inches tall and .75-4 inches wide. The branches are smooth and whitish or pale yellow. With age, the branches turn dark pinkish to beige. Each fruiting body has dozens of branches that grow close together but are still separated and distinctive from each other. There are even branches growing from branches.
At the top of each branch is a 3-6 pointed crown. There is a shallow depression at the tip, and the crowned points surround it. It looks like a castle turret. The tips are either the same color as the branches or slightly brownish.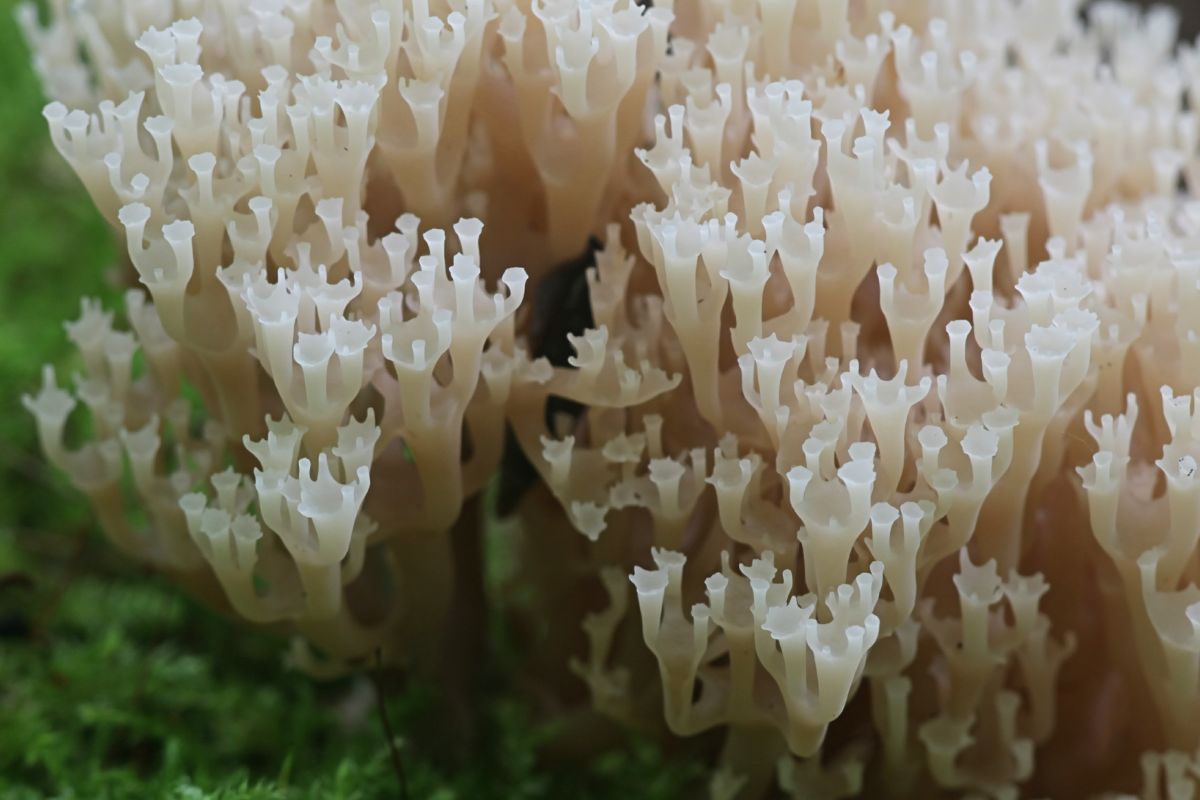 Inside, the flesh is white and pliable but still a bit tough. Overall, the fungus is somewhat fragile, but the branches are firm.
It does not have a strong smell – some report it smells like recently dug potatoes. However, it has a distinctive taste – peppery. Sometimes, the pepperiness is mild, but you can usually taste it. The peppery flavor is light when you first taste it, but it can get quite hot after a couple of minutes. The spore print of this species is white.
The overall appearance is of a castle with dozens of turrets. Or of a sea creature with many, many white arms reaching up to the sky.
Key Identification Points For Crown-Tipped Corals:
Loose structure; branches not tightly clumped
No large swollen central base
Only grow from wood, never from the ground
Crowned tip has 3-6 points
Taste is peppery (mild to strong)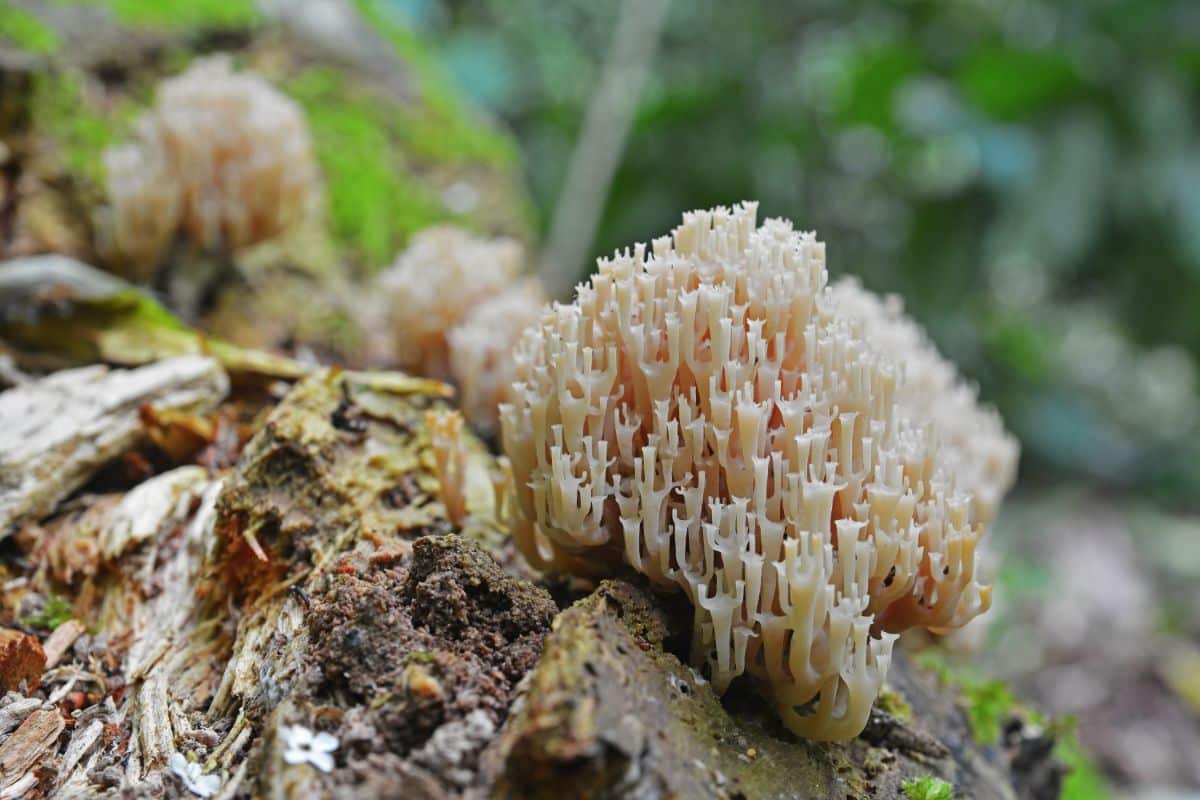 Crown Coral Lookalikes
With so many coral species, it's easy to get overwhelmed. There are tons of bland, whitish, or tannish species with many branching arms – they mush together in the brain relatively easily.
Ramaria species
Many species in the Ramaria genus look confusingly similar to the crown-tipped coral mushroom. There are some primary differences, though. Most Ramarias have an obviously swollen base, sometimes quite large. They almost exclusively grow from the ground, not from decaying wood like the crown tip. And they do not have the distinctive crowned tip; the tips of their branches are much more blunt or undefined.
The Ramaria species that resemble the crown coral in structure are usually not the same color – they tend to be brighter and more colorful than the bland whitish crown tip.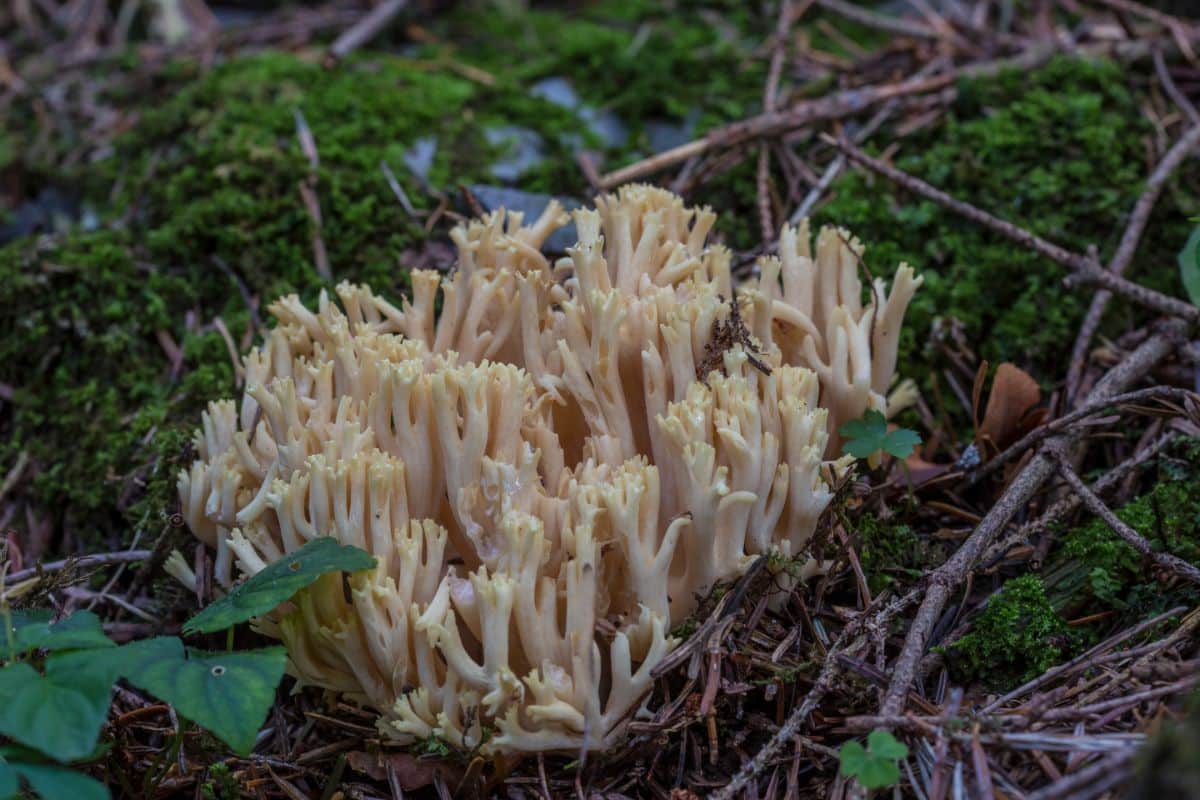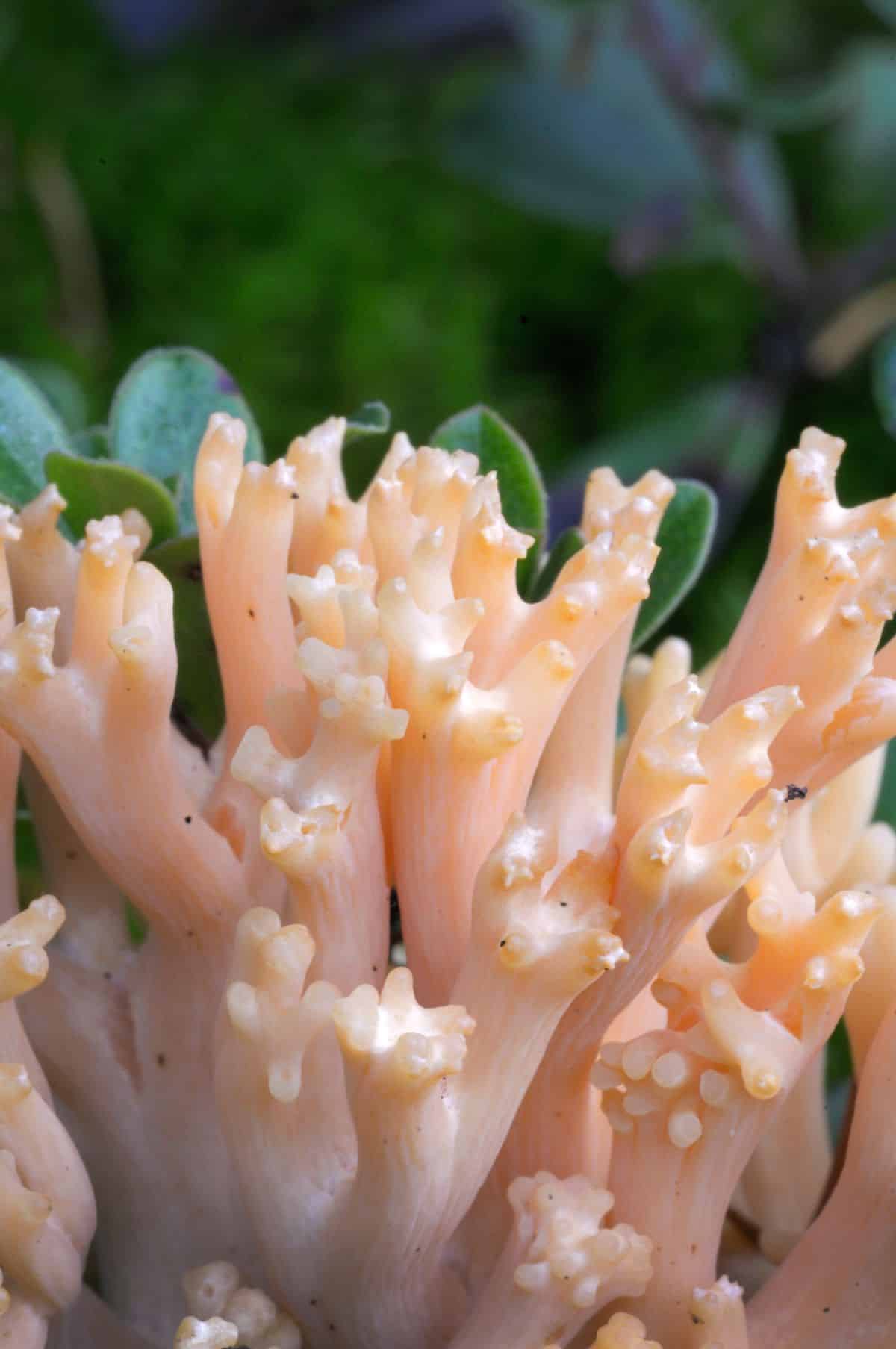 Clavulina species
This is another genus of coral mushrooms that causes a lot of confusion for foragers. Like Ramaria species, they tend to have a distinctive base, grow from the ground, and don't have a distinguishing crown tip. Some widespread Clavulina species do have points at the end of their tips, but they are flat and not circular, like a castle turret.
Cooking With Crown-Tip Coral Fungi
More often than not, these delicate fungi have tons of dirt and debris in them. It gets lodged between the branches and can be challenging to remove. The best method is to swish them around in a cold water bath. And repeat 1-2x.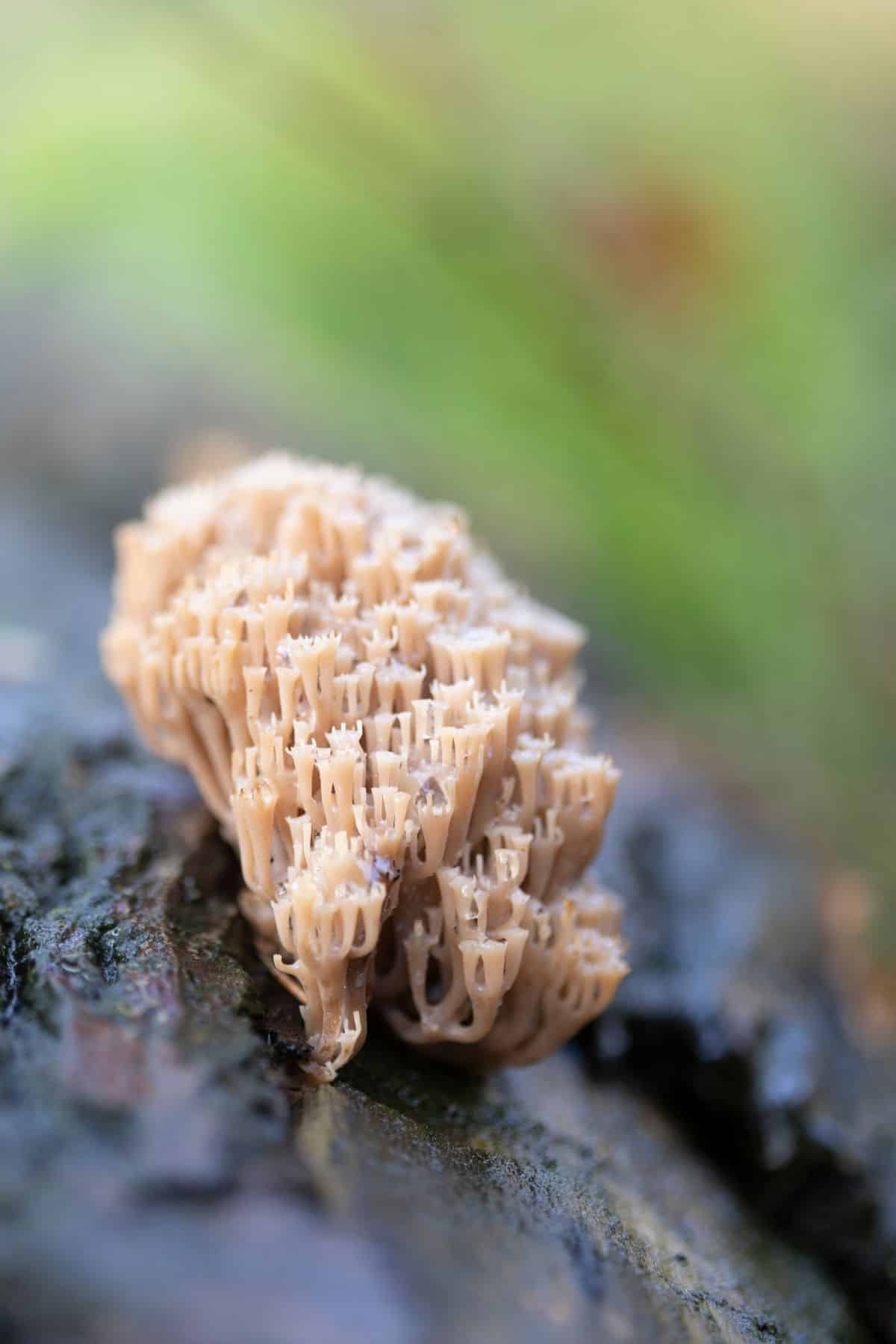 Crown Tipped Coral Common Questions
Can I grow crown-tipped coral fungi?
It is not currently a cultivated species.