Polypores most often resemble shelves or brackets growing on trees or deadwood; if you've been out in any woods, you've undoubtedly seen them. They're also common in suburban and urban landscapes. Some polypore species are tip-top edibles, like chicken of the woods and hen of the woods. Others are prime medicinal species, like turkey tail and chaga. Foragers rejoice when they see these, but the presence of many polypore species also means the tree they're on is dying, which isn't great news for homeowners or landscapers.
These fungi are a fascinating group of organisms that play a crucial role in our ecosystems. This article delves into the world of polypores, their significance in the environment, how to identify them, and discusses the excellent edible species.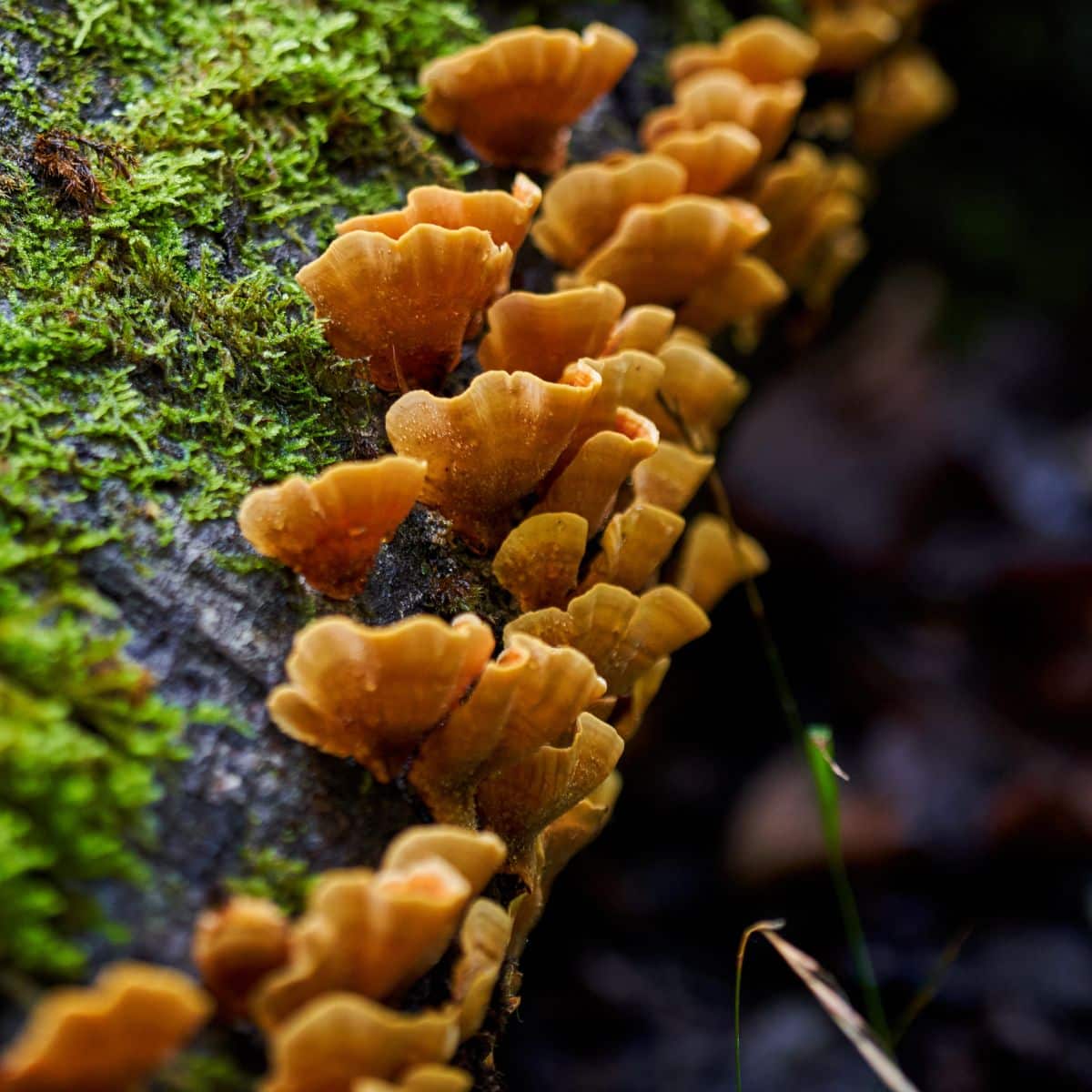 Jump to:
What Is A Polypore?
A polypore is a fungus that forms large fruiting bodies with pores or tubes on the underside. The term comes from the Greek words poly, meaning "much" or "many," and poros, meaning "pore." The pores are part of the reproductive structure of these fungi, housing the spore-producing cells.
These fungi commonly form shelf-like structures on woody substrates, earning them the alternative names bracket fungi or shelf fungi. Some varieties grow in circular or semicircular formations, while others may form thin patches on dead wood. They are a diverse group, varying in size, shape, color, and habitat preference.
With over a thousand known species, polypores are remarkably diverse. These species tend to thrive in old natural forests with abundant deadwood, but their presence is relatively limited in younger managed forests or plantations.
Interestingly, polypores are not always closely related to each other, and their classification can be complex. The traditional term "bracket fungi" has expanded to include various genera thanks to updated science and genetic analysis.
These fungi have been used in traditional medicine for centuries and are actively studied for their medicinal properties and potential industrial applications. For wild fungi seekers, polypores represent some of the most sought after edibles. On the downside, some species have also been identified as serious pathogens of plantation trees, leading to timber spoilage.
A lot of polypore species are also used to create natural dyes.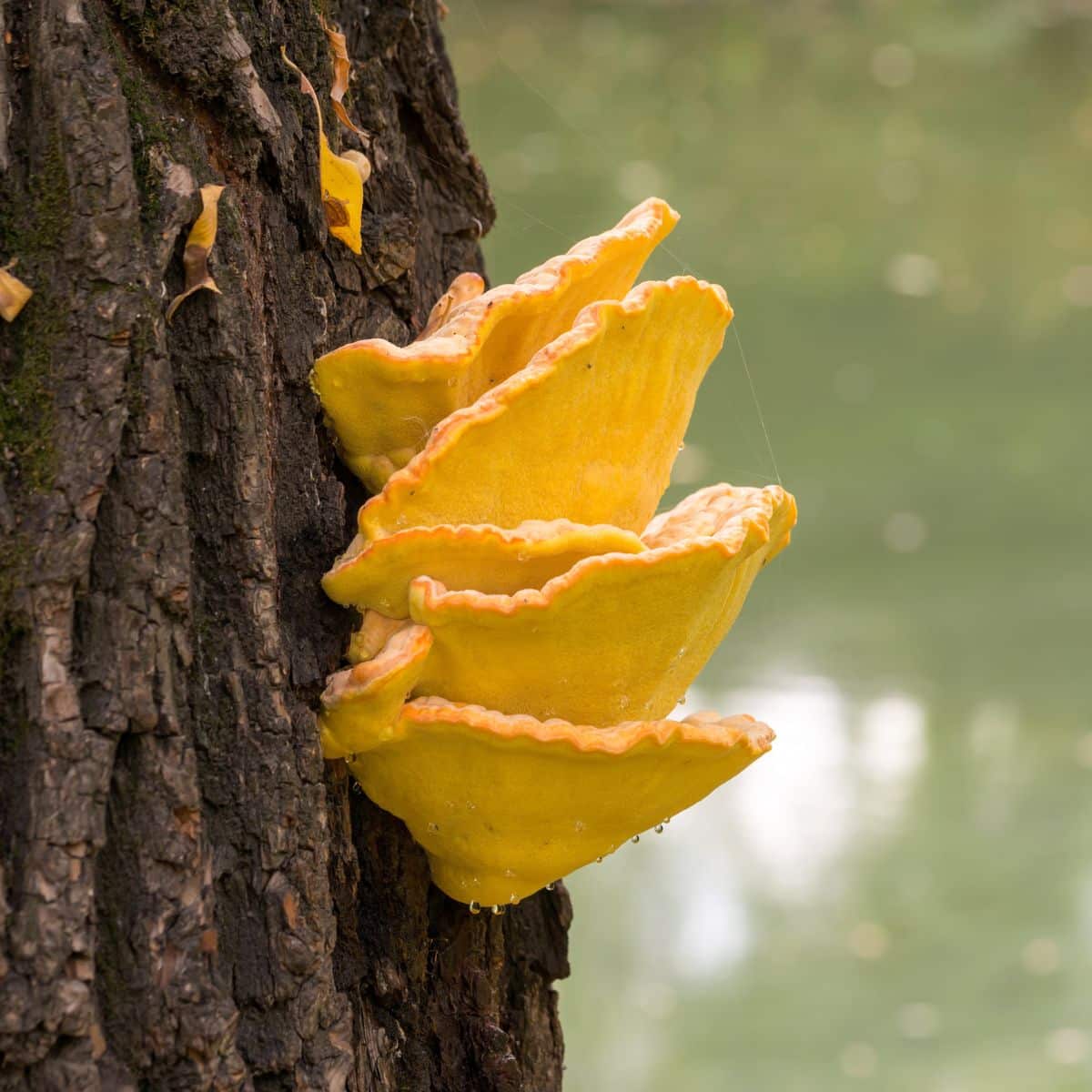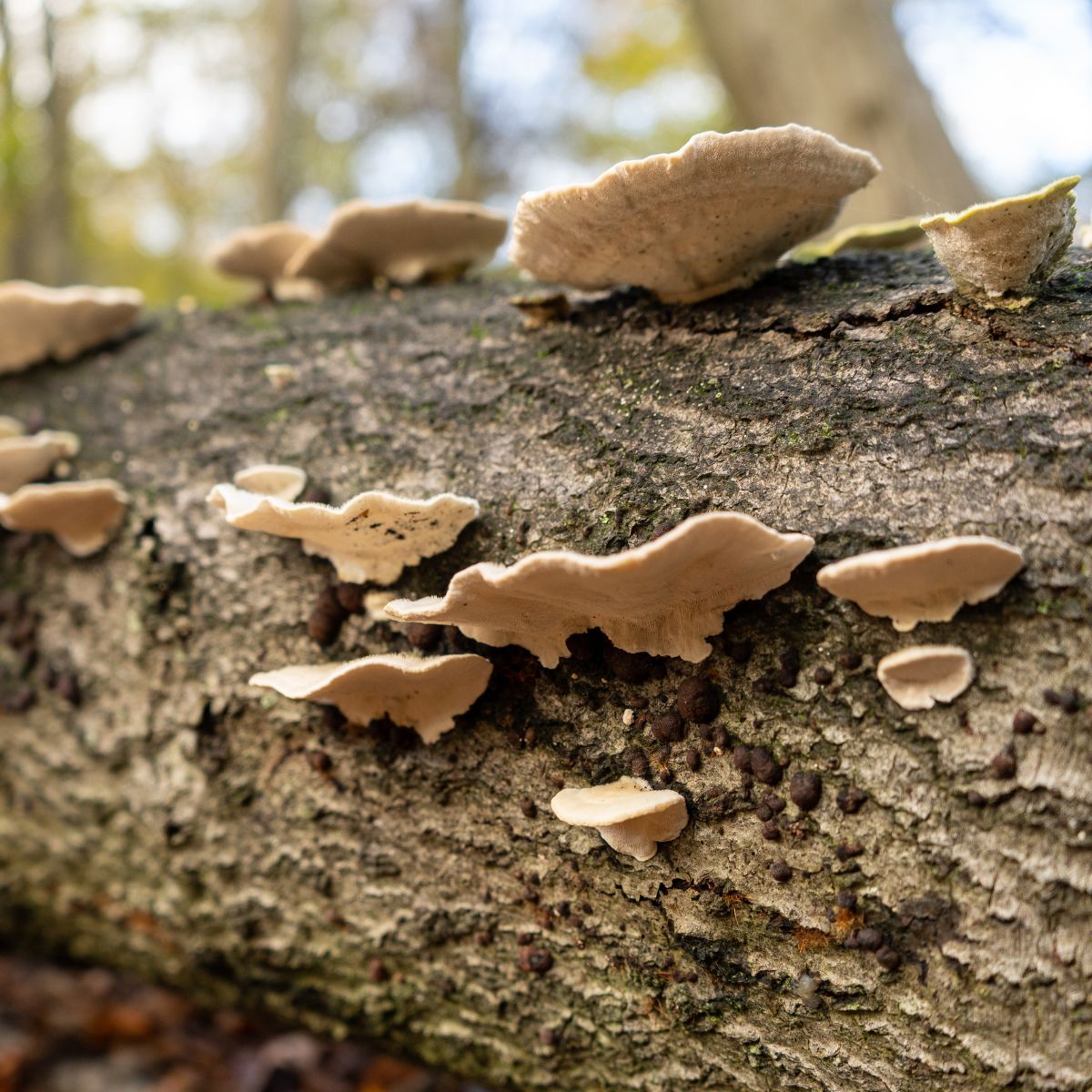 Polypores: Nature's Wood Decomposers
Polypores play a vital role in the ecosystem as decomposers, particularly of wood. They are among the few organisms capable of breaking down lignin and cellulose, the primary components of wood. This decomposition process is crucial for nutrient cycling in the forest ecosystem and assists in the absorption of carbon dioxide. Sometimes decomposers release nutrients and minerals into the forest ecosystem for over a hundred years from a single fallen tree.
Some polypores are saprotrophic, feeding on dead or decaying wood, while others are parasitic, attacking living trees and contributing to their decline. Regardless of their feeding habits, these fungi are essential players in the recycling of nutrients within their ecosystems.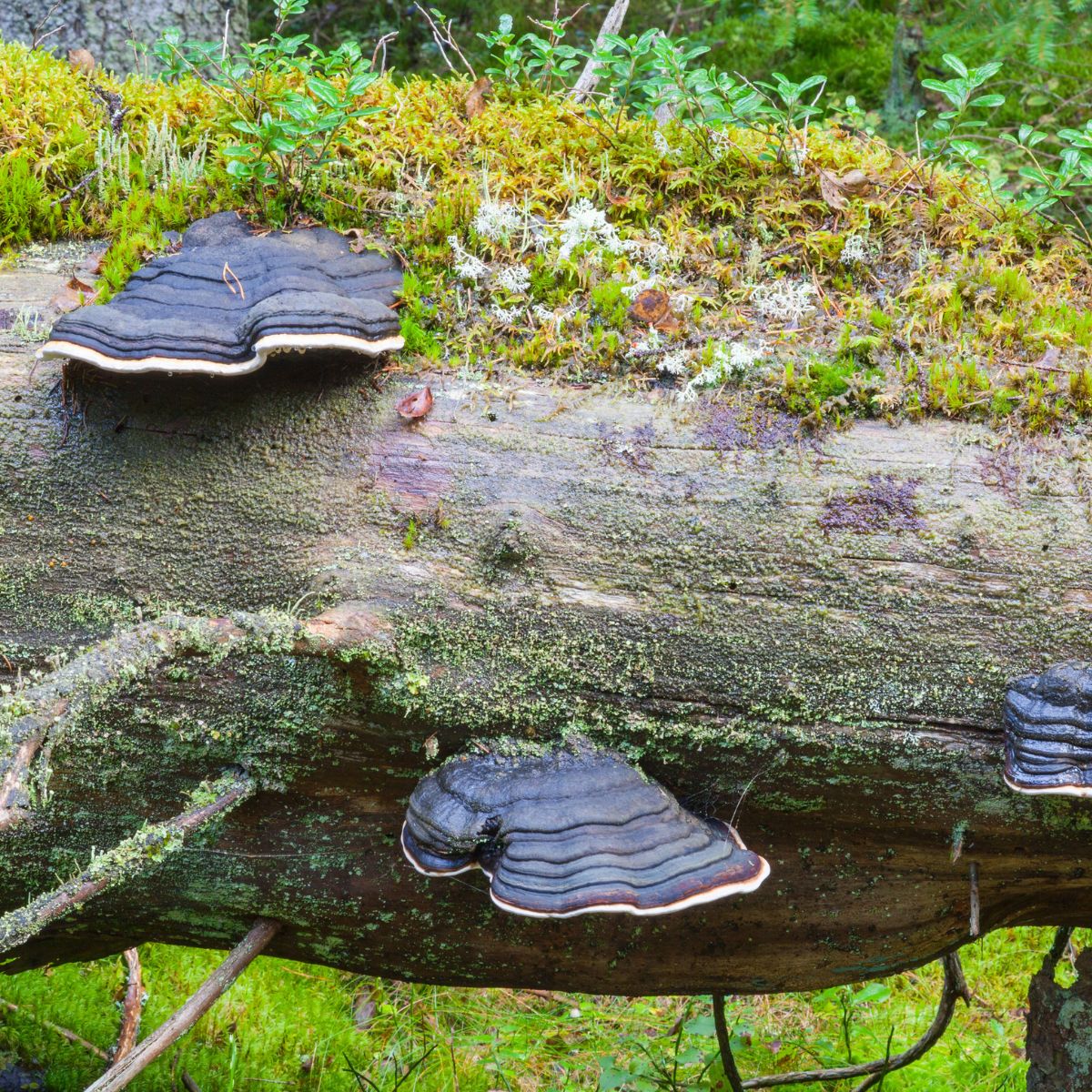 Potential Polypores Uses
Biopulping
During paper-making, lignin is usually removed using chemical bleaches, which can be contaminated with dioxins and cause damage to the environment. This process is also super energy-intensive, and the disposal of the chemicals is complicated and problematic. Instead of using chemicals, enzymes from white rot polypore fungi can be used to eliminate the lignin and save both energy and time. The perfect fungi for this would be Phanerochaete chrysosporium or Ceriporiopsis subvermispora because they can withstand high temperatures and not touch the cellulose. However, the challenge of scaling up the process to an industrial level has proven difficult.
Bioremediation
The lignin-degrading enzymes of white rot polypore fungi can break down toxic compounds such as PCBs, PCPs, and TNT. This could be used to clean up Superfund sites. Even though this has been successful on a small scale, transitioning to a larger level is another obstacle.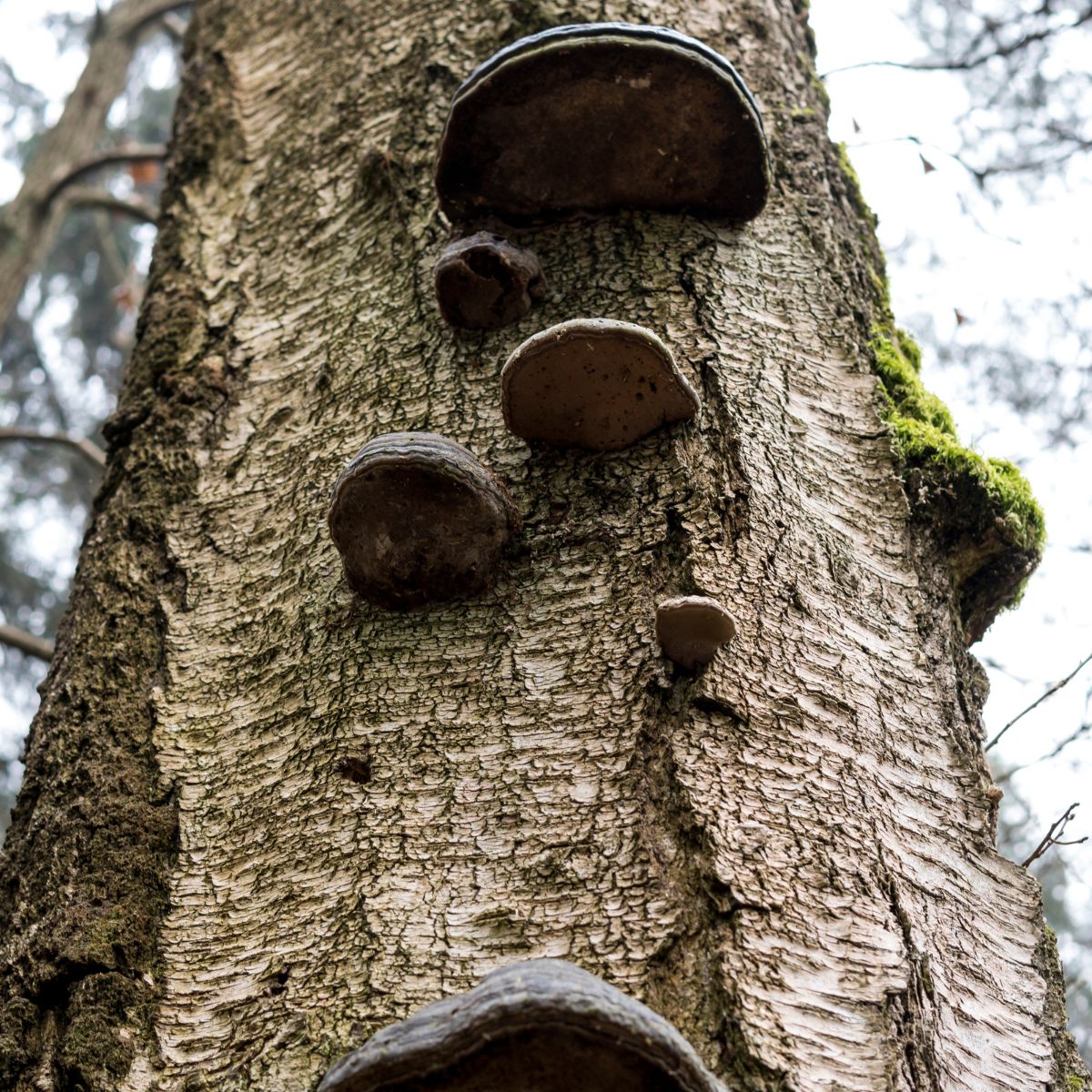 Identifying Polypores
Although it may seem daunting initially, careful observation and attention to detail can help distinguish different species.
Habitat and Host Tree
Polypores can be found in diverse environments, from forests to urban parks. Paying attention to the habitat and host tree is crucial for accurate identification. Some species are specific to certain tree species, while others can be found on various hosts. Take note of whether the bracket fungi is growing on living or deadwood, as this can provide valuable clues. Even if it is just to determine whether it is a hardwood or conifer, that is helpful.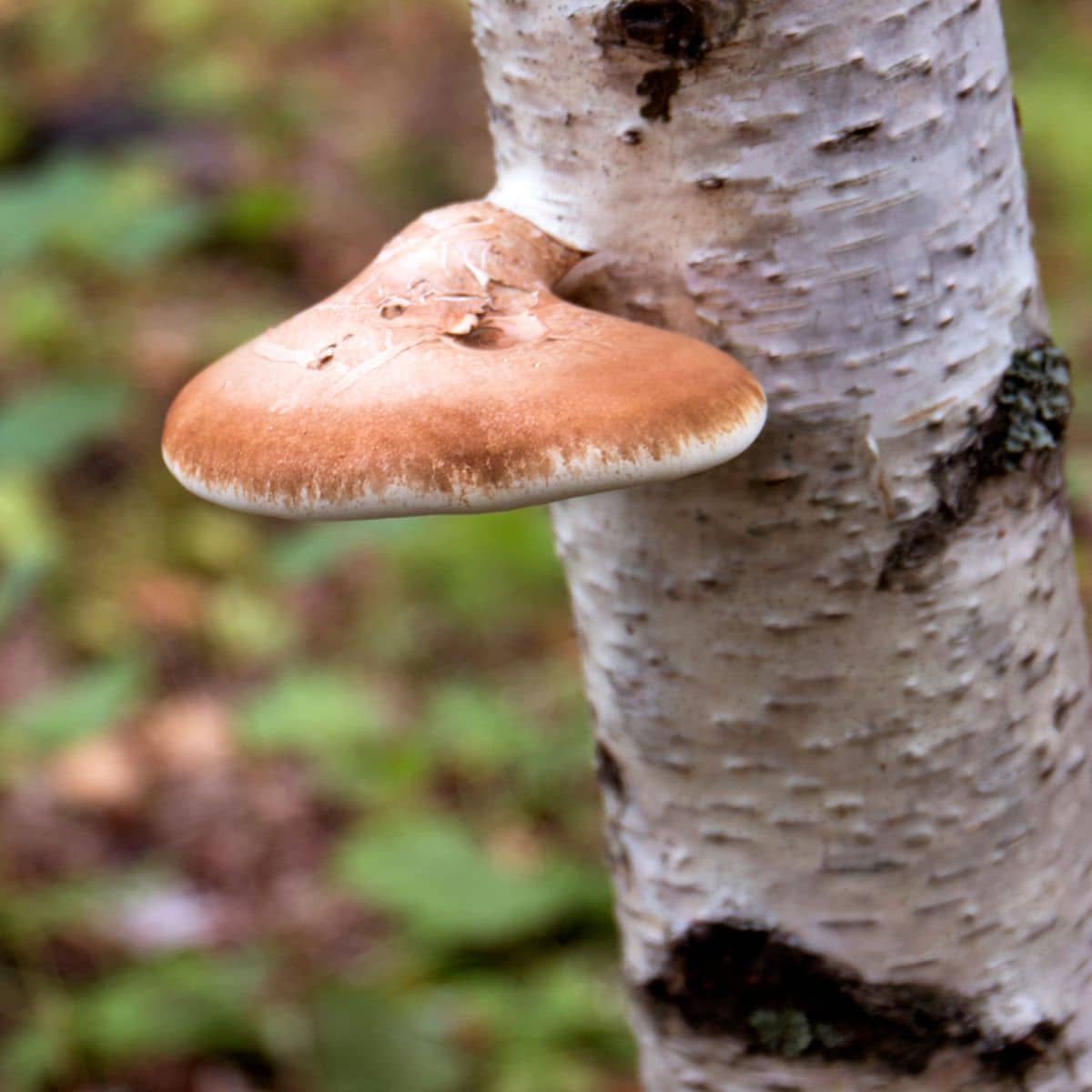 Body Shape and Texture
Polypores come in a range of shapes and textures. While some have distinct bracket-like structures, others may appear as spread-out patches or crusts on wood surfaces. Pay attention to the fruiting body's color, size, and texture. Some polypores have a soft, fleshy texture, while others are tougher and more woody. Younger specimens might be soft and brightly colored, while older ones can be hard and dull.
Pore Surface
Some polypores have maze-like or angular pores, while others have tiny, round pores. There are even some with small teeth or spines. Most polypores, though, have small pores that create a smooth surface. In this way, they are like boletes. However, boletes don't grow as shelves on a tree. Carefully observe the color and arrangement of the pores, as they vary significantly between species.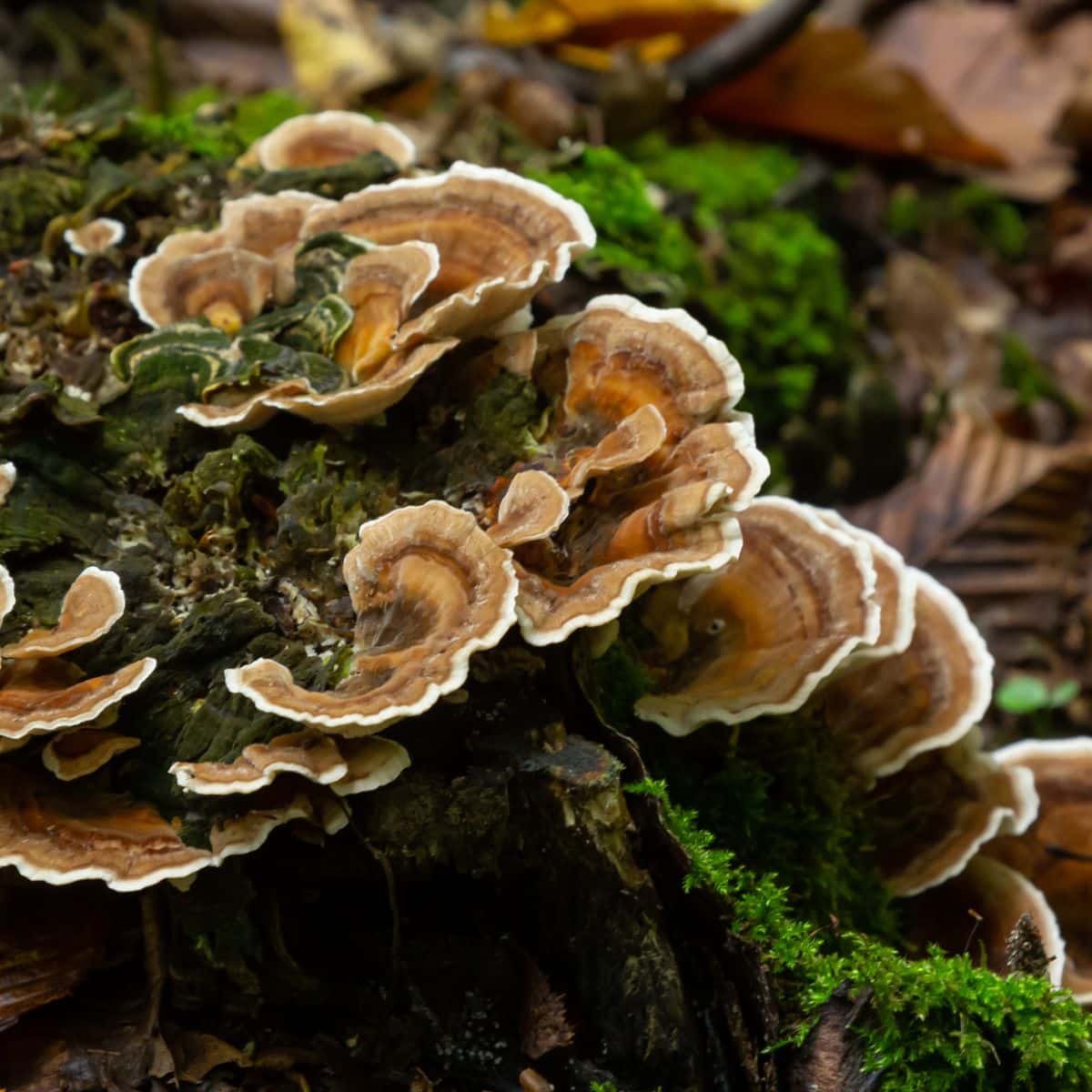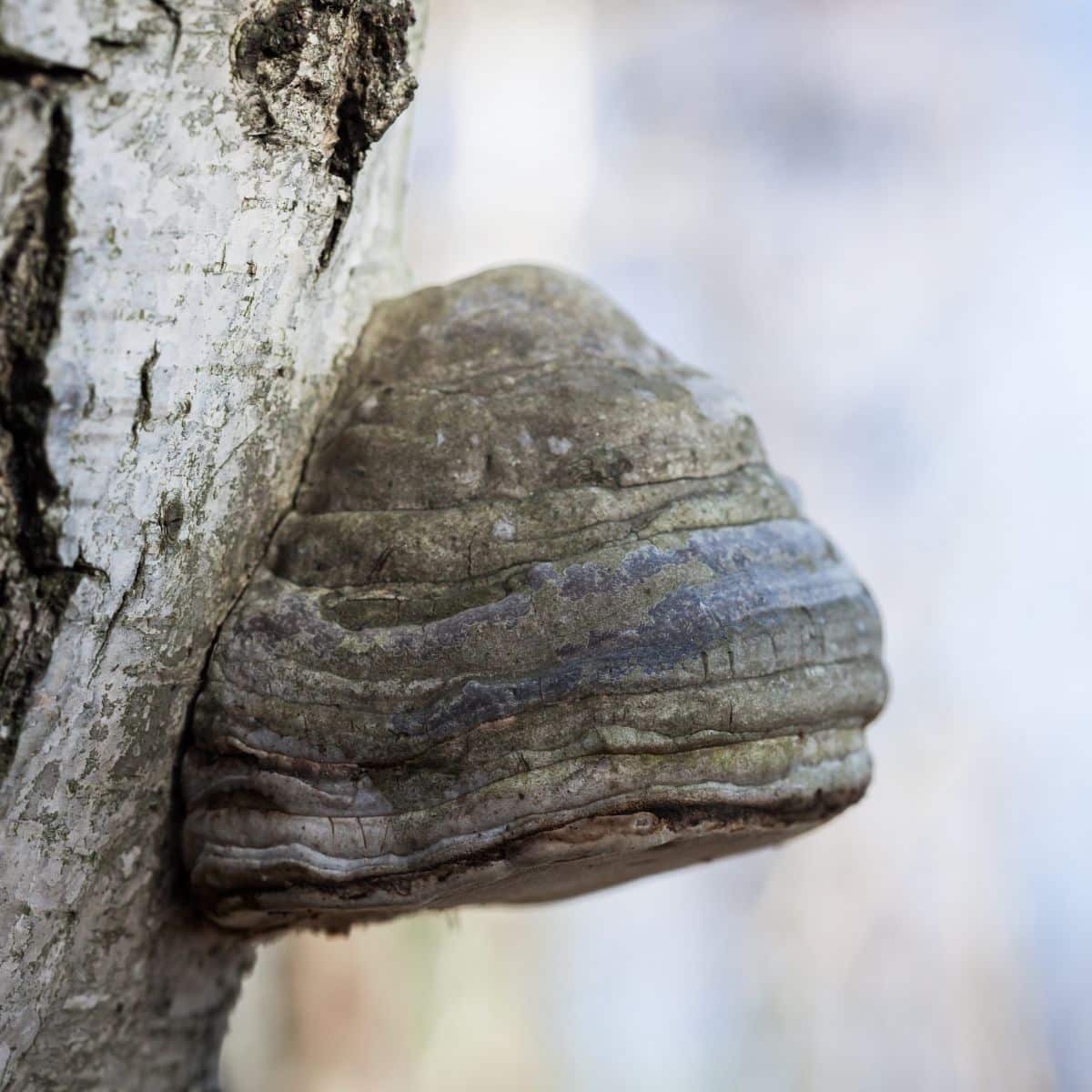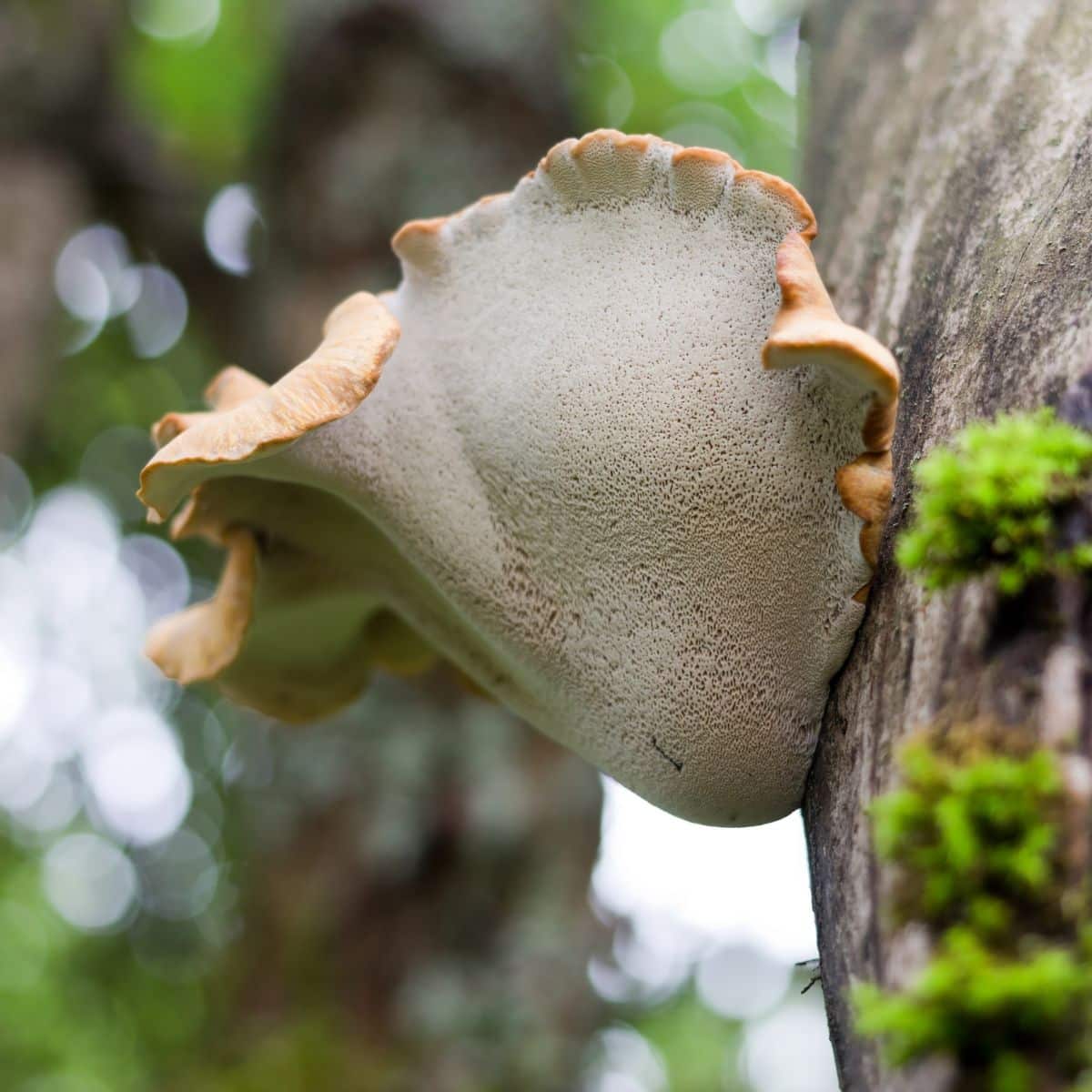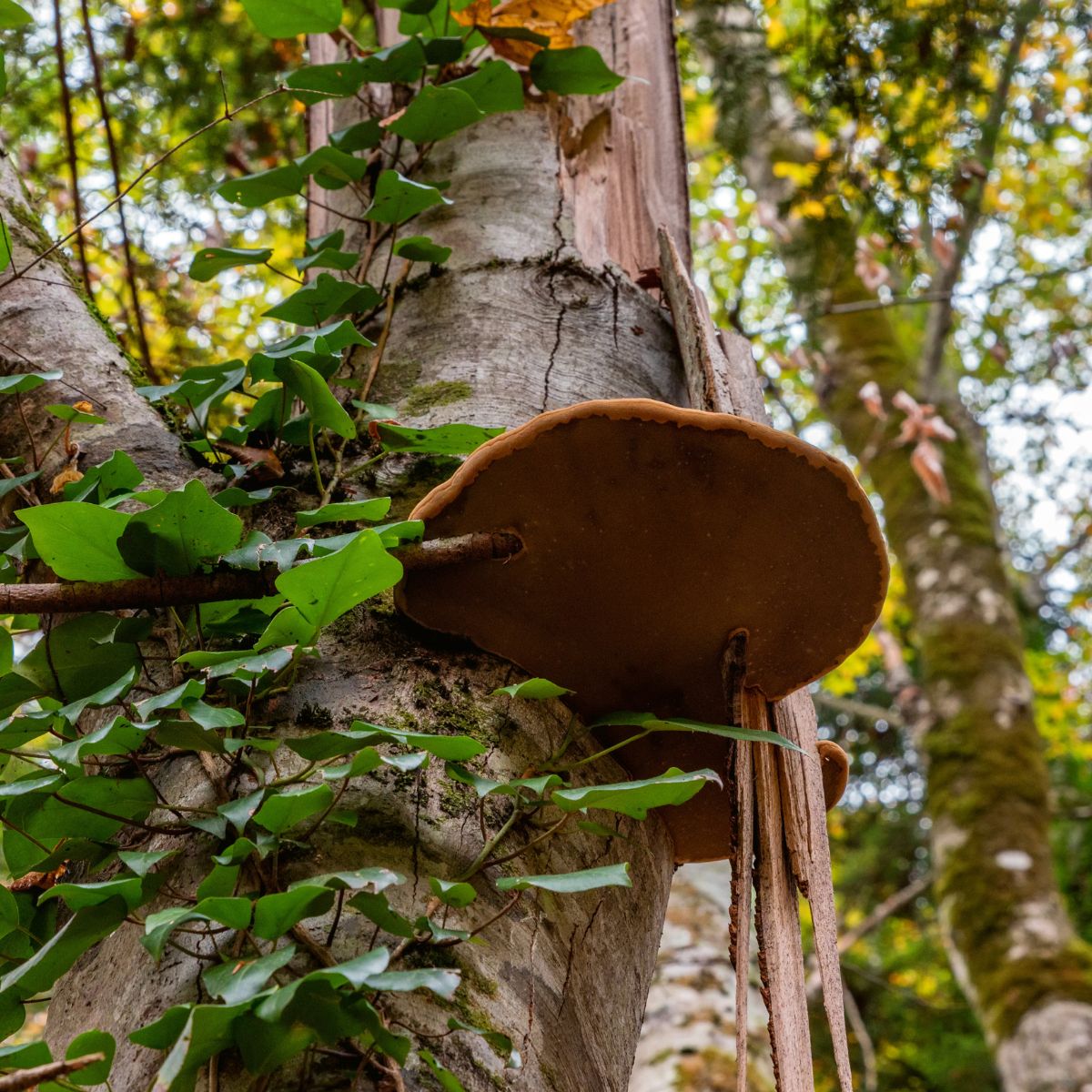 Polypores: Medicinal Uses
Polypores have been used in traditional medicine for centuries. Modern research has studied their potential applications in treating immune system-related illnesses and cancer recovery. For instance, the Lingzhi Mushroom, aka Reishi, (Ganoderma lucidum) and Turkey Tail (Trametes versicolor) are two shelf fungi species that are widely studied for their medicinal properties.
Top 14 Edible and Medicinal Polypore Species
Among the vast quantity of polypore species, some are prime edibles, while others are valued for their medicinal properties. There's even one that is a neat artist's canvas!
Polypores And Tree Health
Polypore bracket fungi primarily attack the heartwood of trees, causing decay. They do not usually infect or kill the living parts of the tree (although, that depends on whether the species is parasitic or just saprophytic). When you notice the visible fruiting body of the fungus, it means that the fungus has already been at work inside the tree for a long time. Often a very very long time. The mycelium, the "roots" of the polypore species, digest the heartwood; this leads to widespread rot and eventual hollowing of the tree. There is no way to stop this process once it has started.
In most cases, the polypore does not immediately threaten the tree's structural integrity. While the heartwood may decay, the living parts of the tree, such as the bark and sapwood, remain functional. Many trees infested with polypore fungi can live for decades, even with hollowed trunks. However, it's essential to assess the tree's condition and consult an experienced arborist if you're concerned about its stability.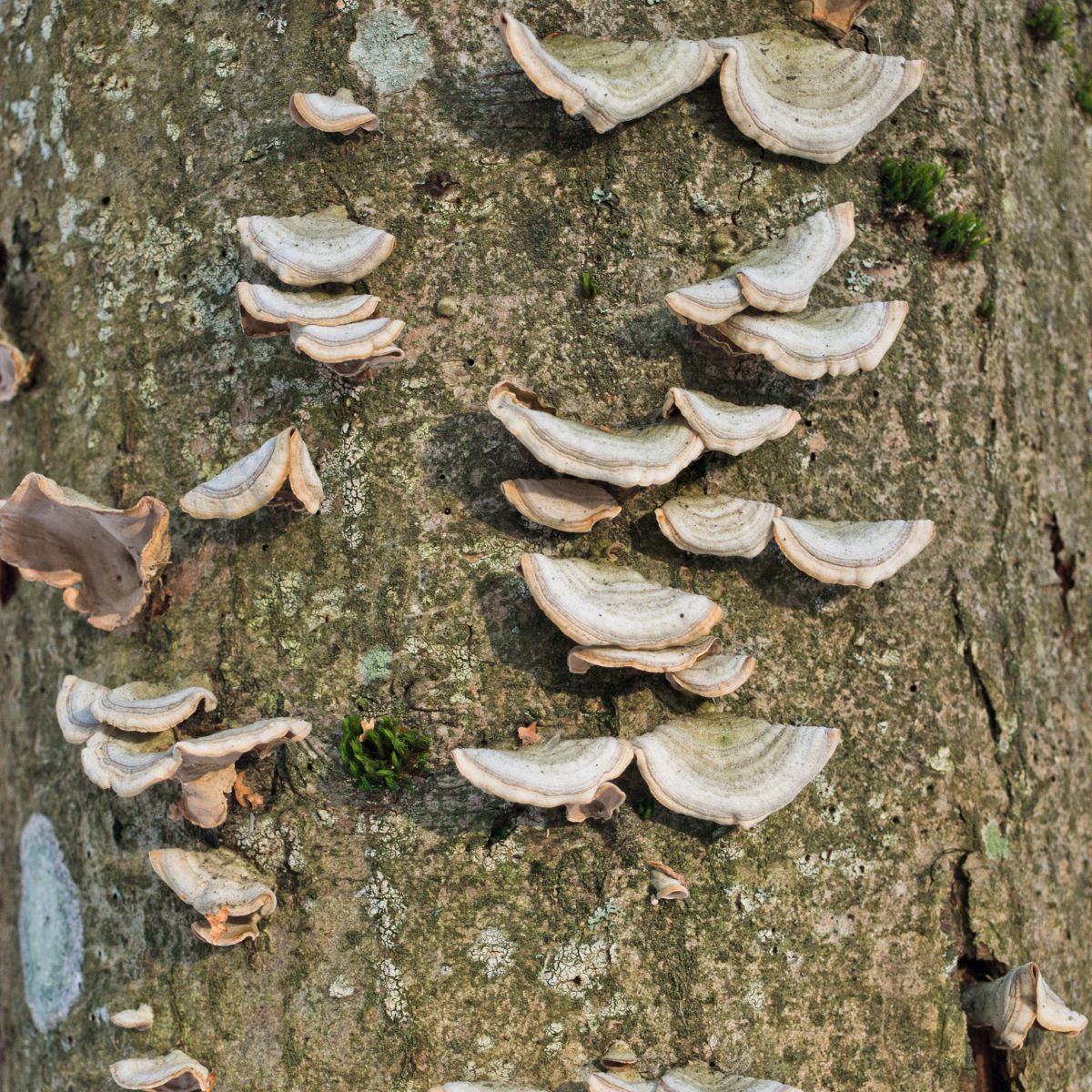 Prevention of Tree Polypores
Preventing tree bracket fungus starts with promoting overall tree health and creating an environment less favorable for fungal growth. Here are some preventive measures you can take:
Proper Tree Care: Maintain good tree care practices, such as regular watering, appropriate pruning, and fertilization. Healthy trees are more resistant to fungal infections.
Avoid Wounding: Minimize tree wounds by using proper pruning techniques; wounds provide entry points for fungi to invade the tree.
Monitor Moisture: Ensure proper drainage around the base of trees, as excessive moisture can create a favorable environment for fungal growth. Avoid overwatering or allowing water to pool around the tree's roots.
Promote Air Circulation: Trim surrounding vegetation and remove debris near the tree's base to promote air circulation. Good airflow helps keep the tree dry, reducing the risk of fungal infections.
Mulching: Apply a layer of organic mulch around the tree's base, being sure to keep it a few inches away from the trunk. Mulch helps retain moisture and regulates soil temperature, promoting overall tree health.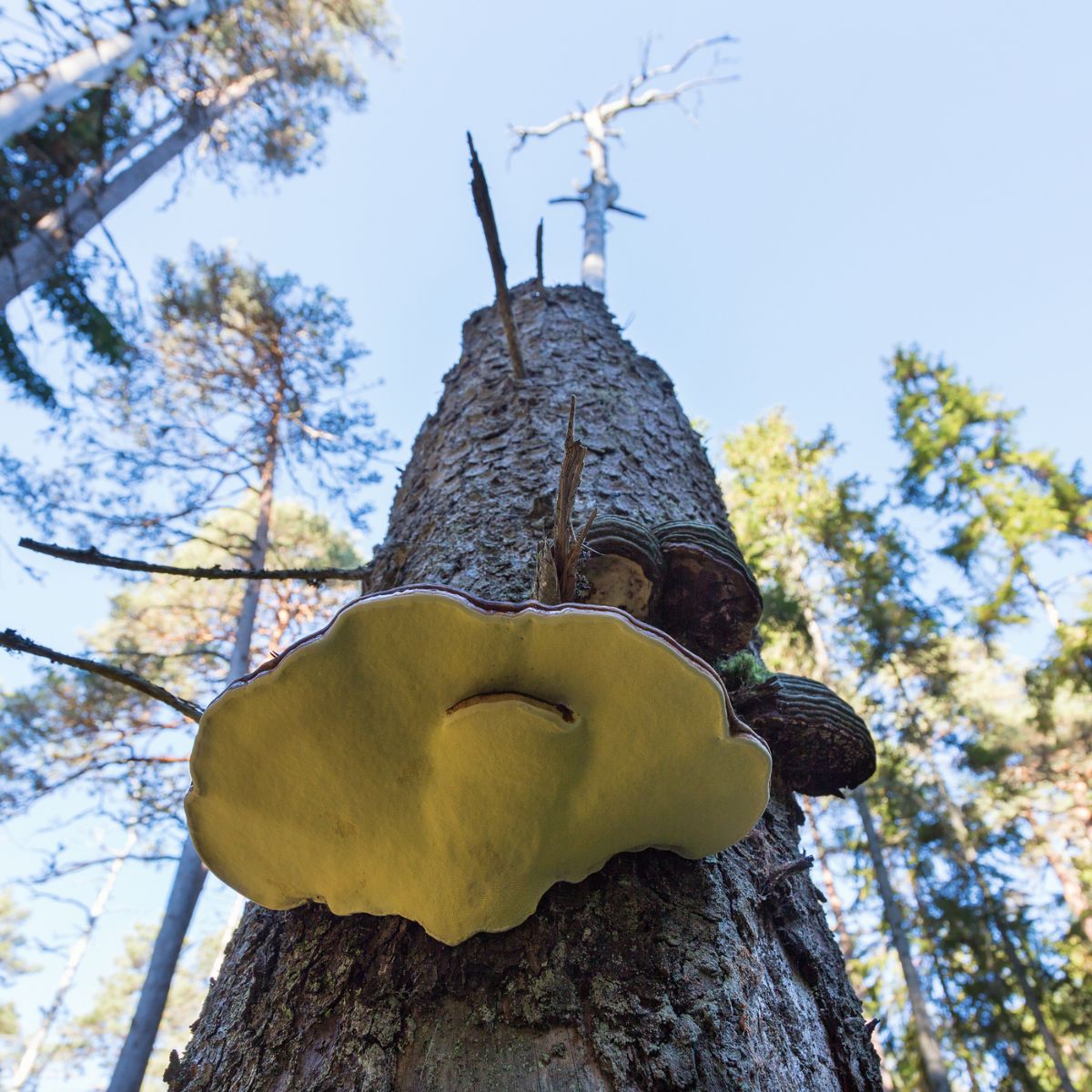 Removal of Polypore Brackets
If you discover bracket fungus on your tree, it's important to remember that the visible fruiting body is just a tiny part of the overall fungal infection. Removing the visible fruiting body will not eliminate the underlying problem. There is no "cure" for a polypore fungus infection and you can never remove it entirely from the tree. If you're concerned about the immediate health of the tree, our recommendation is:
Consult an Arborist: If you're unsure about the tree's stability or the extent of the fungal infection, it's best to seek professional advice. An experienced arborist can assess the tree's condition and recommend appropriate action.
Selective Pruning: If the mushroom growth is limited to a specific branch, the arborist may recommend pruning the infected branch to prevent further spread of the fungus. Proper pruning techniques should be followed to minimize the risk of additional tree damage.
Avoid DIY Removal: It's generally not recommended for homeowners to attempt removing tree bracket fungus themselves. Improper removal techniques can cause further harm to the tree and increase the risk of tree injury.
Monitor Tree Health: Regularly inspect the tree for any signs of deterioration or changes in its structure. If you notice further decay, extensive bracket mushroom growth, or increased instability, consult an arborist for further evaluation.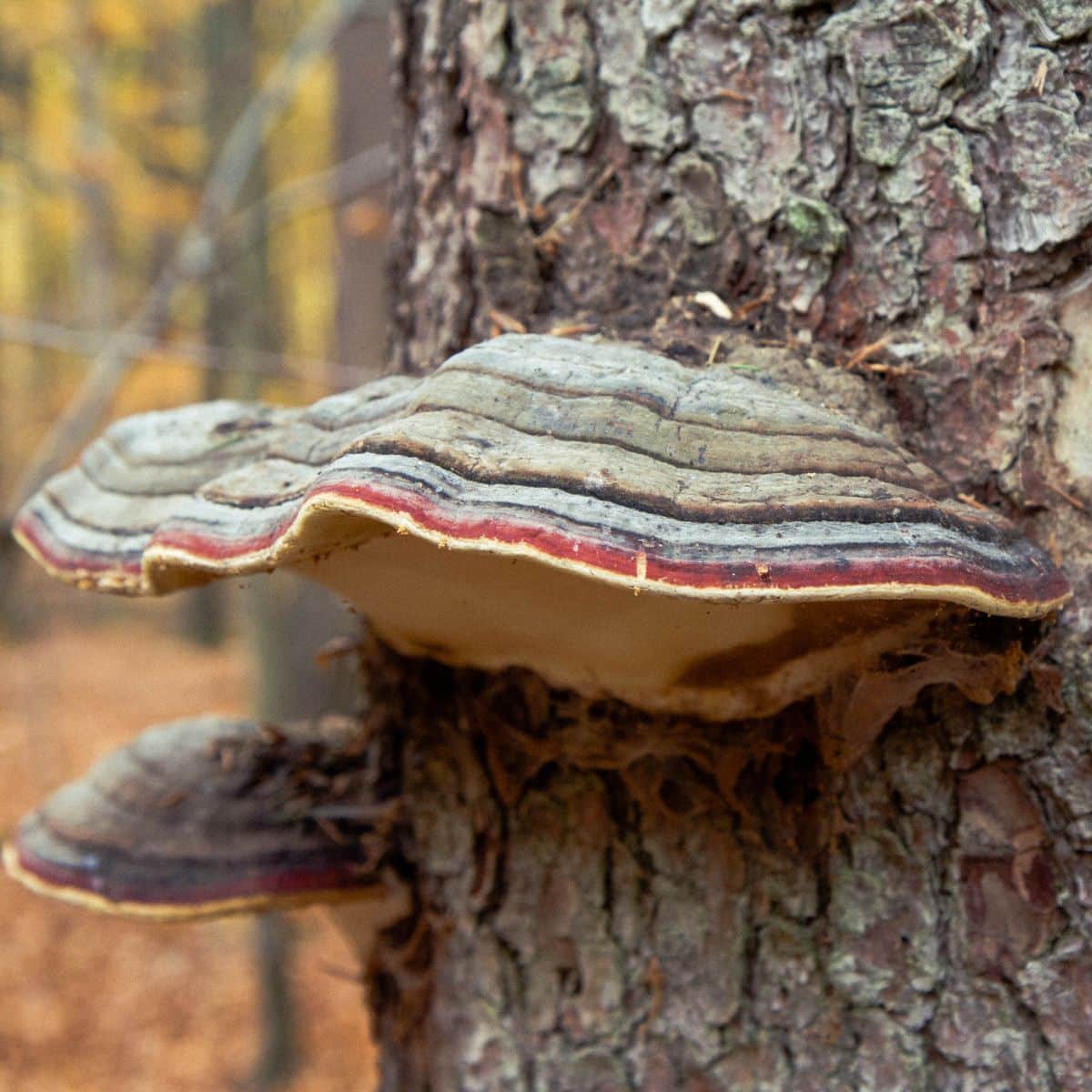 Next time you venture into the great outdoors, keep an eye out for these remarkable bracket fungi, and who knows, you might stumble upon a delicious, medicinal, or artistic treasure!
Common Questions About Polypore Mushrooms
Are any polypores poisonous?
Most polypore species are non-toxic. However, the Hapalopilus genus does have species that have caused poisoning, but not death. In general, many species are just inedible due to being tough, woody or leathery, and plain unpalatable.
What is the largest polypore mushroom?
Meripilus giganteus is an enormous species, with caps that reach up to 20″ wide! It grows at the base of stumps. This one does not grow in North America. In North America, the related Meripilus sumstinei reaches up to 11″ wide.