The birch polypore is a widespread fungus that has been used medicinally for a very, very long time. As the name suggests, birch polypore (Fomitopsis betulina) grows on birch trees. Anyone who has been near a birch tree has most likely seen the birch polypore; they're that common.
Side note: Birch polypore is NOT chaga. Chaga (Inonotus obliquus) also grows primarily on birch trees, but these are not the same mushrooms. I've seen a lot of misinformation floating around on the web around this. Folks think because this polypore grows on birch, it must be the famous chaga. These are two VERY different mushrooms that both happen to grow primarily on birch trees. Birch polypore is much more common and widespread.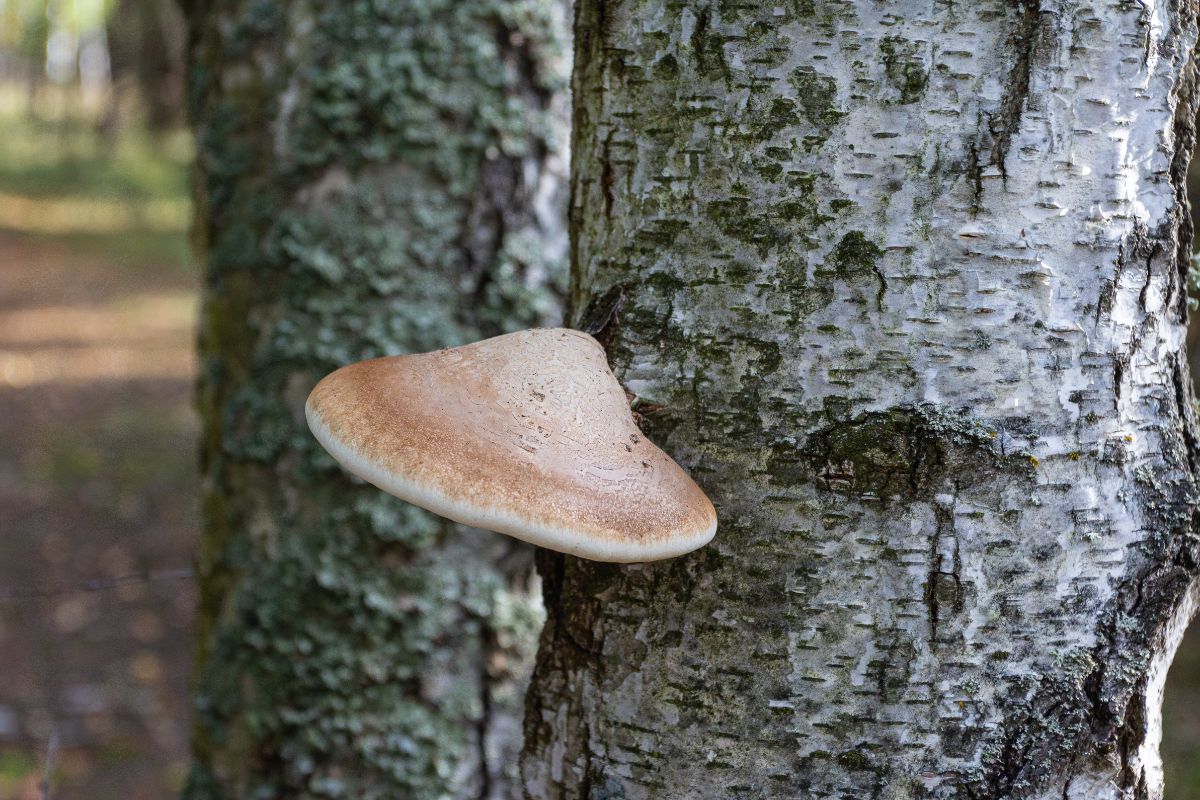 Jump to:
All About Birch Polypore
These common fungi grow almost exclusively on birch trees but sometimes are found on other tree species. They look like white hooves bursting from the tree.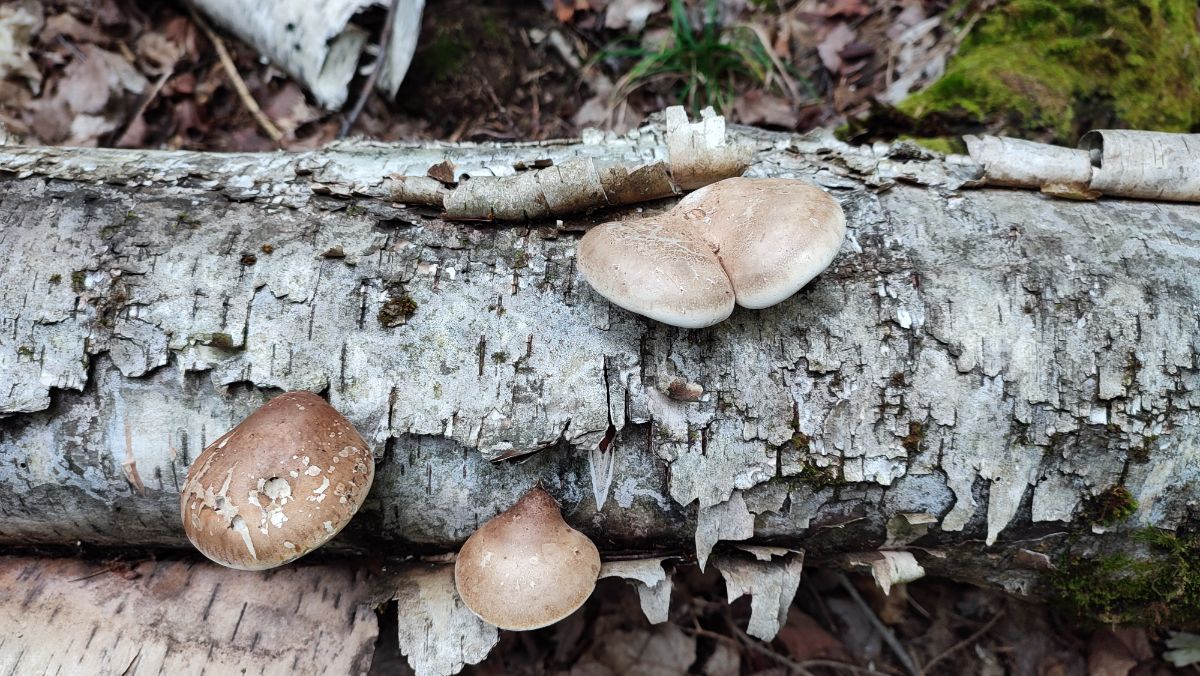 Birch polypore was previously known as Piptoporus betulinus, but a molecular analysis in 2016 put it in the family Fomitopsis. It has a very long history of use as a medicinal. Otzi, the Iceman, whose frozen body was found in the Italian Alps, was carrying birch polypore on a string around his neck. Otzi lived around 5,300 years ago and is the oldest natural mummy ever found. It is thought he carried the fungus to treat intestinal parasites, which he was suffering from horribly.
Otzi was traveling by himself, and he had one other fungus in his possession, the Tinder polypore, used to make fires. The fact that he carried these two fungi and no others speaks to their importance to him and his lifestyle.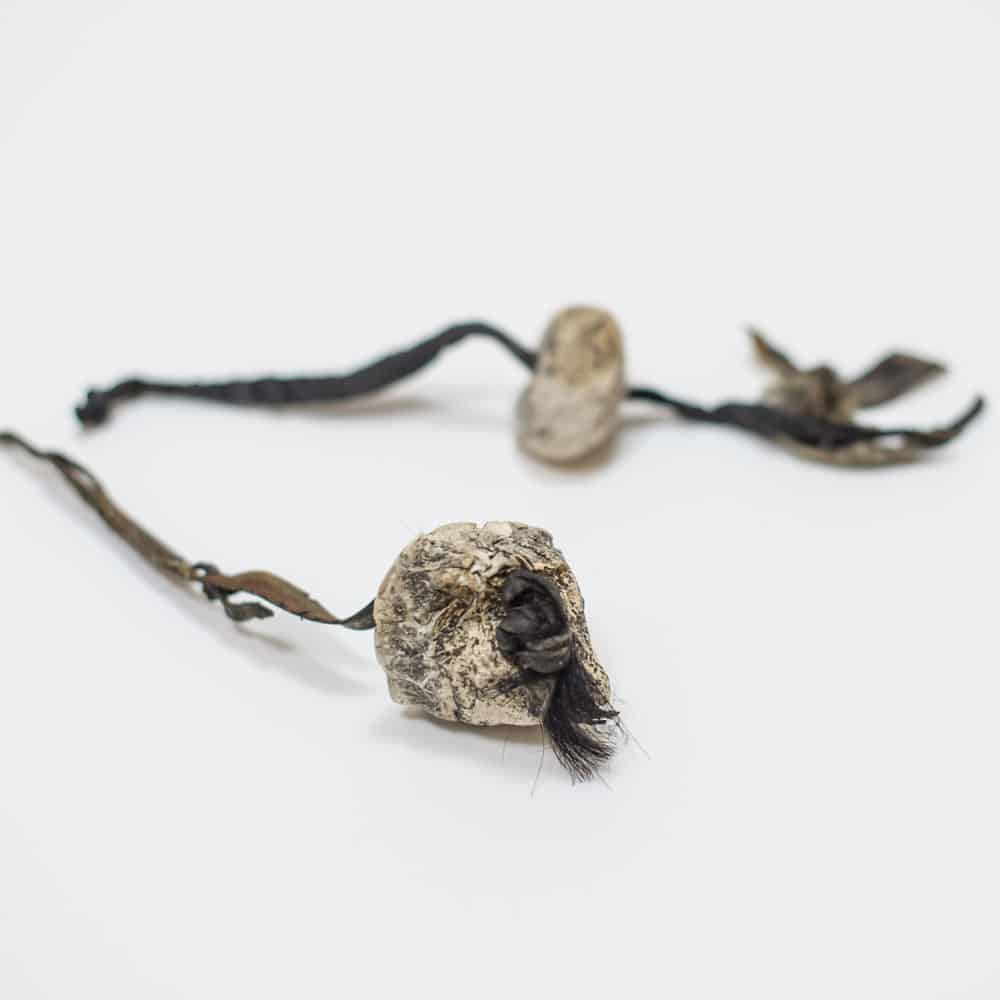 This polypore fungus fruits annually, but it lives for a long time, as is common with most polypores. It will die and dry out on the tree many months after first appearing. Birch polypores are also known as birch brackets or razor strop. The name "betulina" refers to birch trees, scientifically known as Betula.
The name razor strop comes from its traditional use as a means to sharpen a razor. The cut surface of the fungus is smooth and a little velvety, apparently ideal for honing razor blades.
These polypores play a vital role in their ecosystem. They are home and food for hundreds of insects. A 1984 study of 2600 birch polypore specimens in eastern Canada discovered 172 different types of insects and 59 types of mites.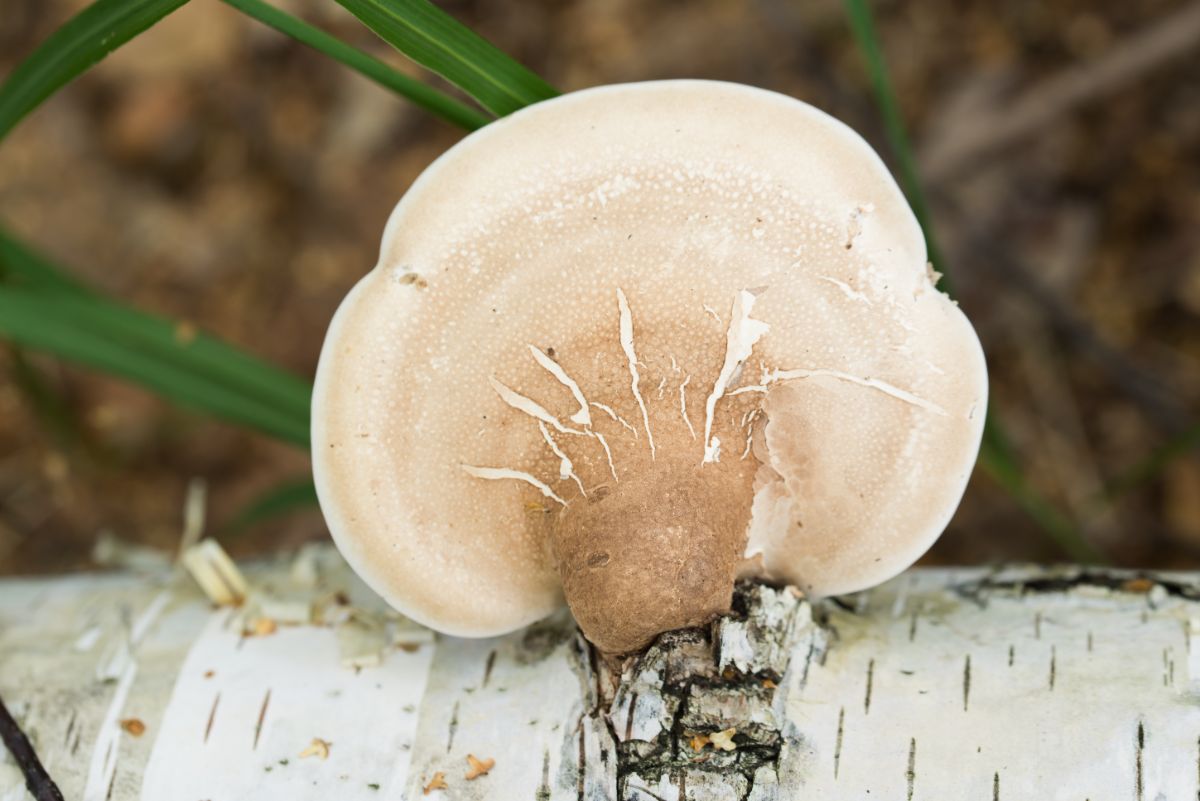 Birch Polypore Identification
Season
Birch polypores grow year-round. They tend to fruit in the spring, then stay on the tree for months or years until they eventually die and fall off.
Habitat
These fungi grow on the dead or dying wood of birch trees. This includes paper birch, yellow birch, and European white birch. It is saprobic, feeding off the dead and decaying wood. Sometimes, it acts as a parasite, too, and is found on living trees, but this is much less common.
Birch polypores grows around the world, including in Europe, North America, and western Asia. There are reports of it being in South America, also.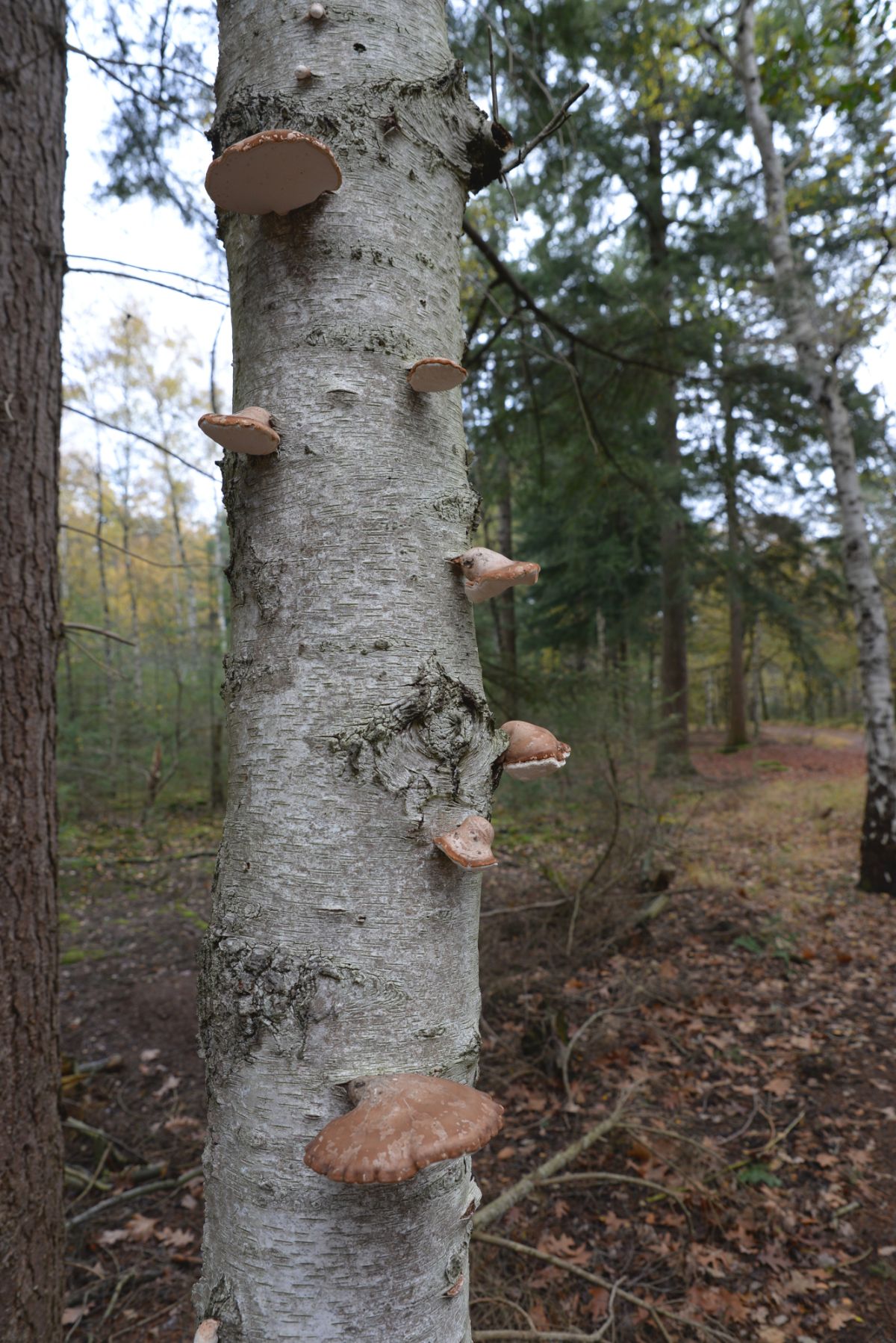 Identification Guide
Cap
Birch polypore caps are rounded, like hooves, white and very light tan, and look like big lumps emerging from the tree. They range in size from 2-10 inches wide and 1.5-4 inches thick. In youth, the cap is more creamy white than tan, but it turns almost completely dull brown with maturity.
The edge of the cap is rolled under to form a rim around the underside. The caps may become malformed with age, so they're not precisely hoof-like but more contorted. The cap does not change color when cut or bruised.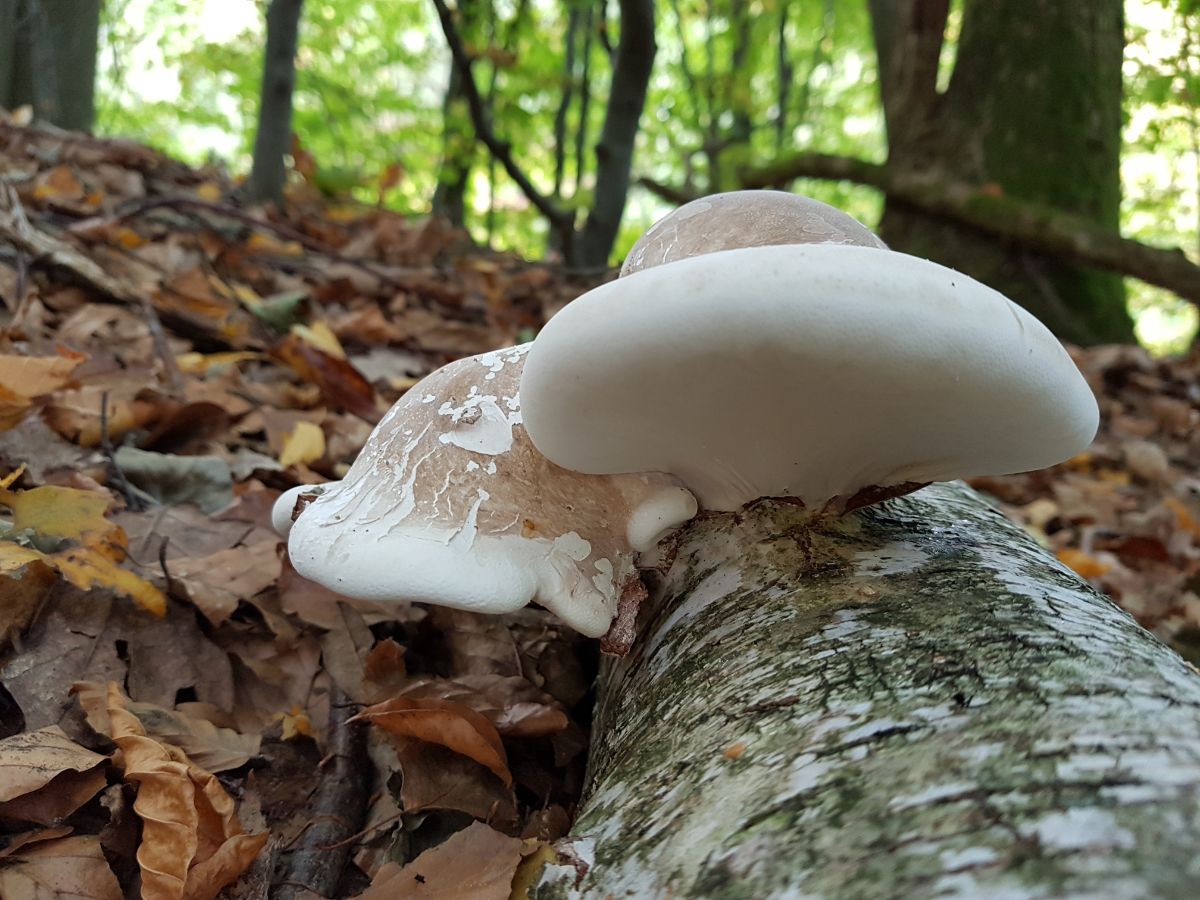 Pores
The underside of the fungus is smooth and white. It does not have gills. As the fungus ages, the pores turn tan or brown. The pores do not stain with bruising.
Stem
This fungus doesn't have much of a stem if any at all. It is a stubby, almost non-existent protrusion that attaches to the tree bark. It is the same color as the cap.
Flesh
The flesh of this polypore is white and does not change color when cut or bruised. It is dense yet soft, a bit like a marshmallow, but with a more rubbery texture.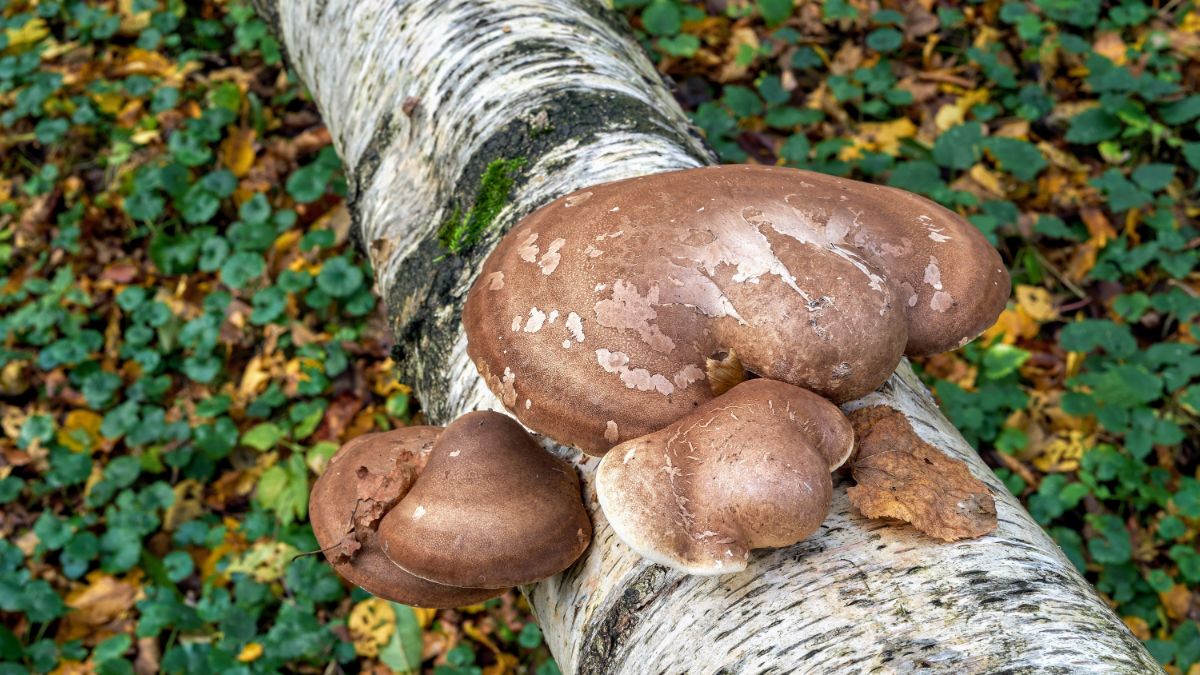 On The Lookout
This isn't a difficult fungus to find if you live around birch trees. Almost every stand of birch trees has a few birch polypores. Sometimes, the fungus is too old or dead and has fallen off the tree. But, if you pay attention, you should see new ones fruiting in the spring.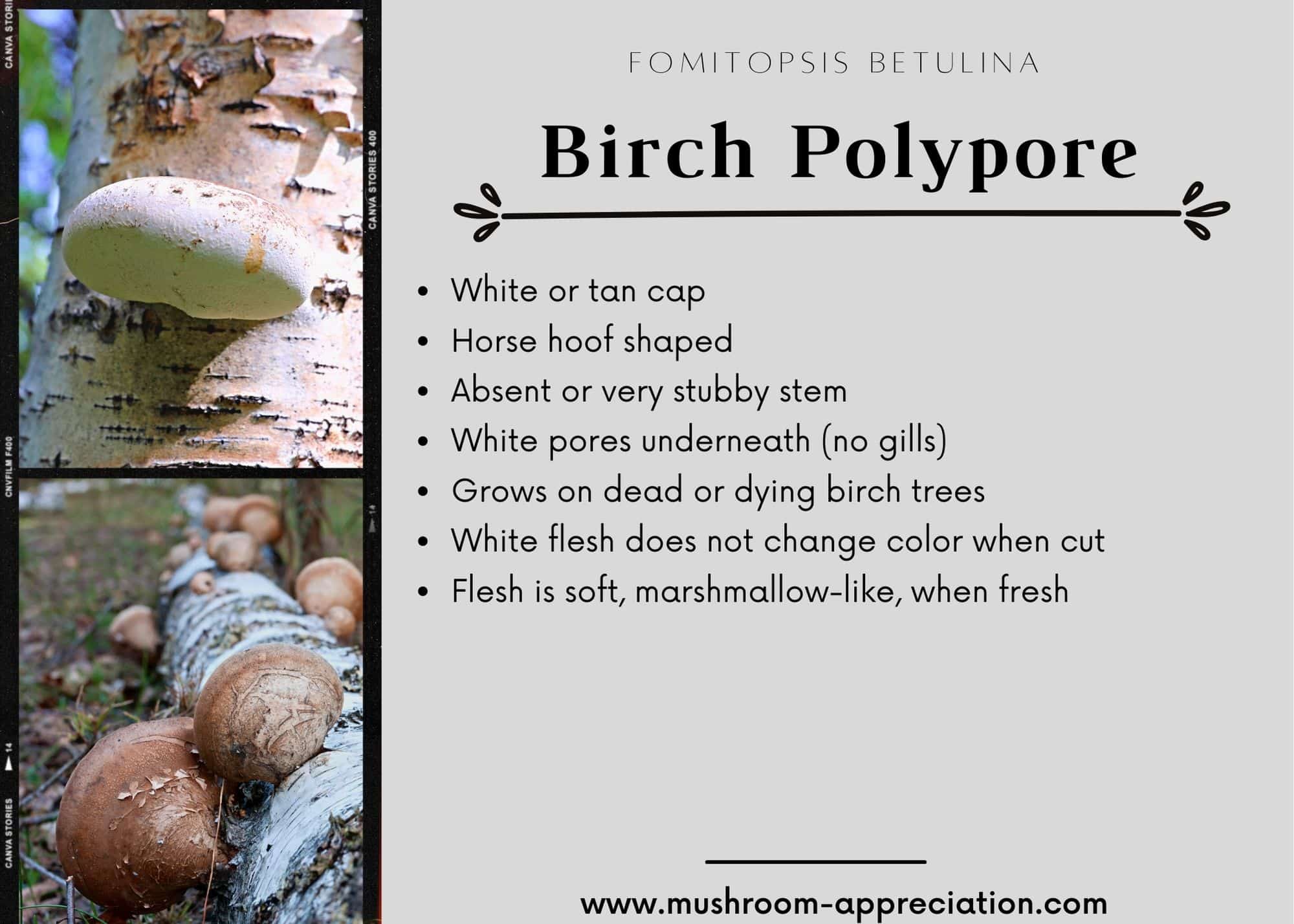 Medicinal Properties of Birch Polypore
The birch polypore contains agaric acid, which is poisonous to whipworms, an intestinal parasite. It is believed this is why Otzi the Iceman was carrying the fungus, to be used as a laxative to expel whipworms.
In addition to killing parasites, this polypore is also traditionally used as an anesthetic, immunity booster, anti-inflammatory, antiseptic, styptic (stops bleeding from cuts), and to fight viral and bacterial infections. It contains an antibiotic compound called piptamine, which has successfully been used to treat e-coli.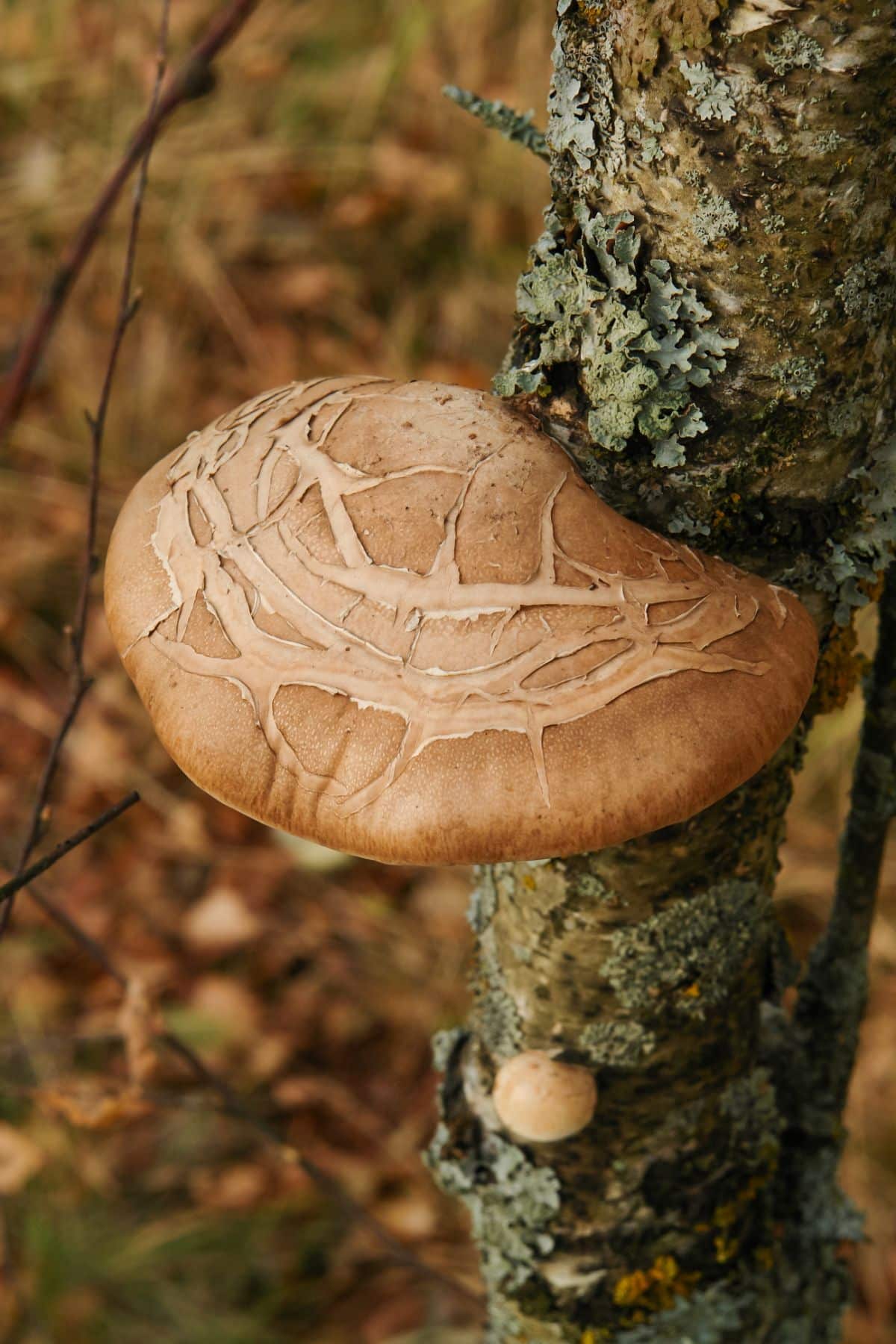 The relationship the fungus has with its host tree plays a huge role in its medicinal capabilities. Birch trees have long been known to carry medicinal properties. Betulinic acid from birch trees reduces inflammation, treats wounds as an antiseptic, and stops bleeding. It also may initiate apoptosis, the death of cancer cells. The fungus soaks up these properties from the tree as it gathers nutrition, creating a super concentrated version in mushroom form.
Check out these articles if you'd like to learn more about the medicinal properties of birch trees and the birch polypore.
Birch Polypore Bandages
The outer layer of fresh birch polypore is thick, like skin. It can be peeled off and used to wrap around cuts of fingers – its sticks naturally, too! It might take a little finagling to use it on a large wound, but it is possible.
Applying birch polypore on a cut or minor wound stops the bleeding and provides powerful anti-inflammatory and antiseptic properties to keep the cut from getting infected. And, because you peel it fresh off the mushroom, it is a clean, simple, and easily accessible option, especially while out in the woods mushroom foraging.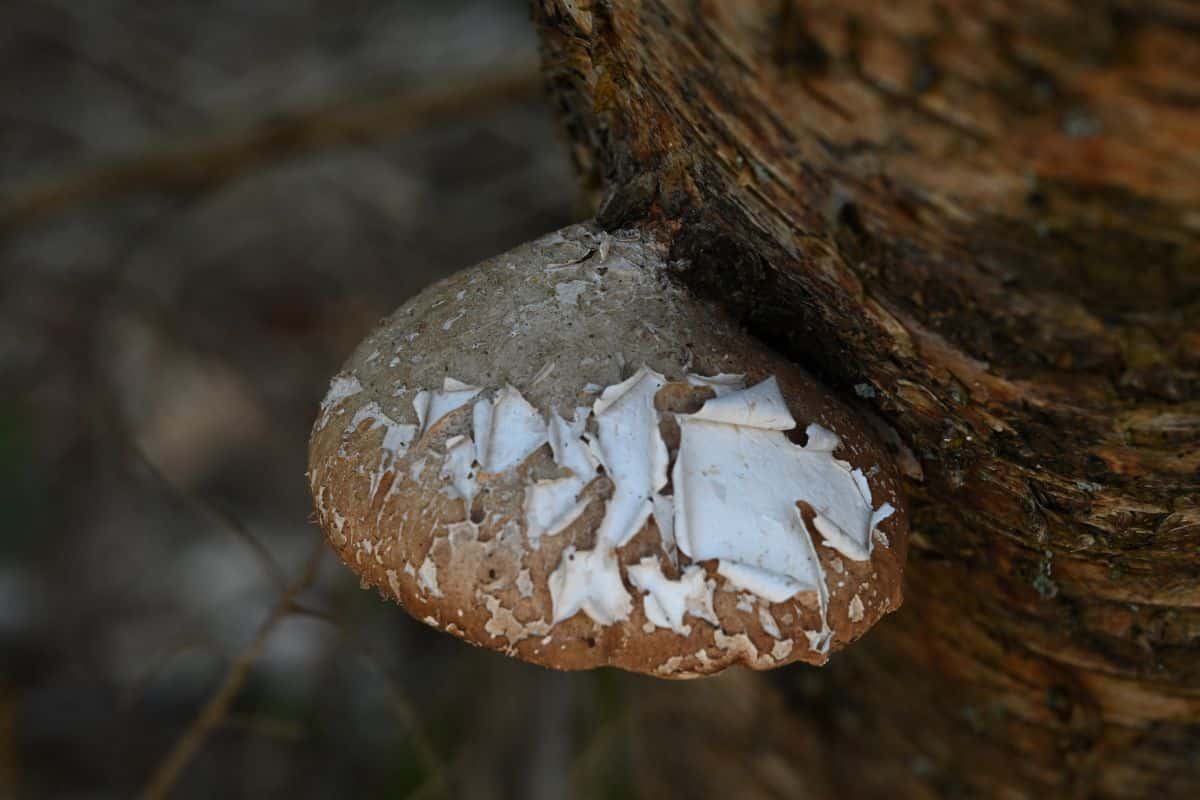 How To Prepare Birch Polypore
This mushroom is commonly made into a tea or tincture. Do not cook it and eat it like button mushrooms; it's too tough and unpalatable for that. The end result is generally a bit bitter, so it is best served with a little sweetener, like maple syrup or fruit syrup.
Birch polypore tea freezes well. You can make ice cubes of the tea and add them to drinks, soups, or smoothies.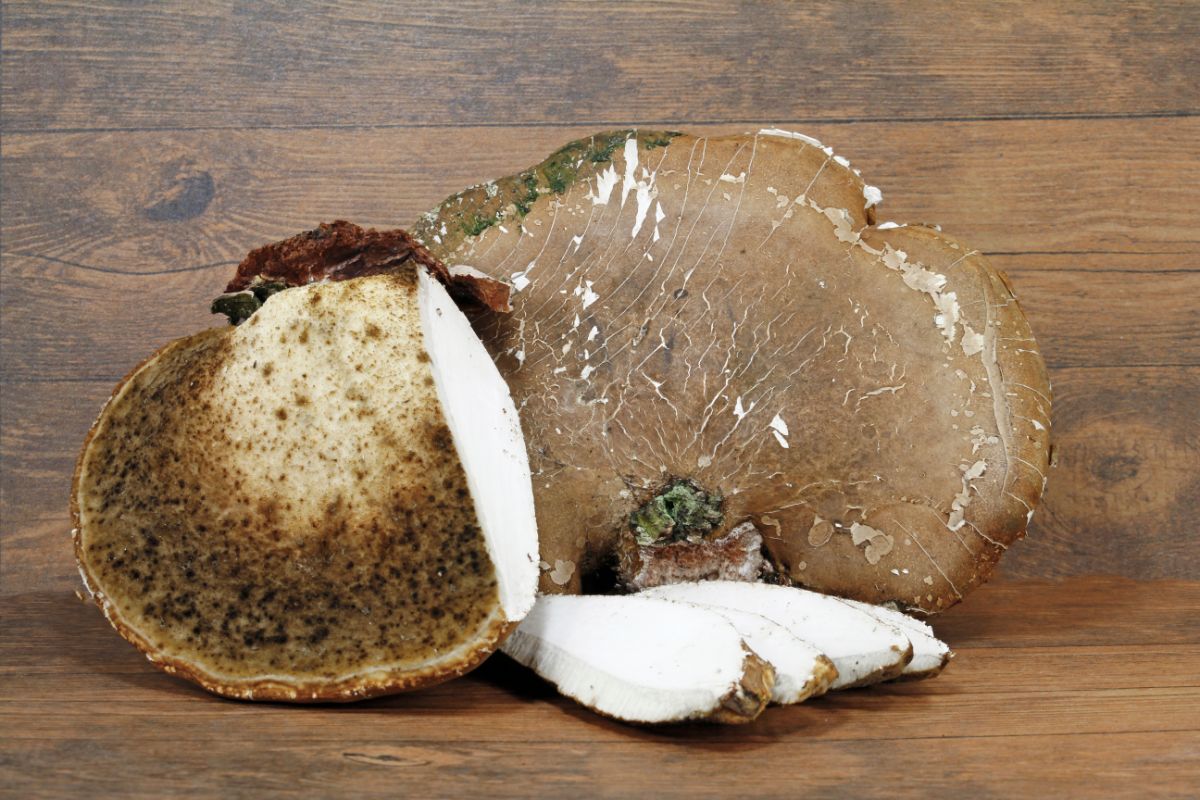 Birch Polypore Tea
You can use dried or fresh birch polypores to make the tea. Using fresh specimens is quicker because you don't need extra time to dry them. However, tea made from fresh fungus is more bitter and has much less flavor. When the tea is made with dried polypore, it's a bit smoother and more flavorful but still bitter to an extent. So, whichever method you prefer is acceptable; it's up to you.
Bring 2 cups of water to a simmer.
Add 2-3 pieces of cut up birch polypore mushroom
Simmer for 1 hour.
Do not let it boil, as that may destroy some of the medicinal properties
Turn off the heat and let it cool completely
Store in the fridge in a glass jar or make into ice cubes
Drink ½ cup every few days as a tonic for the immune system. Drink with a sweetener or add to coffee, smoothies, or another type of prepared tea.
Dehydrated Birch Polypore
This fungus is easy to dehydrate. You can cut it up into pieces and dry them in a dehydrator or sun-dry them if you've got a bunch of nice sunny days in a row. It's easier to store this polypore when it is dried.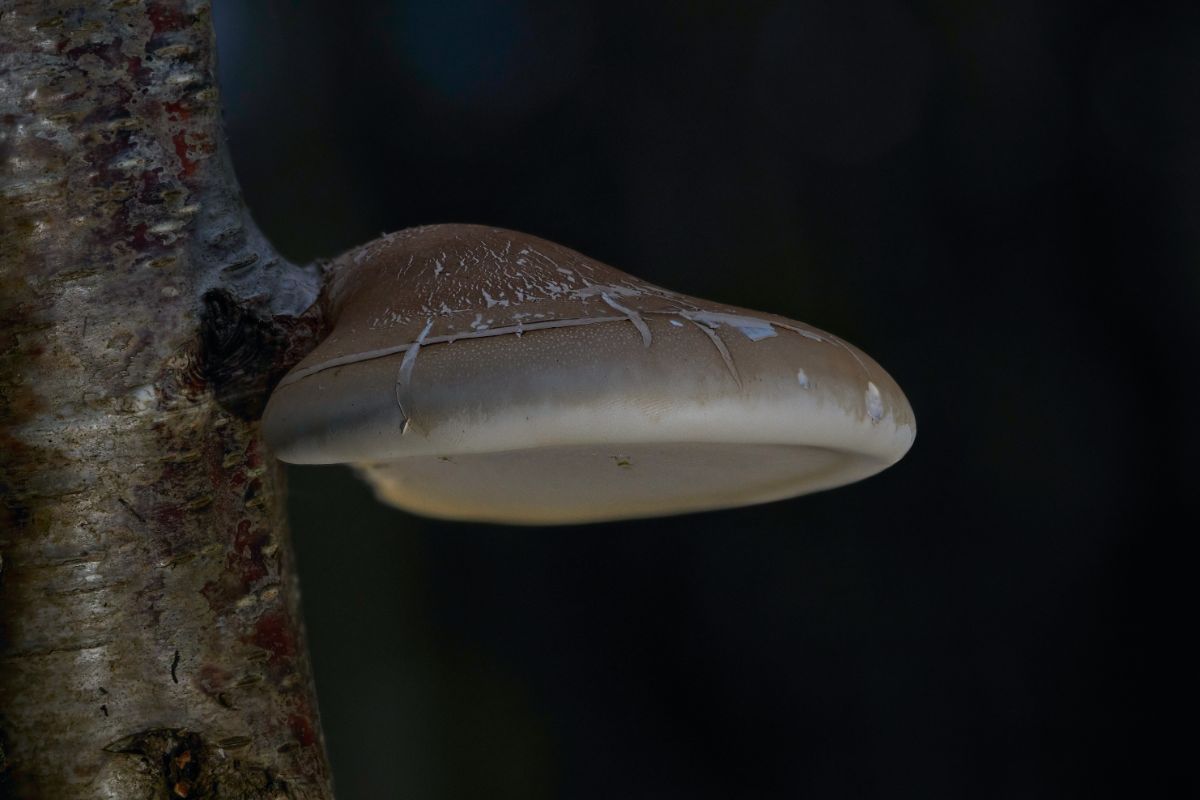 Birch Polypore Common Questions
Can I grow birch polypore?
Technically, it is possible. Some cultivators have had a little success but not reliable success. They aren't able to duplicate the results consistently.
Can I use old birch polypore to make tea?
Once the fungus has blackened or become very dark brown, it is no longer viable as a medicinal mushroom.