The umbrella polypore (Polypore umbellatus) isn't common, but oh boy, is it a choice edible! If you are lucky enough to stumble upon this mushroom, it is a good day. Umbrella polypores are also known as lumpy brackets (umbrella is such a better descriptor!). The Chinese name for this beloved fungus is zhu ling.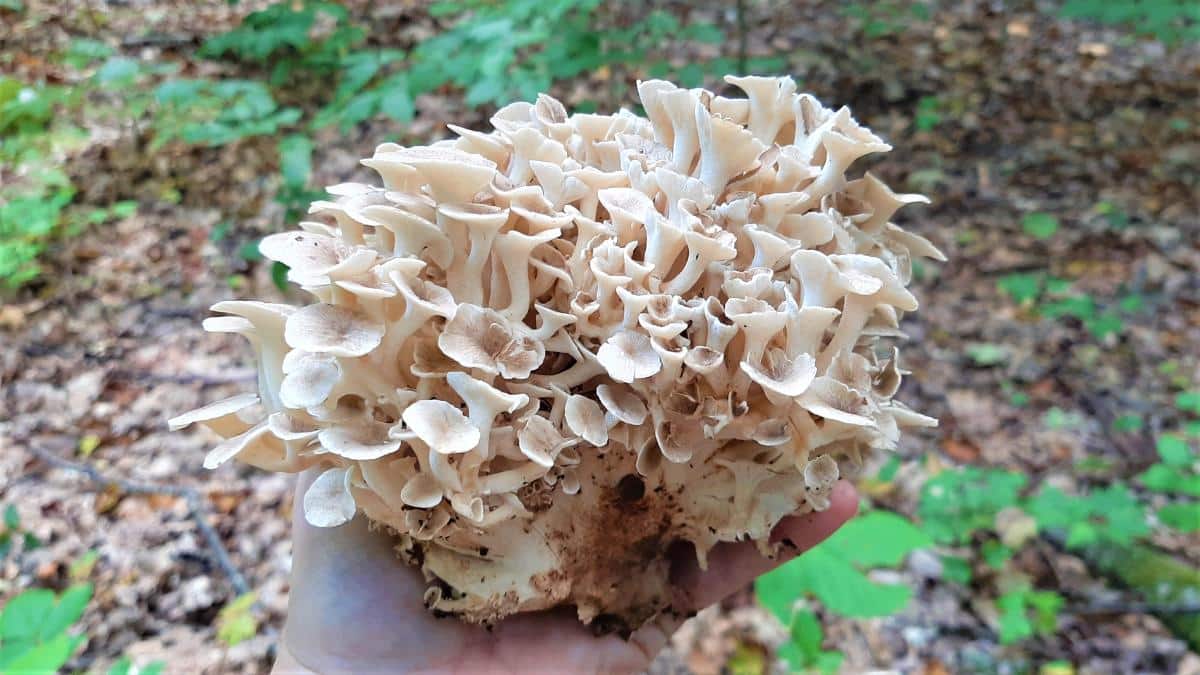 Jump to:
All About Umbrella Polypores
The umbrella polypore is a weak parasitic and saprobic – it causes butt rut in trees and feeds off the decaying organic material. It grows at the base of hardwood trees, where its mycelium has taken hold. It is a slow killer, thankfully, for those seeking this delicious edible fungus. Slow is good because that means it will return yearly to the same location, sometimes for a decade or more. It continues decomposing the wood, even after the tree dies.
Umbrella polypore is listed as Grifola umbellata in many older mushroom foraging guides. Its growth habit is quite similar to the famous Grifola frondosa, aka Maitake. In 2013, a genetic study showed a lot of variation between Asian and other populations of Polypore umbellatus. This species may actually be many species; the exact taxonomy still needs to be explored.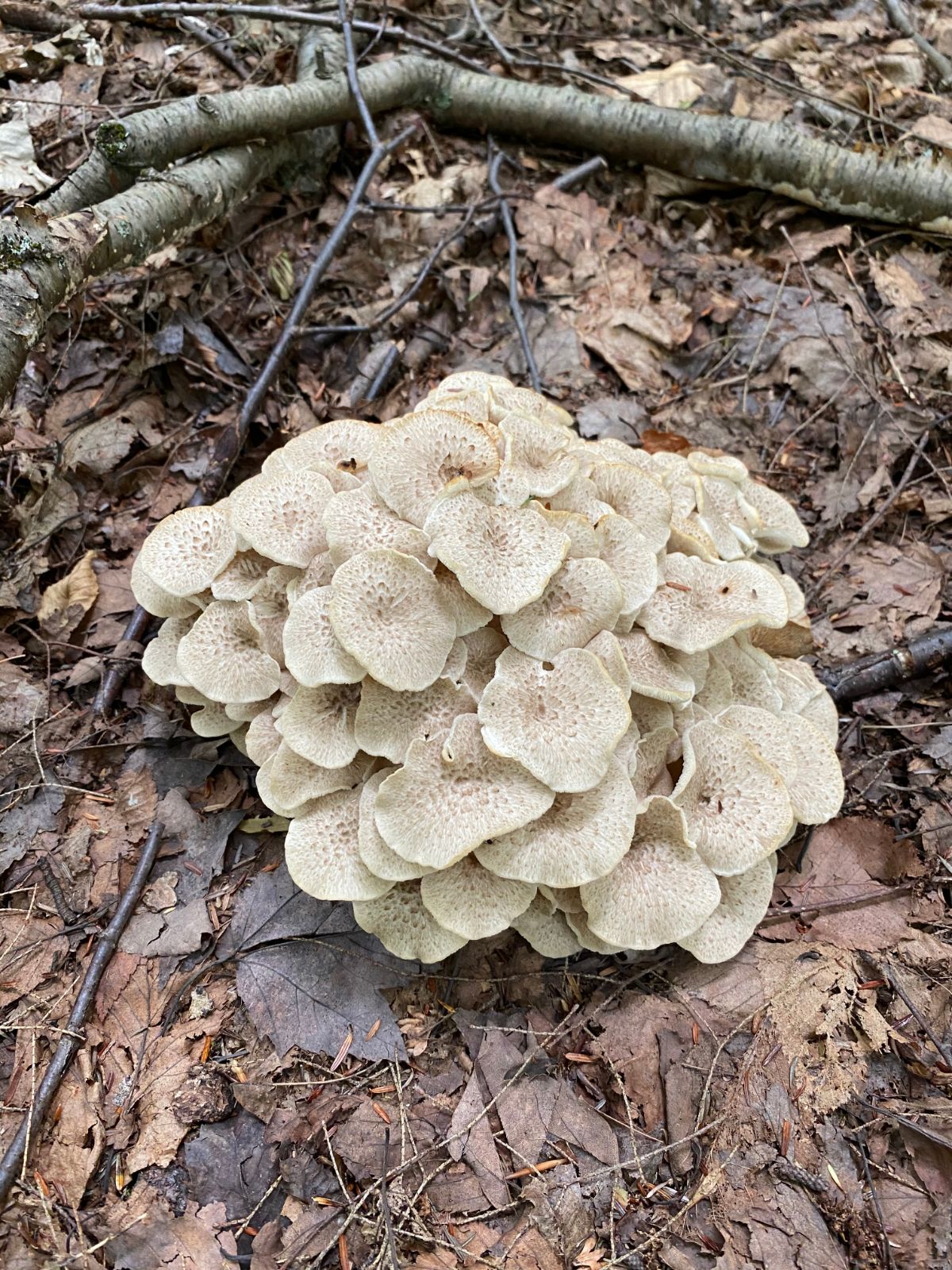 This fungus is rare to find but is widely distributed across North America. It seems to be more common in the northern states.
There is some debate as to whether or not these fungi should be harvested due to their rarity. We recommend only harvesting this species if you see multiple fruiting bodies. Harvest one and leave the others to spread their spores. Letting at least one spread its spores means the potential for more patches in the future, something this forager would absolutely love to see! If you just see one fruiting body, please leave it.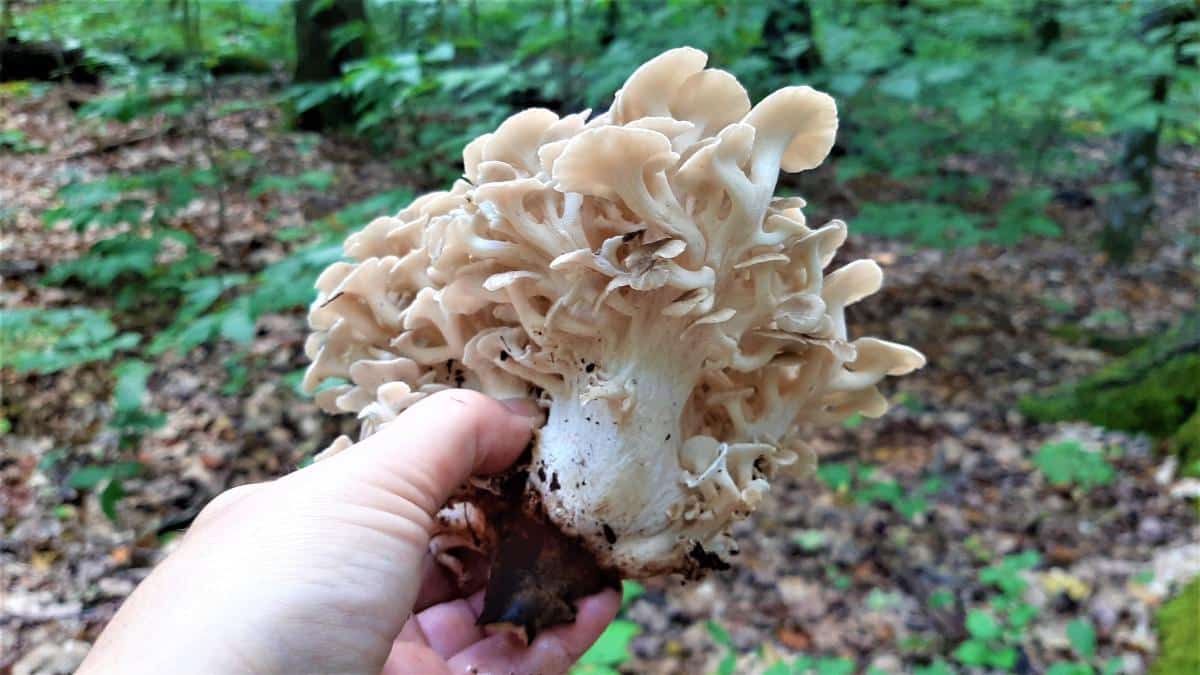 Umbrella Polypore Identification
Season
Spring, possibly summer, and sometimes fall. It seems to be very regional or just specific to the particular specimen.
Habitat
At the base of dead or decaying hardwood trees, with a preference for beech and oak. They also seem to like ash trees. They only grow from the ground, never on the actual tree.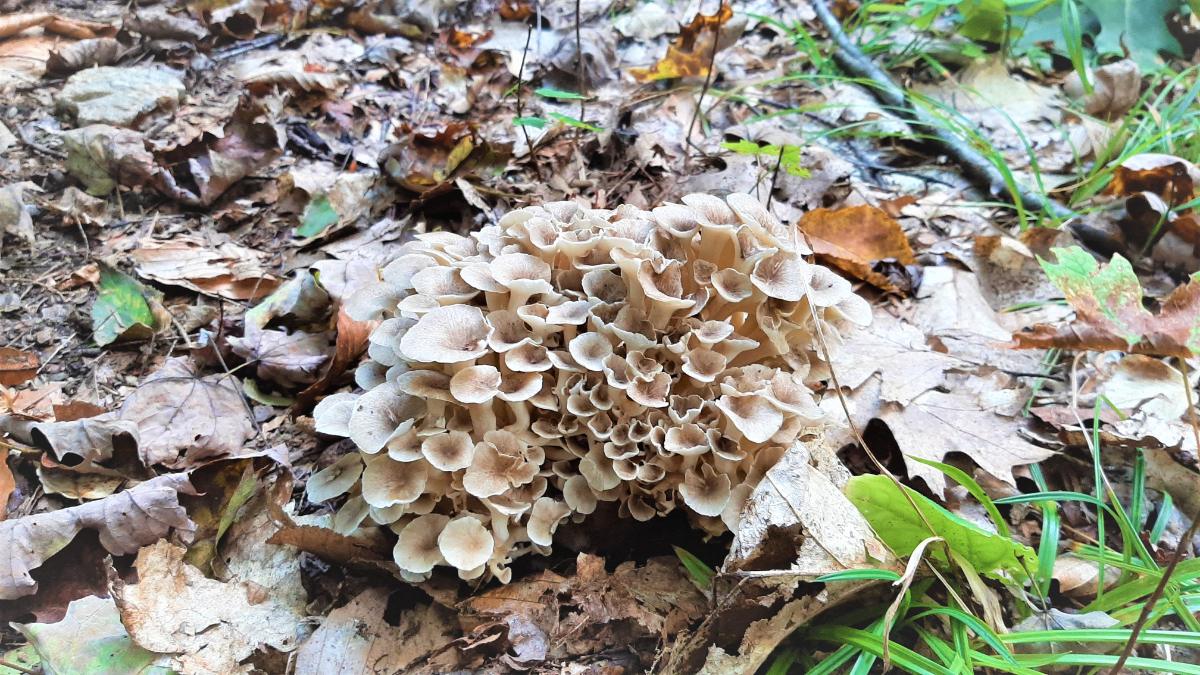 Identification
The fruiting body of the umbrella polypore is comprised of many caps, all emanating from a single base. The branches are fused together at the bottom. Many branches emerge from the base stem to produce many caps, which resemble many little umbrellas bunched together – an umbrella bouquet. The cap and stem together also look like a bunch of little funnels, especially when young.
The overall appearance is a rounded, compounded, dense body with multitudes of caps at the outer edges. There are sometimes 100 or more caps in one fruiting body. It resembles the growth of Maitake (Hen of the woods, Grifola frondosa).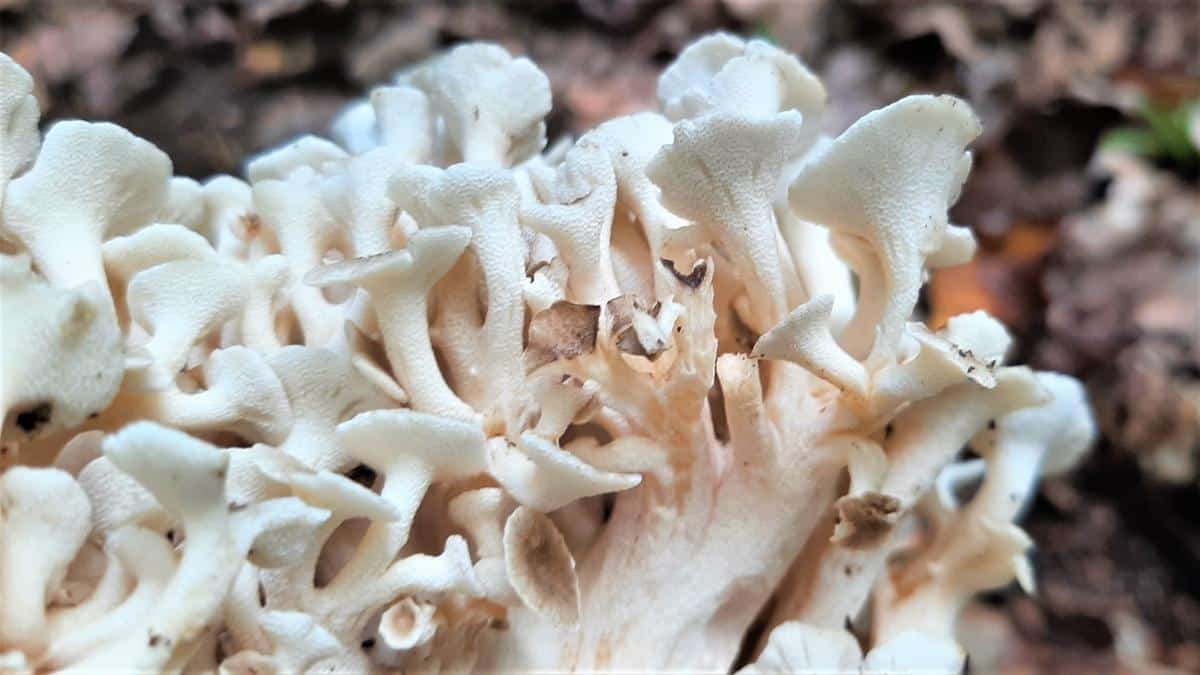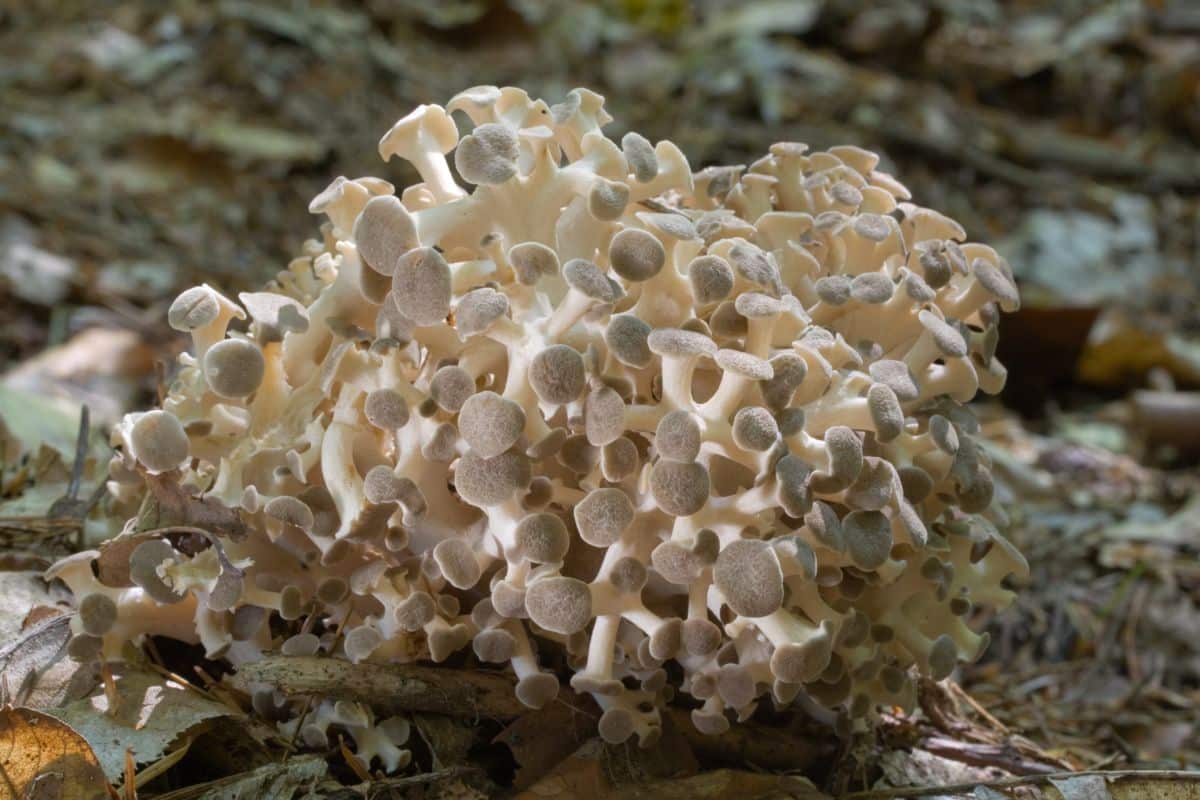 Each cap is small, ranging from .75-1.5 inches wide. They are grayish, tan, or cream-colored and start out convex. As they age, the caps flatten out or are lightly depressed with a belly button center. Caps are roughly circular, and the edges are usually a bit wavy. The edges bruise yellow when handled (usually, but not always).
Underneath the caps, the pore surface is white and smooth. The pores run down the stem quite far.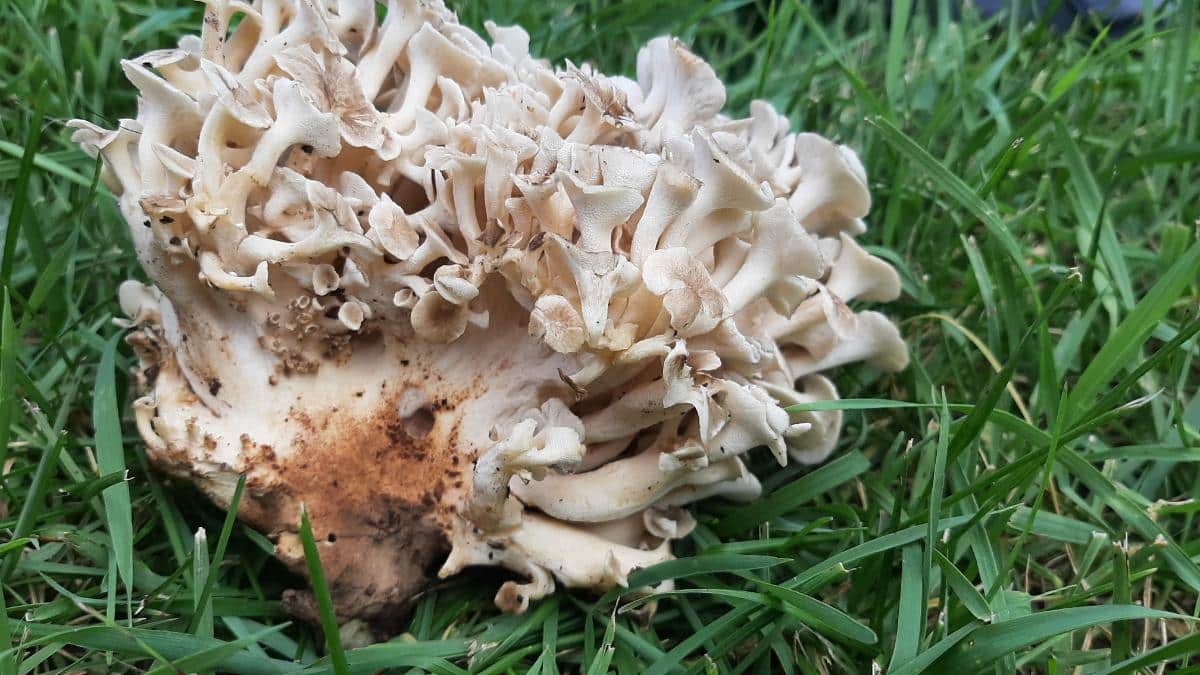 The dense central stem is primarily white but may be rusty brown at the base. It is often somewhat buried in the ground. All the branches coming from the central stem base are discernibly individual, even though they are packed together.
The flesh of the entire mushroom is white, dense, and pretty soft, though it will toughen with age. It does not change color when cut.
An umbrella polypore can reach up to 16 inches across – a fully mature species is quite the specimen.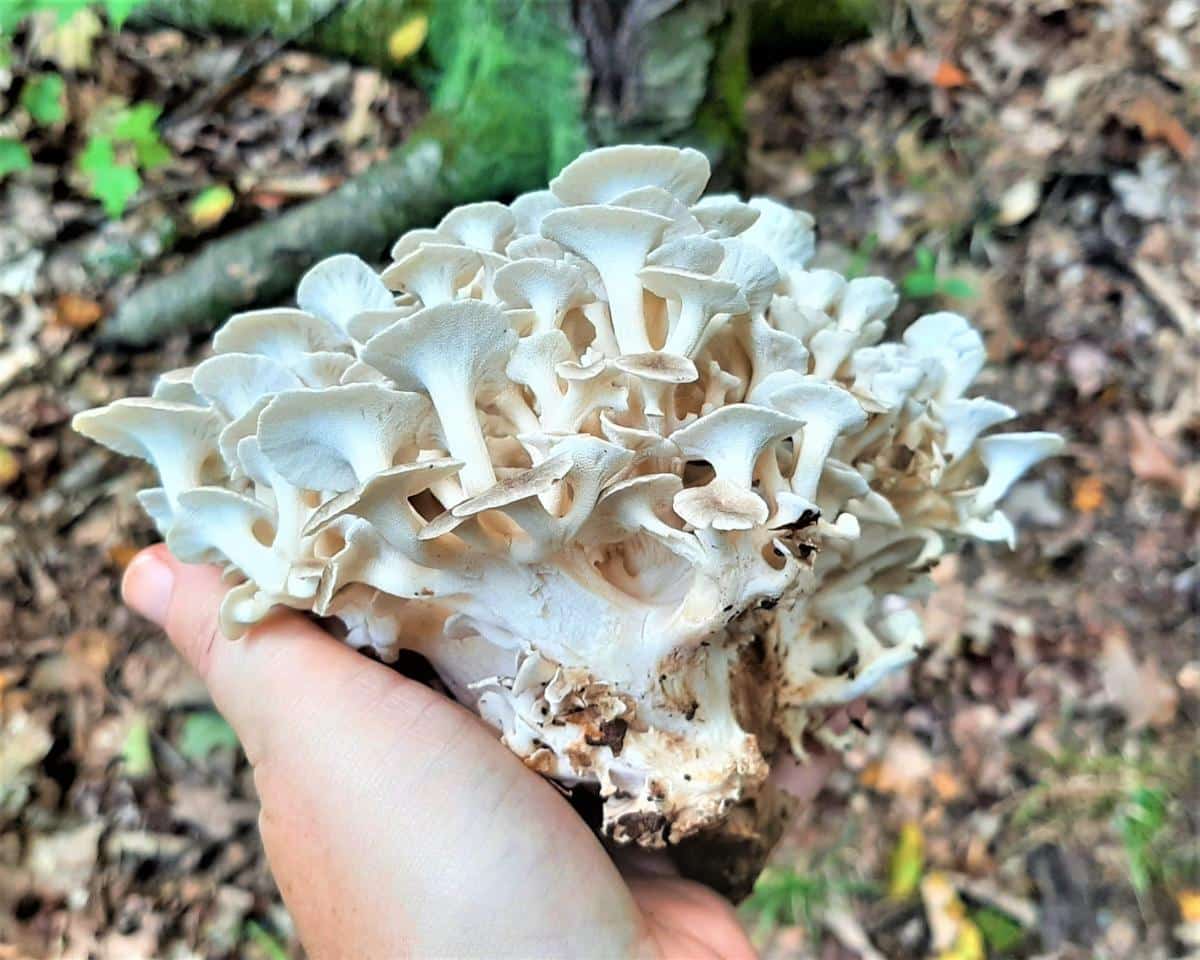 Foraging
Unfortunately, in addition to their rarity, umbrella polypores also decompose relatively quickly. And once they start decomposing, the taste is negatively impacted, taking on an acrid flavor. Pick the fungus when you see it; don't wait!
As noted above, we recommend only foraging if there is more than one fruiting body due to this species' rarity. Only take one and leave the others to spread their spores, and all the fingers crossed, develop new patches nearby.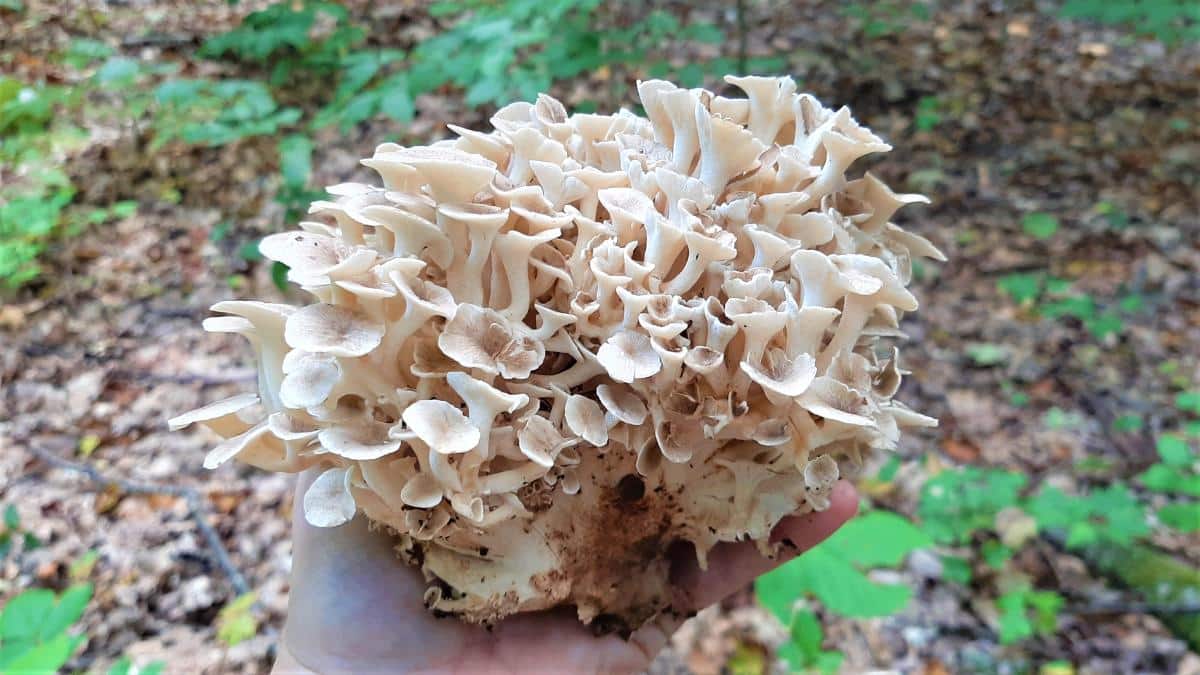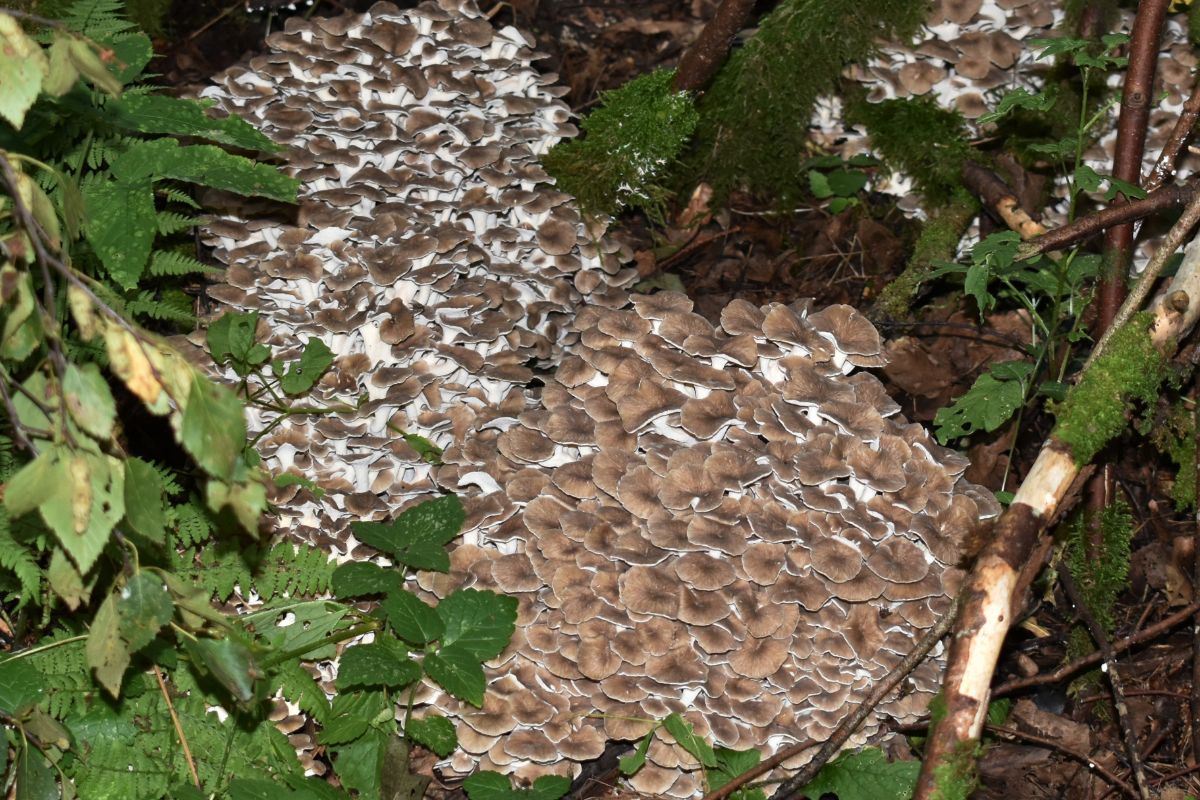 Umbrella Mushroom Lookalikes
Hen of the Woods, aka Maitake (Grifola frondosa)
This is the only fungus that remotely resembles the umbrella polypore, and it is quite easy to differentiate between them. Maitake caps are usually much darker, larger, and irregularly fan-shaped. Also, Maitake only occurs in fall, while the umbrella prefers spring.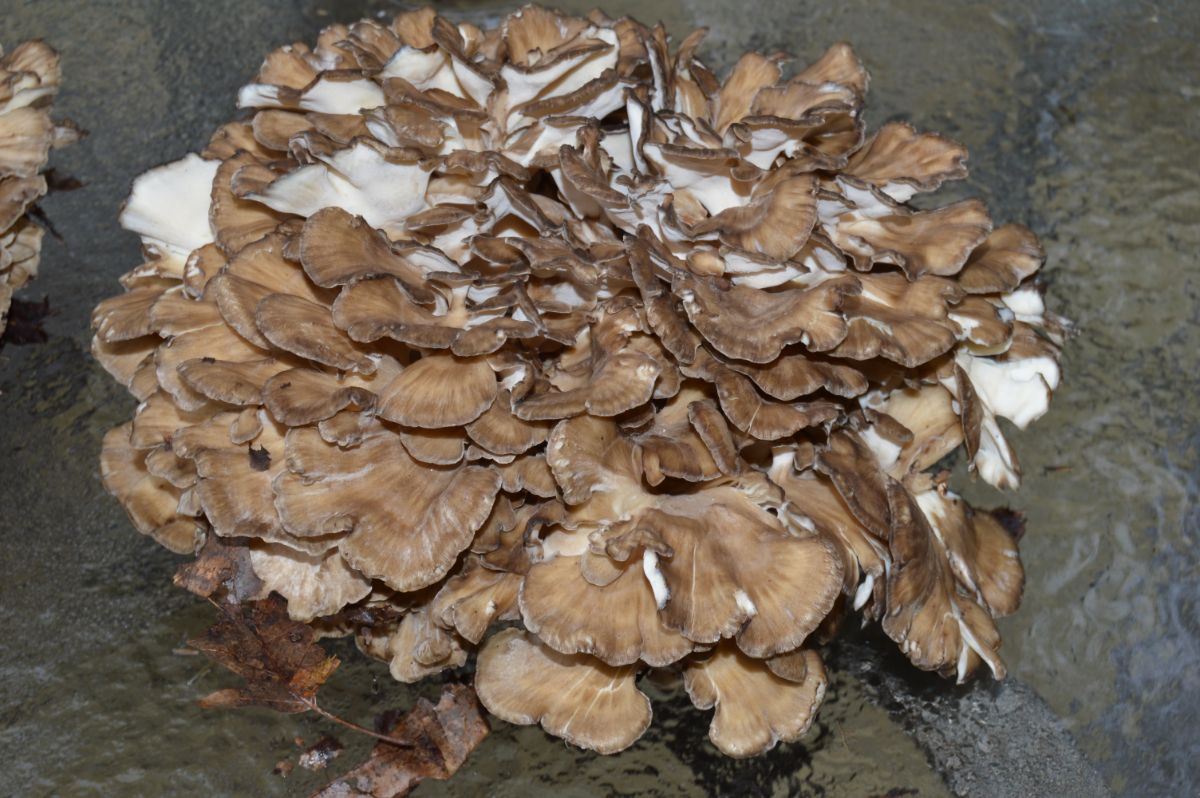 Cooking with the Umbrella Polypore
The flavor of umbrella polypores is a little musky, umami, and mushroomy. It can be used in a plethora of recipes and is super versatile. The texture is dense and meaty and holds its shape during cooking.
Use umbrella polypores in any recipe for Maitake or oyster mushrooms, as they substitute wonderfully.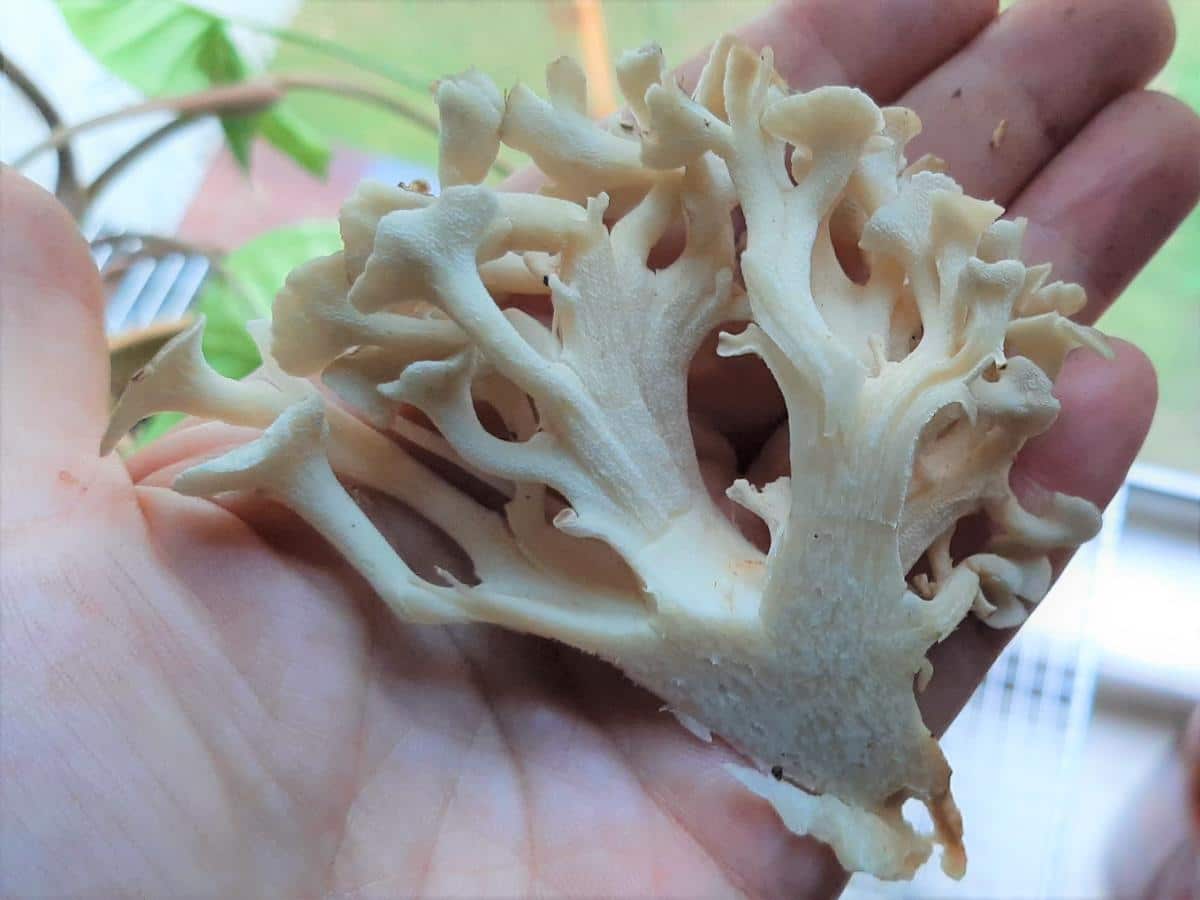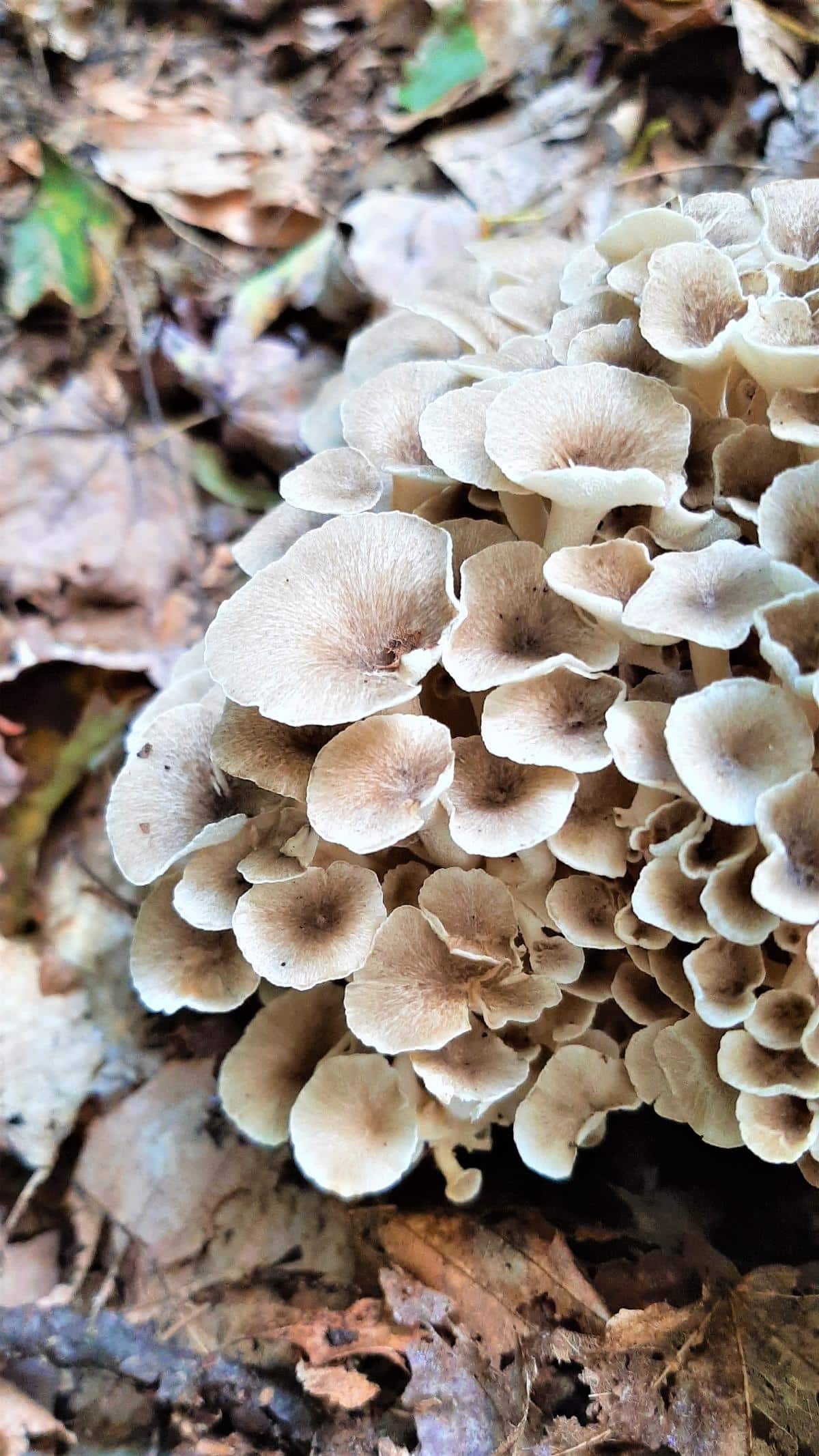 Interesting in learning about more edible mushroom species? Check out our guides to Edible Mushrooms and How To Be A Successful Mushroom Forager.
Common Questions About Umbrella Mushrooms
Can I grow umbrella polypore mushrooms?