The sheep polypore is bright white when it is young and often grows in dense groupings. From a distance, it looks like a herd of miniature sheep gathering in the forest. Sheep polypore mushrooms (Albatrellus ovinus) are an edible species found across North America but seem to be more common in western states. It is also commonly known as the forest lamb mushroom.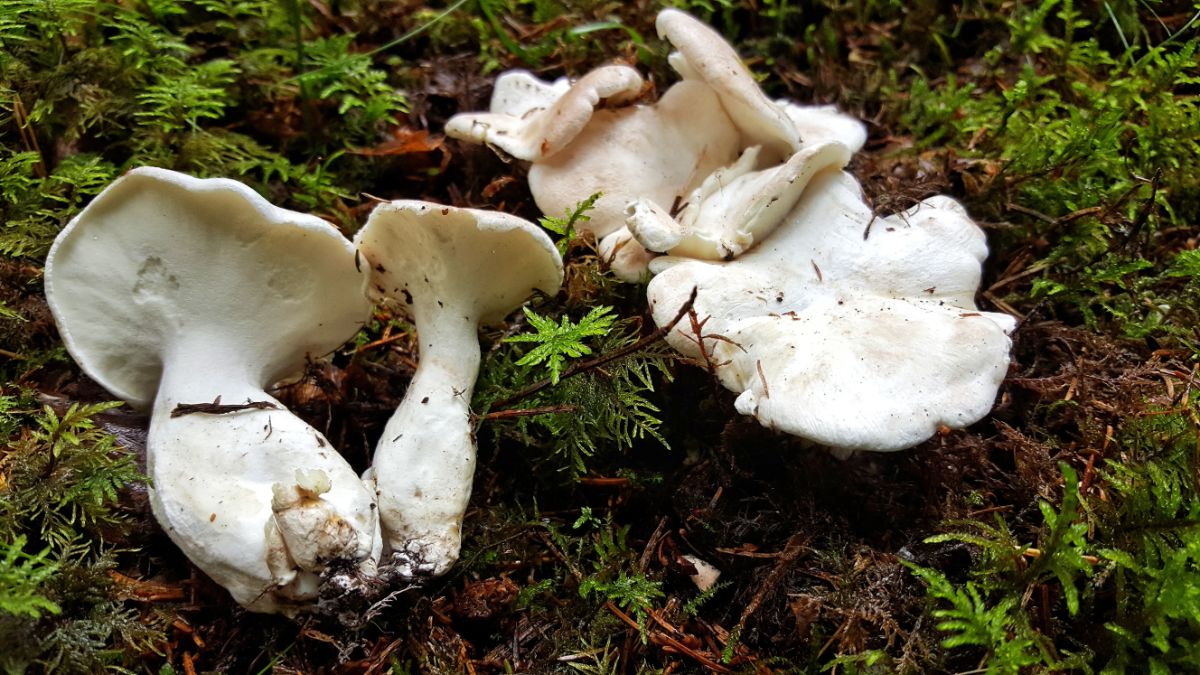 Jump to:
All About Sheep Polypore Mushrooms
Sheep polypores are fungi that grow on the ground, usually with conifers. They are large, dense, and very meaty in texture. They have a rich culinary history, especially in Finland, where they are sold commercially in vast quantities.
These polypores have one close relative that is almost identical in appearance. This cousin, Albatrellus confluens, the fused polypore, is rarer but appears in the same habitats and regions as the sheep polypore. According to many experts, the edibility of A. confluens is questionable, so it's essential to pay attention to the details with this one.
While this species isn't well known to culinary foragers, it is an excellent find. The thick, dense flesh cooks up wonderfully, retaining its shape and texture. But, best of all for the forager, the sheep polypore often appears in great numbers, so finding a patch is finding enough for at least several meals!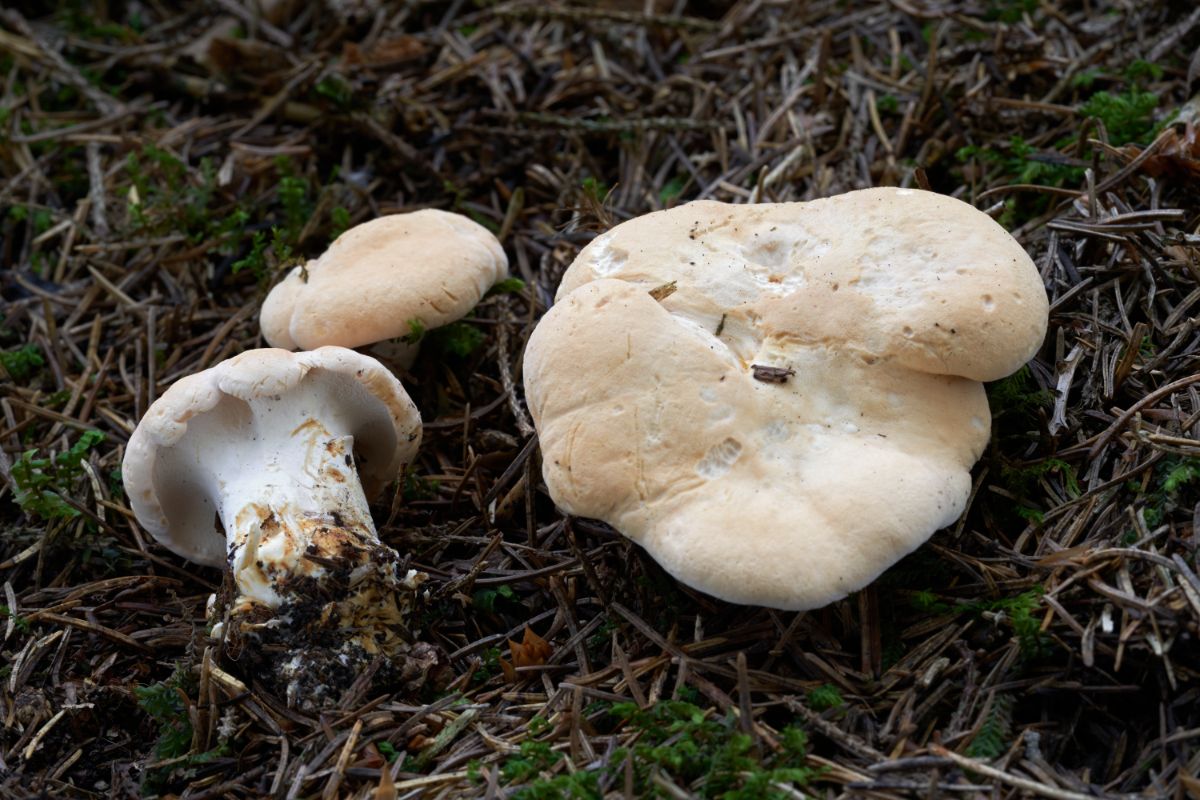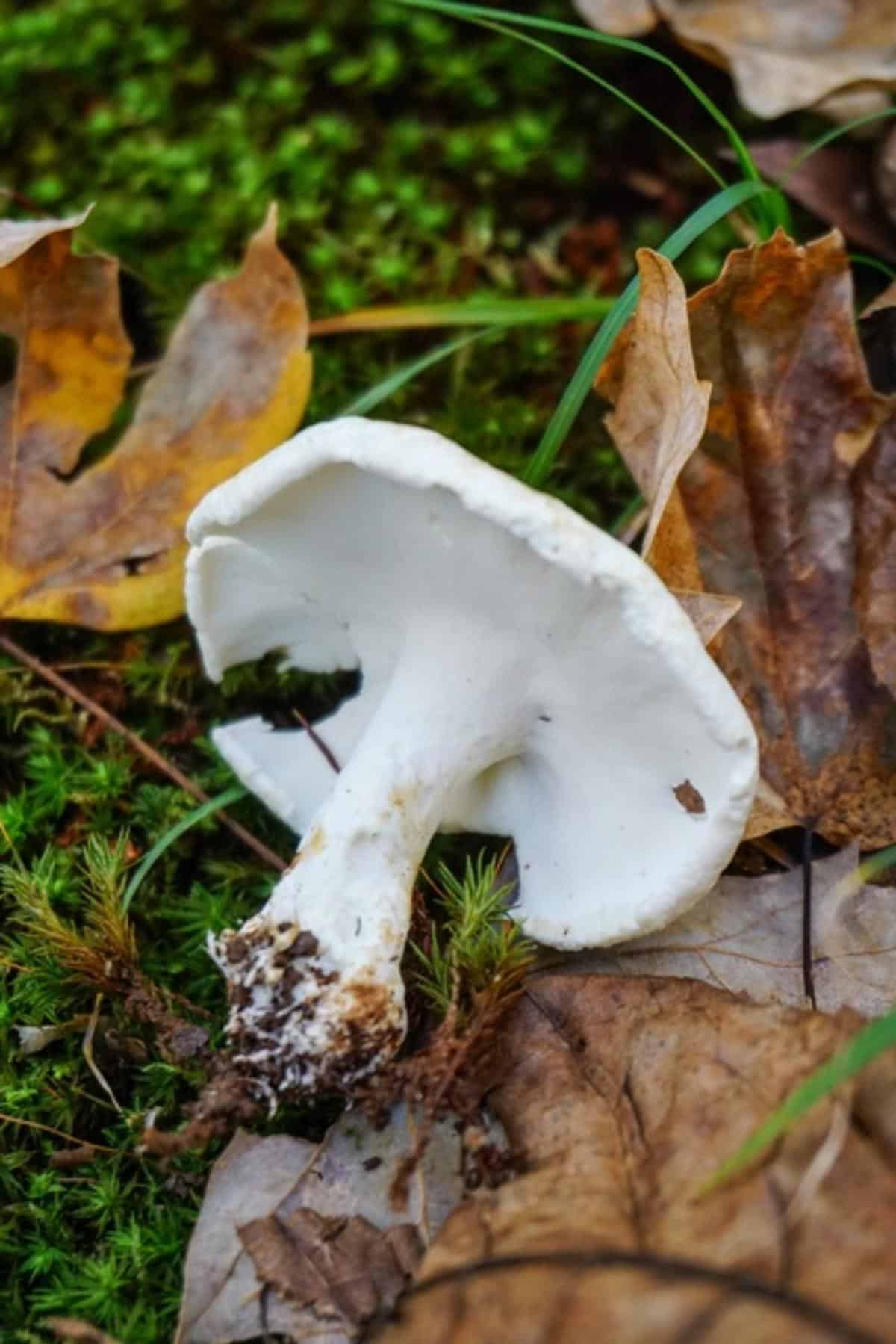 Sheep Polypore Identification
Season
Summer and fall in most regions. Continues fruiting over winter in warmer coastal areas.
Habitat
Sheep polypore fungi grow mycorrhizally with various conifers based on region. In the Rocky Mountains, they appear under subalpine fir and Engelmann spruce. They fruit with Norway spruce in the Appalachians. In the north and northeast, they aren't as specialized and appear under a variety of spruces, pines, and firs. Along the California coast, they grow with manzanita and various conifer species.
These mushrooms grow singularly but more often occur in clusters, sometimes densely. They always grow from the ground near the trees of their choice. They never grow on trees.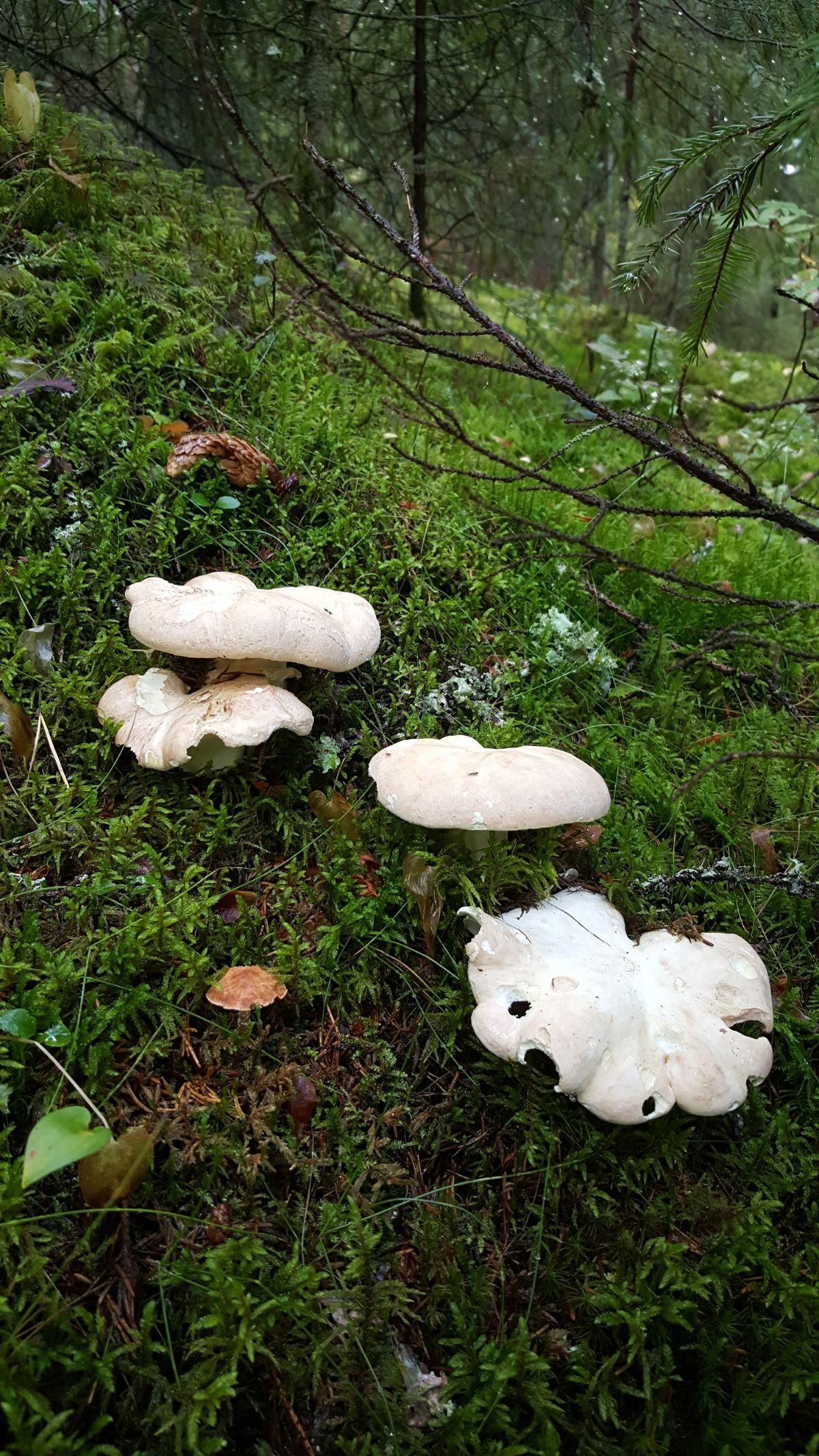 Identification
This is a polypore fungus, so it has no gills. Instead, the underside of the cap is smooth. It is a large fungus with a cap 2-8 inches wide. The stem is dense, 1-4 inches tall, and .25-1.5 inches thick.
The cap starts out snow-white, very noticeable on the forest floor. In youth, the cap is circular, with the edges curled under to create a lip. As it matures, the cap flattens out, often growing lumpy and irregularly shaped. It may even become slightly depressed in the center. The edges usually still curl under a little bit, even when the cap is mostly flat.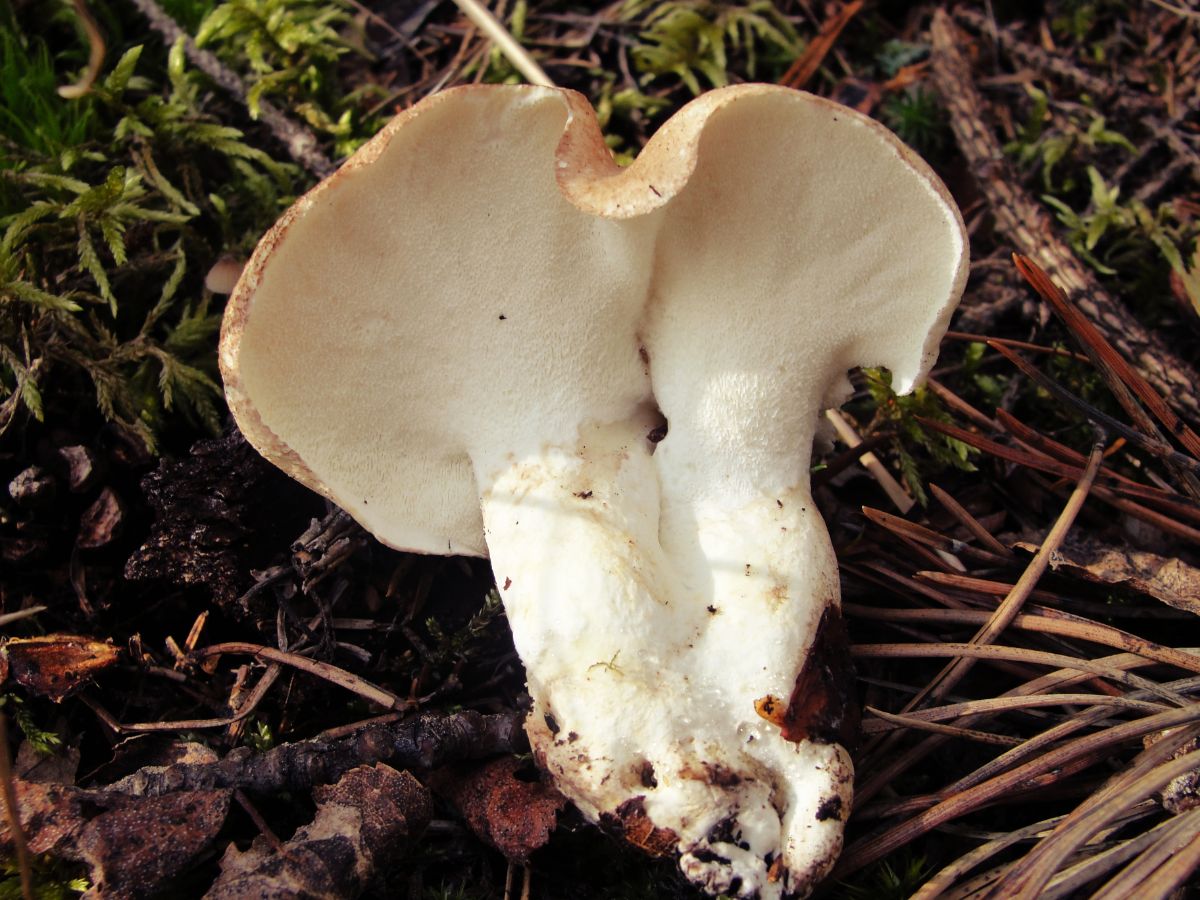 As it ages, the cap turns from pure white to tannish or pinkish, often with cracks across the surface. The top of the cap is smooth and dry with no decoration, except if it has developed a cracked appearance. Once the color moves away from the bright white, the overall look is quite drab and undistinctive.
Sheep polypore stems are white, solid, and thick. They may branch off, so more than one cap grows from a base. It is not uncommon to see two heads growing from a single stem or two specimens growing so close together that they fuse into one. The stem is often slightly off-center, and it is either smooth or very lightly fuzzy.
The undersurface pores descend down the stem a little way. They start out white but then turn yellowish with age. Sometimes, they bruise lightly yellowish or greenish.
The flesh of the sheep polypore is white to yellowish and doesn't change color when cut or handled. It does not have a distinctive smell or taste. The spore print is white.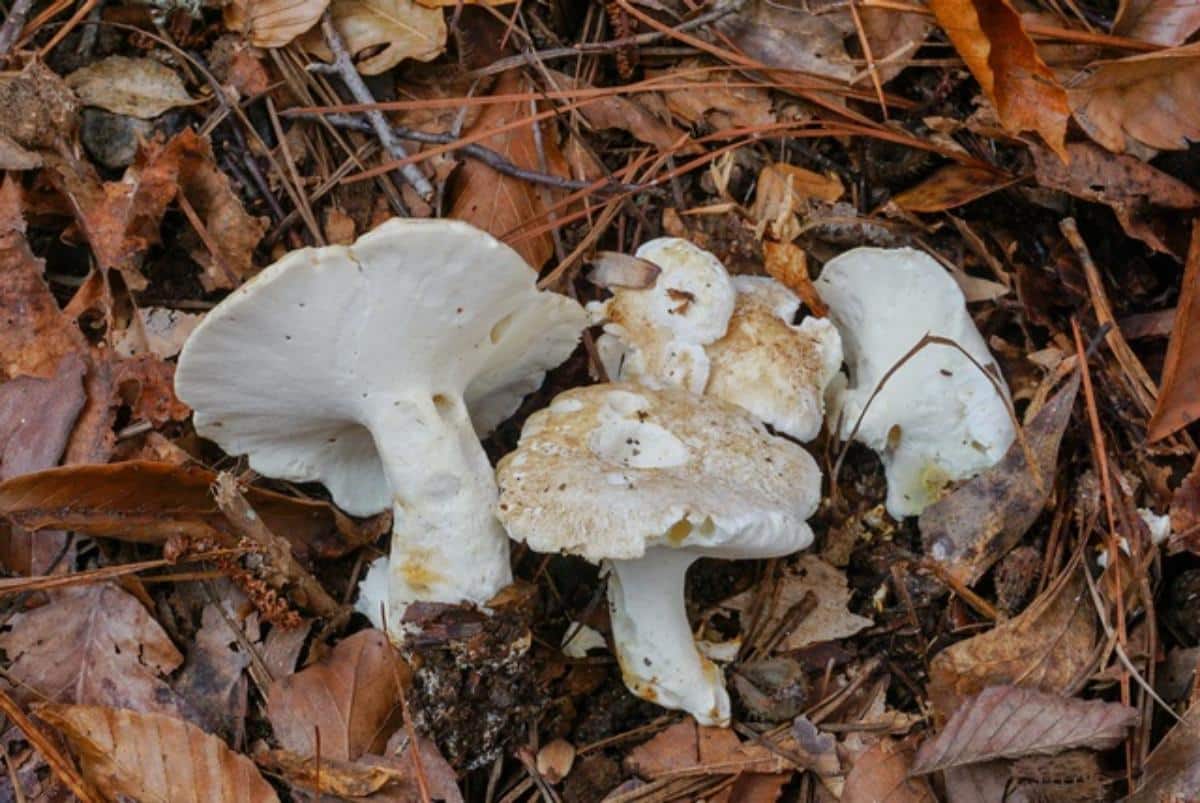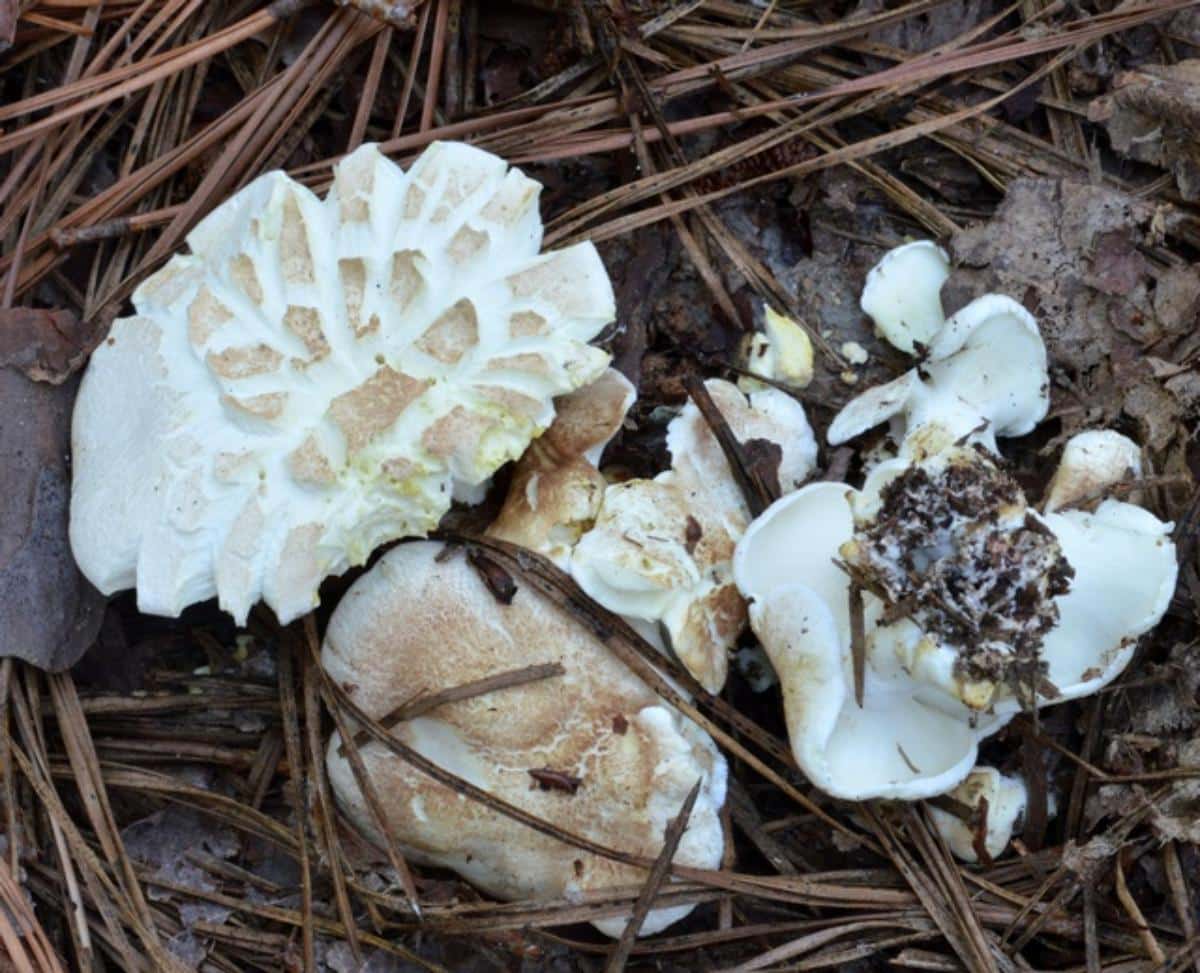 Sheep Polypore Lookalikes
Fused Polypore (Albatrellus confluens)
This species is almost a near replica of the sheep polypore. It grows mycorrhizally with conifers and is widely distributed across North America. The primary difference is the cap color in youth, which is a very pale orange as opposed to the white of the sheep polypore.
With age, though, both species develop tannish cracked caps that look very similar. A fundamental way to differentiate them is to dry a specimen. The fused polypore develops reddish coloring on its surface when it dries. Sheep polypores rarely change color when dried.
This species is considered inedible because it is bitter tasting. However, foragers do report eating this when very young as it is not as bitter then.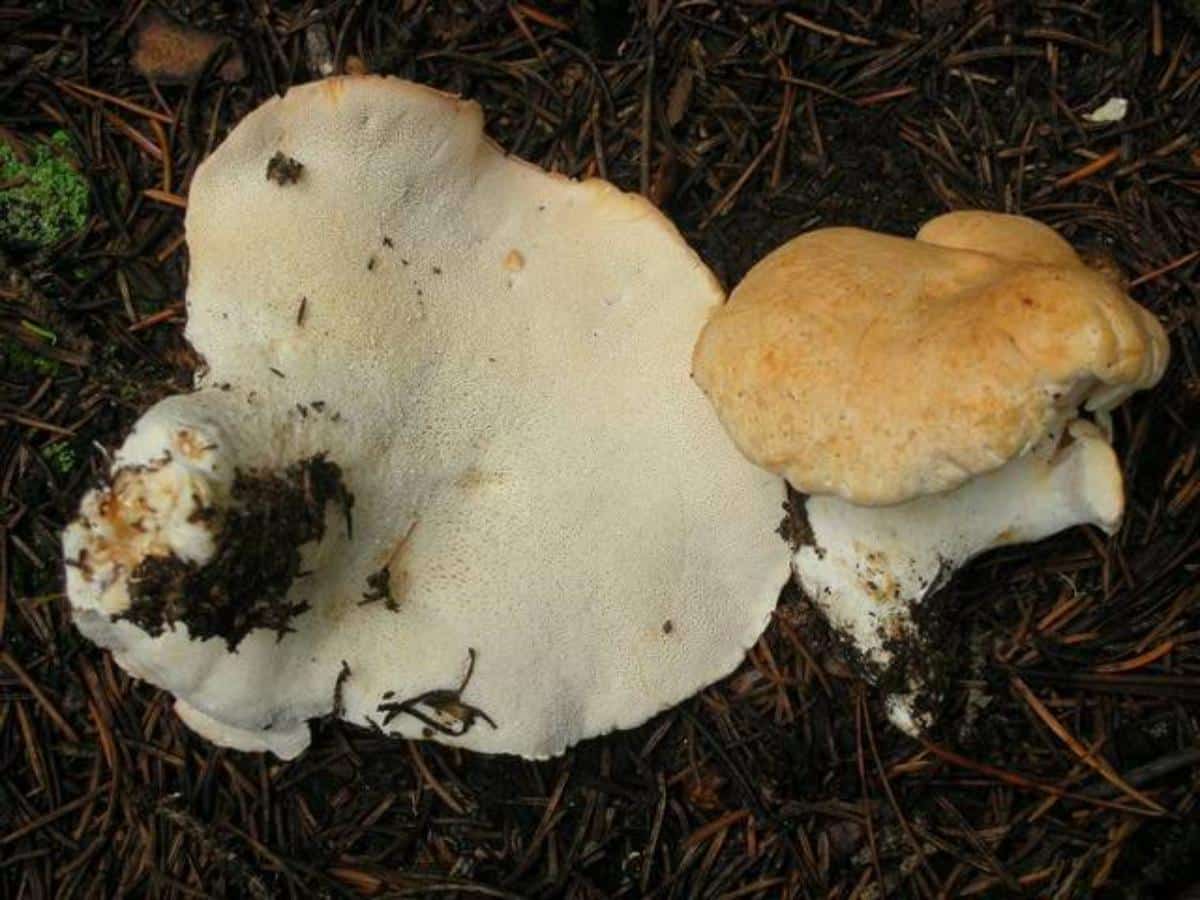 Albatrellus subrubescens
In outward appearance, this closely related species looks identical to the sheep polypore. However, there is one key difference. A. subrubescens bruises yellowish-orange when handled.
The cap of A. subrubescens is brownish-violet in the center, which is more noticeable in youth. It later turns a brownish-orange. Sometimes, the top is covered in fine blackish-gray or purplish-gray fibers.
The stem of this species starts out white but then develops purplish or orange spotting, which later turns brownish-orange. The stem may be brick red in old specimens.
The edibility of this species is debated. It is widely consumed in Finland, but some reports say it is mildly toxic, causing gastrointestinal distress. It may be an issue of old versus young specimens and cooking time.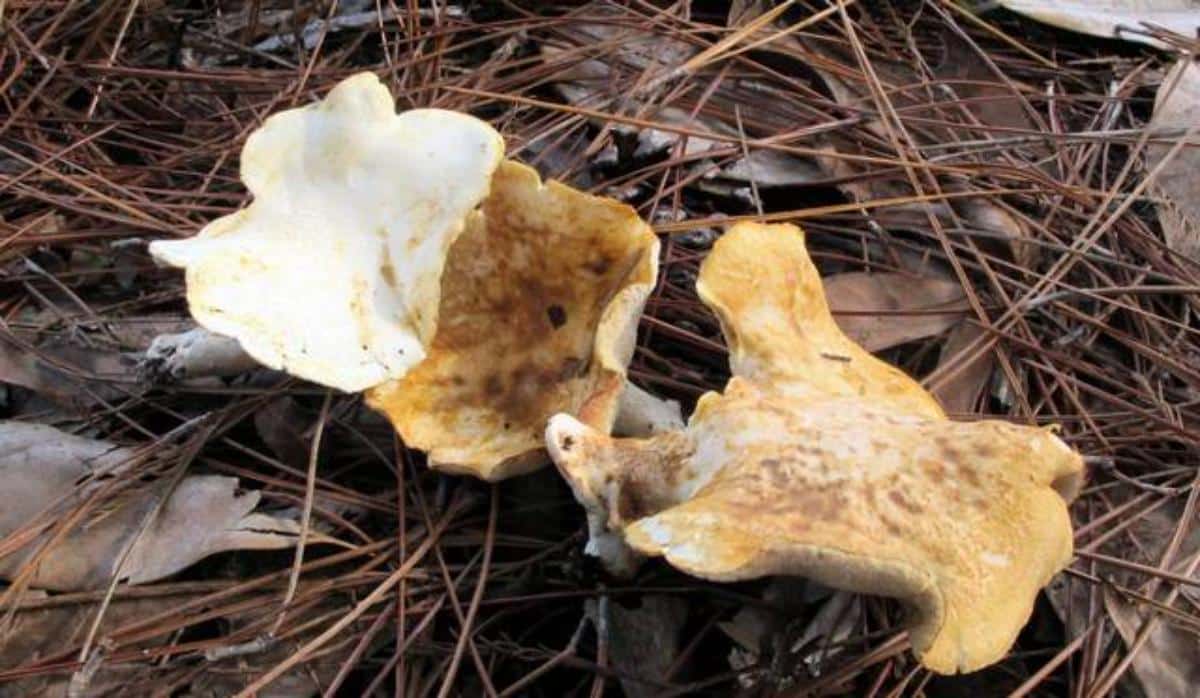 Foraging Sheep Polypore
The sheep polypore really stands out when it's young and brilliant white. They're especially noticeable when they fruit in dense groups, which they commonly do. It's like finding a dumping ground for white bao buns in the forest. Or, a herd of miniature sheep!
As they mature, they blend right in with the forest floor. They look similar to hedgehog mushrooms from above but have smooth pores instead of teeth. Always look at the undersurface.
To harvest, cut fresh, bug-free specimens at the base with a knife.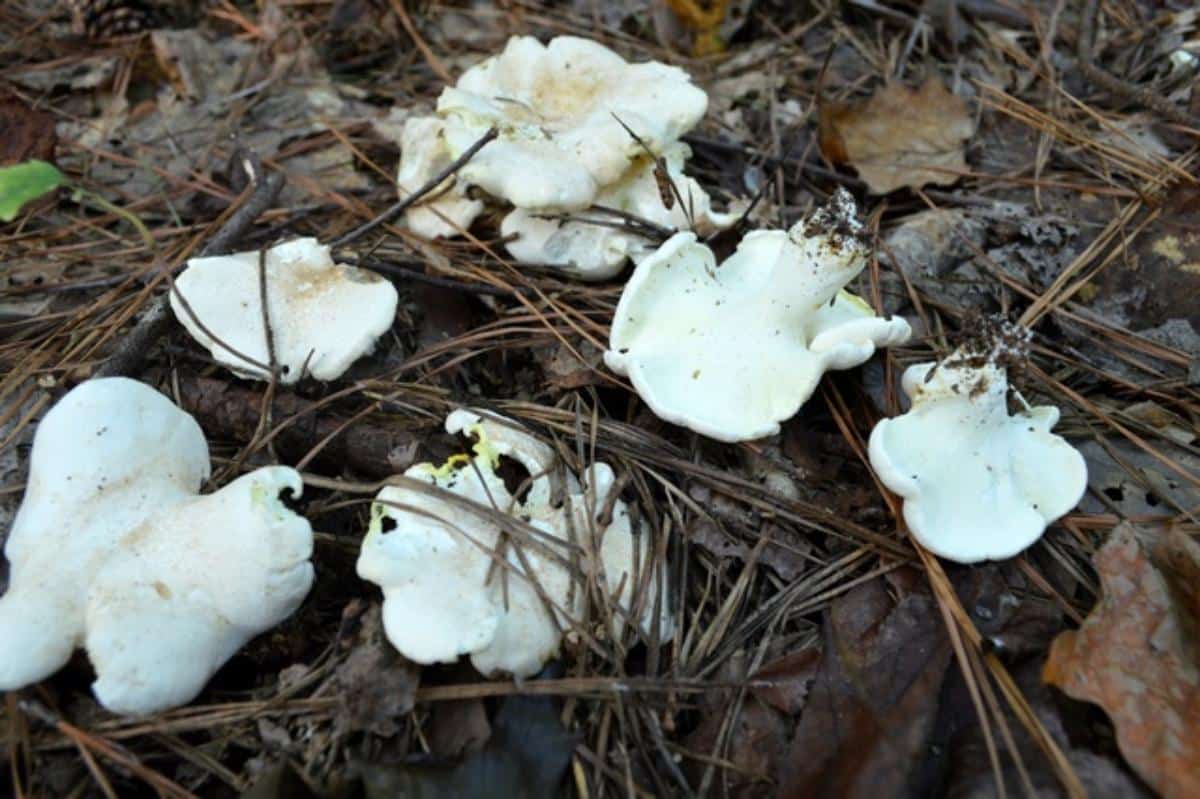 Cooking With Sheep Polypore Fungus
The sheep polypore is a dense, meaty mushroom that cooks well in many dishes. It has a mild, slightly mushroomy flavor and succulent texture when cooked. The flesh changes color when cooked to yellow.
Sheep polypores resemble the taste and texture of hedgehog mushrooms; feel free to interchange them in recipes.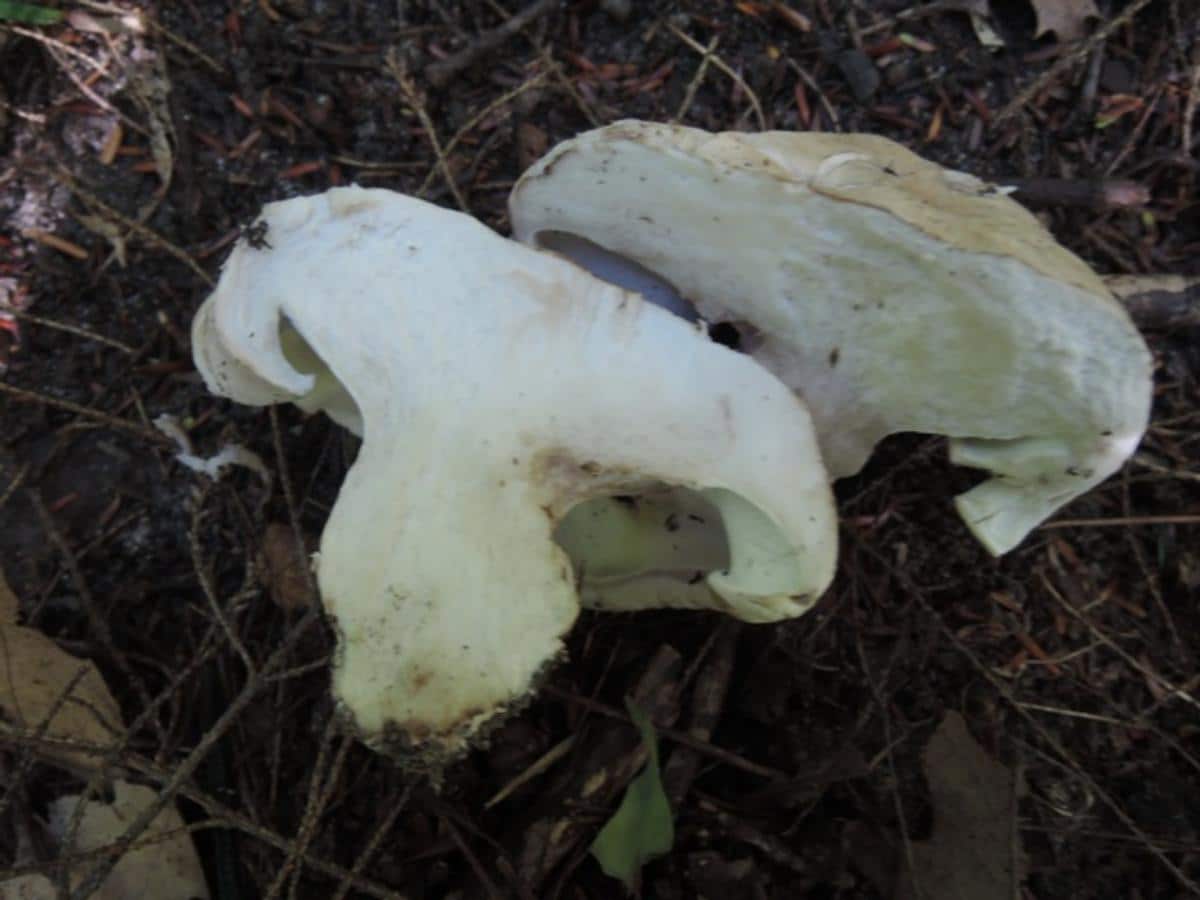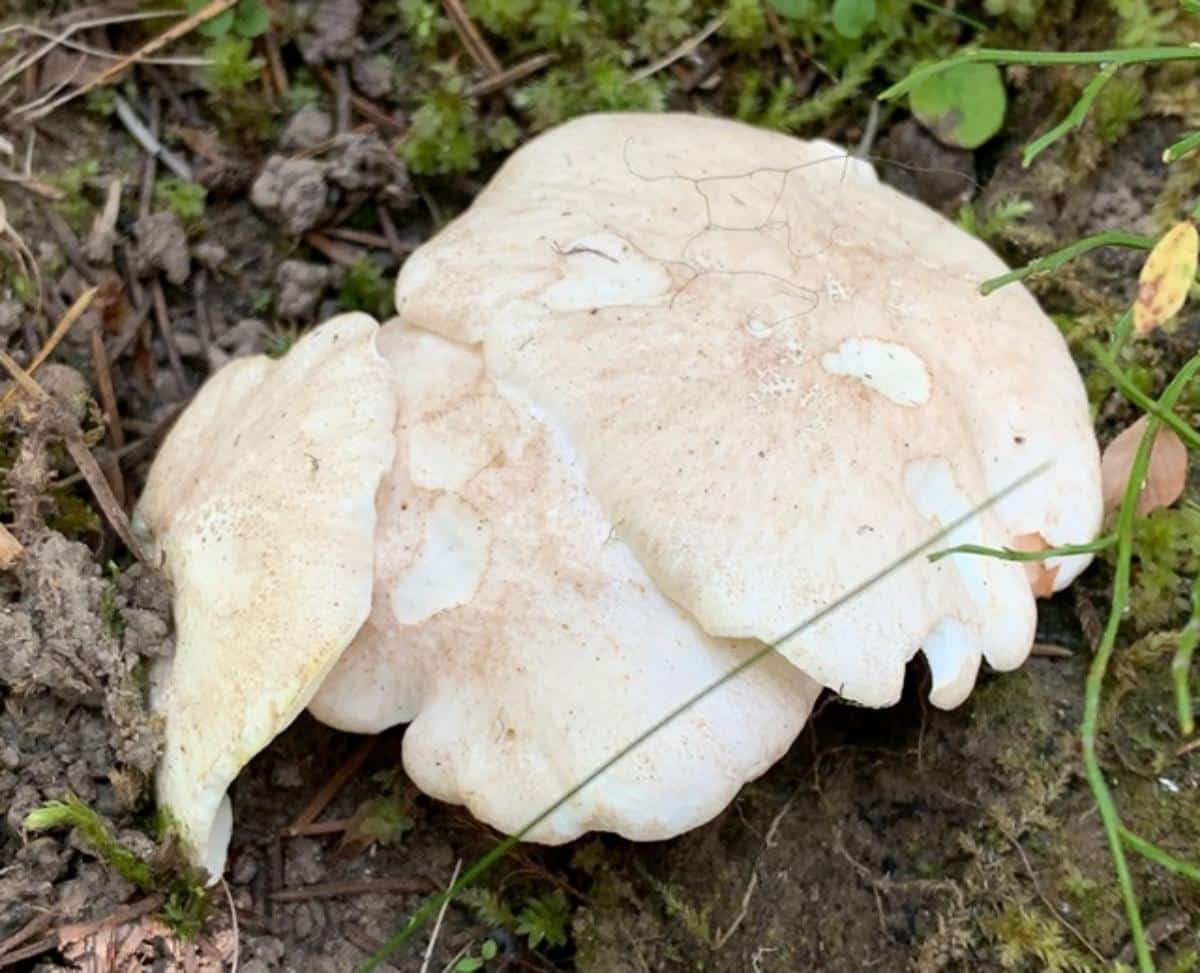 Sheep Polypore Common Questions
Can I grow sheep polypore mushrooms?
There are sites online where you can buy spores to innoculate and grow sheep polypores. However, there aren't many reports on how well this works.
Additionally, this grower couldn't find any online resources on how to set up a growing area for this species. Or any indication that folks have had success growing it. If you want to grow sheep polypores, it is probably best to approach it experimentally and expect not great results.