There are so many possibilities for mushroom recipes! Mushrooms add flavor and texture to soups, entrees, sauces, and even tea. If you don't like the taste of a certain mushroom, fear not! Many different edible varieties exist.
Besides tasting good, there are numerous health benefits of mushrooms. They are low in fat, contain no cholesterol, and are known sources of selenium, potassium, and copper.
Mushrooms are also great for vegetarian dishes because they contain fiber and protein. According to Paul Stamets in his book Mycelium Running: How Mushrooms Can Help Save the World
, edible mushrooms range from 20 to 50 percent fiber (by dry weight) and 3 to 35 percent protein (by dry weight).
Here you'll find recipes for appetizers, entrees, sauces, pasta, and tea. Many are vegetarian, or are easily adaptable to be so.
If using wild mushrooms make sure you know what you've picked! Never eat something you haven't positively identified at least three times before, and never rely on just the Internet for identification. (That said, read the mushroom identification article if you want to get started in the hobby).
Also take care to clean them properly. Many people prefer to use a damp washcloth, I've never had a problem with running them under a little water provided they're thoroughly dried afterwards.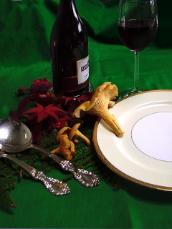 There are so many good, tasty creations for soups and stuffed mushrooms that I had to give them their own pages. Click here for mushroom soup recipes and here for recipes involving stuffed mushrooms.
If you have too many mushrooms, consider saving them for later with one of these freezing techniques. Or you can learn how to dry mushrooms, an easy process that keeps them indefinitely. Both of these techniques can save you money and mushrooms in the long run.
Some of these recipes call for a mushroom sauté. Go to this article to learn how to sauté mushrooms.
Morel recipes are so special that they get their own page!
Browse the recipes:
Appetizers
Garlic Mushrooms
Breaded Mushrooms
Sauces
Mushroom Sauce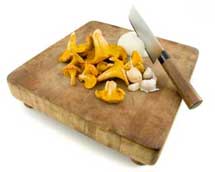 Delicate Mushroom Gravy Recipe (more appropriate for chanterelles/black trumpets)
Mushroom Wine Sauce
Mushroom Cream Sauce
Rice/Pasta
Mushroom Risotto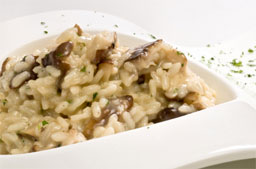 Mushroom Pasta
Mushroom Ravioli
Mushroom Lasagna
Entrees
Steak Diane
Porterhouse Steak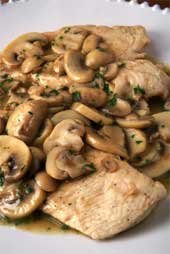 Chicken Marsala with Mushrooms Recipe
Mushroom Pie
Mushroom Chicken
Mushroom Burger
Spinach Mushroom Quiche
Indian Mushroom Recipe
Mushroom Burger
The King of Mushroom Recipes: Tea!
More recipes are forthcoming!