Sometimes a traditional mushroom gravy recipe may be too heavy for your meal. Or perhaps you're worried the elegant chanterelle mushrooms that you found will be overpowered in such a recipe. It must be time for lighter gravy!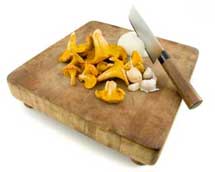 This lighter mushroom gravy is a perfect partner with fish, chicken, or vegetables such a broccoli. The softer flavor makes it ideal for showcasing delicate wild mushrooms.
Part of this recipe involves making roux, which is a cooked combination of flour and fat, usually butter. Used as a thickener for gravies and sauces, it's not difficult to make with a whisk and some flour.
For a classic, thicker homemade mushroom gravy recipe click here.
Recommended mushrooms: Black trumpets, chanterelle mushrooms, or anything flavorful and delicate. Stronger-tasting gourmet mushrooms such as morels or porcini are also a great choice.
Ingredients:
1 lb mushrooms, cleaned and chopped
1/4 cup butter, olive oil, or meat drippings
1 cup broth or water
1/2 cup light cream
1/2 cup white wine
1 tablespoon lemon juice
2 cloves garlic, minced
3 tablespoons flour
Salt and pepper to taste
It doesn't take long to sauté the chanterelle mushrooms here, so we'll set them aside while we make the roux:
Melt 1 tablespoon of butter in a skillet over medium heat. Add the garlic and cook for 1 minute.
Add the mushrooms and sauté until they have started to brown, around 3 – 5 minutes. Chanterelles are more delicate, and should not be sautéed here longer than 5 minutes. If you're using a heartier type of mushroom such as porcini it's ok to cook them a little longer.
Transfer the mushrooms and garlic from the skillet to a plate or a dish and begin making the roux. Melt the remaining butter or oil over medium low heat. Whisk in the flour, allowing it to cook for a minute or two.
Slowly whisk in the broth, wine, lemon juice, and cream. Do it thoroughly, as you want the whole mixture to be smooth, not lumpy.
Add the mushroom/shallot mixture to the roux. Stir and simmer until the final result has the desired gravy consistency, about 5 minutes. Don't let it simmer for too long. Add a little water or broth if it becomes too thick.
Enjoy your delicate homemade gravy with gourmet mushrooms!
Variations:
Add any spice you like towards the end. Start with only 1/2 teaspoon at a time. Parsley is a good choice for this mushroom gravy.
Use cornstarch or arrowroot to thicken the gravy instead of making a roux. The result is often smoother.
Add 1/4 cup of sherry instead of white wine.