Morel mushrooms inspire more passion than almost any other type of fungi.
Resembling something out of science fiction, these mushrooms are the subject of many clubs, websites, books, and tall tales around the campfire. Every spring, numerous mushroom hunters flock to the woods in hopes of finding some of these elusive treats.
Yes, morels are edible and are considered a prized delicacy. They require very specific growing conditions that are not easily duplicated. Thus finding them has grown into a sport and a culture.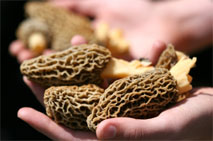 This page gives you an overview of both the science and uses of morels. Click on the links to learn more, and maybe soon you'll be finding some of your own!
For specific stories or questions about growing morels click here.
Index of Information
Want more morel madness? Below are picture galleries containing photos of morels taken by myself and others. Click on the links below the pictures to see more. (Gauranteed to make you want to go outside, or at least make you hungry!)
Happy hunting!