This wild mushroom ragout recipe is an excellent topping for meats, potatoes, or noodles. It can be eaten on its own with bread, or thinned out to make a sauce. No doubt one of the most useful mushroom recipes.
Ragout is simply a thick stew made from meat, mushrooms, or some other main ingredient. Although hearty, it's lighter and contains less fat than traditional mushroom gravy.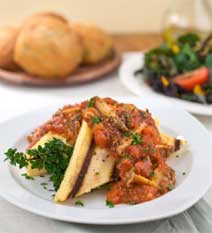 A ragout should be cooked slowly over low heat. This allows the flavors to meld and deepen over time, resulting in a rich-tasting stew. Feel free to adjust your mushroom ragout as you see fit. It's one of those easy mushroom recipes with no rules!
Recommended mushrooms: Any and all edible species work well here. The recipe call for 4 cups so use any combination of mushrooms you like. Yet be aware that store-bought mushrooms often mask the flavor of delicate wild ones.
If you can find them or can afford it, this combination makes an amazing wild mushroom ragout:
1 cup morel mushrooms
1 cup chanterelles or black trumpets
1 cup wood ear fungus (also called black Chinese mushrooms)
1 cup shiitake
Another good combination from more common mushrooms is:
1 cup oysters
1 cup shiitake
1 cup cremini mushrooms
1 cup white buttons
Experiment with your favorite species. Just remember not to chop them too finely. This hearty ragout is best when you can bite into some large mushroom chunks.
Ingredients:
4 cups fresh mushrooms, cleaned and coarsely chopped
2 tablespoons olive oil (or butter if your diet allows)
1 cup chicken, beef, or vegetable stock
1/2 cup red wine
1 tablespoon soy sauce
3 cloves garlic, finely chopped
3 shallots, finely chopped
salt and pepper to taste
Heat the oil in a large saucepan over medium heat. Add the shallots and garlic and sauté until soft, about 3 to 5 minutes.
Add the mushrooms and cook for 8 minutes, stirring frequently.
Pour in the wine and cook until the liquid is reduced by half, usually around 5 to 10 minutes. You may want to turn the heat up a little to speed things up.
Finally, add the stock, wine, and soy sauce. Turn down the heat until the mixture is at a simmer, but not a rolling boil. Simmer until most of the liquid has evaporated, around 25 to 30 minutes.
Drool and serve!
Variations:
Some people, myself included, prefer white wine to red. Although red wine is more common in a ragout recipe, white imparts flavor and works just as well.
Add 2 teaspoons of your favorite dried herb. Popular choices here are thyme, sage, rosemary, or parsley. If using fresh herbs, add another teaspoon.
For a more intense flavor, rehydrate a cup of dried mushrooms and add them in with the wine. You can't go wrong with porcini!