Mushroom soup recipes are a great way to use your fungal leftovers. They're nutritious, creative, and can be as easy or complex as you desire!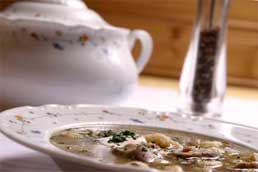 Mushroom soup is simply soup made with mushrooms. They'll always be a focus of the recipe whether they're grilled, sautéed, or boiled. Other ingredients may include all manner of spices, meats, and vegetables.
There are many different variations of these recipes. Mushroom and chicken soup, made with sautéed mushrooms and chicken broth, is very popular. As is mushroom barley soup, a smokier dish made with grilled mushrooms and barley.
Yet the most well-known is cream of mushroom soup, which is made with mushrooms, butter, cream, and flour. It's often used as a base in soups, casseroles, and many other culinary creations.
Below is a list of recipes. Choose one for an easy meal, or use it as a starting point to create your own. The limit is your imagination and, of course, good taste. 😉
The Top Ten Mushroom Soup Recipes
Easy Cream of Mushroom Soup Recipe
A classic comfort food, this easy recipe shows you how to make a version with little fuss that's still better than the can. You can even try some substitutions to make it a little lighter on the waistline.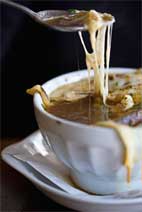 Easy French Onion Soup with Mushrooms
Pairing mushrooms with French onion soup isn't all that common, but you'll be surprised at the result! Another simple mushroom recipe with a great flavor.
Chicken and vegetables abound in this healthy recipe, which you can customize any way you like.
Lighter and thinner than cream of mushroom soup, this recipe is the perfect base for casseroles and sauces.
Oyster mushrooms have been shown to stimulate the immune system and lower cholesterol. Enjoy their health benefits in this tasty oyster soup that's overflowing with vegetables.
The delicate taste of wild mushrooms can be easily lost in a soup. This recipe lets their taste shine. Perfect after a day in the woods!
Hungarian soup is a very popular recipe made with spices such as dill and Hungarian paprika. This yummy and simple version doesn't disappoint.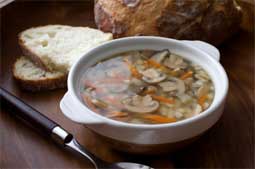 An extremely easy recipe that puts mushrooms alone in the spotlight. Another great choice for your extra wild mushrooms.
Here's a soup recipe that's healthy, hearty, and delicious. A great choice for vegetarians.
Portobello mushrooms are a great meat substitute, and here they get to be the star of the soup. This is an easy and inexpensive recipe that works well as a side dish or on its own.