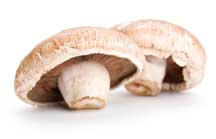 A good portobello mushroom soup recipe is a favorite of many. Portobello mushrooms are famous for their great flavor and meaty texture, making them a perfect addition to soups.
This portobello mushroom recipe is about as easy as it gets. There are few ingredients, and you can find these healthy mushrooms in any grocery store. The short preparation and cooking time make it a snap to create as a quick weeknight meal.
This recipe calls for half and half, but you can omit that for a less creamy soup. Or see the variations at the bottom for a lower fat option. You can serve this with bread, a side salad, or as a main course. Delicious!
Recommended mushrooms: Portobello mushrooms, but cremini and white buttons are also good choices.
Ingredients:
4 portobello mushroom caps, chopped
1 tablespoon butter or olive oil
4 cups stock (chicken, vegetable, or whatever)
1 cup half and half
4 leeks, chopped
3 tablespoons flour
salt and pepper to taste
Clean the mushrooms with a damp cloth and chop them into smaller pieces.
Melt the olive oil or butter in a large soup pot over medium heat. Add the leeks and saute them until soft, about 3 minutes.
Add the mushrooms and sauté until they're slightly browned, about 5 minutes. This is not the most ideal mushroom saute, as the pan will be a little crowded.
As the mushrooms are cooking, whisk together the flour and stock in a separate bowl. After 5 minutes, slowly add the stock and flour to the mushroom/leek mixture.
Bring the soup to a boil for 1 minute, stirring frequently.
Reduce the heat to low and stir in the half and half. Let the soup simmer for about 10 minutes or longer, depending on desired thickness and heat.
Season to taste and serve with bread!
Variations:
Add 4 tablespoons of sherry or white wine along with the half and half. Sherry/white wine tastes fantastic in most mushroom soup recipes.
Instead of 1 full cup of half and half, cut calories by using 1/2 cup low fat sour cream and 1/2 cup fat free half and half.
Add your favorite spices like parsley or thyme. Another great choice for this portobello mushroom soup recipe is to use 1/2 teaspoon of cayenne pepper.
You may have also found this page by searching for portabella mushroom recipes. For another tasty portobello mushroom recipe, see this page.