A good Hungarian mushroom soup recipe is rich and deeply flavorful. This soup is defined by its spicy taste from dill and paprika, and by the meatiness of the mushrooms. The perfect comfort food!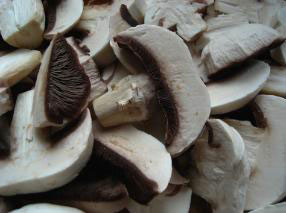 Don't let the extra calories from milk, butter, and sour cream turn you off. Everything here can be substituted for its low fat version. Even with light sour cream and olive oil, this is still a deliciously hearty mushroom soup recipe.
Feel free to adjust the herbs to suit your tastes. Many cooks call for 2 teaspoons of dill, but I prefer just one. Add more paprika if you like. This is one easy mushroom recipe that's very customizable.
Recommended mushrooms: Portobello, cremini, or white buttons. If you can afford them, porcini mushrooms impart an amazing flavor. Or mix and match!
Ingredients:
1 lb fresh mushrooms, sliced (an egg slicer works great)
3 tablespoons butter or olive oil (depending on diet)
3 cups chicken, mushroom, or vegetable stock (or water)
1 cup milk
1 large onion, chopped
3 tablespoons flour
1 teaspoon dill
1 tablespoon Hungarian paprika
1 tablespoon soy sauce
2 teaspoons lemon juice
1/2 cup sour cream
Salt and pepper to taste
Begin by sautéing the onions in 2 tablespoons of stock or water for about 5 minutes. Then add mushrooms and sauté the whole mixture 5 more minutes.
Stir in the dill, soy sauce, paprika, salt, and 1/2 cup of stock or water. Reduce the heat to low, cover, and allow to simmer for 15 minutes.
While the mushrooms are simmering, melt the butter or olive oil in a saucepan. Whisk in the flour until it's well blended. Then add the milk, whisking until it's thick and creamy. Turn the heat to low and let simmer for about 10 minutes, stirring frequently.
Add the remaining stock and the flour/milk mixture to the mushrooms. Simmer another 10 minutes but make sure it doesn't boil!
Add the sour cream, lemon juice, and any remaining salt and pepper last. Stir thoroughly until heated through.
Serve with bread. Yum!
Variations:
Stir 2 cups of diced potatoes or tomatoes when adding the remaining broth.
For a richer flavor, sauté the mushrooms and onion in bacon fat instead of stock. I believe this is closer to a more traditional Hungarian mushroom soup, although never having been to Hungary I can't vouch for its true accuracy.
For a creamier soup, substitute the milk and sour cream for 1 cup heavy cream.
Add 1/4 cup chopped fresh parsley, or any other herb such as a few teaspoons of thyme.