Do you long for golden mushroom soup that doesn't come from a can? This mushroom soup recipe is hearty, filling, and far tastier than the grocery store versions.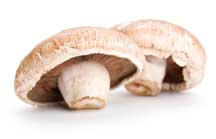 This soup is lighter in color and thinner in consistency than cream of mushroom soup. Yet this recipe can still be used as a base for sauces, casseroles, or other dishes. Or serve it alone with sandwiches for a delicious lunch.
In the tradition of easy mushroom recipes, there's lots of room for experimentation here. Use rice milk, olive oil, and vegetable stock for a vegetarian recipe. Or use beef stock and make it as thick as you like.
Recommended mushrooms: Portobello mushrooms, white buttons, cremini, or even morels. This mushroom soup recipe works best with the heartier species.
Ingredients:
1 lb mushrooms, chopped in medium-sized pieces
2 tablespoons butter or olive oil
2 cups stock (beef, vegetable, or whatever)
2 cups milk
1/4 cup white wine
1 medium yellow onion, chopped
2 tablespoons lemon juice
2 tablespoons soy sauce
2 tablespoons flour
1 tablespoon paprika
salt and pepper to taste
Clean the mushrooms with a damp cloth and chop them into medium-sized pieces.
Melt the butter in a soup pot over medium heat. Add the onions and cook until they're soft, about 5 minutes.
Add the mushrooms, paprika, and white wine. Allow the mixture to cook for another 5 minutes, stirring frequently.
Next stir in the stock and soy sauce. Cover the pot and let everything simmer for 10 minutes. We don't want it to boil, so lift the lid and check it occasionally. Turn the heat down a little if it's boiling.
While the soup is simmering, whisk the flour and milk together in a separate small pan. We're going to use it to thicken this mushroom soup.
After 10 minutes of simmering, slowly add the flour/milk mixture. Allow the whole thing to cook together for about a minute, stirring frequently.
Remove from heat and stir in the lemon juice. Add salt and pepper to taste and serve. Yum!
Variations:
Traditional Campbell's golden mushroom soup contains tomatoes. If you like, add a can of crushed tomatoes and a tablespoon of tomato paste when you mix in the stock.
Many mushroom soup recipes also include dill. I'm not too fond of dill so I didn't include it but, if you're a dill fan, add a teaspoon with the mushrooms.
Some people prefer the taste of sherry to white wine, and you can use either one in this recipe.