Recently I made a chicken Marsala with mushrooms recipe that blew my mind. Usually I'm someone who shies away from complicated entrées, so I was pleased to find that this famous Italian recipe is actually quite simple.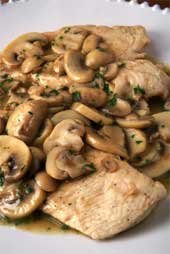 The thing that makes a good chicken Marsala recipe so delicious is the Marsala sauce. The sauce is made from butter, olive oil, mushrooms, Marsala wine, and either chicken stock or heavy cream. I would advise against purchasing cheap cooking wine as it always lacks the rich, smoky flavor for which Marsala is known.
I adapted this chicken Marsala with mushrooms recipe to be as simple as possible. I didn't bread the chicken and went easy on the spices; yet still found it to be delicious on its own. Feel free to adjust the amount of butter and add different herbs. I imagine you could even substitute the chicken with tofu and make a tofu Marsala recipe.
Some final pieces of advice when making a chicken Marsala with mushrooms recipe:
The chicken should be tender and juicy so try not to overcook.
Buy the best Marsala wine that you can afford.
You'll need a little patience when reducing the liquids. The wine should be initially reduced to the consistency of syrup. If the end result of your sauce is still too runny, add some cornstarch to thicken.
Remember that a thick Marsala sauce coats the other ingredients and makes everything flavorful and amazing!
Recommended mushrooms: I love cremini mushrooms here, as they're tasty and firm enough to hold their texture well. Other good choices are the plain white button mushroom, chopped portobellos, oysters, porcini, and shiitake.
Ingredients:
4 cups mushrooms, cleaned and sliced
1 tablespoon olive oil
3 tablespoons butter
1 cup chicken stock
3/4 cup of Marsala wine
3 boneless, skinless chicken breasts, cut into halves or smaller pieces
salt and pepper to taste
In a large skillet, heat the tablespoon of olive oil over medium-high heat. After it warms add 1 tablespoon of butter.
When the butter has melted add the chicken pieces. Cook the chicken until it's lightly browned, a few minutes on each side.
Put the chicken on a plate and return your skillet to the heat. Melt 1 tablespoon of butter and add the mushrooms. Sauté them until all the liquid they release is gone.
Pour in the Marsala wine and allow it to reduce to the consistency of syrup. We want it to thicken slightly but not too much.
Add the chicken stock and stir the whole mixture. Cook until the stock/wine sauce has thickened to the point where it will coat the back of a spoon.
Now put the chicken breasts back into the pan. Spoon the sauce over them and allow them to heat up again, about 3 to 4 minutes.
Remove the skillet from the heat and stir in the last tablespoon of butter. Season to taste and serve immediately.
Variations:
Substitute 1/4 cup of the Marsala wine with sherry.
Add your preferred herbs and spices in 1/2 teaspoon increments. Popular choices are oregano, thyme, parsley, and garlic powder. You can also use cayenne pepper for a little more spice.
Bread the chicken breasts before cooking them.
Add half a chopped onion or a few minced shallots when you throw in the mushrooms.