Here's a mushroom risotto recipe that's uncomplicated and delicious. It works well as an appetizer or as part of a main dish. This is a great way to use up some of your extra wild mushrooms.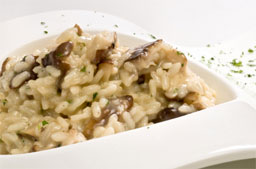 Risotto is an Italian rice dish noted for its creamy, sticky texture. The texture is due to the use of high-starch rice, which absorbs liquids and releases starches. Using the correct rice is one of the secrets to making the perfect risotto.
It should be a round, medium-grain variety. Common choices are Carnaroli and Vialone Nano, although these are also more expensive. Arborio is another popular, cheaper variety. Splurge and buy better rice if you can, use the wrong grain and your recipe will lack the creamy awesomeness for which risotto is known.
Most risotto recipes call for constant stirring. While you should keep an eye on it and stir frequently, you don't have to hover over it non-stop!
Recommended mushrooms: Flavorful wild mushrooms such as morels, porcini, black trumpets, or chanterelles. A combination of black trumpets and chanterelles is fantastic. Plain white buttons are okay too, if that's all you have.
Ingredients:
1 lb mushrooms, cleaned and chopped
7 cups stock (chicken, vegetable, or mushroom)
1/2 cup dry white wine
2 cups rice (I use Arborio)
1/2 white onion, chopped
2 cloves garlic, chopped
1/2 tbsp thyme, chopped
2 tbsp olive oil
1 tbsp butter
salt to taste
To begin, pour all of the stock into a pot and bring it to a low simmer. It should not be boiling, just gently simmering.
Heat 1 tbsp olive oil and 1 tbsp butter in another large pot over medium heat. When the mixture is hot, add the onion and garlic. Sauté for 5 minutes.
Add the mushrooms and sauté for another 5 minutes. When they're finished, remove them from the pot and set aside.
The next step is to briefly toast the rice in order to coat it with a layer of fat. To the same pot, add the remaining olive oil and the rice. Sauté for 5 minutes.
Pour in the white wine and continue to cook until it's almost all absorbed, stirring the entire time.
Add a cup of the stock, which should be simmering now, to the pot and stir until it's absorbed.
Here comes the long and painful part! Continue to add the simmering stock and stir until it is absorbed. Do this in increments of 1/2 cup at a time.
The rice is done when it's creamy and al dente, meaning it's tender but still has some resistance (not soft or mushy). You'll have to keep tasting it as a test. At this point, stir in the thyme and cooked mushrooms.
You're done! Remember that mushroom risotto should be served immediately, or it will continue to cook in its own heat and become soft and dry.
Variations:
Risotto recipes typically contain cheese as well. If you like, stir in 1/3 cup grated Parmesan cheese right before the rice is done.
Substitute a shallot for the white onion.
Shave some black truffle into your finished risotto.
Making the perfect mushroom risotto takes a little time and patience, but the end result is worth it!