The blue chanterelle is a unique and uncommon edible species. While it is widely considered by foragers and enthusiasts to be a chanterelle, it isn't a true chanterelle species. Blue chanterelles (Polyozellus multiplex) occur in northern alpine and high-elevation regions and are a rare find. Another name for the blue chanterelle is clustered blue chanterelle; in Alaska, it is known as the black chanterelle.
Jump to:
All About Blue Chanterelles
Blue chanterelles look extremely similar to black trumpets, except their bodies are more bluish or purply than black. They sport the same funnel-shaped body, though, and way of growing from the ground in clusters.
This mushroom is actually five (or so) species grouped into one overarching name, the Polyozellus multiplex. Previously, it was thought they were all one species, but a study in 2018 established five distinct identifications. They are superficially related to true chanterelles but not close.
Throughout its known history, the blue chanterelle has been a topic of debate. It has changed names many times, and there was great debate over whether it was a true chanterelle or a completely different genus. It wasn't until 2017 that mycologists and researchers determined the species to be definitely part of the Thelephoracease family, a collection of fungi known as leathery earth fans.
Blue chanterelles grow in eastern Asia and northern North America. Specimens have been foraged and collected in Oregon, Washington, Northern California, Idaho, Colorado, New Mexico, Arizona, Maine, and Canada.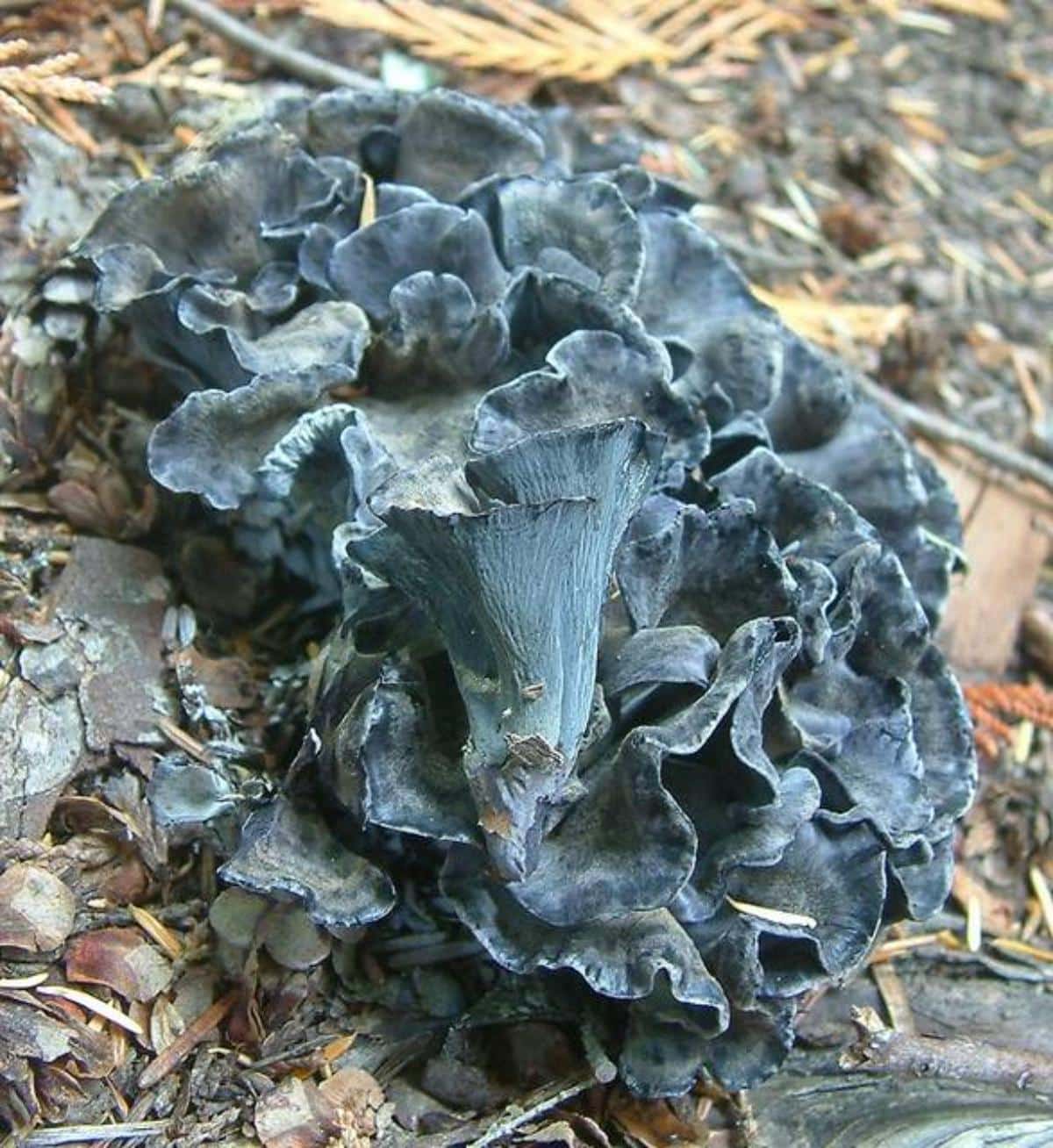 Identification of Blue Chanterelles
Season
Summer into fall (June-November)
Habitat
The blue chanterelle mushroom is a mycorrhizal species that grows around conifers, specifically with spruce and fir. It most often occurs at high elevations in alpine regions. It prefers lower, wet areas in the alpine areas. It only grows from the ground, never from trees or wood.
They grow in fused, overlapping clusters that, at first appearance, look like one mushroom, like the umbrella polypore. Sometimes, the clusters are extensive, reaching up to 3 feet across! Usually, they're more like 11 inches across. With inspection, it is easy to make out the separate fused sections that comprise the whole.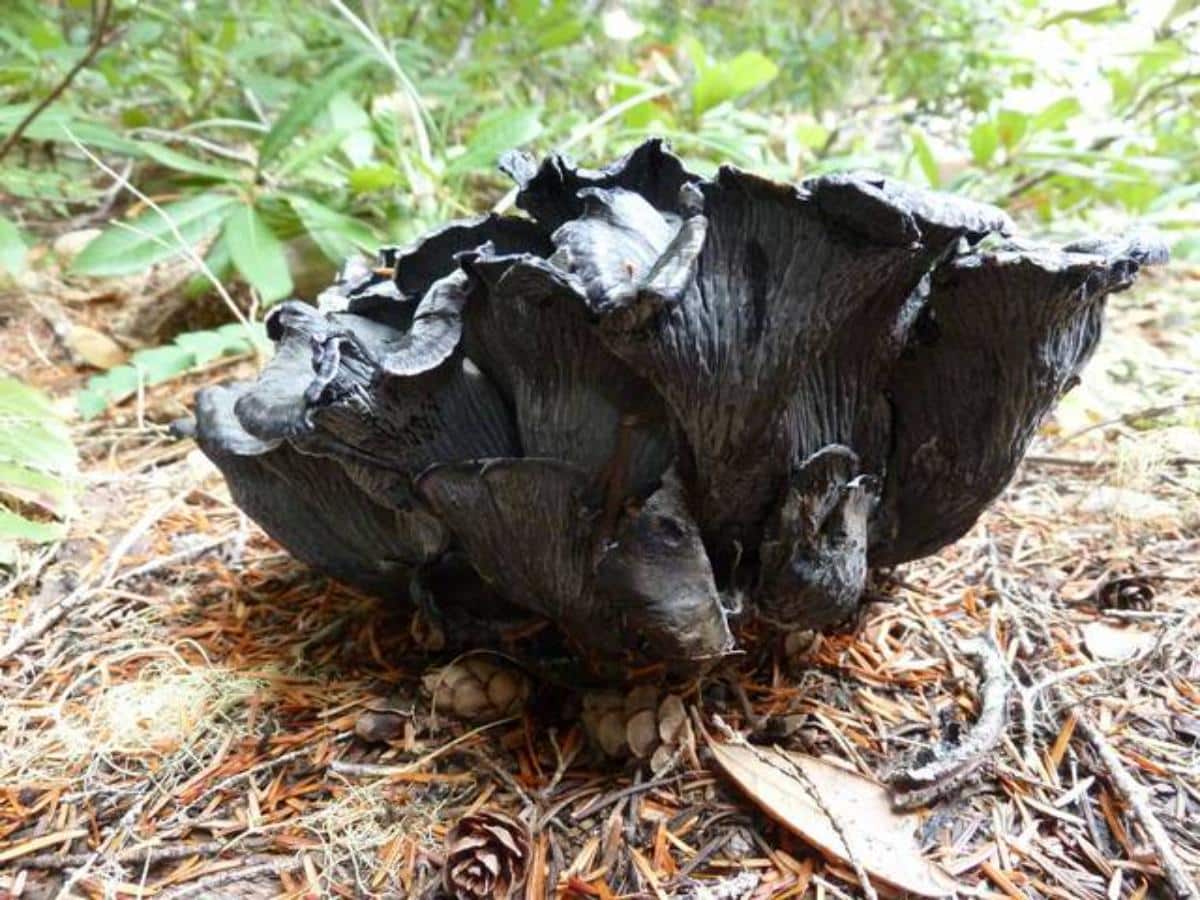 Identification
This mushroom grows in a funnel or trumpet shape and doesn't have gill or caps and stems in the traditional sense. The blue chanterelle is one uninterrupted hollow body with a lighter-colored exterior and darker interior.
On the inside, the mushroom is very dark blue, purplish, or black – a violet-black. The inner surface is lightly velvety, and the fibers may be concentrically zoned. The exterior is grayish or muted blue or black. The outer surface may be smooth, but often wrinkles or folds run vertically down the exterior. With age, the outer surface darkens to black.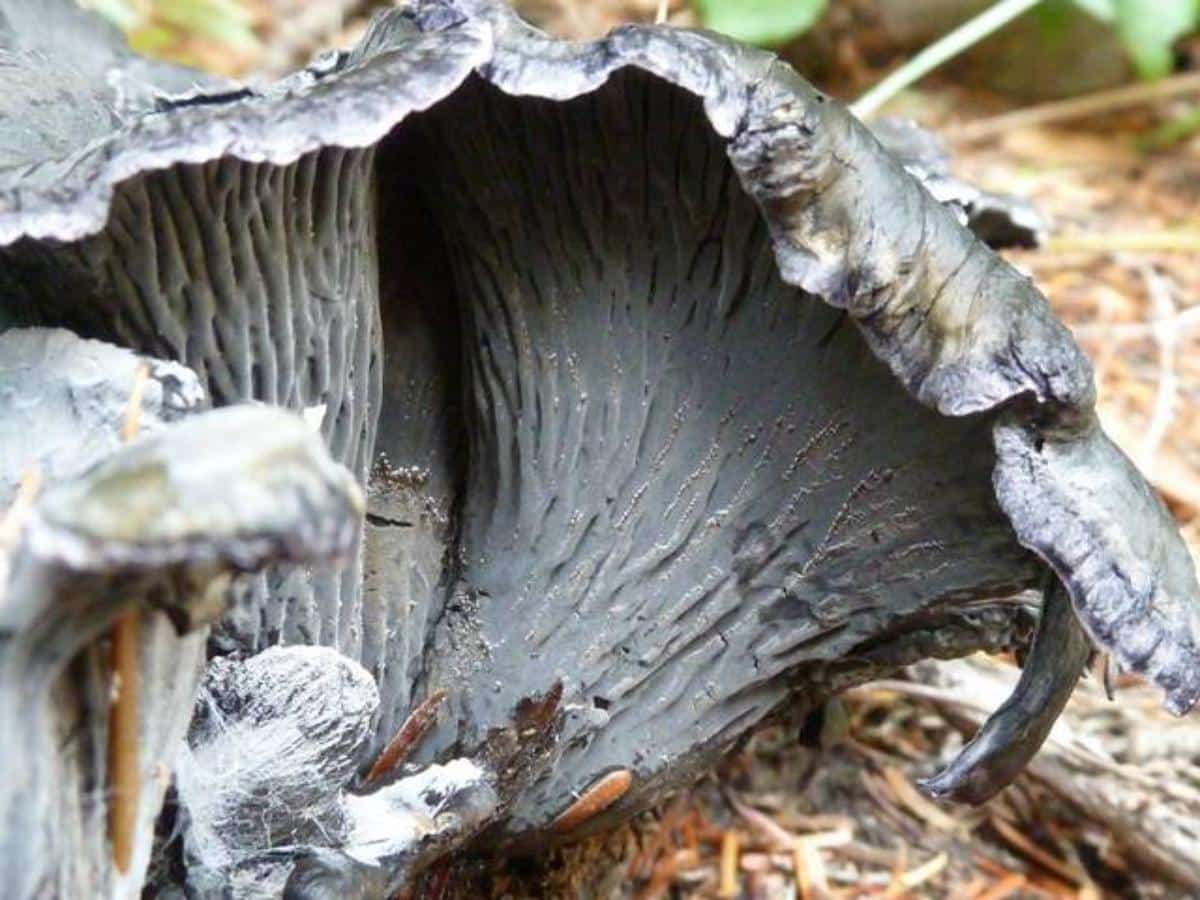 The opening at the top of the mushroom, the "cap," ranges from .75-3.25 inches across. The edges are wavy, lobed, not perfectly rounded, and have a thin white edge in youth. As the mushroom ages, the white edge darkens. At the very bottom of the funnel is a stubby dark stem, between .75-1.5 inches long. The stem is almost always fused with other stems at the base to form a cluster of vase-shaped bodies.
Overall, the body is up to 5.9 inches tall and around 3.9 inches wide. The flesh is soft and highly brittle. There is a fragrant mushroomy, lightly smoky scent.
In Alaska, the blue chanterelle usually is much darker than in other locations. The inner funnel surface is jet black, and the outer surface is dark gray, making it look even more like a black trumpet.
The spore print is white.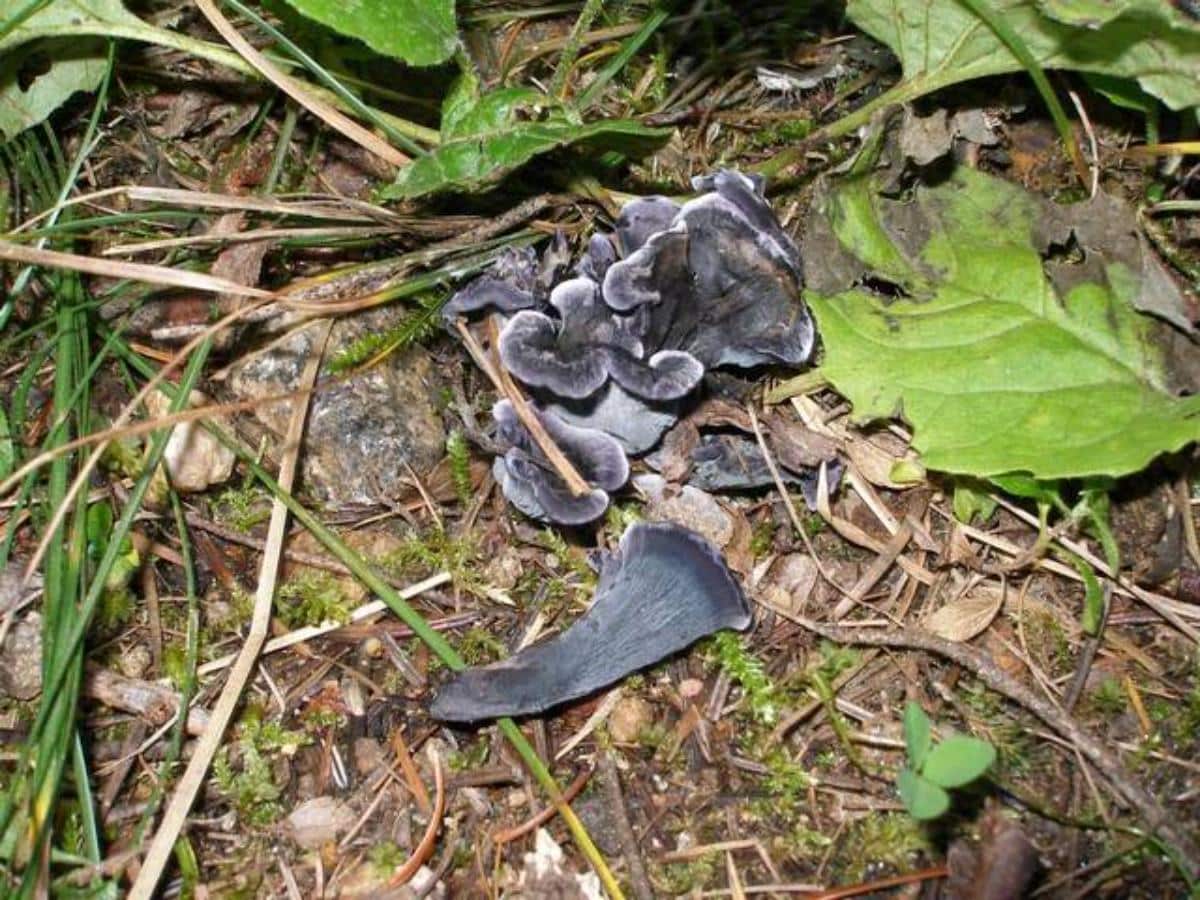 Foraging Blue Chanterelles
Before you pick any blue chanterelles, think of the rarity of the species. In addition to their natural uncommonness, their survival is also being threatened by habitat loss. While it's okay to forage them for eating, please leave at least half behind to release their spores and hopefully renew their populations.
**Many will say picking all of a mushroom is okay because picking the fruiting bodies does not harm the underground mycelium. This is true. However, picking them all also means they can't spread their spores like they are meant to in order to maintain and increase populations. Spores are the "eggs," the "seeds," which ensure future patches. Please be considerate of the fungi kingdom and pick lightly. Here's an article I did about Sustainable Harvesting (and the debates around it!) if you'd like to learn more about how to be a good steward of the land.
Pick these delicacies with care! Their flesh is extremely brittle and will break apart easily. Don't put them in a basket with other mushrooms where they might get crushed. It's best to put foraged specimens in a separate container or bag and carry it carefully to keep the mushrooms intact.
After being picked, the deep blueish coloring tends to fade to blackish – it loses a lot of its vibrancy in harvesting.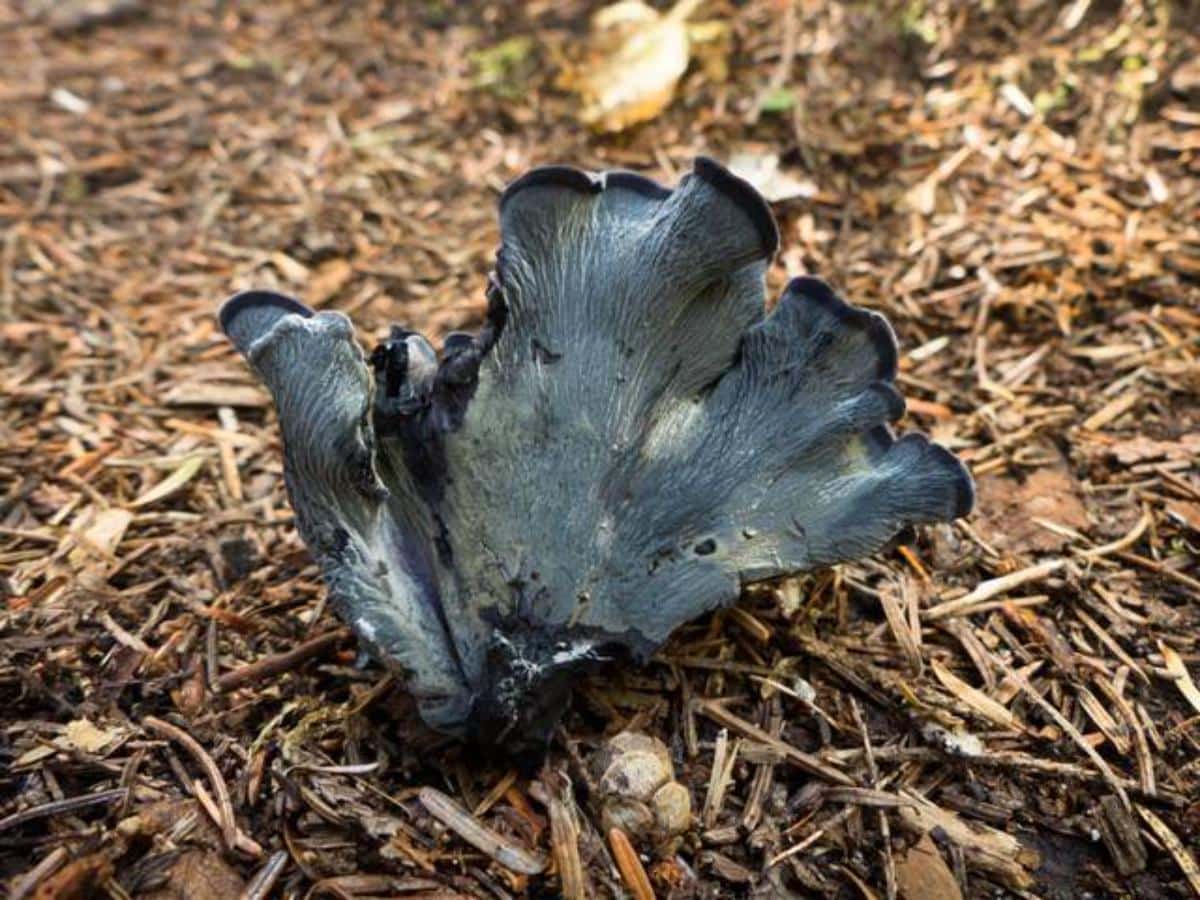 Blue Chanterelle Lookalikes
Black Trumpet (Craterellus sp.)
Black trumpets and blue chanterelles look incredibly similar, especially to the inexperienced forager. The key difference is color – black trumpets are dark gray on the inner surface and grayish on the exterior. The Alaska blue chanterelles look a lot like this, too, though, making it very confusing.
Two other points separate these two species. Black trumpets usually grow individually, not in dense, fused clumps. Sometimes, one or two black trumpets will be attached, but in general, each fruiting body is individual.
Additionally, black trumpet bodies are more funnel-like. Only with age do their cap edges get super wavy and uneven. The outer surface of the black trumpet is also usually smooth or only faintly wrinkled, while blue chanterelles are often profoundly wrinkled.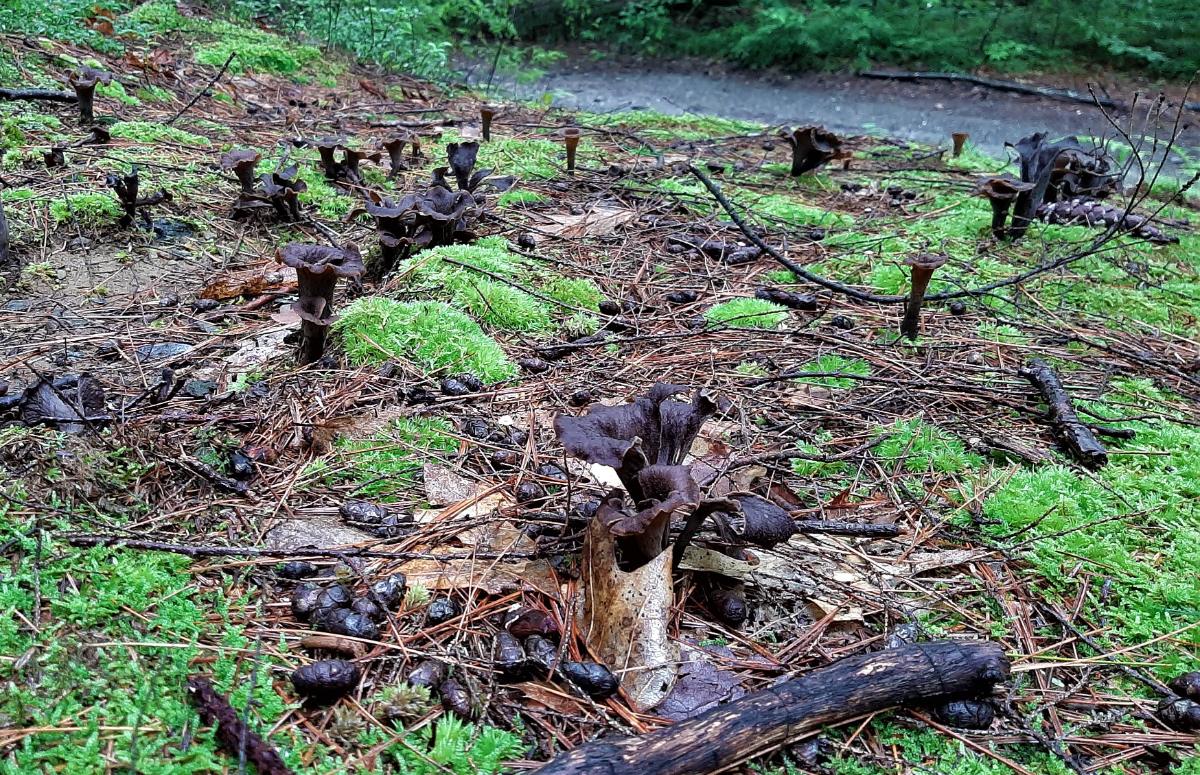 Pig's Ear (Gomphus clavatus)
The pig's ear (aka violet chanterelle) has the same vase or funnel-like shape, but its body is lilac or orangy-brown. It also has deep ridges or wrinkles on the exterior. The color, though, is usually enough to tell these two apart.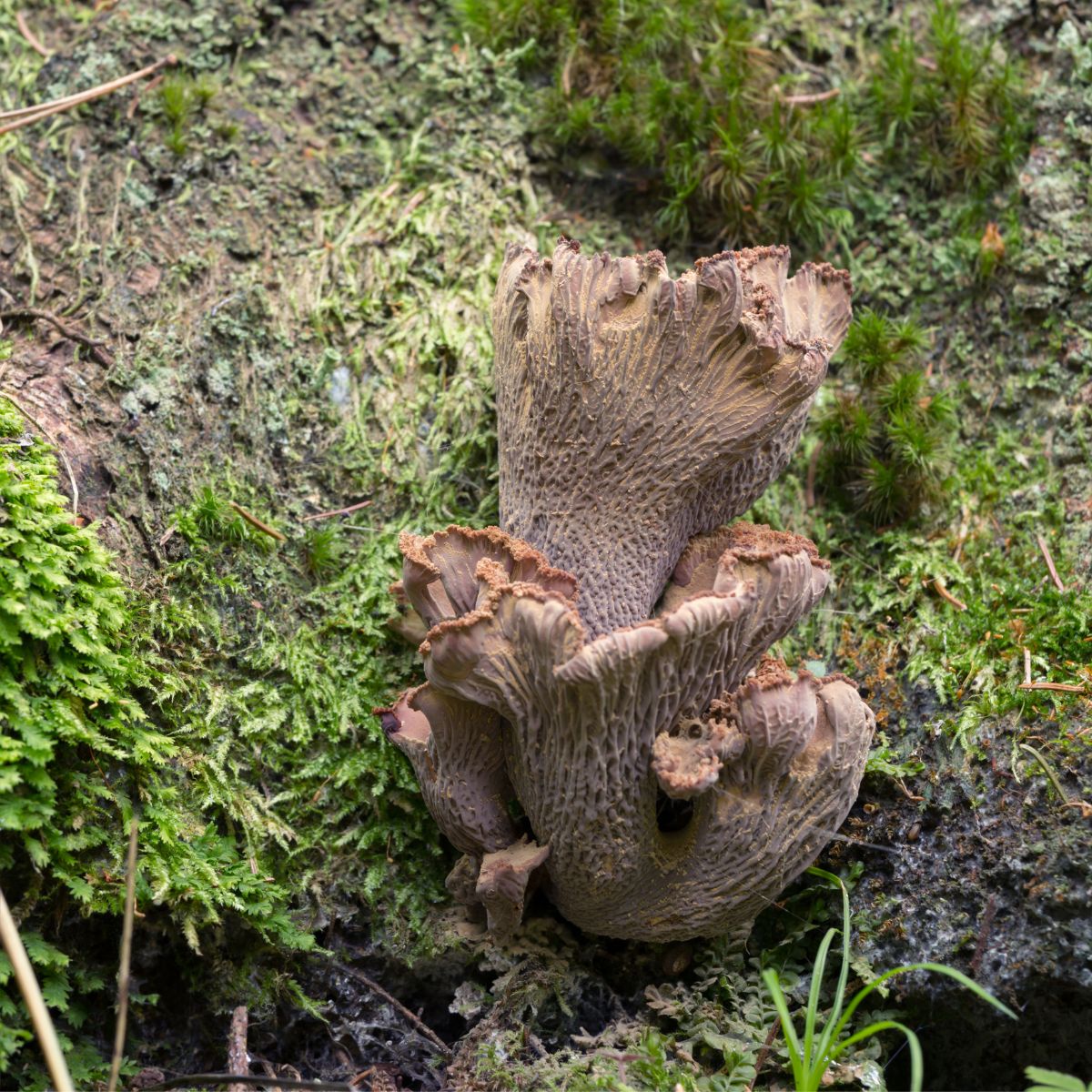 Cooking With Blue Chanterelles
Blue chanterelles have a mild, lightly aromatic taste. They're like a cross between black trumpets and chanterelles. You can use them in any recipe calling for black trumpets or chanterelles, but know their flavor won't be as strong or robust.
Blue chanterelles are excellent as a pizza topping or used to garnish risottos, salads, meat dishes, or savory tarts. It's best to use them where they can be highlighted; flavors too strong will overpower the blue chanterelle delicacy. Also, since they're so uncommon, it makes sense to make them the star.
Be aware that, like black trumpets, blue chanterelle mushrooms will turn whatever is being cooked into a dark grayish color. This is why it's usually best to cook them separately and use them as an exquisite garnish.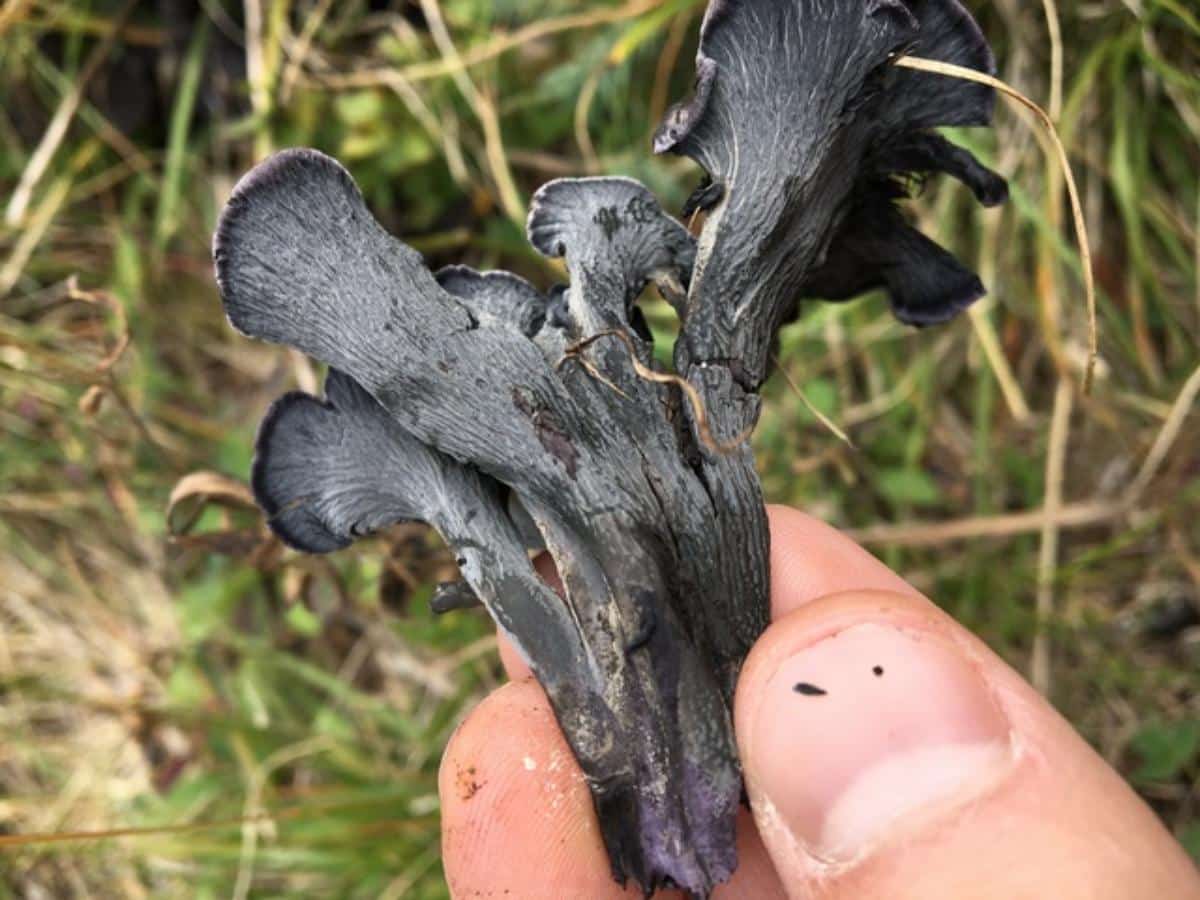 Common Questions About Blue Chanterelles
Are blue chanterelles medicinal?
A study done in 2014 discovered that compounds extracted from these mushrooms contained compounds used to treat cancer. Researchers also found anti-viral compounds that could be beneficial to people with diabetes because they inhibit glucosidase.