Learning about poisonous mushrooms is crucial if you want to start eating specimens you find in the woods. The consequences of eating the wrong wild mushroom range from dizziness to severe diarrhea to even death. Yes, you can die from making a mistake.
That said, mushroom hunting isn't the hazardous experience that some would have you believe. Many people, myself included, have safely eaten wild mushrooms. We do this through a combination of education and caution.
Jump to:
What To Know Before Eating Mushrooms
Always make a positive identification
Only eat young, fresh specimens.
For your own safety, there must be no doubt in your mind.
If eating something new for the first time, only try a small amount and wait 24 hours to see if it effects you negatively. Even perfectly fine edible mushrooms might cause you gastrointestinal stress or an allergic reaction. Remember, we're all individuals. Just as some people can't eat trees nuts, some people can't eat certain types of mushrooms. Unfortunately, the only way to know is to try them.
If you're not interested in eating wild mushrooms that's okay. Truthfully, most of them don't taste very good (although some are delicious). It's still fun to learn the poisonous species, as some of them are very beautiful. You just may be surprised at just how many poisonous mushrooms you see on a daily basis!
Please remember that this is not a definitive guide, only an introduction. Don't eat anything based on what you've read here.
We'll start by looking at some of the famous and common toxic mushrooms such as Amanitas, little brown mushrooms, and false morels. These are responsible for almost all the deadly poisonings in the United States. They're often mistaken for something edible, so it's important to learn how to recognize and avoid them.
I've also included a brief, but by no means exhaustive, list of some other poisonous species. Finally we'll conclude with some myths in hopes to dispel some of the misinformation out there.
Share a poisonous fungi story with visitors to this page in the comments — we can all learn from others experiences!
Famous Poisonous Mushrooms
The Infamous Amanita GENUS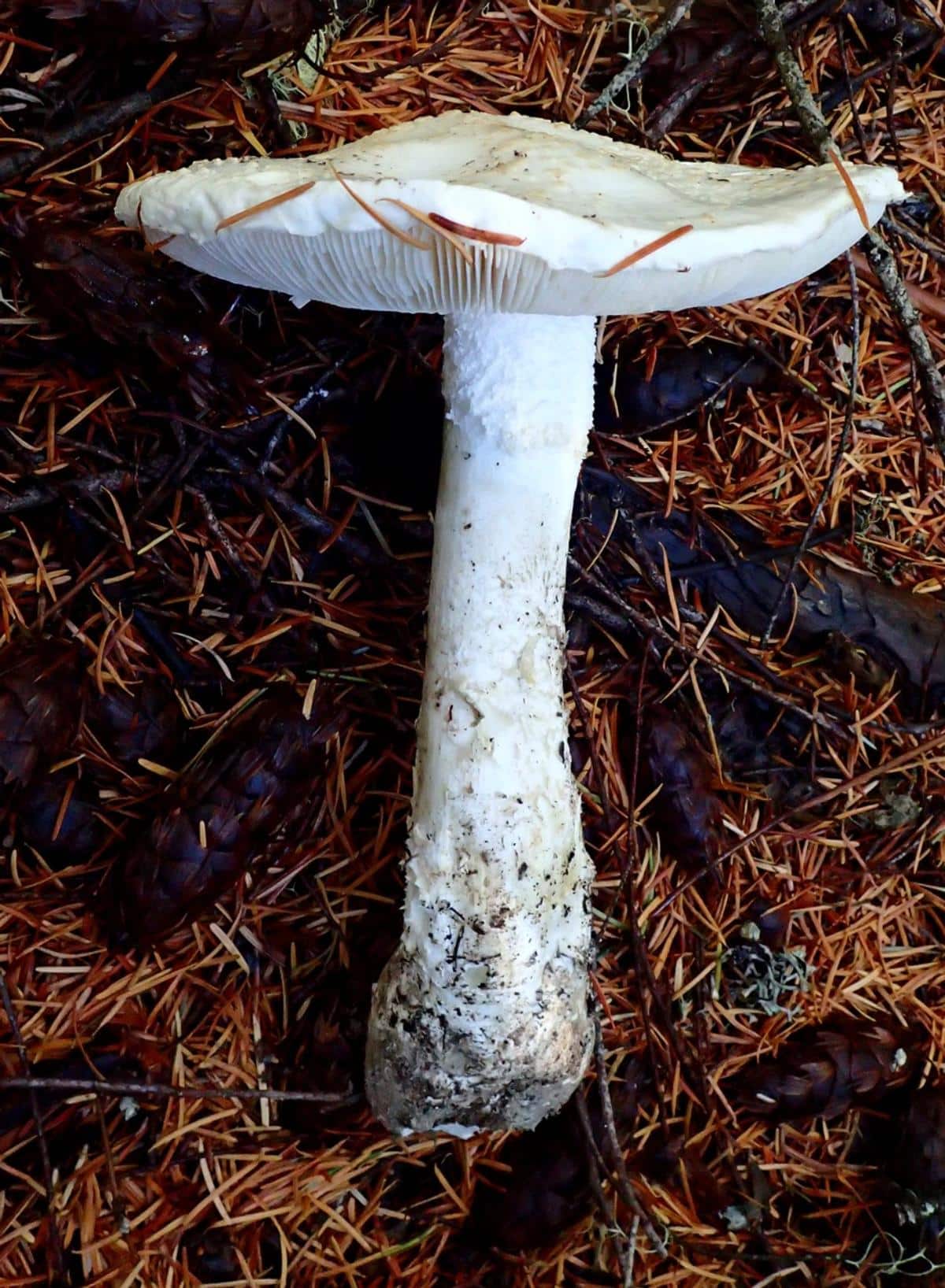 The Amanita mushroom genus contains some of the deadliest mushrooms in the world. Certain species of Amanita contain amanitin, a lethal toxin that kills by shutting down the liver and kidneys.
Learning to recognize an Amanita is a key aspect of poisonous mushroom identification. Fortunately they aren't too hard to spot if you know what you're looking for. Check out this page to help you identify poisonous mushrooms in the Amanita genus.
Not every Amanita is dangerous but some will kill. Of those, the majority of fatal mushroom poisonings worldwide are attributed to the aptly named "death cap", or Amanita phalloides. Check out the page on the death cap for more information about this deadly mushroom and its cousin, the destroying angel.
LBMs (Little Brown Mushrooms) Are Everywhere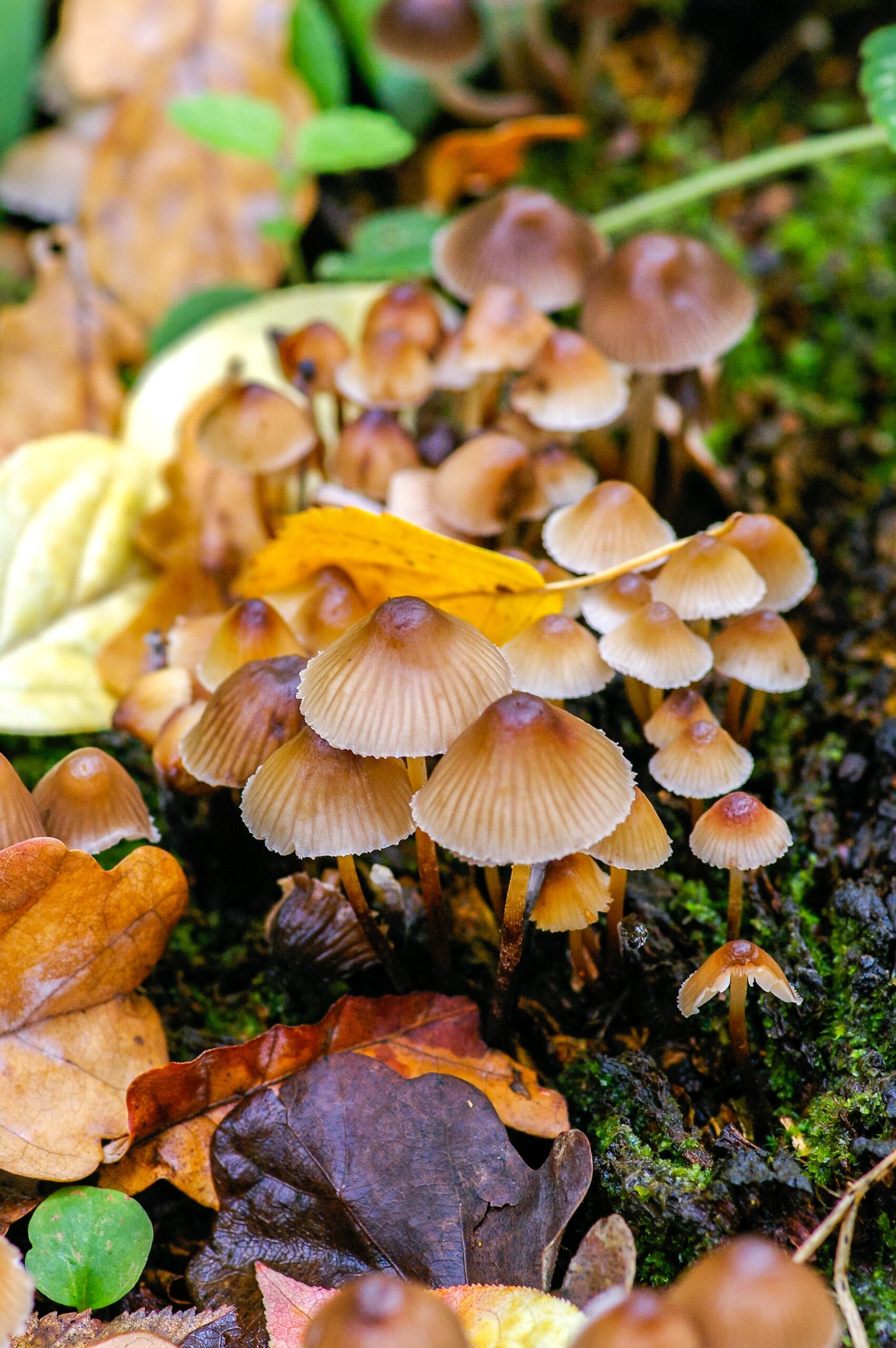 It's no secret that all those little brown mushrooms on the ground look similar and are hard to identify. These types of mushrooms are nicknamed LBMs, or "little brown mushrooms".
Many LBMs are harmless; others will make you sick. A few contain the same amatoxins as certain amanitas. For this reason it's best to avoid little brown mushrooms when collecting for the table. A mistake could be deadly, so leave these complicated identifications to those with microscopes! Or, wait until someone shows you the minute differences for a positive ID.
This page goes into the poisonous little brown mushrooms, such as the deadly galerina, in more detail.
False Morels (Gyromitra and Verpa species)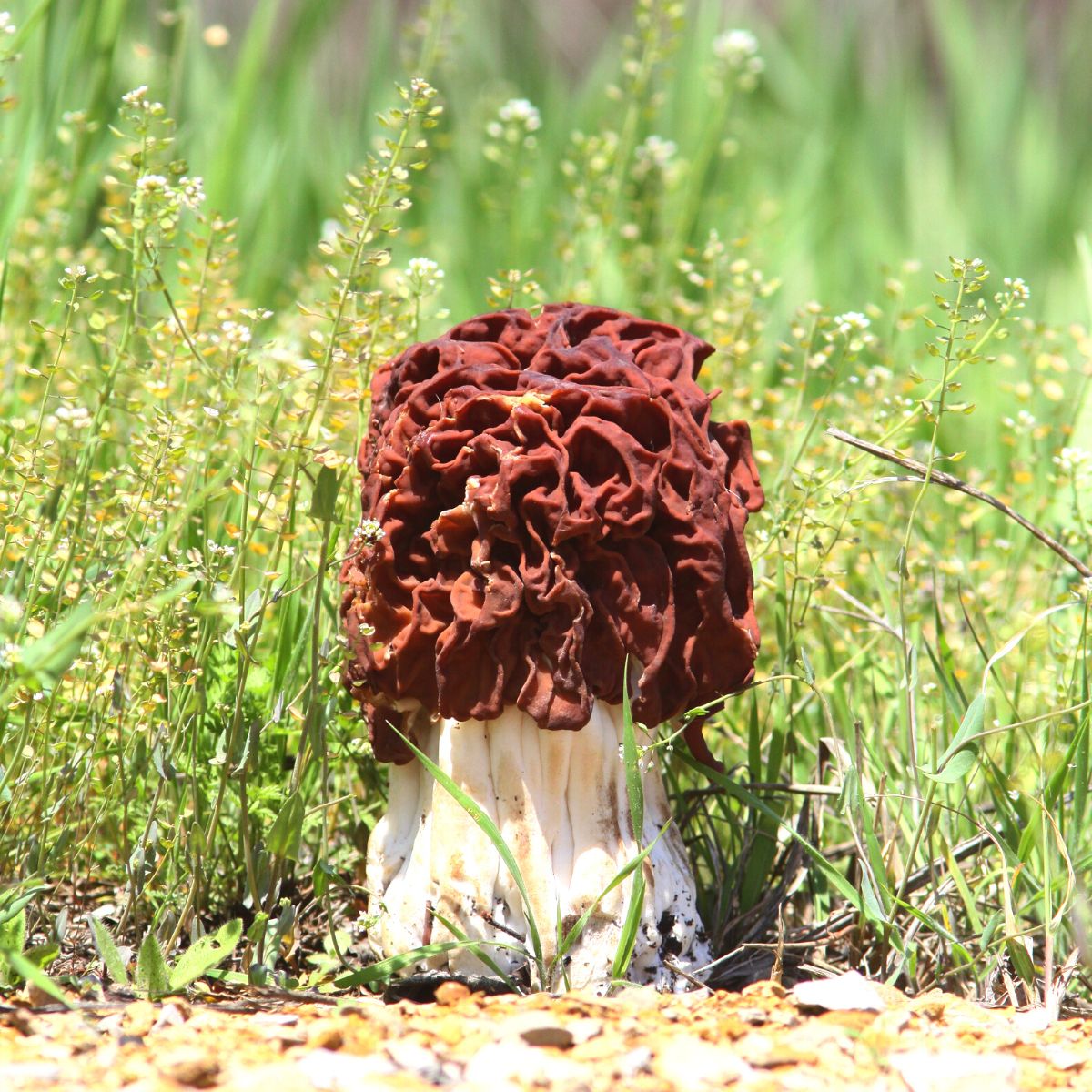 The term "false morel" encompasses several different species that are often mistaken for the edible delicacies in the Morchella genus (true morels).
Many false morels contain chemicals that are toxic, causing vomiting, dizziness, and sometimes death. However, people in some parts of the world boil and eat them with no apparent ill effect. Foragers in N. America who forage and eat these tend to be very opinionated. Don't let anyone sway you into eating something unless you're completely comfortable!
It is completely true there are species that are edible, but there are also many species of false morel and you want to make sure you get the right ones. AND, you must learn to prepare them correctly. It's not something to take lightly or go about haphazardly.
With all the confusion surrounding false morels, it's best to learn how to identify them properly. This page on the false morel has facts, identification information, and a look at why some people think they're safe to eat.
I recommend avoiding the false morels altogether. No one knows how toxic any given false morel will be, so it's just not worth the risk.
The Jack o'Lantern (Omphalotus olearius)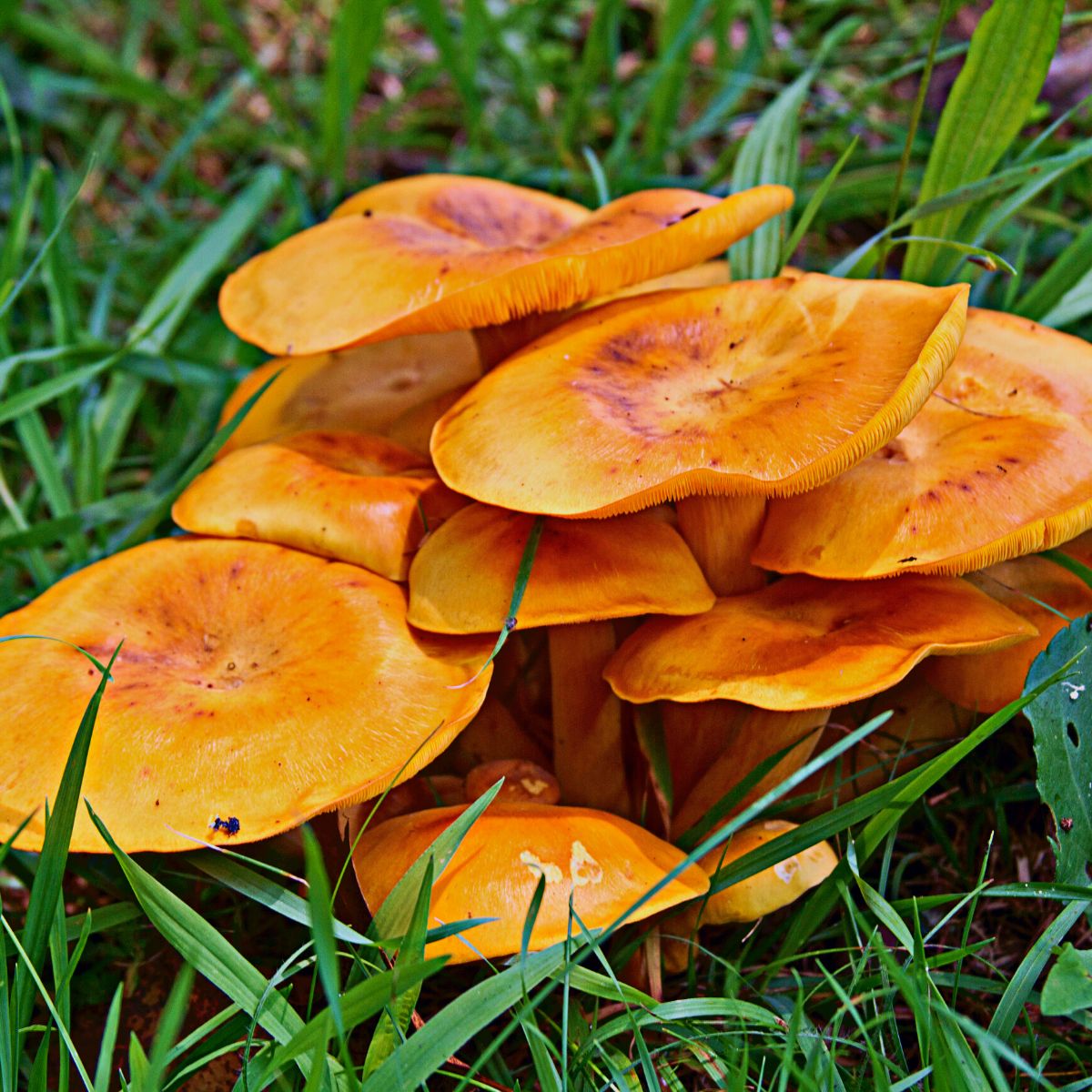 The jack o'lantern, or Omphalotus olearius, is a famous mushroom due to its often being mistaken for certain types of gourmet chanterelles.
The jack o'lantern contains a different toxin, called muscarine. This chemical causes diarrhea and sever cramps. They're not deadly, but poisoning yourself with one will result in an extremely unpleasant experience. Hospitalization is sometimes necessary.
Because chanterelle mushrooms are so highly prized, it's important to learn about the jack o'lantern so you don't make this mistake. You can find more information on Omphalotus olearius here.
For an in-depth look on chanterelle mushroom identification see this page.
A Few Other Poisonous Species
I'm not going to go into detail on these but here are some other well-known species:
Poisonous species in the Lepiota genus such as Lepiota josserandii, Lepiota castanea, and Lepiota helveola. They have the same amatoxins as certain species of Amanita and can be deadly.
Chlorophyllum molybdites is sometimes known as the "green spored Lepiota" due to its spore print. These can cause extreme sickness.
Certain species of boletes are known to be poisonous such as Boletus satanas.
The Clitocybe and Inocybe genera contain a number of poisonous species. These can be difficult to identify and I think it's best to avoid these genera altogether.
The Cortinarius genus also contains many dangerous species. Some have a very beautiful purple color!
And many more! With so many poisonous mushrooms out there, you can see why it's important to educate yourself and be cautious.
Myths: Never Rely on These for Poisonous Mushroom Identification
Another cause of poisoning is relying on myths to help identify poisonous mushrooms. This strategy is dangerous, as many of these myths are inaccurate and have no scientific basis. To help avoid sickness (or worse!) never use a folk tale when making a classification. Instead use local knowledge gained from books and forays with experts.
Below are some common examples of poisonous mushroom "fiction"
All white mushrooms are safe to eat. I have actually heard people say this and it may be the most erroneous myth of all. Not all poisonous mushrooms are brightly colored. The destroying angel from earlier in this page is just one glaring example of a hazardous white mushroom.
Heating a poisonous mushroom and stirring it with a silver spoon will turn the spoon black. Some believe that the toxins will blacken silver when heated. This myth has been around for a long time with no basis in fact. To date no toxins are known to have this reaction with silver.
Any mushroom is safe to eat once thoroughly cooked. This is an unreliable assumption. Most toxins are not broken down by heat and are not made safer by cooking.
Insects can tell which mushrooms are poisonous and will avoid them. Not true! Just because it's deadly to us doesn't mean it's deadly to a bug. Some toxic species, such as the death cap, will still harbor insects and their larvae.
They taste bitter/sour/bad. Don't rely on those tricky taste buds! I've read reports of people mistakenly eating amanitas and saying they tasted good.
All poisonous mushrooms have a pointed cap. The shape of any part of a mushroom plays no role in its toxicity.
There you have it! Always stick to the species you know and seek hand-on local instruction. However, even experienced mushroom hunters have poisoned themselves so remember the age-old adage:
When in doubt, throw it out!