The Jack o'Lantern mushroom is often confused by hopeful chanterelle and chicken of the woods foragers. They share vibrant orange hues but on close examination, it's pretty easy to determine you've found the poisonous Jack o'Lantern (Omphalotus illudens) and not a delicious edible species. The Jack o'Lantern find isn't a total loss, though, as it features an intriguing bioluminescence.
In North America, the Jack o'Lantern used to be under the single scientific name Omphalotus olearius. However, as it turns out, that species only occurs in Europe. The North American species is actually two separate species, Omphalotus illudens on the east coast and Omphalotus olivascens on the west coast. This guide covers both the eastern and western North American Jack o'Lantern mushrooms. You may still see the name O. olearius used in guidebooks.
Scientific Name: Omphalotus illudens and Omphalotus olivascens
Common Names: Jack o'Lantern, False Chanterelle
Habitat:
Edibility: Toxic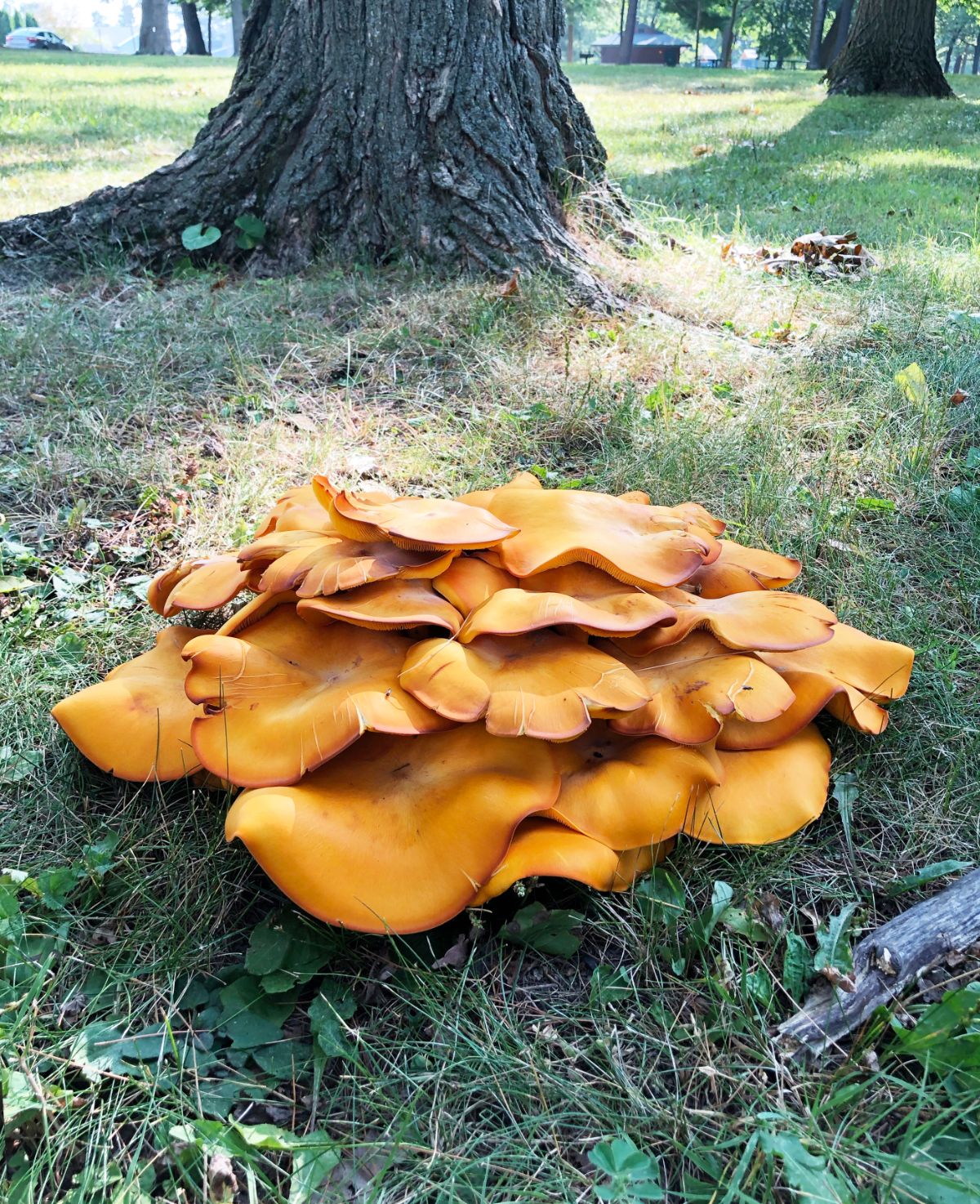 Jump to:
Jack o'Lantern Mushroom Toxicity
This mushroom contains the toxin muscarine, which causes severe cramps and diarrhea. It is not deadly, but consuming this species may require hospitalization.
The problem is that the jack o'lantern mushroom is often mistaken for certain types of gourmet chanterelles. Given the popularity of the delicious chanterelle mushroom, poisoning yourself with a jack o'lantern can be a real concern if you're not careful!
Follow this link for an in-depth article on chanterelle mushroom identification.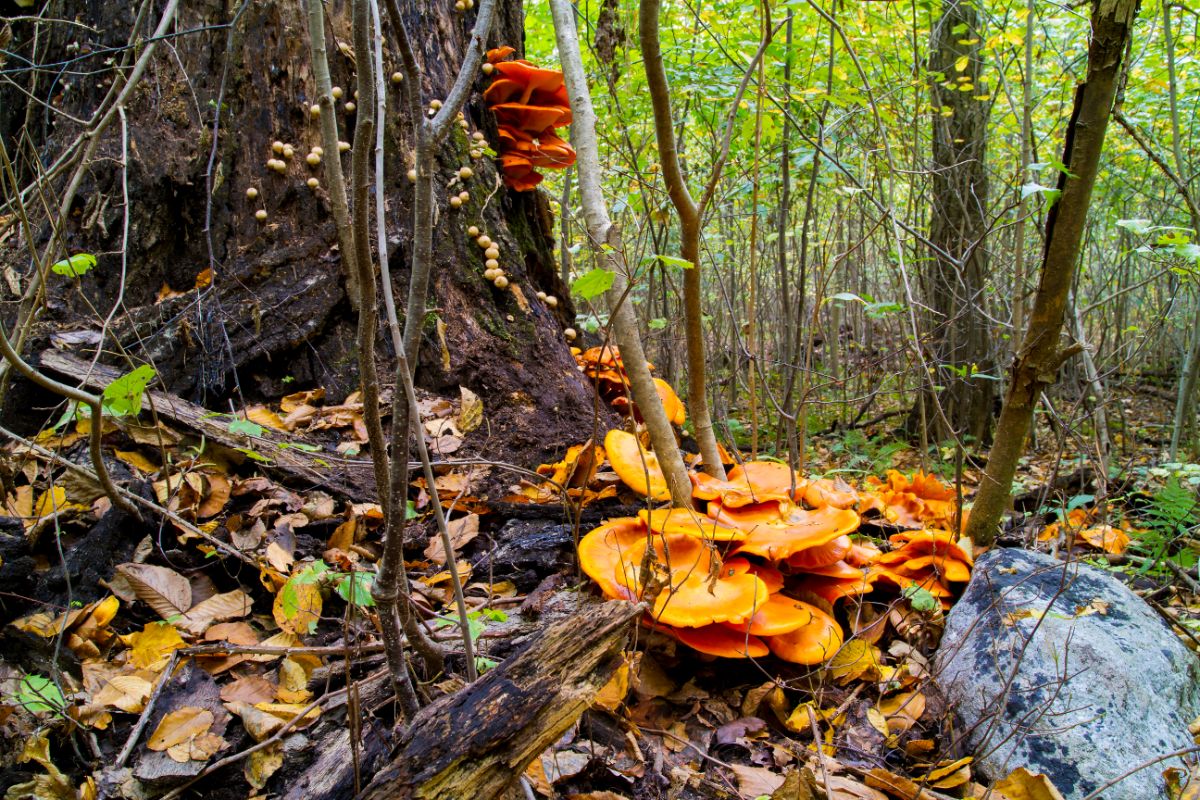 Jack o'Lantern Mushroom Identification
Season
The prime season for the Jack o'Lantern mushroom varies depending on the region, but it typically occurs from July through October.
Habitat
This species is commonly found in large clusters at the base of deciduous trees, on stumps, or emerging from decaying underground roots. It has a saprobic lifestyle, playing a crucial role in decomposing fallen logs and branches, contributing to nutrient cycling in forest ecosystems.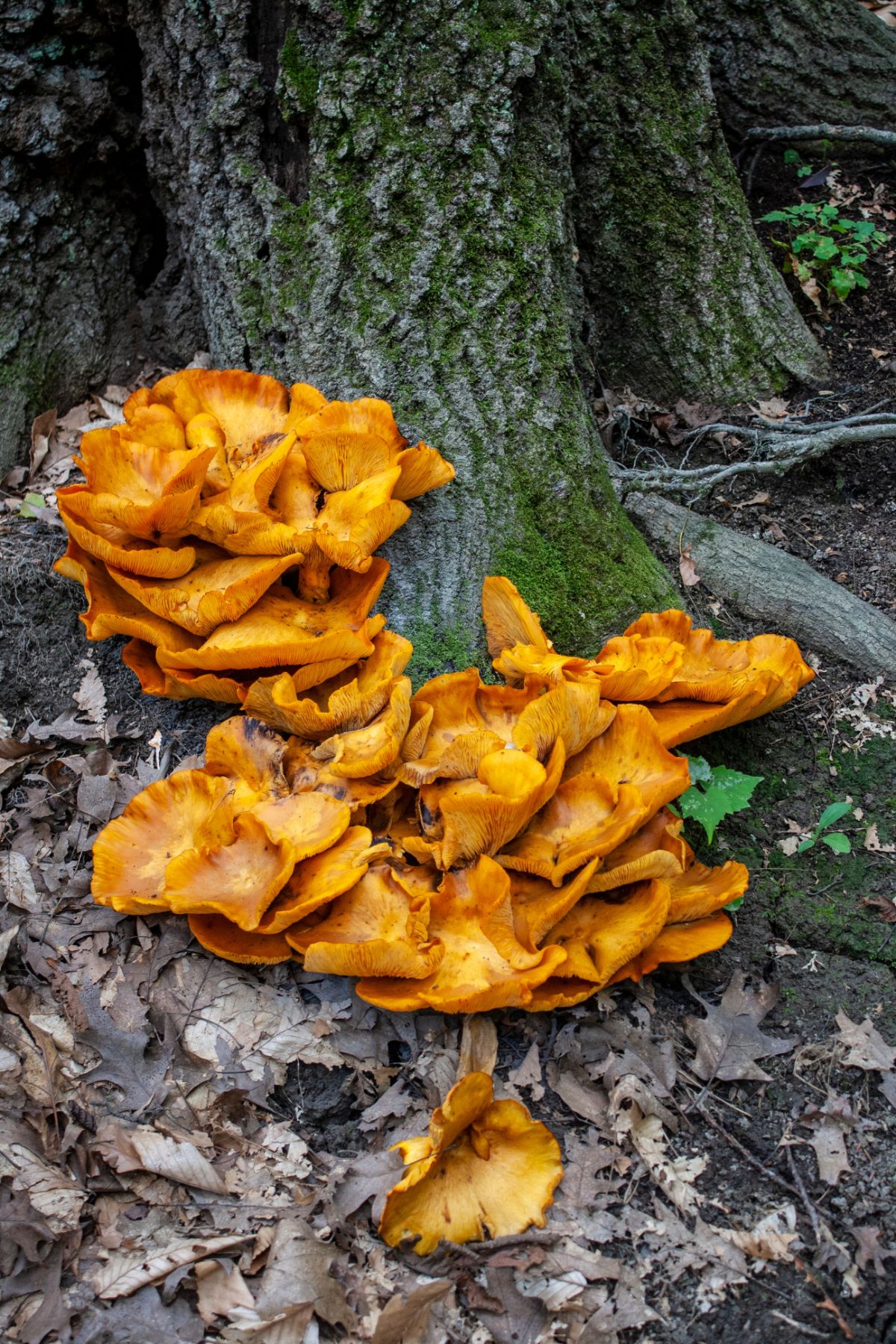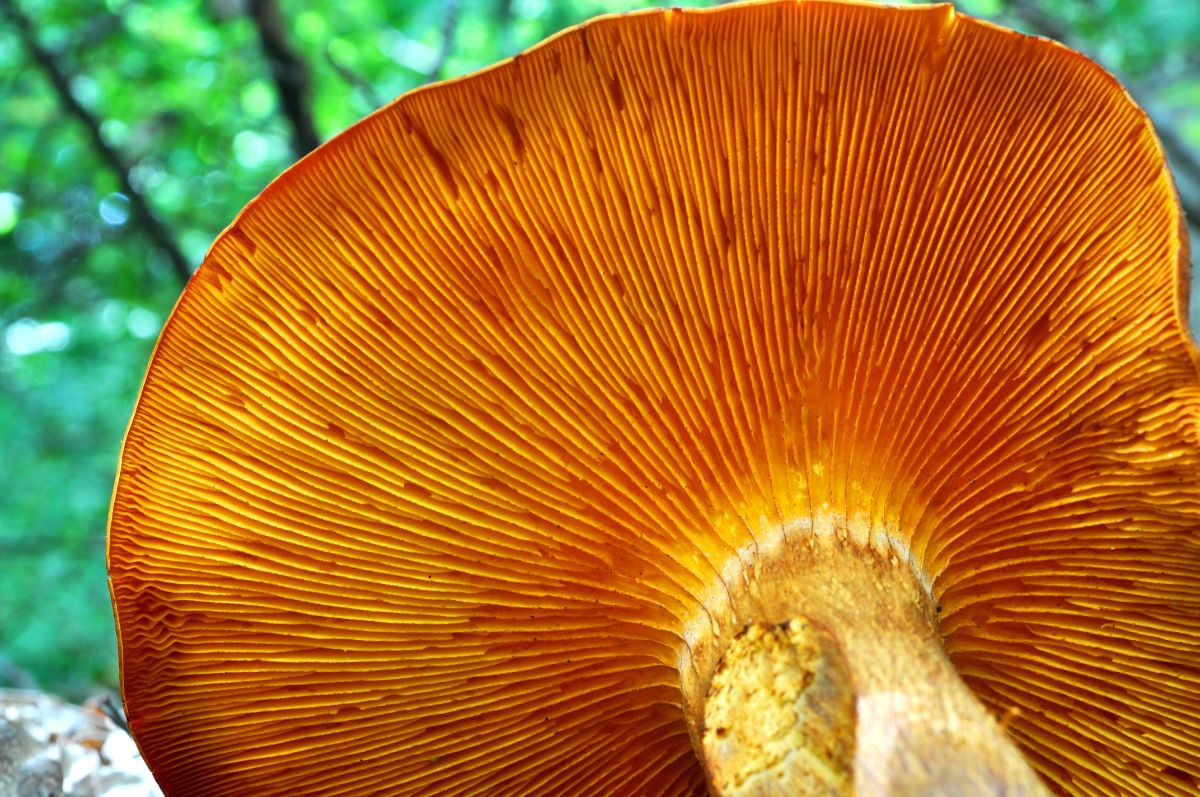 Identification
Cap
The cap of the Jack o'Lantern mushroom is striking with its bright orange to yellowish-orange color. It starts off convex, eventually becoming flat or funnel-shaped, often with a small central "nipple." The texture of the cap is generally smooth, and the edges may be slightly rolled under when young. It ranges in size from 2-8 inches wide.
Gills
The gills are decurrent, meaning they run down the stem, and they share the same vibrant orange to yellowish-orange color as the cap. When fresh, the gills may exhibit a weak bioluminescence, emitting a faint green glow in dark environments.
Stem
The stem of the Jack o'Lantern mushroom is typically yellow-orange, matching the color of the cap. It is curved and tapers toward the base. The texture of the stem is smooth, and it is solid rather than hollow. The stem averages 2-8 inches long.
Flesh
When sliced open, the flesh of the Jack o'Lantern mushroom reveals a pale orange color. The flesh does change color when exposed to air.
Odor
The Jack o'Lantern mushroom does not possess a distinctive odor.
Spore Print
The spore print of this species is creamy white.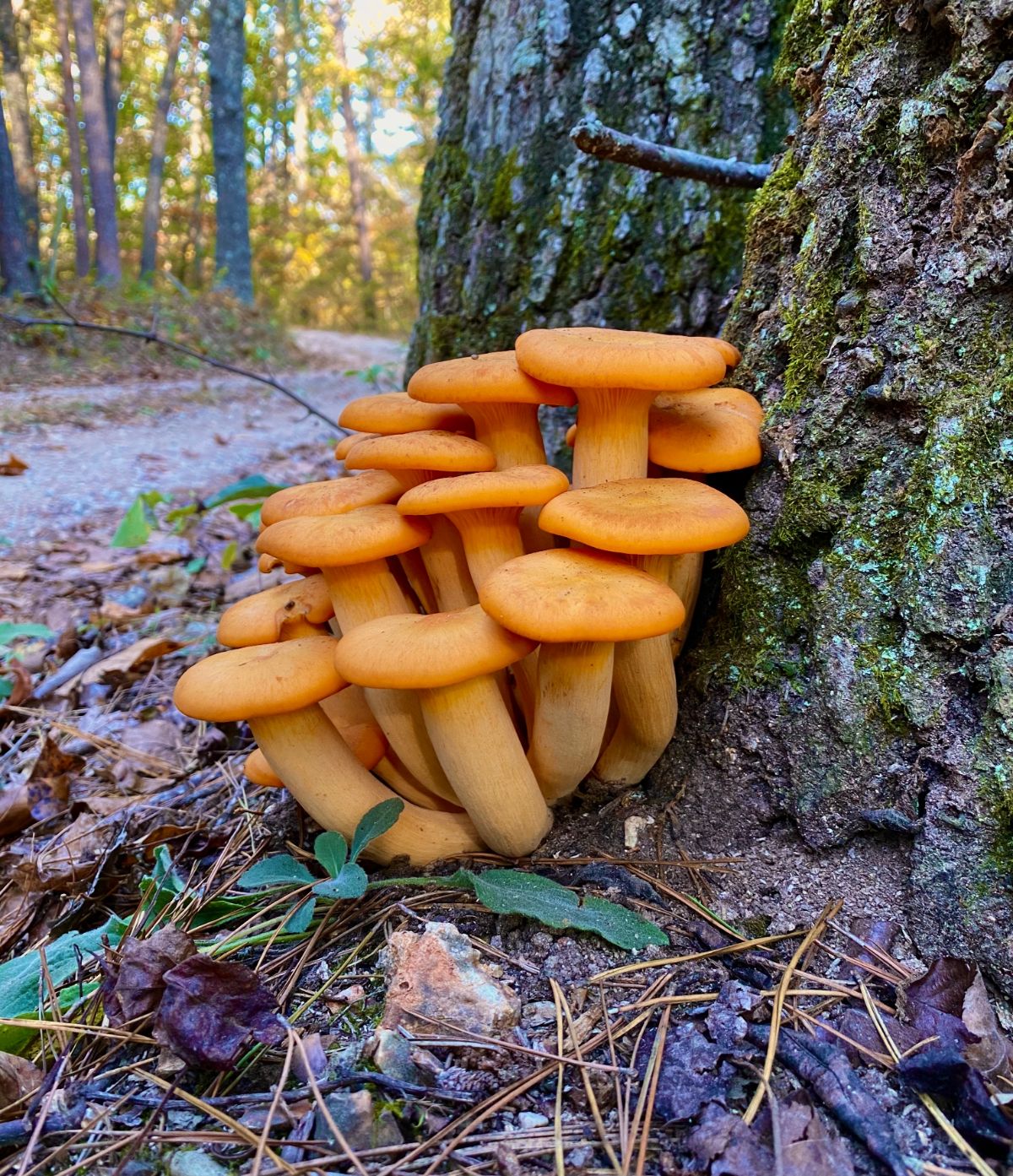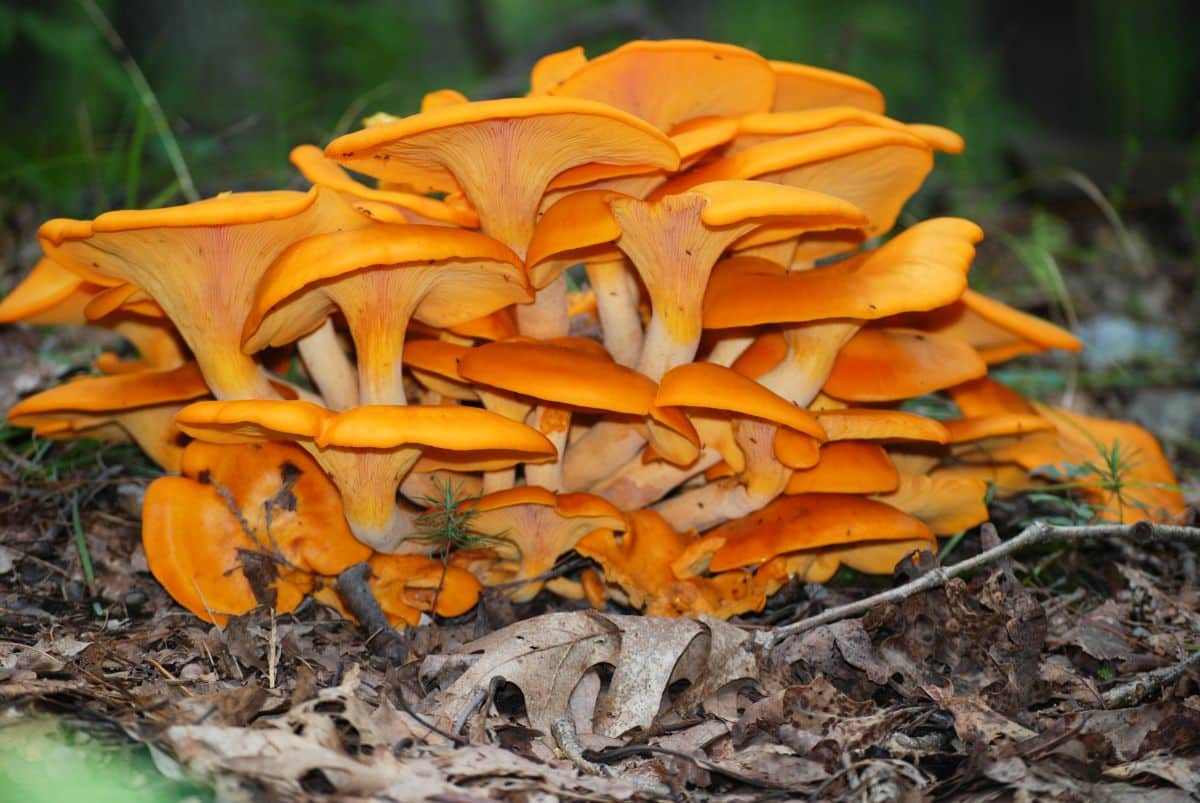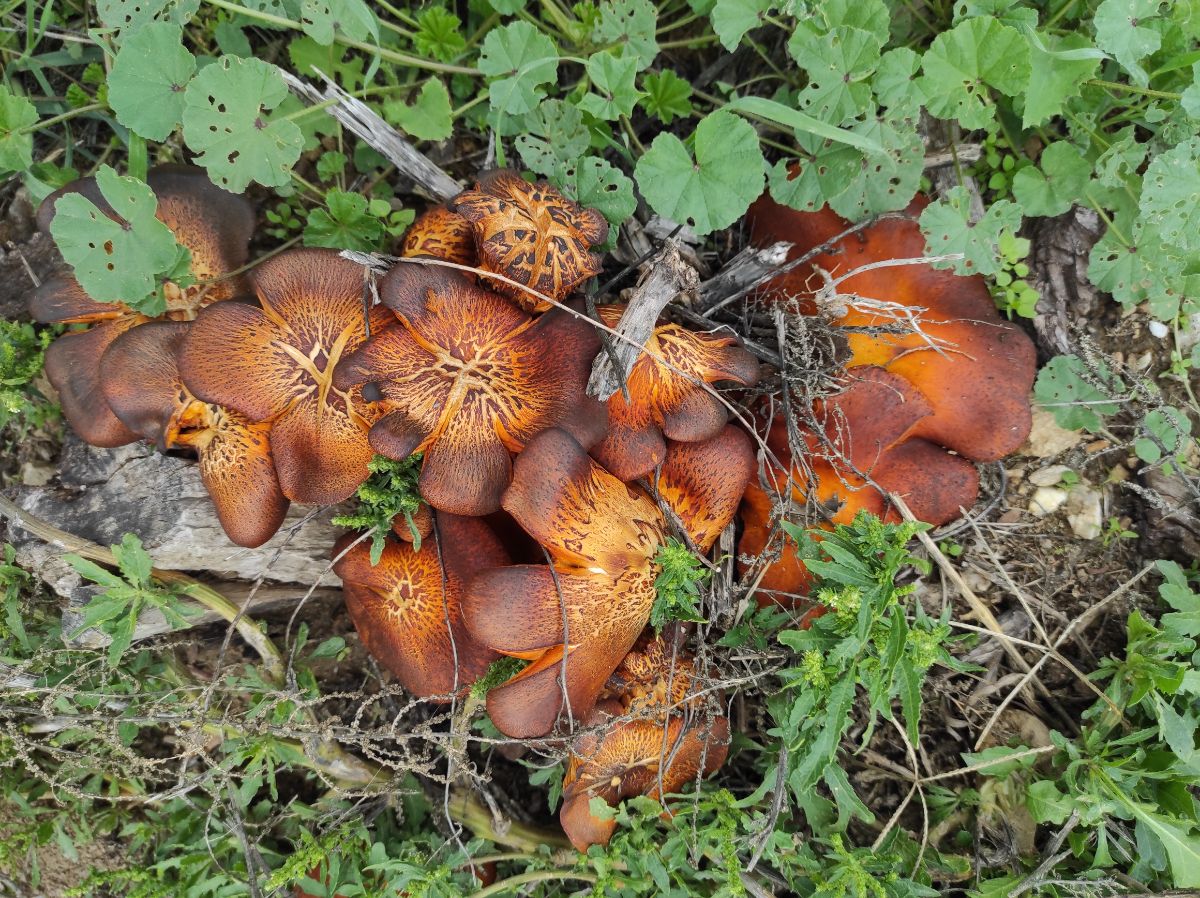 Jack o'Lantern Mushroom Bioluminescence
One can observe a blue-green luminescence from the jack-o'-lantern mushroom in low light conditions, once the eye is acclimated to the darkness. It's actually quite hard to see. The entire mushroom does not radiate light, only the gills do. This is because of an enzyme, luciferase, brought about by luciferin, causing the same emission of light as is seen with fireflies.
The bioluminescent qualities of the Jack o'Lantern mushroom have inspired various stories and folklore. In European folklore, the Jack o'Lantern was associated with mischievous spirits or will-o'-the-wisps, believed to lead wanderers astray. The glowing gills of the Jack o'Lantern mushroom have also led to tales of lost travelers finding their way home in the dark. This fascinating phenomenon has contributed to the enduring allure of this species. Whether its true or not is a whole different story!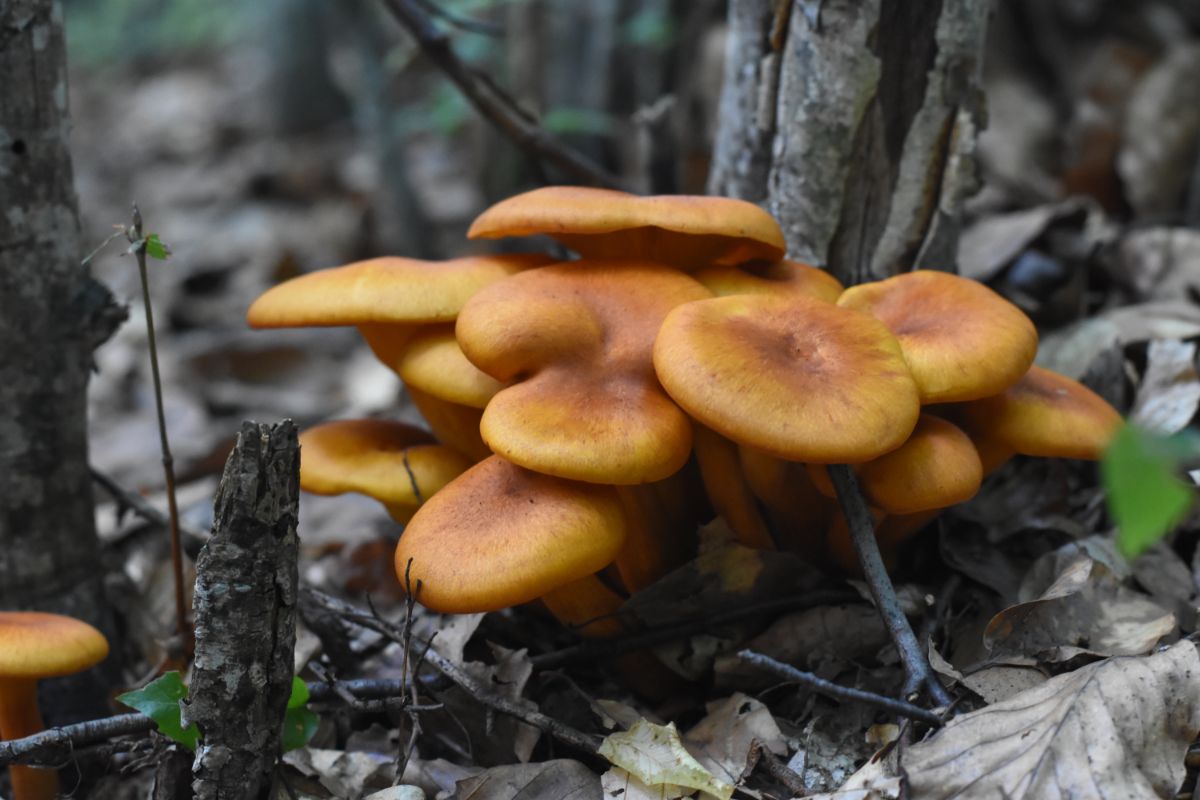 A Chanterelle Look-Alike
If you're going to start hunting for chanterelle mushrooms, it's important to know how to distinguish them from the poisonous Jack o'Lantern. A chanterelle mushroom identification lesson from a hands-on expert is encouraged. Never solely identify anything by what you've read on the Internet!
That said, the easiest way to distinguish a poisonous jack o'lantern mushroom from an edible chanterelle is by looking at the gills. The jack o'lantern has sharp, non-forked, knife-like gills that could be carefully picked off. A chanterelle has false gills, which are folds or wrinkles on the underside of the mushroom and not easily picked off.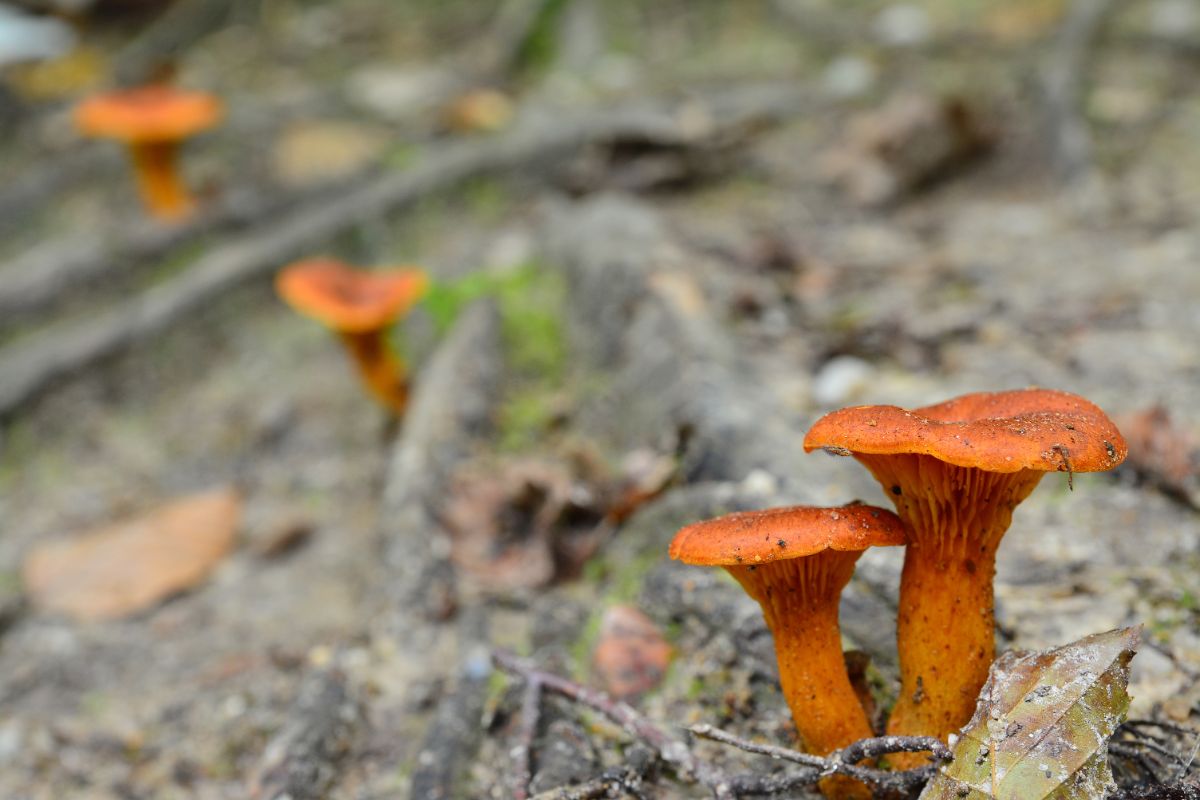 When I first learned to identify chanterelles the gills were described to me as having a "melted" appearance. I still love this explanation! I really do think chanterelle gills look more like melted ridges than real gills.
Chanterelles have false gills, that look melted and do not rub off easily. Jacks have true gills and pull off easily
Jack o'lanterns are much larger, especially at maturity
Jacks grow in dense clusters. Chanterelles may grow 2-3 close together, but they are by no means large clumps or clusters. Usually chanterelles grow singularly and scattered
Chanterelles grow from the ground. Jack o'lanterns grow from decomposing wood (though it may be buried in the ground and hard to see)
The best way for a novice to learn how to really distinguish between the two is to see them in real life. When mushroom hunting, take the time to compare any chanterelles in your area to a local jack o'lantern.
With a little practice you'll never have an unpleasant surprise when hunting for chanterelles, and you may just get to see a jack o'lantern mushroom glow in the dark!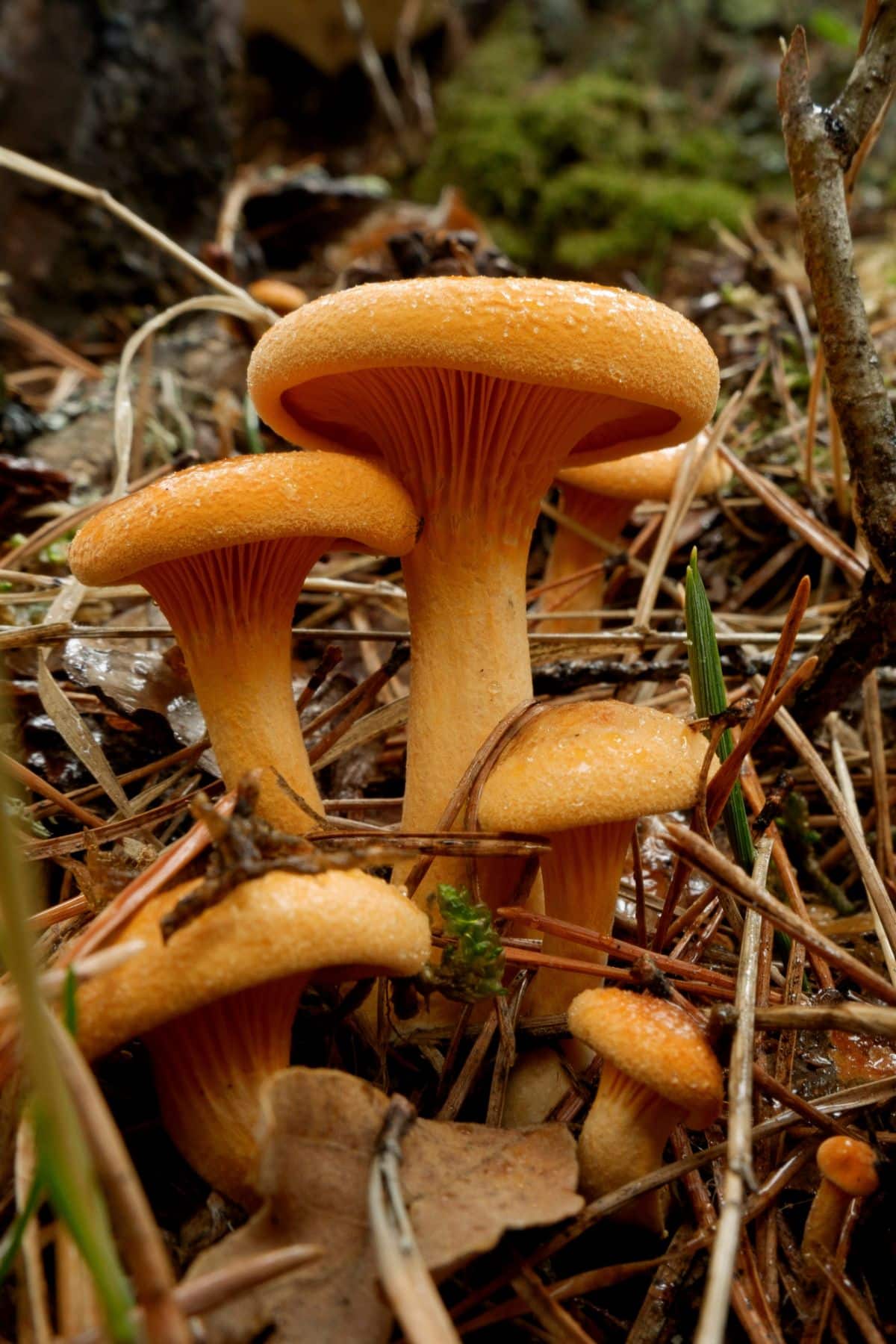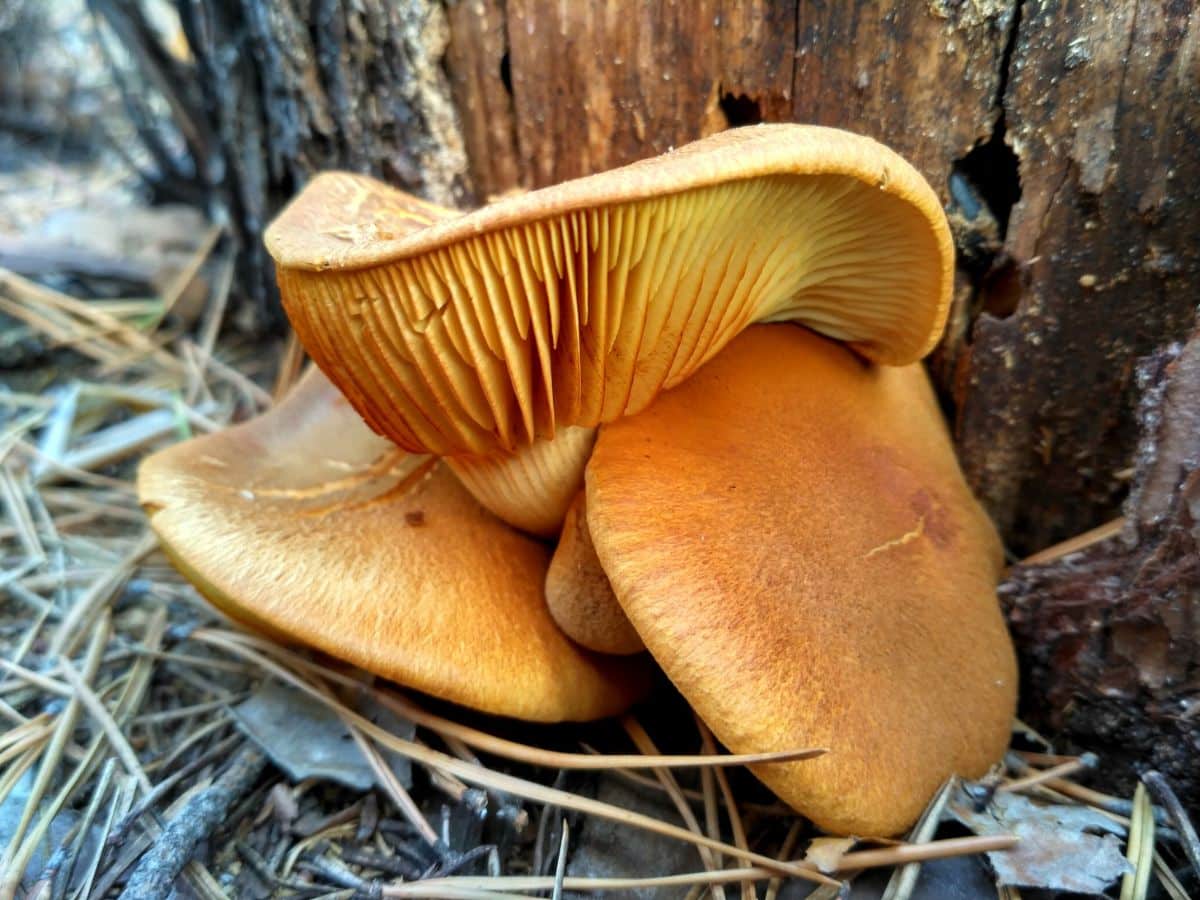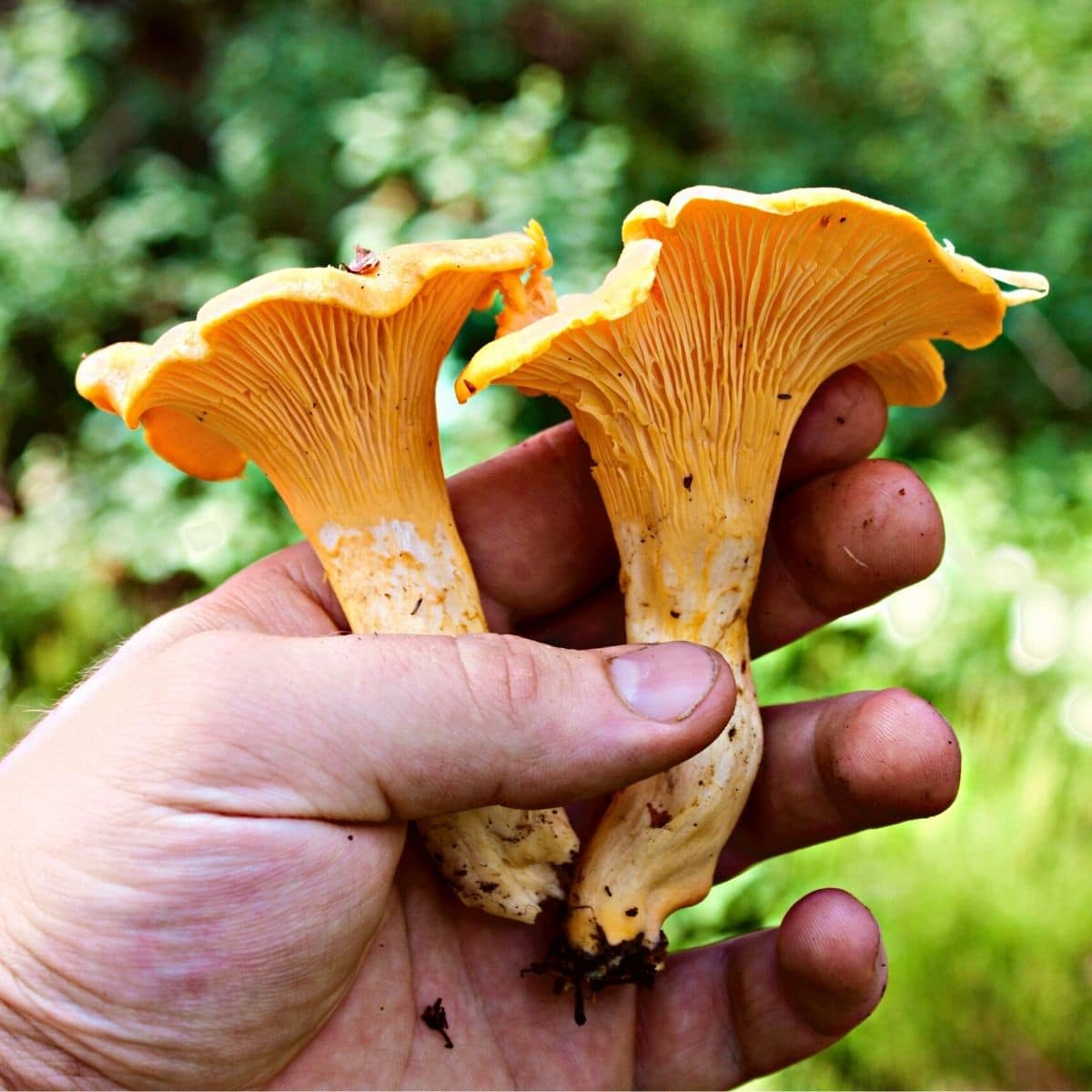 Common Questions About Jack O'Lantern Mushrooms
How can you tell jack-o-lantern from chanterelle?
There are several tells. See above for a more detailed description, but the short answer is gill type and that Jacks are usually much larger than chanterelles, often 2-3 times larger at maturity.