Turning bountiful oyster mushroom harvests into mushroom jerky is one of my favorite things to do. This teriyaki-style mushroom jerky recipe is super simple, and you can use any type of oyster mushroom. You can even use other mushrooms. We've also done this recipe with Hen of the Woods with outstanding results. This recipe uses a dehydrator to create the perfect jerky texture.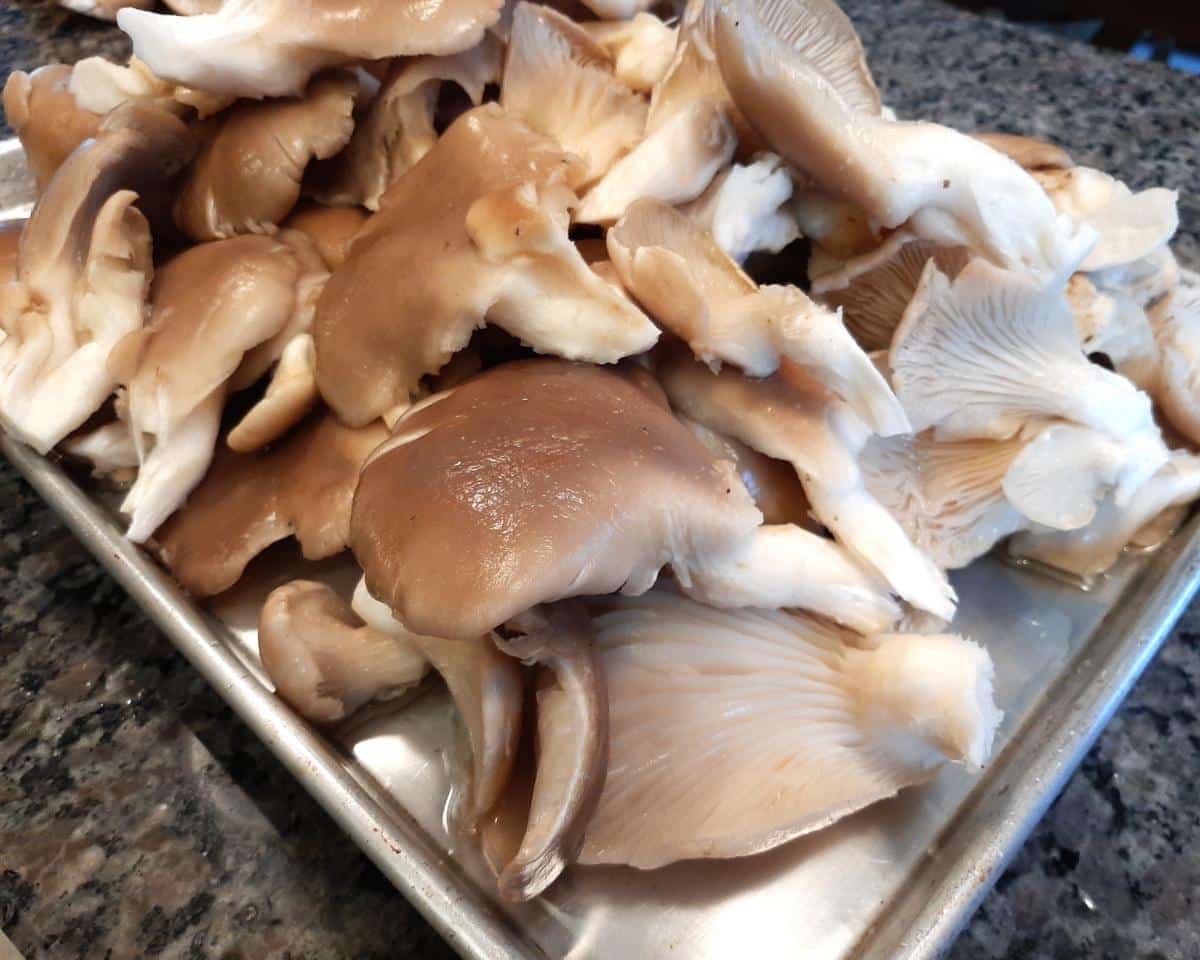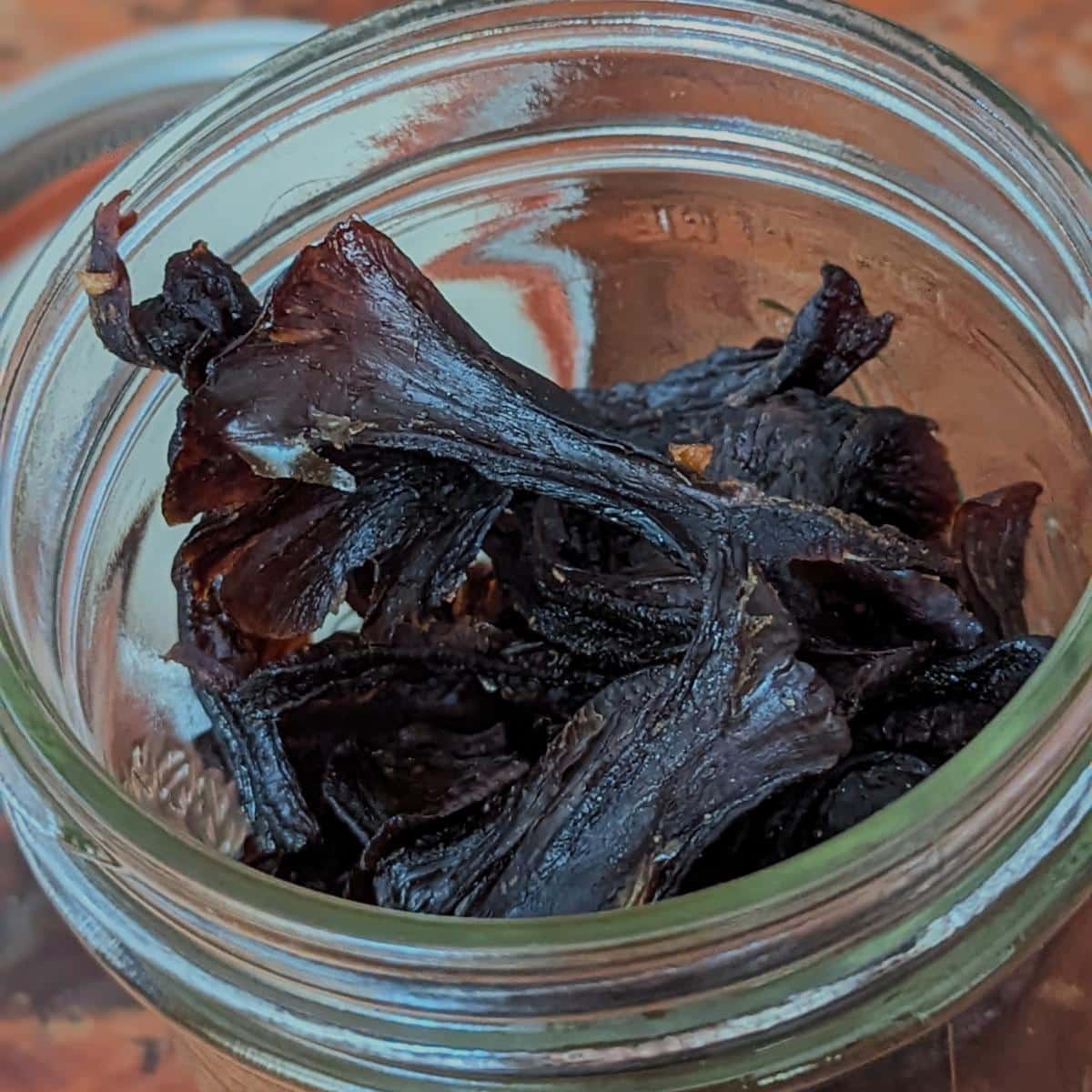 Jump to:
About Oyster Mushrooms
Oyster mushrooms are ideal for this recipe because they are dense, thick, and retain some body during dehydration. They won't dry down to crispy nothings, like some mushrooms do. They also absorb flavors easily.
We also like using oyster mushrooms because they're easily accessible. If you've foraged oyster mushrooms before, you know how plentiful they can be. We often find huge swaths that cannot possibly be eaten by any normal human before they deteriorate. Dehydrating them without any prep or recipe is always an option, but jerky is always a better one, in our opinion.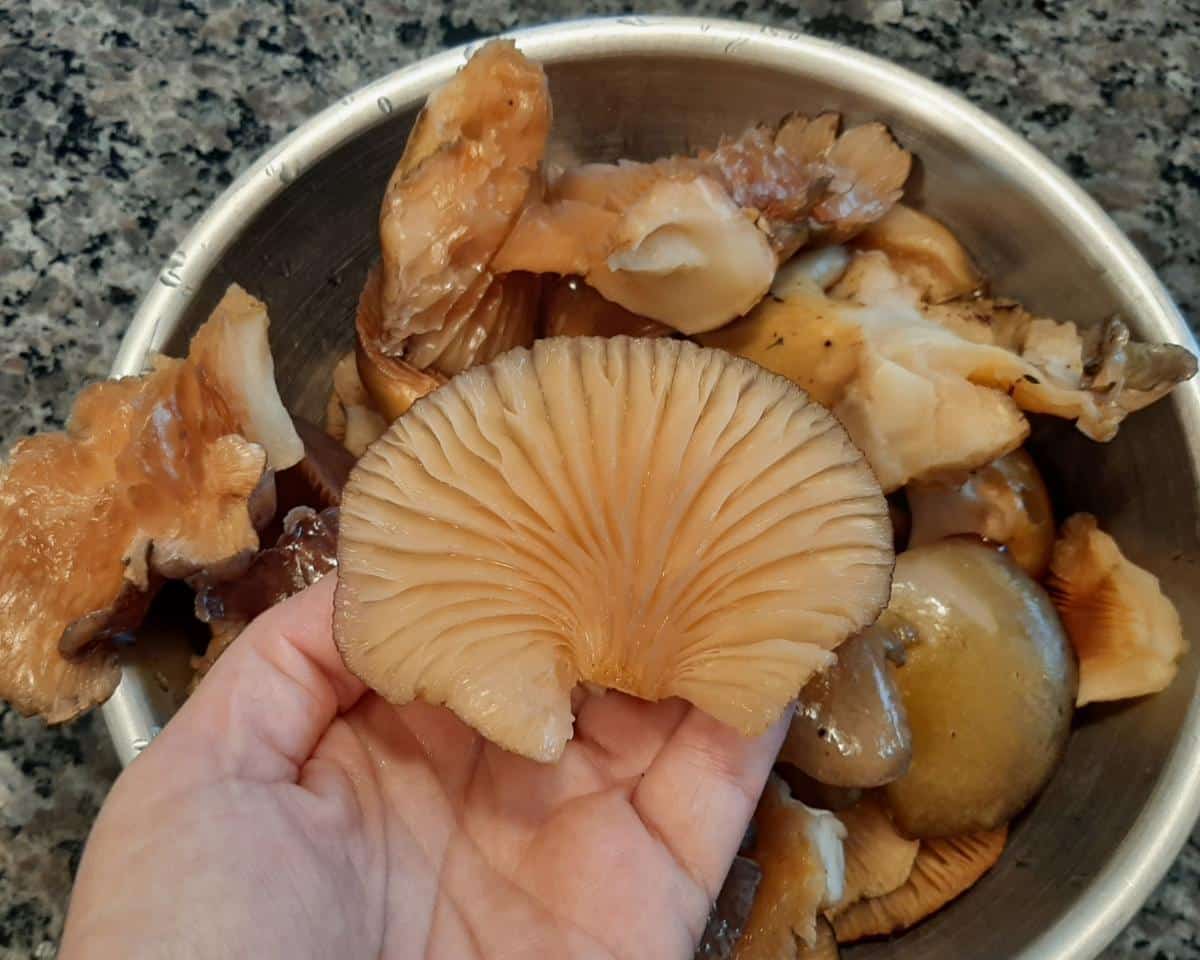 Oyster mushrooms are also widely available at supermarkets, specialty stores, and farmer's markets. They're becoming easier to find all the time as more and more people get into mushroom growing. They're one of the easiest species to grow. You can even grow your own to make this jerky!
This recipe uses a food dehydrator because it dries the jerky easily and evenly. It also allows quite a bit of control over texture — the low and slow drying process creates chewy jerky which is what we like.
Other mushrooms that would potentially work very well with this method include hen of the woods, black staining polypore, resinous polypore, and very young berkeley's polypore. I'd love to hear what mushrooms you use in the recipe and how it turns out!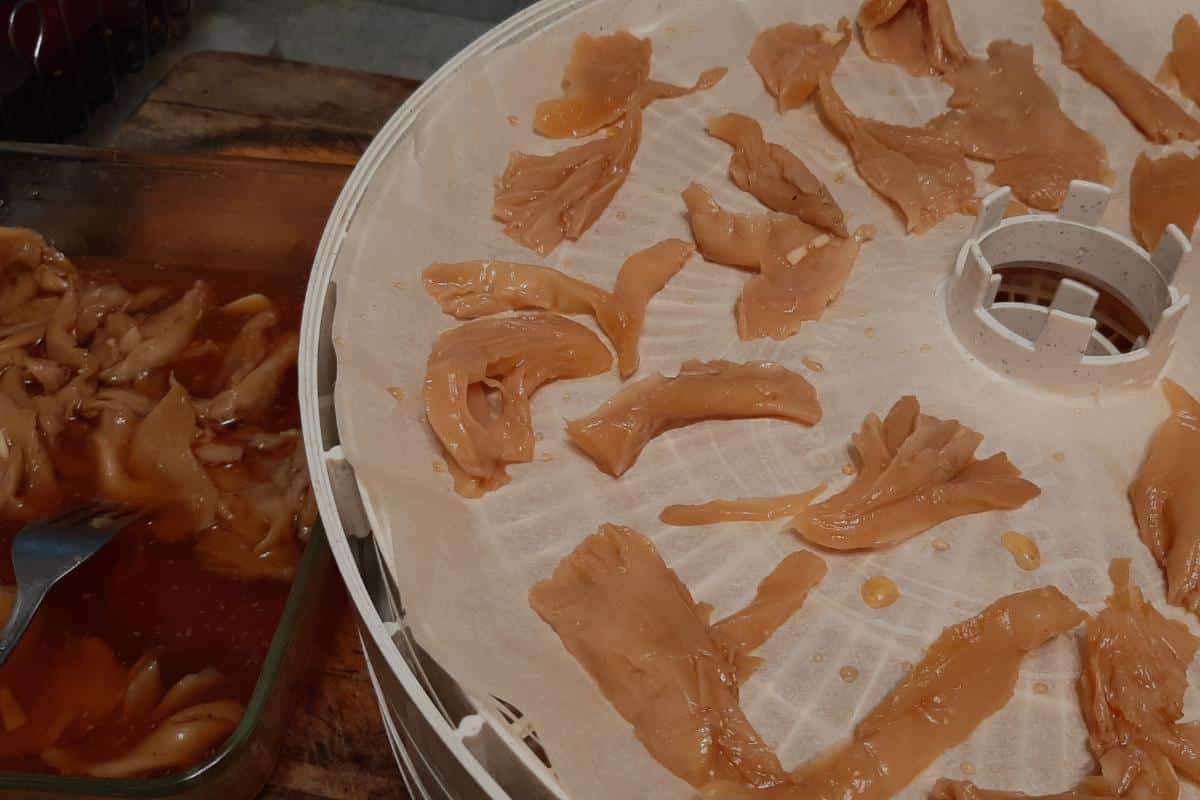 Oyster Mushroom Jerky Step-By-Step
Recipe
1.5 lb oyster mushrooms
1/3 cup soy sauce
1/4 cup rice wine vinegar
3 tablespoons maple syrup
1 tablespoon toasted sesame oil
1 teaspoon ground ginger
2 garlic cloves, minced
Steps:
Clean the mushrooms, being sure to remove any debris and dirt. Sometimes, it helps to use a knife to scrape off the really stuck bits. Cut off the end bit where they attach to the tree.
Cut the mushrooms into 2-3″ long strips, about an inch thick. You don't need to be precise here, but keep it somewhat uniform so they dehydrate at the same pace. We eyeball it, with rarely any accuracy, and they come out fine. Cutting them smaller is fine, but as you can see in the final photo, they shrink A LOT. Cut them too small and you'll have mushroom jerky crumbs.
Boil the mushrooms for 20 minutes.
Take the pan off the heat, drain the mushrooms, and let them cool (so you don't scorch your fingers).
In a bowl or wide-edge pan, combine all the marinade ingredients. Mix them up well with a whisk.
Add the mushrooms and mix them into the marinade thoroughly.
Cover and put in the refrigerator for 24-36 hours. This is so the mushrooms can absorb all that good marinade. If you remember, mix them up a couple of times again in the fridge.
Lay out the mushroom pieces on a dehydrator tray. We prefer using the silicone rounds that came with ours. You can also cut out parchment rounds to fit in the dehydrator and put the mushrooms on that. We do not recommend putting them directly on the slotted dehydrator tray as they are a huge pain to remove later on (yes, speaking from experience!).
Set the dehydrator to 155F.
Start out with a 4-hour timer. You may need to do 6 hours or 8. It depends on the type of mushroom, the size of the pieces, and your dehydrator. If you leave them in too long, they'll get super dry and crunchy (yes, also speaking from experience!).
We stop the dehydrator when the oyster mushroom jerky is mostly dried but still chewy and tender to eat. This batch took 6.5 hours. [Notice how much the mushrooms shrunk down — they are mostly water.]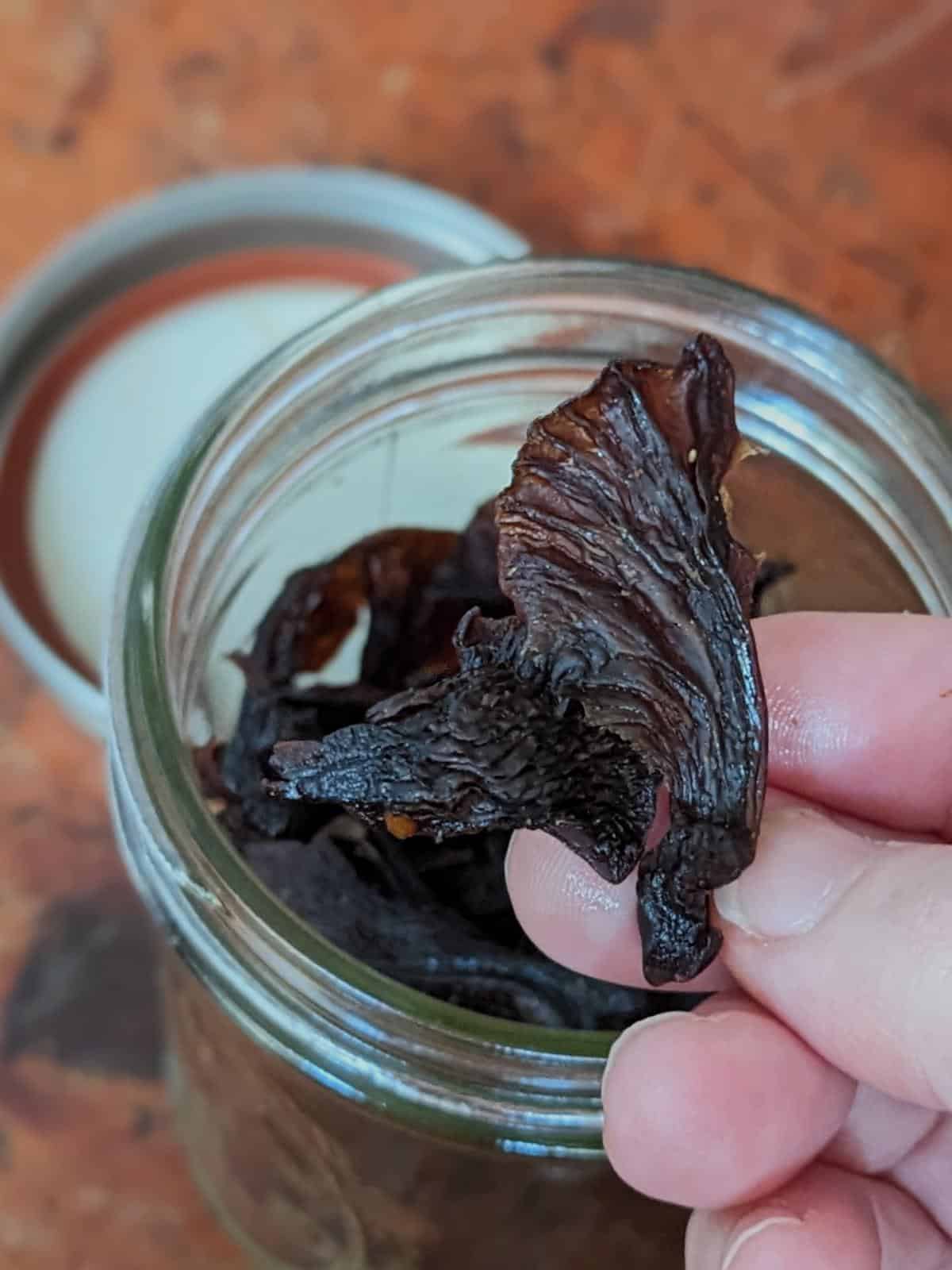 Notes:
If you like spicy, you can add sriracha to taste. Just remember, the flavors get concentrated down during dehydration. If you add a lot, you will feel it (for better or worse!).
Feel free to add more ginger if you like super gingery things.
This recipe is easily doubled or tripled.
Make sure to read the recipe thoroughly before starting – this is a several-day recipe due to marinating. It's as simple as pie but doesn't have instant results.
Ensure you will be around to check the dehydration process the day you dehydrate the mushroom jerky. It may take 4 hours; it may take 6 or 8. So much depends on the type of oysters, the size of the cut pieces, and the type of dehydrator you have.

If you leave them unattended and they're in too long, they'll turn into crispy oyster chips, not mushroom jerky. Of course, if you like your jerky to be brittle and crunchy, go for it. We prefer them to be chewy and tender and keep a close eye to make sure we get the desired consistency.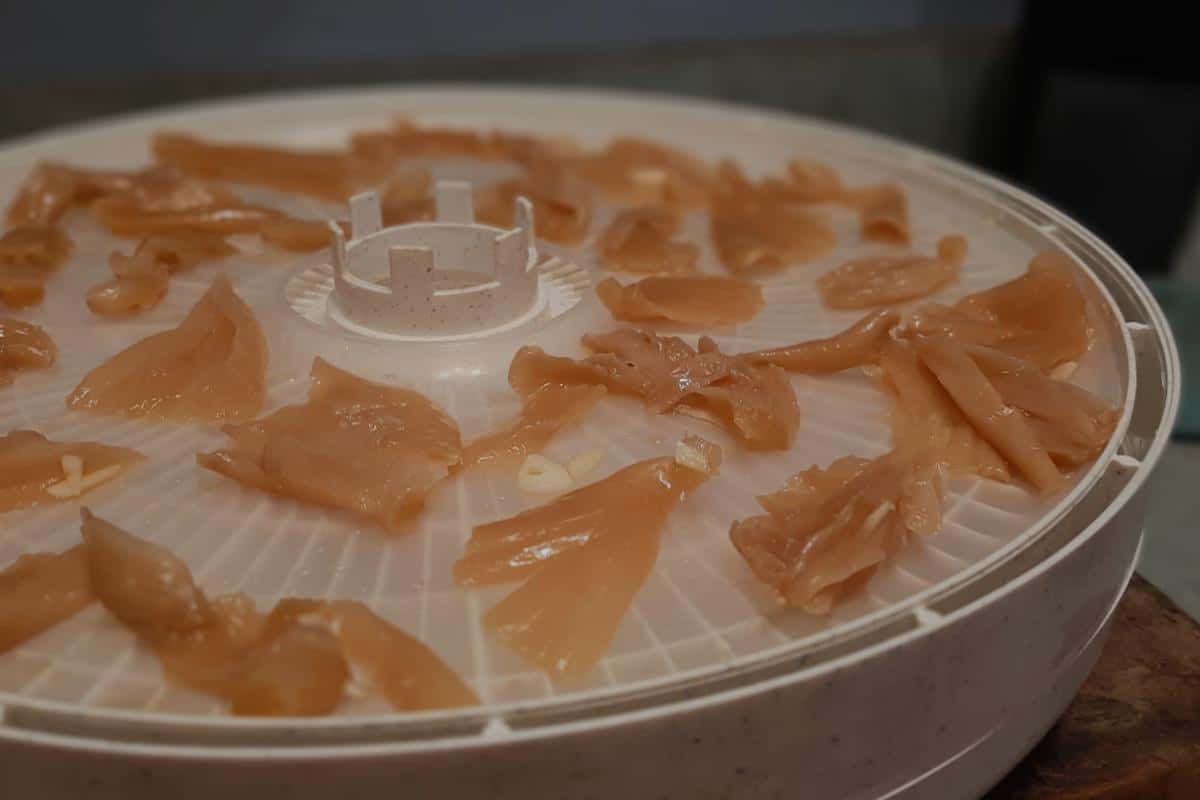 Oyster Mushroom Jerky Video
In this video tutorial, we use late fall oyster mushrooms, which aren't technically oyster mushrooms at all. However, they look a lot like oysters and fruit in huge numbers in the fall. We prefer this species for making jerky over all other oyster species because they're super dense and chewy, which translates to thick, chewy jerky.
And we don't find late fall oysters that great for eating on their own because they are a bit slimy. But, when marinated and dehydrated, they turn into something incredibly wonderful and delicious.
Oyster Mushroom Jerky Q & A
Can I make this mushroom jerky in an oven?
Great question. We have not tested it in an oven, but if you try it, please let us know in the comments.
Can I substitute ingredients in this mushroom jerky recipe?
Sure! But we cannot vouch for any results. If you don't like some the ingredients or just want to do it differently, go for it. Let us know about any changes you make and how it turns out; we'd love to hear adaptations!
Can I use any type of oyster mushroom in this recipe?
Yes! Any oyster mushroom species will be great in this recipe. You can also use hen of the woods, resinous polypore, and black staining polypore. The methods used in this recipe require that the mushroom species be dense and hold up well to boiling.
How do you store oyster mushroom jerky?
Store in a airtight container, preferably a glass jar, to retain moisture and texture. You can store the jerky at average room temp for several months (or longer…). It stores longer if kept in the refrigerator. The only thing you have to be concerned with is the oil going rancid and ruining the batch. We've successfully stored our jerky in glass mason jars for upwards of 8 months at room temperature (on a shelf in the pantry). The lifespan will depend on temperatures in your house and region, and how you've stored it.