Ischnoderma resinosum, commonly known as the resinous polypore, is a common fall mushroom across North America. It is edible when young and has a neat velvety texture and dark-zoned cap. When young, it is pretty easy to identify because very few polypores are so soft and fleshy. As it ages, though, it is easily confused with other brown polypore species.
Scientific Name:

Ischnoderma resinosum

Common Names:

Resinous Polypore, Velvet Polypore, Late Fall Polypore, Benzoin Bracket

Habitat:

Dead and dying hardwood trees

Edibility:

Edible when very young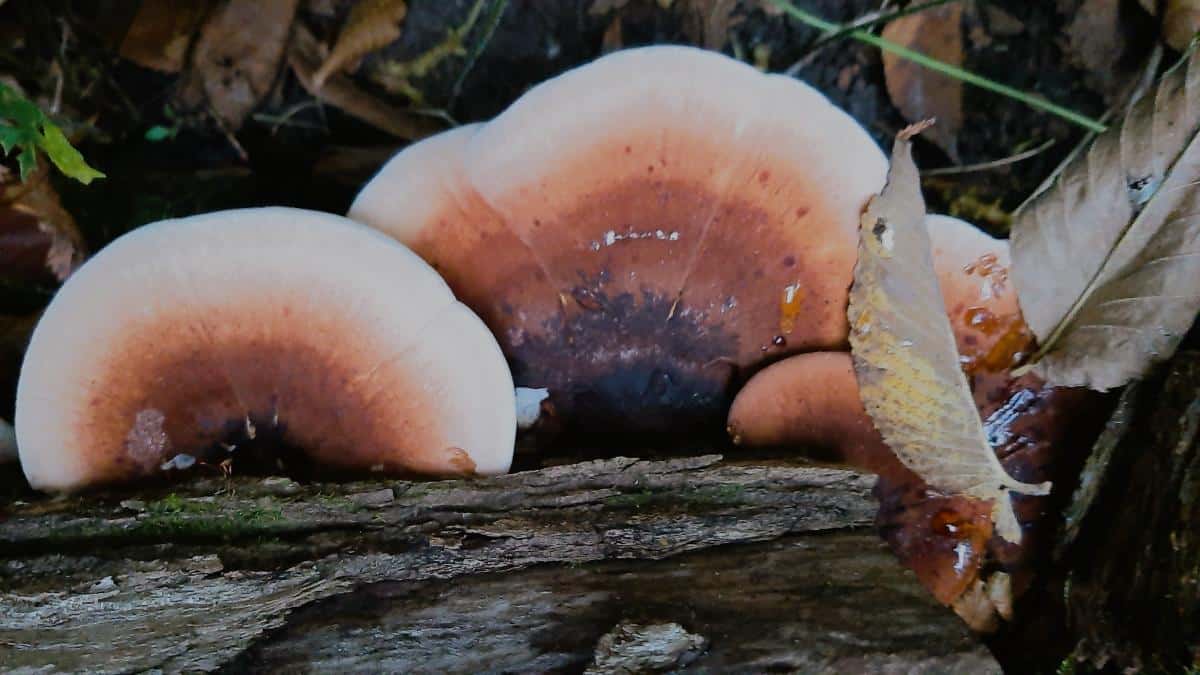 Jump to:
All About Resinous Polypores
The resinous polypore grows on hardwood logs and stumps, particularly during late autumn. Its unique velvety surface and dark red to brown color make it stand out. As the name suggests, when young, the resinous polypore exudes a red liquid. Its flesh is spongy but tough and has a sweet smell.
When foraged young, before it becomes tough and woody, it is edible. It has a robust, earthy taste and dense texture that works well in many recipes.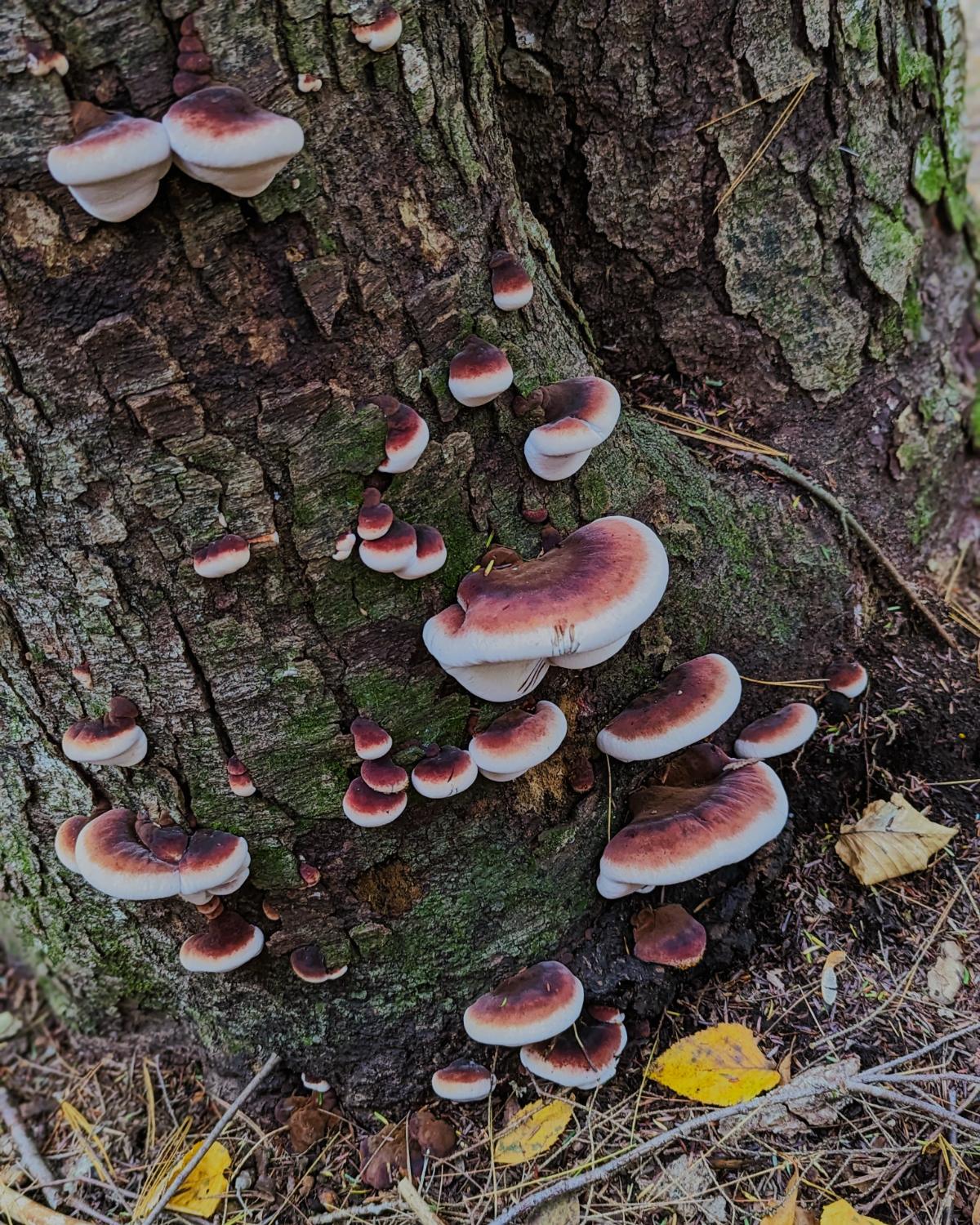 Resinous Polypore Identification Guide
Season
Late autumn into early winter
Habitat
This mushroom is widely distributed across North America but is more common in the East and Midwest. It also occurs in Africa, Asia, and Europe. It fruits on hardwood logs and stumps during the late autumn. It's also been known to appear on the underside of dead logs, producing a capless version of itself.
Resinous polypore mushrooms do not grow on the ground or from mulch – they are found on dead and dying trees. They are saprobic and also cause a white rot on trees they inhabit. This mushroom generally only grows on newly dead trees, not well-rotted ones.
The resinous polypore may grow alone but more often appears in large groupings. Many times, the caps are clustered and overlapping. Or, they appear in great quantity as individual specimens.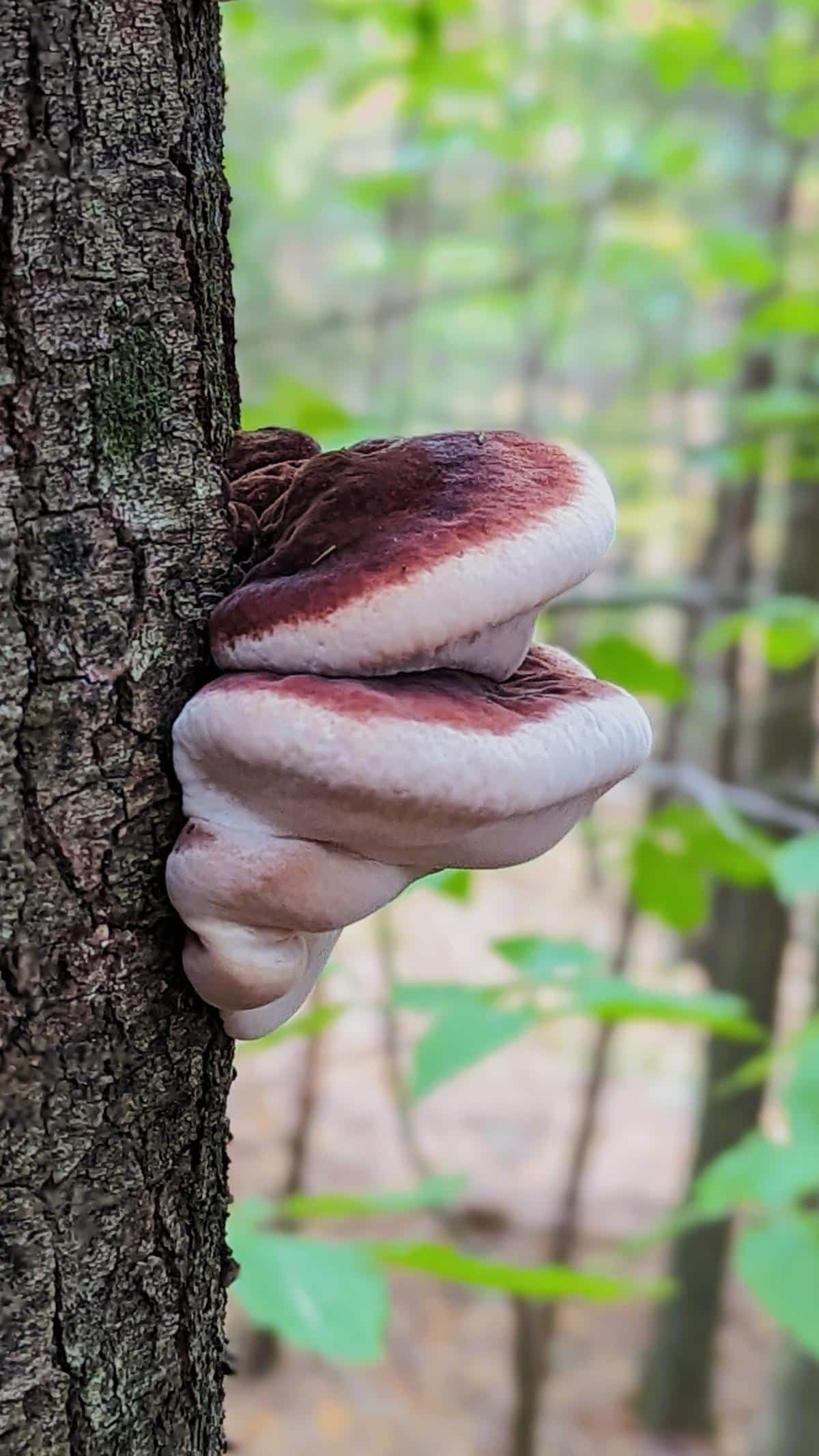 Identification
Cap
The cap of the resinous polypore is semicircular or bracket-shaped with a thick, white, rounded edge. It has zones of coloring, ranging in color from ochre to dark brown. It loses the white outer edge as it ages and gets much darker overall. When past maturity, the polypore is often entirely dark-brown or black. With age, it also loses the velvetiness and gets extremely tough.
Caps range from 5 to 7.5 inches wide but sometimes get quite larger. The texture is finely hairy (velvety), initially very fleshy, and may exude a resinous liquid when young. You cannot always see the resinous droplets that give it the common name.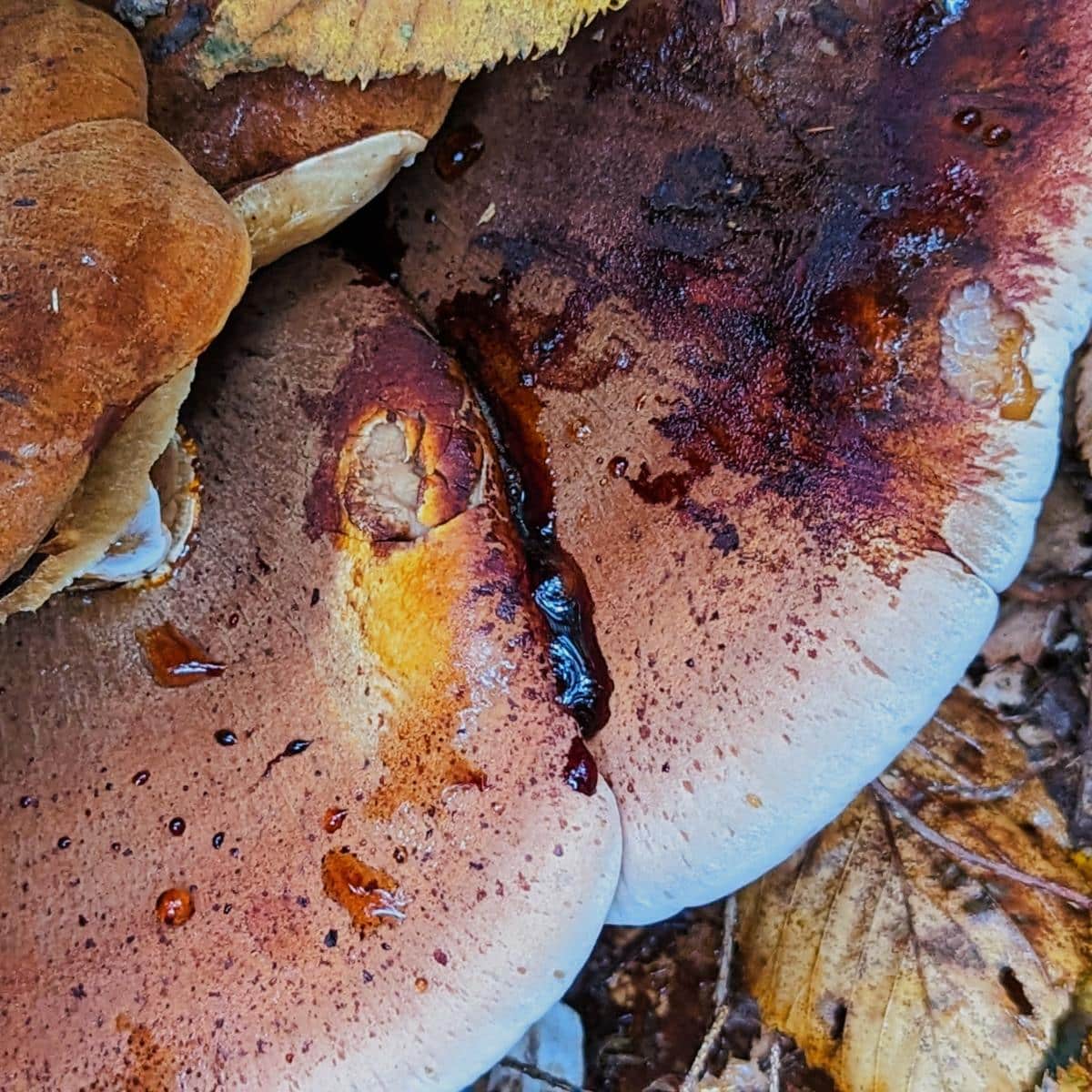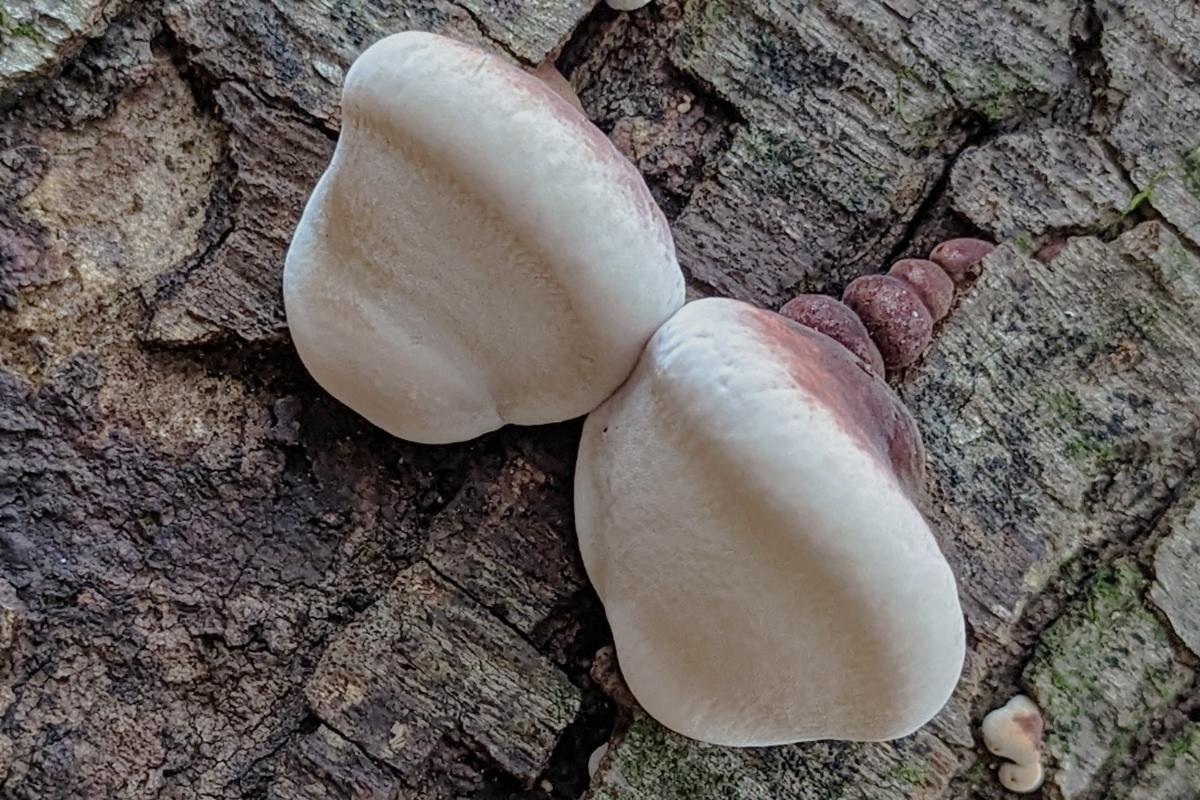 Pores
The resinous polypore lacks gills, as it is a polypore species. Instead, it has a pore surface on the underside of the cap. When young, the pores are whitish and bruise brown when touched. The pore surface is soft, rather squishy, and may have red droplets. As it ages, the pores turn light brown and harden.
Stem
This polypore does not have a distinct stem.
Flesh
The flesh is pinkish-brown and spongy when young. With age, the flesh turns brown and gets extremely tough.
Odor
The odor of resinous polypores is not particularly distinctive or may be slightly sweet.
Spore Print
The spore print of this mushroom is white.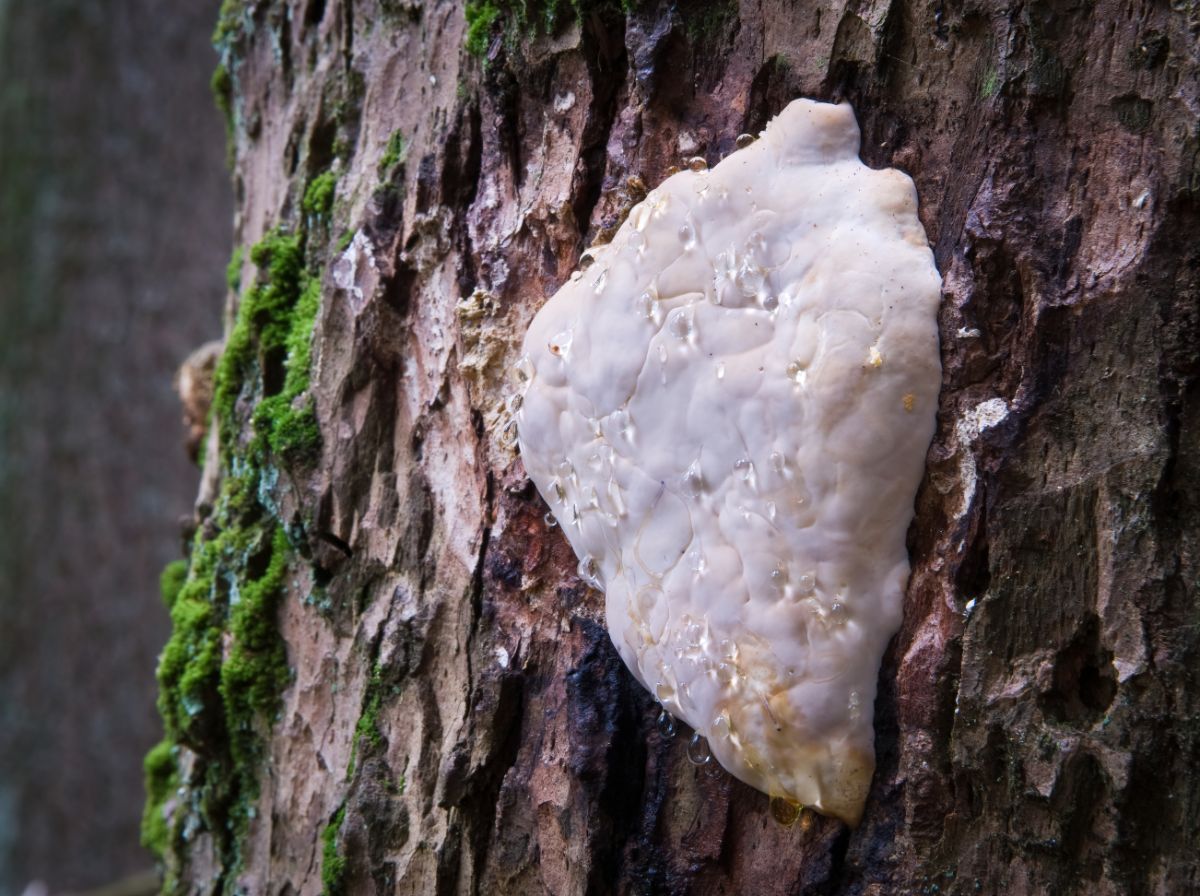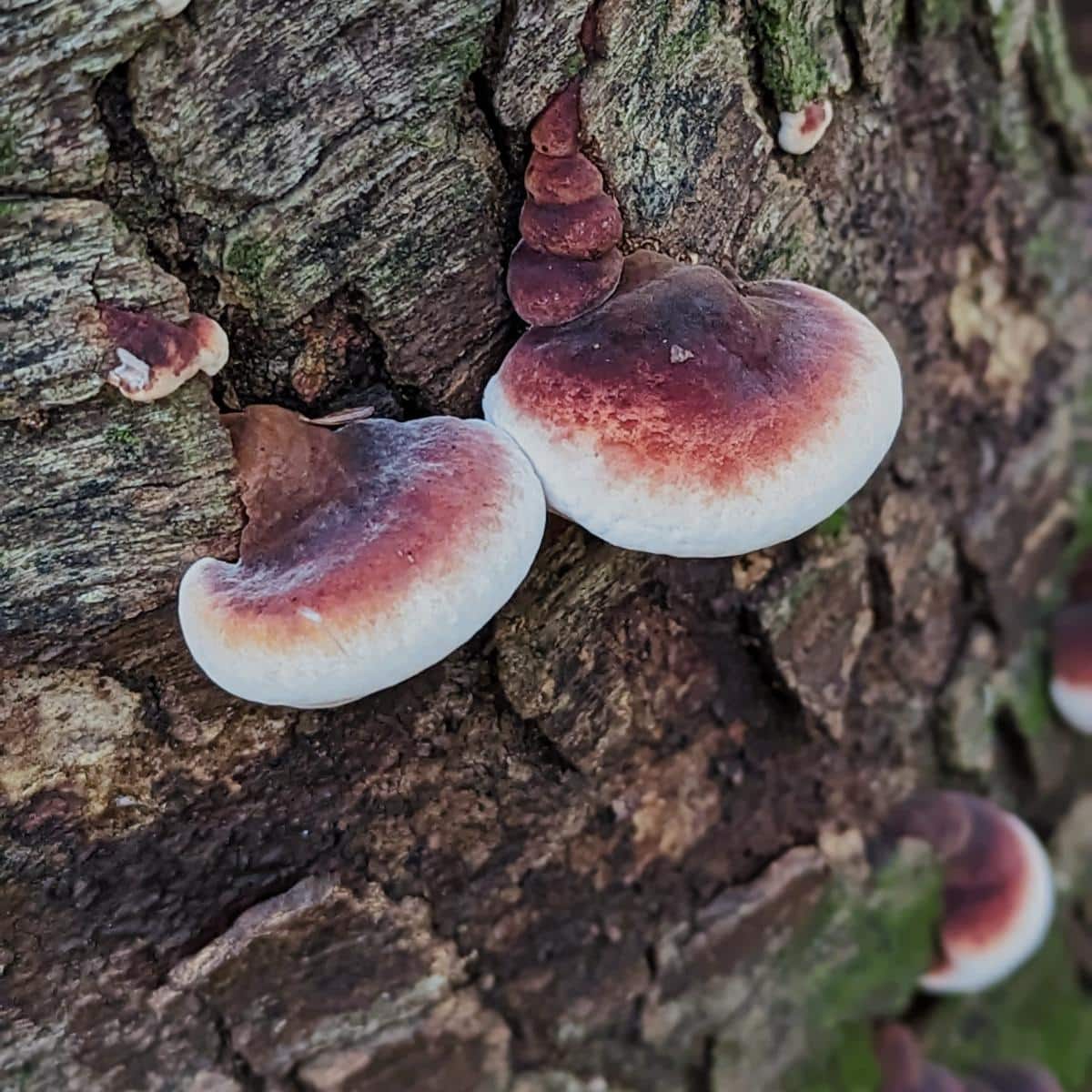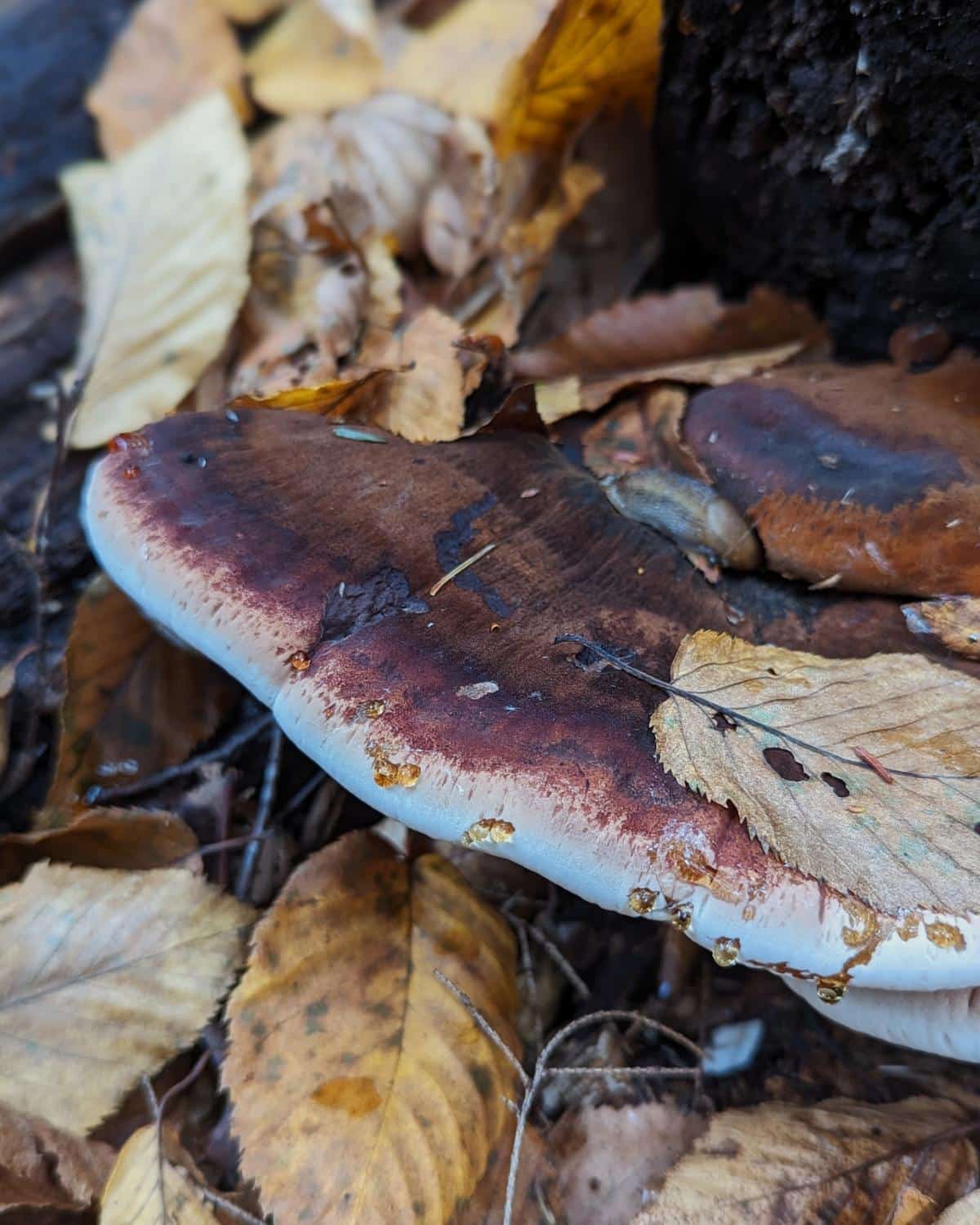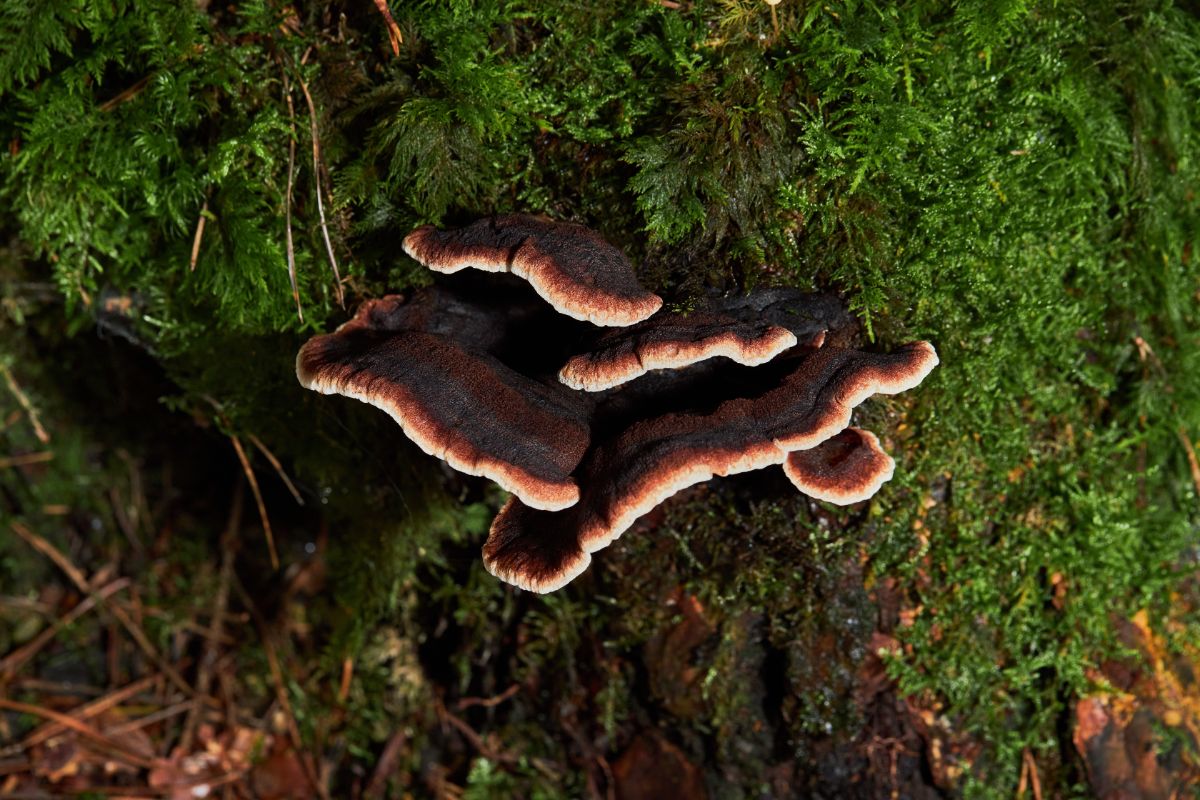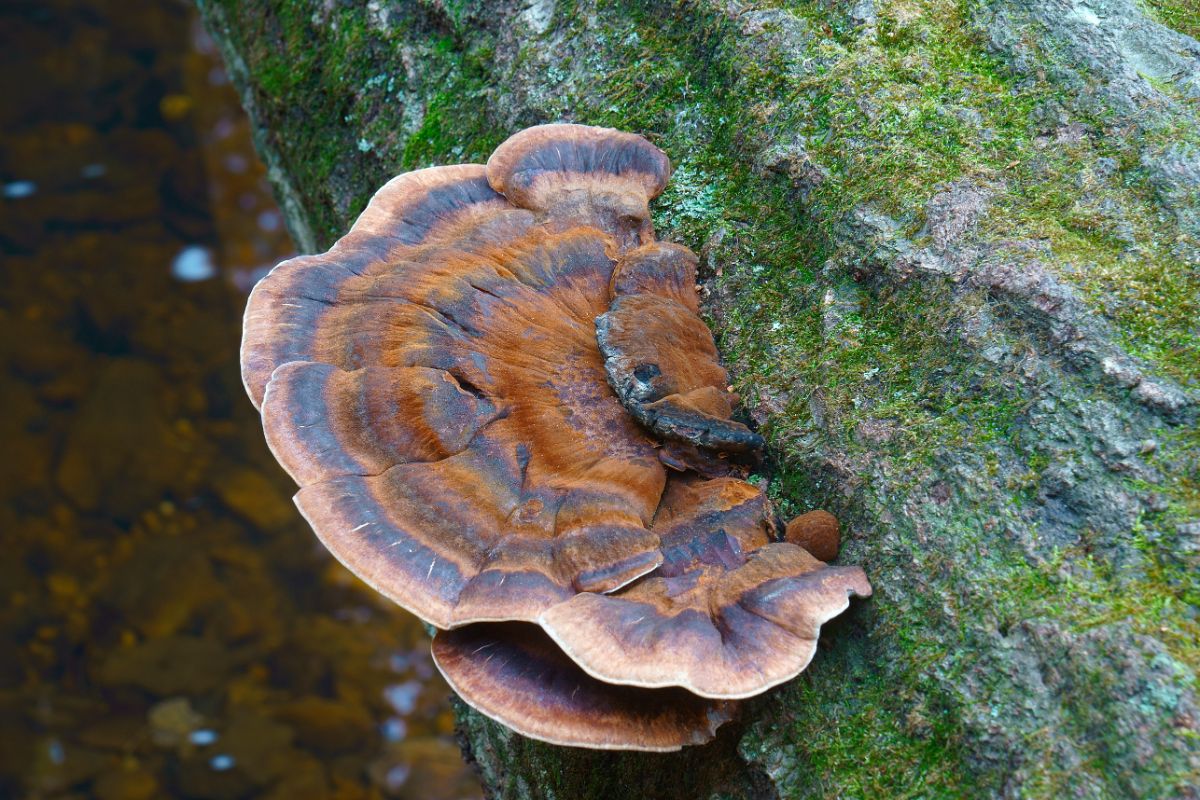 Resinous Polypore Lookalikes
Ganoderma species
Ganoderma mushrooms, like Reishi, are woody and hard throughout their development, unlike the resinous polypore. They typically have a varnished appearance with a brownish-red coloration.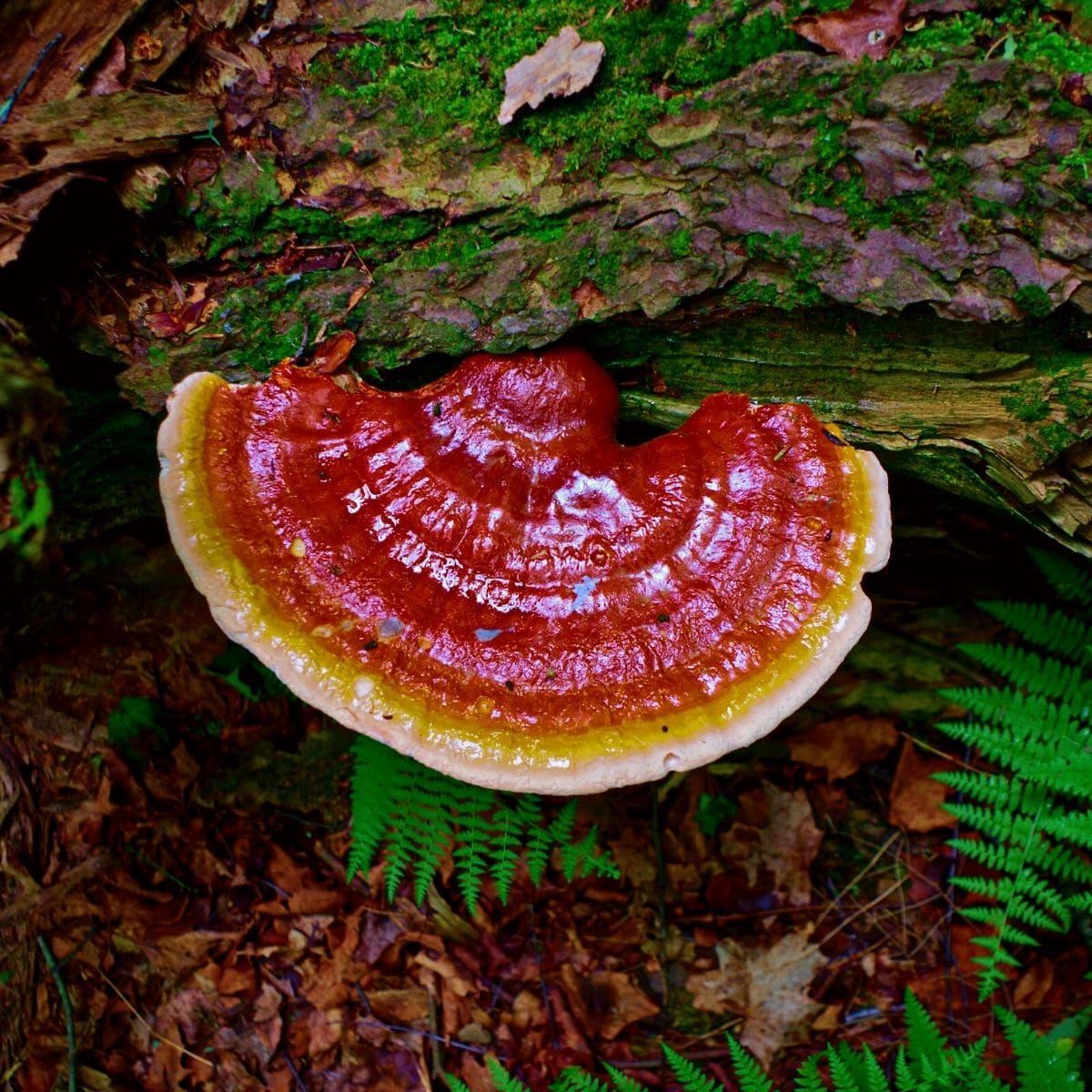 Ischnoderma benzoinum
This species is extremely similar with one key difference – it grows on conifers. It also is a bit skinnier and flatter overall.
Resinous Polypore Edibility and Culinary Uses
While the resinous polypore may not be as widely recognized for its culinary potential as some other mushroom species, it is indeed edible, particularly when young and tender. The texture of mature resinous polypores becomes tough and woody, making them unsuitable for eating. However, when harvested at the right stage, the resinous polypore can be a delightful addition to the pantry.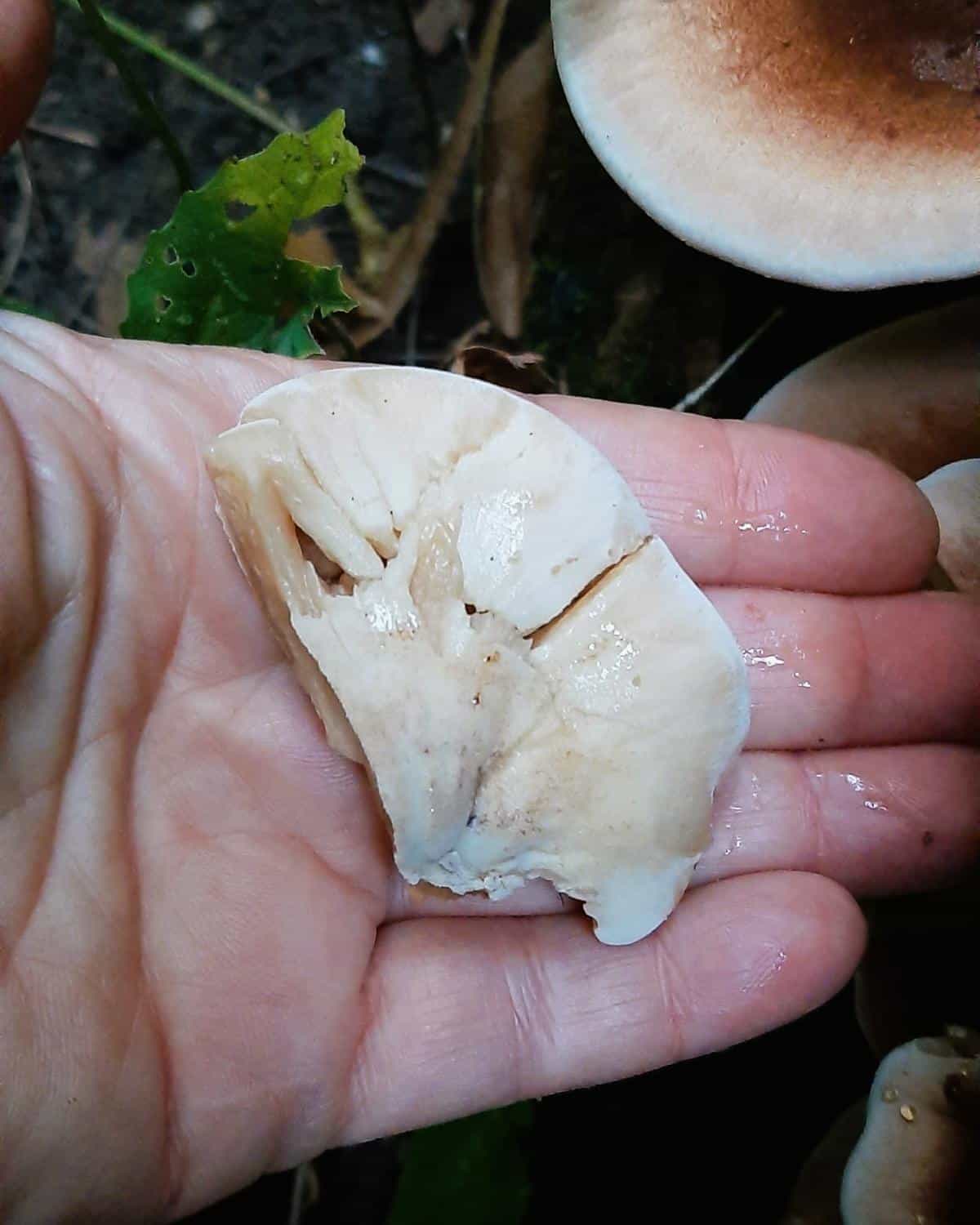 Trim the young, tender edges and discard the tougher parts closer to the tree. If you're unsure, feel the mushroom and test how difficult it is to cut. Your knife should cut through it easily. The flesh is soft at the edges, much like chicken of the woods.
The mushrooms can be sautéed with oil, salt, and butter, allowing their rich flavor to shine. However, the cooking process can make them a bit chewy even when only using the soft, tender pieces. They're not bad with this method, but it may not be to your liking.
The best way to prepare them is to make a broth. This method allows the mushroom's rich juices to come out, and they add an incredible flavor to vegetable stock. Then, you can use this stock for gravies, pasta, and stews.
Additionally, you can dry the polypore and then add the dried chunks to soups and stocks.
Resinous Polypore Recipes
Common Questions About Resinous Polypores
Are resinous polypores medicinal?
Can you eat resinous polypore?
Yes. When young and tender, this is a great edible species. It does take some special preparation (not complicated) to bring out its depth and flavor, though. More information is above in the culinary section.