If you've ever wondered, "why do I have mushrooms in my lawn?" you're not alone. Lawn mushrooms are a common sight in many US regions, but their sudden appearance can be puzzling and even concerning to homeowners. This comprehensive guide explores the causes of mushroom growth in your yard, the common types of lawn mushrooms in the US, regional variations, and their role in your lawn's ecosystem.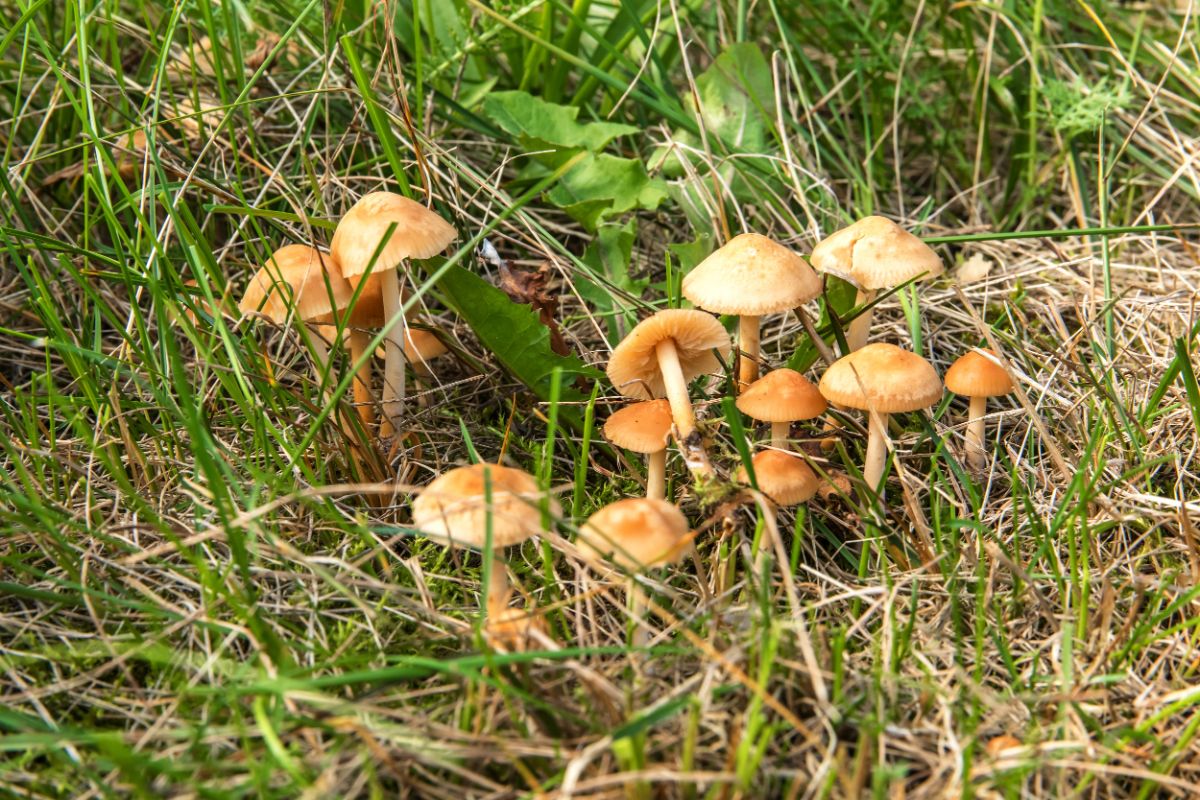 Jump to:
Causes of Mushroom Growth in Your Yard
Mushrooms are the fruiting bodies of fungi, and their presence in your yard indicates that fungal networks, known as mycelium, are hard at work decomposing organic matter in the soil. What causes mushrooms to grow in your yard is a combination of factors, including the presence of decaying organic matter, adequate moisture, and suitable temperatures.
When you see mushrooms growing on your lawn, it's a sign that the mycelium has reached a critical mass and is ready to reproduce. The mushrooms release spores into the air, which can then colonize new areas and continue the decomposition cycle. In essence, mushrooms are a natural part of your lawn's ecosystem and play an essential role in breaking down organic material, such as dead leaves, grass clippings, and tree roots, into nutrients that plants can use.
However, if you find mushrooms in your lawn more frequently than you'd like, it may be a sign of an underlying issue. Overwatering, poor drainage, or excessive shade can create conditions that favor fungal growth. By addressing these issues, you can reduce the likelihood of mushrooms appearing in your yard.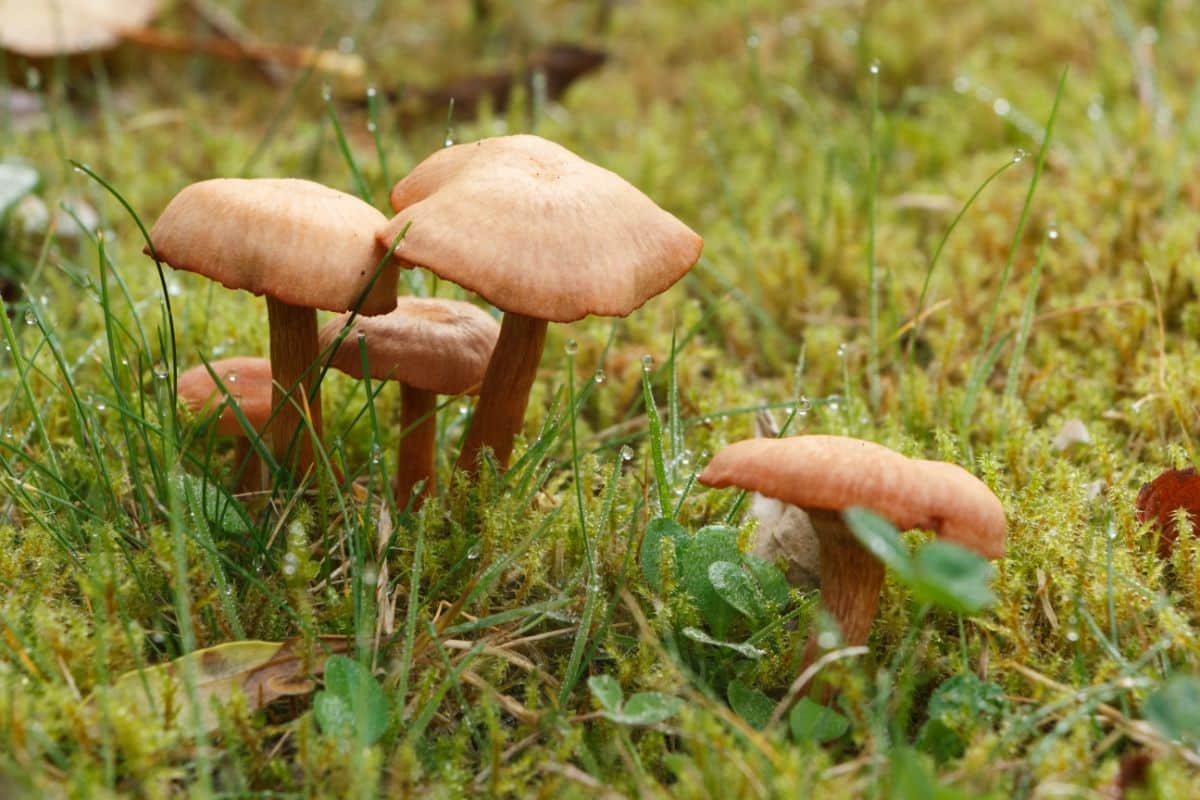 7 Common Types of Lawn Mushrooms in the US
There are thousands of mushroom species in the US, and while not all of them grow in lawns, there are some common yard mushrooms that you're likely to encounter. Here are a few types of lawn mushrooms you might come across:
Fairy Ring Mushrooms (Marasmius oreades)
These mushrooms often form a circular pattern in the grass, creating the appearance of a "fairy ring." They are tan to brown in color and have a small, umbrella-shaped cap. Fairy ring mushrooms are edible but should only be foraged with extreme care as there are lookalikes which are very problematic.
Fairy ring mushrooms are more common on the east coast but they do grow all over North America. They tend to appear quickly in the right climate and circumstances. Many other species form "fairy rings" in lawns, so don't use this growth feature as the primary identifier.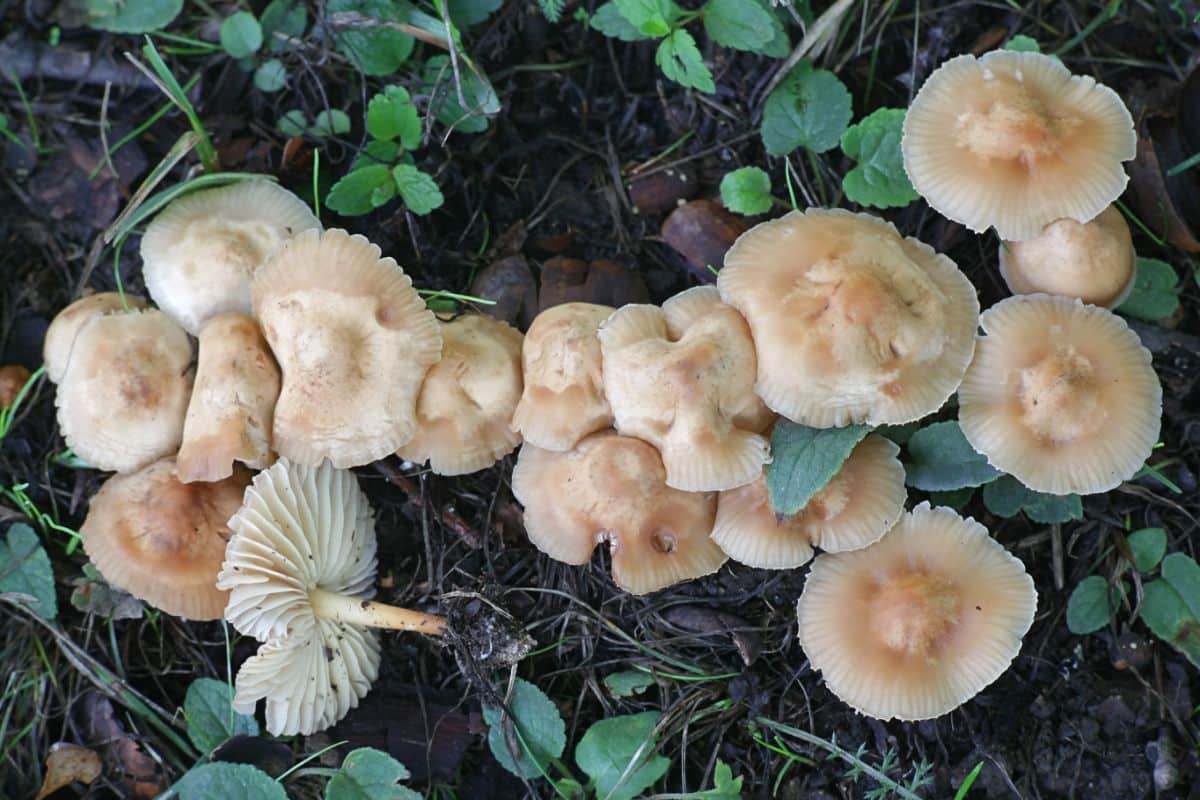 Inky Caps (Coprinus spp.)
Inky caps are characterized by their conical, black caps that dissolve into a black, inky substance as they mature. They often grow in clusters and can be found on decaying wood or in areas with high organic matter.
Inky caps are edible but must be harvested almost as soon as they sprout from the ground because they decompose so quickly. Never eat this mushroom and consume alcohol (before or after for 24 hours), as it will make you quite ill.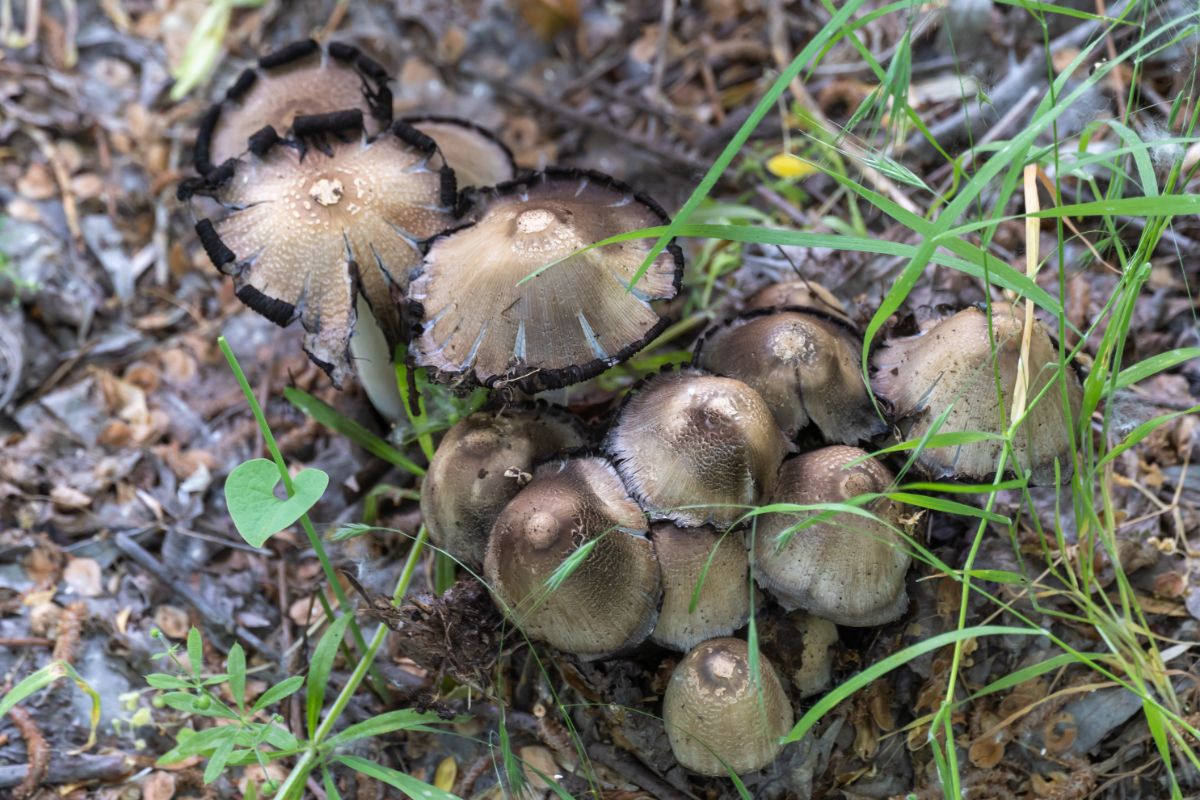 Puffballs (Lycoperdon spp.)
Puffballs are round, white mushrooms that can vary in size from marble (little puffballs) to volley ball (giant puffballs). As they mature, their interior becomes filled with spores, which are released in a cloud when the puffball is disturbed. Puffballs are edible when they are pure white inside.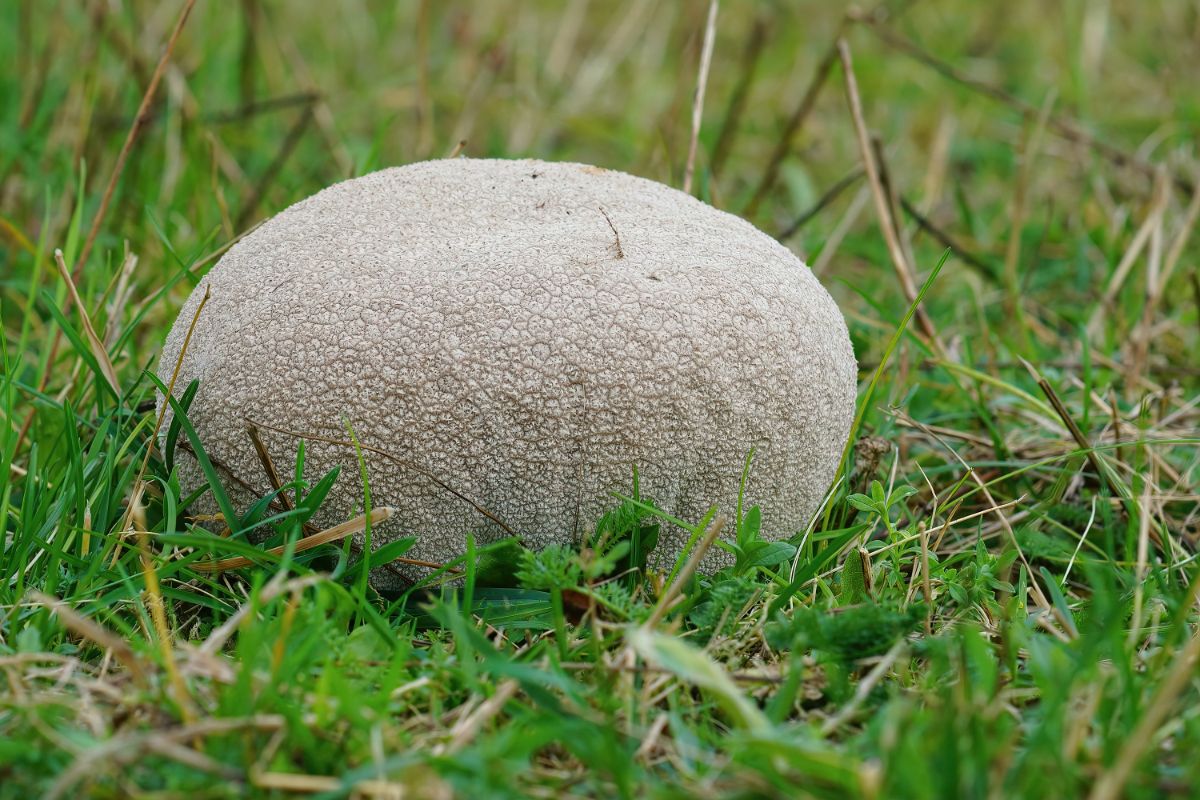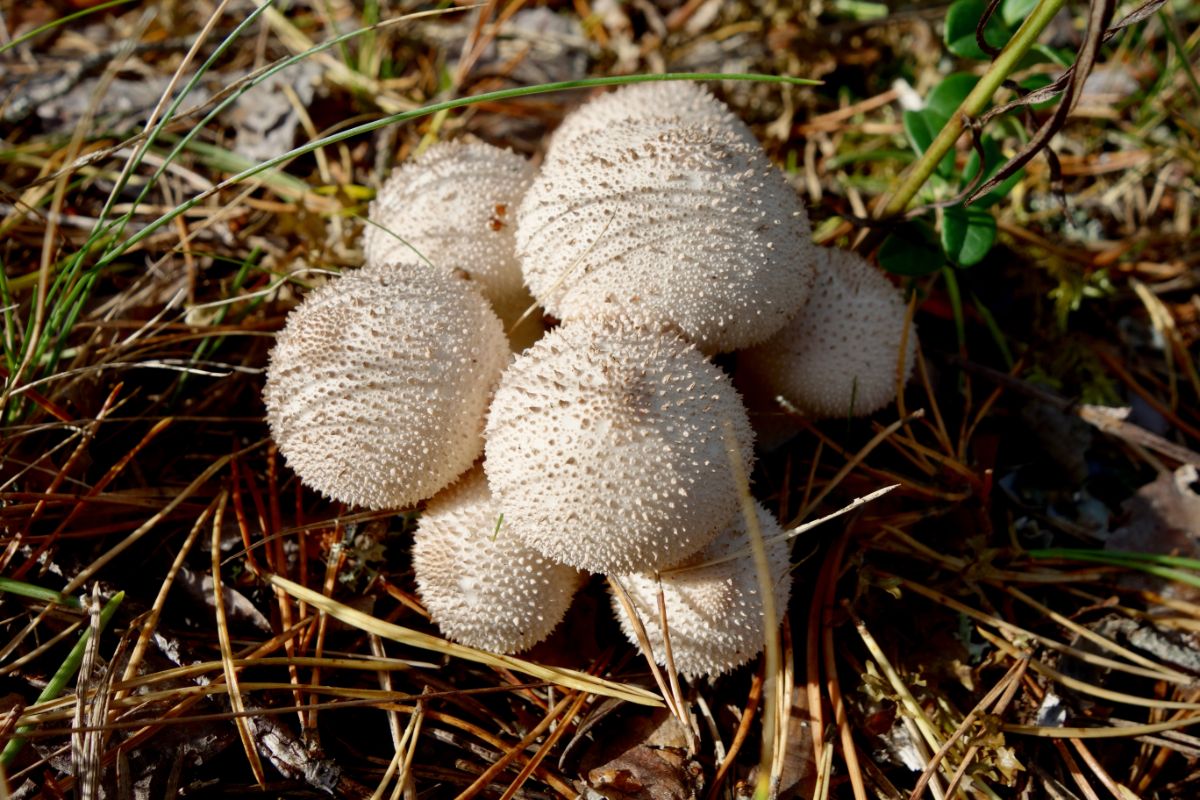 Lawn Mower's Mushrooms (Panaeolina foenisecii)
The lawn mower mushrooms are small, brown, and conical in shape, often found in grassy areas. They are commonly mistaken for hallucinogenic mushrooms but are actually toxic.
Milky Conecap (aka Dunce Caps) (Conocybe apala)
Milky conecaps are small, delicate white mushrooms that commonly appear on lawns. They have a habit of appearing first thing in the morning in abundance, then drying out and virtually disappearing by late afternoon when the sun is hottest. These mushrooms aren't dangerous, but they may be mildly toxic.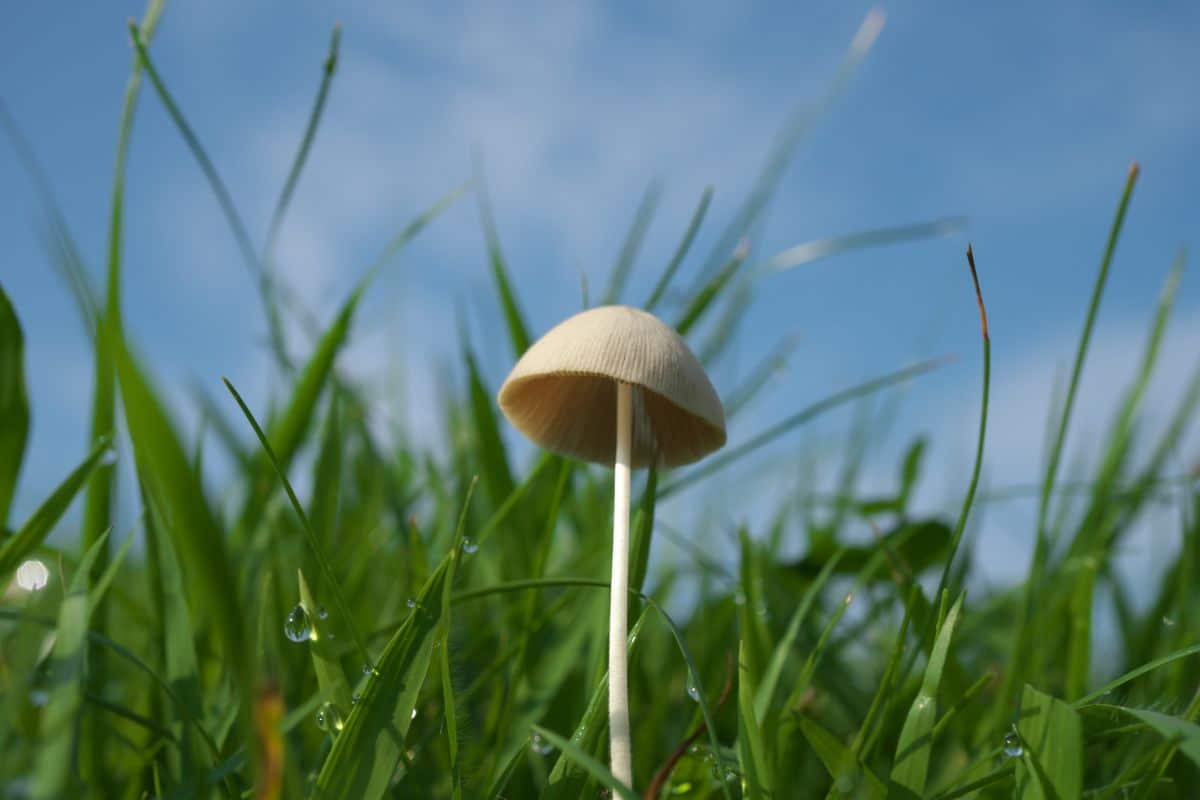 Meadow Mushrooms (Agaricus spp.)
It's probably no surprise that something commonly called the meadow mushroom appears on lawns. This species is edible, but has quite a few lookalikes (edible ones and toxic ones) so should be foraged cautiously. Other lookalikes related to the meadow mushroom include the horse mushroom and almond mushroom. Dangerous lookalikes include the destroying angel.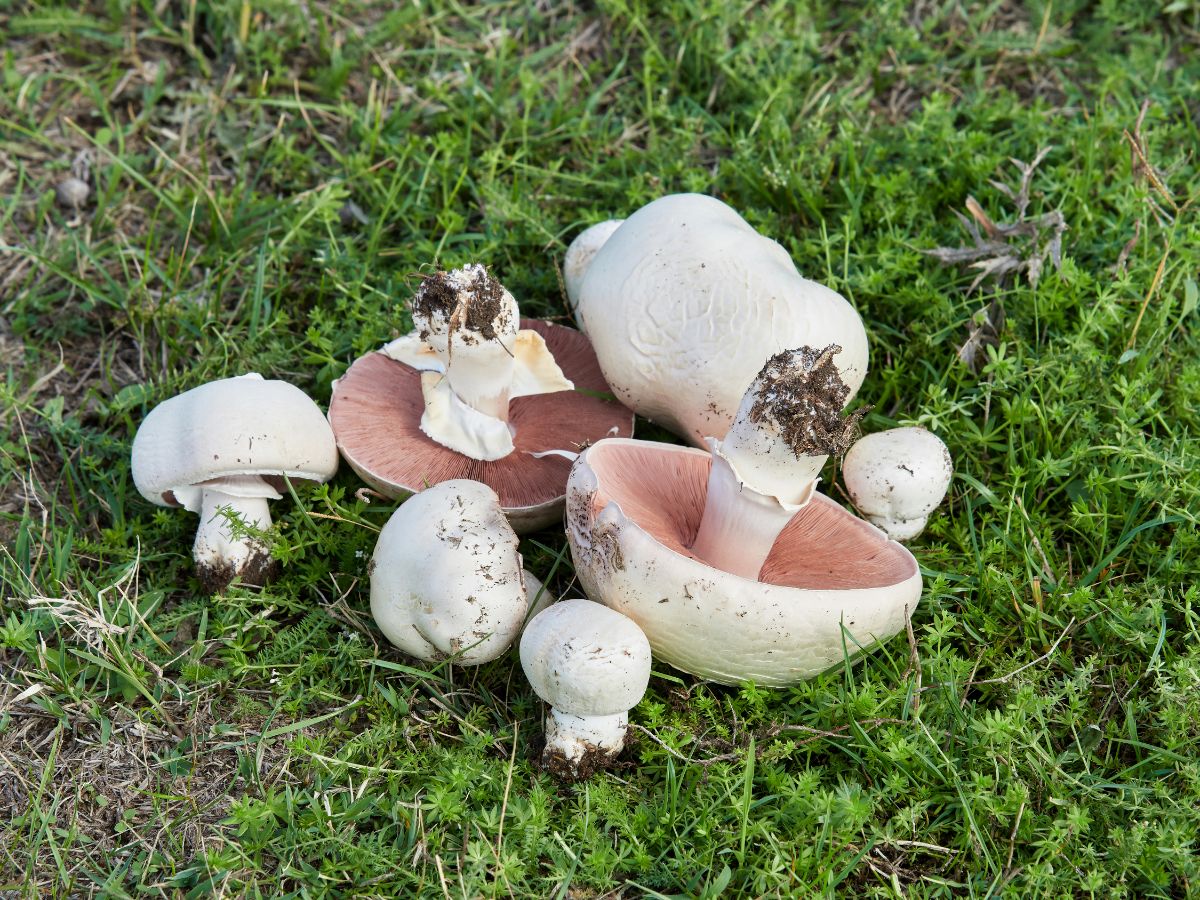 Stinkhorns (Phallus spp.)
Stinkhorns have a distinct, foul odor and a unique, phallic shape. Or, they straight-up look like aliens arrived from another planet! They are often found in mulch or decaying wood and can be red, orange, or yellow in color.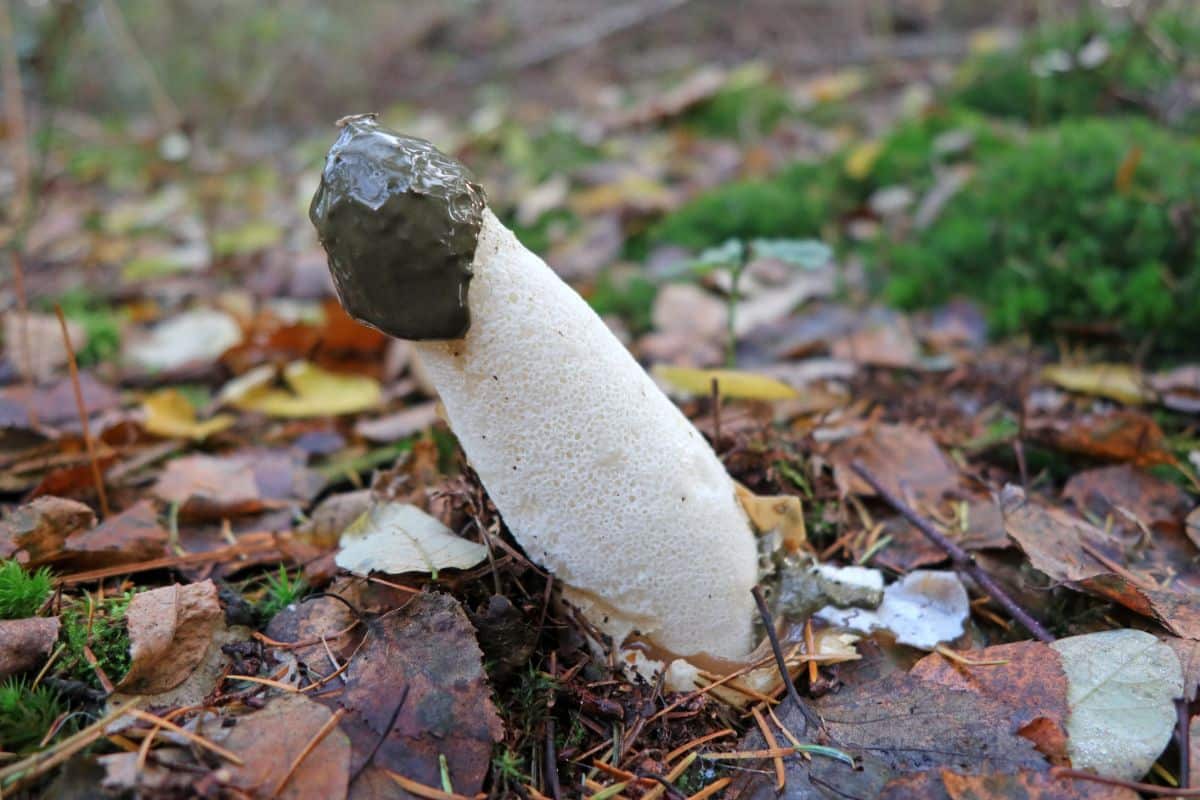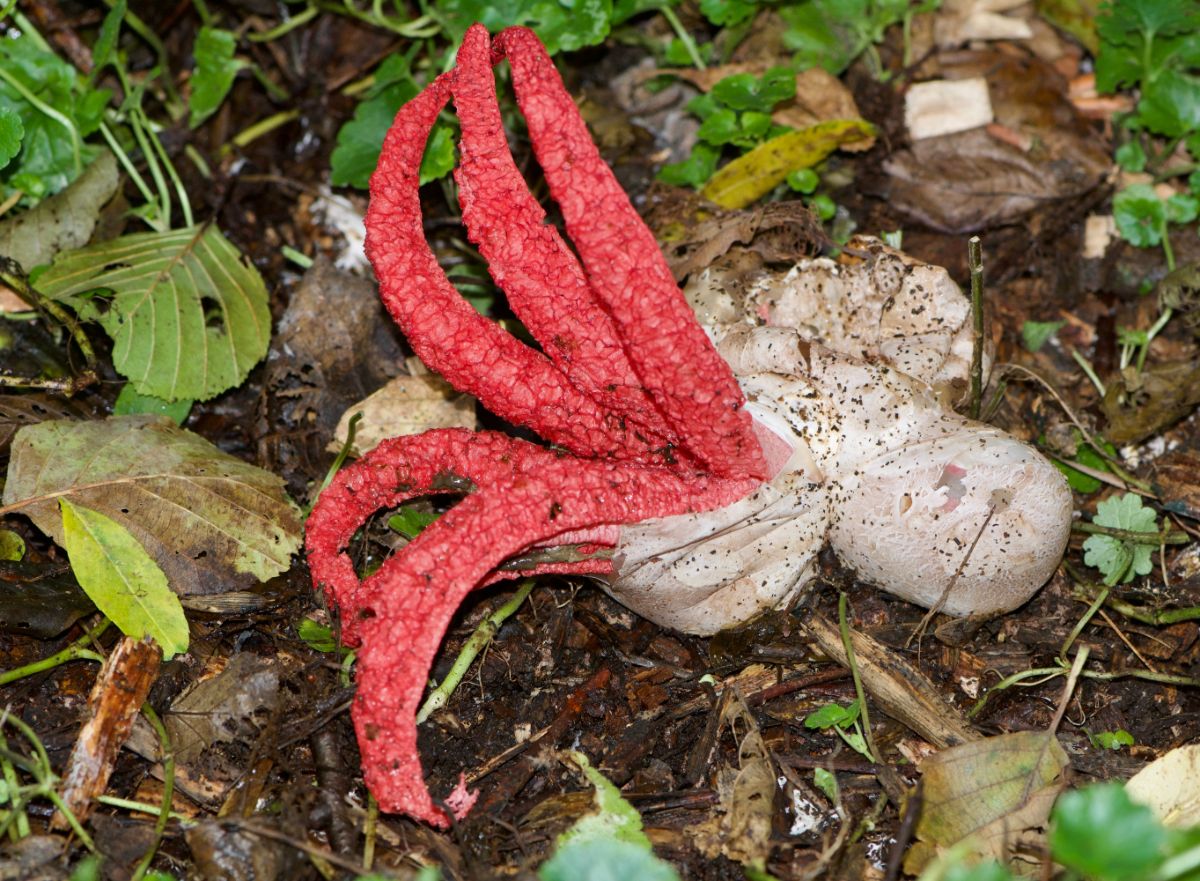 While these are some of the more common lawn mushrooms in the US, there are many other species that you might encounter. This is why it's essential to be able to identify mushrooms in your yard using a visual guide, as we'll discuss in the next section.
Identifying Lawn Mushrooms: A Visual Guide
While we've covered some common types of lawn mushrooms, chances are you'll come across a variety of different species in your yard. This is where identify lawn mushroom identification pictures can be invaluable in helping you determine what's growing in your lawn. There are numerous resources available, from books to websites, that can help you visually identify mushrooms based on their characteristics.
When attempting to identify mushrooms in your yard, it's important to consider their habitat, color, size, shape, and any other distinguishing features, such as gills or spore print. It's also crucial to remember that some mushrooms can be toxic or even deadly, so it's best to err on the side of caution and never consume a mushroom without being absolutely certain of its identity.
One valuable resource for mushroom identification is the Mushroom Observer, which features a database of user-submitted photos and descriptions of mushrooms from around the world. You can also consult field guides, such as the National Audubon Society Field Guide to North American Mushrooms, which includes detailed information and photos of over 600 mushroom species.
It's important to note that identifying mushrooms can be challenging, and even experts can struggle with distinguishing between species.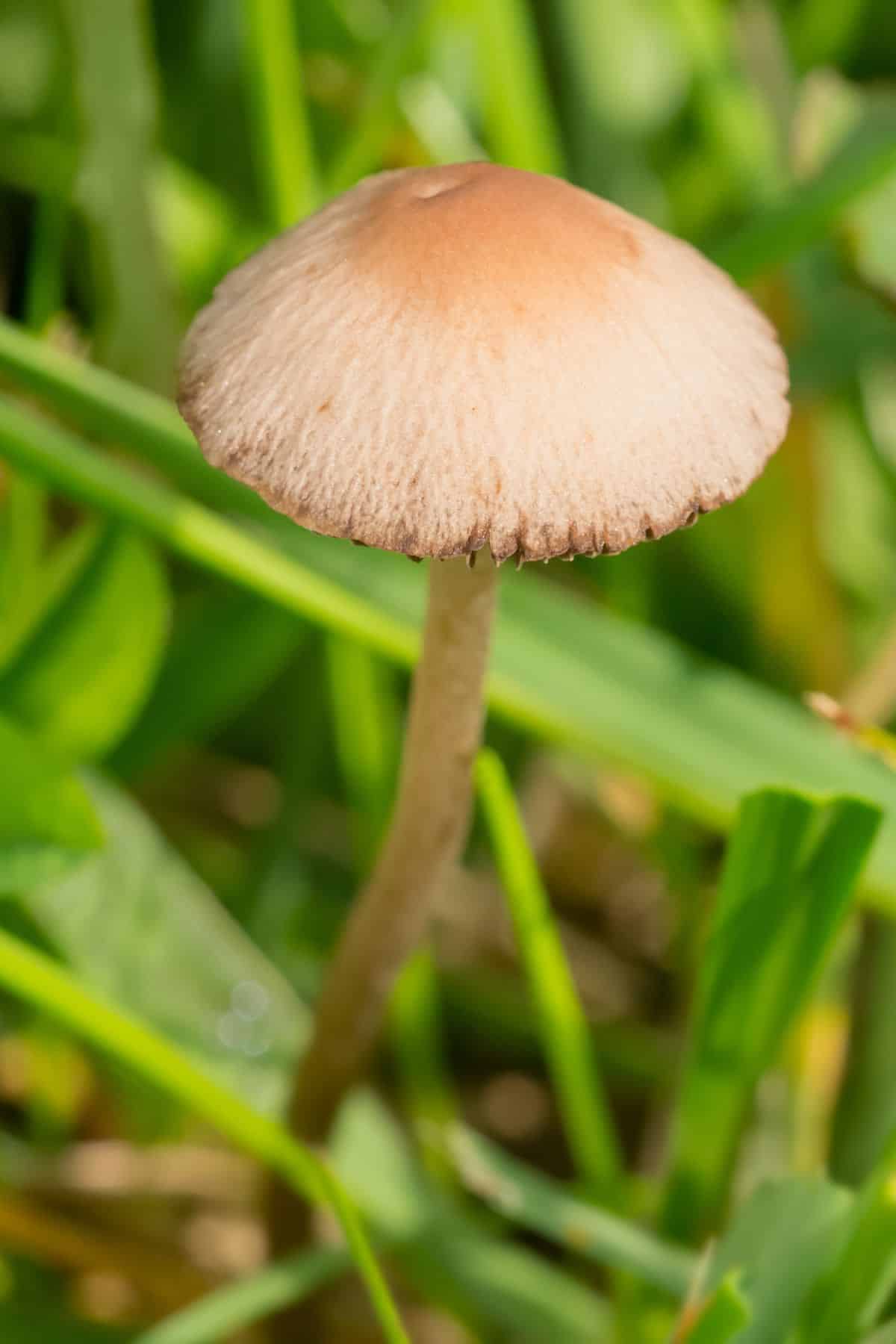 Regional Variations in Lawn Mushrooms
The types of lawn mushrooms you're likely to encounter can vary depending on where you live in the US. For example, in the Pacific Northwest, you might come across the prince, a large almond-smelling mushroom, which is prized for its culinary uses. Other factors influencing mushroom growth in different regions include soil type, temperature, and humidity. For example, in the southeastern US, warm, humid conditions create an ideal environment for the Armillaria tabescens, also known as the "Ringless Honey Mushroom," which is a common yard mushroom in the region.
By understanding the regional variations in lawn mushrooms, you can better prepare yourself to identify and manage them in your yard.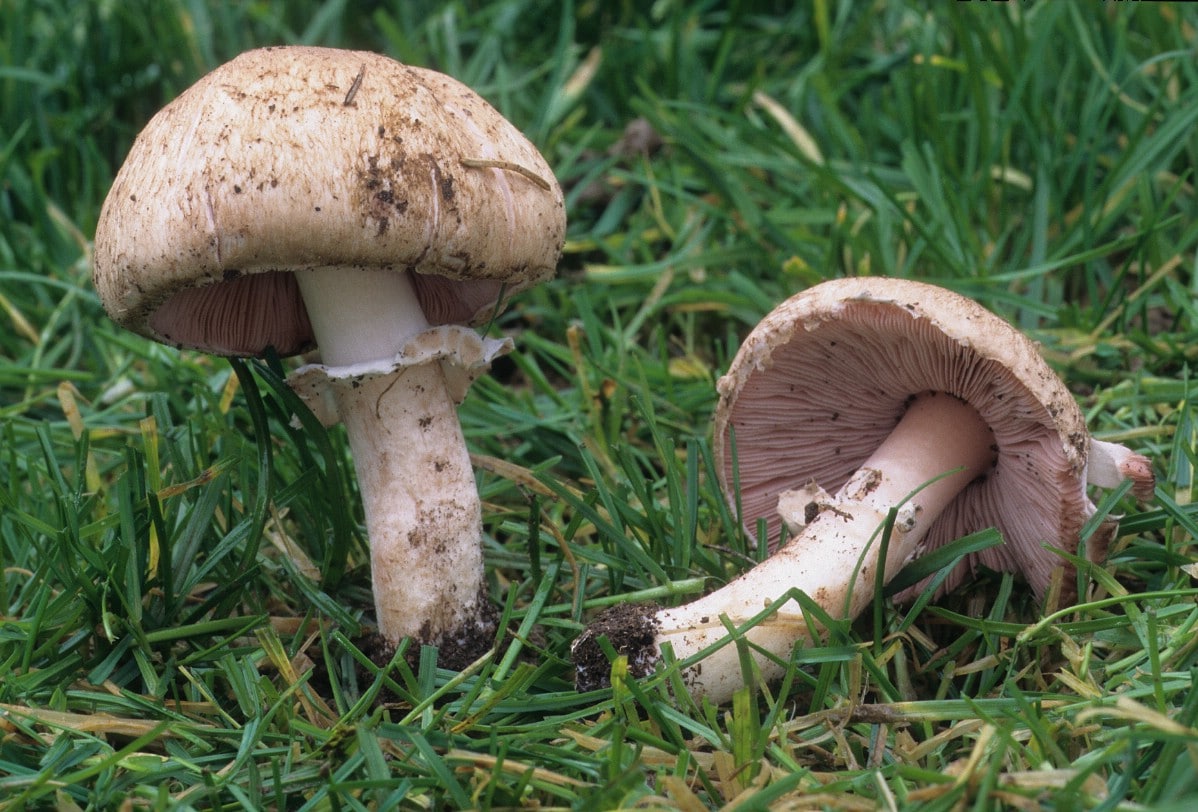 The Role of Mushrooms in Your Lawn's Ecosystem
While mushrooms can be a nuisance for homeowners, they play an essential role in your lawn's ecosystem. As we mentioned earlier, mushrooms are the fruiting bodies of fungi, which are crucial to the process of decomposition. Fungi break down organic matter in the soil, releasing valuable nutrients that plants can use. Without fungi, dead plant material would accumulate, leading to depleted soil and a lack of nutrients for new growth.
Mushrooms are also a sign of a healthy soil ecosystem. The presence of mycelium indicates a thriving community of microorganisms in the soil, including bacteria and fungi, which help break down organic matter and create healthy soil structure.
In addition to their role in decomposition, some mushrooms also form symbiotic relationships with plants, known as mycorrhizae. Mycorrhizal fungi colonize plant roots, enhancing their ability to absorb nutrients and water from the soil. This, in turn, can lead to healthier plants with stronger root systems.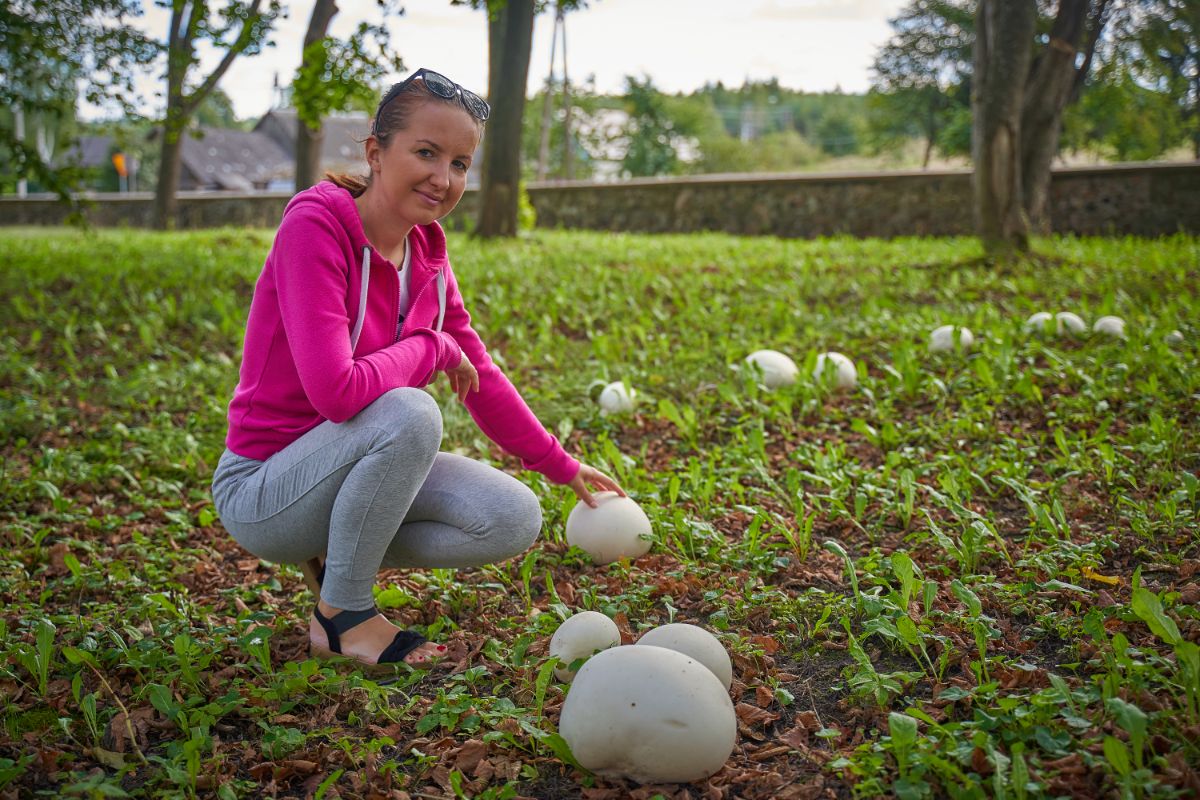 Potential Dangers of Lawn Mushrooms
While mushrooms play an important role in your lawn's ecosystem, there are also potential dangers associated with their presence. Some mushrooms can be toxic or even deadly if consumed, and children and pets are particularly at risk. It's essential to teach children not to touch or eat mushrooms and to keep pets away from areas where mushrooms are growing.
Contrary to popular belief, it is absolutely okay to touch even the most poisonous mushrooms. They will only harm you if you eat them. For kids, though, who put their hands in their mouths all the time, this is problematic. And, why it is a good idea to teach them from very young to be wary. You don't have to terrify them, just teach them to be careful and understand that some will make you sick.
The presence of mushrooms in your lawn can be an indication of an underlying issue, such as poor drainage or excessive thatch buildup. By addressing these issues, you can reduce the likelihood of mushrooms appearing in your yard.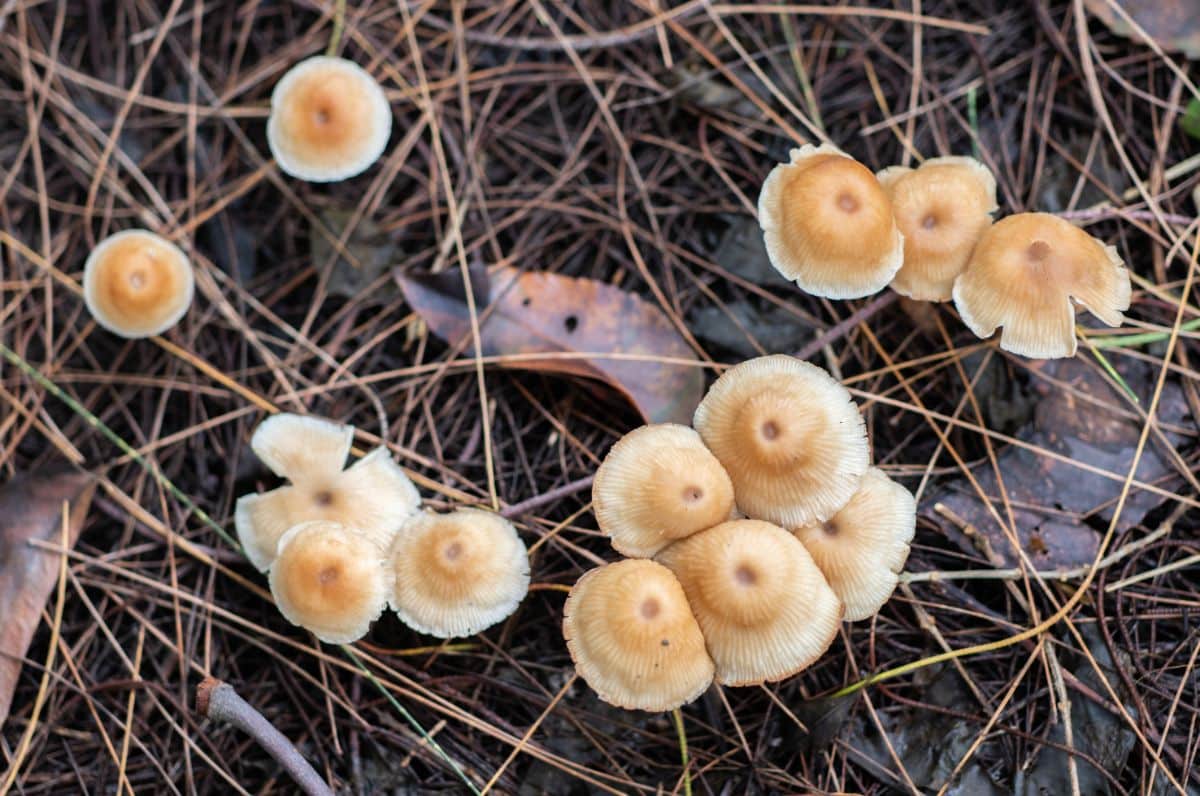 Tips for Managing and Preventing Lawn Mushrooms
While it's not always possible to completely eliminate mushrooms from your lawn (unless you want to dig up all the underground mycelium!), there are steps you can take to manage and prevent their growth.
Reduce Moisture – Mushrooms thrive in moist environments, so reducing the amount of water your lawn receives can help to limit their growth. Avoid overwatering and ensure that your lawn has adequate drainage.
Pull or Mow Them – The mushroom that you see aboveground acts similar to a flower or plant. It's "root system" is underground and mowing and pulling won't eliminate that. However, you can prevent it from spreading spores (the mushrooms "seeds") so the mushroom patch doesn't grow larger.

Mowing them is easy, especially if they're small, and may be a good way to prevent kids and pets from being attracted to them. Pulling them is a more reliable way to remove them entirely from the yard and prevent pets and kids from potentially eating them.
Remove Organic Matter – Mushrooms feed on decaying organic matter, so removing dead leaves and grass clippings can help to reduce their food source. Consider composting these materials instead of leaving them on your lawn. The downside to this is that you are removing valuable organic matter that improves the overall soil quality, and therefore the quality of your grass growth. You hurt the soil, lawn, and mushrooms when you remove the organic material they rely on for nutrients.
Aerate Your Lawn – Excessive thatch buildup can create conditions that favor fungal growth, so aerating your lawn can help to reduce thatch and promote healthy soil structure.
Use Fungicides – In severe cases, fungicides can be used to control mushroom growth. However, it's important to note that fungicides can also harm beneficial fungi and should be used cautiously. They also won't eliminate the mushroom mycelium underground and will, at best, just limit overall aboveground growth.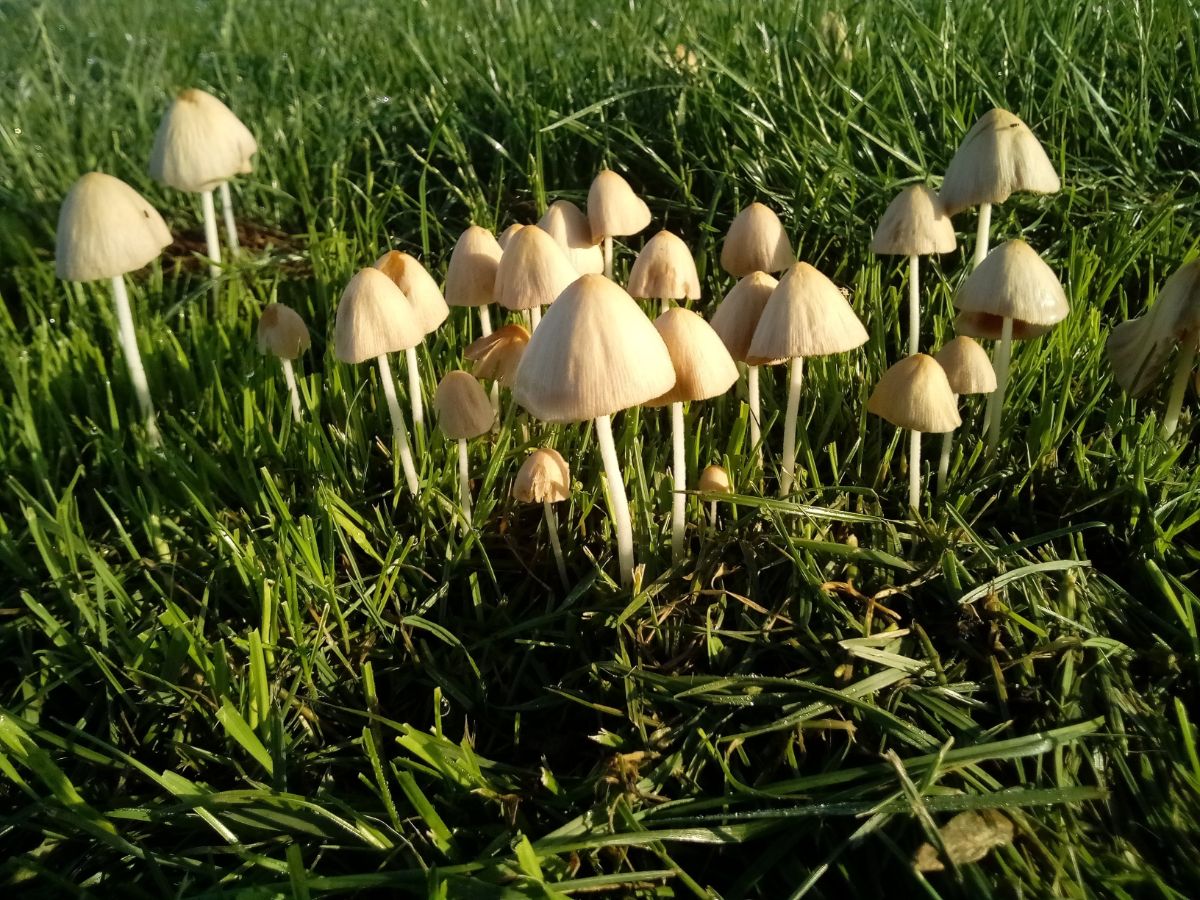 Embracing the World of Lawn Mushrooms
While lawn mushrooms can be a puzzling and even concerning sight for homeowners, they are a natural part of your lawn's ecosystem. By understanding the causes of mushroom growth, identifying common types of lawn mushrooms, and taking steps to manage and prevent their growth, you can promote a healthier lawn and reduce the risk of potential dangers.
Whether you're a seasoned mushroom enthusiast or simply curious about the world of lawn mushrooms, embracing their presence in your yard can lead to a deeper appreciation for the complex web of life that exists beneath your feet.
Common Questions About Lawn Mushrooms
Are lawn mushrooms poisonous?
Don't panic immediately! The majority of lawn mushrooms are not deadly. And, while there is no simple answer to question, it isn't always cause for concern. Some mushrooms are; some mushrooms aren't. To know if the species in your lawn is poisonous, first you must identify it.
What animal eats mushrooms in my yard?
A wide variety of animals may be snacking on the mushrooms on your lawn. Mushrooms seem to be part of the food chain for a number of animal species. Deer, small mammals such as squirrels and other rodents, birds, turtles, and numerous species of insects all eat mushrooms.
Should I remove mushrooms from my lawn?
You can try. However, mushrooms aren't just the aboveground fruiting body that you see. There is also a dense mycelium mat belowground that provides the fruiting body with nutrients for it to grow. Removing mushrooms entirely is pretty much a futile effort. However, there are some options for dealing with them. Please see the above section for Managing and Preventing Lawn Mushrooms to learn more.
Why do mushrooms suddenly appear in my yard?
Mushrooms appear on a lawn when they encounter their ideal circumstances. This usually includes lots of moisture, some shade (or full sun for some species), and lots of organic material to take nutrients from. If you have mushrooms in your lawn, a tree or shrub probably used to grow in that area. Tree roots can grow 25 feet or more away from the trunk so you might find mushrooms quite far away.