The snow fungus is a highly regarded edible mushroom that grows on dead broadleaf tree branches. It is an eastern North American species with a widespread occurrence in its territory. Snow fungus (Tremella fuciformis) is an esteemed mushroom in Chinese cuisine, and it is also believed to have medicinal properties. It is also known as white jelly mushroom, snow ear, white cloud ears, and silver ear fungus.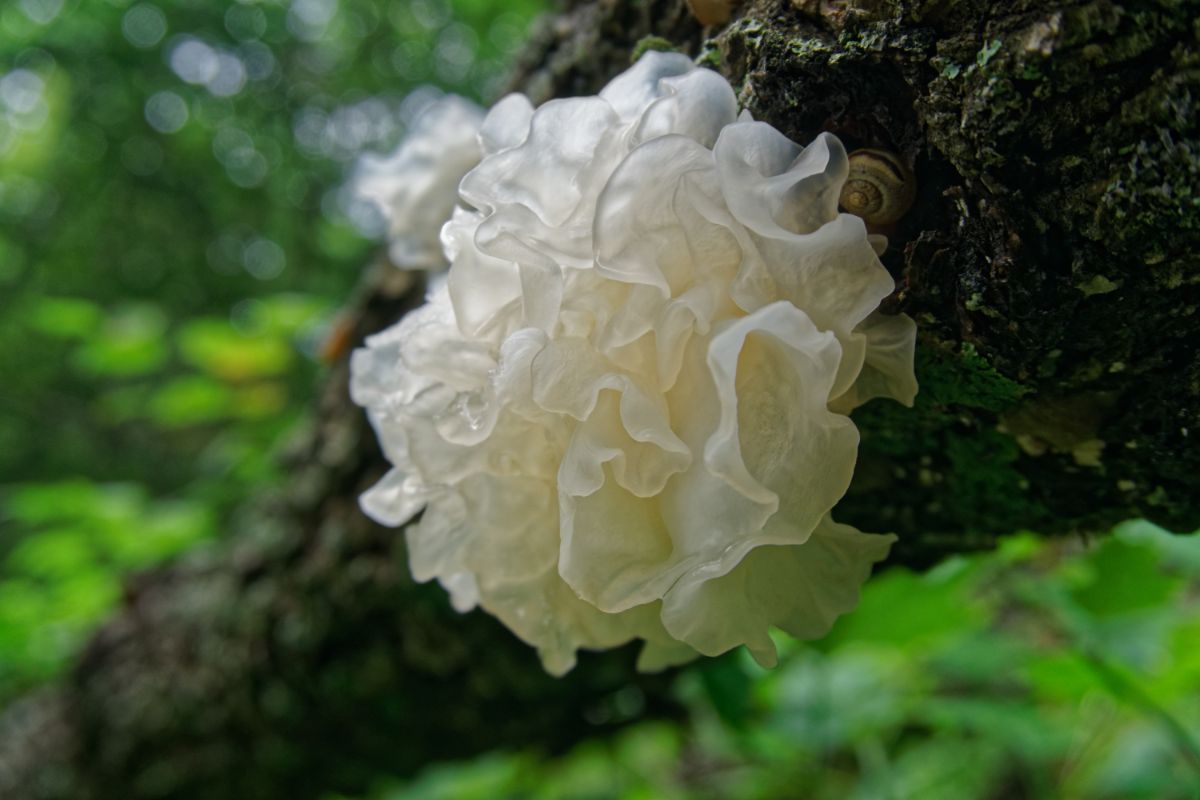 Jump to:
All About Snow Fungus
Snow fungus is a type of jelly fungus that grows on trees, particularly on dead or dying branches. It is found in temperate regions worldwide, including Asia, Europe, and North America. This mushroom is used in a vast array of dishes, including soups, stir-fries, and even desserts.
In Chinese culture, it is known as "yin er" and is highly valued for its health benefits. Snow fungus is rich in dietary fiber, minerals, and polysaccharides that are believed to boost the immune system and improve skin health.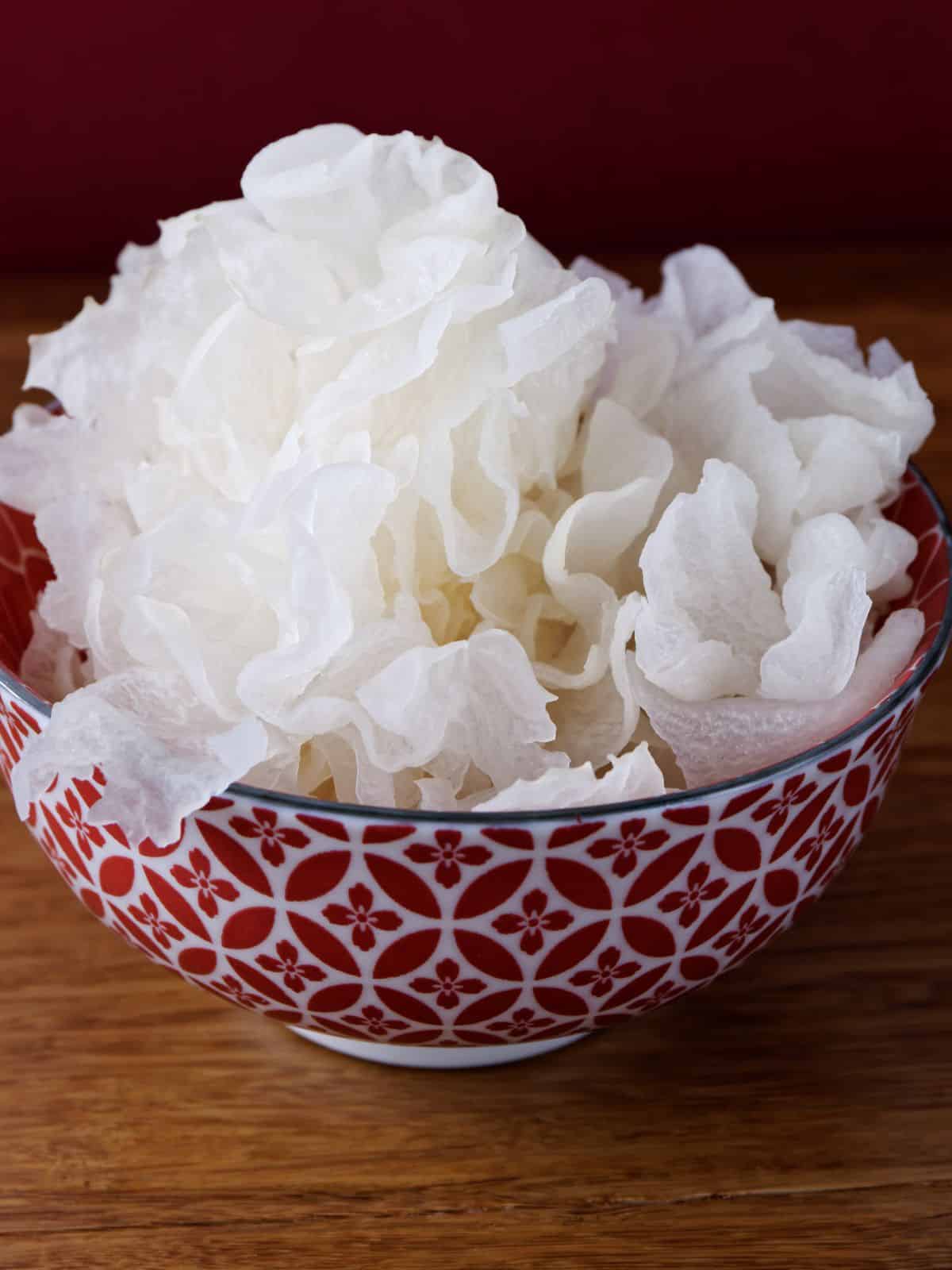 Snow fungus can be found in forests, parks, and other wooded areas. It is most commonly found in the winter months, from December to March, when the weather is cold and wet. Look for this fungus on dead or dying deciduous trees, such as oak or maple trees. It may also grow on coniferous trees, such as spruce or pine trees. It usually grows in clumps and has a distinctive shape that resembles an ear or a flower.
Snow fungus has a long history of use in traditional Chinese medicine. It is believed to have been first used during the Tang dynasty (618-907 A.D.) as a medicinal food. During this time, it was considered a luxury item and was reserved for emperors and their courts. It was highly prized for its ability to improve complexion and overall health.
Today, snow fungus is widely cultivated in China and other parts of Asia, where it is still highly regarded for both its nutritional value and medicinal benefits. Its popularity has also spread beyond Asia, with many Western countries now incorporating it into their diets and skincare products.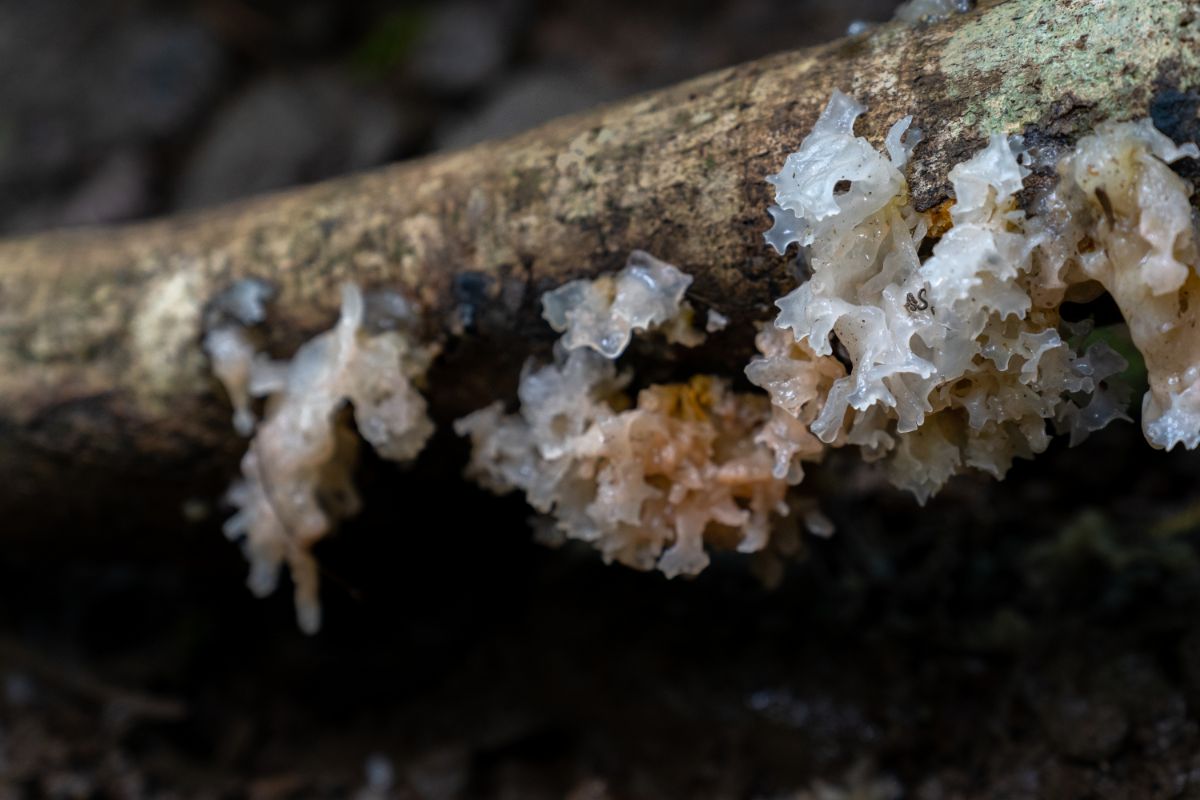 Snow Fungus Lifecycle
The snow fungus is actually a parasitic yeast that appears as a slimy mucus-like skin until it encounters a host it likes. These hosts include other fungi species, including Annulohpoxylon and Hypoxylon. When it finds the preferred host, it invades, which then triggers vigorous mycelium growth and the formation of the fruiting body we know as snow fungus.
At least, this is how mycologists and biologists believe the parasitization works. The exact nature of the relationship between the host and parasite is unclear. Instead of straight parasitization, there could be a more complex, mutualistic, or symbiotic relationship between Tremella fuciformis and the host.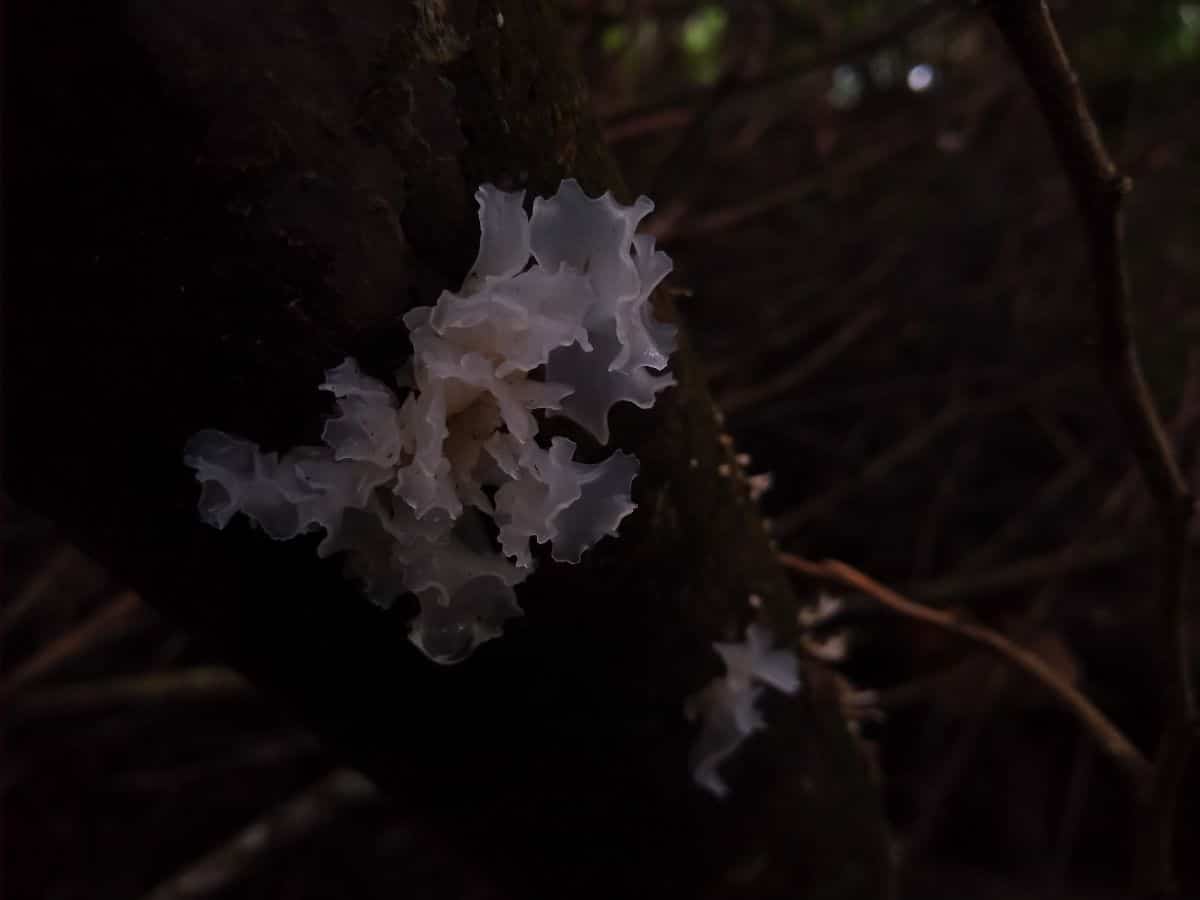 Nutritional Benefits of Snow Fungus
Snow fungus is not only delicious but also packed with health benefits. It is low in calories and high in dietary fiber, making it a great addition to any diet. The white gelatinous fungus is also rich in minerals such as iron, potassium, and calcium, which are essential for healthy bones and muscles. Additionally, this mushroom contains polysaccharides, which are complex carbohydrates that have been shown to boost the immune system and improve overall health.
In traditional Chinese medicine, this fungus is believed to have anti-aging properties and is used to treat various ailments such as coughs, respiratory infections, and digestive problems. It is also used in skincare products because of its hydrating and anti-inflammatory properties.
Snow Fungus Identification
Snow fungus has a distinctive shape that resembles an ear or a flower. It is usually white or beige in color and has a delicate, jelly-like texture. This fungus grows in clumps and can range in size from a few centimeters to several inches.
One way to identify this mushroom is by its texture. It has a slippery, gelatinous texture that is similar to other jelly fungi. Another way to identify it is by its location. It usually grows on dead or dying deciduous trees, such as oak or maple trees. It may also grow on coniferous trees, such as spruce or pine trees.
Season
Summer through winter, depending on the region
Habitat
Snow fungus grows on dead hardwood. It grows in a single clump or as many scattered clumps or clusters.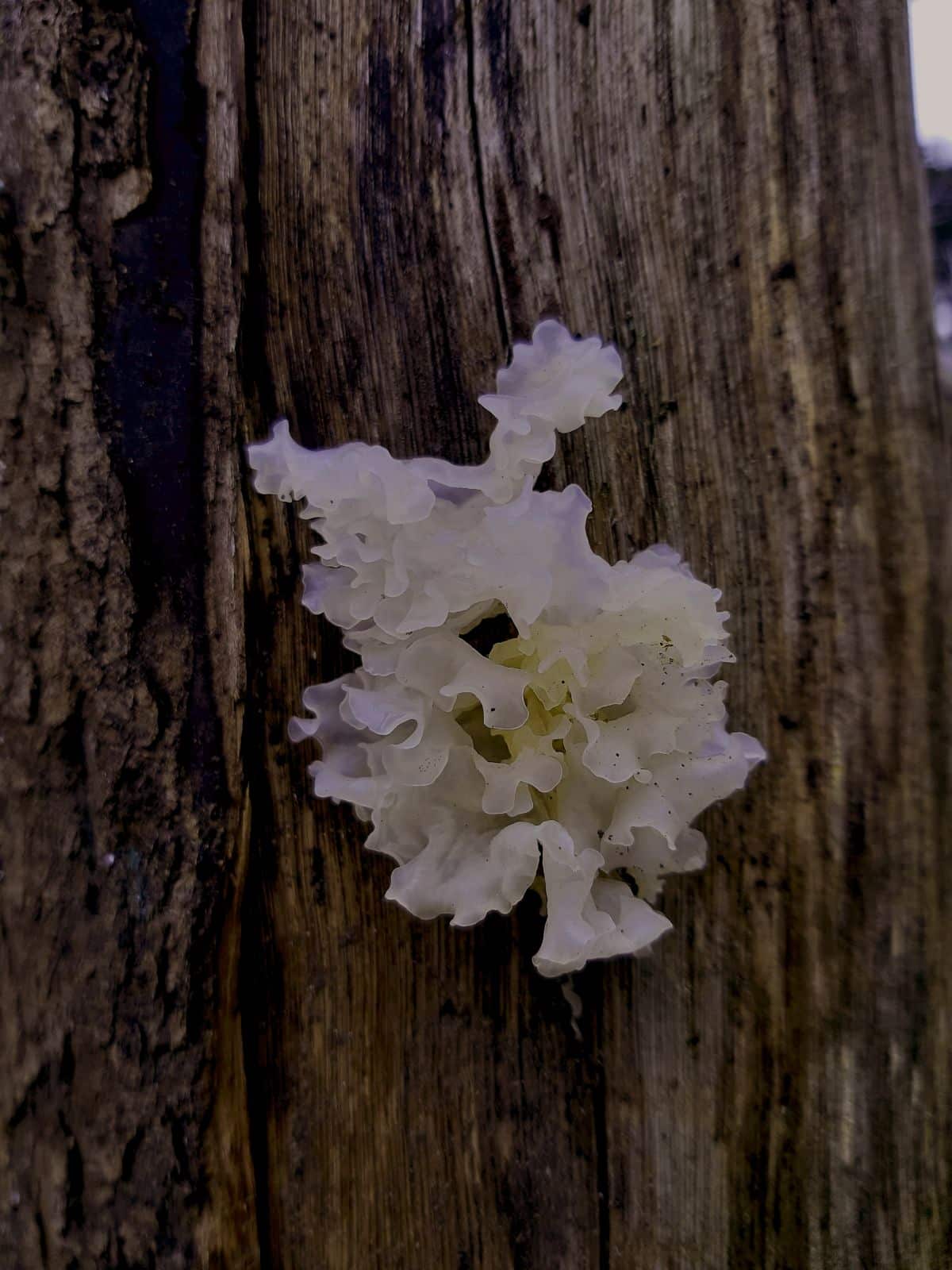 Identification Characteristics
The snow fungus is white or whitish, sometimes morphing into a dirty white or beige. It is gelatinous but firm and looks like a blob with many defined wavy and stylish lobes. These lobes resemble ears or flower petals in appearance. Or like seaweed with branching fronds. This is quite different from other jelly fungus species, which are just blobs without much definition. The flesh is often translucent and is smooth, and shiny.
These mushrooms average around 2.75 inches in width and 1.5 inches tall. The spore print is white.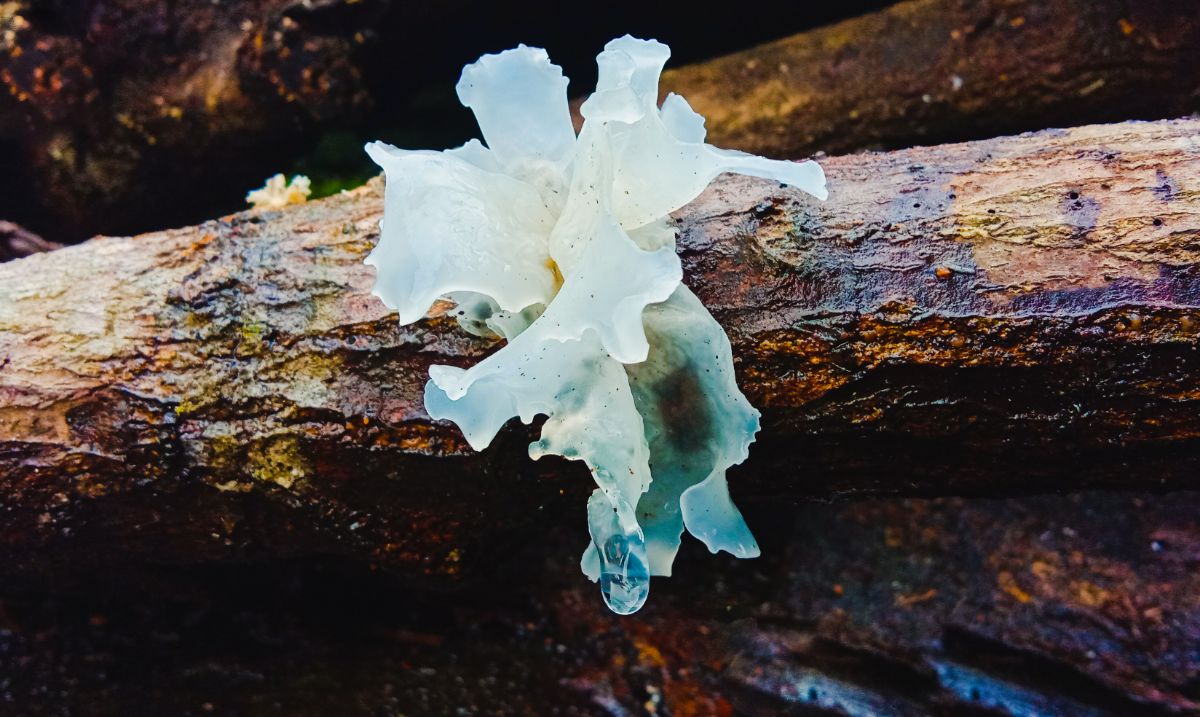 Snow Fungus Lookalikes
Ductifera pululahuana
This widespread white jelly fungus grows across eastern and southern North America. It also grows on dead hardwood and appears in fall or winter. The primary differences between the two species are that D. puluahuana is not as translucent and is more blob-shaped. It does not have the distinctive ear or flower petal lobes that the snow fungus sports. D. pululahuana also tends to grow in dense globular masses, which overlap to look like a thick, gelatinous brain.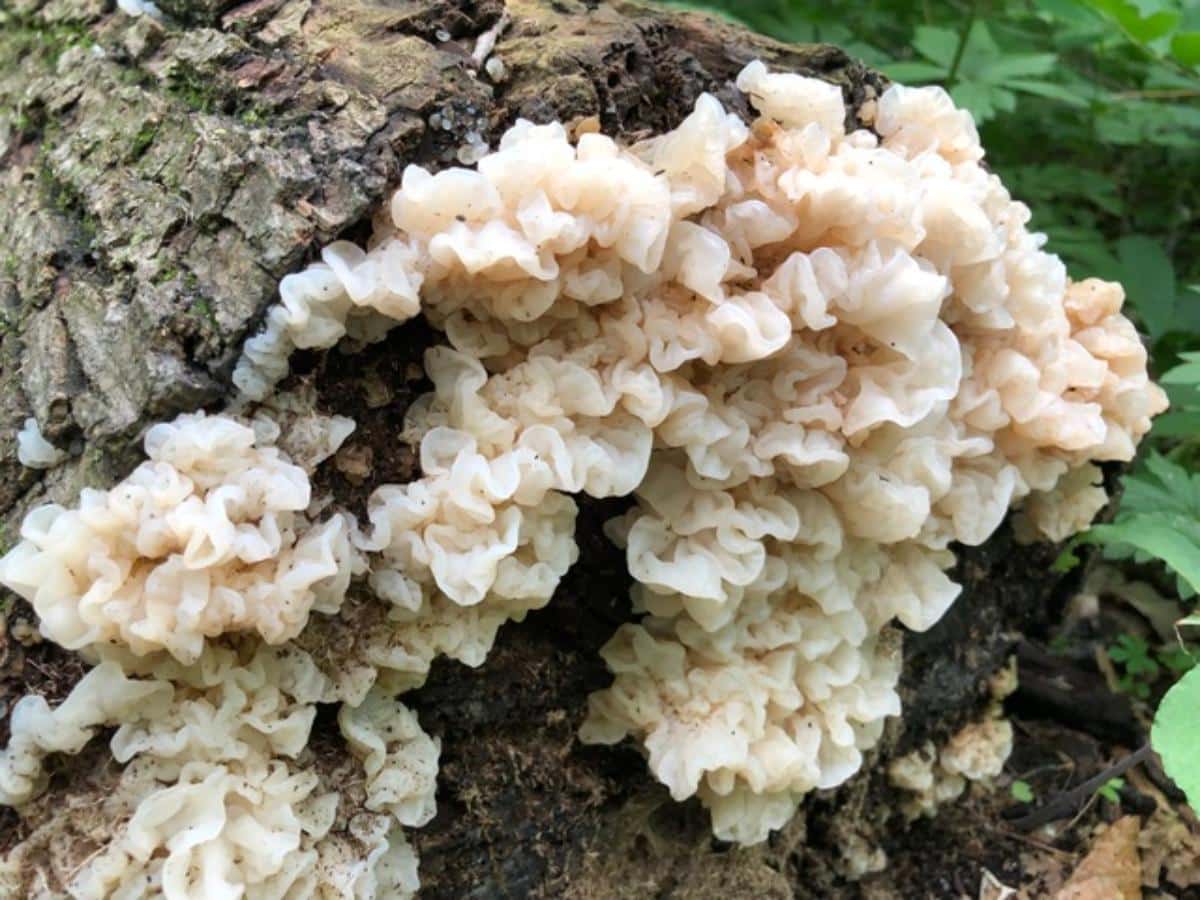 Sebacina sparassoidea, syn. Tremella reticulata
This eastern North American jelly fungus is white like the snow ear fungus but looks quite different. The shape resembles sea coral, with defined branches that emerge from a somewhat central zone. The white color is also much more opaque (not translucent), and it grows quite large, reaching up to 3 inches tall and 6 inches wide. T. reticulata grows on decaying hardwood or from the ground. Since snow fungus never grows from the ground, this is a crucial deciphering factor.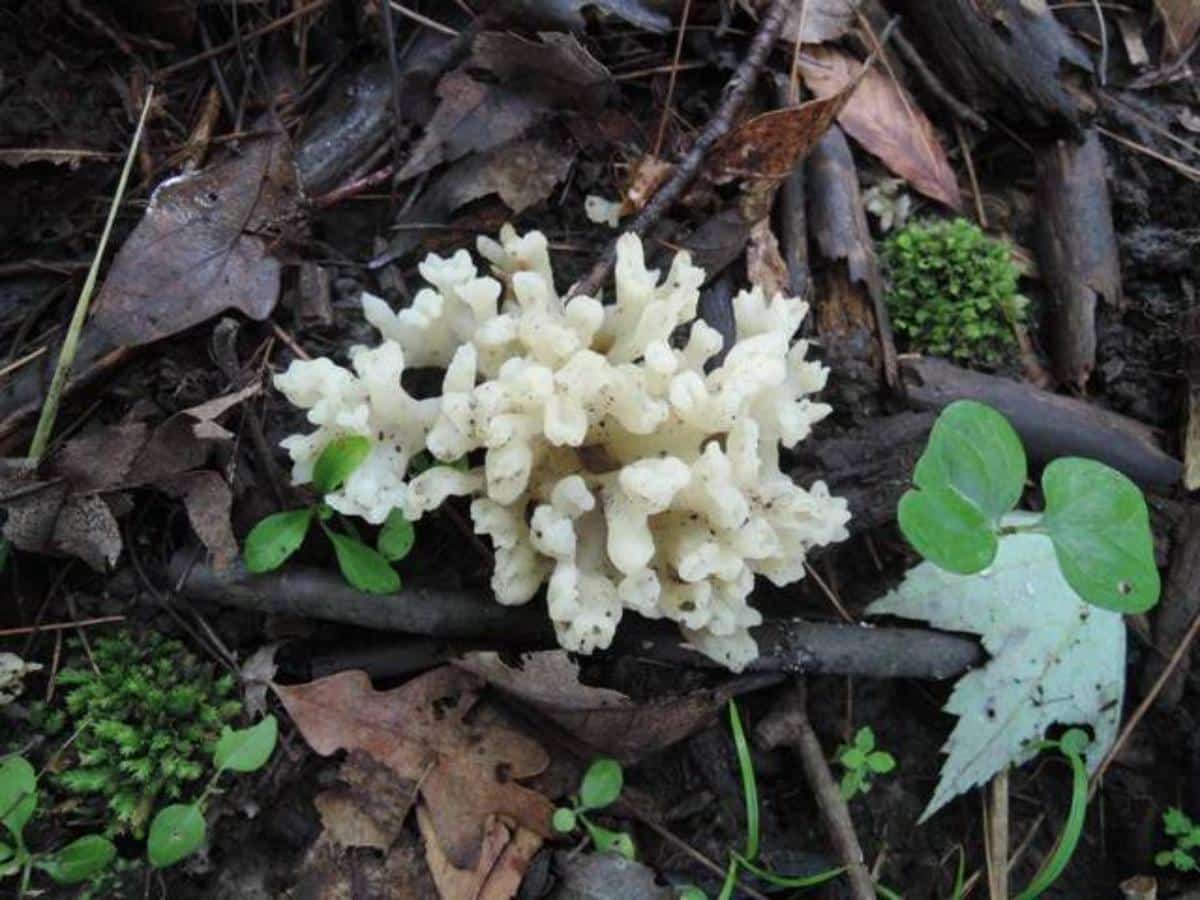 Cooking With Snow Fungus
Snow fungus is a versatile ingredient that can be used in both sweet and savory dishes. Before using snow fungus, it's essential to clean it thoroughly. Rinse it under running water and remove any dirt or debris. If you have dried specimens, soak them in water for 30 minutes to soften them up.
Once cleaned, this jelly fungus can be used in a variety of dishes. It has a slightly sweet taste and a delicate texture, making it a great addition to soups, stews, and desserts.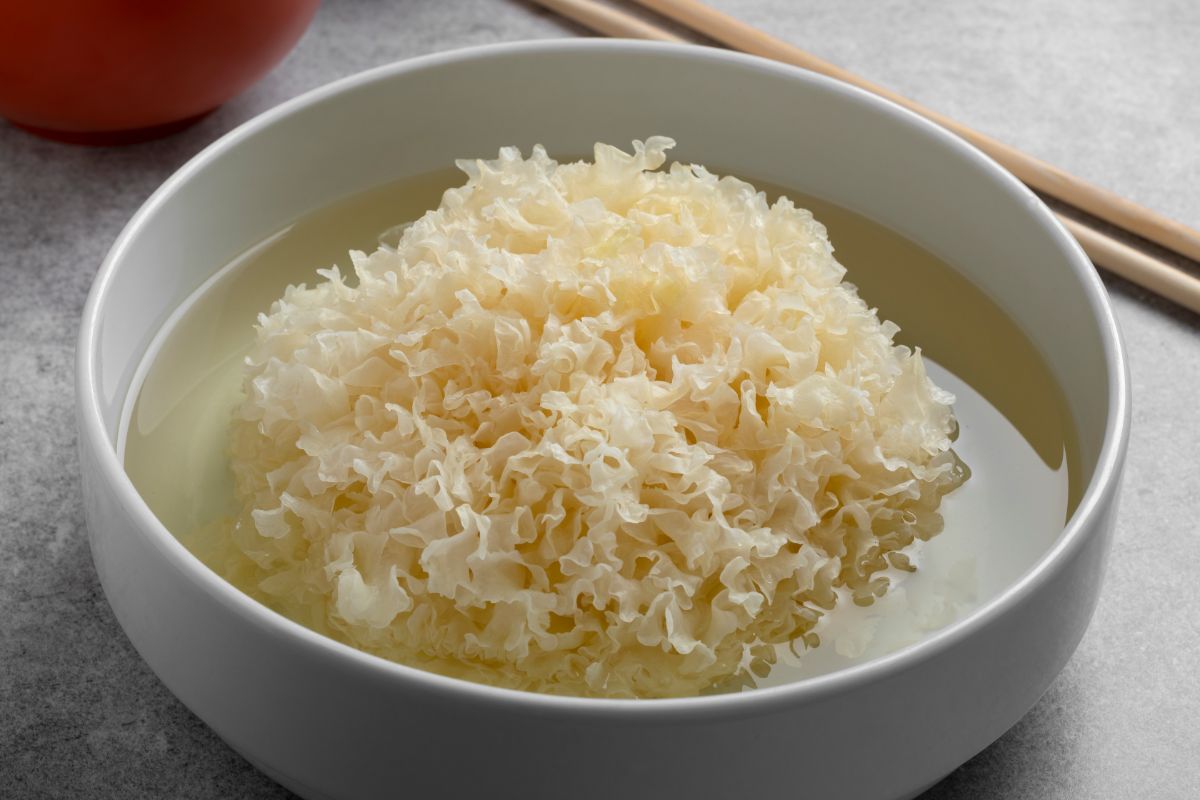 Here are some snow fungus recipes and culinary ideas to try:
Snow Fungus Soup: Combine the fungus,vegetable or miso broth, shiitake mushrooms, and carrots in a pot and simmer for 30 minutes. Season with salt and pepper to taste.
Snow Fungus Salad: Mix the fungus, cucumber, and sesame oil in a bowl. Season with salt and pepper to taste.
Snow Fungus Dessert: Soak the fungus in water for 30 minutes. Combine with rock sugar, dried longan, and goji berries in a pot and simmer for 30 minutes. Serve hot or cold.
In addition to these recipes, this jelly fungus can also be used in stir-fries, hot pots, and smoothies. Get creative and experiment with different flavor combinations to find your favorite way to enjoy this fungi delicacy.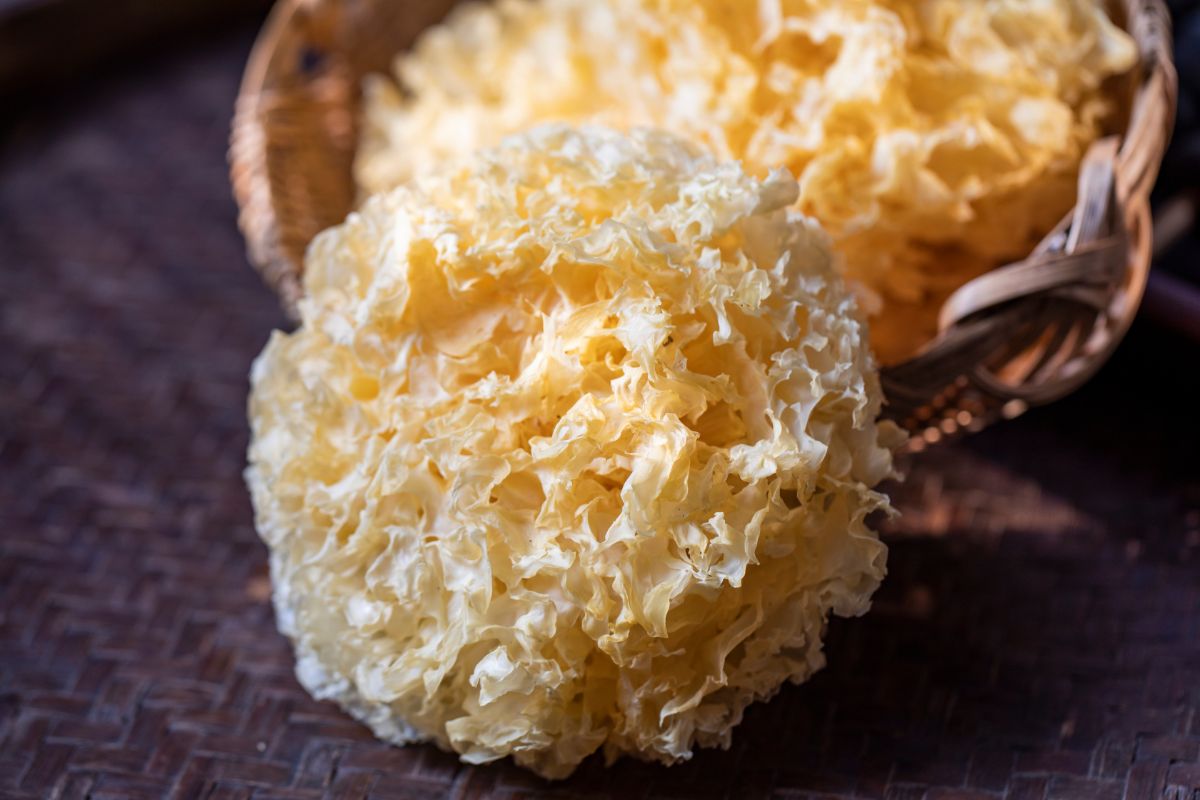 ---
Interested in learning about more edible mushroom species in North America? Check out all our guides for edible mushroom species.
---
Snow Fungus Preservation and Storage
This fungus can be stored in the refrigerator for up to a week. After cleaning, pat it dry with a paper towel and store it in an airtight container. You can also freeze snow fungus for up to three months. Simply blanch it in boiling water for a few seconds, then rinse it under cold water and pat dry. Place it in a freezer-safe container and store it in the freezer until ready to use.
The fungus also is commonly dried and stored in airtight containers. Use a dehydrator or dry it at a very low oven temperature. To reconstitute it before use, soak it in hot water for 30 minutes.
Snow Fungus Common Questions
Can I grow snow fungus?
Possibly. Snow fungus cultivation is widespread, but it is a complicated process that involves inoculating the spores along with the host fungus mycelium. This guide is a great place to start if you're interested in cultivating the snow ear fungus.
Is snow fungus medicinal?
In Traditional Chinese Medicine, snow fungus is used to improve the kidneys, lungs, heart, and stomach. It is believed to improve blood flow and treat high blood pressure. This fungus is particularly recommended for use during recovery from an illness.
Where can I buy snow fungus?
There are many online sources for dried snow fungus. Look for a reputable company with many reviews to ensure you get a good quality product. In addition to whole specimens, you can also find powdered and liquid extract options. It is an ingredient in a vast array of products, including soup mixes, tea blends, and drink mixes.