Marinated mushrooms are a delicious and very versatile dish. They work well as appetizers, side dishes, with salad, on top of meat or veggie burgers, with pasta, or as a snack themselves.
You can use any edible mushroom in these recipes except tough polypores such as reishi. Plain button mushrooms from the grocery store are just fine. Marinating is a great way to add more zest and flavor to mushrooms that are considered boring or bland.
Since these recipes work so well with simple grocery store mushrooms, they can be very cheap to make as well. So in addition to being delicious, your appetizer will be inexpensive as well!
Below are some instructions on how to make marinated mushrooms and some easy recipes. Remember that the best recipes often come from experimentation, so feel free to alter them as you see fit.
Instructions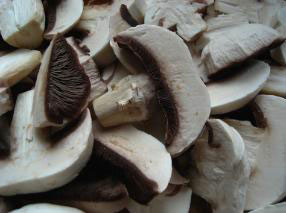 Marinating is quite simple. The steps are:
Preparation:
Clean the mushrooms with a brush or damp cloth. Don't wash them, as too much water will make them soggy and ruin your recipe.
Cut them, or not, according to your recipe. Many people remove the stems, as they don't soak up juices as well as the caps. If you like you can remove the gills, although I usually find this to be too much work!
Marinade:
Create the marinade per the instructions. There's a lot of room for creativity here, and with a little practice, it's easy to just start inventing your own. See the marinade recipes at the bottom of this page to get you started.
Mix:
Mix the mushrooms and the marinade together in a plastic food-safe container. Let them sit for 1 hour to overnight in the refrigerator. Don't let sit for longer than 24 hours, as your mushrooms may become too soft.
Cook:
Cook the mushrooms either on the grill, boiled in a pot, or in a skillet. Raw mushrooms are hard to digest, so don't eat without cooking. You may discard any leftover marinade when done or add to the meal.
That's it! The final step is to serve in any number of ways. Refrigerate the leftovers. These mushrooms will keep from one to several weeks in the refrigerator.
Ten Recipes for Marinated Mushrooms
This recipe makes a quick and easy appetizer. Learn how to make this simple and inexpensive dish using only mushrooms, shallots, and a balsamic vinaigrette.
Who doesn't love tangy Asian-style mushrooms with sesame oil and soy sauce? This one comes with lots of variations so you can adapt it to any meal.
Zesty and unique, this appetizer combines the the citrus tastes of lemon and orange with the bite of hot red pepper. Maybe not for everyone, but delicious for those of us who love a sour flavor!
A classic recipe combining red wine vinegar and Italian herbs. Add it to meat, cheese, or olives and you'll have the perfect first course.
Flavor your cookout with this marinated creation for grilled portobellos. Hearty and delicious, this recipe is a great alternative to the standard veggie or meat burger.
This warm and tangy recipe is similar to something you'd find at an olive bar. It's easy to make, tasty, and goes with just about anything.
These peanut laden mushrooms pair wonderfully with Thai food. Use this easy recipe as a topping for Pad Thai, with vegetables and meat, or added to a curry.
Here's one that's perfect for a barbecue. The flavor is strong and smokey, and the recipe is very easy. Serve with another entree, or on its own as a mushroom burger.
This unique recipe is easy to make, quick to cook, and has great flavor from the sweet and sour ingredients. Serve with your favorite spicy dish.
Enjoy!