A good marinated mushroom recipe is perfect for an antipasto plate. Antipasto is an Italian term meaning "before the meal". It's served as the first course of an Italian dinner, the purpose being to create a casual and friendly atmosphere at the beginning of a meal.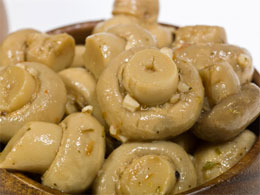 An antipasto plate may have many ingredients. It can consist of meat slices, cubed cheese, olives, peperoncini peppers (my favorite!), mushrooms, and more. Some regions will serve fish, sardines, or other types of seafood as well.
This recipe will show you how to prepare some Italian-style marinated mushrooms. The rest of the ingredients can be traditional or you can experiment and add a few extras. Antipasto typically varies depending on where you have it.
The main points to remember with an antipasto plate is to make sure the flavors and ingredients harmonize and to keep it simple and not overpower the main dish. You're looking to create something people can easily gather around and visit over.
Recommended mushrooms: White buttons or cremini from the grocery store. Meaty pieces of oysters or even portobellos will work too.
Ingredients:
1 lb mushrooms
1/2 cup olive oil
1/2 cup water
2 tbsp lemon juice
3 cloves garlic
1 tbsp red wine vinegar
1 tsp herbs (oregano, basil, etc)
salt to taste
Clean the mushrooms with a damp cloth and slice them into medium-sized pieces. You can remove the stems if you like.
Place the mushrooms in a container with the olive oil, water, lemon juice, vinegar, and herbs. Let them marinate for at least an hour, preferably overnight. The longer you marinate them the better the taste, up to two days before serving.
Place all the ingredients in a saucepan and bring to a low boil. Cook for 5 minutes.
Remove mushrooms and allow to cool. Serve with other ingredients in an antipasto platter such as olives, cubes of cheese, artichoke hearts, or thin slices of meat.
Variations:
Use less lemon juice and more red wine vinegar for a different bite.
Add peppercorns and/or some pepper as a seasoning.
Add more garlic! Garlic is used heavily in Italian cooking, so adjust it to the taste of you and your guests. (I personally rarely can have enough).
Serve with bread as a side. Something crunchy makes a good contrast with the meaty mushrooms.
For more information on antipasti plates in general, see The Perfect Antipasto Plate by Whole Foods.