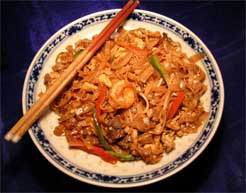 I love Thai food, and this marinated mushroom recipe is perfect for various dishes such as Pad Thai, tofu, meat, and curries. Add to stir-fried vegetables for a vegetarian meal, or include shrimp for a seafood meal. Lots of potential with this one.
I've listed this with standard ingredients, but there's lots of room to experiment. Feel free to add coconut milk, fish sauce, oyster sauce, herbs, or any other ingredient that you like in Thai cuisine. You can also choose to add peanuts or cashews.
This recipe made me so hungry when I was typing it up that I had to make some when I was done!
Recommended mushrooms: Cremini or white buttons from the grocery store.
Ingredients:
1 lb mushrooms
2 cloves garlic, minced
2 tbsp peanut butter
2 tbsp soy sauce
2 tbsp teriyaki sauce
1 tbsp sesame oil
1/4 cup rice wine vinegar
2 sliced scallions
salt to taste
Clean the mushrooms with a damp cloth and slice them into medium-sized pieces. You can remove the stems if you like.
Combine all marinade ingredients except the scallions in a plastic container and whisk until smooth. Make sure you don't leave large chunks of peanut butter. If the marinade is too thick you can gradually thin it out by adding small amounts of water.
Place mushrooms in the marinade and shake well. Let the mixture sit for 1 hour to overnight.
You can cook the mushrooms anyway you like, but here I like them sauté ed. Heat a skillet with a small amount of oil and add the mushrooms and any leftover marinade.
Sauté until they are slightly brown, usually around 5 minutes. Be careful not to overcrowd the pan!
Remove from heat and allow to cool. Serve on Pad Thai or your favorite Thai recipe. Garnish with scallions.
Variations:
Fish sauce is used in a lot of Thai cooking. Adding a tbsp or 2 will add more flavor. Be aware it's quite salty. You can also use oyster sauce, just be aware that oyster sauce is sweeter.
For more heat, mix in a tsp of crushed red pepper or red chili sauce.
If your diet allows, 2 tbsp of sugar will balance the flavors with some sweetness.
Other ingredients often included in Thai food are coconut milk and lime juice.