This marinated mushroom recipe is similar to one you'd find at an olive bar. It involves creating the marinade, letting the mushrooms sit in it, and then cooking the whole thing for about ten minutes. A quick and easy way to impress your guests!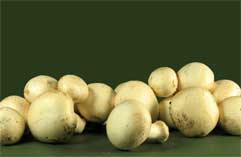 Soaking them in vinegar is technically pickling, and it's what gives the mushrooms that great tangy taste. Most people use red wine or white vinegar, although you can use apple cider vinegar as well with great results. More complex than a straight vinaigrette, this recipe has a different flavor due to the addition of mustard seeds and red pepper.
Feel free to experiment with the amounts of the ingredients until you find something perfect. Some people prefer a stronger mustard taste, others may want a bit more vinegar. I've started with basic amounts below, but taste the marinade after you make it and adjust to your liking.
Recommended mushrooms: Any of the edible mushrooms, but this often works best with white buttons from the grocery store.
Ingredients:
1 lb mushrooms
1/2 cup red or white vinegar (I prefer white for this)
3/4 cup water
1 tsp mustard seeds
2 cloves garlic, minced
1/2 chopped red pepper
salt to taste
Clean the mushrooms with a damp cloth and slice them into medium-sized pieces. You can remove the stems if you like, but I find they work just fine in this recipe.
Place them in a container with vinegar, water, mustard seeds, garlic, and red pepper. Let them marinate for at least an hour, preferably overnight.
Put the mushrooms and marinade into a pot and bring to a boil. Reduce the heat and simmer for 10 minutes. Allow cooling. For a stronger taste, refrigerate overnight again after cooking.
Serve as an appetizer or side dish.
Variations:
Add sugar and/or black pepper to the marinade.
Use the marinade to soak some olives and serve as part of an antipasti plate.
Add 1 or more tsp of chopped chilies or banana peppers for more spice.
Add whatever Italian herbs you like. I prefer this recipe with really simple ingredients, but you can add a teaspoon of thyme, rosemary, sage, or basil.
If you're a brave garlic lover like myself, you can throw in a few more cloves of minced garlic.