One can make a very easy marinated mushroom recipe with a simple balsamic vinaigrette. This recipe goes well on top of bread, fish, or any meat. All with minimal effort and expense!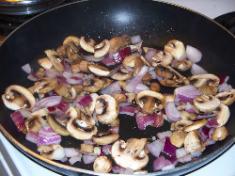 A vinaigrette is simply a mixture of vinegar, oil, and herbs for flavor, usually three parts oil to one part vinegar. Here we'll be using balsamic vinegar for an extra kick, but you can use any type of vinegar you want. (Or an herb-infused one).
Feel free to experiment with this recipe as you like. It will keep for a week or slightly longer in the fridge if it lasts that long!
This marinated mushroom recipe makes about a cup of liquid, which may or may not be enough depending on how many mushrooms you have. Fortunately, it's easy to make more.
Recommended mushrooms: Any of the edible mushrooms, but this often works best with white buttons or cremini from the grocery store.
Ingredients:
2 lbs of mushrooms
2 shallots (or 1/2 red onion and a bulb of garlic)
1/4 cup balsamic vinegar
3/4 cup olive oil
salt to taste
Clean the mushrooms with a damp cloth and slice them into medium-sized pieces. You can remove the stems if you like, but I find they work just fine in this recipe.
Put the vinegar and into a bowl. Whisk in the olive oil slowly until the mixture is emulsified, meaning mixed throughout. (As you probably know, vinegar and oil won't mix together completely, emulsification just means that there's not just a layer of oil sitting on top of the vinegar).
Next add the shallots, herbs (if you have them), and mushrooms. Let them marinate for at least an hour, preferably overnight. You don't have to, but you may want to check on them every so often and mix the ingredients around a little.
Heat a skillet over medium high heat and add the mushrooms. Sauté until they are slightly brown. Be careful not to overcrowd the pan!
Add the shallots or onion/garlic mixture. Pour in some leftover marinade as well for extra flavor. Let cook for another 3 minutes or so.
You're done! Serve as an easy appetizer, side dish, or topping. This recipe is great warm or cold.
Variations:
Add any herb you like to the marinade or at the end of the cooking process. Thyme, tarragon, rosemary, and oregano are popular choices.
Add about a teaspoon or sugar and/or pepper while cooking depending on your tastes.
Vinaigrettes typically contain mustard as well. Add a tablespoon or Dijon-style mushroom to the marinade.