The false chanterelle (Hygrophoropsis aurantiaca), with its vibrant orange hue and remarkable resemblance to the true chanterelle, is a mushroom every forager should know. While it's not a prized edible like its lookalike, the true chanterelle, it still holds its own charm. Whether you're a seasoned forager or a mushroom enthusiast, understanding the false chanterelle's key features is essential in distinguishing it from its edible counterparts. Remember, when in doubt about a mushroom's identity, it's best to leave it alone.
Scientific Name:

Hygrophoropsis aurantiaca

Common Names:

False chanterelle

Habitat:

Dead and decaying wood and decomposing organic material

Edibility:

With caution, see the edibility section below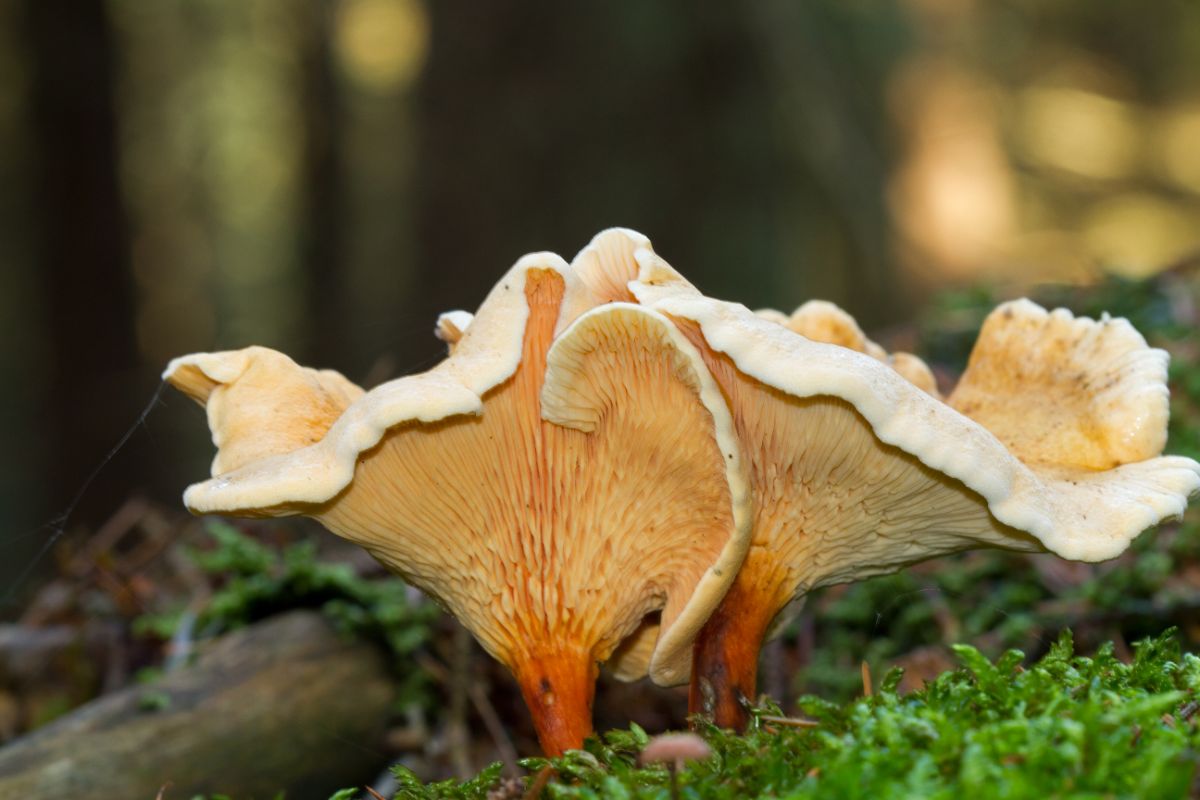 Jump to:
All About The False Chanterelle
The false chanterelle was first described to science by Austrian naturalist Franz Xaver von Wulfen in 1781. Initially listed as Agaricus aurantiacus, this mushroom caught the attention of many due to its resemblance to true chanterelles and its propensity to confuse foragers. Over the years, it has undergone several taxonomic changes and was eventually placed in the genus Hygrophoropsis. Its scientific name, aurantiaca, refers to its vibrant orange color.
Clitocybe aurantiaca and Cantharellus aurantiacus are both former names for this species.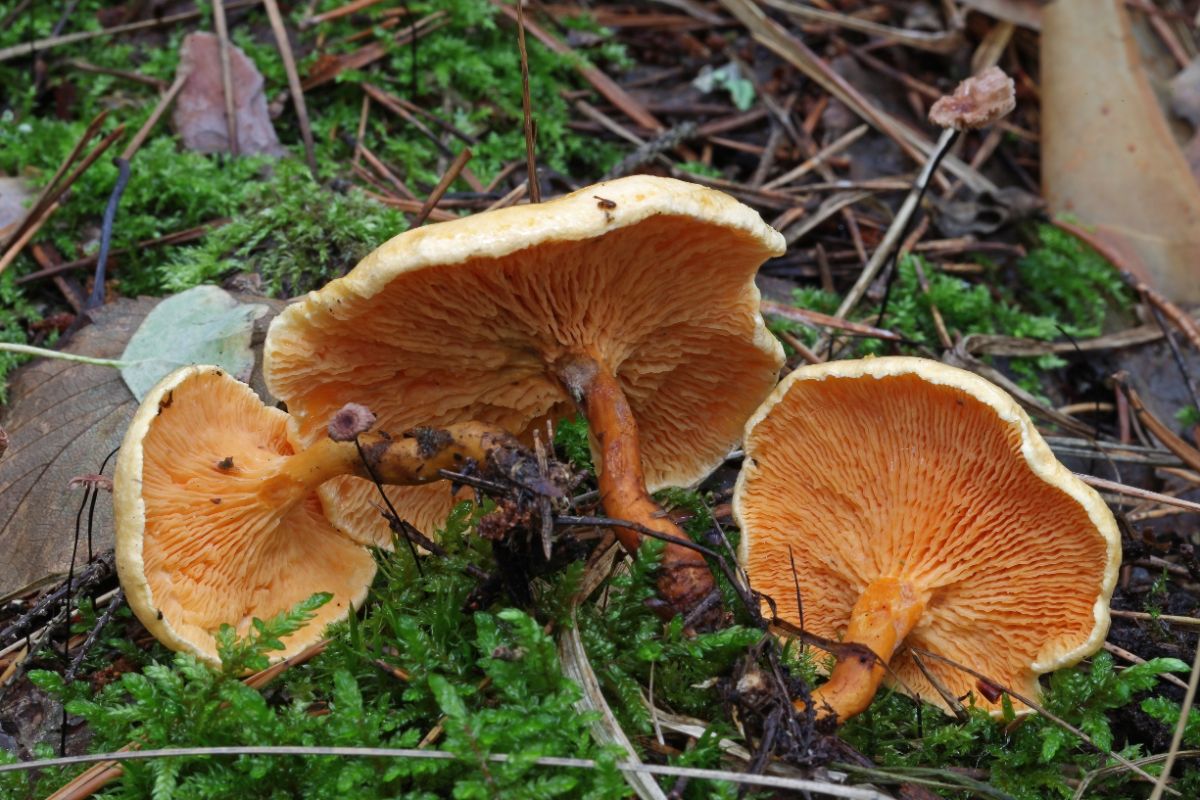 False Chanterelle Identification
Season
The false chanterelle fruits from summer through early fall, and late winter, with its season varying depending on the location. It is considered a dry-season mushroom and is often found when other mushrooms aren't out because they lack moisture.
Habitat
This is a saprobic mushroom, meaning it decomposes organic matter from trees. It primarily grows with conifers but also appears with hardwoods. This mushroom thrives on forest debris, extracting nutrients from leaves, sticks, twigs, and other materials dropped by trees. While it can occasionally grow on logs, it typically colonizes well-decayed wood, like stumps or fallen trees. They're particularly abundant in parks where wood chips are used as mulch.
While it often looks like the mushroom is growing from the ground, it is actually accessing rotted wood, which may be buried. False chanterelles usually grow individually, in small or large scattered groupings. Sometimes, a few grow very close together and fuse at the stem base to look like a cluster.
The false chanterelle is widespread across North America and Europe.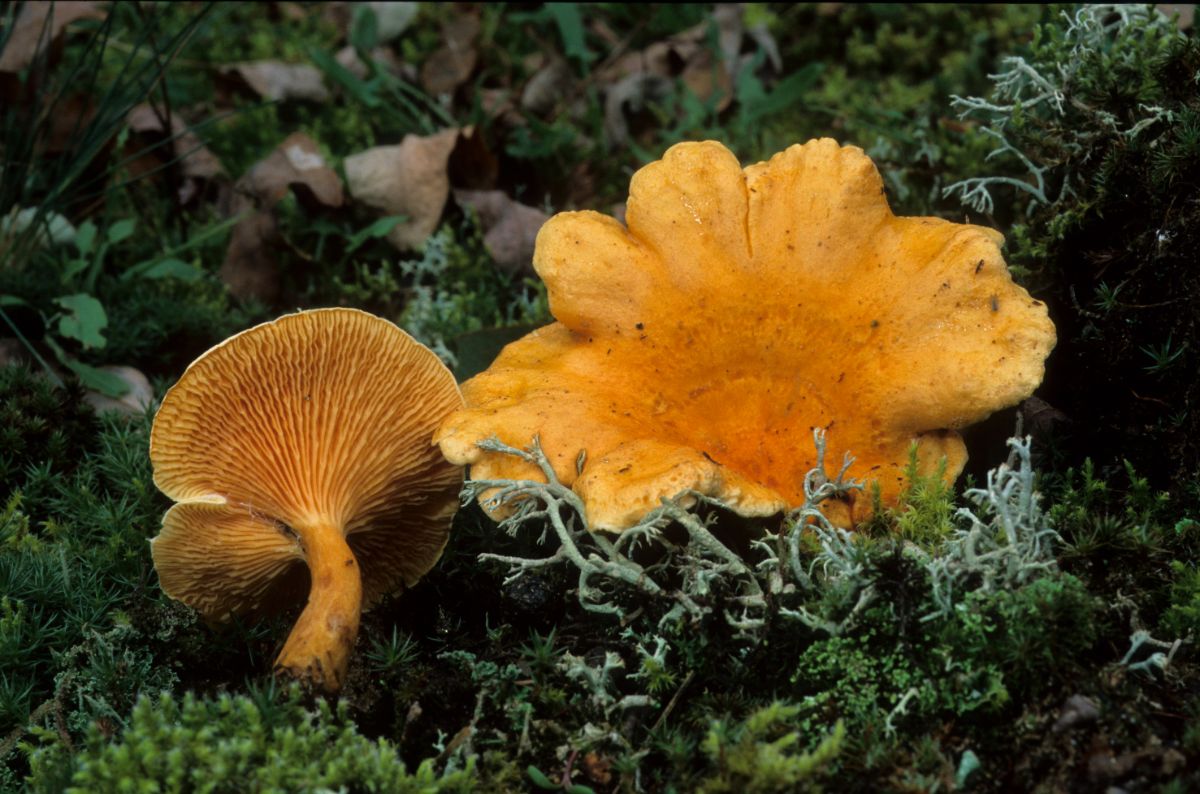 Identification
Cap
The false chanterelle cap ranges in diameter from 1-4 inches. Initially rounded, the cap gradually becomes nearly flat, sometimes developing a depression in the center. Its edges start off curled under before flattening out; often, they turn wavy. With age, it develops a pronounced funnel-shaped appearance. The cap's surface is dry and covered in dense, fine hairs, giving it a velvety texture.
The color of the cap varies widely from very bright orange to yellow-orange or even orange-brown. It can even be pale yellow. Often, the cap will have darker shades at the center and be more orange or lighter around the edges. Fading may occur as the mushroom ages, resulting in brownish-yellow hues. When it is young, it tends to be much brighter in color, often a vibrant orange.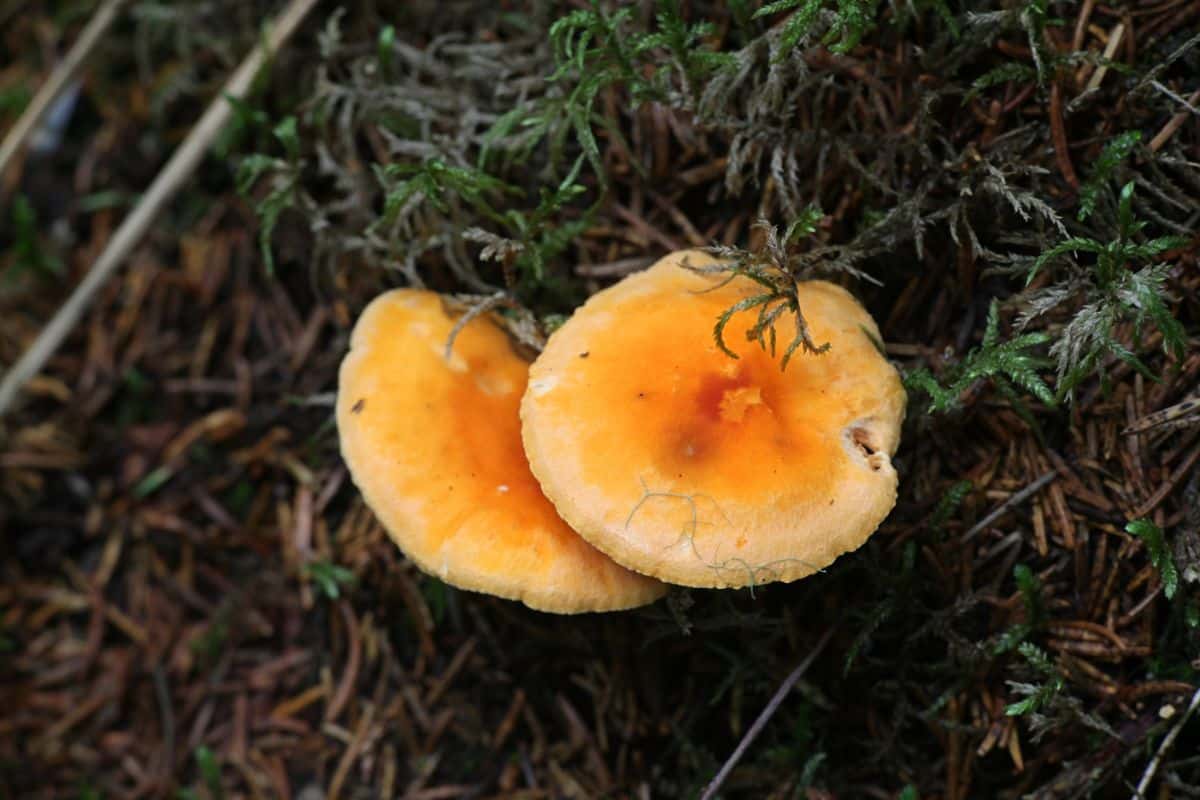 Gills
The false chanterelle has gills that run down the stem. These narrow gills are crowded, radiate out from the centrally or slightly off-centered stem, and are repeatedly forked. The gills may look like wrinkled or folded false gills, but on close inspection, you can see they are true gills that are easily detached from the cap.
They are typically brighter in color compared to the cap, showcasing shades of orange. While the false chanterelle's gills may resemble those of true chanterelles, they lack the cross-veins that characterize the gills of their lookalikes.
Stem
The stem of this mushroom ranges in height from 1-3 inches long. It can be either smooth or somewhat velvety, with tiny scales occasionally present near the gill attachment. The stem's color usually matches the cap, though it may be lighter or darker. The stem may exhibit a slightly swollen base and is often covered in white threads of mycelium.
Flesh
The flesh is thin and varies in color from whitish to pale yellow to pale orange. When handling this mushroom, you may notice its delicate texture, which distinguishes it from some of its sturdier counterparts.
Odor and Taste
The false chanterelle does not possess a distinctive odor, although some individuals may detect a subtle earthy fragrance. There is no distinctive taste.
Spore Print
The spore print is white.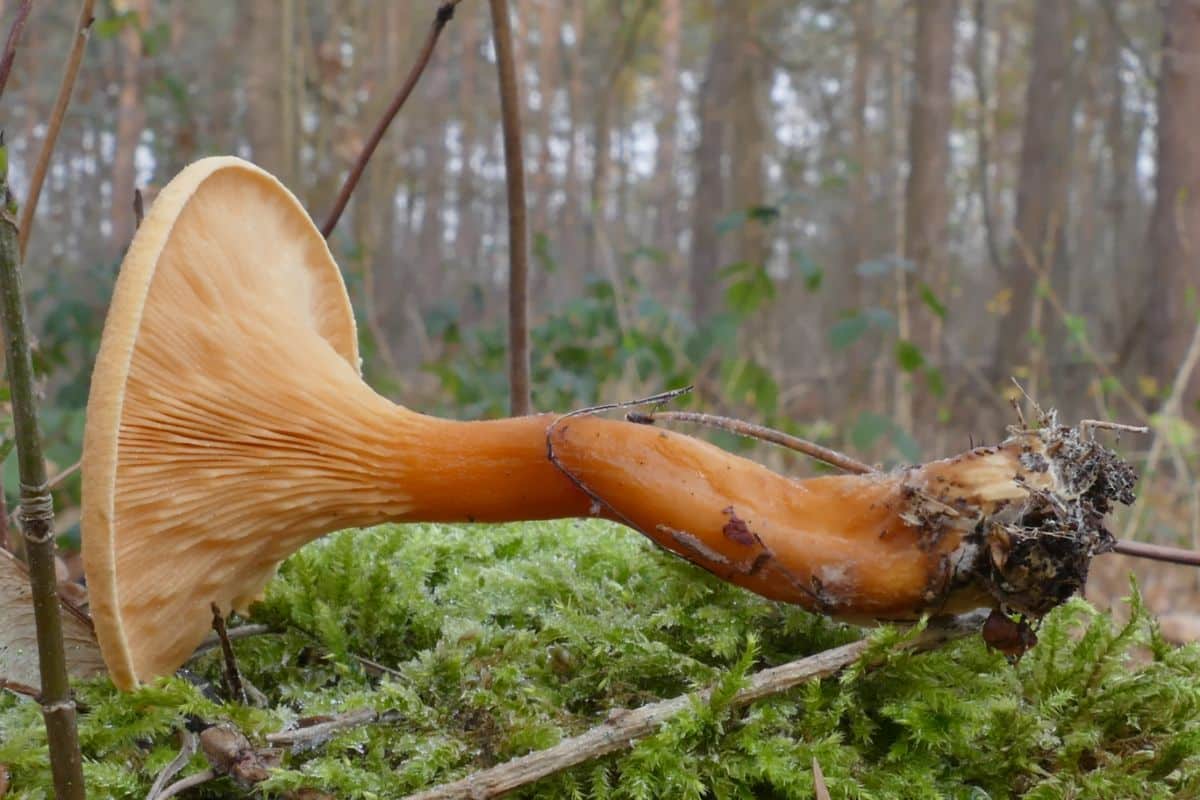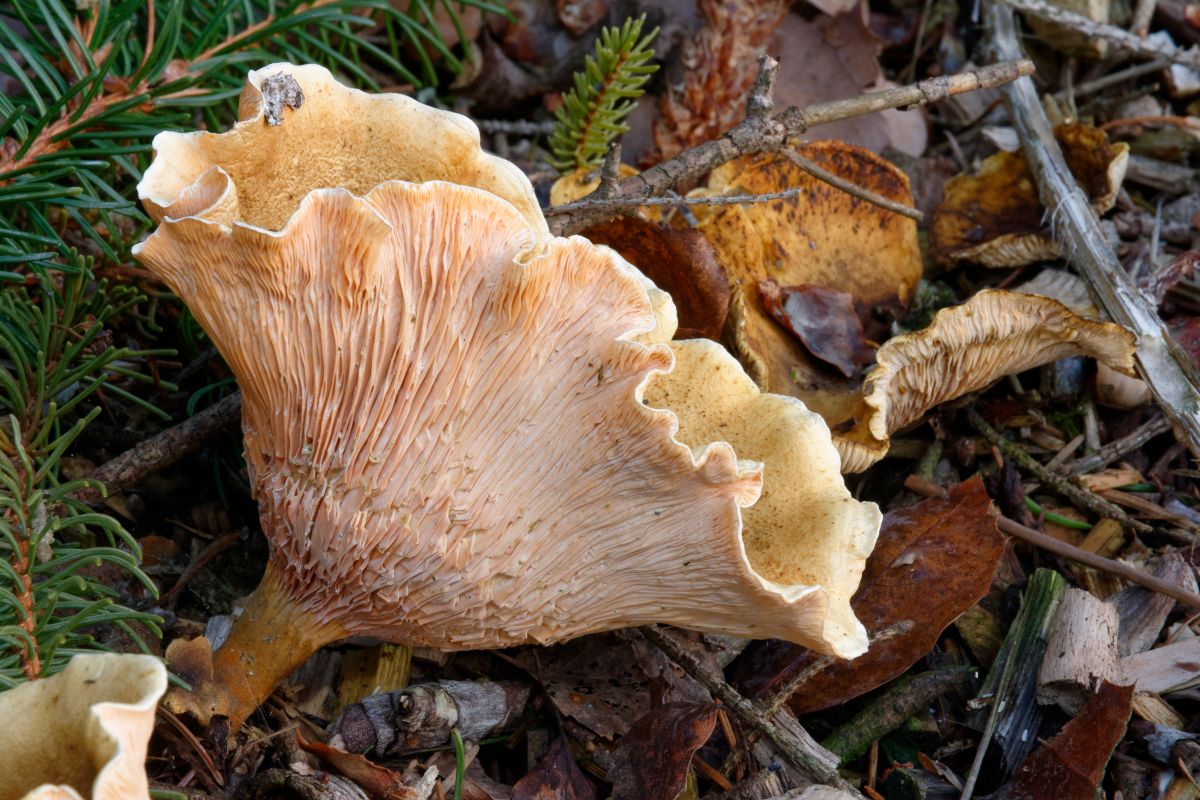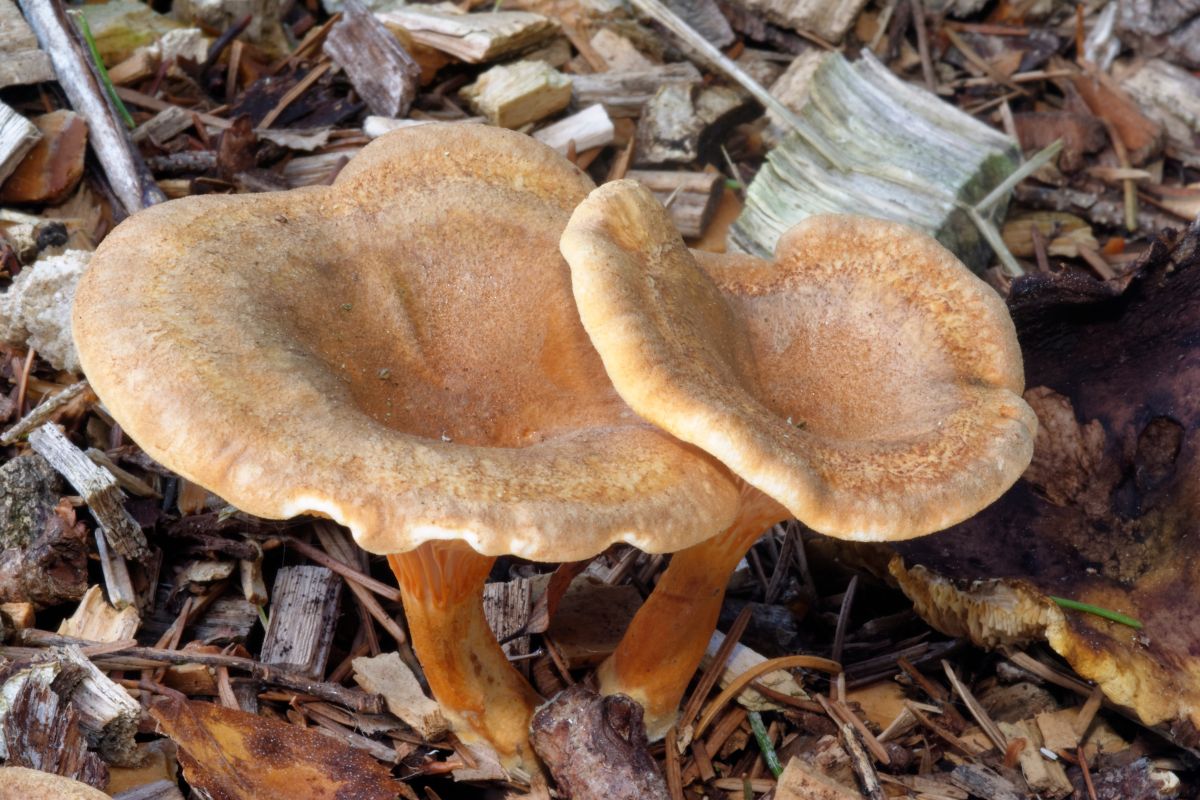 False Chanterelle Lookalikes
The false chanterelle has several lookalikes that can confuse even experienced foragers. It is often mistaken for the highly sought-after golden chanterelle (Cantharellus spp.) due to its similar appearance. However, several key differences can help you distinguish between the two. The false chanterelle grows on woody debris, while the golden chanterelle emerges from the soil. Furthermore, the false chanterelle possesses true gills, while the golden chanterelle has blunt ridges instead. See our article here for an in-depth breakdown of how to differentiate these two mushrooms.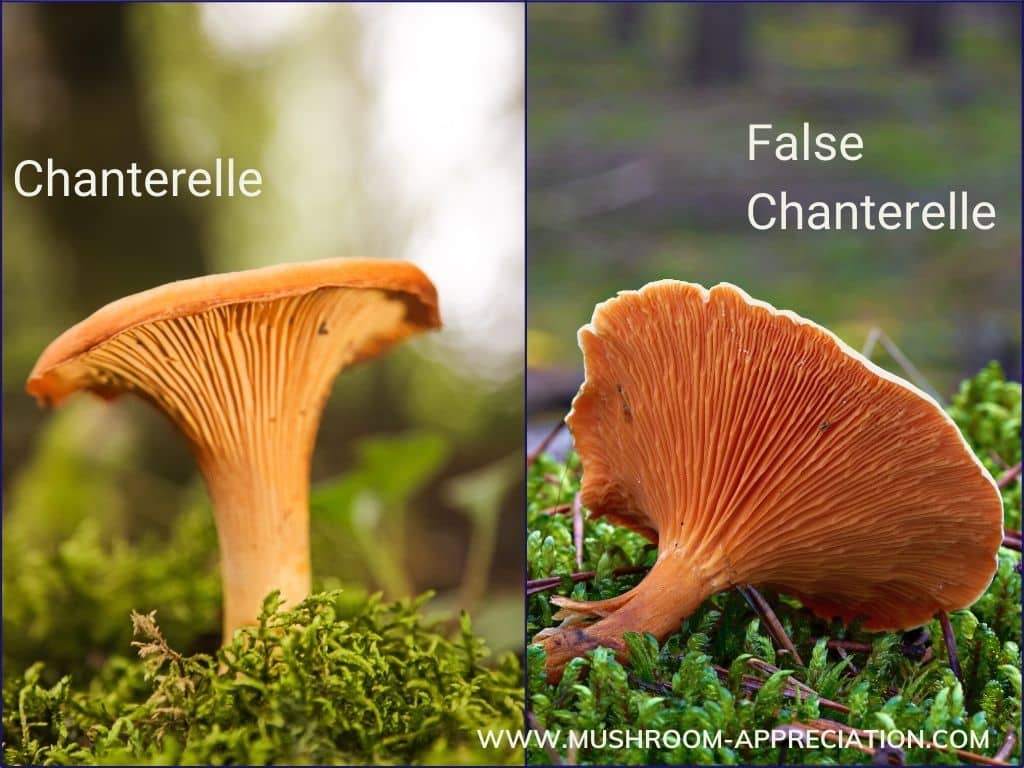 Another mushroom species that bears a resemblance to the false chanterelle is the Jack-O-Lantern mushroom (Omphalotus illudens). These mushrooms share similar orange colors, grow on wood, and have true gills. However, the Jack-O-Lantern mushroom can be distinguished by its bright orange color without shades of brown, lack of forked gills, and its tendency to grow in dense clusters. Jack-o-Lantern mushrooms are poisonous, so be sure you know this one.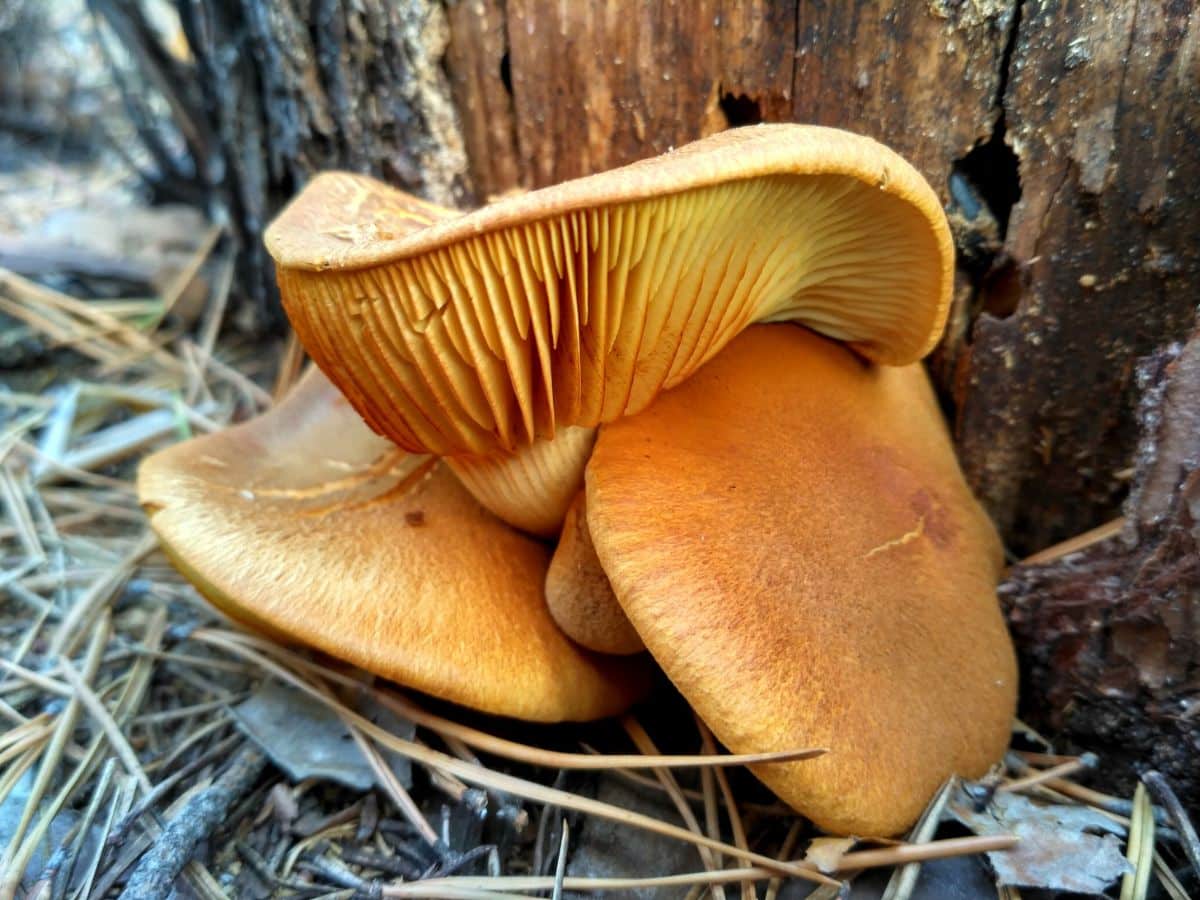 A cousin of the false chanterelle, Hygrophoropsis macrospora, is very similar looking to a light-colored specimen. This mushroom doesn't get the bright orange coloring of the false one, but faded, or old false chanterelles can be quite tan to bland colored, which looks very much like H. macrospora. The only real way to tell these apart is by examining the spore size.
False Chanterelle Edibility
The edibility of the false chanterelle remains a topic of debate among mushroom enthusiasts. Some sources list it as edible, while others caution against consumption due to reported gastrointestinal disturbances. Still, others have said it caused hallucinogenic effects, but this may be from confusion with the Jack-O-Lantern mushroom.
The false chanterelle is known to be eaten across many different cultures, apparently with no ill side effects, or at least none that stop the consumption of the mushroom. According to various sources (Michael Vishnevsky's book "Nastolnaya kniga nachinayushego gribnika 2018" and S.Y. Afonhkin and L. Korsakova's "Grib Russya 2017), this mushroom is considered edible in Russia. It is also consumed by the Zapotec people of Ixtlán de Juárez in Oaxaca, although it does not hold a particularly high reputation among them. In the Tepehuán culture of northwestern Mexico, the mushroom is occasionally enjoyed and referred to as guin'xacan ("delightful") or kia's gio' ("iguana lard") in their native language. The Tepehuán people commonly prepare it by roasting over charcoal or boiling it and adding cheese for flavor.
Despite its potential edibility, caution is warranted due to the possibility of confusing it with the poisonous Jack-O-Lantern mushroom. Therefore, it is advisable to err on the side of caution and refrain from consuming the false chanterelle. Or, do so with great caution.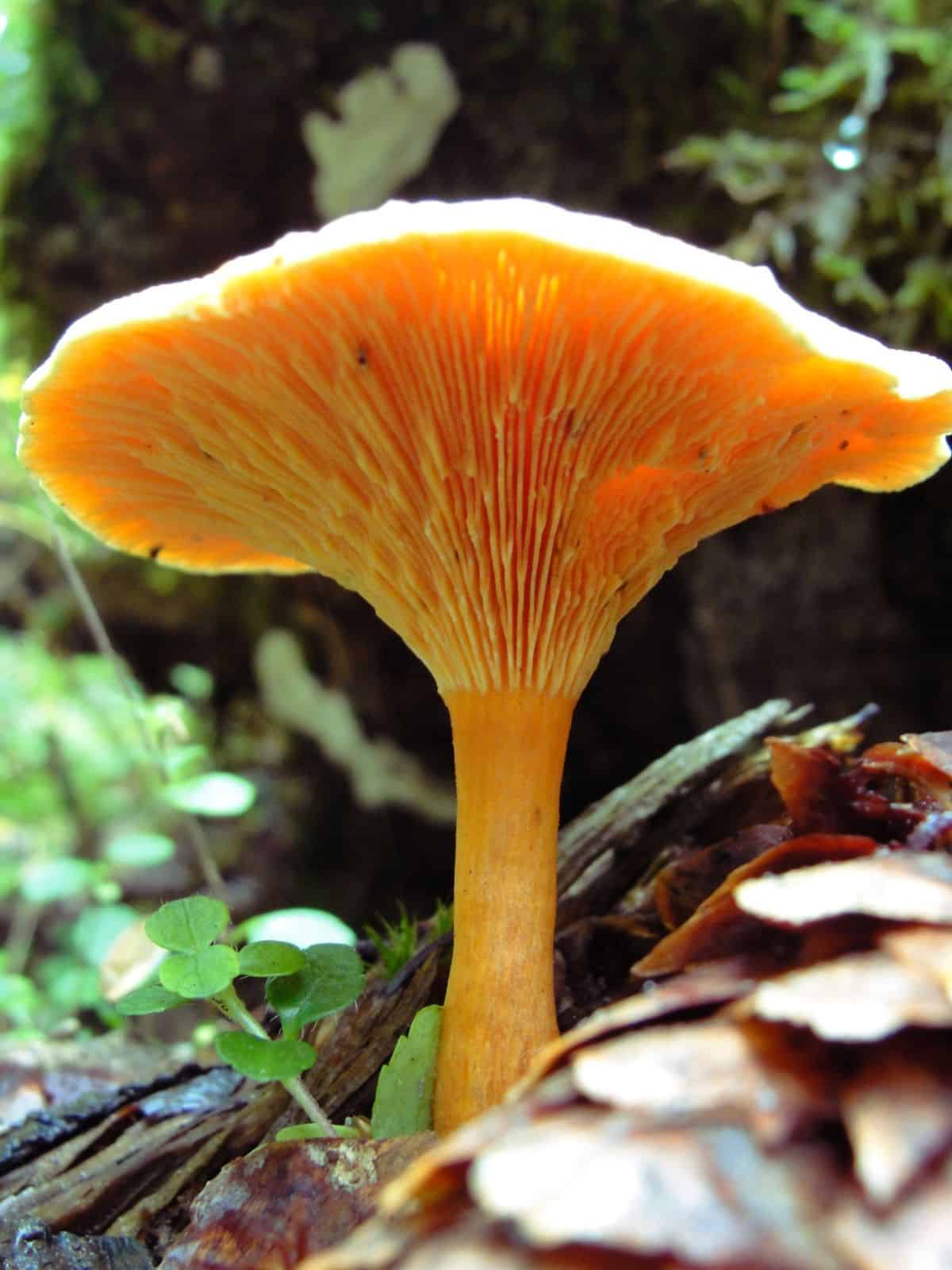 Medicinal Properties of the False Chanterelle
While the false chanterelle does not possess well-documented medicinal properties, some mushrooms within the broader Hygrophoropsis genus have been studied for their potential health benefits. Research has highlighted the presence of bioactive compounds in certain species that exhibit antioxidant, anti-inflammatory, and immunomodulatory properties. However, further scientific investigation is needed to determine the specific medicinal properties of the false chanterelle and its potential applications in traditional medicine.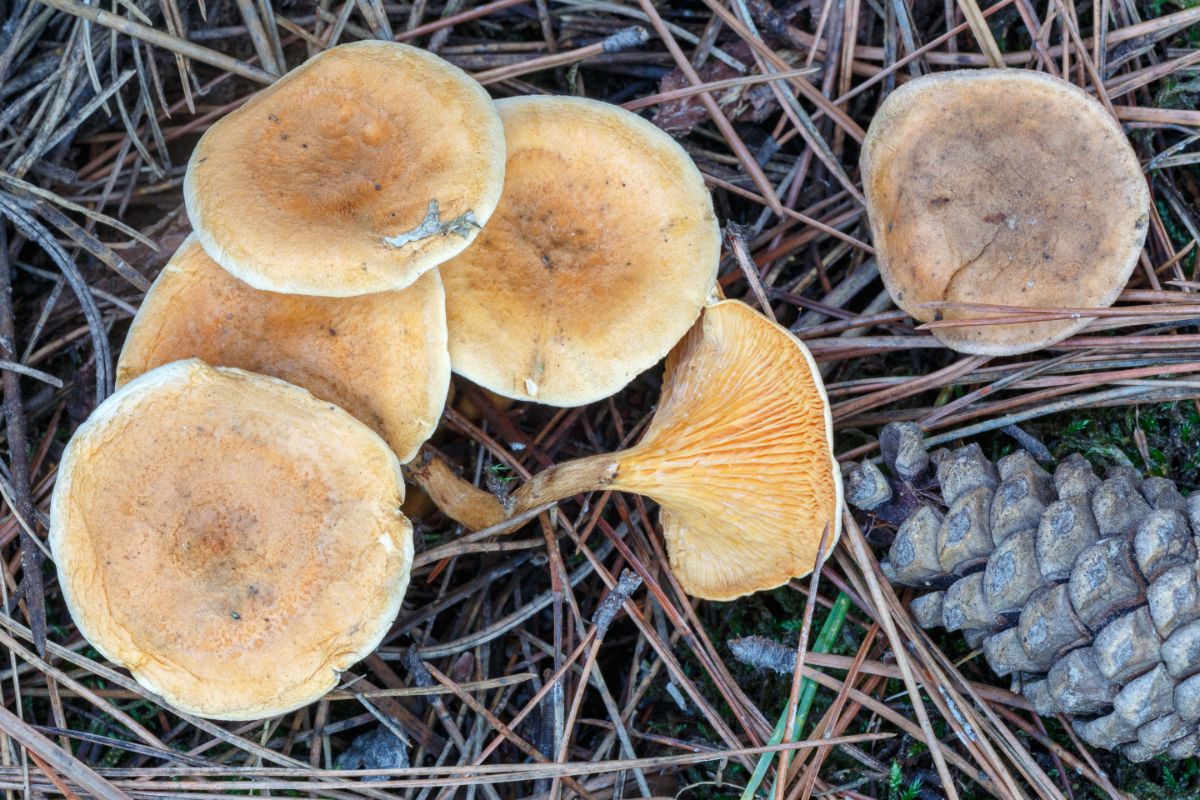 Ecological Importance of the False Chanterelle
H. aurantiaca produces abundant amounts of oxalic acid, which acts as a powerful acid and reducing agent. This kick-starts the process of breaking down the organic matter layer in forest soil, influencing the solubility and cycling of essential nutrients like nitrogen and phosphorus. As a result, this impacts their availability for uptake by forest trees. Isn't it fascinating how the false chanterelles secretion plays such an important role in shaping the ecosystem?! It's like nature has its own little chemical factory at work underground!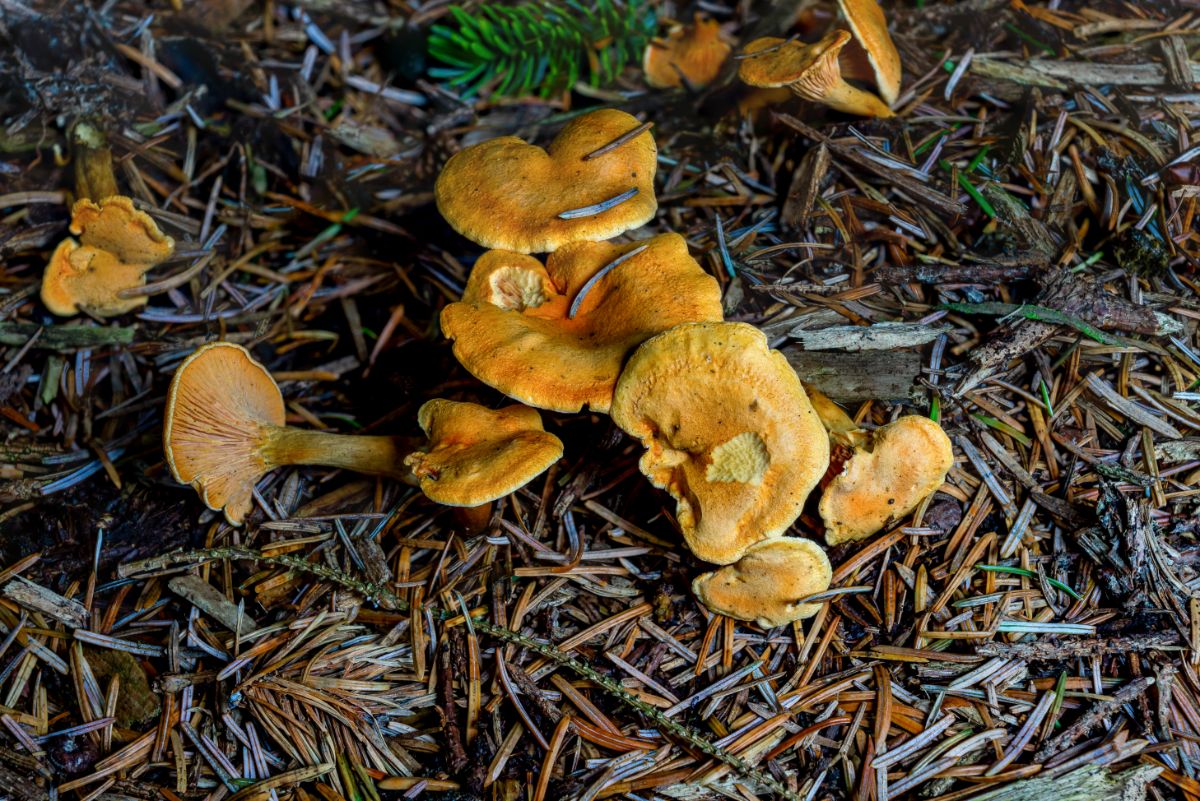 False Chanterelle Common Questions
Do false chanterelles grow with real chanterelles?
They might! Both species grow in wooded environments, so it is entirely possible to find them growing together. This is why it is essential to inspect every mushroom specimen you forage!
Are false chanterelles hallucinogenic?
There are unconfirmed reports of hallucinogenic effects occurring after eating false chanterelles. Most experts believe this effect is from mixing up the false chanterelle with the jack o lantern, which has known hallucinogenic properties.