Neolentinus lepideus is a unique and sometimes troublemaking mushroom commonly known as the Train Wrecker mushroom. It earns its name by habitually growing out of lumber, including wooden railroad ties. It has a unique appearance with scaly caps and serrated gills and is a great edible species if you find it young.
Scientific Name:

Neolentinus lepideus

Common Names:

Train Wrecker, Scaly Sawgill, Scaly Lentinus

Habitat:

Dead and decaying wood, including lumber

Edibility:

Edible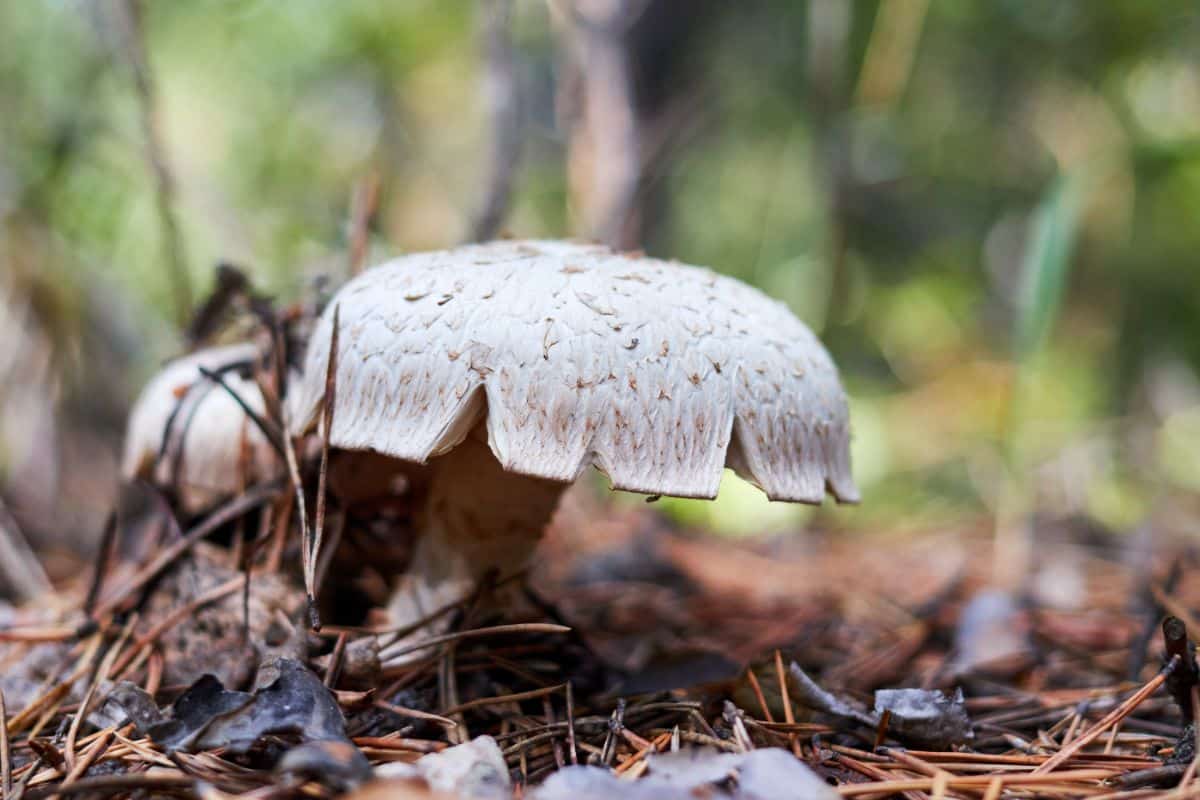 Jump to:
All About The Train Wrecker
The Train Wrecker mushroom is known by various names across different regions. These names reflect the mushroom's ability to thrive in diverse environments, including man-made structures and natural wood. In the United States, it earned the name "Train Wrecker" due to its affinity for growing on railroad ties. Pine railroad ties are treated with the preservative creosote to prevent fungi growing on it, but the train wrecker doesn't care. This is one tough fungus!
Train wrecker mushrooms have even been found growing on timber in old mine shafts. Since it needs light to form its cap, the resulting light-lacking cap formations are bizarre. In dark places, like cellars and mines, the train wrecker doesn't look like the classic train wrecker.
In other parts of the world, it is commonly referred to as the "Scaly Lentinus."
Swedish mycologist Elias Magnus Fries first described the mushroom in 1815 and initially classified it as Agaricus lepideus. Over the years, it has undergone several taxonomic revisions and is now scientifically known as Neolentinus lepideus. Lentinus lepideus is a synonym.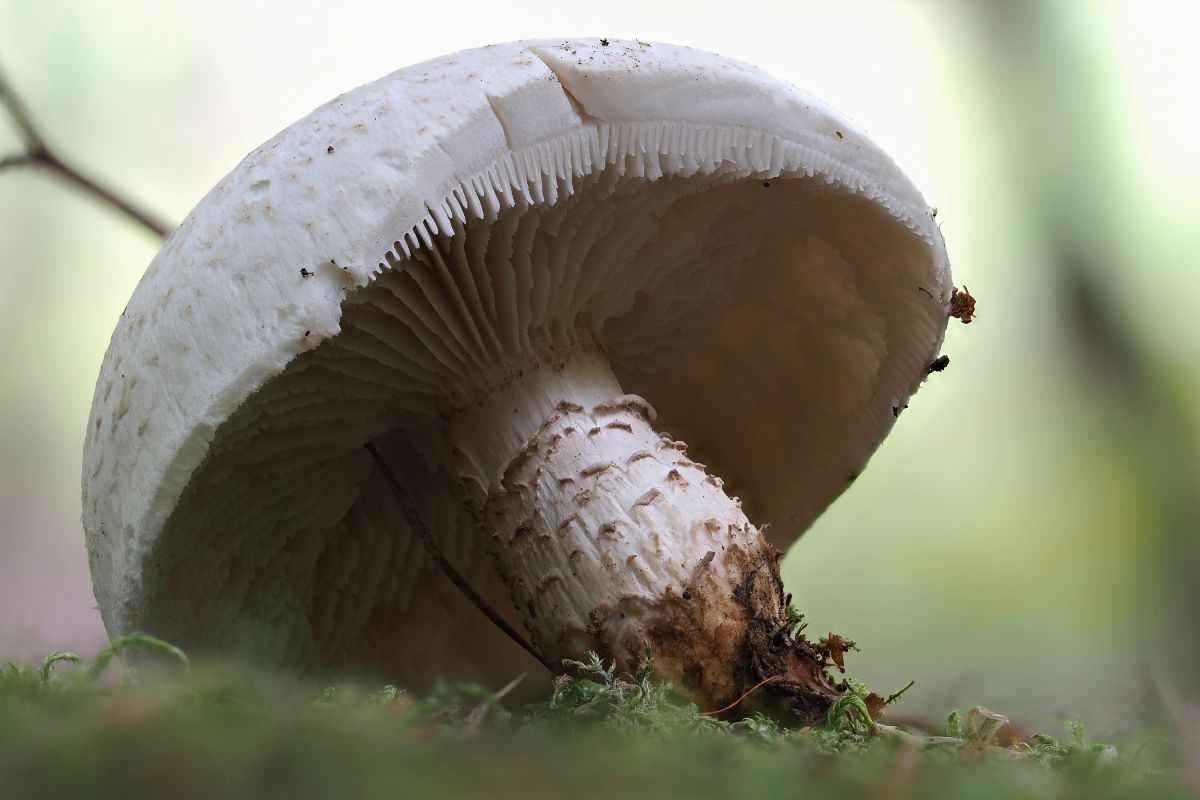 Train Wrecker Identification Guide
Season
It can be found from early summer to late autumn.
Habitat
The train wrecker primarily favors coniferous wood, particularly pines, and larches, as its primary habitat. The mushroom can be found on dead stumps, fallen branches, and even man-made wooden structures like railroad ties, wooden fences, and telephone poles. While it thrives in natural woodland settings, it has also adapted to survive in urban environments. This adaptability contributes to its unique reputation as a "Train Wrecker," as it can consume and decompose railway ties.
Train wreckers are saprophytic, which means they feed off dead and decaying wood. It is usually found on already-dead or fast-dying and decomposing trees.
This mushroom usually appears singularly or in small groupings of 2-5. It is widely distributed in North America, but on the west coast, it is more likely to be found on lumber rather than in the woods. The species common in the west coast woods is discussed in lookalikes, as it is easily confused.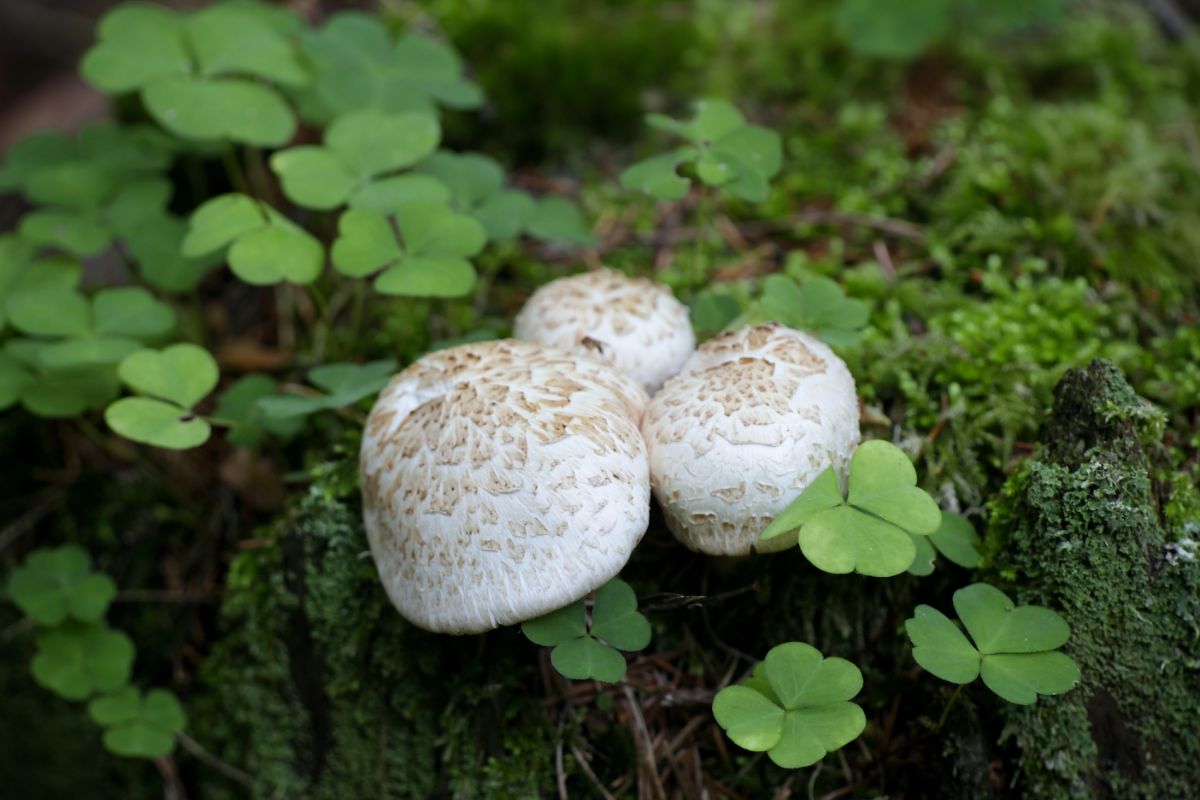 Identification
Cap
The cap of the train wrecker ranges from 1-6 inches in diameter. Initially, the cap is rounded with rolled-under edges. As it matures, though, the cap gradually expands to become flat.
The train wrecker's cap is whitish with brown scales, which are more pronounced towards the center. These scales give the mushroom its characteristic scaly appearance.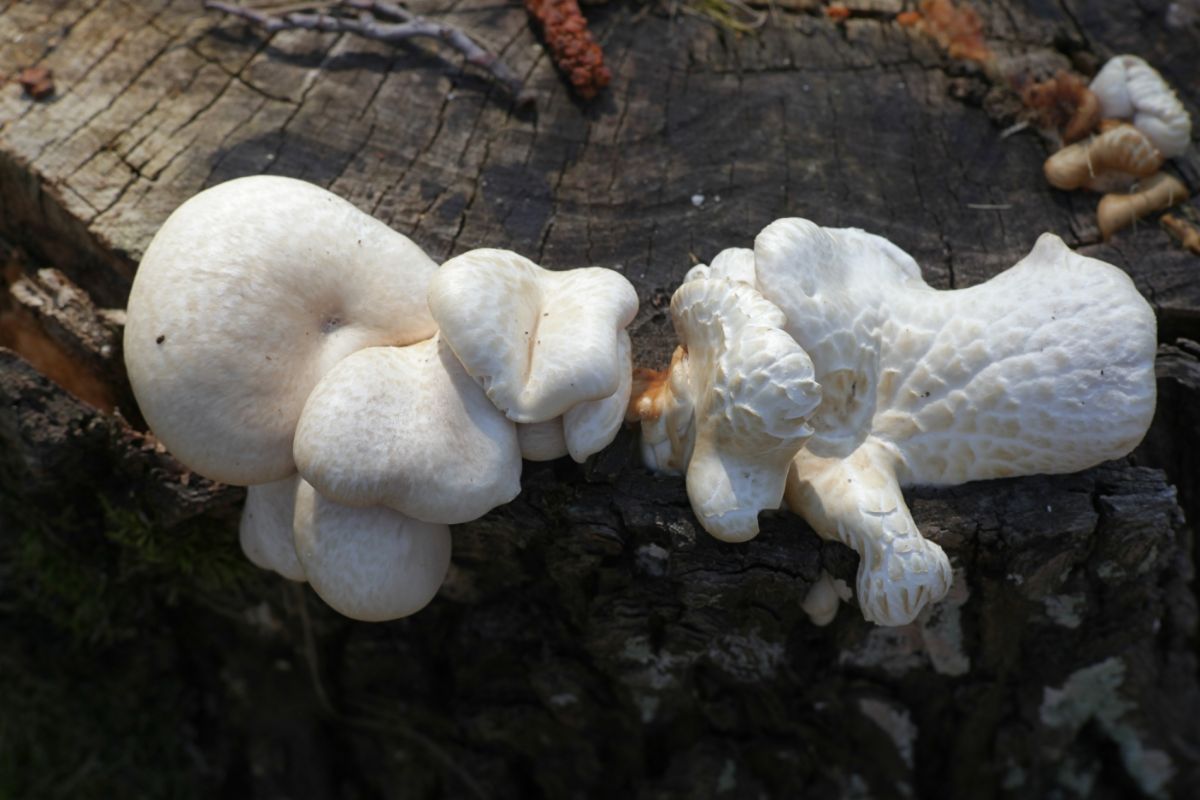 Gills
The gills of the train wrecker are attached to the central stem and sometimes run down it a short way. They are white to off-white in color, closely spaced, with a mix of short and long gills. Their striking feature, though, is the serrated gills. The edges of the gills are ragged, looking similar to the edge of a bread knife or a saw. This is a unique feature shared with other mushrooms in the Neolentinus genus, which gives them the common name "sawgills."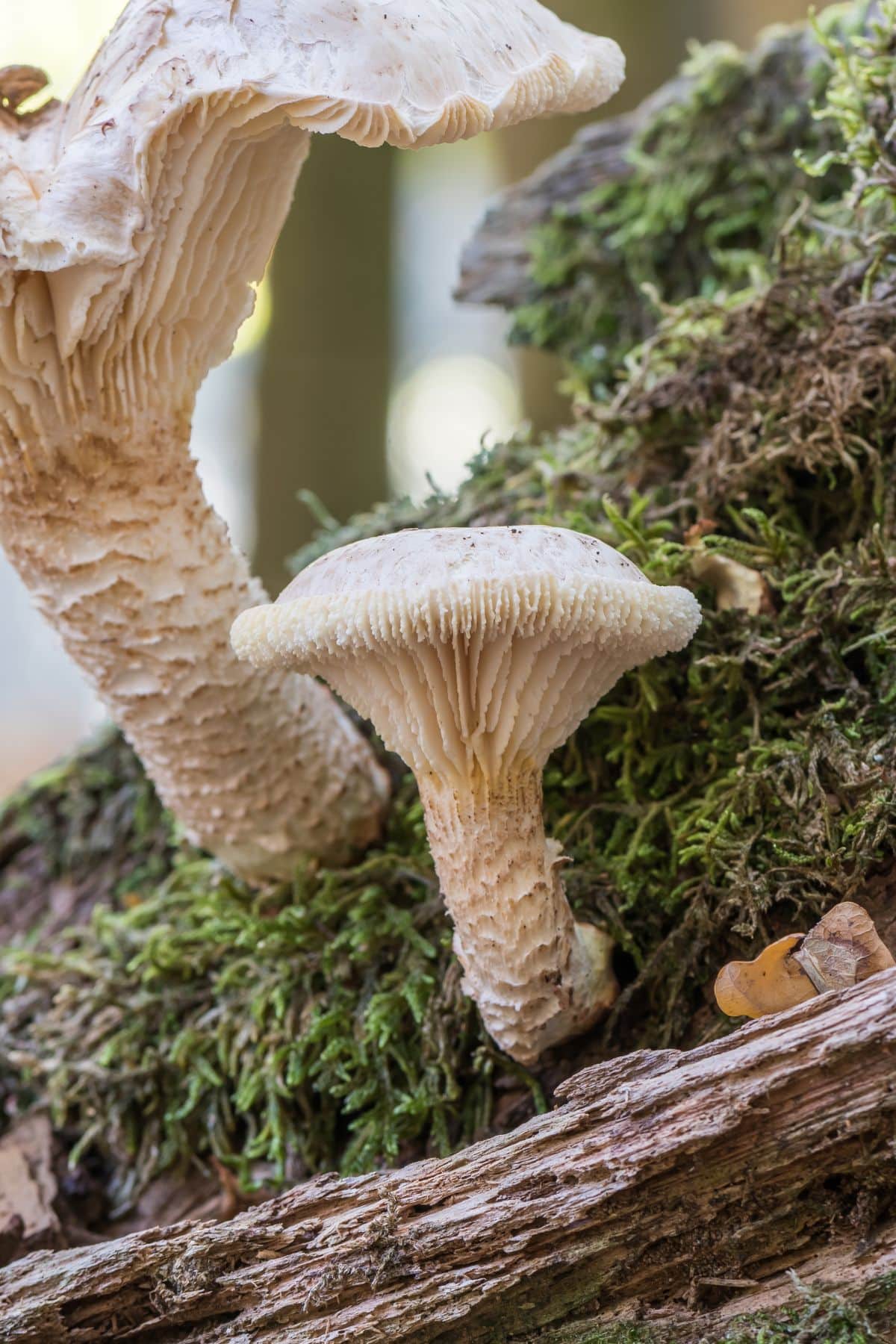 Stem
The stem measures 1-4 inches long and has a similar color and texture to the cap. It is covered in rectangular scales that are tipped with brown and darker towards the stem base. The stem also has a ring or skirt, but that quickly erodes and may not always be visible.
Flesh
The flesh of the trainwrecker is white and does not change color when cut, usually. Sometimes, the stem may turn a dull yellow. The flesh is tough and dense.
Taste and Odor
There is no distinctive taste, but the mushroom smells fragrant and a bit like licorice.
Spore Print
White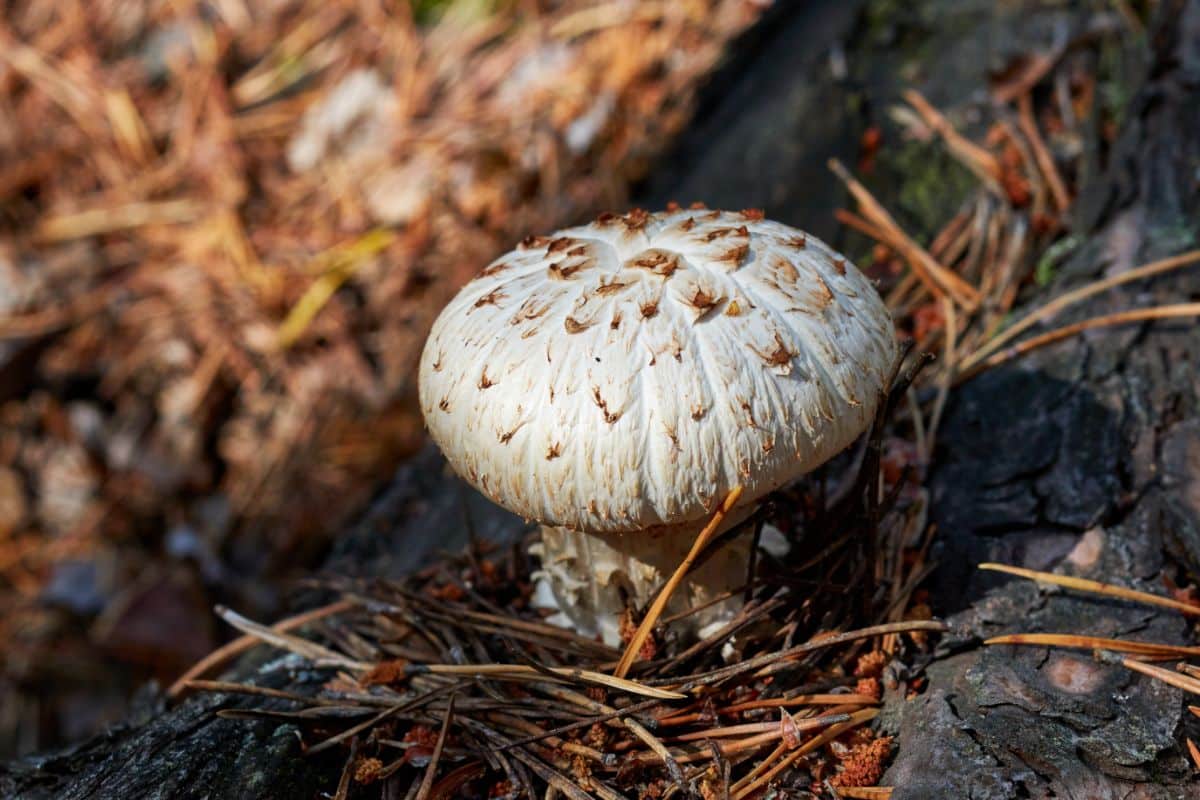 Train Wrecker Lookalikes
Giant Sawgill (Neolentinus ponderosus)
This massive close relative of the train wrecker lacks a partial veil and ring, but since the train wrecker loses its ring so quickly, this is not a good distinguishing feature. The giant sawgill gets significantly larger, 12 inches wide, or even much larger.
This size difference doesn't always help, though, because you could catch the species while it is still young and smaller. Instead, the best way to determine (make an educated guess) which species you've found is to compare habitats.
The giant sawgill only grows on the west coast, so this identification problem won't be an issue on the east coast. Then, on the west coast, the sawgill grows in woods and more natural habitats, while the trainwrecker is more likely to be the one growing out of fences, lumber, and in other urban locations.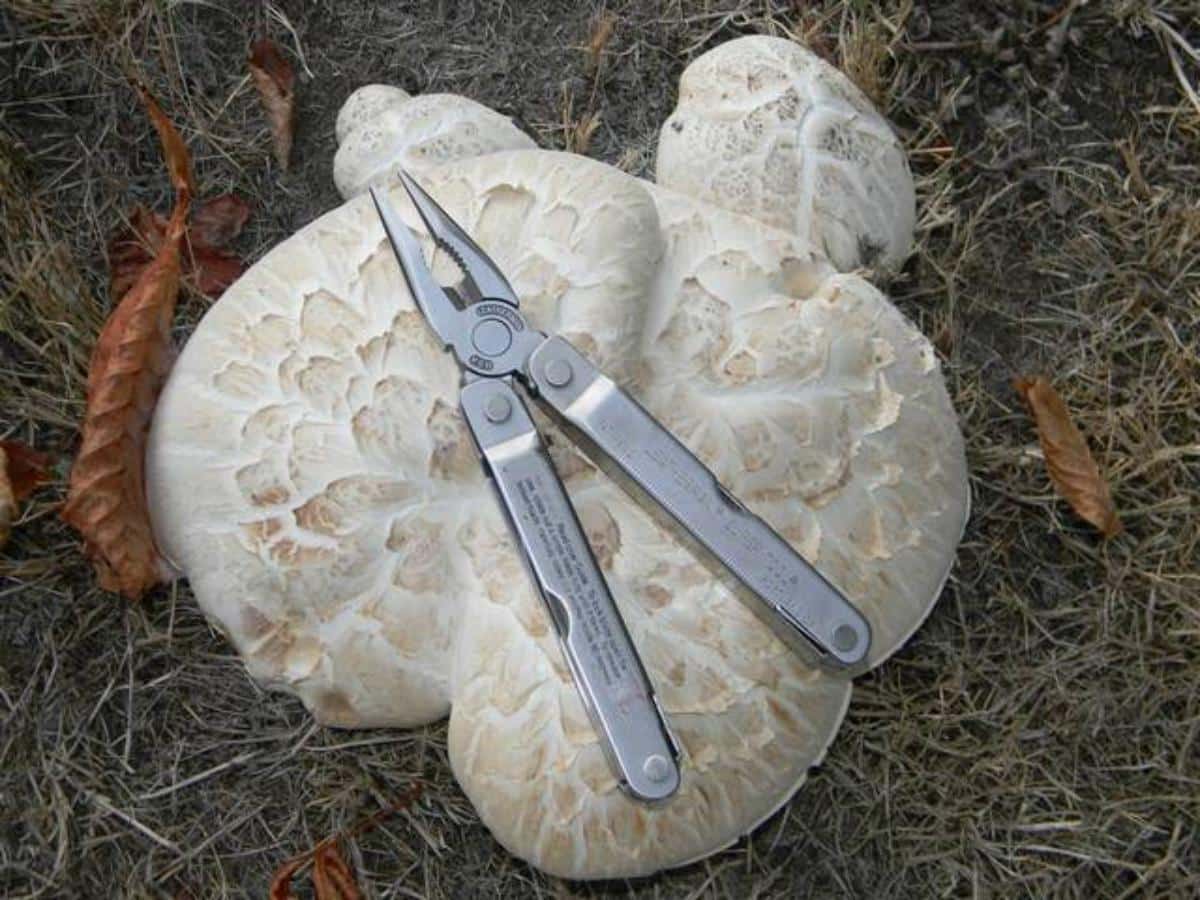 Veiled Oyster (Pleurotus dryinus)
The veiled oyster mushroom has softer flesh with a velvety surface that does not have scales. It grows primarily on hardwood trees, like oak and beech. But, it does occur on conifers occasionally.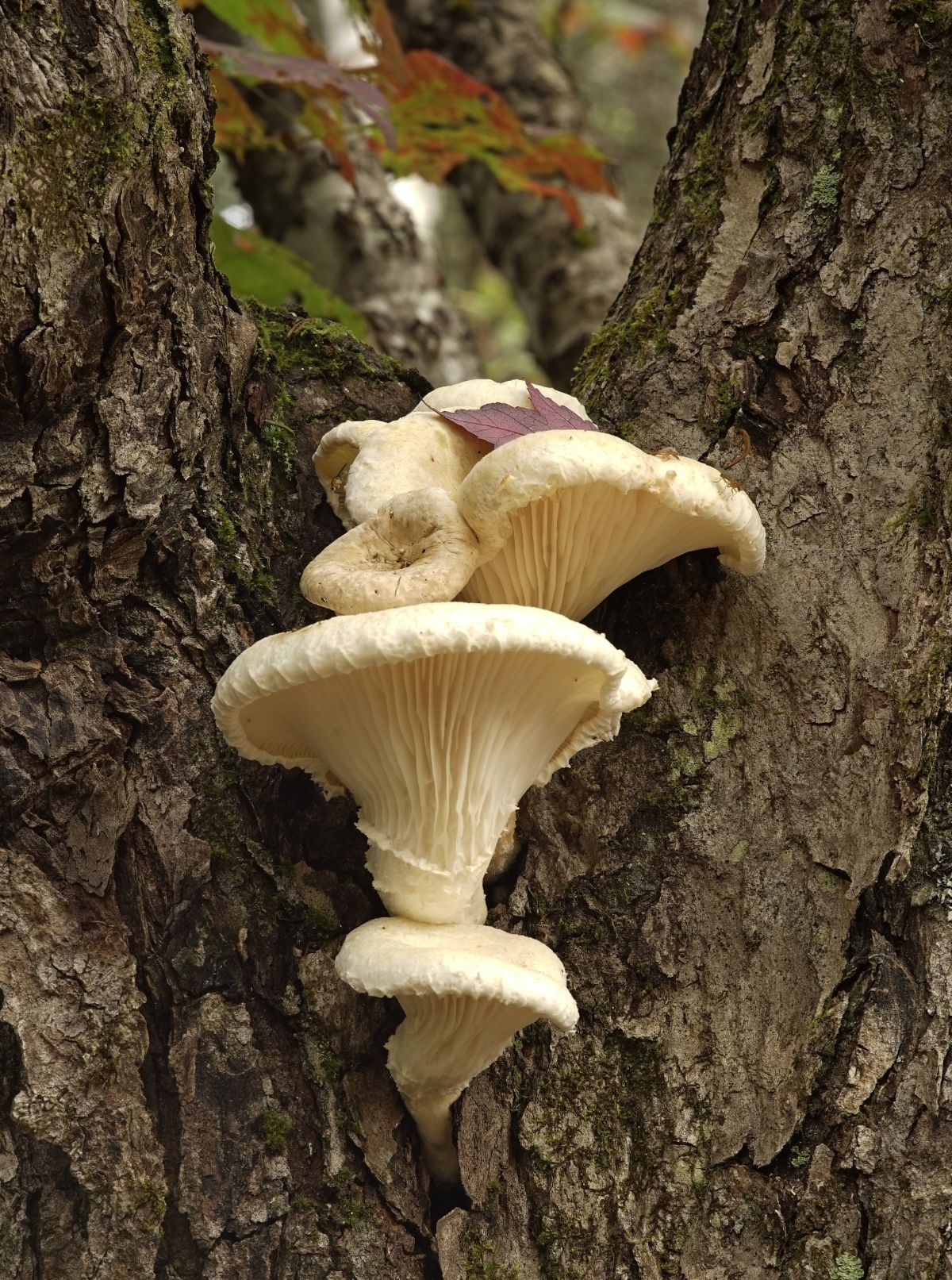 Dryad's Saddle (Cerioporus squamosus)
This is a common confusion if one neglects to look under the cap. The top of both these mushrooms is white with brown scales. However, underneath, the train wrecker has gills, while the dryad's saddle has smooth pores.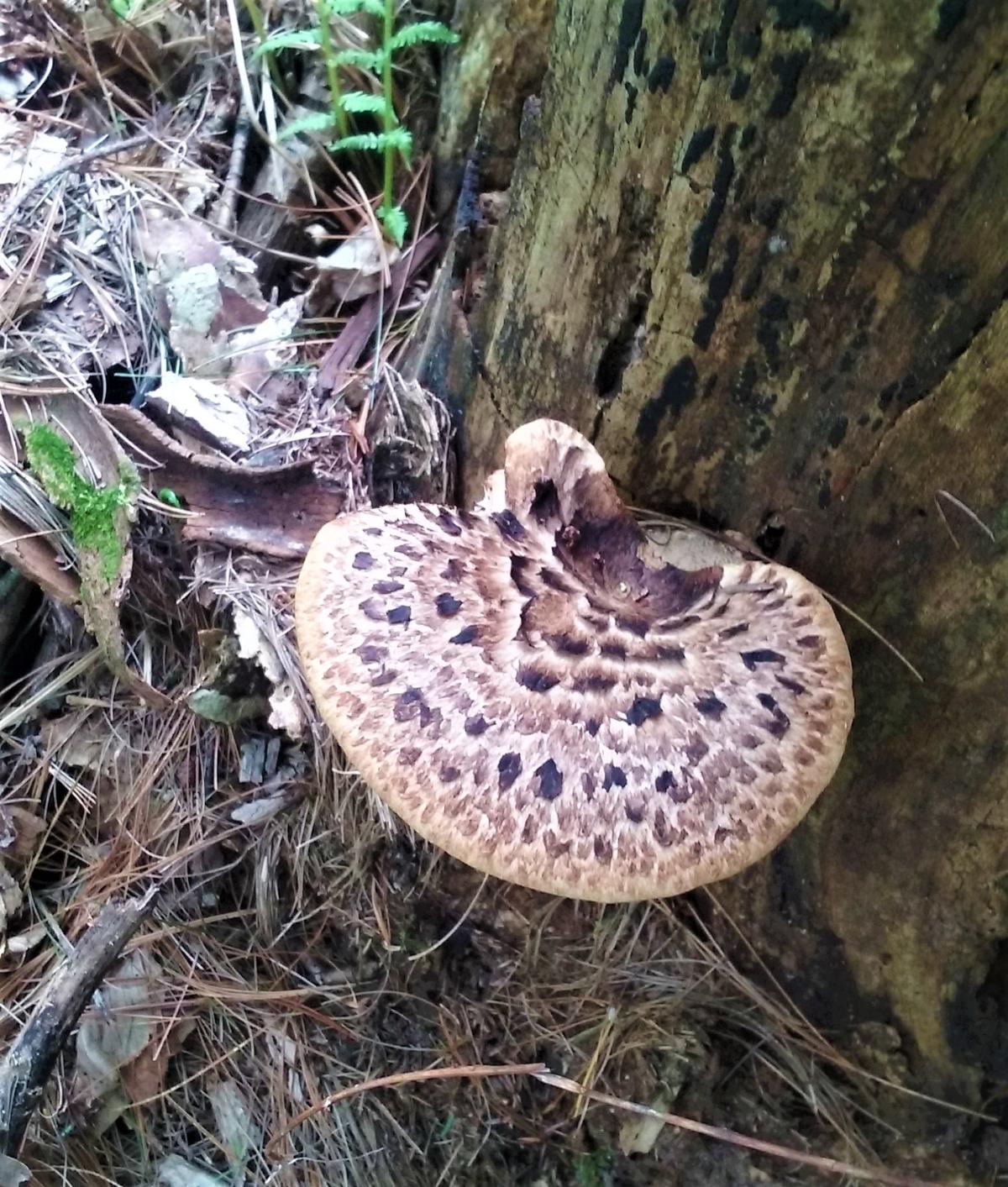 Scaly Hedgehog (Sarcodon imbricatus)
Another species that looks similar only from the top, the scaly hedgehog is easily differentiated from the train wrecker by looking under the cap. The scaly hedgehog has teeth, not gills.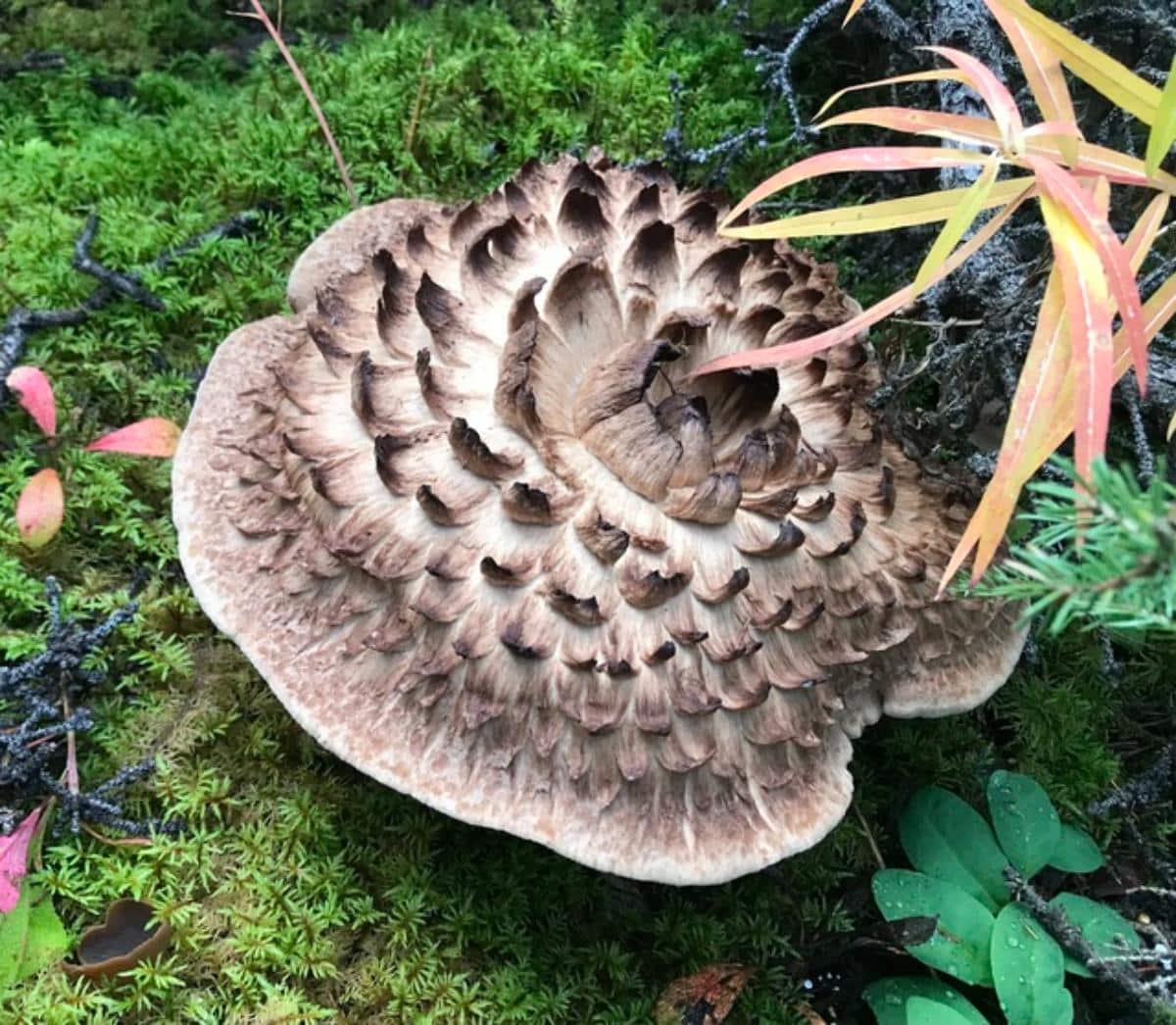 Train Wrecker Edibility and Culinary Uses
The trainwrecker is considered edible, although it requires proper cooking to soften its tough flesh. It also is better when collected young when it is not as tough as it will mature to be. Many people disregard it as too tough, but that's too bad, because the train wrecker is excellent when VERY fresh and young. It isn't nearly tough or woody and while it's not super flavorful, it is wonderfully dense and meaty. And, as a bonus, this mushroom is only rarely attacked by insects.
The train wrecker can also grow quite large, providing quite a lot of food. Across North America it's a a little bit uncommon, but can be locally or regionally abundant. This writer thinks they have the texture of calamari or squid when cooked – a bit chewy, maybe slightly rubbery, but not so much that it is a deterrent. The taste is rather bland, but it takes on flavorings quite well. The train wrecker makes an interesting substitution for fried calamari when prepared the same way.
It is important to note that mushrooms growing on man-made wooden structures, like railroad ties, may come into contact with chemicals used for wood preservation. Therefore, it is essential to source the train wrecker from safe and uncontaminated areas. Once properly cooked, the mushroom can be used in various culinary preparations, adding a unique texture and flavor to dishes.
The tough flesh of the mushroom benefits from slow cooking methods like long and slow sautéing, braising, or simmering. This helps to break down the fibrous texture and enhance the overall taste. Because of its potential toughness, it's best to slice it paper thin or parboil it thoroughly – be sure to remove the stem too, as that is never not super tough. The train wrecker can be incorporated into stir-fries, soups, and stews or used as a flavorful ingredient in pasta dishes.
Potential Medicinal Benefits of the Trainwrecker
While the train wrecker is primarily appreciated for its culinary potential, some studies suggest that it may possess medicinal properties. Research has shown that certain compounds present in the mushroom, such as polysaccharides and phenolic compounds, exhibit antioxidant and anti-inflammatory effects. These properties could potentially contribute to various health benefits, including immune support and reduction of oxidative stress. However, further research is needed to fully understand and harness the medicinal potential of Neolentinus lepideus.
Common Questions About The Train Wrecker Mushroom
Is train wrecker mushroom edible?
Yes, if it is gathered from untreated wood and is prepared correctly. Please see the section above to read about edibility of this mushroom.