The Northern Tooth (Climacodon septentrionalis) is an impressively large mushroom distinguished by its tooth-like structures underneath the cap. This is a common species to encounter if you live in the Midwest or Northeast. Sadly, the northern tooth is more often to cause disappointment rather than excitement. It is not a prime edible, and it is killing the tree it's on. For the mushroom nerds, though, this is a fun find! The northern tooth fungus is hard to miss because of its bright, creamy white coloring, giant size visible from quite a distance, and propensity to grow high up in trees.
Many people hope they've found chicken of the woods when they see the northern tooth. This is mostly wishful thinking due to its breadth. These two mushrooms don't look anything alike – northern tooth is creamy white, and chicken of the woods is brilliant orange, yellow, or apricot colored.
Scientific Name:

Climacodon septentrionalis

Common Names:

Northern Tooth Fungus, White Rot Fungus, White Toothed Tree Fungus, Northern Saw Tooth Fungus

Habitat:

Hardwood trees

Edibility:

Non-toxic, inedible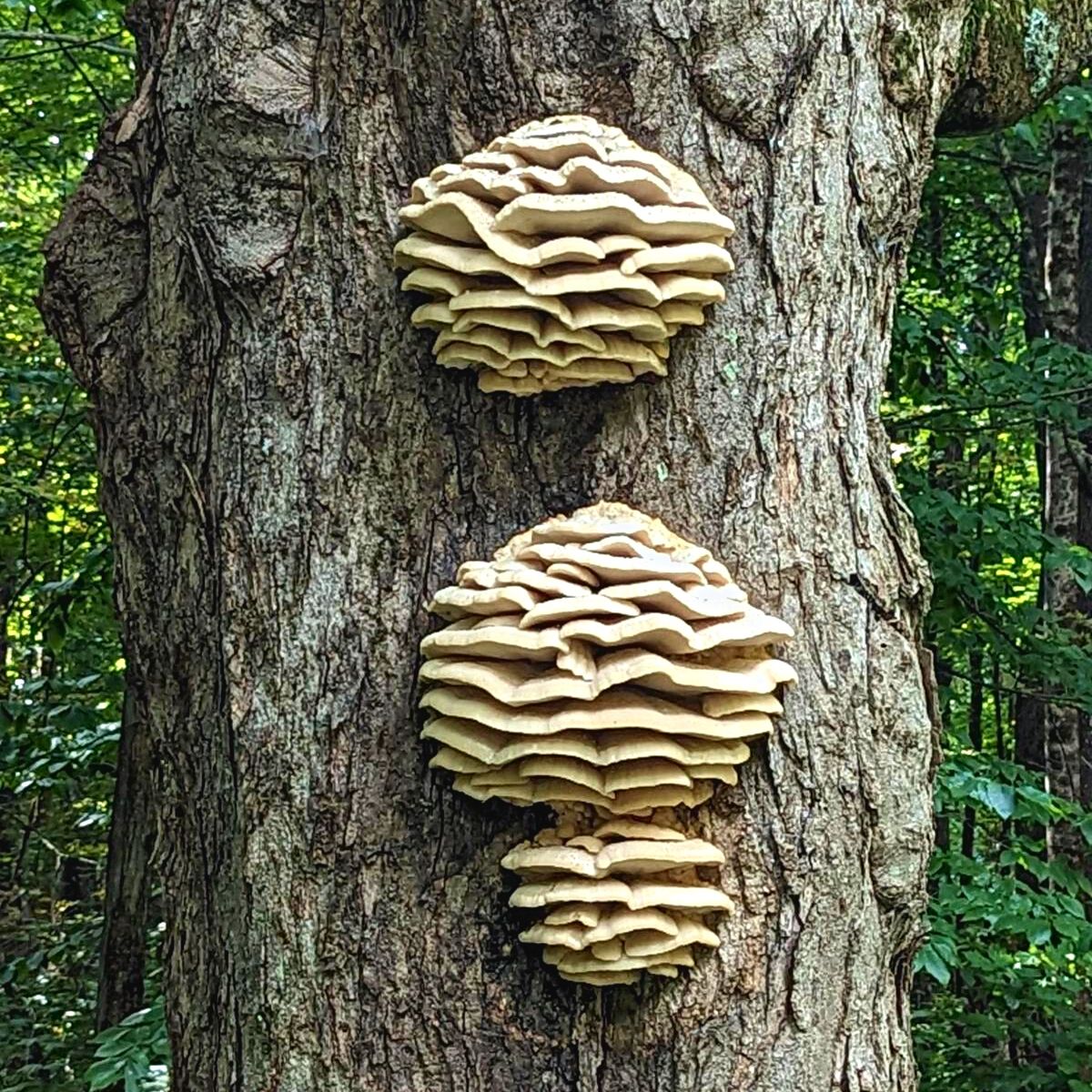 Jump to:
All About Northern Tooth
The northern tooth, scientifically known as Climacodon septentrionalis, belongs to the fungal family Phanerochaetaceae. Its Latin name, 'septentrionalis,' translates to 'northern,' or more specifically, 'from the direction of the north wind.' The genus name, Climacodon, translates to 'ladder teeth.' The name northern tooth is an almost literal translation of the scientific name, "ladder teeth from the north."
The northern tooth was first described by Swedish botanist Elias Magnus Fries in 1821 under the genus Hydnum. However, Finnish mycologist Petter Adolf Karsten later transferred it to the Climacodon genus in 1881. This species has also been referred to as Steccherinum septentrionale.
In addition to its scientific and common names, the northern tooth is also known as 'Northern Saw Tooth Fungus' and 'White Rot Fungus.' Despite its inedibility, this mushroom's striking appearance makes it a commonly photographed and talked about species in forums and mushroom communities.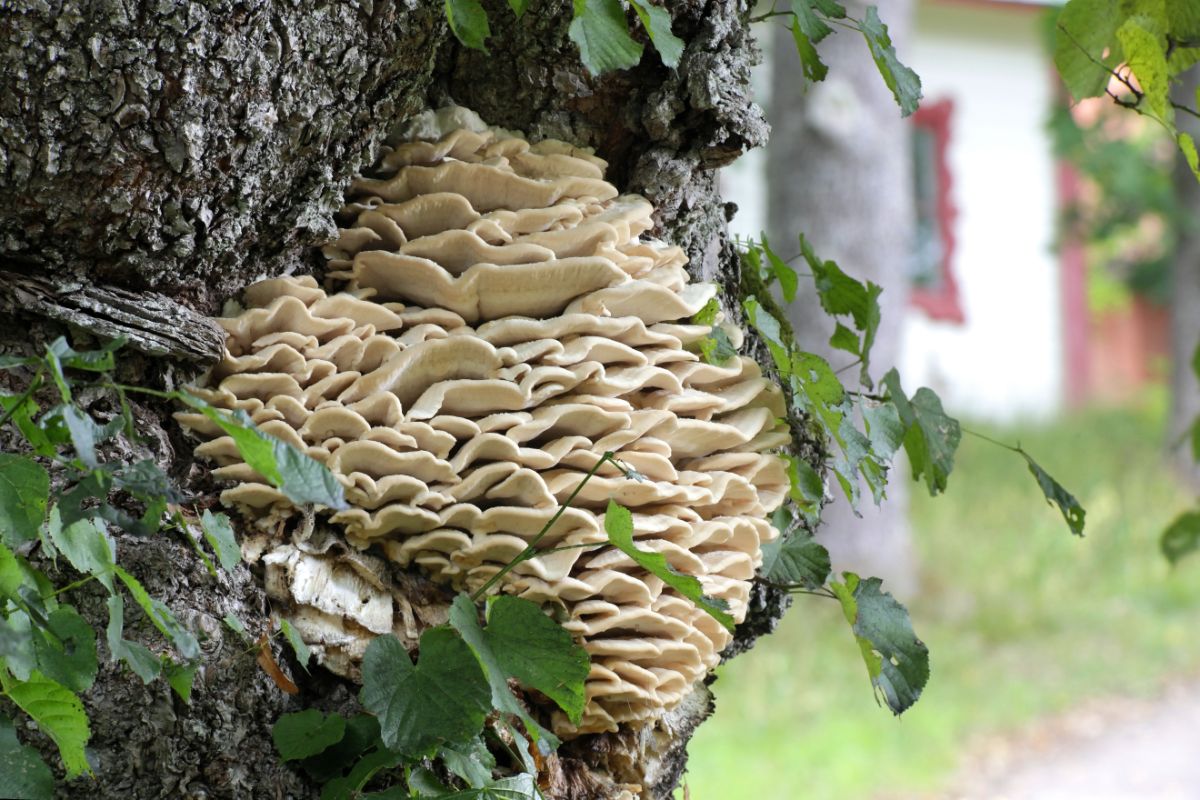 Northern Tooth & Trunk Rot
In forest and landscape settings, the parasitic northern tooth causes a spongy, white trunk rot in deciduous hardwoods. This rot may weaken the tree enough so that it is susceptible to strong winds, snapping, or breaking. Tree wounds or frost cracks are usually the entry point, but branch stubs can also be colonized. On sugar maples, symptoms of infection may include bulges and/or swollen sections on the lower trunk.
However, more often than not, no visible symptoms are present, and the only indication of the disease is the large, shelf-like mushrooms that the fungus produces. The appearance of the fruiting body means the infection has already spread throughout the tree. Northern tooth fruiting bodies may remain on trees for months in the late summer and early autumn but do not last into the following year. The spines or teeth on the underside of the mushrooms release fungal spores, which are then distributed by local air currents to infect nearby trees.
Once the northern tooth fungus is present, it cannot be eradicated, and fungicides will be ineffective. A certified arborist can assess the risk for the tree. In many cases, the tree may remain sound for quite some time. There is no need to immediately remove the tree due to the presence of the fungus.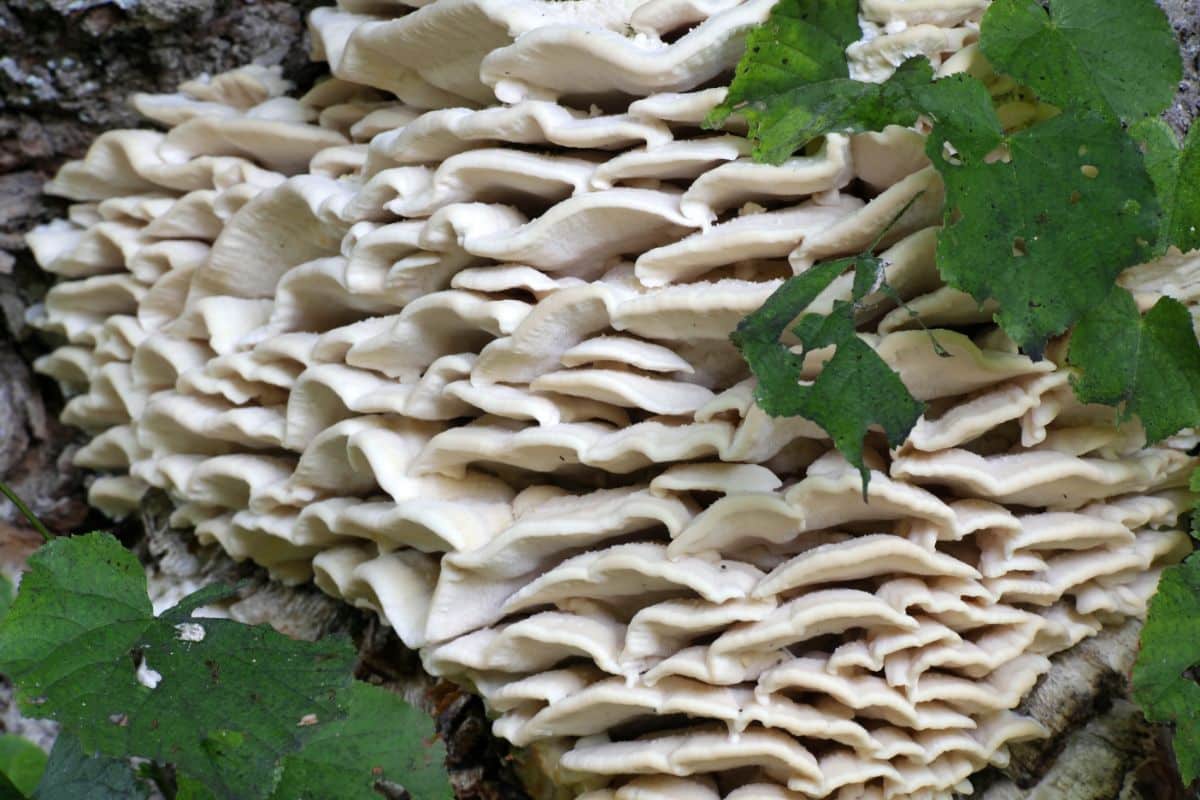 Northern Tooth Novelties
The northern tooth mushroom was the first fungus species outside of the Agaricus genus reported to release a toxin to paralyze and kill fungiphagous nematodes. This fungi's mycelium develops secretory cells on its surface and branches that release the toxin in the form of small droplets. Upon contact with a droplet, nematodes become immobile and usually die within several hours.
Northern tooth fungi also generate a range of compounds with potential for a variety of products. Esters, which are natural or artificial fragrant compounds often found in perfumes and flavorings, as well as in paints, solvents, and insecticides, are among the compounds produced by the northern tooth. The esters produced by northern tooth have potential as a perfume fragrance. Furaneol, a common flavoring in the food industry, is another compound generated by this species. Different forms of furaneol have various taste profiles, ranging from strawberry or pineapple to caramel and honey. The furaneol in this fungus has a strawberry essence and flavor.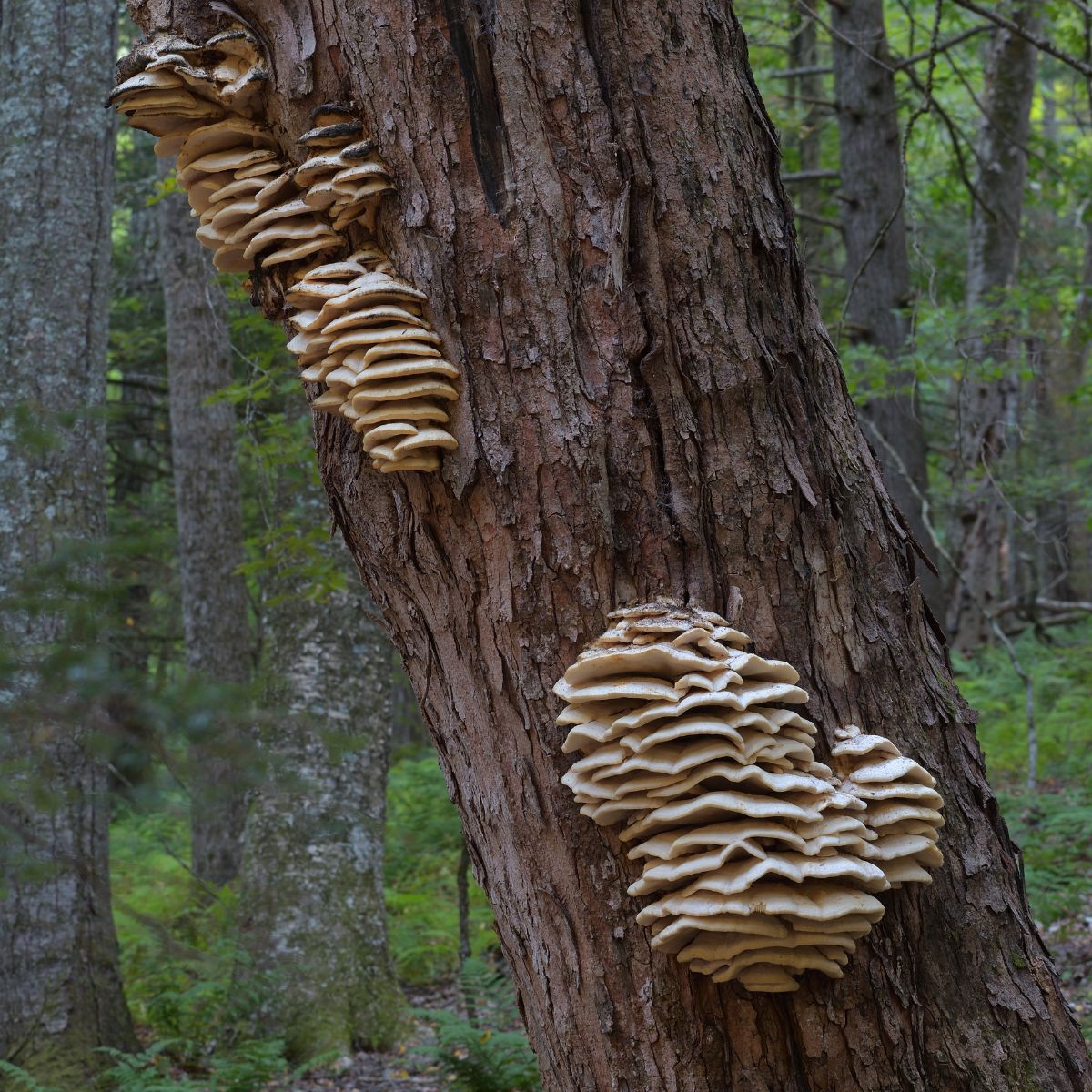 Identifying the Northern Tooth
Season
This fungus typically appears in the summer and fall.
Habitat
The northern tooth is native to North America, particularly the northeastern region. It ranges from southern Canada to Kentucky and extends as far west as the Great Plains. This species is primarily found on the trunks of living and recently deceased hardwood trees, especially beech (Fagus), Ash (Fraxinus), and maple (Acer) species.
It's a parasitic species that causes heartwood rot in its host trees and often emerges from tree wounds. The fungus can appear anywhere on the tree trunk, wherever the species is able to infiltrate. You'll see them high up among the branches, near the base of the tree, and even on recently dead tree stumps.
Identification
Cap
The cap is semi-circular or kidney-shaped, reaching up to 12 inches across and 1-2 inches thick at the base. It may be completely flat, slightly depressed, or sunken in the middle. The cap surface is typically white to yellow-cream in young specimens and gradually turns yellow-brown with age. Very old specimens might have a green tinge due to algae colonization.
The caps, when young, are plump and succulent looking. This doesn't last, though. As it ages, it develops a rough, dry texture and may also be hairy. It often has faint concentric rings or zones radiating from the central stem. The cap edges are thick and rounded when young. With age, they become thinner than the body, which gives them a sharp appearance.
Northern tooth fungus caps grow in dense, overlapping clusters, with many stacked on top of each other. These clusters can reach up to 32" high, stretching up the tree trunk!
Spines
The underside of the cap features numerous white downward-facing spines (also called teeth). These spines are ragged and pointed at the end and reach up to 1″ long. When young, the spines are packed tightly together. With age, the spines "loosen up" but are still very close. The spines turn yellow and then brown with age.
Stem
This mushroom lacks a stem, but the caps often share a large whitish central base from which they all emerge. The central base forms a cohesive structure for the fruiting caps.
Flesh
The flesh of this fungus is white, tough, and does not change color when sliced.
Odor and Taste
The taste of the young mushroom is mild but becomes bitter and unpleasant with age. The odor is not distinctive but develops an unpleasant, rancid odor as it dries.
Spore Print
The spore print of this species is white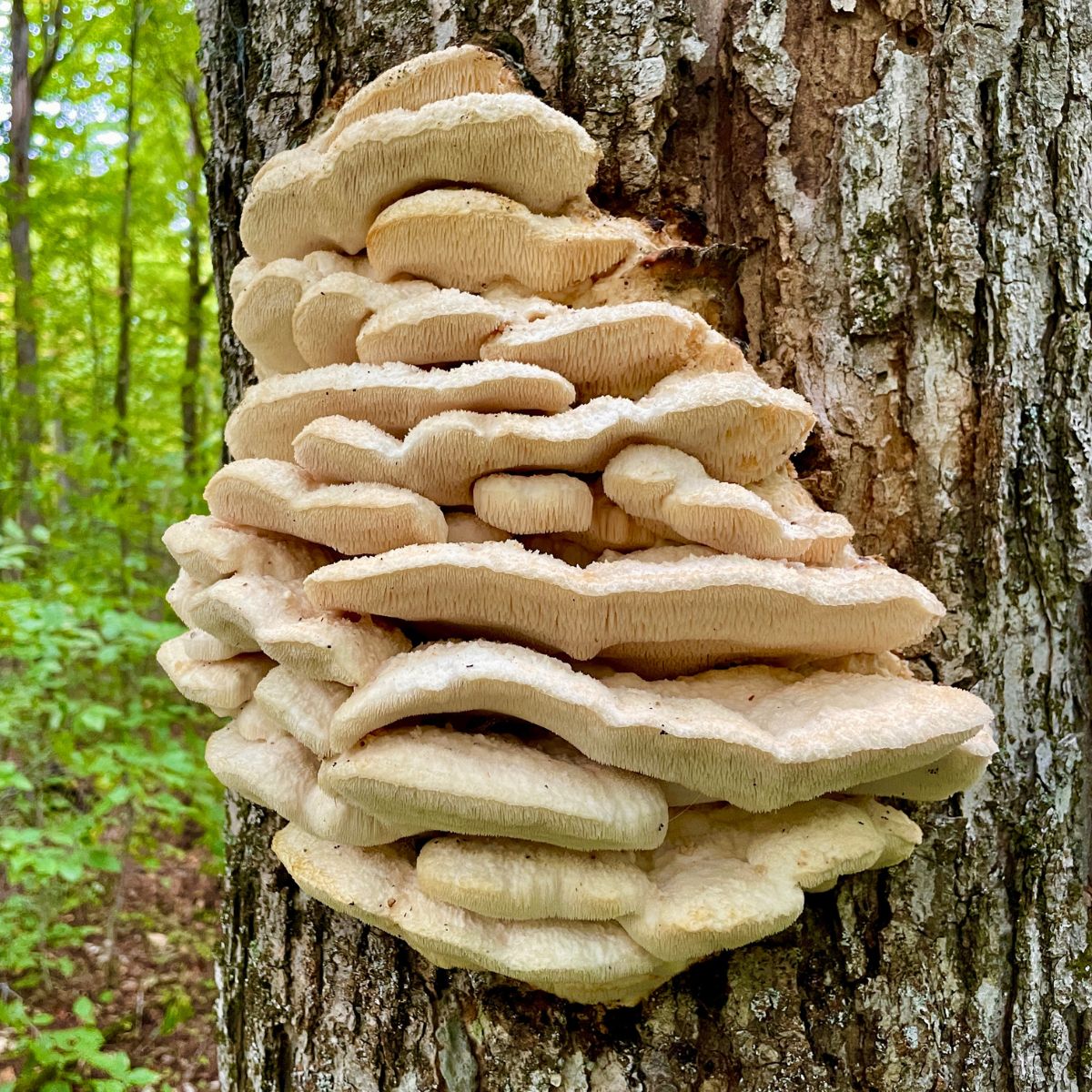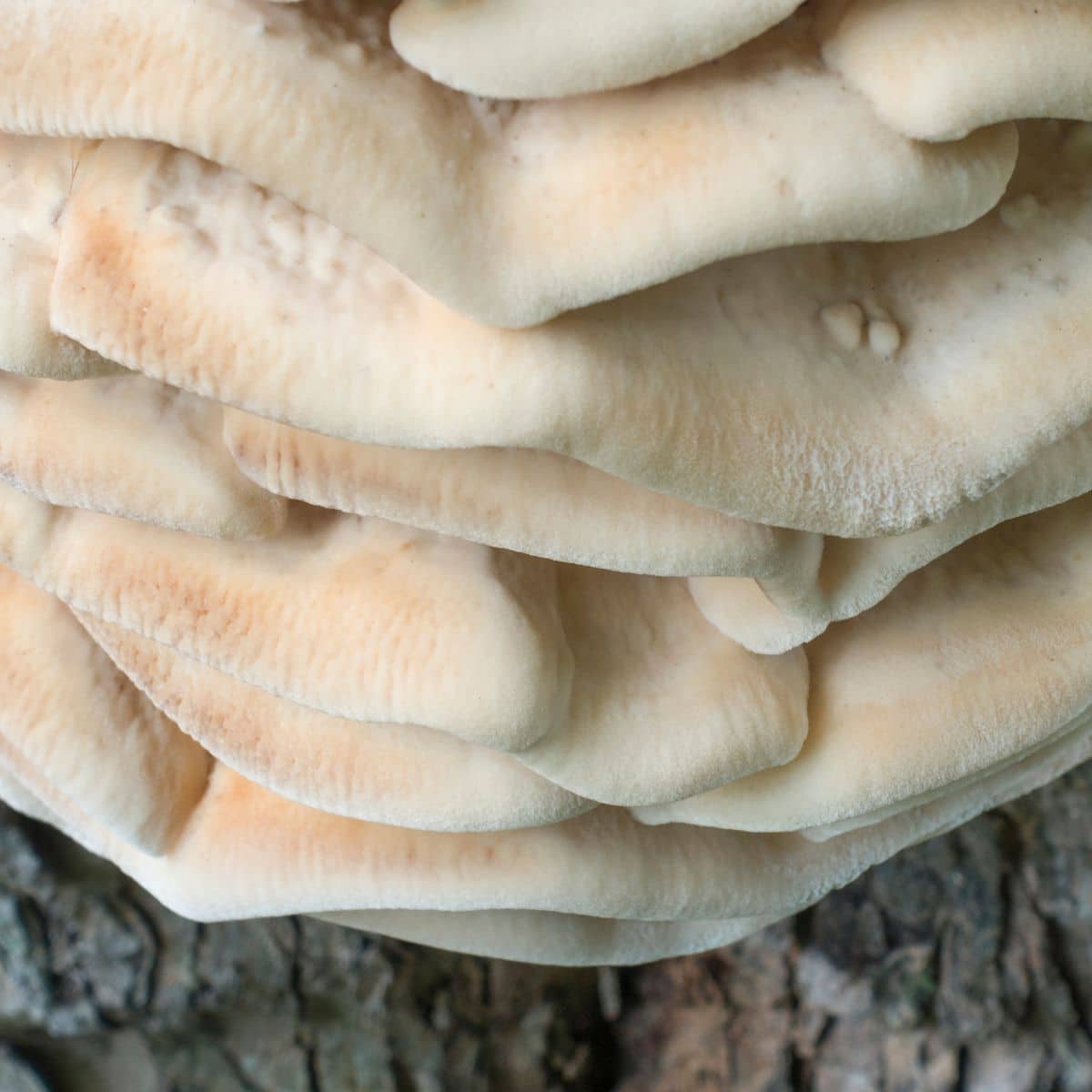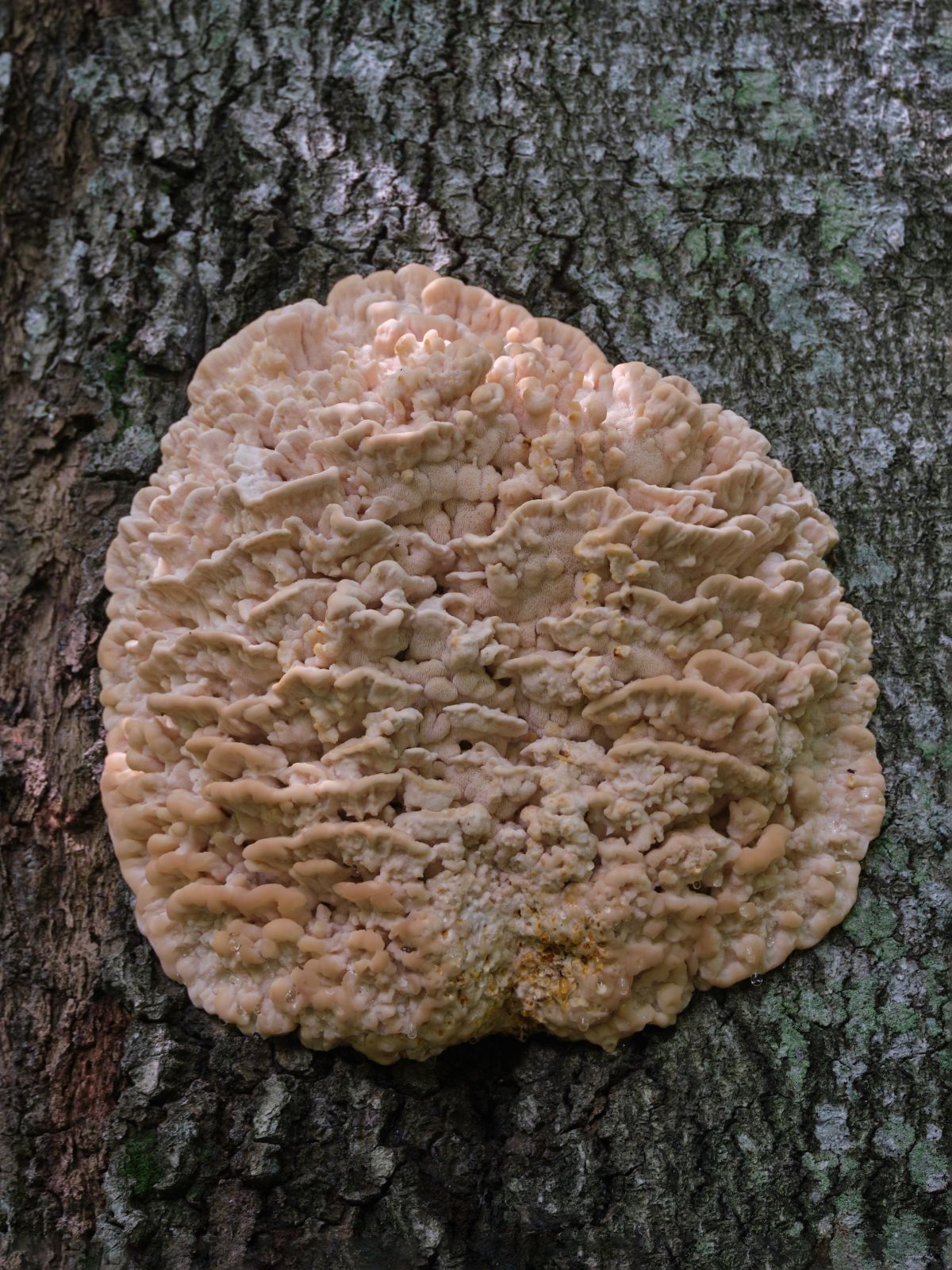 Lookalikes of the Northern Tooth
Lion's Mane (Hericium erinaceus)
While lion's mane shares a tooth-like appearance with the northern tooth fungus, it is easily distinguishable by its pure white color and cascading shaggy appearance. It doesn't form caps like the northern tooth. Additionally, lion's mane grows in a hanging fashion, often resembling a fluffy white pom-pom. Hericium fungi are top edible wild mushrooms, so if you find this one instead, it is a good day!
Other Hericium species, often collectively known as Lion's mane, but also individually named, also look similar. Hericium americanum goes by the common name Bear's Head Tooth Fungus, which is a name that commonly gets confused with the Northern Tooth. Hericium coralloides is commonly called Coral Tooth Fungus or Comb Tooth. Common names can be confusing! Especially since these are all white mushrooms that grow on trees and have spines.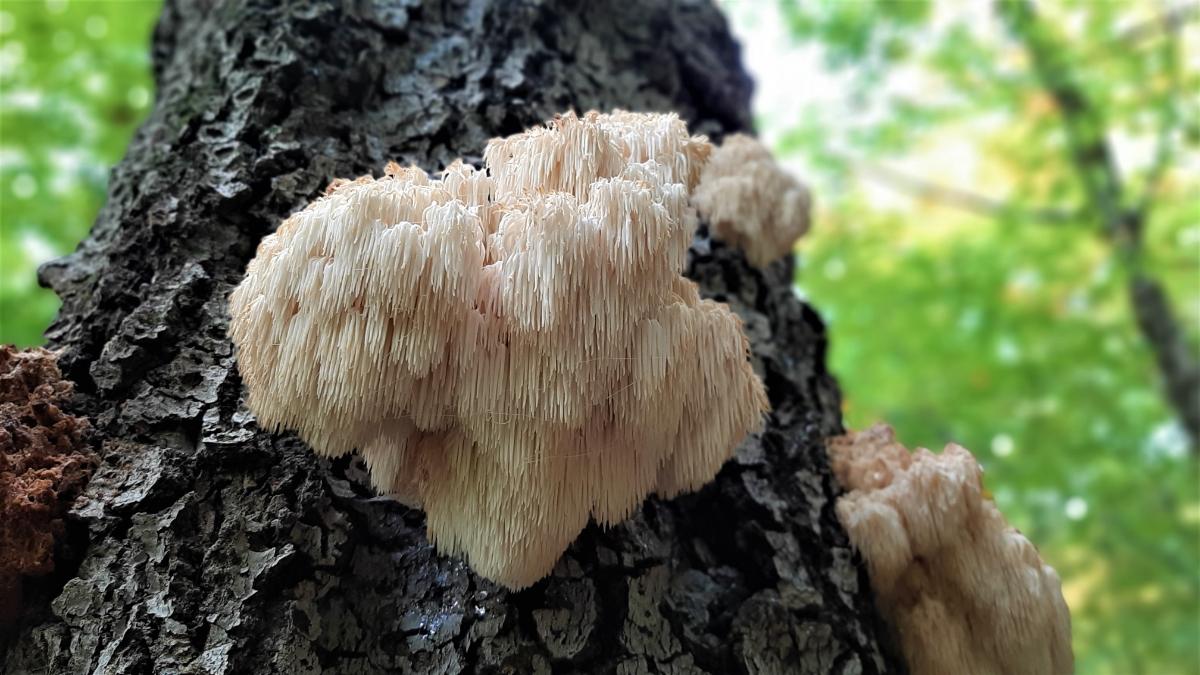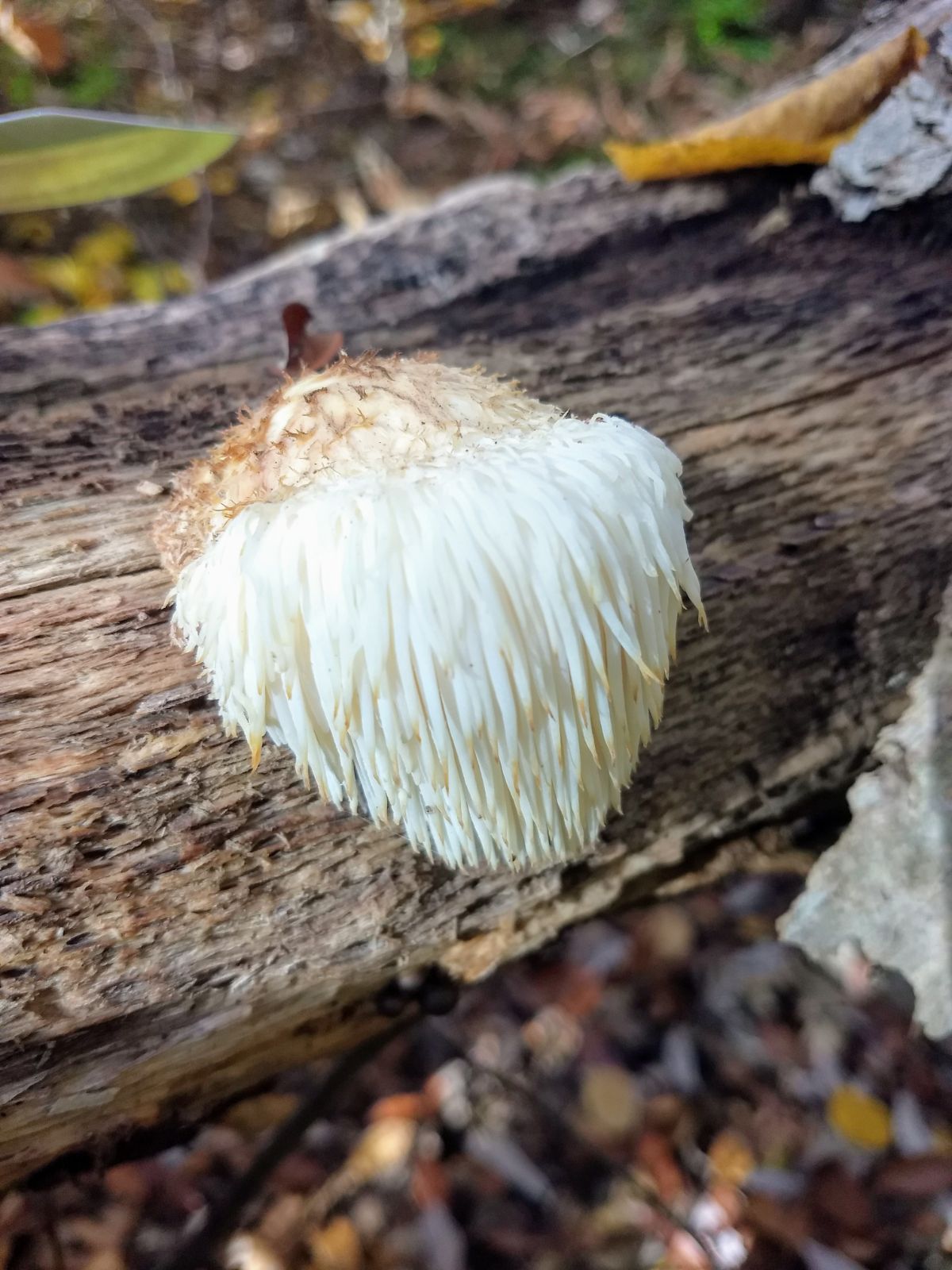 Spongy toothed polypore, marshmallow polypore (Spongipellis pachyodon)
This polypore also has white caps, white teeth, and grows on hardwoods, just like the northern tooth. However, it is much much much smaller. The caps of the marshmallow polypore only grow up to 2″ wide. Sometimes, the fungus is just a spread out white pore surface without defined caps. Or, the shelf fungus develops poor to well defined caps. When it does grow caps, it can look like a small (young) northern tooth.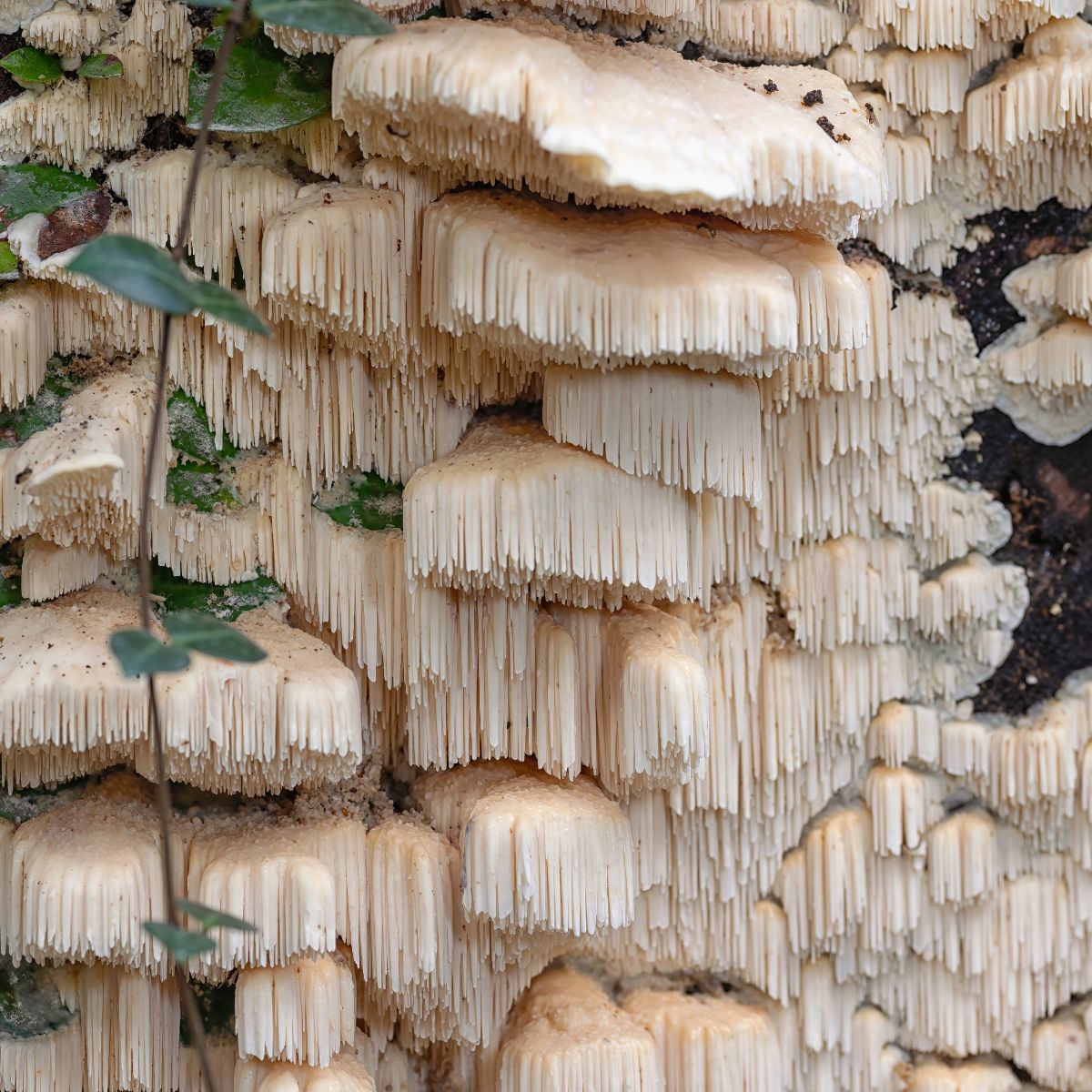 Berkeley Polypore (Bondarzewia berkeleyi)
This species shares a shelf-like appearance with the northern tooth mushroom and also grows quite massive. However, the Berkeley polypore lacks the distinctive spines on the underside, and is instead smooth. It also never grows on upper portions of a tree trunk; it only fruits from the base of hardwood trees.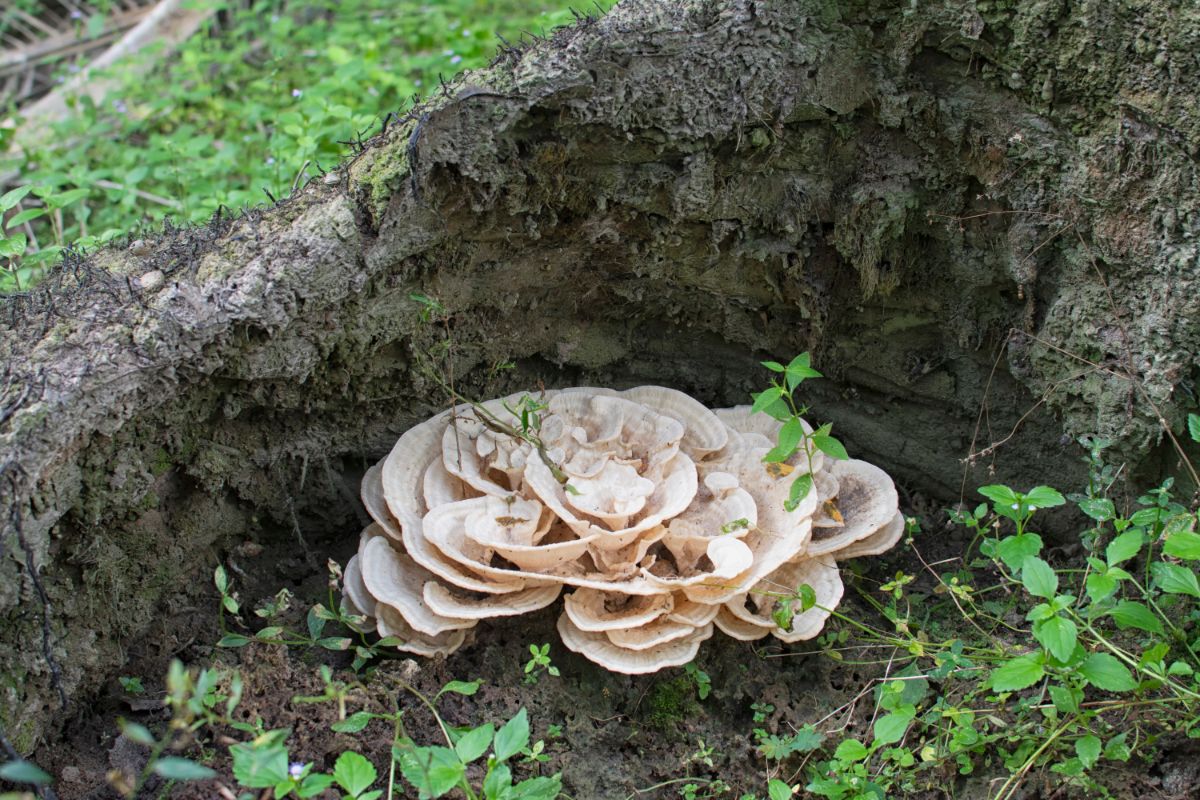 Dryad's Saddle (Polyporus squamosus)
Although the dryad's saddle also grows in clusters on hardwood trees, it can be differentiated by its brown scaly upper surface, lack of spines, and larger size.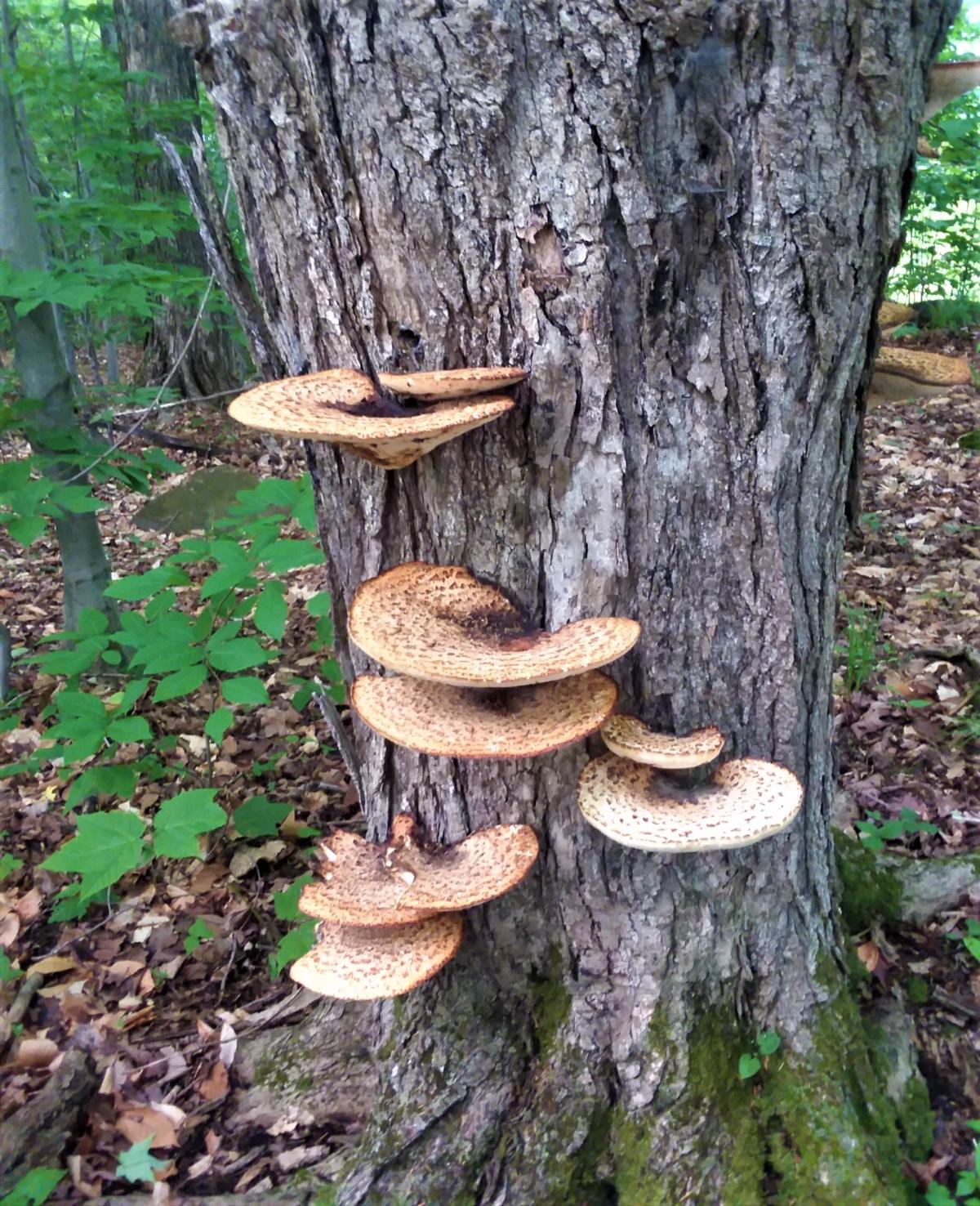 Edibility and Preparation
Despite being non-toxic, the northern tooth is not considered an edible species due to its tough flesh and bitter taste, especially in older specimens.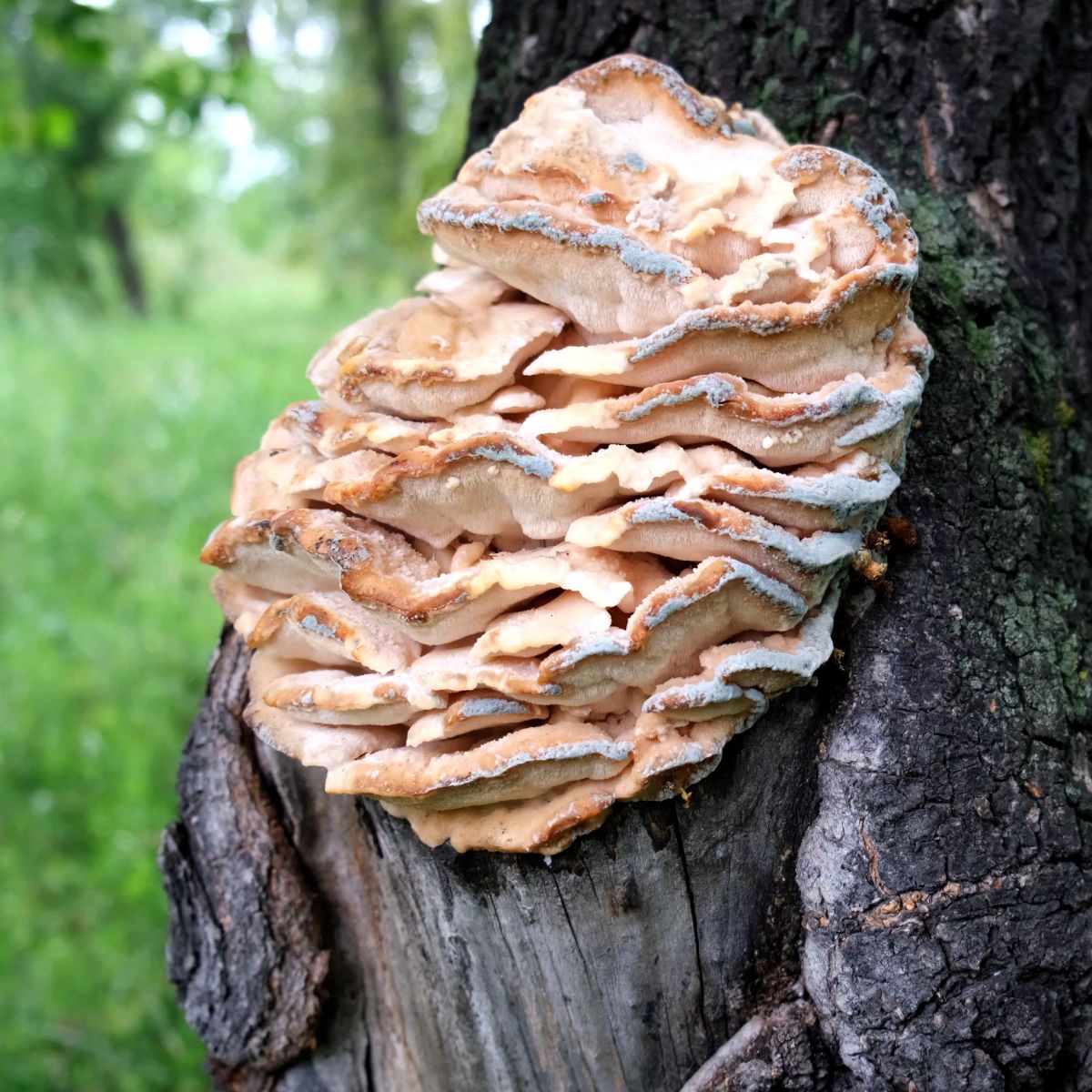 Common Questions About Northern Tooth Fungus
Does northern tooth fungus have medicinal properties?
Research into the medicinal properties of the northern tooth is limited.
Is Northern Tooth fungus poisonous?
No, this species is not poisonous. However, it isn't edible either because the flesh is woody, tough, and bitter.
Can I save my tree with white rot fungus?
Unfortunately, once you see the northern tooth white rot fungus appear on the tree, the infection is too deep. The tree cannot be saved. However, trees may live a long time with the white rot fungus on it. Check with an arborist to see the extent of the infection and determine whether the tree needs to be removed.