Morel mushrooms, the culinary delicacies with a unique taste and texture, are a sought-after ingredient for many gourmet dishes. This article focuses on how to pick morel mushrooms, when the best time to harvest them is, how to clean and store them properly, and some popular recipes to try. Proper storage ensures these prized mushrooms don't go to waste!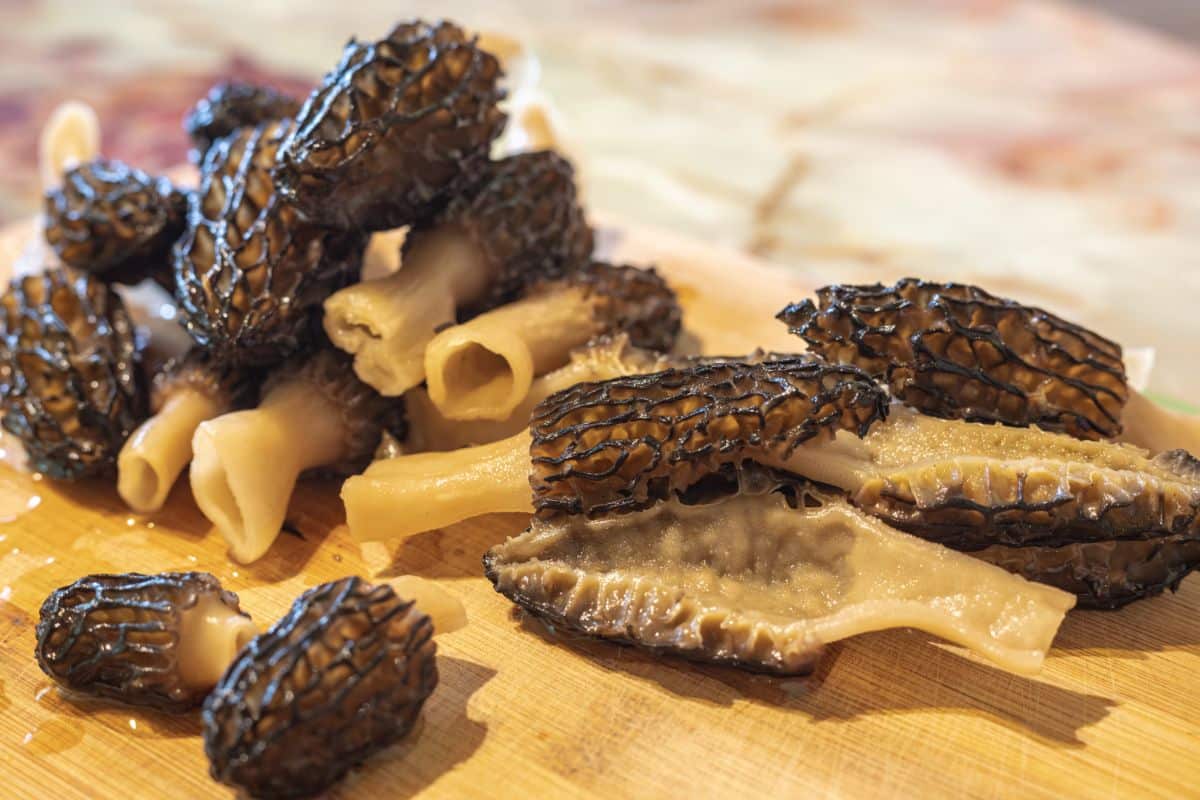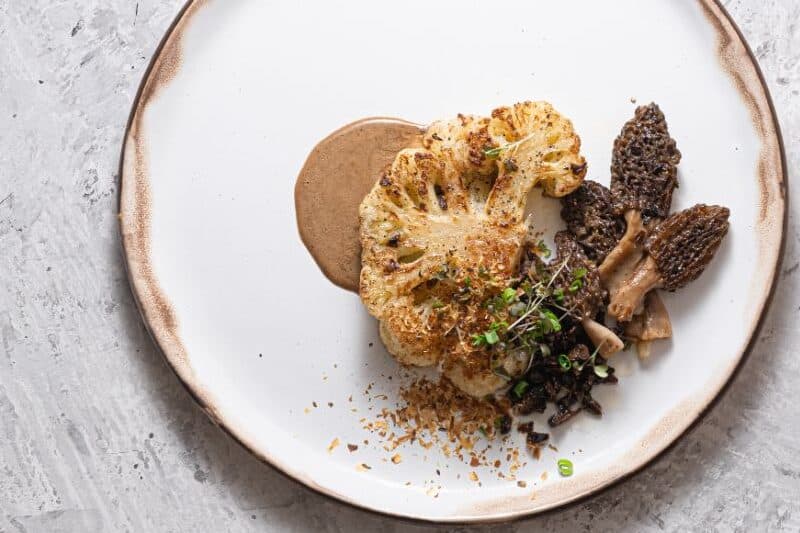 Jump to:
When Do Morels Grow?
The best time to harvest morel mushrooms is in the spring, typically between April and June, depending on your location. The exact timing varies due to factors such as temperature, rainfall, and elevation. Morels thrive in moist soil and are often found in forested areas where there are plenty of dead and decaying trees. They particularly enjoy the areas around elm, ash, and apple trees. Or, if you're in the PNW, burn sites.
To learn which morels grow in your region and how to identify them, check out our Guide to the 18 Morels in North America. And for a leg-up on your morel hunt, find out how learning trees will help you find morels.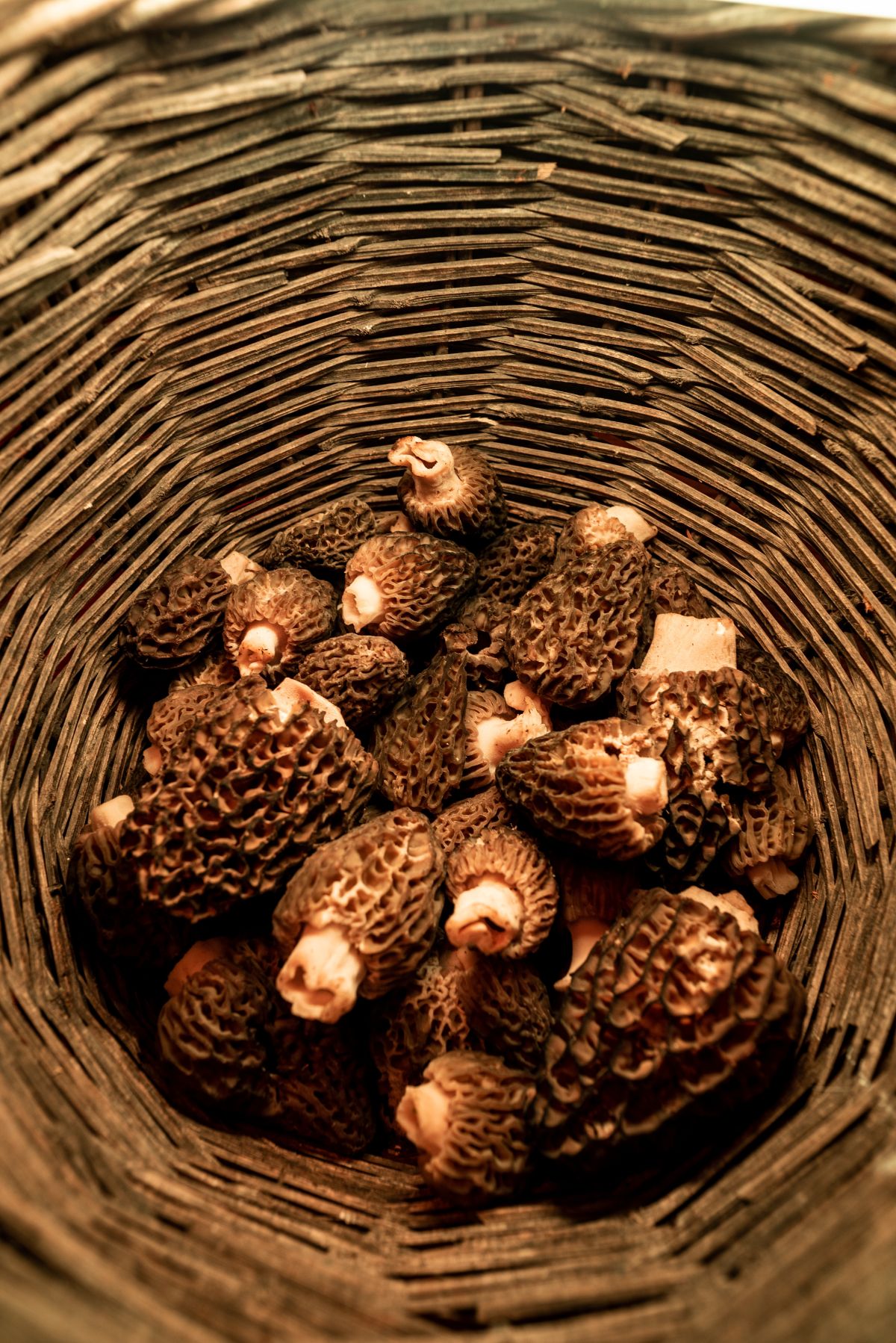 When you're on the hunt for morel mushrooms, it's essential to pay close attention to the weather. Morels tend to appear about a week after the first warm rain of the season when the soil temperature reaches around 50°F (10°C). As the season progresses, they will continue to grow as long as the temperature remains between 60°F and 70°F (15°C and 21°C) during the day and doesn't drop below 40°F (4°C) at night.
In addition to monitoring the weather, it's also a good idea to keep an eye on local online forums, social media groups, or other sources of information for morel mushroom harvesting in your area. Fellow mushroom hunters often share updates (read: brag posts, but in a good way 🙂 on when they've found morels, giving you a better idea of when it's the right time to start your hunt. Most online groups track the fruiting season, from its start in the southern states and PNW until it hits the whole country. Yeah, we're obsessed!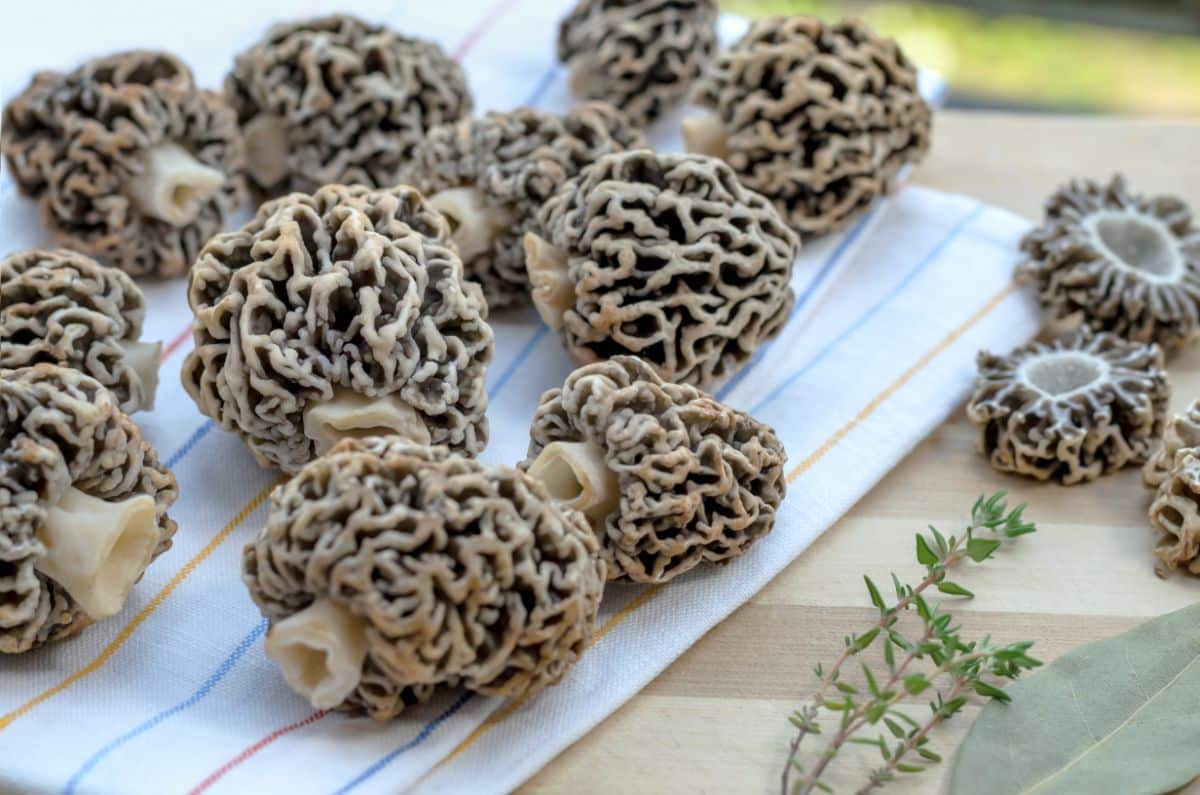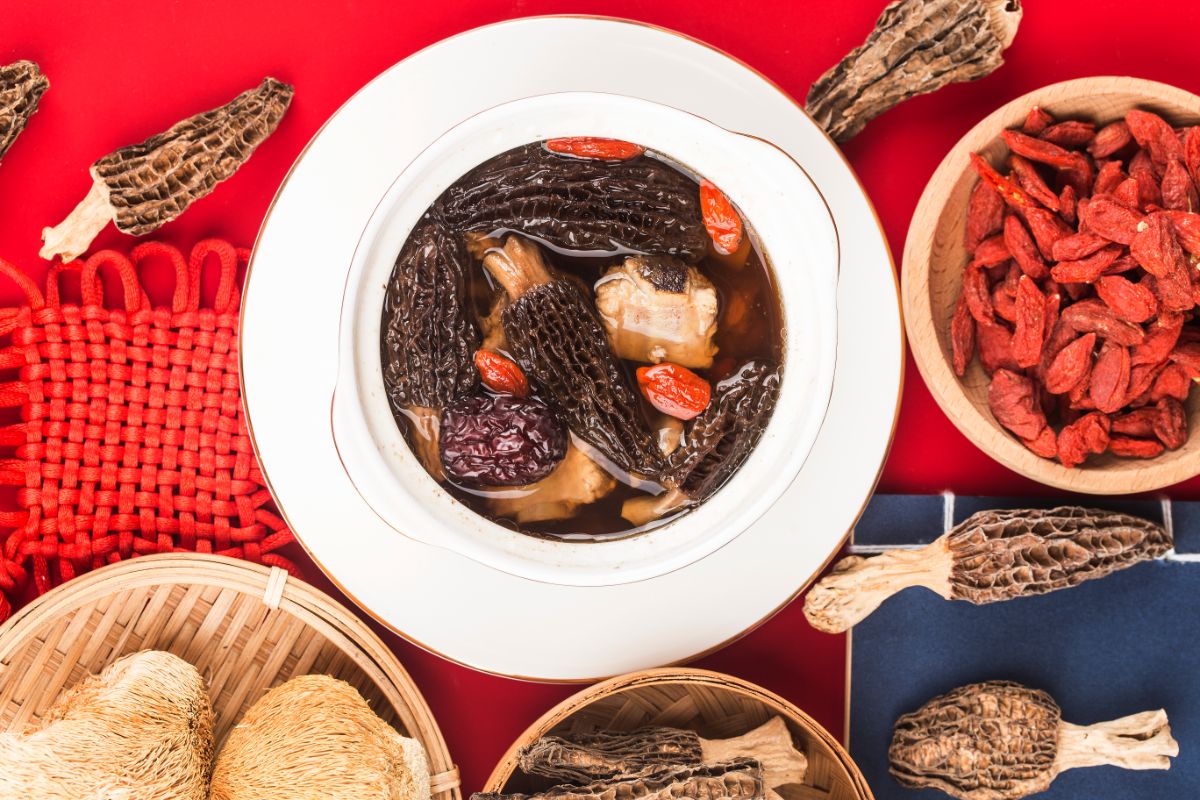 How To Properly Pick Morel Mushrooms?
Morels have a distinctive appearance, with a conical, honeycomb-like cap and a hollow stem. They can be found in various colors, ranging from light yellow to dark brown. Keep in mind that there are also false morels, which can be toxic if not prepared properly.
Learn more about false morels here.
If you've ever talked to morel foragers or mushroom foragers in general, they tend to be opinionated people. Let's just say there are a lot of "experts" out there. One of the greatest debates is around harvesting – should we pick, pull, or cut?
Here's the thing; the real truth — it doesn't matter! Pick, pull, pluck, cut; it's all fine. None of these methods are going to harm the mycelium horribly. As long as you're not digging up the mycelium, you're good. And don't worry about the curmudgeon experts online and IRL; science is on your side, whichever method you choose.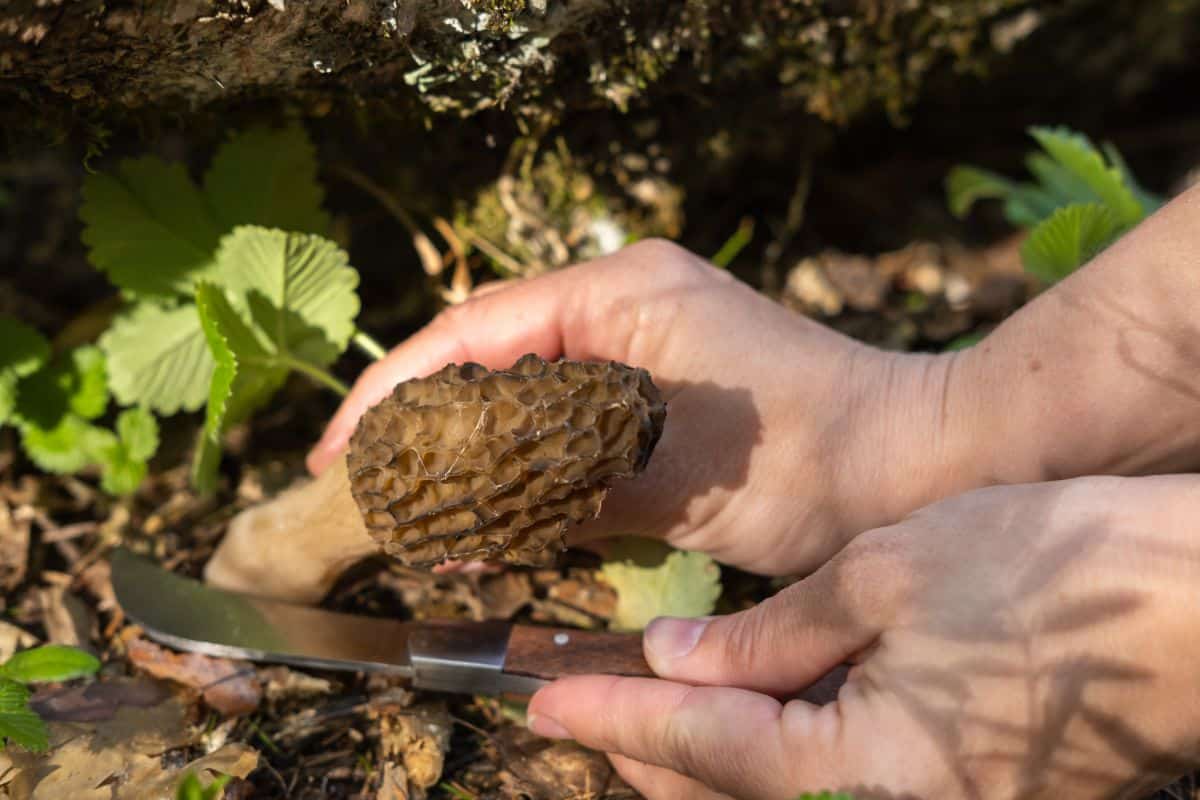 Now, after all that, we do have a harvesting preference – cutting. Use a sharp knife to cut the mushroom just above the ground, leaving a small portion of the stem behind. This method leaves the morel stem base and most of the dirt in the ground and not in your collection bag. We like this harvesting technique because it keeps our harvests dirt-free and reduces cleaning later on. Alternatively, you can gently twist the mushroom at the base of the stem to remove it from the ground.
During your hunt, it's essential to practice responsible morel mushroom harvesting — sustainable harvesting practices are way more important than the exact picking method. Only pick what you need and leave some behind for others to enjoy or for wildlife to feed on.
Remember, you don't harm that patch when you pick, but you may be preventing further patches from forming by taking all those spores out of the forest. Be sure to carry a mesh bag or basket with you when you're out hunting, as carrying your morels in this will allow the spores to spread and increase the chances of more mushrooms growing in the area. Also, avoid trampling on the surrounding vegetation and respect private property boundaries.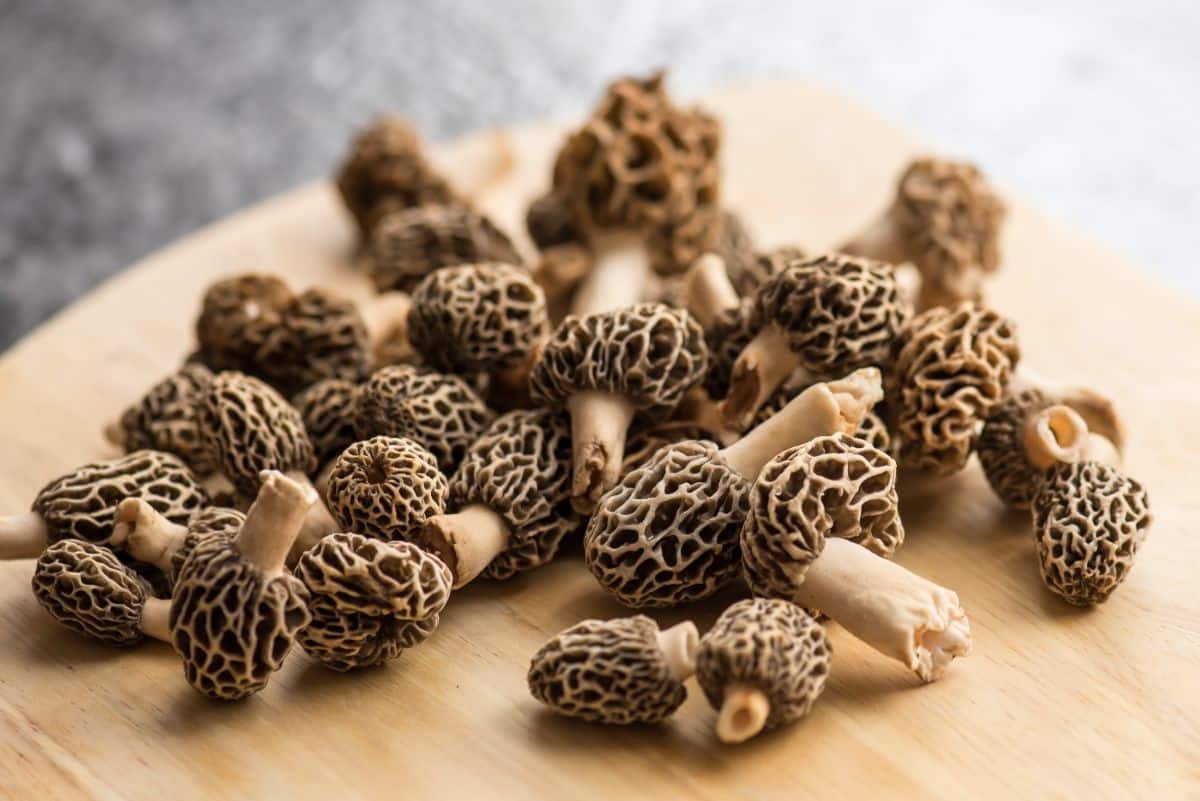 Cleaning and Storing Morel Mushrooms
Begin by carefully inspecting each mushroom for any dirt, bugs, or debris. You can use a soft brush or a damp cloth to gently remove any dirt from the surface of the mushrooms. There are several different camps about which cleaning method is best – to use salt or not use salt, to use water or a soft-bristle brush.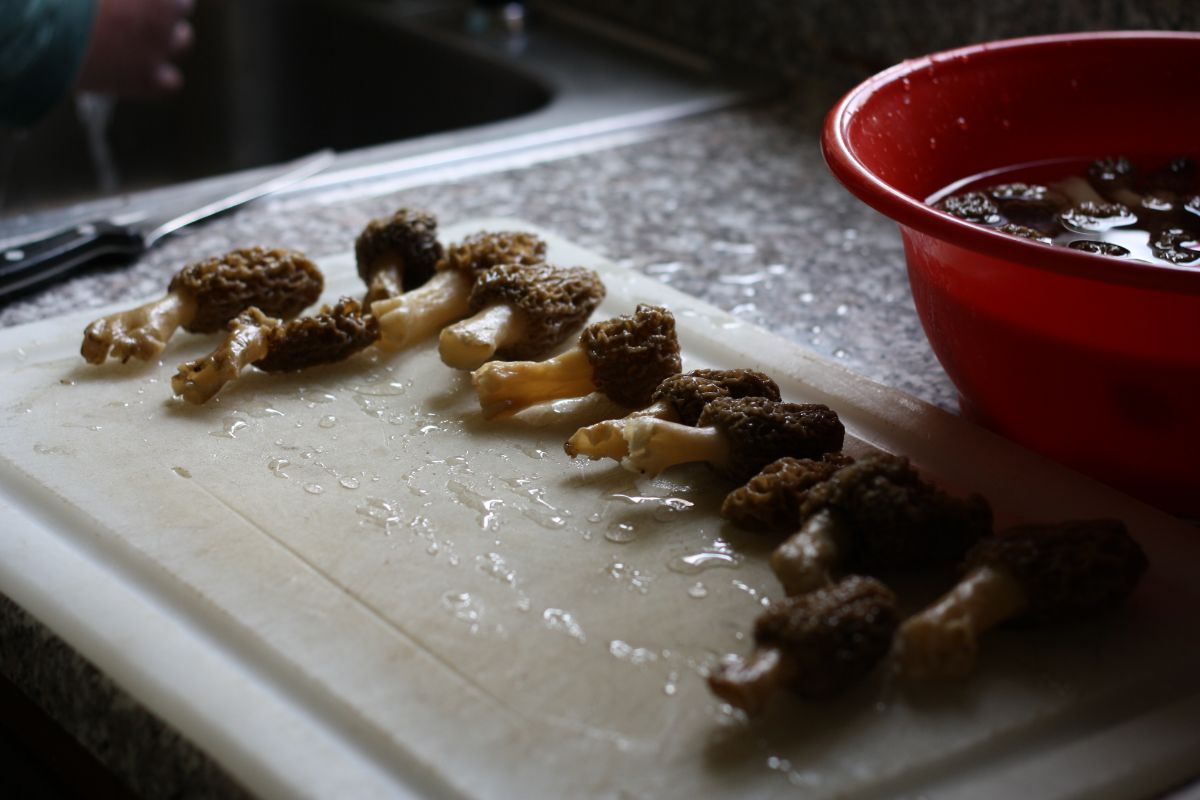 The ideal choice may depend on how you intend to prepare them later. It may also be a matter of preference on final texture and flavor. Soaking morels changes the texture, but also it is the quickest and easiest method. And the texture isn't altered by "that" much. But, for many people, the texture change is noticeable and grievous, so they choose the dry brush method. Don't worry about what is the "right way" or "wrong way." Try the different methods and see which one your taste buds and time management practices prefer.
Soaking Method:

Soak them in a bowl of cold water with a splash of vinegar or salt for about 15 minutes. This will help remove any remaining dirt and kill any bugs hiding inside the hollow stem. After soaking, rinse the mushrooms thoroughly under cold running water and place them on a clean towel or paper towel to air dry.

Rinse/Swish Method:

Slice the morels in half and give them a quick rinse under the sink to remove any debris and bugs. Or quickly swish them in a bowl of water, but don't soak them. Use your fingers or a soft brush to get the crevices inside. Lay the morels out on paper towels to dry.

Brush Method:

Cut the morels in half and use a soft bristle brush, like a soft toothbrush, to remove the debris and insects. Do not wash them.
It's best to consume morels as soon as possible, as their quality and flavor will diminish over time. If you can't eat them right away, you can store fresh morels in the refrigerator for up to a week. Place the mushrooms in a paper bag or wrap them in a damp cloth and store them in the crisper drawer to maintain their freshness. Use a cotton cloth instead of paper towels to prevent the mushrooms from leaching the paper towel flavor.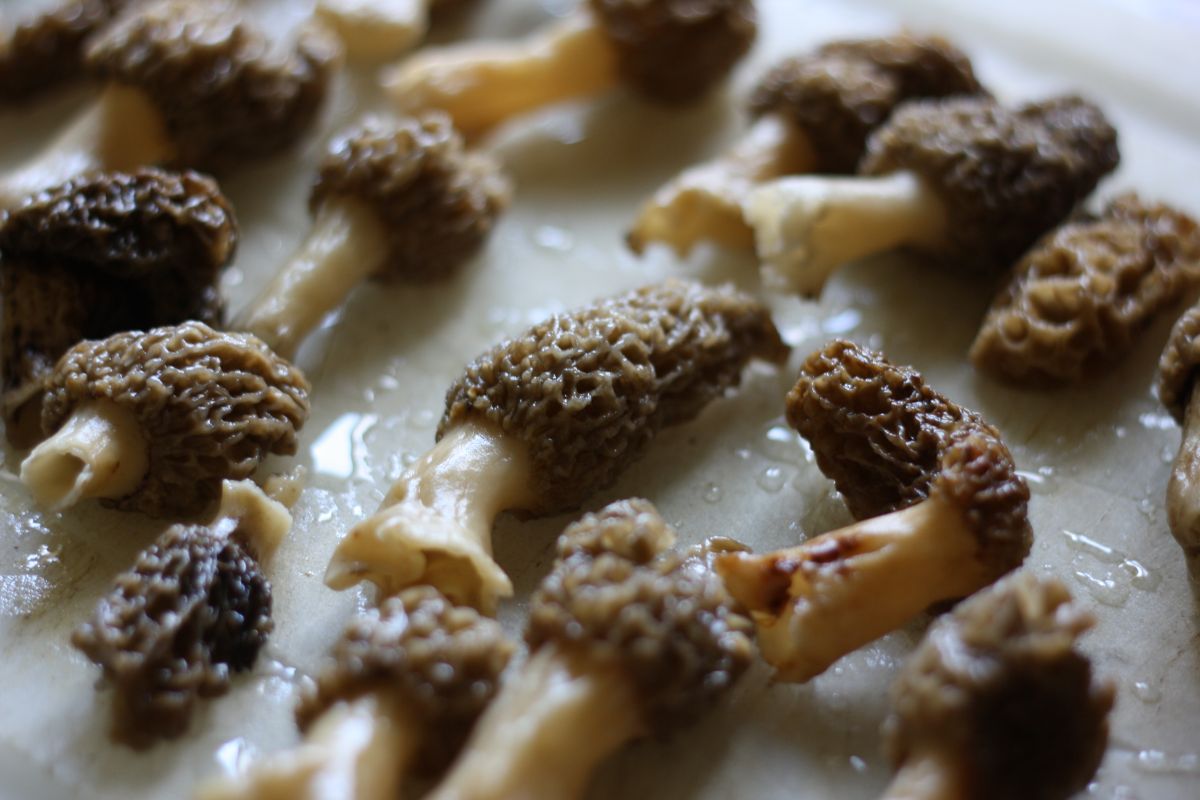 Drying and Dehydrating Morel Mushrooms
There are several options for drying morels. No matter which one you choose, make sure you dry your mushrooms VERY WELL. They should be hard, dry, and shrunken, with no moisture at all. Moisture is the archenemy of dry storage. If there is even a little bit, the stored morels will develop mold.
The easiest low-tech drying method is simple air drying. String the morels together like a popcorn Christmas tree decoration. Use string, dental floss, or twine and a narrow needle to relay the morels along the string. Don't let them touch, as that will impair the drying process. Hang them in a warm, dry location until completely dry – this can take several days to several weeks or months, depending on your climate.
Another simple air-drying method is simply to lay them out on a screen in the sun. Air flow is essential to drying, so it must be a screen and raised up off the ground or table. And there must be amenable weather in the forecast!
Oven drying is a good option if you have no other plans for the oven that day. Lay out the cleaned morels on a cookie sheet, ensuring the mushrooms don't touch. Set the oven to 135F. It takes anywhere from 8-12 hours for them to dry entirely. Rotate the trays every 2 hours for even drying and air circulation. You can halve or slice the mushrooms for a quicker drying time.
To dehydrate morels with a dehydrator, place them on the dehydrator tray and dry them at 125°F (50°C) for 8-12 hours or until they are completely dry and brittle.
Store the dried mushrooms in an airtight container in a cool, dark place.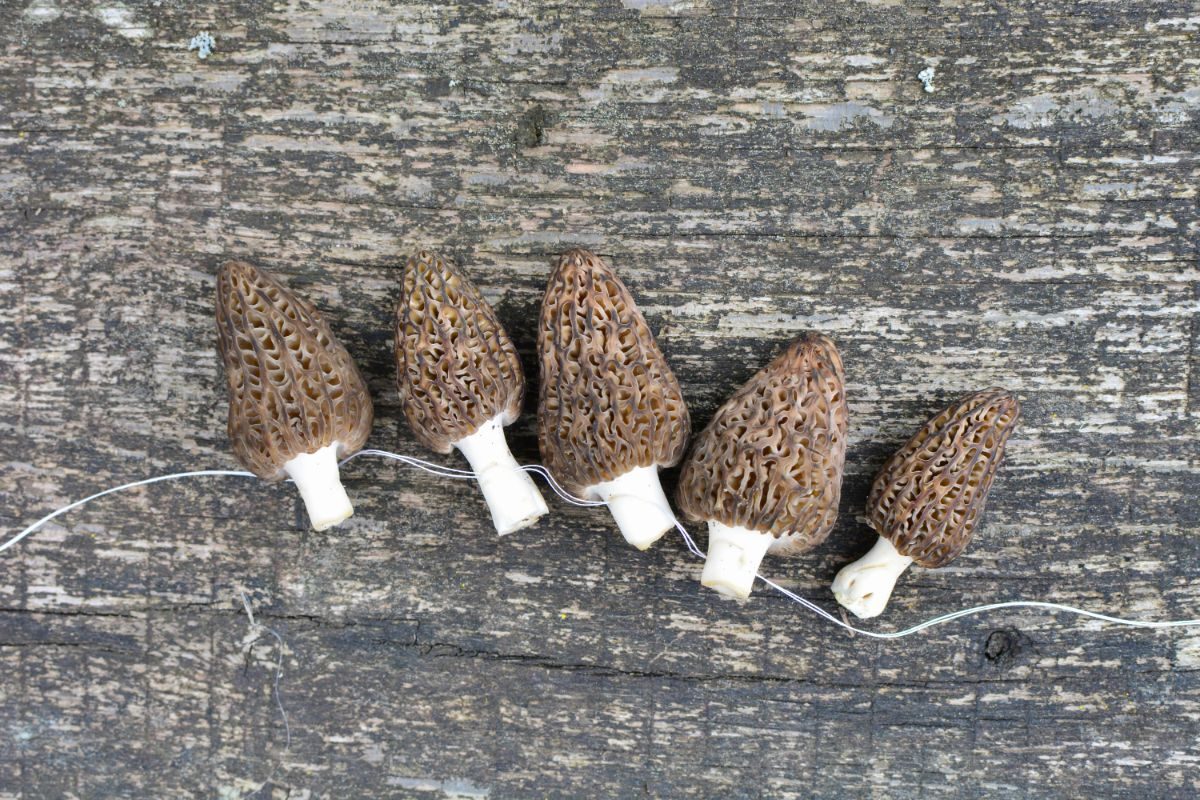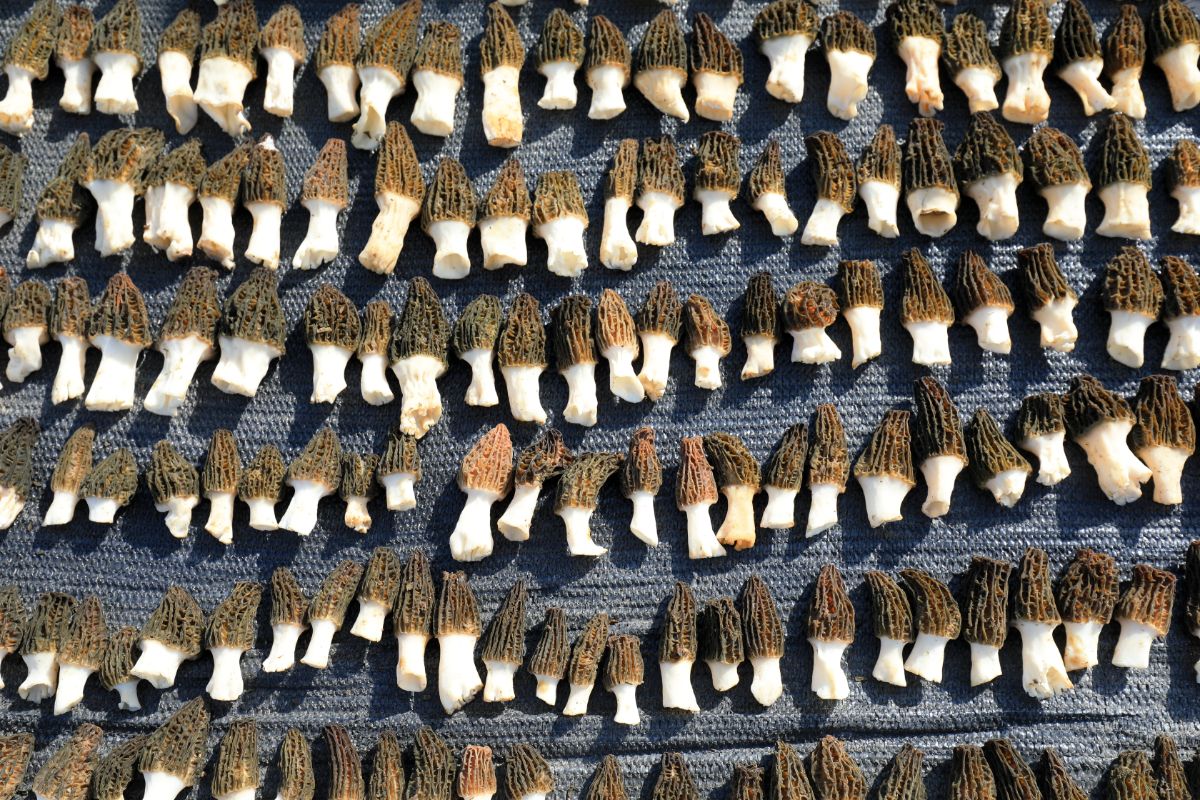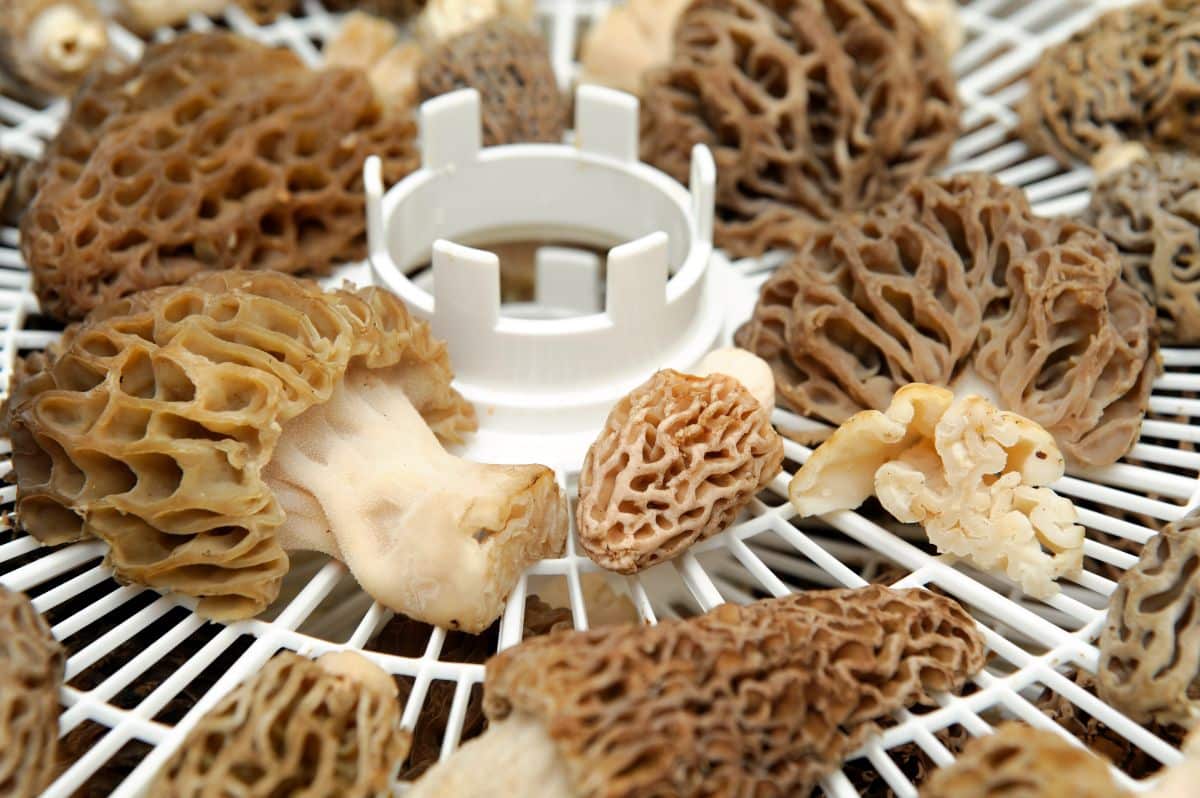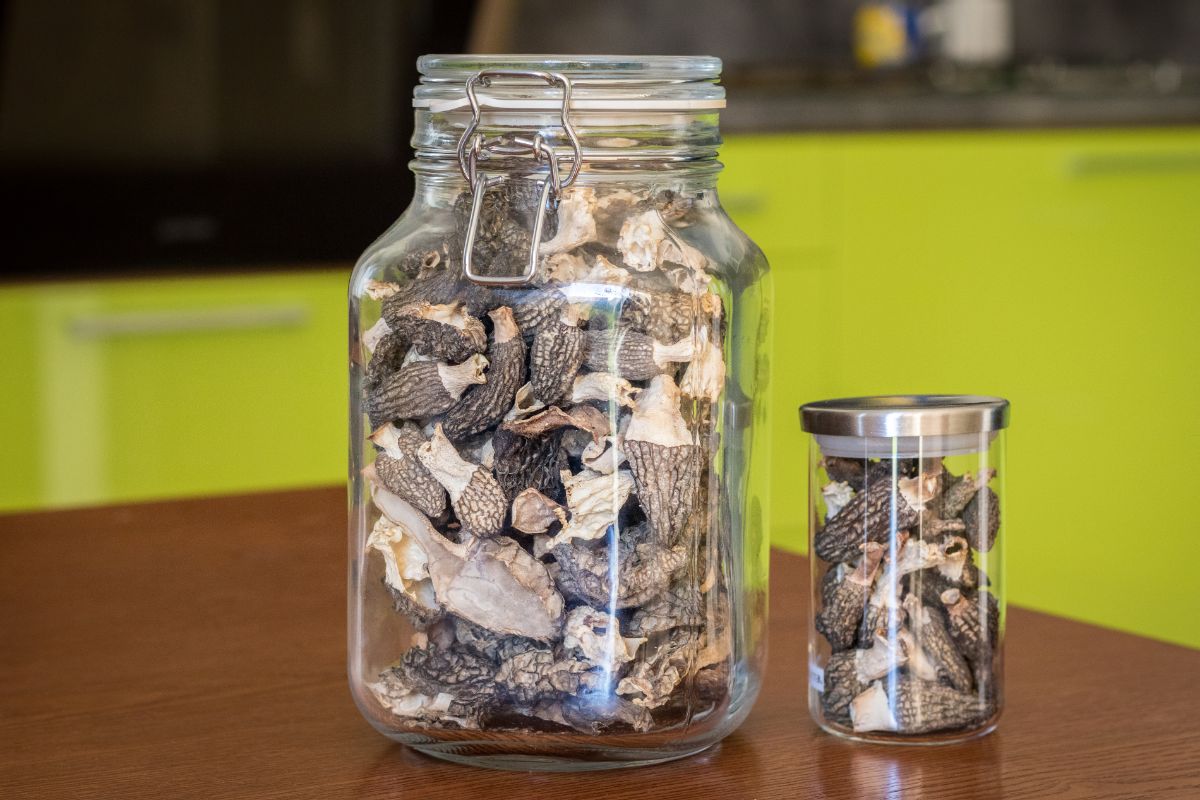 Freezing Morel Mushrooms
There are several popular freezing methods – give them each a try and see which method you prefer:
Blanch the cleaned mushrooms in boiling water for 2-3 minutes, then transfer them to an ice bath to cool. Drain the mushrooms, pat them dry, and arrange them in a single layer on a baking sheet. Freeze them for a few hours, then transfer them to an airtight container or freezer-safe bag for long-term storage. Vacuum sealing is also an excellent option.
Dust the cleaned mushrooms in flour and place them on a cookie sheet. The flour prevents them from sticking when they're transferred to a bag or container. Freeze them for a few hours, then transfer them to an airtight container or freezer-safe bag for long-term storage.
After cleaning the mushrooms, pat them dry. Then, coat with flour and fry halfway. Place partially fried mores on a baking sheet and freeze. Freeze them for a few hours, then transfer them to an airtight container or freezer-safe bag for long-term storage. Vacuum sealing is also an excellent option.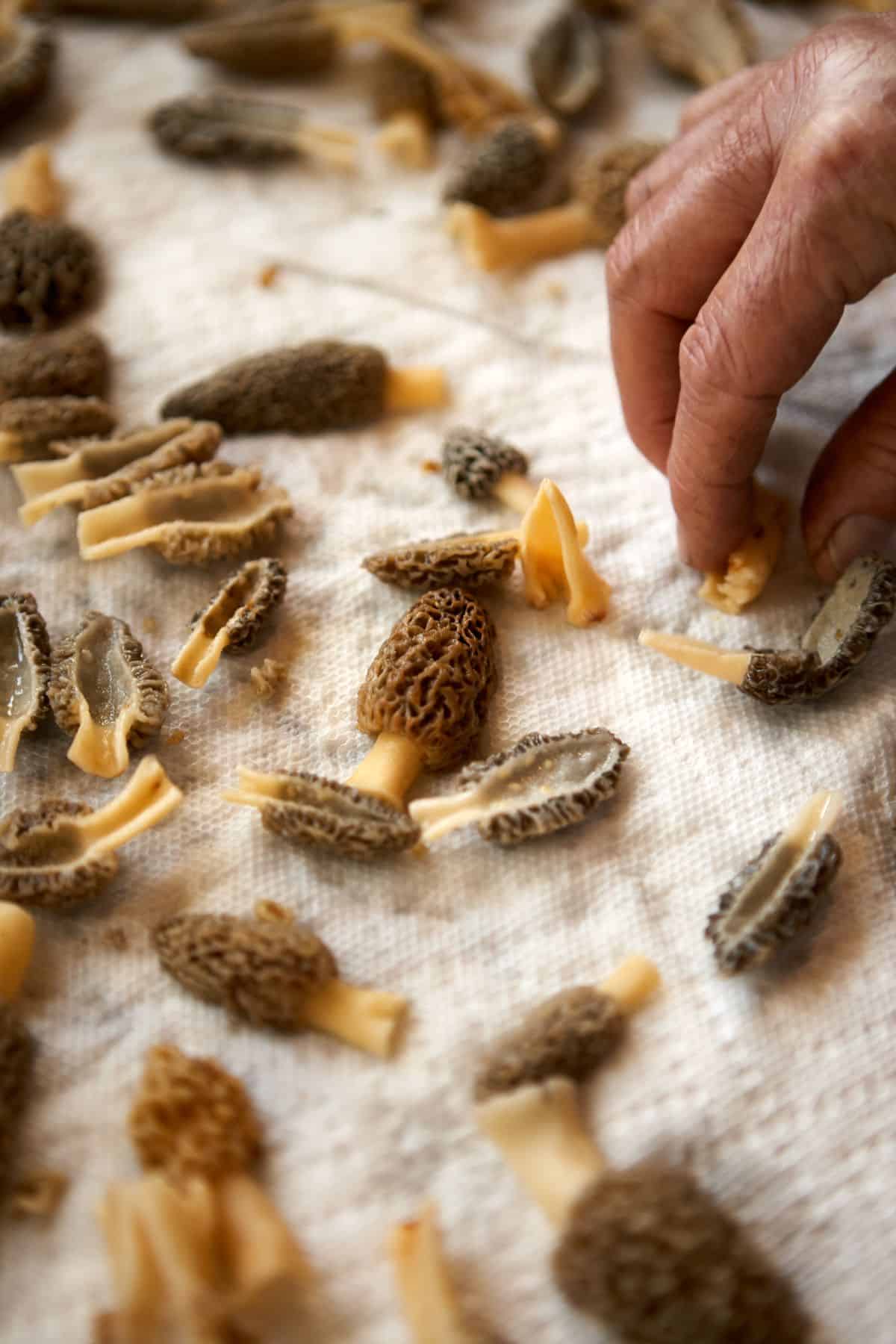 Canning Morel Mushrooms
Some people can morels, but we do not recommend it. We know some people have been doing it for decades without issue, and if you'd like to can them, give it a try. But please, heed this caution.
Morels contain toxic hydrozines. When the mushrooms are cooking, this evaporates into the air. However, when you're canning them, the toxins have nowhere to evaporate. And so, the toxins stay in the mushrooms, which form botulism. There is no safe pressure cooking method developed yet to pressure can these mushrooms.
Contact The National Center For Home Food Preservation for more information.
Canning recipes that require cooking or steaming of the morels may be fine, but we have no feedback or knowledge of these methods and so can't in good conscience recommend them.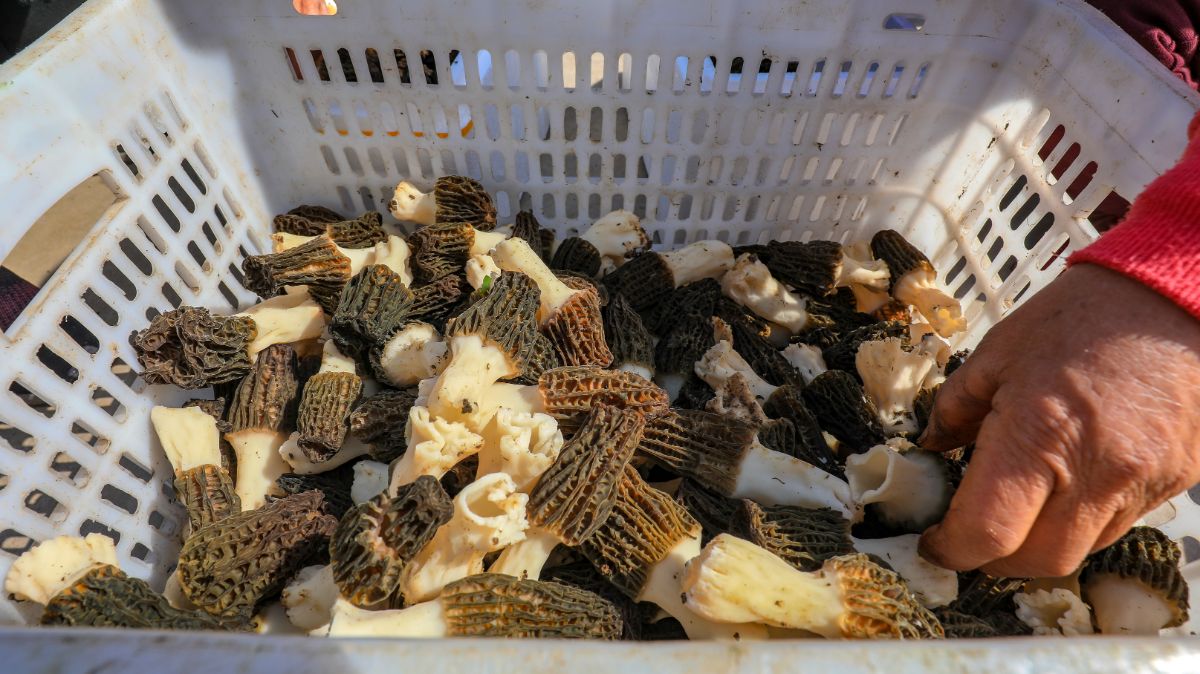 Preparing Morel Mushrooms for Cooking
If you're working with fresh morels, make sure they are thoroughly cleaned and dried before proceeding. If you're using dried morels, you'll need to rehydrate them by soaking them in warm water or broth for about 20-30 minutes. You can also rehydrate them in milk (or a milk substitute) for an enhanced final flavor. Once they've rehydrated, drain them well and pat them dry with a clean towel.
Before cooking, you can trim off any tough or damaged stem portions, as these parts can be difficult to chew. If you're using larger morel mushrooms, you may want to slice them in half or into smaller pieces to ensure even cooking. Smaller morels can be left whole.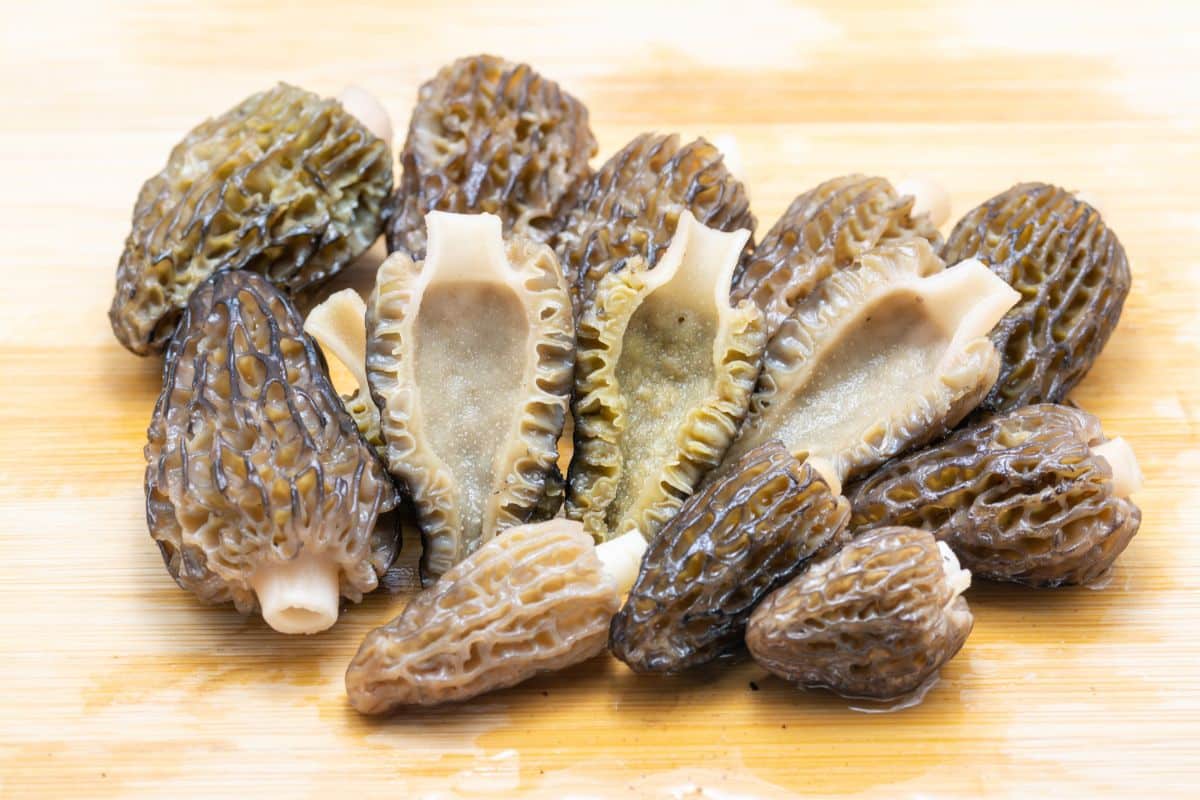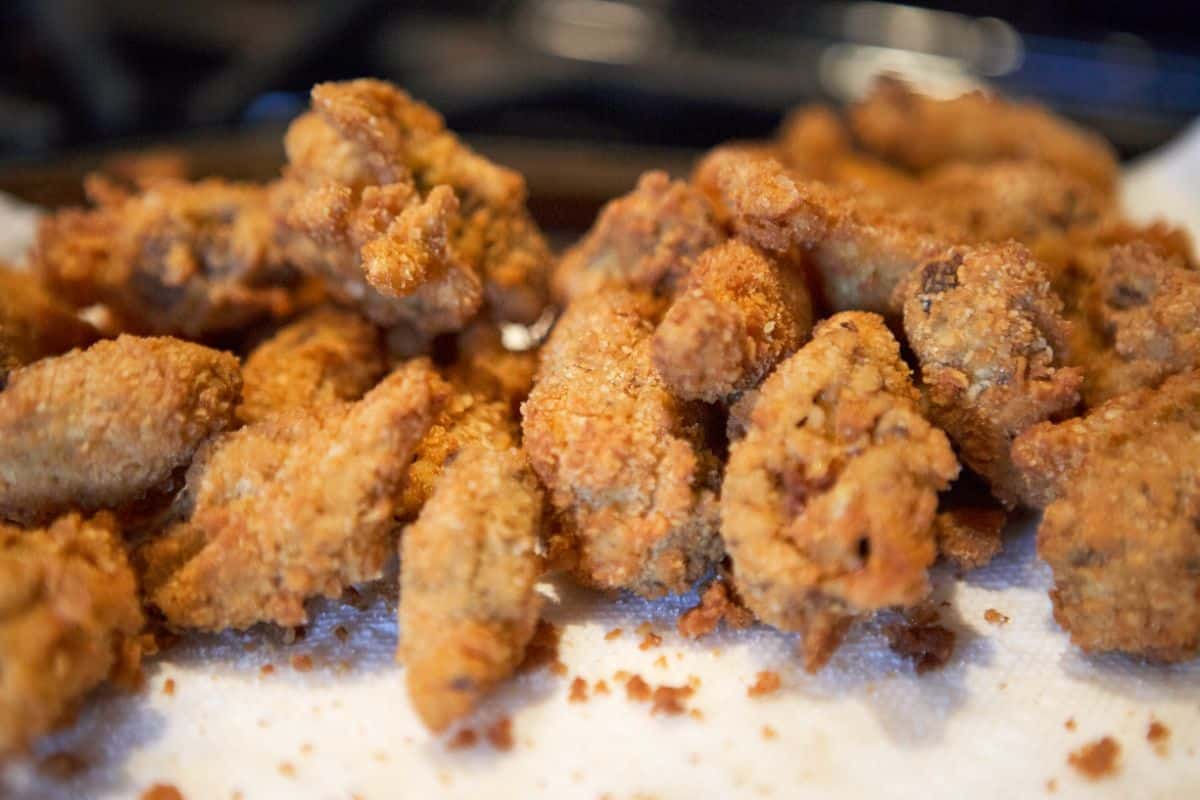 Morel Mushroom Recipe Ideas
There are countless ways to enjoy morel mushrooms, and their unique flavor and texture lend themselves well to various dishes. Some popular morel mushroom recipes include:
Morel Mushroom Risotto: Cook Arborio rice in a mixture of chicken or vegetable broth, white wine, and sautéed onions and garlic. Stir in sautéed morel mushrooms and finish the dish with a generous helping of grated Parmesan cheese and fresh herbs.
Morel Mushroom and Asparagus Pasta: Sauté morel mushrooms and asparagus in a mixture of butter and olive oil, then toss with cooked pasta, fresh herbs, and a squeeze of lemon juice. Top with grated Parmesan cheese and serve.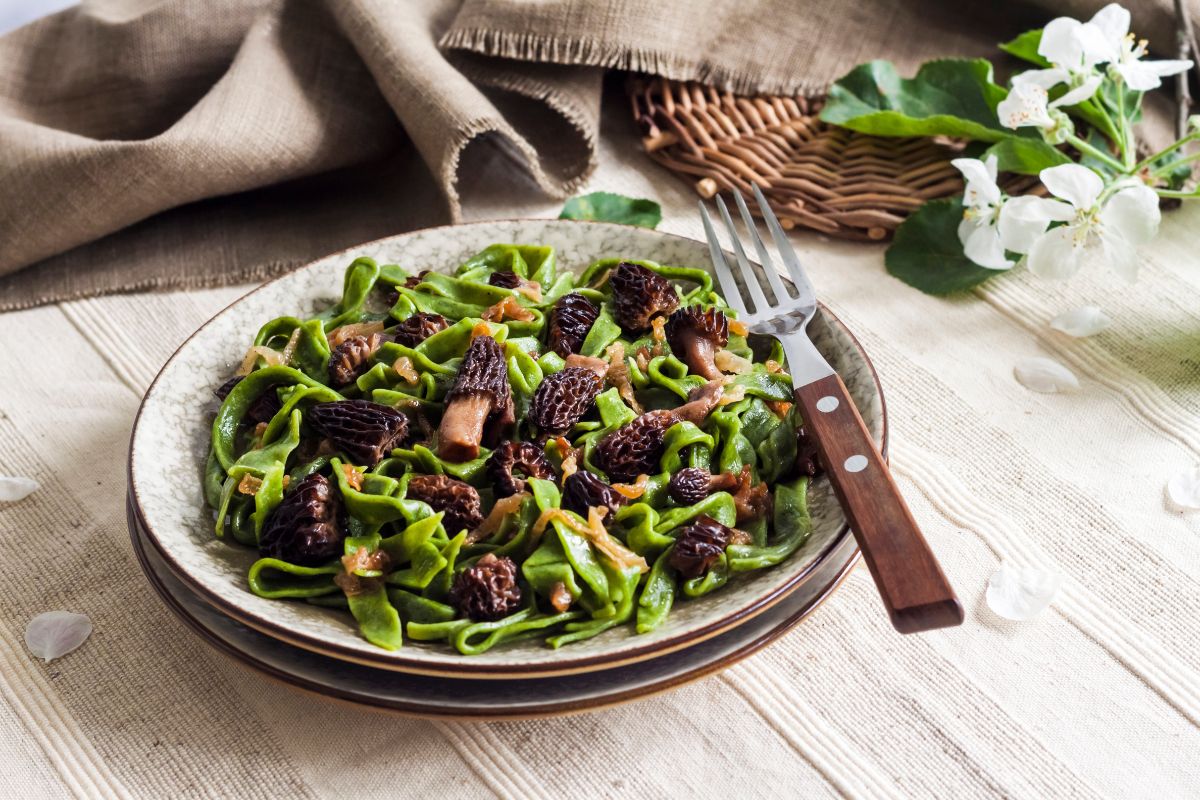 Morel Mushroom and Leek Quiche: Sauté morel mushrooms and thinly sliced leeks in butter, then combine with whisked eggs, heavy cream, and shredded Gruyère cheese. Pour the mixture into a prepared pie crust and bake until set and golden brown.
Morel Mushroom Soup: Sauté morel mushrooms, onions, and garlic in butter, then add vegetable or chicken broth, heavy cream, and a splash of white wine. Simmer the soup for 20-30 minutes, then purée it in a blender or with an immersion blender until smooth. Serve garnished with fresh herbs and a drizzle of truffle oil, if desired.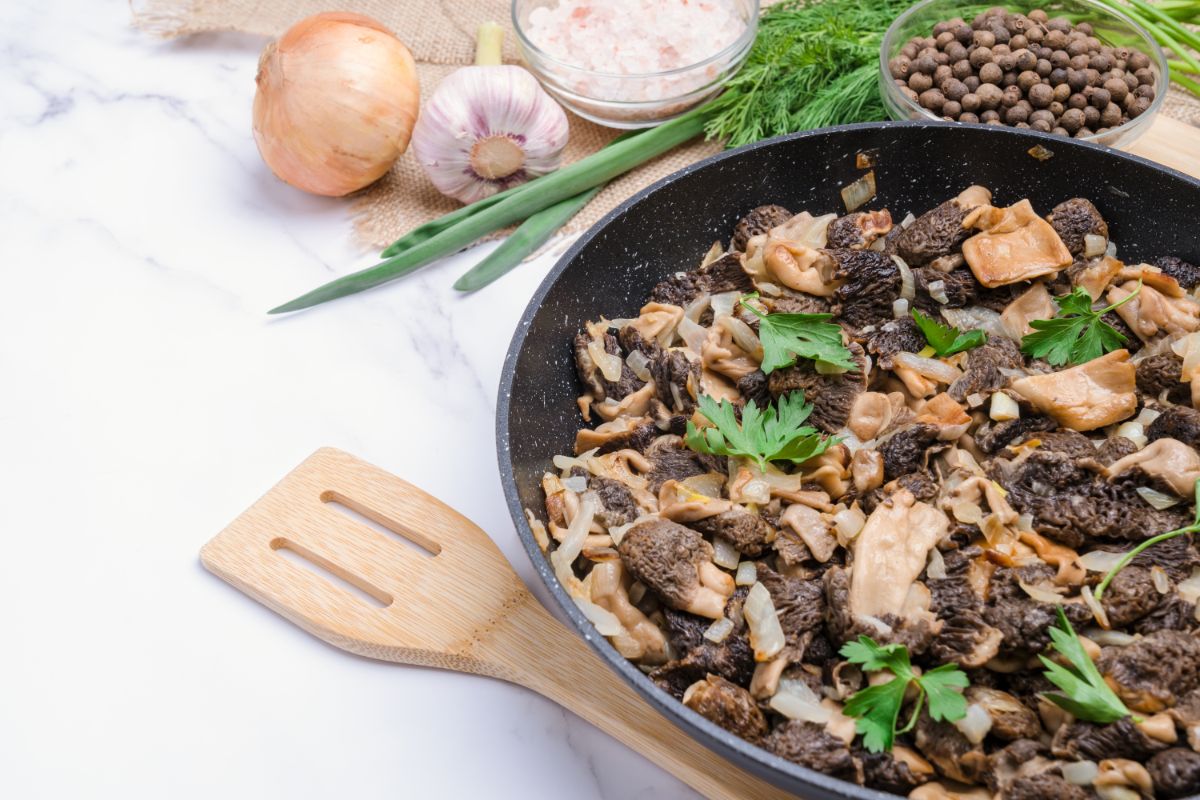 A few of our favorite morel mushroom recipes: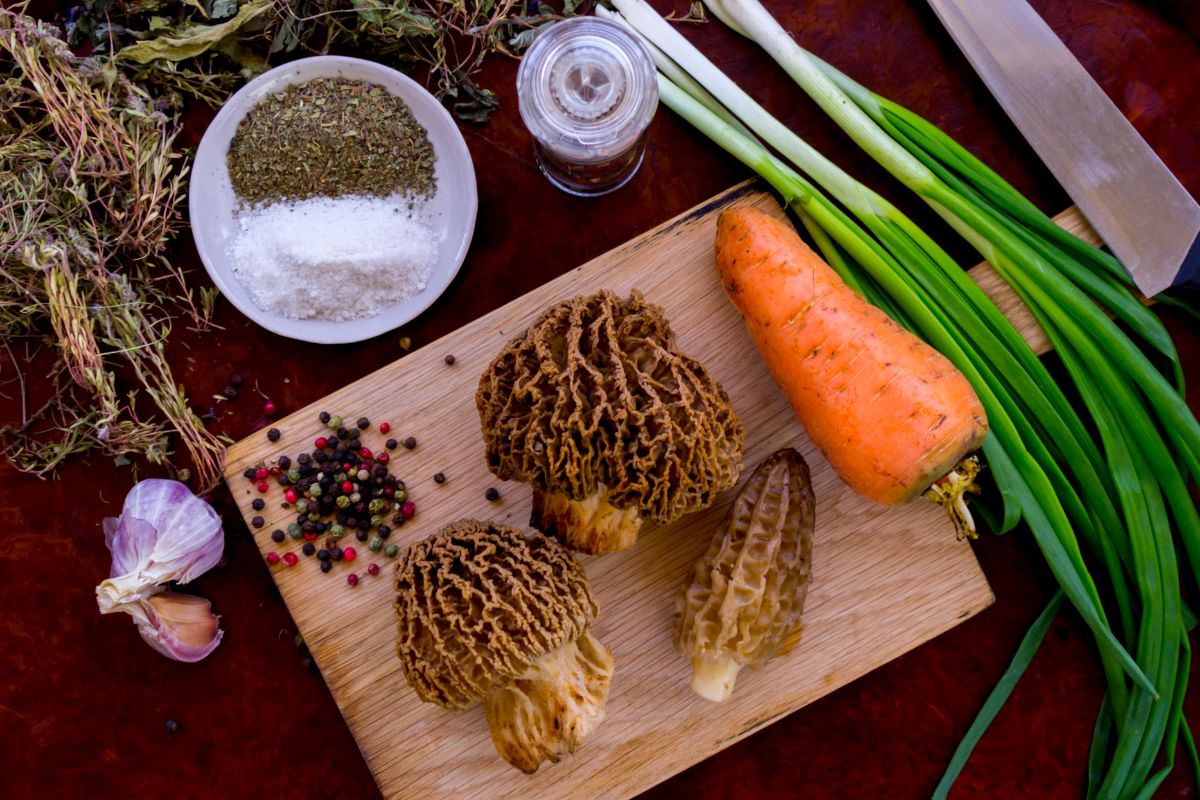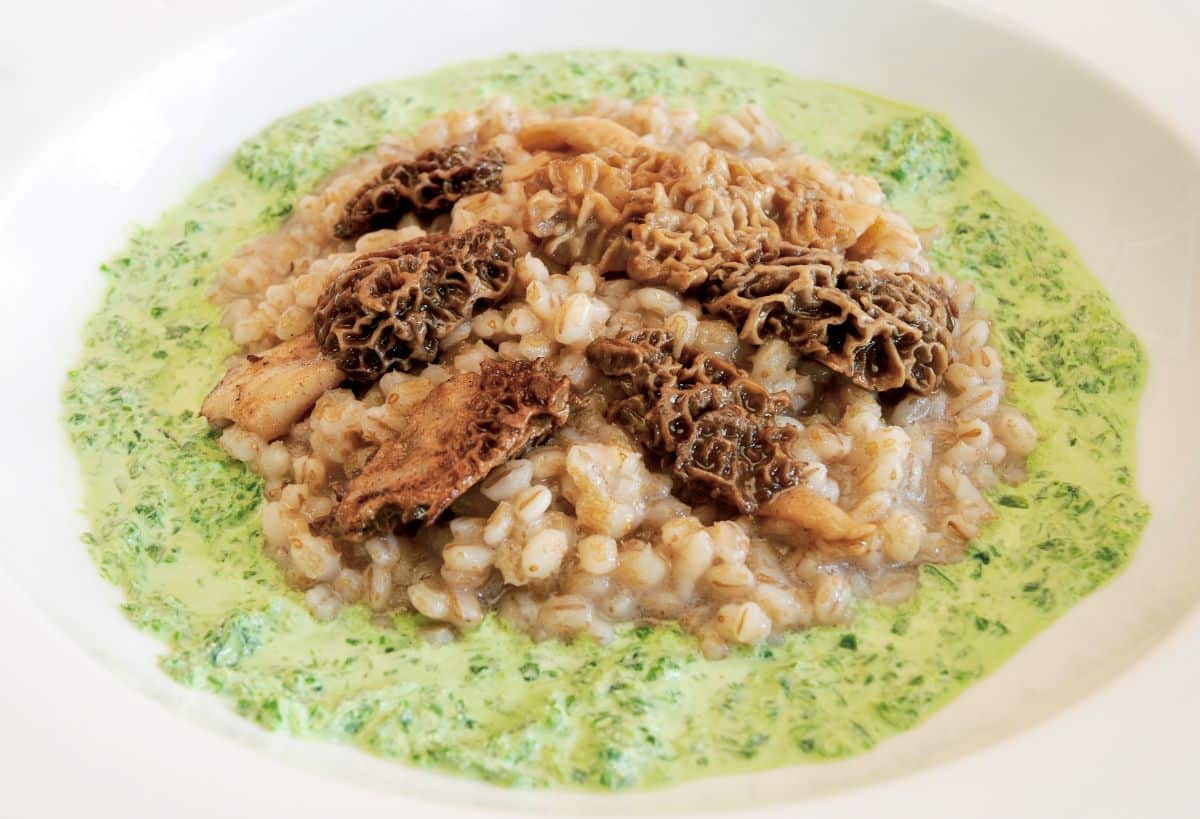 Tips and Tricks for Cooking Morel Mushrooms
When it comes to cooking morel mushrooms, there are a few tips and tricks that can help you get the best possible results:
Morel mushrooms have a high water content, so it's essential to cook them thoroughly to release their moisture and concentrate their flavor. This can take anywhere from 5-15 minutes, depending on the size of the mushrooms and the heat level. Dry saute the morels first until the water is released, then add the oil or butter to crisp them up.
Sautéing morel mushrooms in butter or a mixture of butter and oil is a popular method, as it helps to bring out their rich, earthy flavor. Be sure to cook them over medium heat to avoid burning them, and stir them frequently to ensure even cooking.
Seasoning with salt and pepper enhances their natural flavors. But they also pair well with other seasonings, such as garlic, thyme, rosemary, or sage.
Morel mushrooms pair well with various other ingredients, including asparagus, leeks, peas, onions, garlic, and spinach.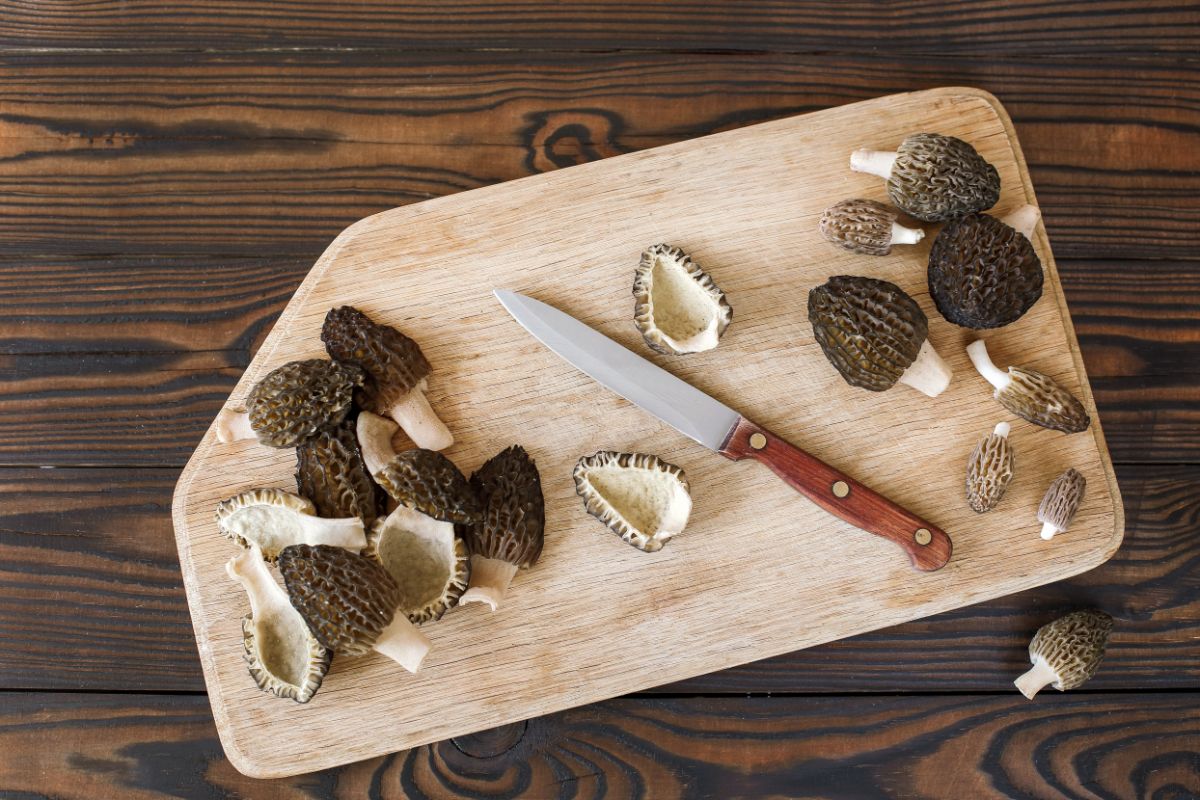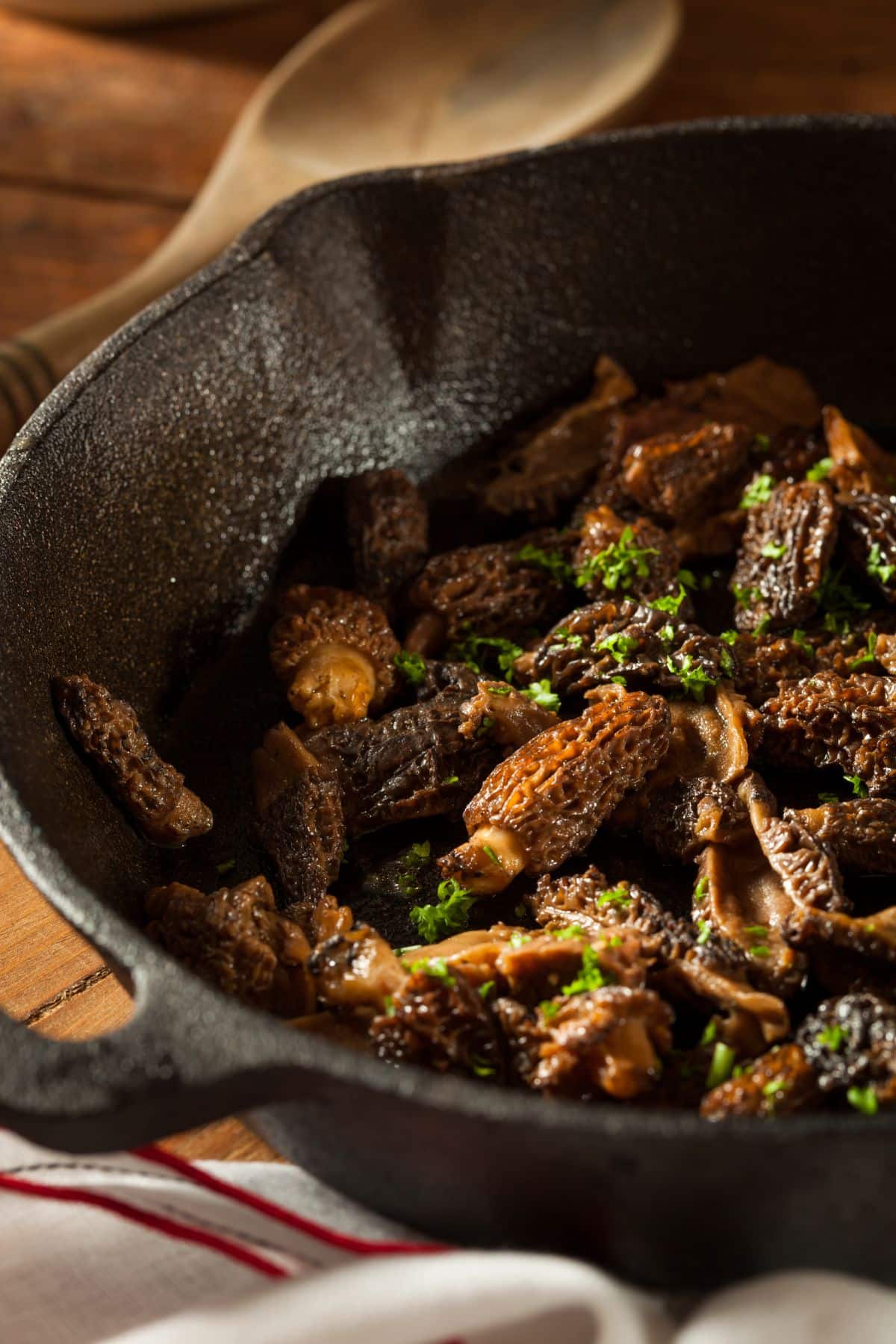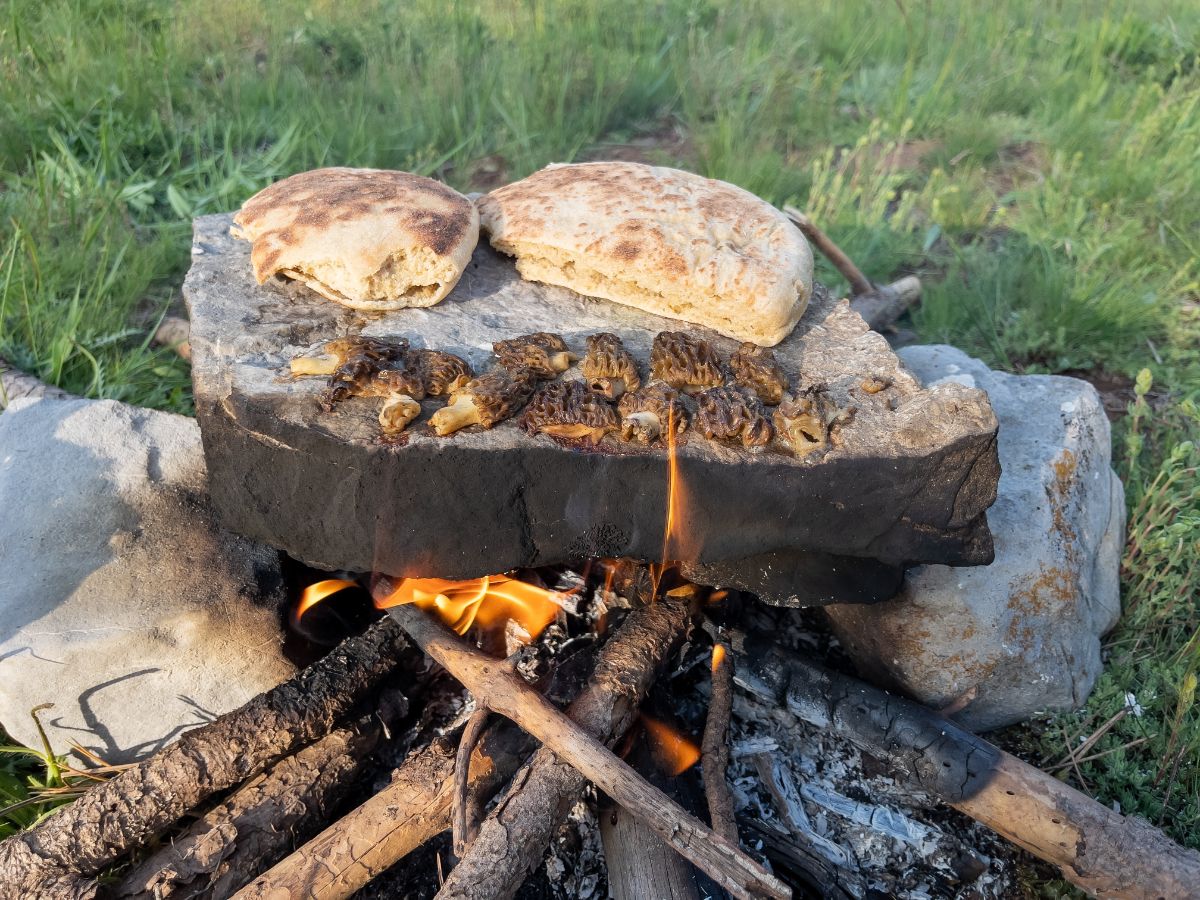 Common Questions About Harvesting And Cooking Morels
How do you store morels for a day?
For short term storage, but the morels in a paper bag or wrap them in a cotton dishtowel and store them in the fridge. They will stay good for at least a couple of days like this. They may dry out a little but when you cook them up, they'll be fine.
Do you have to soak morels overnight?
No, actually if you are using the soak method, it shouldn't be more than 15 minutes. The soaking is meant to kill and remove bugs from the mushrooms. 15 minutes of water soaking, especially if you've used salt, will take care of any bugs.
How do you know if morel has gone bad?
Discoloration and decaying usually start along the stem and just under the cap. The flesh will be squishy like rotten fruit and discolored. Brown discoloration along the stem is common and a sign that the morel is starting to decompose. If it is just a small area, it can be cut off. If the entire mushroom is affected, discard it.
Is it better to freeze or dehydrate morels?
It depends on how you plan to use them later. Both methods work great and which one you use depends on lot of whether you have space in your freezer or space for jars of dried mushrooms.
Frozen morels require more prep as it's nice to cook, or at least parboil, the mushrooms first. Then, all you have to do is take the bag from the freezer, defrost it, and dinner is halfway done. Dried morels last longer but need to be rehydrated and cooked before eating.
Do you leave the stems on morels?
The stem is edible and delicious and can be left on. Many commercial harvesters remove them because they trap dirt, bugs, and debris. Removing the stem makes cleaning easier later on. However, if you're not collecting a huge amount, it makes sense to leave the stem on since cleaning them probably won't be a big ordeal. Plus, by cutting off the stem you're discarding precious morel "meat."