King oyster mushrooms are very aptly named – they're the largest of the oyster mushrooms, plus they have a flavor profile and texture befitting a king. This royal mushroom doesn't grow naturally in North America, but it is easily cultivated and readily available so that anybody can grow it at home. The king oyster (Pleurotus eryngii) is truly one of the best edible mushrooms, made even better by its accessibility.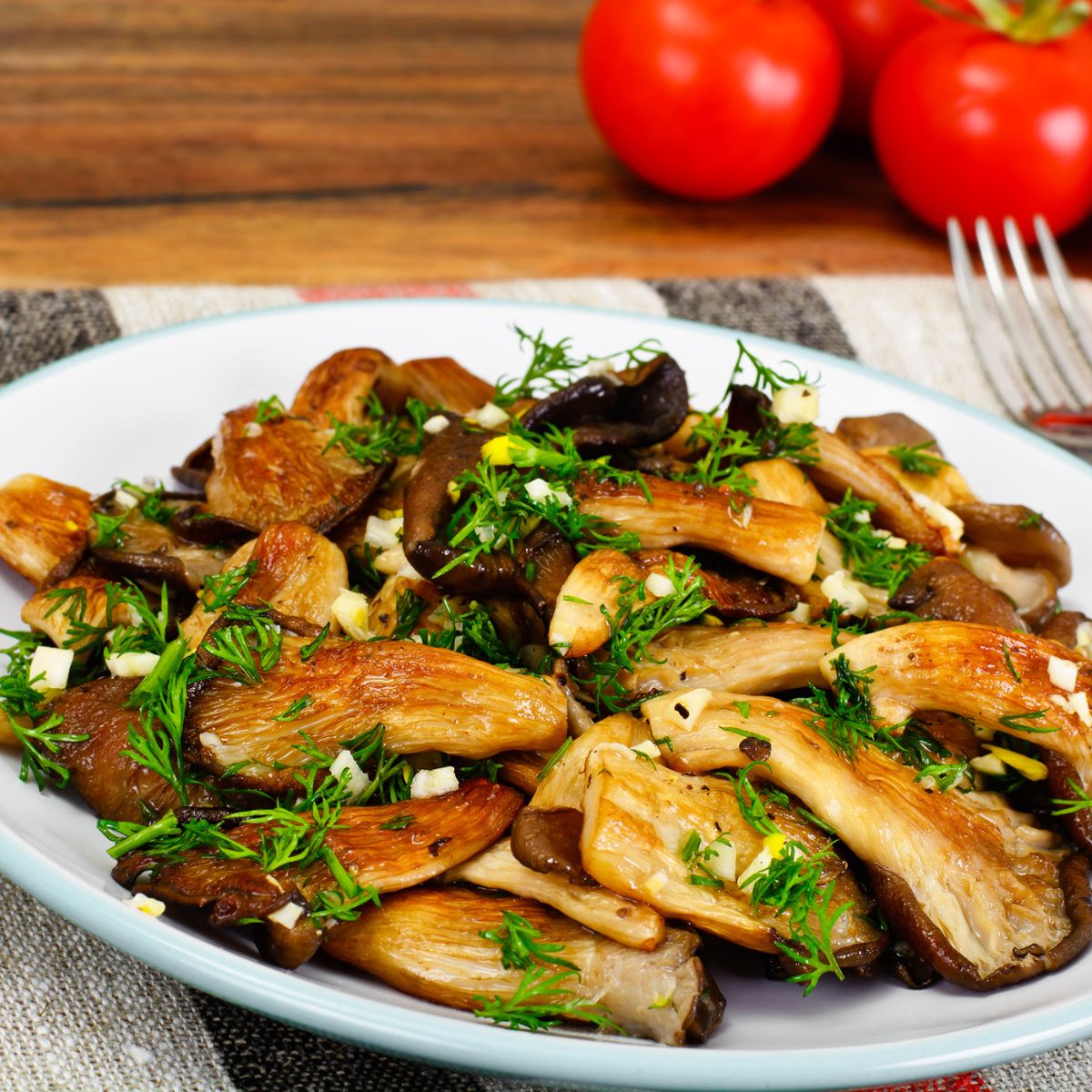 Jump to:
All About King Oyster Mushrooms
King oysters are also known as King Trumpet Mushrooms, Eryngi, Boletus of the Steppes (a misleading name since it isn't a bolete!), Kabul Dhingri, Trumpet Royale, and French Horn Mushroom. They are native to the Middle East, the Mediterranean, parts of Asia, and Europe.
In the wild, the king oyster grows on the roots of Sea Holly Plants (Eryngium sp.) and Ferula plant species. In this way, it is vastly different from its Pleurotus cousins, which grow on rotting wood. The other oyster mushrooms cause rot and feed off the decaying wood. King trumpets are weakly parasitic and grow on the roots of their preferred plant hosts. They are still saprotrophic, though, feeding off the decaying plant material.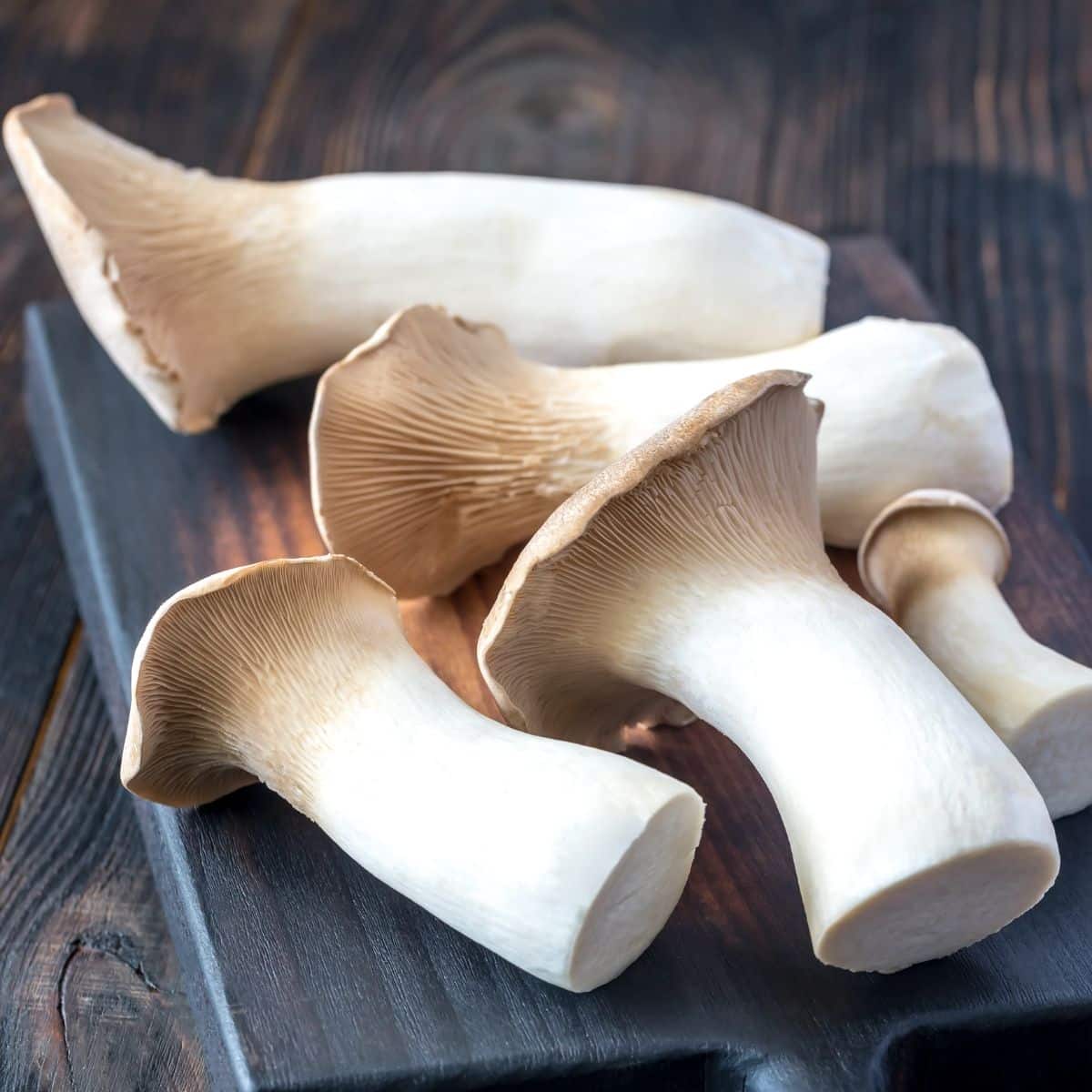 The scientific name Pleurotus eryngii refers to its propensity to grow on Eryngium plants. While we use one general scientific and common name (P. eryngii and King Oyster) to describe the mushroom, it is a species complex of many strains and types. P. eryngii is the umbrella name for the species.
While you can still find the king trumpet mushroom in its native habitat, it is more likely that you will find it in your local grocery store or Asian marketplace. The king trumpet has been cultivated on a large scale for only 20-30 years. Growers value them highly for their resistance to temperature and climate extremes – they'll grow in the desert, and they'll grow in a humid climate.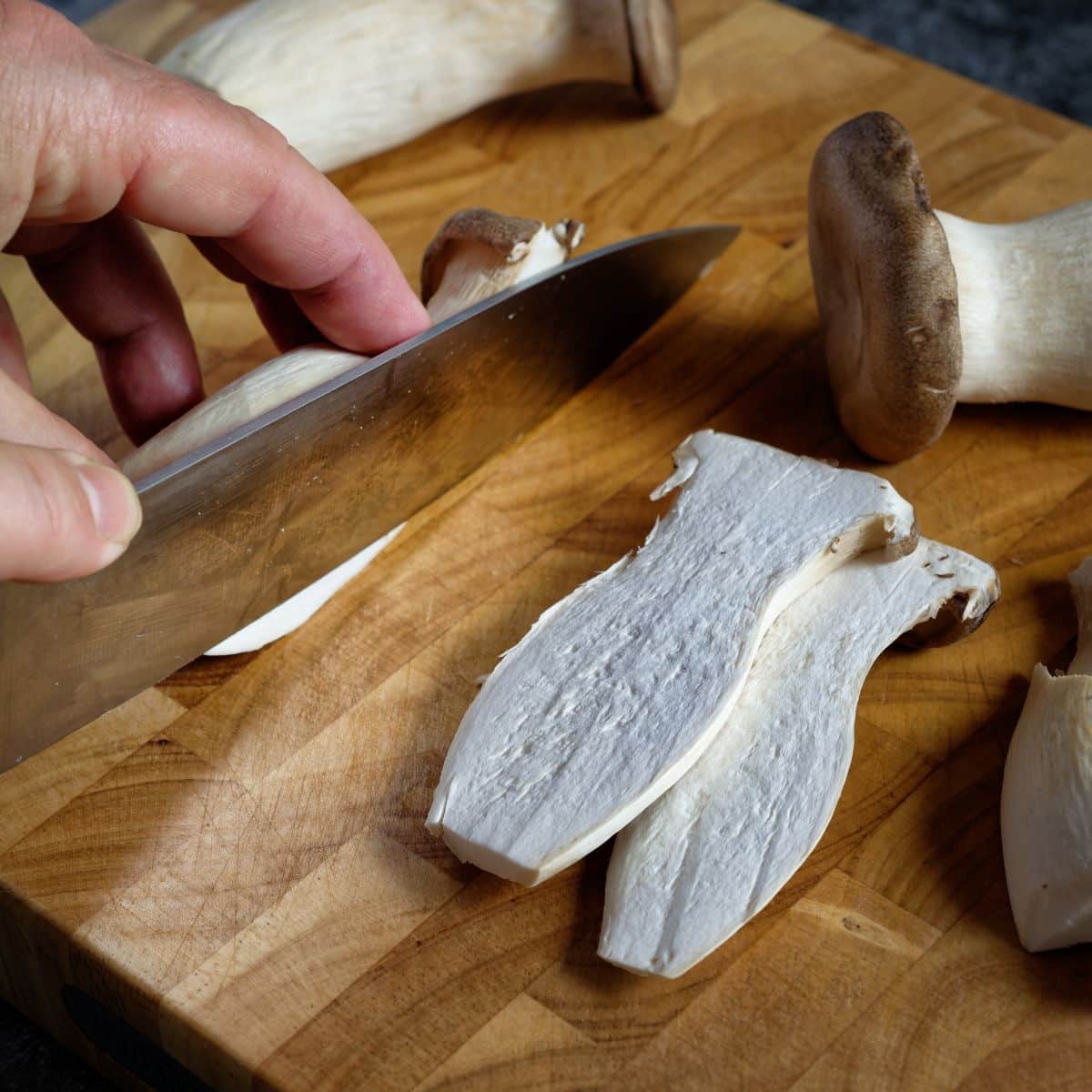 King trumpet mushrooms are grown on a vast scale in Asia, where they are an important ingredient in many recipes. North Americans are still waking up to the wonders of mushroom species other than buttons or portobellos. Oyster mushrooms, in general, are the second most common mushroom to find other than buttons. And, hopefully (soon!), more stores will begin carrying the extraordinary king trumpet mushroom.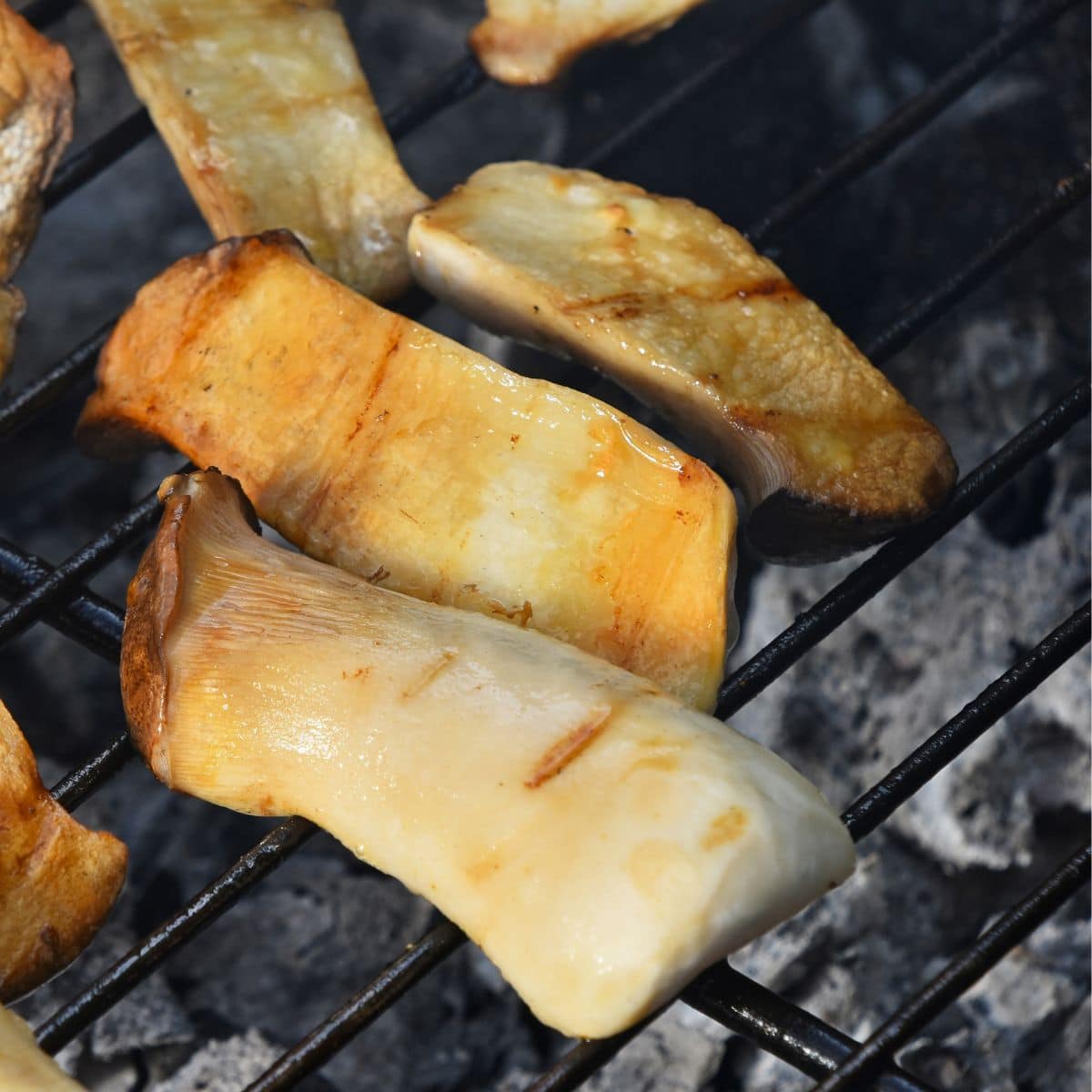 What Makes The King A King
Large overall size
Thick stem and cap
Low water content, which means dense, firm flesh
Long shelf life
Incredible umami "mushroomy" flavor profile, which adapts easily to recipes and cuisines
Grows easily and quickly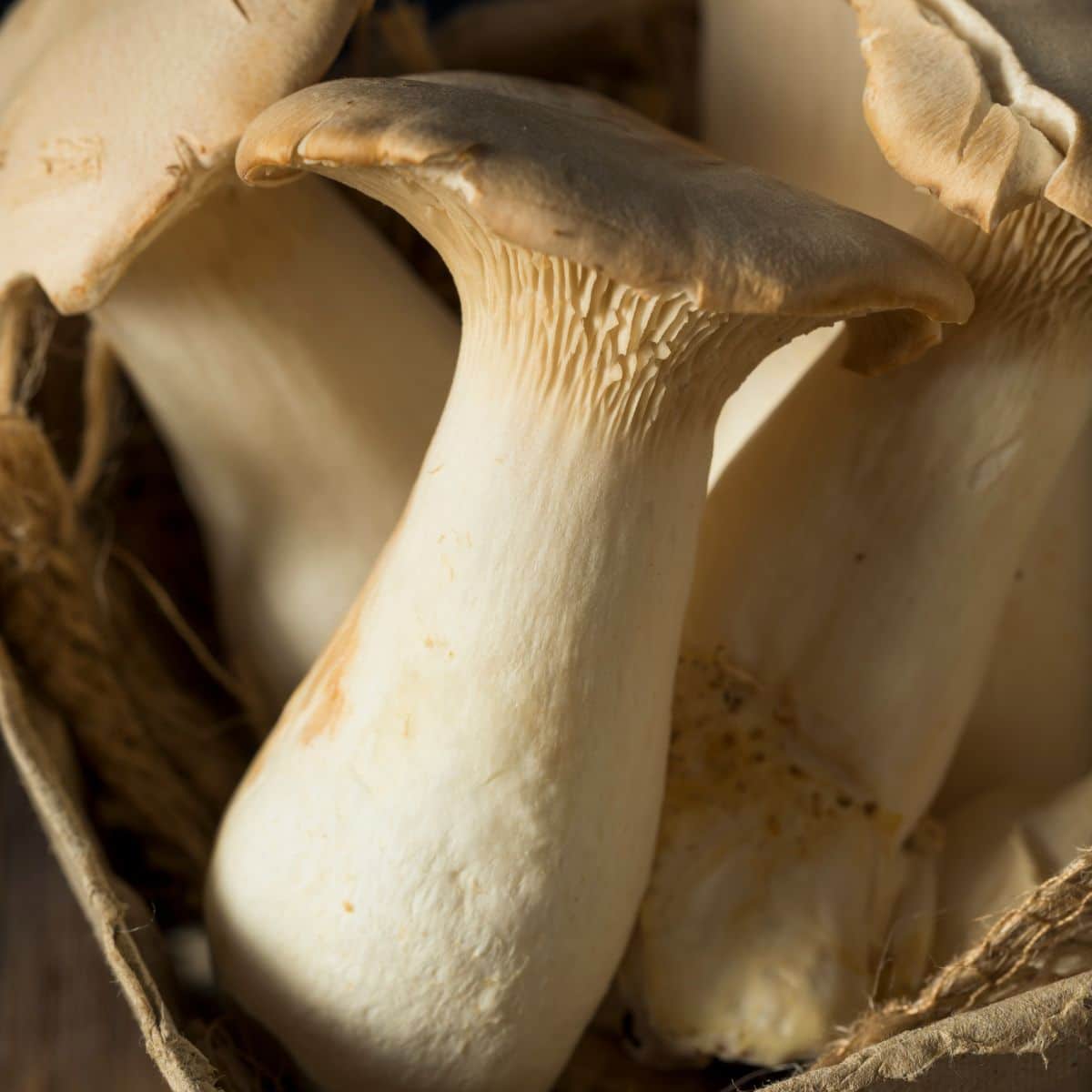 King Oyster Mushroom Varieties
There are many strains of king oysters, many of which are not officially recorded. The exact number of evolutions and divergences this single mushroom has experienced is widely unknown.
In general, there isn't a whole lot of difference in flavor or texture of these varieties. The differences in play are where they grow best (habitat) and what they grow better on (host – straw, plant material, wood chips, etc…).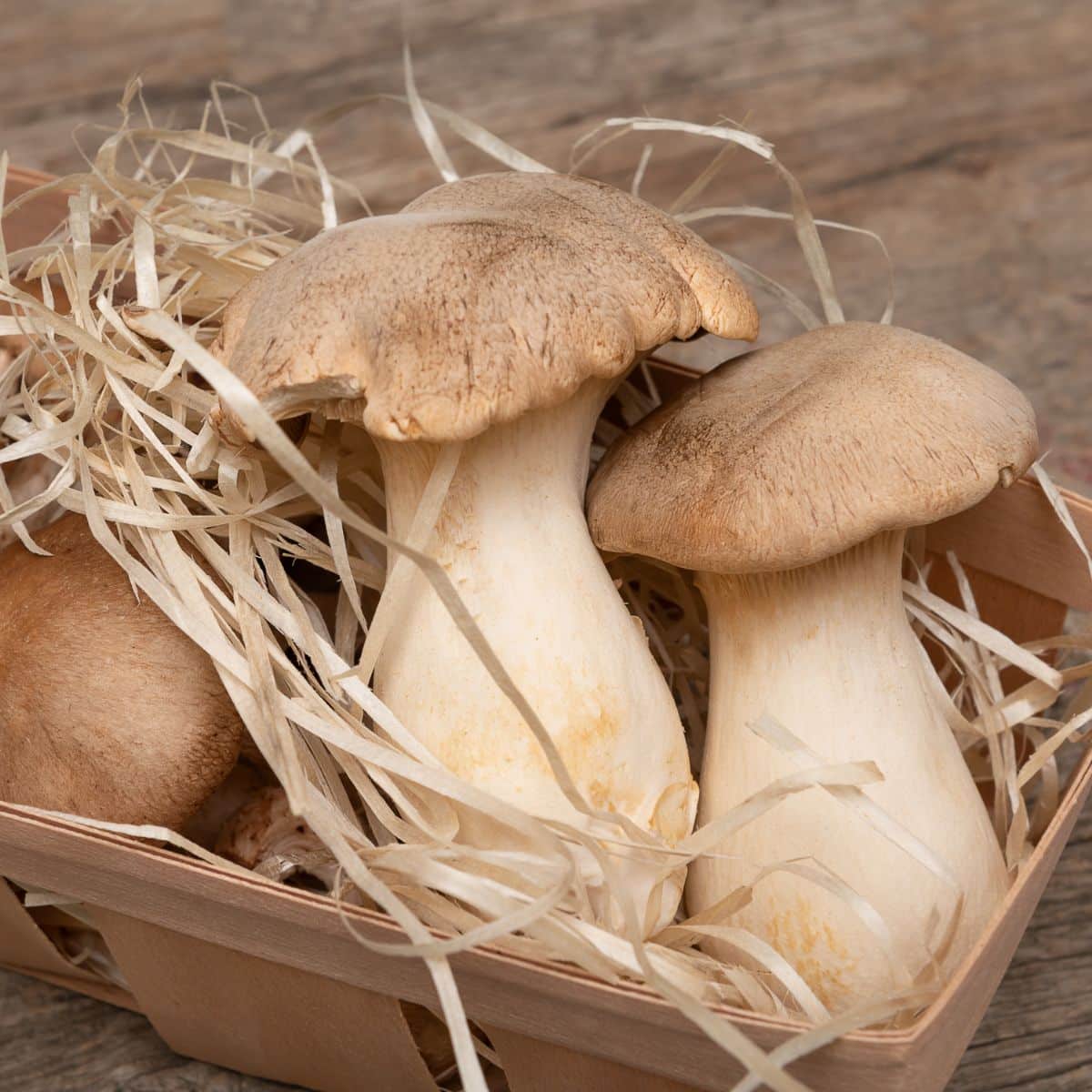 However, there are quite a few diverse varieties that are documented:
Pleurotus eryngii var. eryngii is the most commonly known and cultivated variety.
Pleurotus eryngii var. ferulae is grown almost exclusively in China. It is named after the species of plant it originally grew on, Ferula communis, or giant fennel. Commercially, it was developed to grow well in the Gobi Desert in the Xinjiang Autonomous Region of China.
Pleurotus eryngii var. tingitanus grows naturally on giant Tangier fennel, a perennial herb from the Mediterranean coast.
Pleurotus eryngii var. thapsiae is associated with the sinisterly named deadly carrot, Thapsia garganica (the name comes from the plant's ability to kill animals who eat it).
Pleurotus eryngii var. elaeoselini grows from Elaeoselinum asclepium.
The Easiest Way To Grow King Oyster Mushrooms
The fastest and easiest way to grow king trumpets is to get a boxed grow kit. In these kits, the growing medium is already inoculated. All you have to do is spritz with water, make sure there is enough humidity, and wait a few weeks.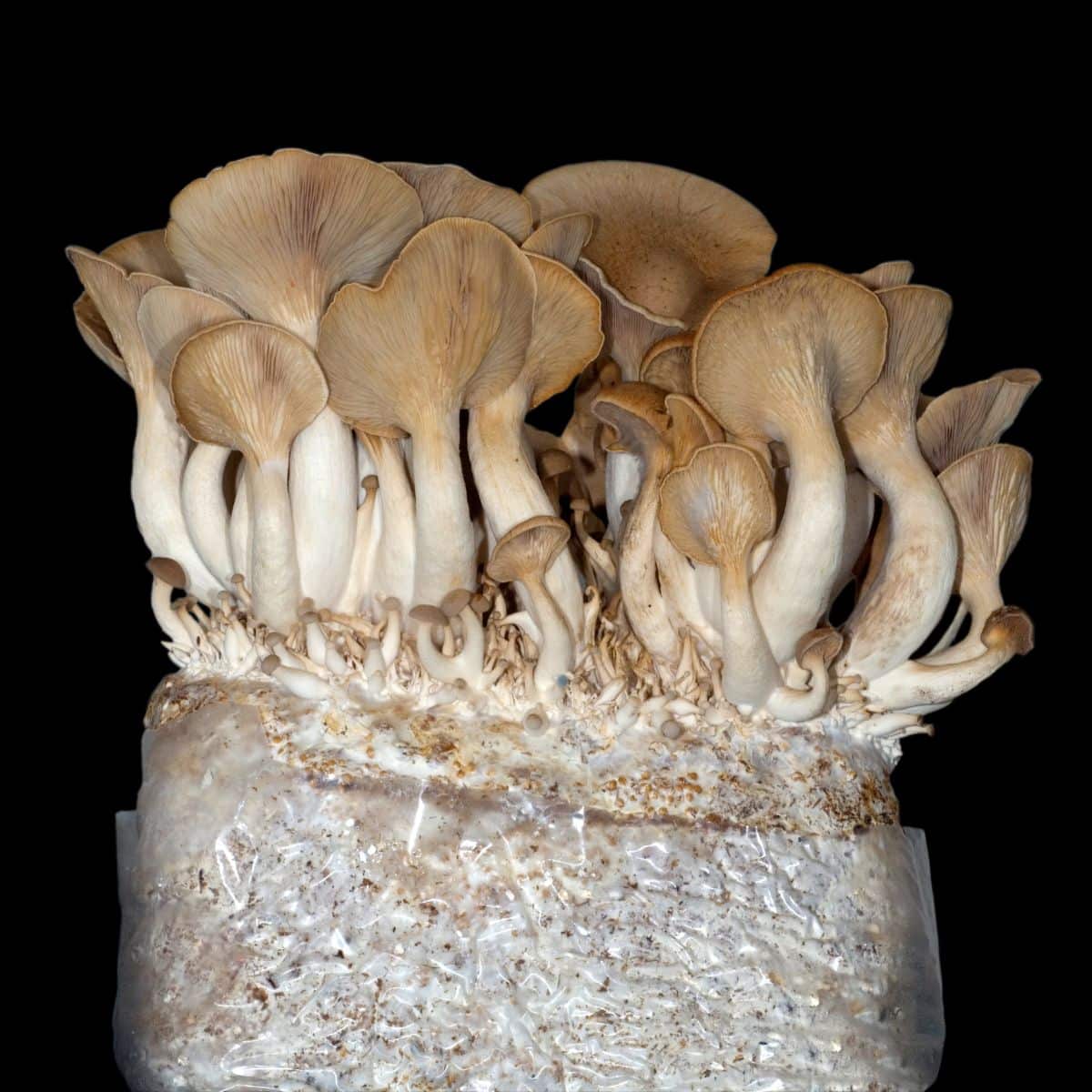 The Slightly More Challenging Way To Grow King Trumpets
These methods aren't too complicated since the king trumpet mushroom is a pretty easy grower. However, you do have to follow some steps and pay attention. These grow-at-home instructions require you to sterilize and inoculate a substrate, create a growing area/room, and do everything to get them to fruit.
Growing your own king trumpets using one of these methods is less expensive than a boxed kit, which is why many people are drawn to it. It also is more of a project and takes more work to set up. This is the best way to go if you intend to grow them many times. If you just want to grow the mushrooms to try them out, start with a box kit. Then, if you like them and want to continue growing them regularly, invest in one of these other options.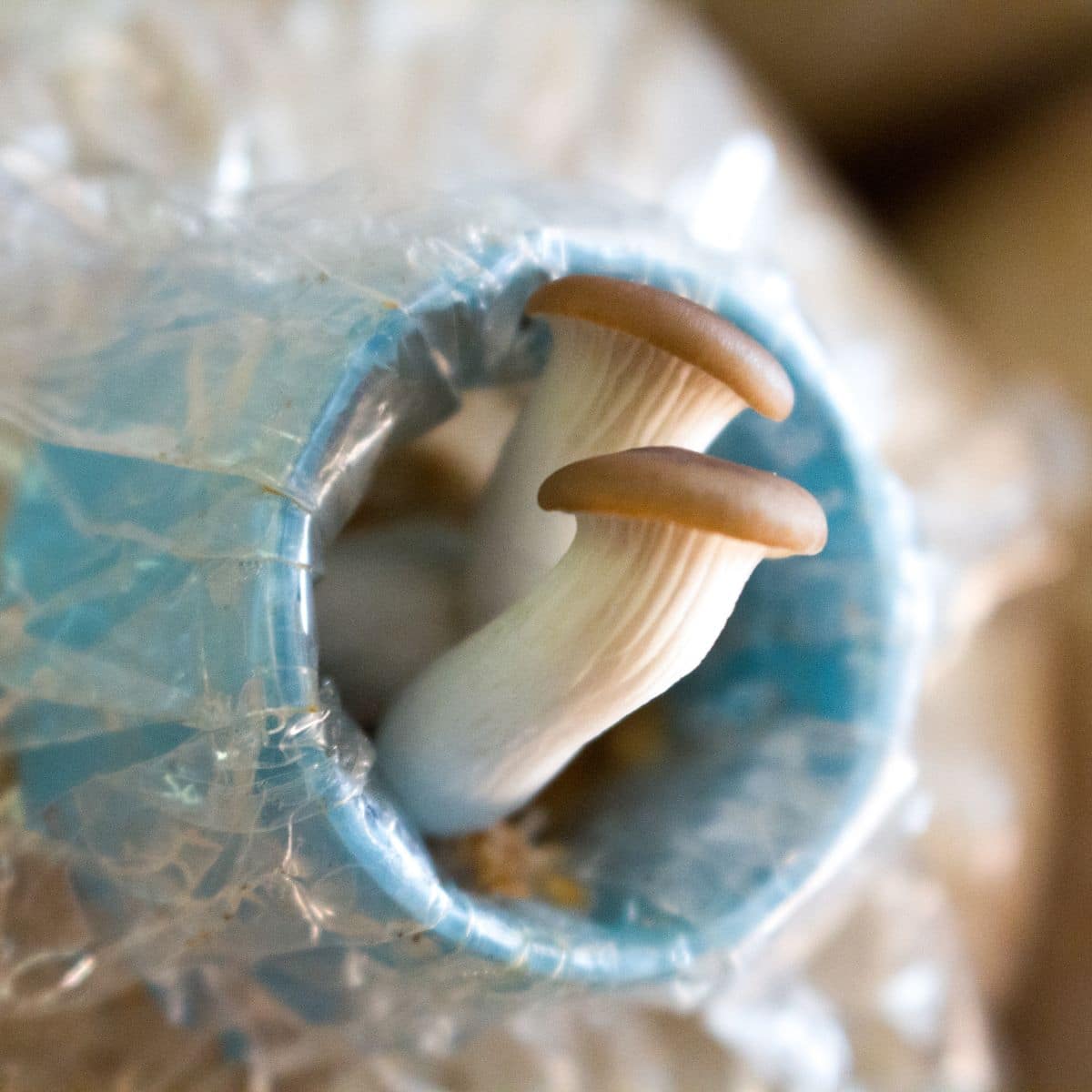 Potential Health Benefits of King Trumpet Mushrooms
In addition to being a great edible species, king trumpet mushrooms may also provide health benefits. Studies are still being done, but this mushroom shows promise with the following: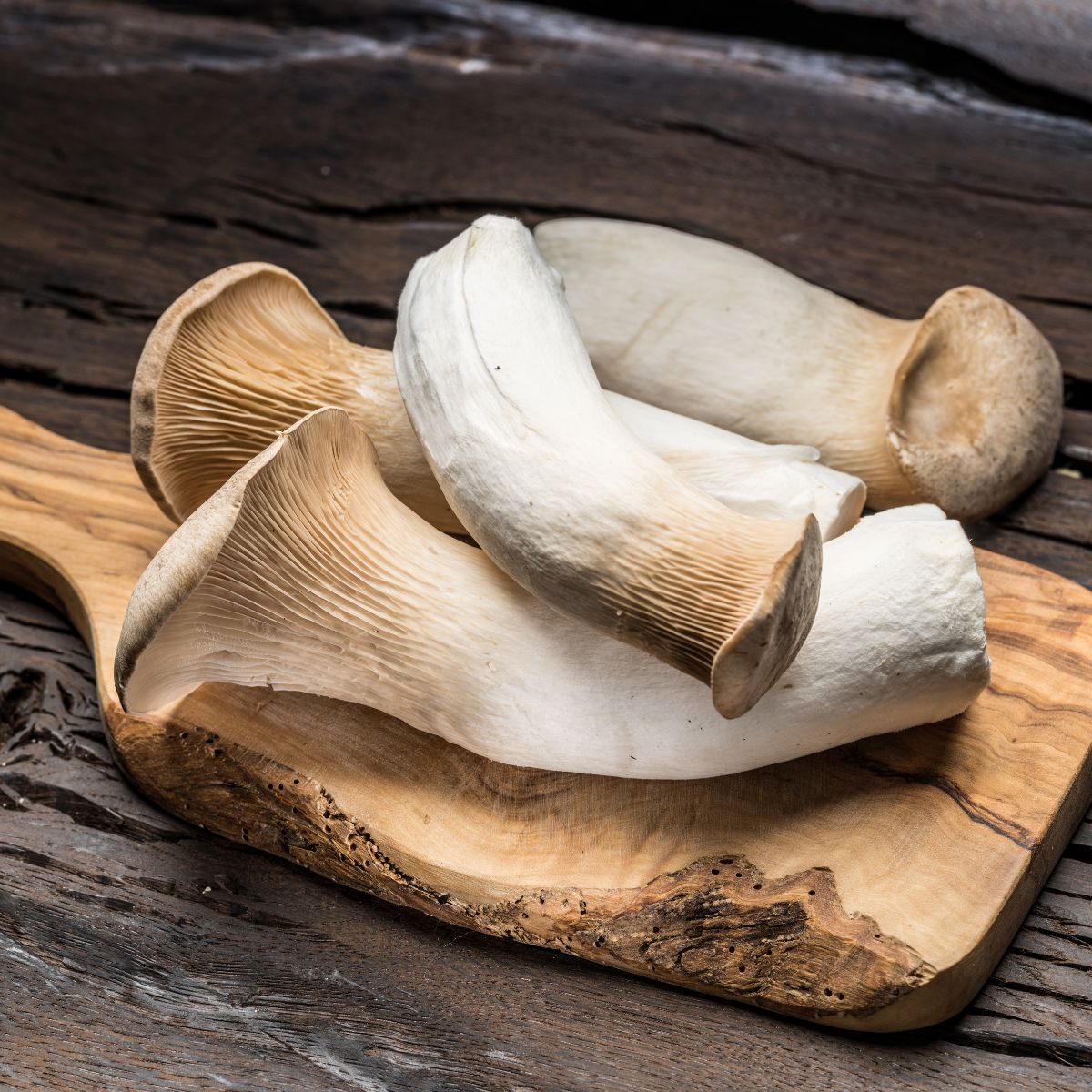 Guide to Cooking With King Oyster Mushrooms
The stalk of the king oyster mushroom is the best part. Unlike other mushrooms with woody or fibrous stalks that get discarded, the king oyster is grown for its stalk. The texture is similar or likened to scallops with a dense, meaty consistency that does not lose shape during cooking.
The flavor of king oysters is relatively mild until they're cooked. Most people describe them as bland when raw. Once heat breaks down the cell wall, though, a fantastic umami mushroom flavor is unleashed. It is one of those foods you must taste to understand and appreciate.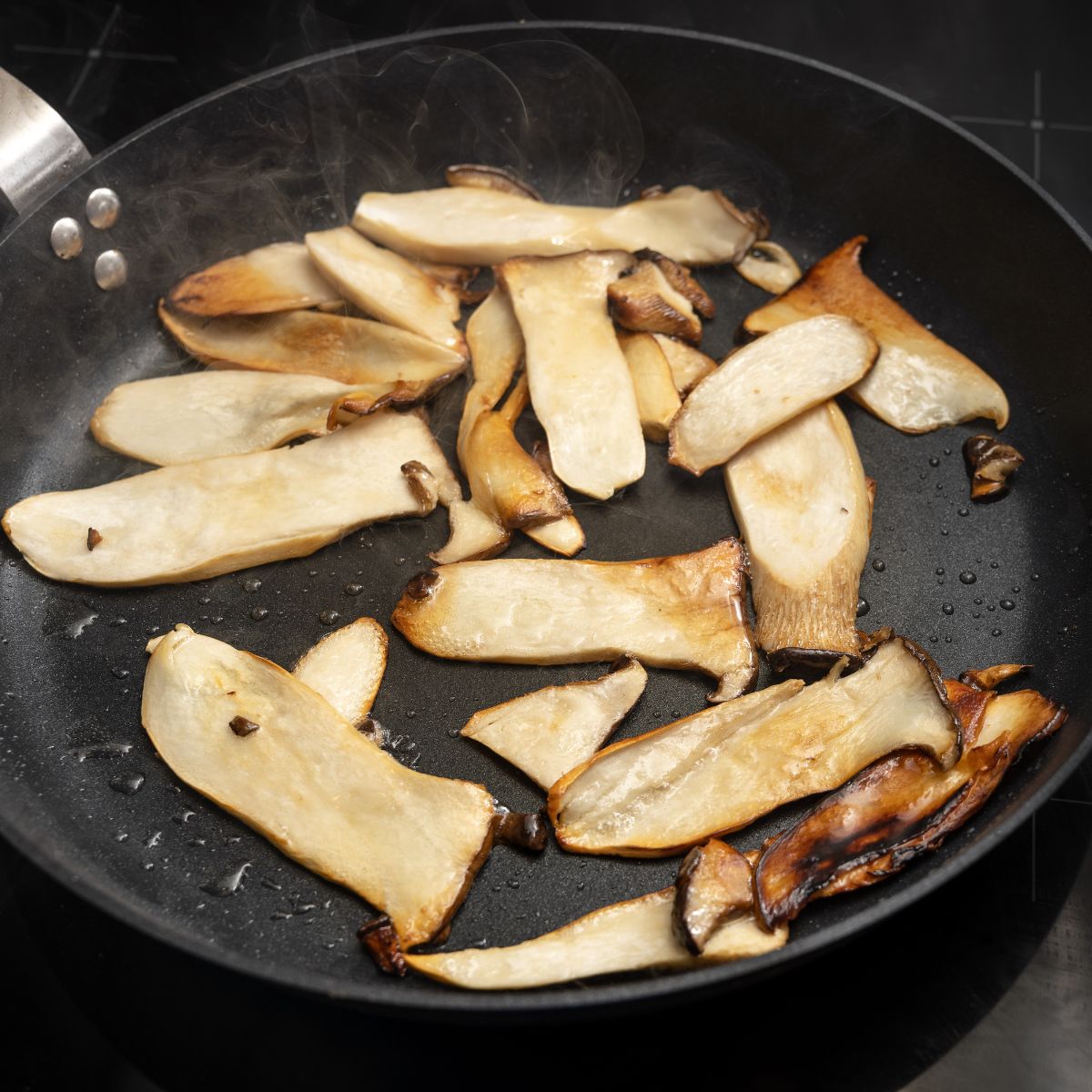 If you grow your king trumpet mushrooms, you'll get the freshest specimens possible. However, if you buy them at a market, you must pay attention to ensure you get good quality mushrooms. The king oyster is generally not cheap, so you want to choose well!
Look for mushrooms that are firm and free from blemishes. If your dish includes keeping the caps on, treat the oysters gently, as the cap is fragile.
Smaller mushrooms are reported to be stronger in flavor, but this only really matters if you intend to eat them raw (we always recommend cooking mushrooms!). But, once cooked, the mushroom's size doesn't matter. Cooking brings out the robust umami taste.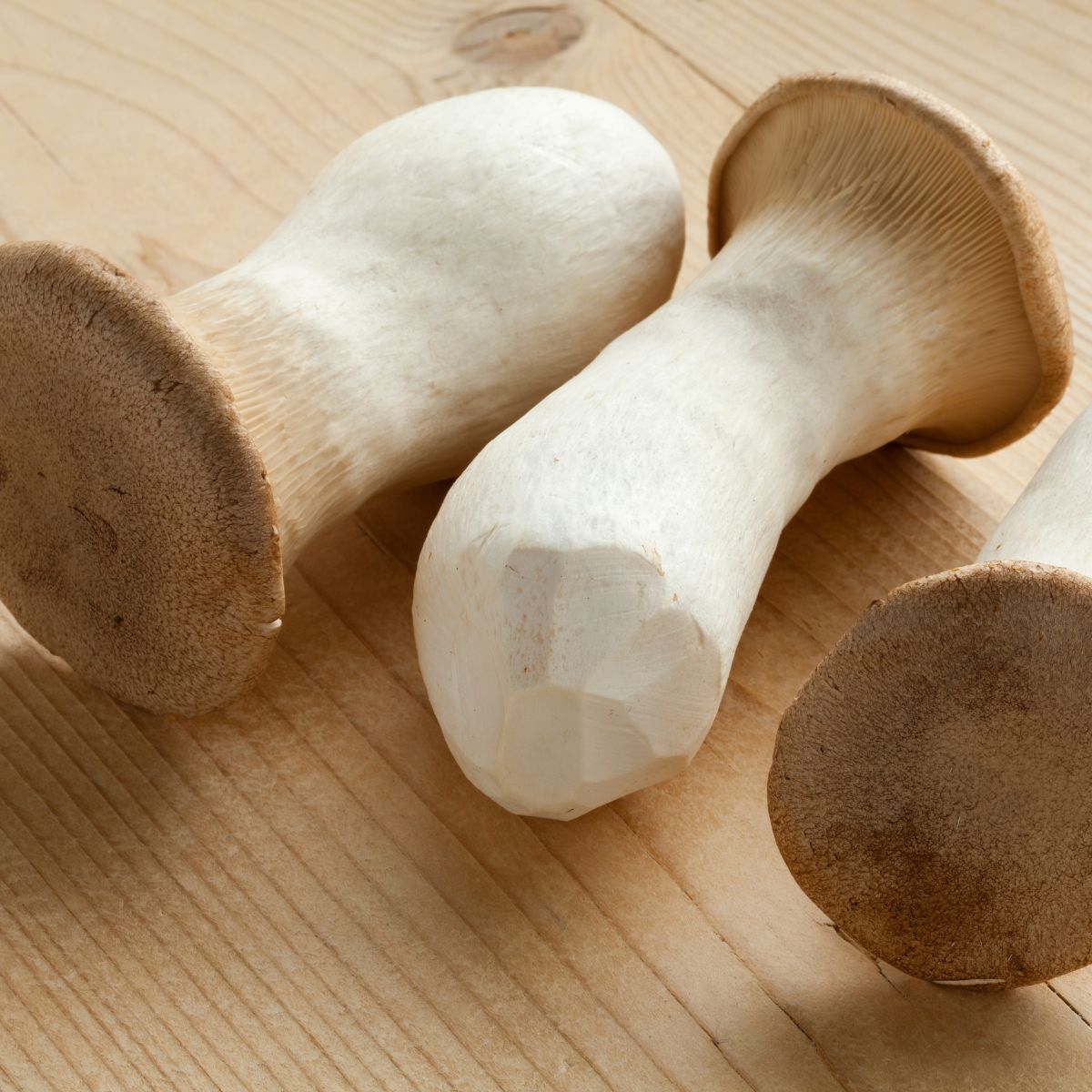 The dense meat-like texture of the king oyster makes it an impressive substitute for meat in vegetarian and vegan dishes.
King oysters are valued for their long shelf life, up to about one week in the fridge. This is unusual for many mushrooms. It also means that cultivation on a mass scale is possible (and profitable!) because the mushrooms can be shipped long distances.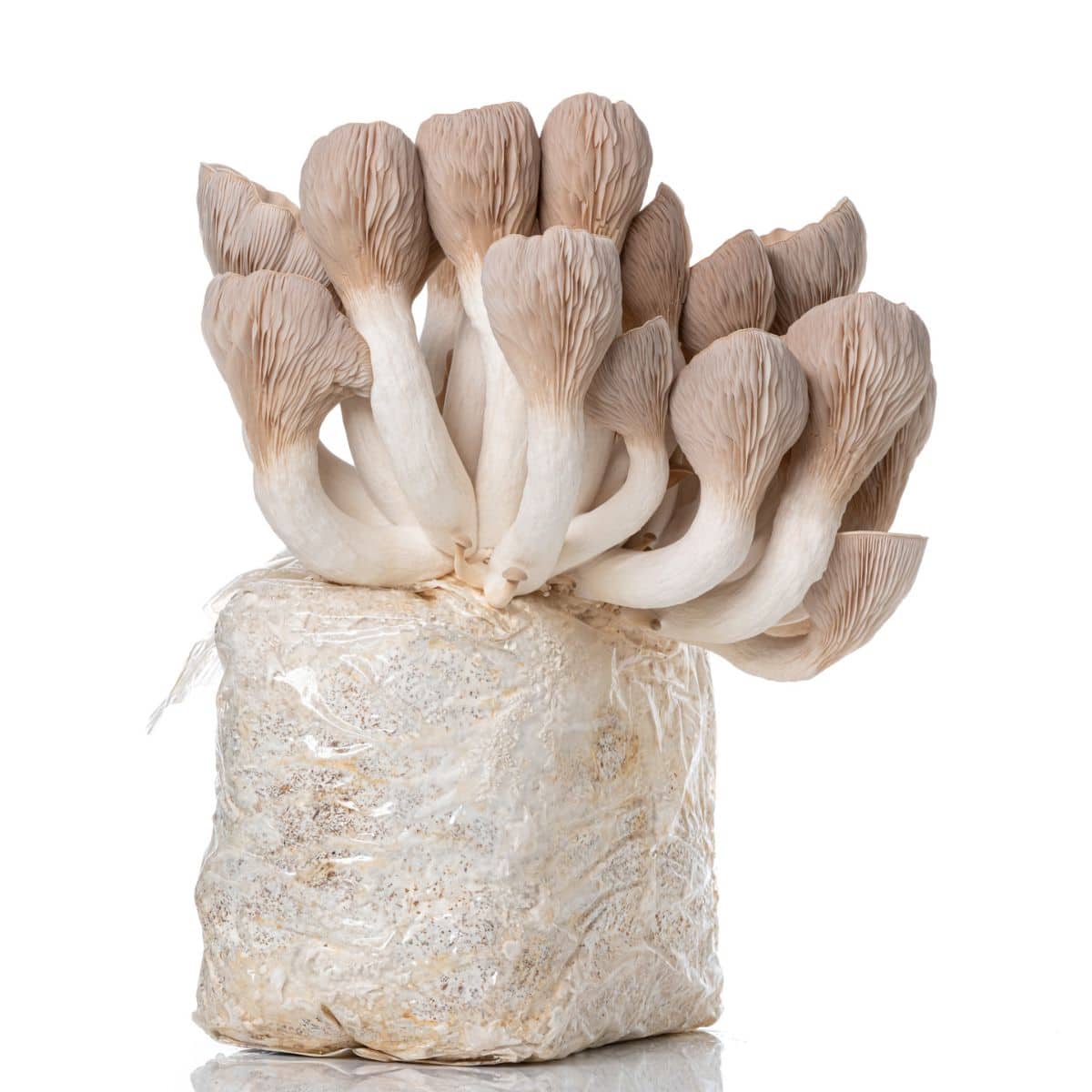 Incredible King Oyster Mushroom Recipes
The best applications for king oyster mushrooms are roasting, grilling, sauteing, frying, and baking. Simmering and braising also do wonders with this mushroom. Really, all methods of cooking turn this mushroom into a flavor-packed treat.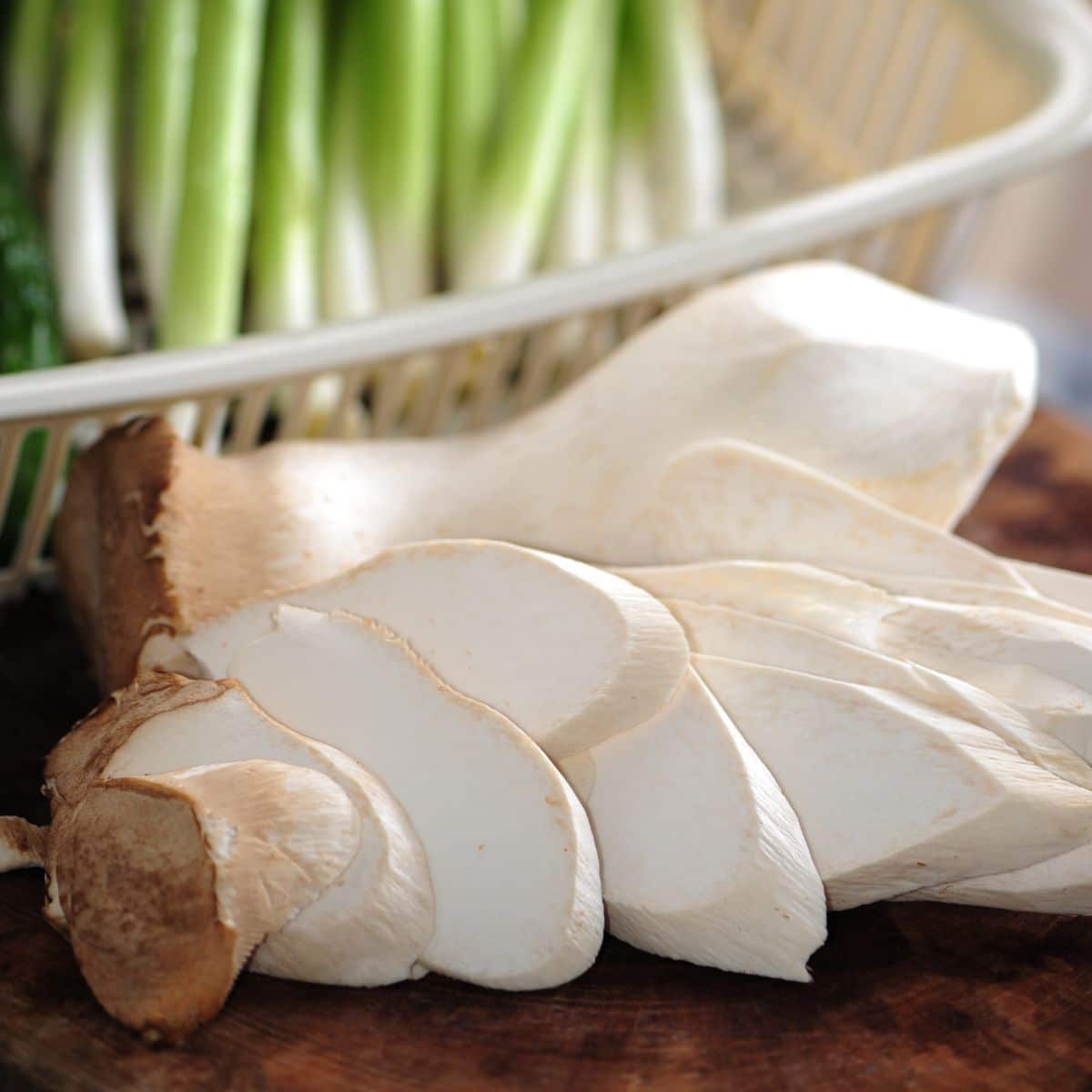 King Oyster Mushroom Common Questions
Can you eat the entire king oyster mushroom?
Yes, the entire mushroom is edible. Unlike buttons, shiitakes, and other mushrooms which have tougher stems, this mushroom is valued for its stem.
What is the difference between an oyster mushroom and a king oyster mushroom?
Oyster mushrooms (Pleurotus ostreatus) have fan-shaped caps and short or nonexistent stems. They grow in clusters and range in color from white to tan to brown. The (cultivated) King oyster (Pleurotus eryngii) are much larger, with long dense stems and small caps
Can you eat king trumpet mushrooms raw?
Yes, you can. Like button mushrooms, they are safe to eat raw. However, we always recommend cooking them for 2 reasons. Mushrooms may get contaminated during production or shipping (rare, but not unheard of, also not an issue if you grow your own or know your seller), and with this particular species, they taste 1000% better cooked.