Hygrophorus Milky (Lactifluus hygrophoroides) is an edible mushroom in the milky cap tribe that grows widely east of the Rocky Mountains. It is an excellent mushroom for beginner foragers as several key features set it apart from potential lookalikes. The Hygrophorus milky cap mushroom isn't widely foraged in North America simply because people tend to overlook it for more choice species. While this milky cap isn't a top culinary gem, it is still an excellent edible species with many culinary applications.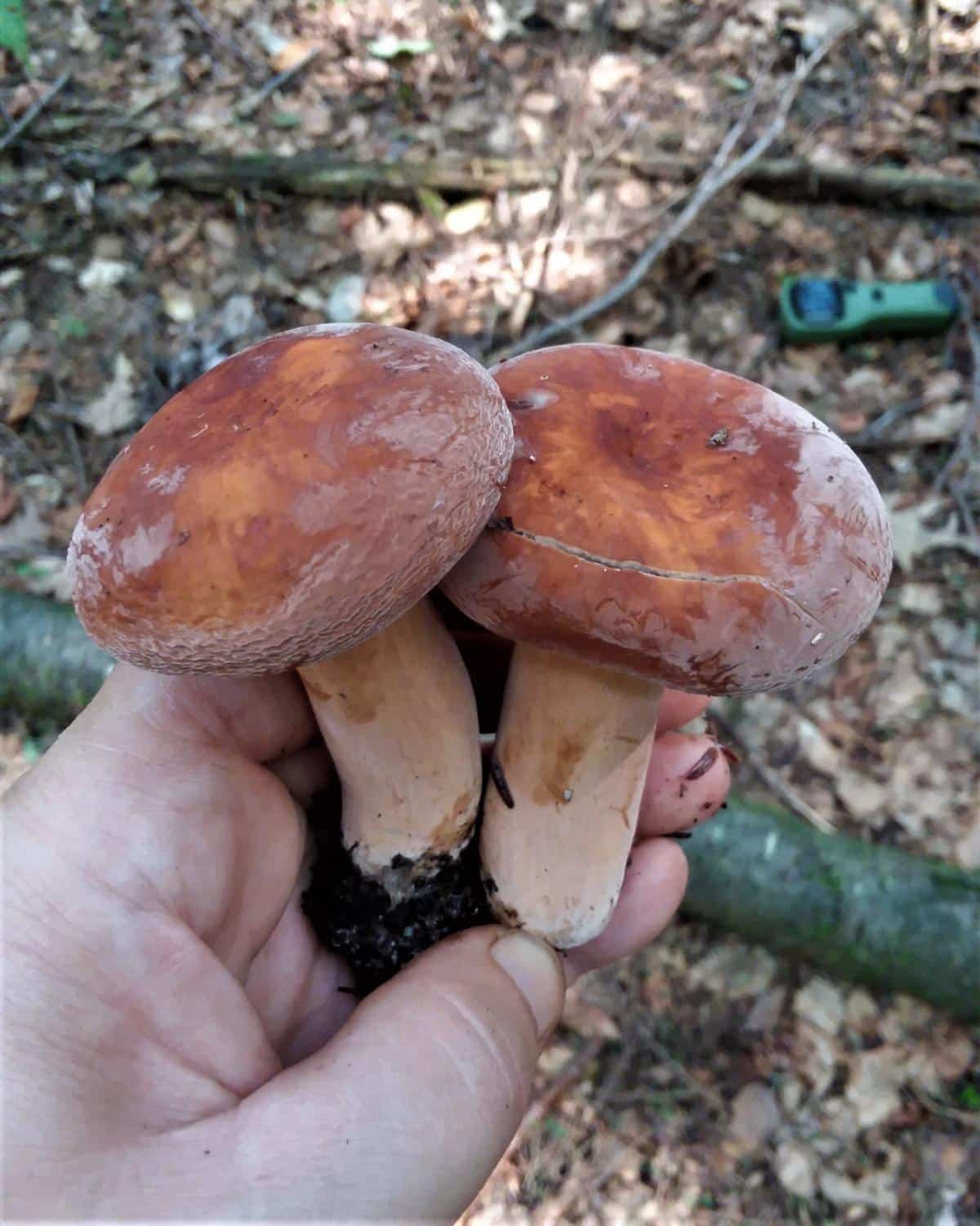 Jump to:
All About Hygrophorus Milky Cap Mushrooms
Lactifluus hygrophoroides, initially classified under the genus Lactarius, was first described by mycologists Berkeley and Curtis in 1859. In 2011, a study by Le, Stubbe, Verbeken, and Nuytinck resulted in a reclassification of the species from the genus Lactarius to Lactifluus.
This mushroom has been a popular edible species for centuries, particularly in Eastern Europe and North America. It is considered a culinary delicacy in some cultures, often featured in traditional recipes and dishes.
Hygrophorus milky cap is predominantly found in North America, Europe, and Asia. In North America, this species is found in the eastern United States, from the Great Lakes region down to the Gulf Coast and from the Atlantic Coast to eastern Texas.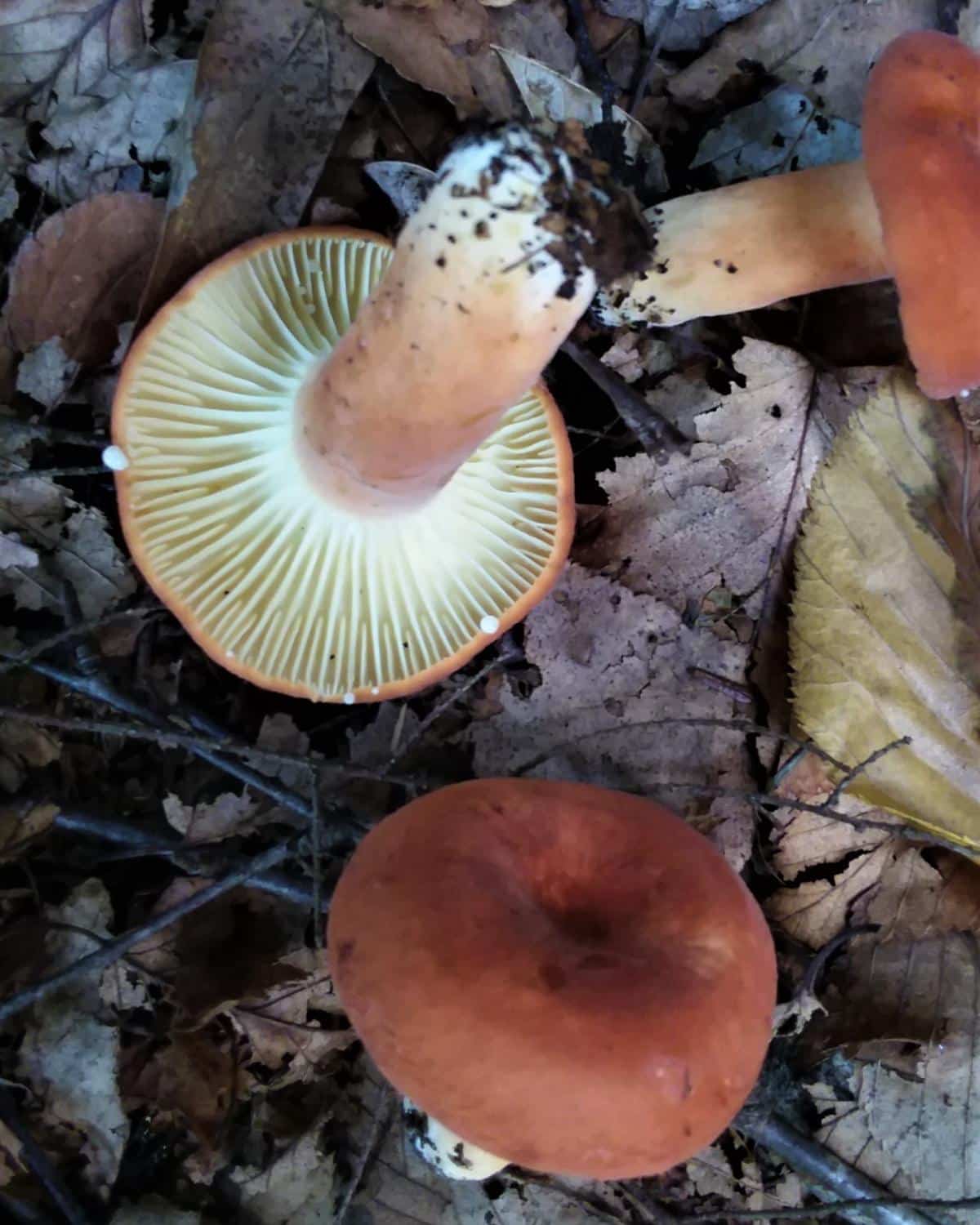 Hygrophorus Milky Cap Identification
Season
These mushrooms typically appear from late summer to early autumn.
Habitat
These milky caps prefer to grow in mixed and deciduous forests, forming mycorrhizal relationships with oaks and possibly beeches or other hardwoods. They are typically found in moist, well-drained soil, often near the base of trees or in areas with abundant leaf litter. Don't be surprised to find them in your yard or in populated areas. As long as their favorite tree is there, they'll grow happily.
Hygrophorus milky caps grow singularly on the forest floor. They do not grow on trees or from wood. The mushrooms often grow in small groups or scattered, sometimes forming fairy rings.
These mushrooms appear east of the Rocky Mountains in great numbers during their fruiting season.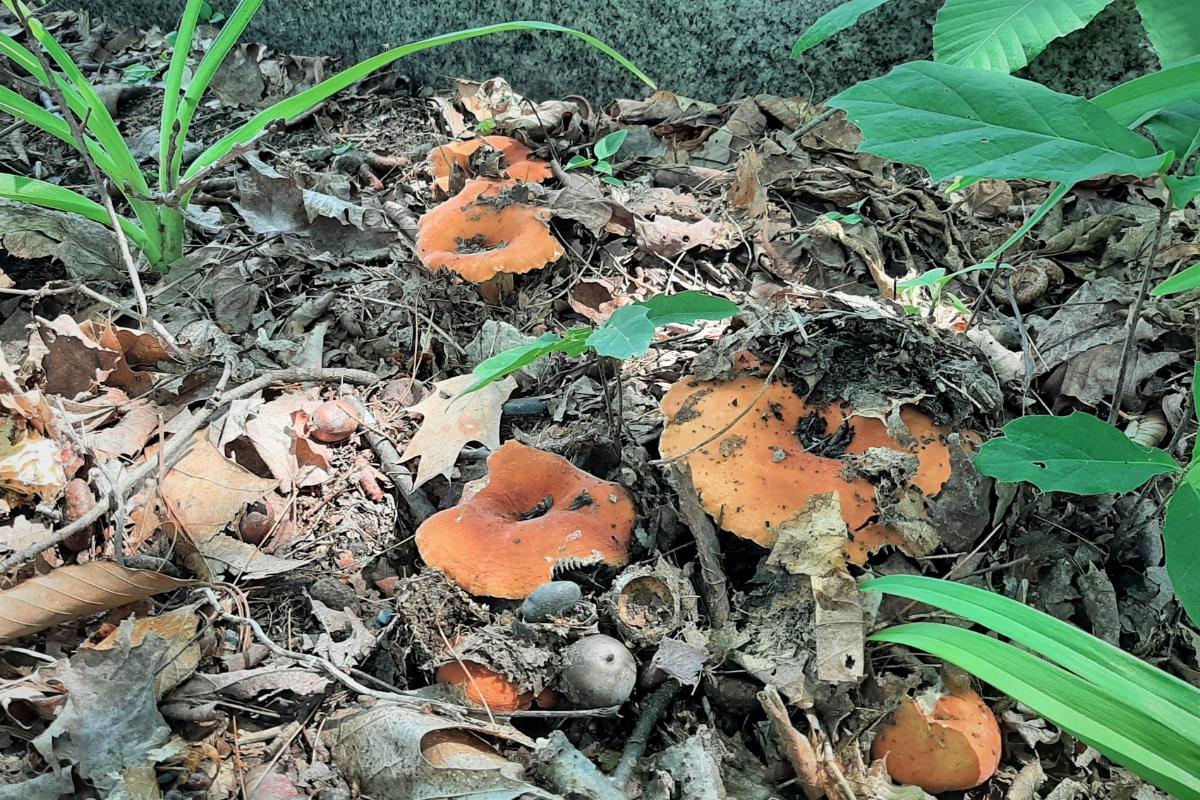 Identification
Cap
The cap of Hygrophorus milky cap is typically 2-6 inches in diameter and varies in color from dull pale orange to reddish-brown or cinnamon orange. It is convex when young, becoming flatter or slightly depressed in the center as it matures. The cap surface is smooth and velvety to the touch, often with faint concentric zones of different shades. The top of the cap is often dusted with a whitish bloom, which adds to its velvety texture.
When young, the Hygrophorus milky looks like a button mushroom with its edges rolled under. With maturity, though, the upturned cap resembles a broad funnel or vase.
Gills
The gills of the hygroporus milky are white to cream-colored. They are broadly attached to the stem and can be slightly decurrent (extending down the stem). The gill spacing is relatively broad but will become more crowded as the mushroom matures.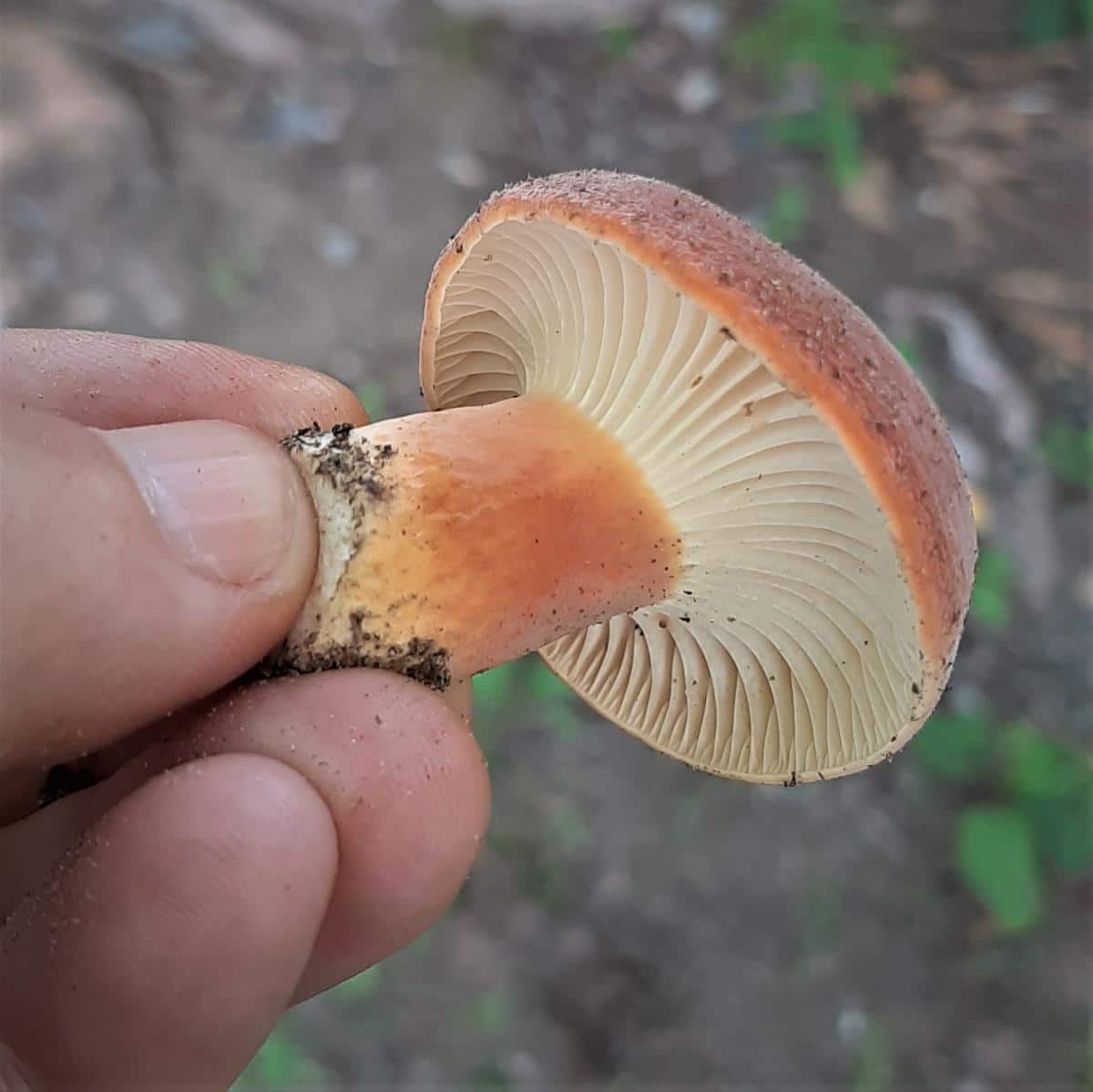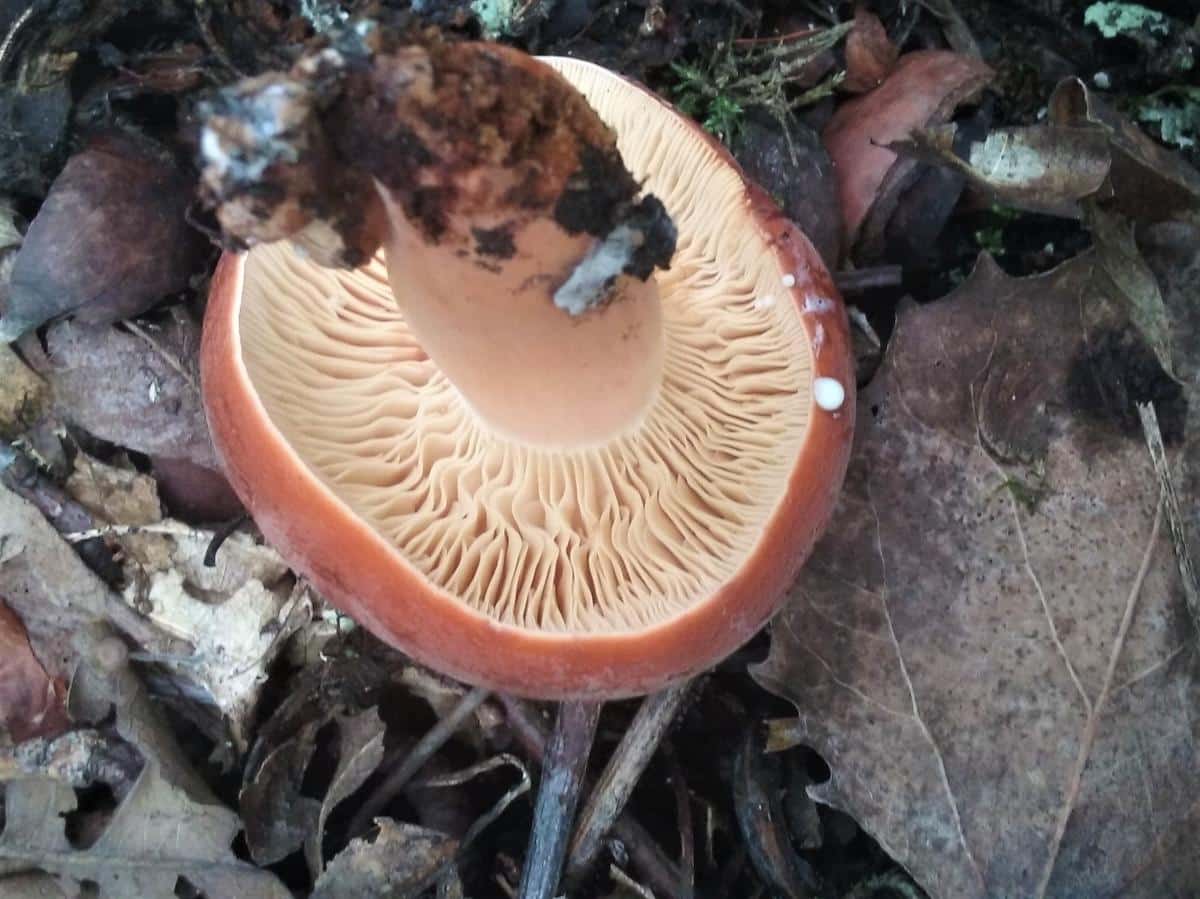 Stem
The stem is usually 1-3 inches long. It is cylindrical, smooth, solid, and the same color as the cap. It may even be a little velvety, like the cap. The stem base may be slightly swollen or tapered.
Spore print
White to pale cream
Latex (Milk)
One of the most distinctive features of the Hygrophorus milky cap is the presence of latex or "milk," which exudes from the mushroom when it is cut or damaged. It is especially apparent when you slice the gills. The latex is white and copious in this species (not always the case with milky caps). While usually the white latex doesn't change color, sometimes it does become slightly yellow – it will stain a white paper yellow overnight. Unchanging. The milk has a mild to slightly acrid taste.
Flesh and Odor
The flesh of the hygroporus milky is white and does not change color when cut or bruised. The mushroom does not have a strong smell – not having a smell is unique for this fungi family.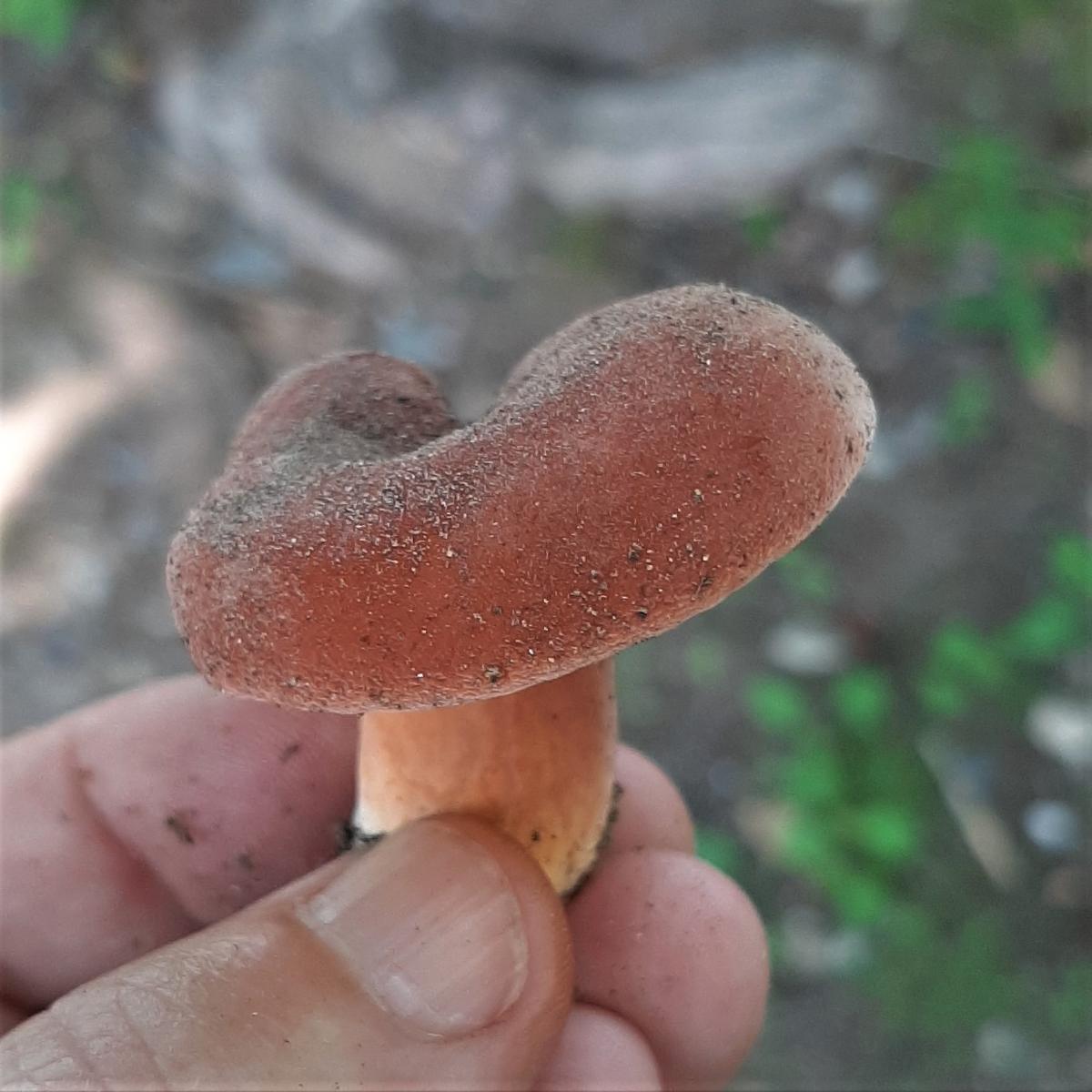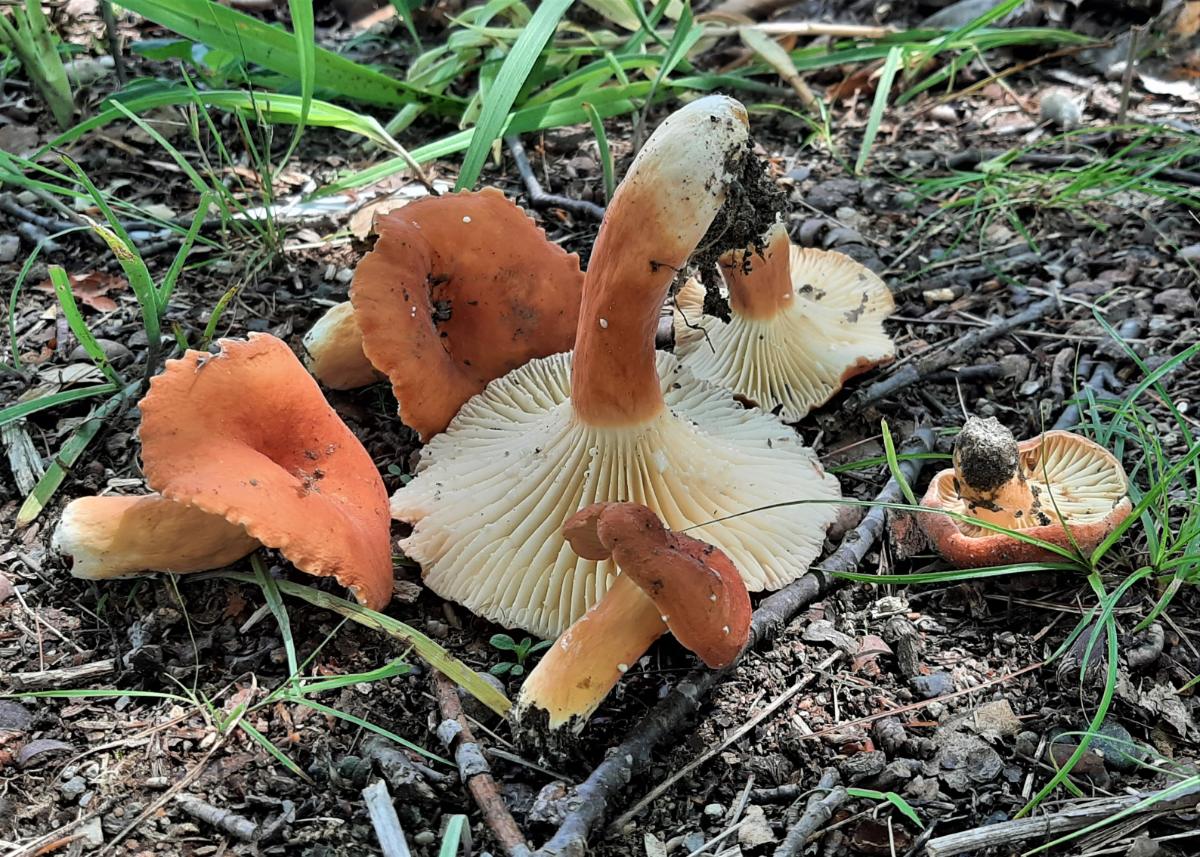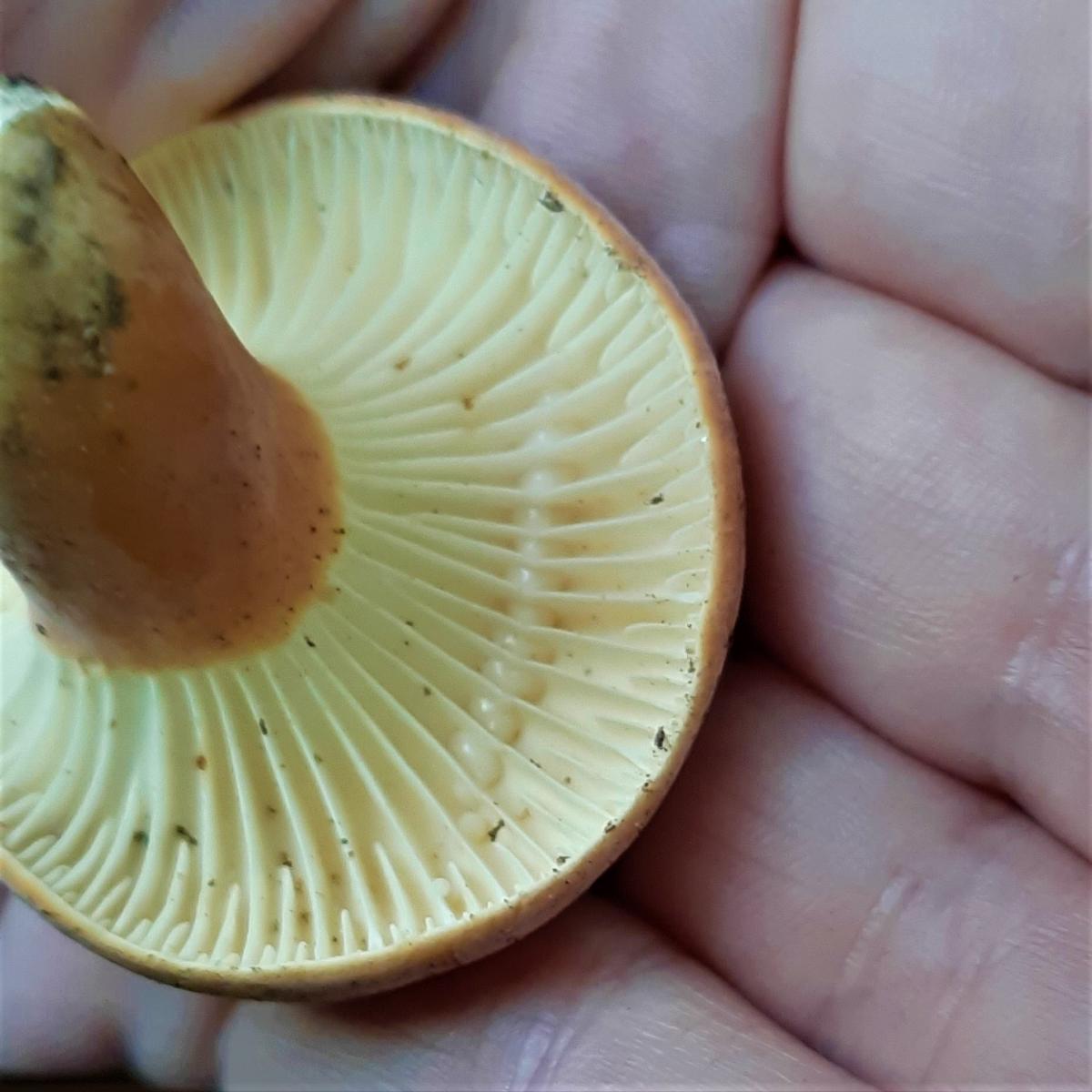 Hygrophorus Milky Cap Lookalikes
Lactarius volemus
This dull orange milky cap with a velvety surface looks identical to the Hygrophorus milky cap, with two key distinctions. The milky white latex it emits stains everything, including your hands and papers, brown. The flesh of the mushroom also stains brown when sliced. This species also has a bit of a fishy odor, which can be quite intense or just mild, unlike Hygrophorus milky's lack of scent.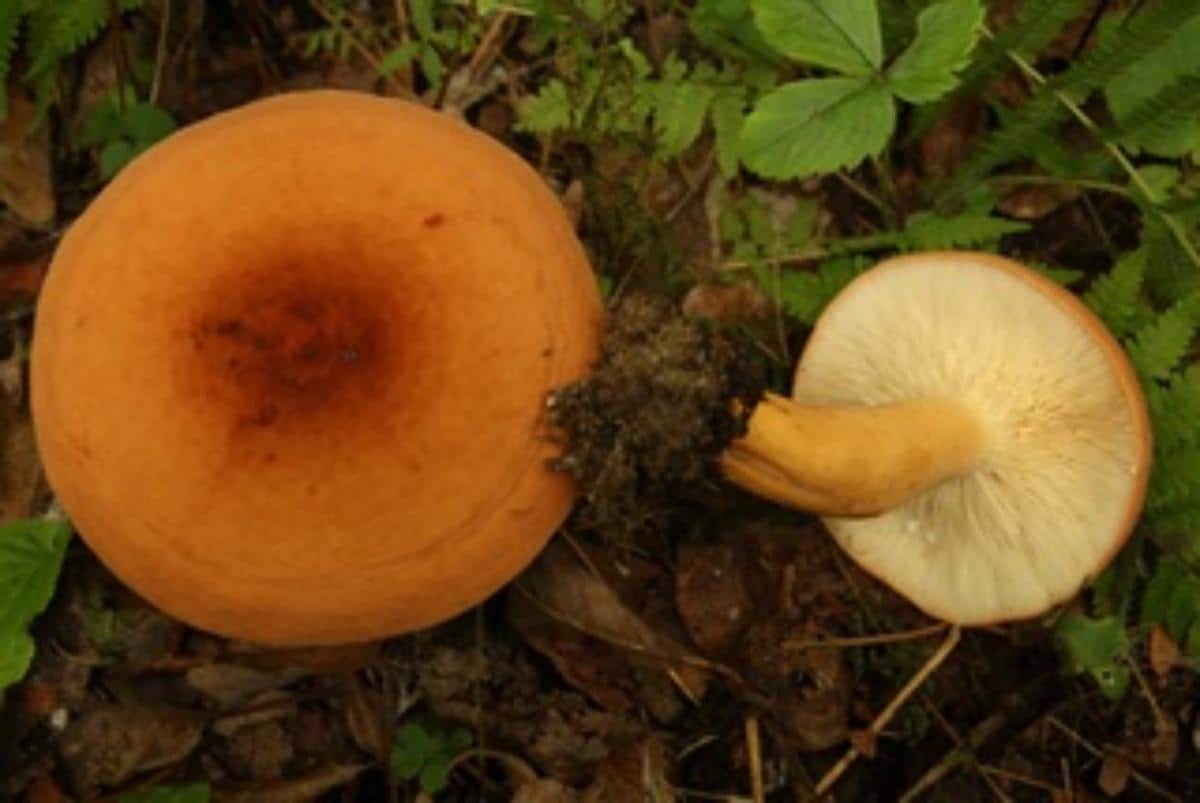 Chanterelle
For beginners still unsure what a chanterelle looks like, seeing an orange milky cap on the forest floor can raise a lot of hope. Other than the cap color, though, these two are nothing alike. Chanterelles don't have true gills like the milky caps, and also, they don't emit any latex milk when cut.
Nutritional and Medicinal Benefits of Milky Caps
The mushroom is a good source of essential nutrients, including proteins, carbohydrates, fibers, vitamins, and minerals. Some of the key vitamins and minerals found in Hygrophorus milky cap include vitamin B complex, vitamin D, potassium, phosphorus, and selenium.
In addition to its nutritional content, Hygrophorus milky cap has been studied for its potential medicinal properties. Some research suggests that the mushroom may have antioxidant, antimicrobial, and anti-inflammatory properties, which could help support overall health and well-being. However, further research is needed to fully understand the potential medicinal benefits of Hygrophorus milky caps and how they can be harnessed.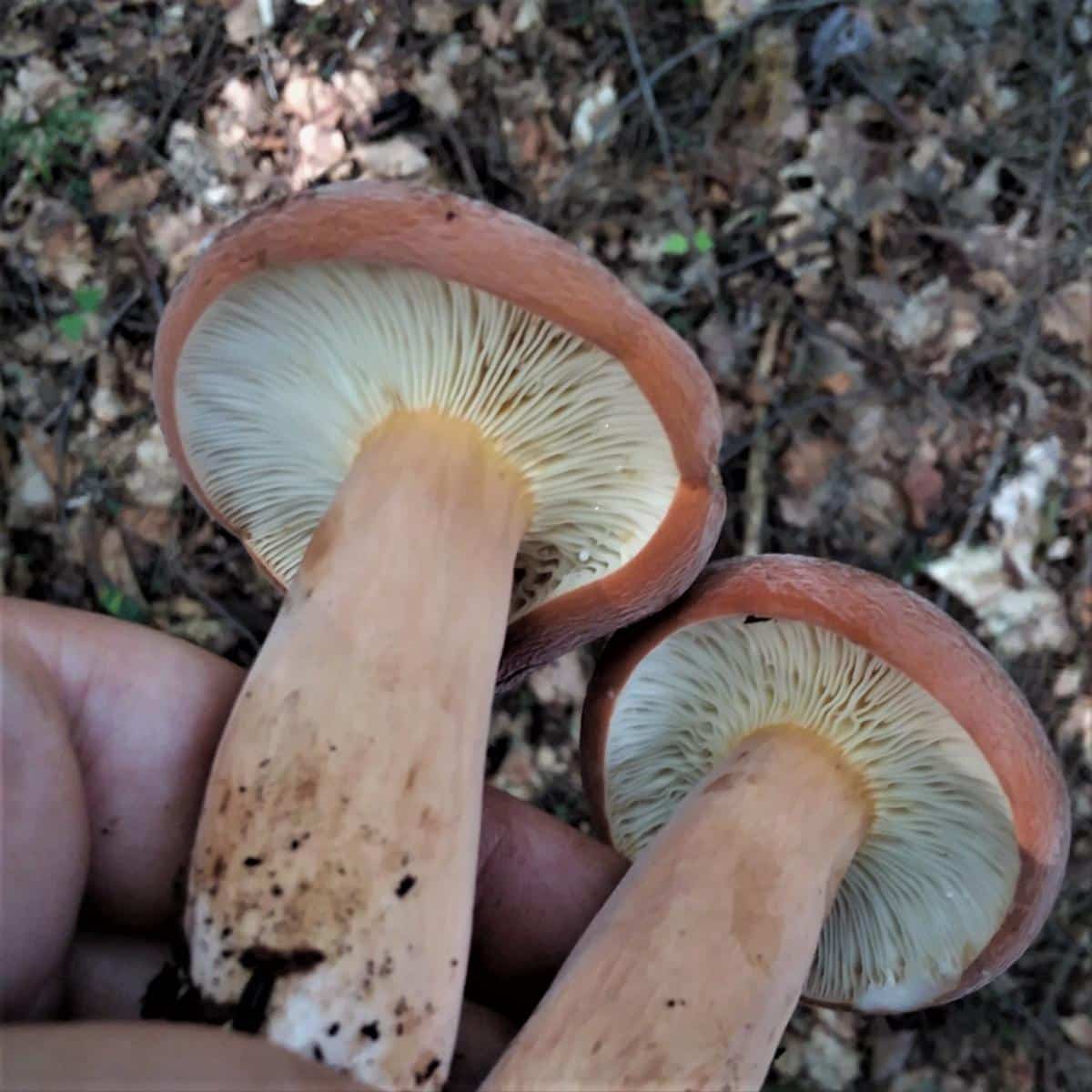 Cooking With Hygrophorus Milky
Hygrophorus milky cap is a versatile mushroom that can be used in various culinary applications. Its unique texture and mild flavor make it an excellent addition to soups, stews, and sauces.
Sautéing or grilling is a simple and delicious way to showcase their natural flavors. The mushrooms can also be preserved through drying or pickling, extending their shelf life and creating new flavor profiles.
One of the most popular ways to prepare milky caps is by sautéing them in butter or oil with garlic and herbs. This simple preparation highlights the mushroom's natural flavors and allows it to be used in a wide range of dishes, from pasta to omelets to soups.
Another popular way to enjoy milky caps is by pickling them. Pickled milky caps have a tangy, slightly sour flavor that pairs well with meats, cheeses, and other savory foods.
Milky caps can also be dried and ground into a powder, which can be used as a seasoning or added to sauces and gravies for an extra boost of flavor.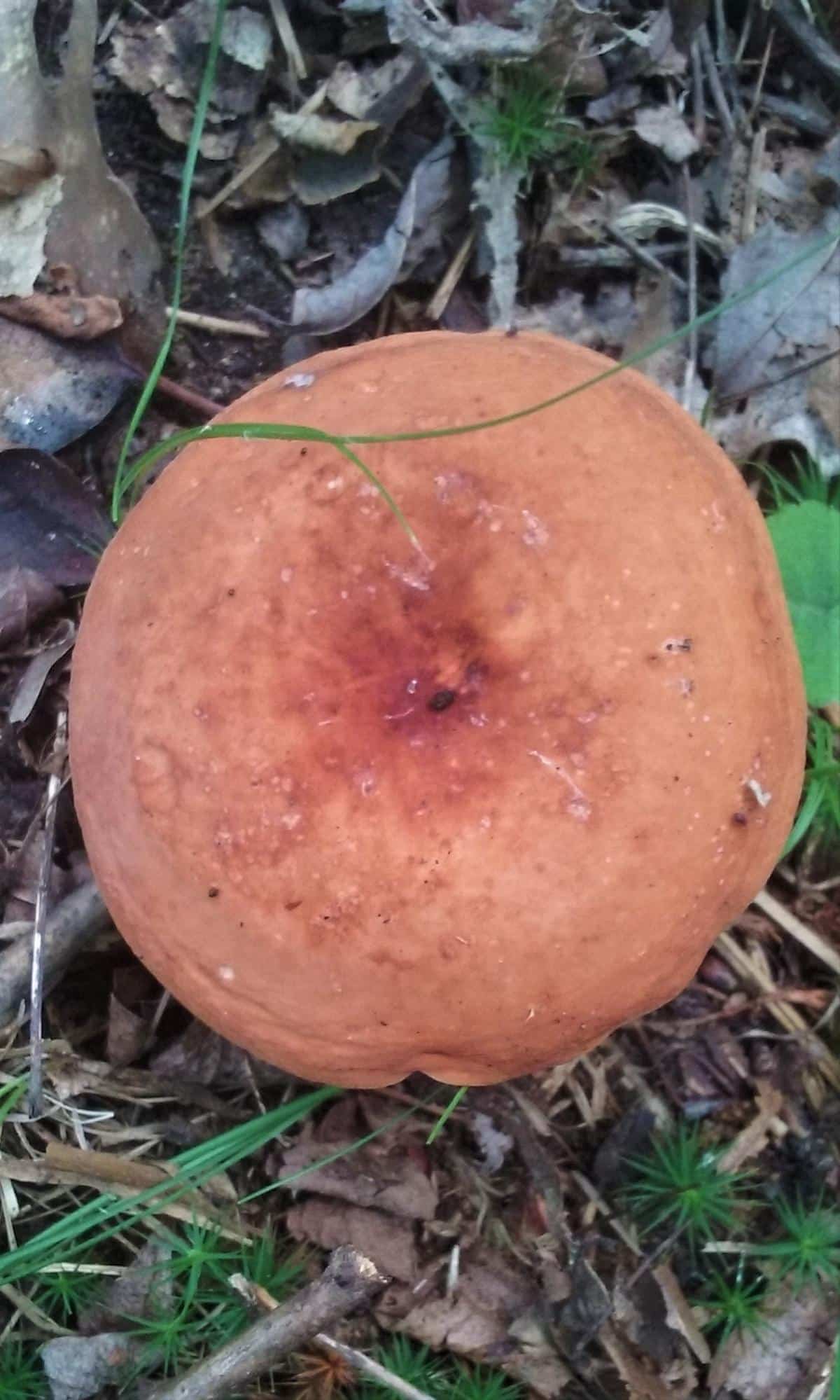 More Edible Milky Caps
Lactarius deliciosus: Also known as the saffron milkcap, this mushroom has a bright orange cap and a mild, nutty flavor.
Candy Caps: With an intoxicating maple syrup scent, this group of Lactarius mushrooms make a fantastic baking flavoring.
Peppery Milkcap: Not one you want to eat as is, though some people do. The spicy kick is no joke. Makes an excellent spice seasoning, though!
Lactarius indigo: This bright blue mushroom that also bleeds blue is an excellent edible, and a super fun mushroom to find.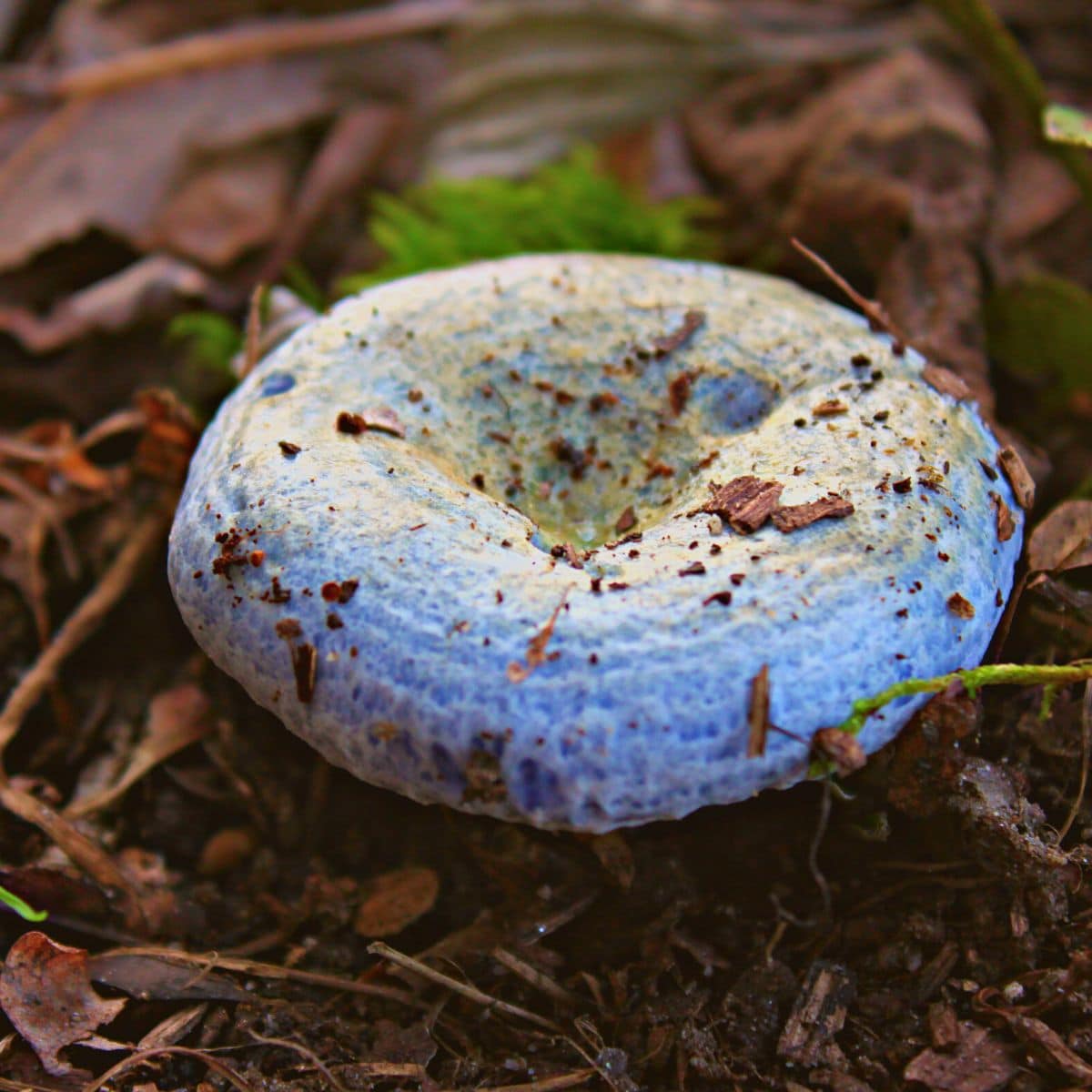 Hygrophorus Milky Cap Common Questions
Are there any toxic Lactarius?
Some Lactarius are considered toxic and will make you sick, but there are no deadly poisonous mushrooms in the genus.