I'm a firm believer in growing mushrooms. It's a fascinating pastime, one that always holds a sense of wonder. And it just doesn't get any better than eating something that you've grown yourself.
One doesn't have to be a trained mycologist or even have a green thumb to learn how to grow mushrooms. All you need is the right materials, good resources, and most importantly: patience!
Cultivation is all about the care and feeding of mycelium, which is the vegetative growth of a fungus. Have you ever picked a mushroom and seen a clump of white filaments or tissue in the ground or bark underneath it? That's mycelium, the organism that produces mushrooms. Think of mycelium as a tree, and mushrooms as apples.
If you've never heard these words before, don't panic. The beginning concepts section below has all you need to get started without being overly complicated.
If you already know the theory and are just looking for some step-by-step guides, skip down to the how to section on this page. Those articles are just straight-up growing instructions, without a lot of terms explained.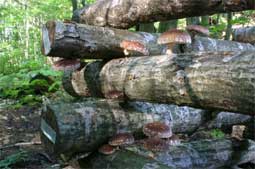 For those of you who don't want to put in much time and effort, but still want some tasty mushrooms, check out the mushroom kits info and review pages. Kits are a fun and simple way to get started.
The advantages of growing mushrooms are many and varied. You can create your own healthy food. You can save money. You can learn and teach about biology without the classroom. It's fun and exciting (really!).
The list goes on, but I encourage you to try it on your own and see for yourself. If you're a grower and want to post something or show off, click here to share a story with visitors to this page.
Otherwise, read on!
Jump to:
Things to Know Before You Grow
It really helps to know some vocabulary and concepts before you start growing mushrooms. You'll have a better understanding of the grow guides if you're familiar with these ideas.
Think of the articles below as your "Mushroom Growing Primer". If you don't know something, click on the link to learn more.
From fun and education to food and mycorestoration, there are lots of great reasons to take up this hobby. Read the Top Ten Reasons to Grow Mushrooms page to find out more.
You'll have the best success if you understand a little about the mushroom life cycle before you begin. This page isn't a lot of hard science, just a simple overview of what happens between spore and mushroom. If you don't know what "mycelium" is than this is a good place to start!
One of the first decisions to make before growing mushrooms is which species. Will it be the medicinal maitake mushroom or some tasty shiitake? Some are easier than others, so check out the growing different types of mushrooms page if you need help making a decision.
Most hobby growers begin with mushroom spawn, which is simply any substance that has been inoculated with mycelium. When starting a new project you'll need to know about different types of mushroom spawn, how to use it, and where to get it.
Once you're familiar with the concept of spawn I suggest you check out one of my favorite methods. How to make mushroom spawn with cardboard tells you how to generate a

massive

amount of spawn quickly, easily, and cheaply.
After spawn it's time to start learning about substrates. A mushroom substrate is any substance on which mycelium, the vegetative part of a fungus, will grow. You'll need the right growing materials, and the mushroom substrates page will teach you about your options.
If you choose straw as your substrate you'll need to pasteurize it if growing indoors. You pasteurize straw to reduce the amount of microscopic competitors, thus giving your project a greater chance at success. The pasteurization page will give you instructions on a few different methods.
How to Grow Mushrooms: Step-by-Step Guides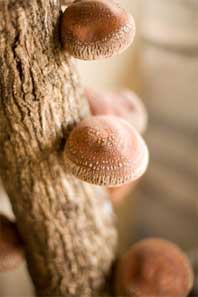 Below you'll find some step-by-step guides on growing mushrooms. These pages assume you're familiar with the concepts above such as the mushroom life cycle, spawn, and substrates.
That said you don't have to be an expert in mushroom cultivation to read these articles. They're meant to be fun experiments that anyone can do with a little knowledge and the right materials.
There are lots of different ways to grow mushrooms, making this a fun and varied hobby. The pages below go over some popular and well-known methods but there's always more to learn. Once you have the basics under your belt, you can create endless experiments!
If you're short on time and patience you can always start with mushroom kits. Most kits come as a substrate inoculated with mycelium, so most of the hard work has been done for you. One can grow lots of tasty mushrooms by adding just water, fresh air, and a little light. Read my review of a quality mushroom kit here.
Growing mushrooms on straw is one of the most popular methods. It can be done indoors or outdoors, with lots of effort or little. The how to grow mushrooms on straw guide will tell you more.
The topic of straw bale gardening deserves its own page. This no-dig process involves growing plants and vegetables on a bale of straw, so it's perfect for those with limited space or bad backs. And guess what, it's a great way to grow mushrooms!
Learning how to grow mushrooms on logs takes some patience, but the results are so worth it. This involves making holes in wood and inoculating them with mycelium. Although it takes months for the logs to colonize, they can fruit for years. Some think this method yields the best tasting mushrooms.
Growing Mushrooms: Final Points
Even the experienced cultivator is bound to have some failures when growing mushrooms. I can't tell you how many times a project of mine turned into a big pile of…..well, nothing.
I've tried to shorten the learning curve for you a little with this article on why my mushroom project failed. It covers some of the common reasons including moisture levels, sterility, and mushroom spawn quality. Hopefully it will save you some time and heartache.
Yet once you've succeeded, what do you do with your spent substrate? It can be used to condition soil and bring nutrients to plants in gardens. Read the article on mushroom compost to learn more.
Whether seasoned cultivator or just starting out, growing mushrooms is a fun hobby that can be as easy or complicated as you like. Whatever your skill level, I wish you a rewarding experience and a bumper crop of mushrooms!
Feel free to add your own experiences with growing mushrooms below.