Trametes betulina, widely known as the gilled polypore, is an intriguing species of mushroom. The majority of polypores don't have gills; they have smooth pore surfaces. But, there always has to be one fungus that refuses to play by the rules, and the gilled polypore takes up that calling and flaunts it. Despite its gill-like features (they're not actually "true" gills either), it shares a strong genetic bond with the polypore family. This intriguing paradox has sparked numerous debates and studies among mycologists.
Scientific Name:

Trametes betulina

Common Names:

Gilled polypore, birch mazegill, multicolor gill polypore

Habitat:

On the ground, at the base or near the base of oak and other deciduous trees

Edibility:

Edible (non-toxic) but not palatable

Psychoactive properties:

None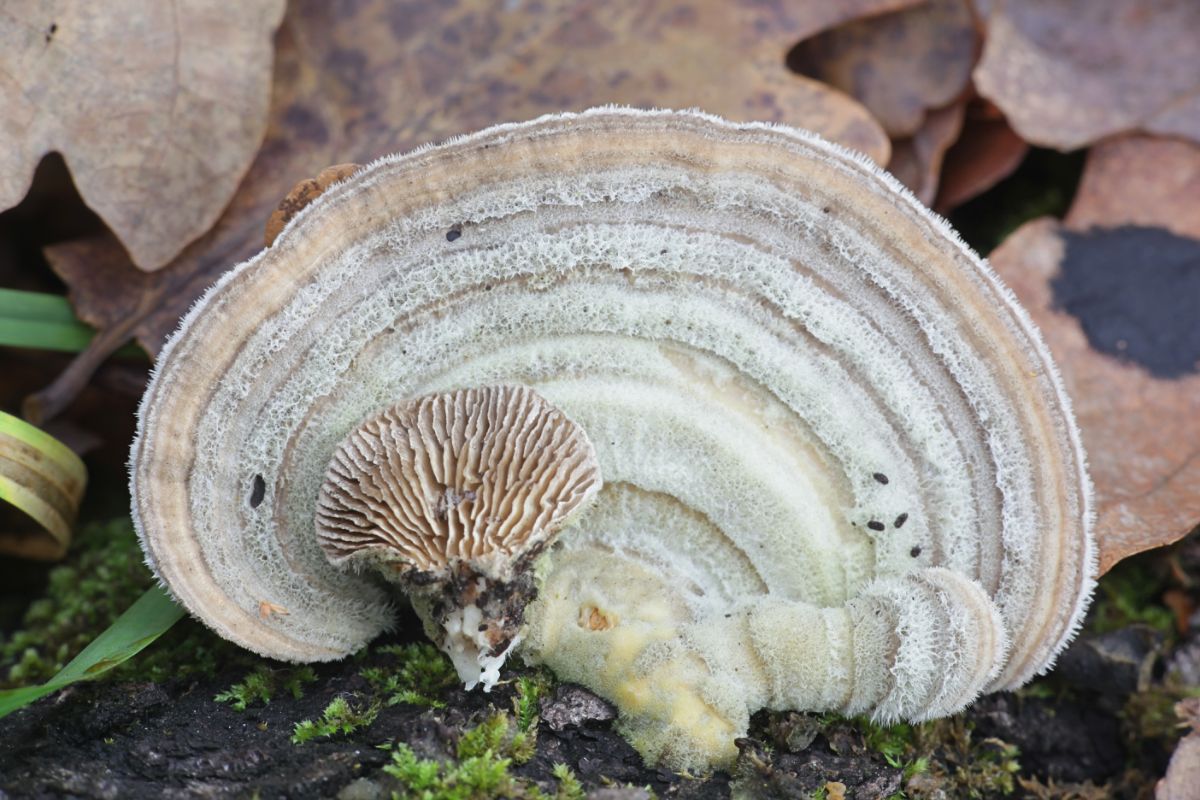 Jump to:
All About Gilled Polypore Mushrooms
The gilled polypore fungus plays an important role in the ecosystem, breaking down dead wood and returning nutrients to the soil. This species also helps to recycle carbon and nitrogen, aiding in the growth of new plants and trees.
In addition to its ecological benefits, the gilled polypore is used medicinally in some cultures. It is believed to be a natural immune system booster and has been used for centuries as a traditional remedy for various ailments.
The mushroom is also edible, though it is not particularly flavorful. Its tough texture makes it better suited for cooking with other ingredients than eating on its own.
Trametes betulina was previously known as Lenzites betulina, and you will still see that old name used often in literature and guides.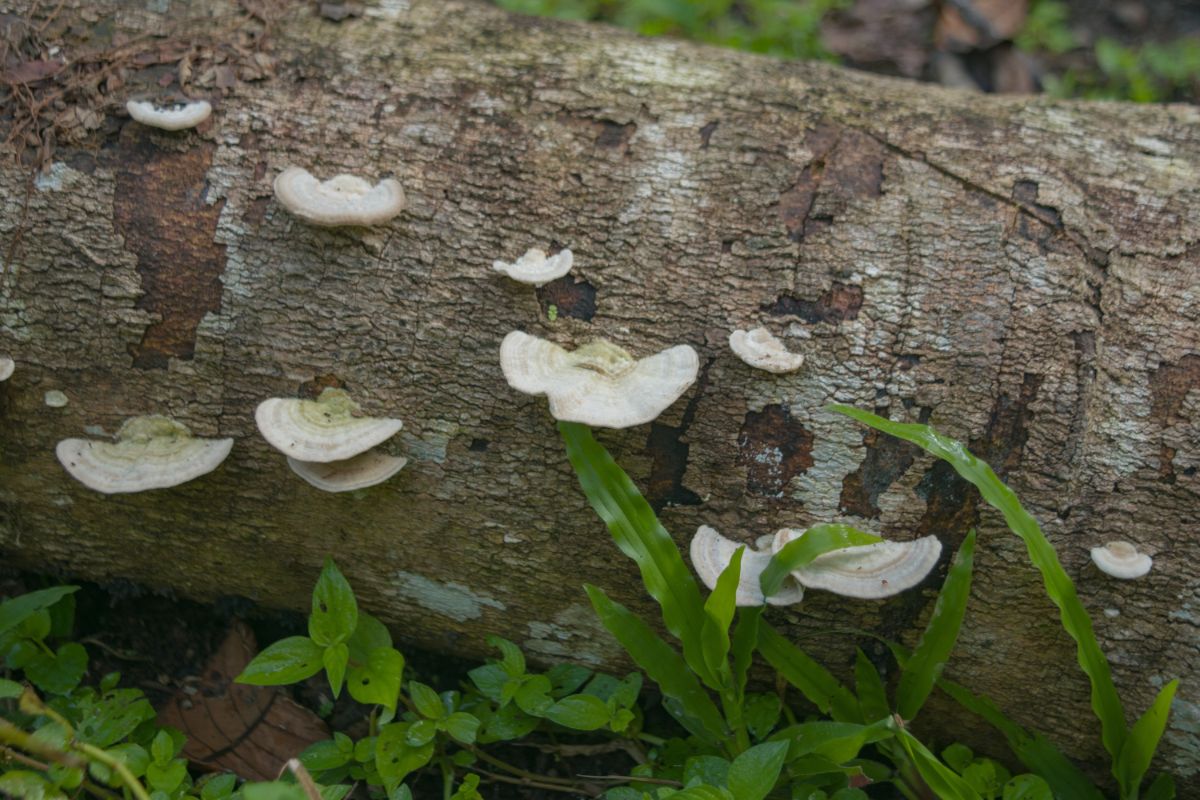 Gilled Polypore Identification
Season
These mushrooms are known to fruit from early to late winter.
Habitat
Gilled polypore mushrooms favor hardwood logs as their habitat. Despite the suggestion of its species name (betulina), its growth is not confined to birch trees. It grows scattered or clustered in overlapping shelves.
The mushroom is most commonly seen growing on dead or decaying hardwood logs, stumps, or tree trunks. It is also known to grow on coniferous wood and even occasionally on living trees. The gilled polypore prefers humid climates and is typically found near bodies of water like streams or rivers. It can be found throughout North America, Europe, and Asia. This species can also be cultivated in a controlled environment for commercial production.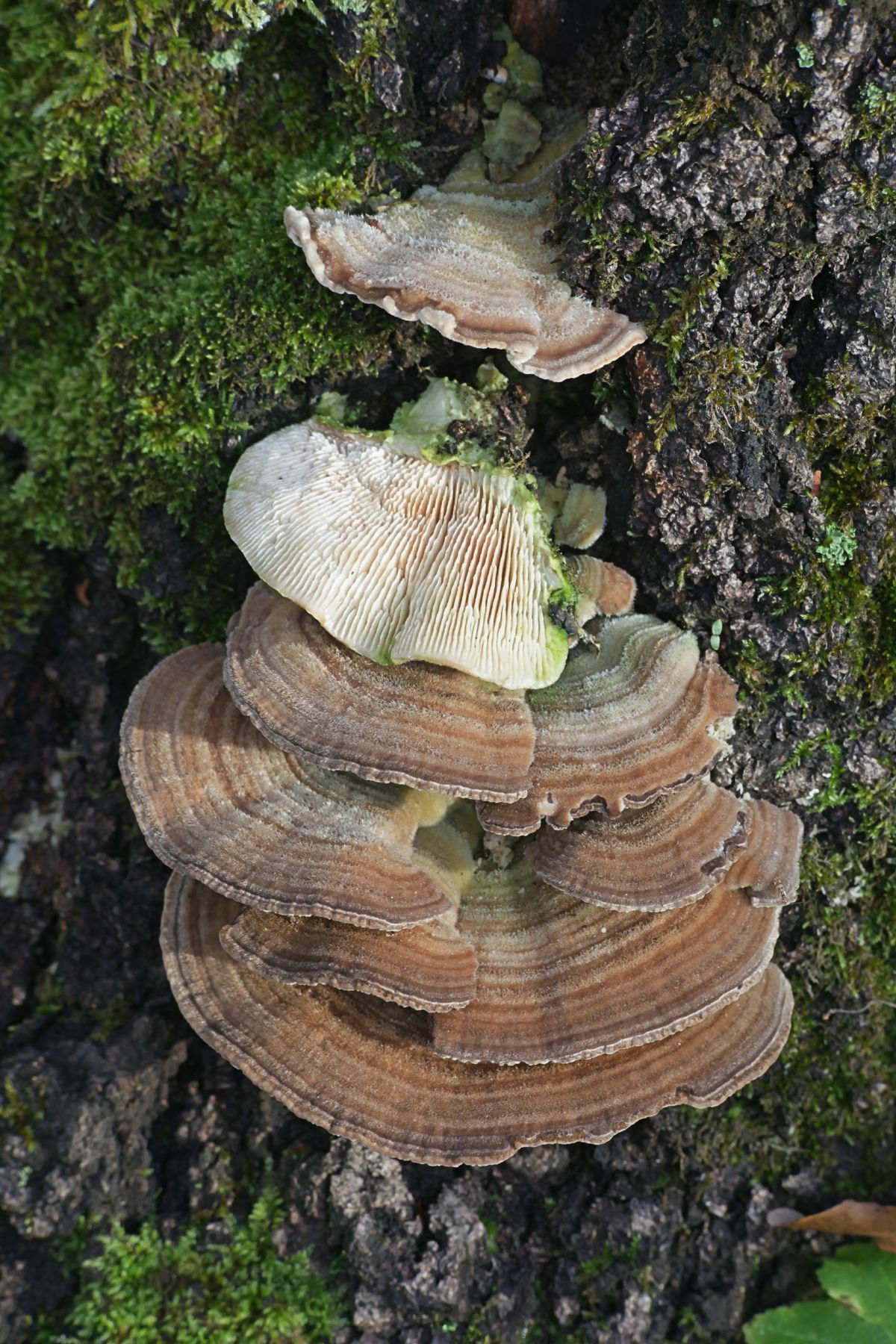 Identification
Cap
The gilled polypore is a small fan-shaped (semicircular) mushroom, typically measuring between 1-4 inches in width. It often grows in stacked layers, projecting from the trunks of dead or dying trees. Its thickness ranges from 1/8-3/4 inches, with the thickest point being at the area of attachment to the tree.
The top surface of this mushroom species is covered in a velvety layer that ranges from whitish-gray to yellowish-brown in color. This mushroom species is renowned for its multi-colored, concentrically-zoned upper surface. As the mushroom ages, it may even take on a greenish hue due to the growth of algae on its surface. The texture of gilled polypore caps is leathery and tough, often described as cork-like.
Gills
The most distinguishing feature of the gilled polypore is its gill-like ridges, which are whitish, brown, or yellowish in color. These ridges run from the outside edge of the mushroom to the center and are typically spaced 3 to 5 millimeters apart. These gills are densely packed and have a spongy texture, forming an intricate network along the underside of the mushroom's cap.
The "gills" of the gilled polypore aren't actually true gills'; they are circularly arranged tubes that are forked and fused. This makes them look like gills. The tubes are rugged and leathery, unlike true gills, which are much more fragile.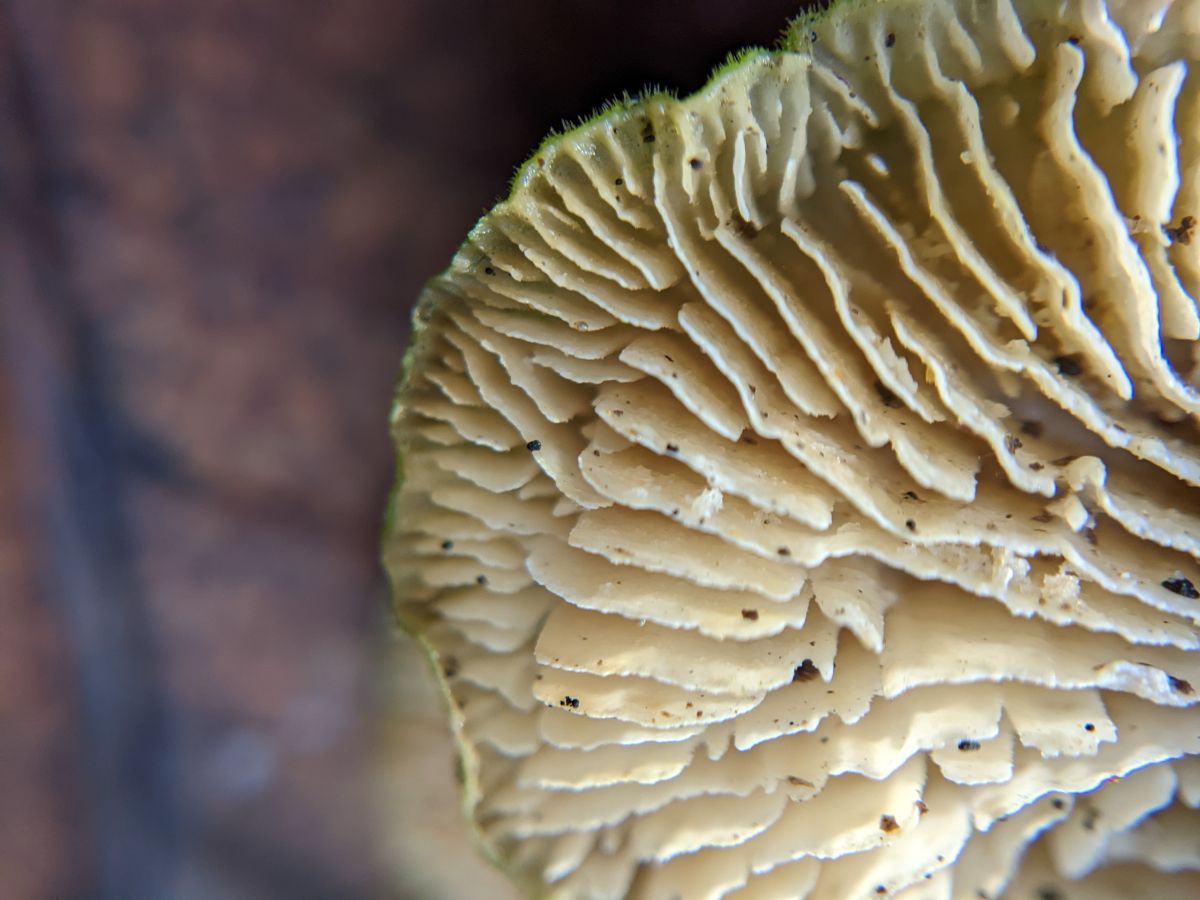 Stem
The gilled polypore has no discernible stalk except a little nub where it attaches to the wood surface.
Flesh and Odor
The flesh of this mushroom is usually white or tan, though some specimens may have a pinkish hue. It's also quite thin.
Spore Print
This mushroom species has a white or yellow-tinted spore print.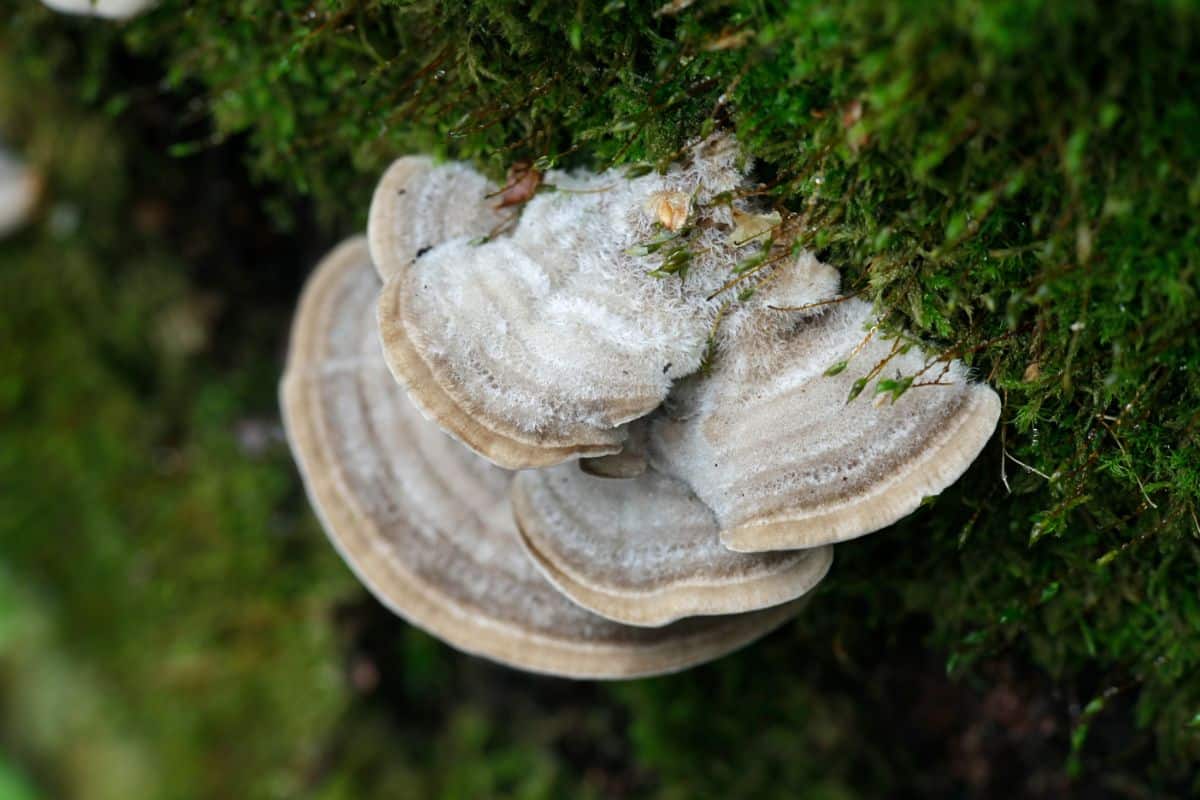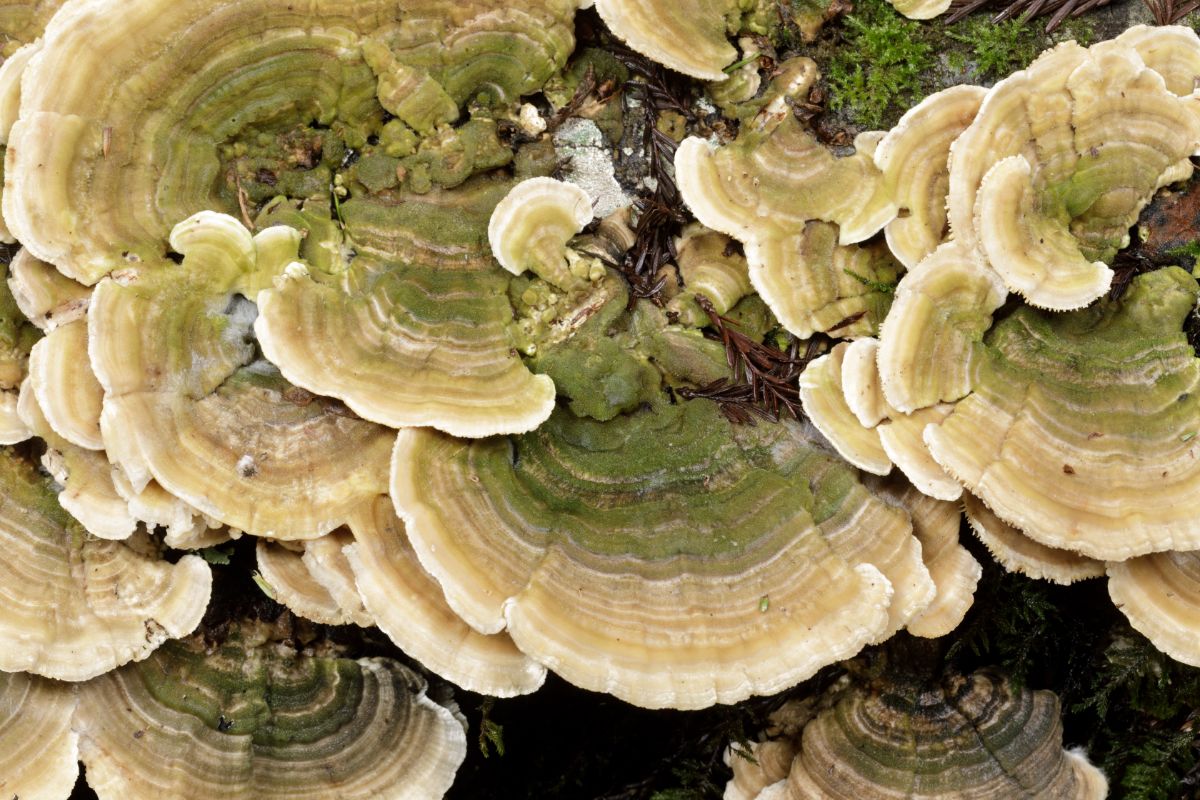 Gilled Polypore Lookalikes
Several other mushroom species bear striking resemblances to the gilled polypore, at least from the top.
Turkey Tail (Trametes versicolor)
The turkey tail is another polypore with a similar upper surface but it does not have the gilled surface below. Instead, it is smooth under the cap. Many people hope the gilled polypore is actually turkey tail since turkey tail has strong medicinal value.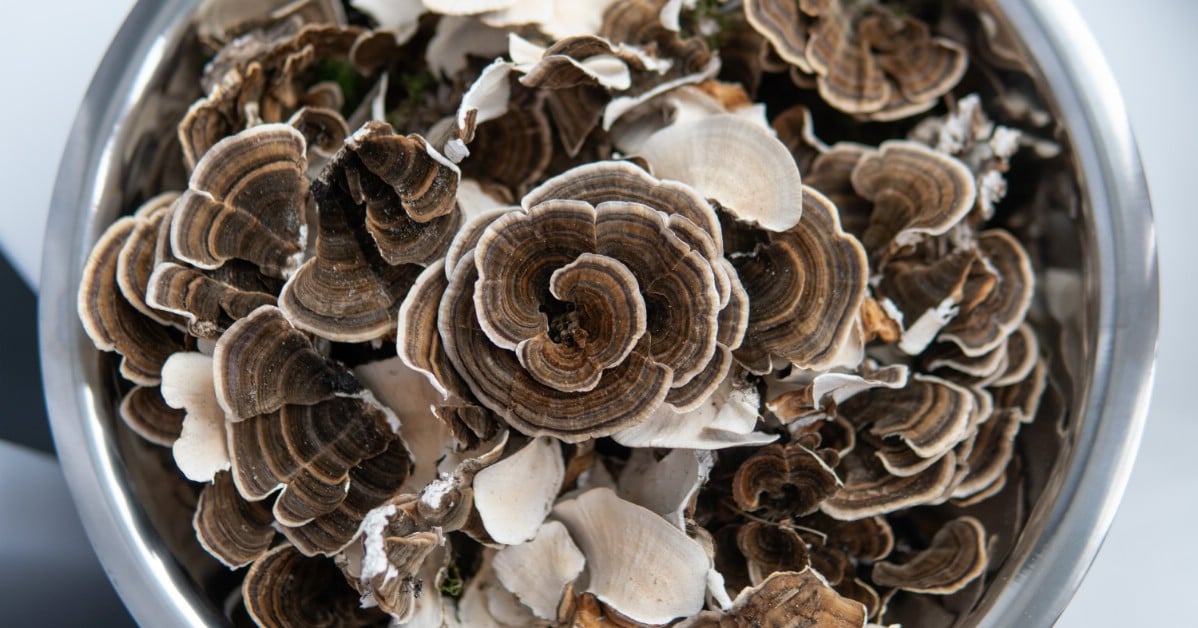 Rusty Gilled Polypore (Gloeophyllum saepiarium)
Like the gilled polypore, this polypore fungus also features a gill-like undersurface. There are two primary differences though — the rusty gill grows on conifers rather than hardwoods and is rusty-brown in color.
It is important to note that Trametes betulina typically grows in a solitary manner rather than in clusters. In addition, its growth is often limited to the lower trunk of trees. When identifying this species, it is essential to pay attention to the environment in which it is growing. For example, Trametes betulina can often be found growing on dead or dying hardwood trees such as oaks and maples. On the other hand, if it is growing on conifers or living hardwood trees, you should consider looking for a different species. Furthermore, this mushroom species prefers moist environments and can be found in areas with plenty of rainfall or high humidity levels.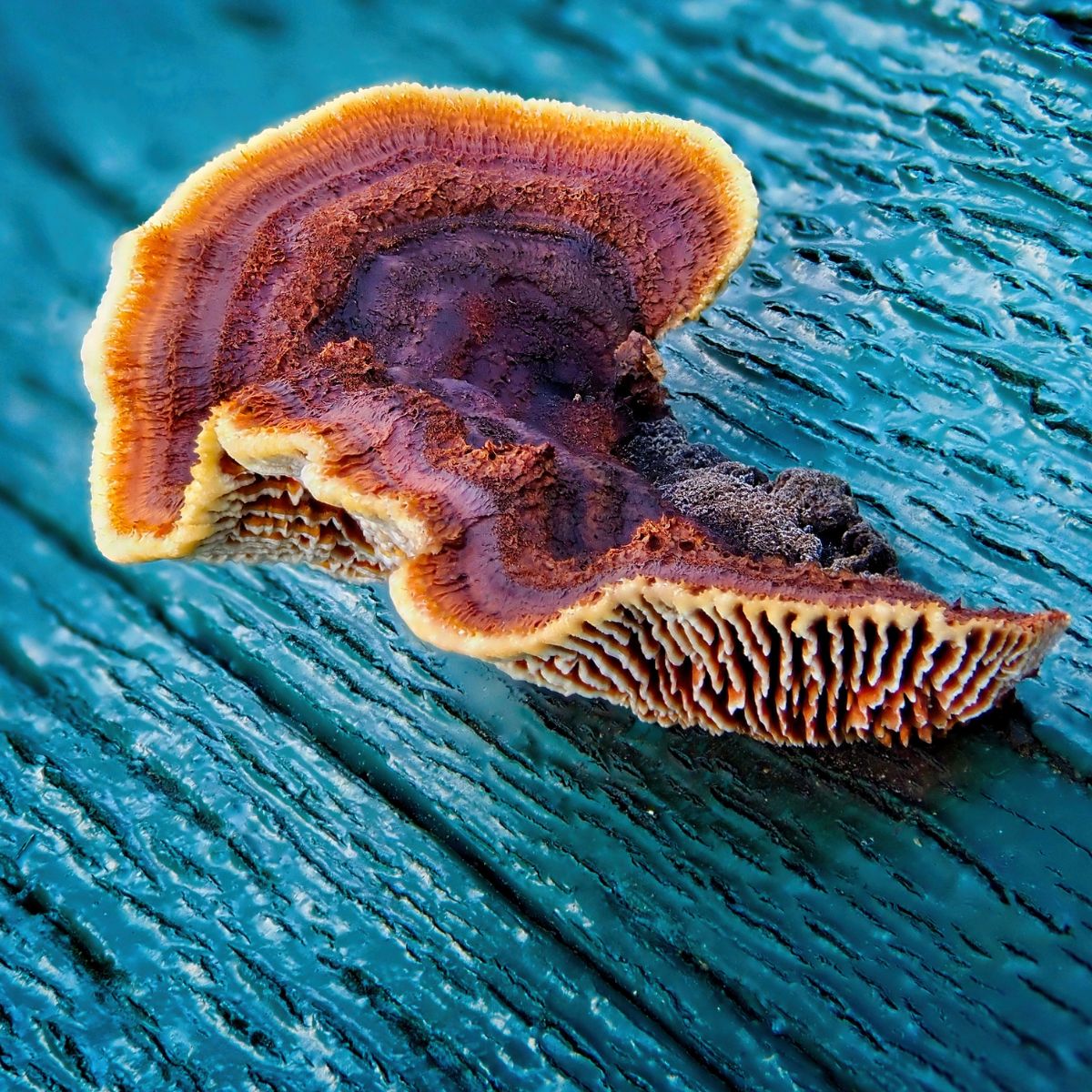 Edibility Of Gilled Polypore Mushrooms
Unfortunately, despite its intriguing appearance, the gilled polypore is not fit for the table. Its leathery, tough texture renders it inedible, making it unsuitable for culinary applications. Technically, it is edible in that it isn't toxic and won't kill you, but eating it is no fun.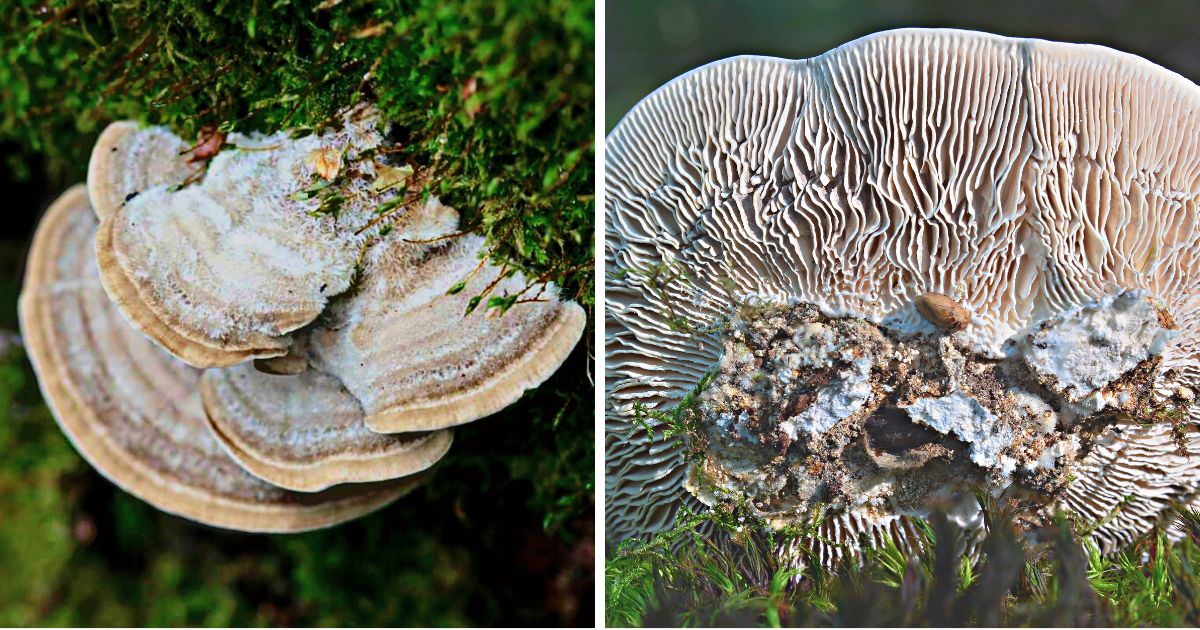 Gilled Polypore Medicinal Properties
While the gilled polypore may not be edible, extensive research is being conducted into the potential medicinal properties of this fascinating mushroom species.
Its medicinal properties are being explored due to the presence of compounds such as polysaccharides, triterpenes, and phenolic compounds. These have been shown to possess anti-inflammatory, anti-viral, and antioxidant properties. Furthermore, it has also been suggested that Trametes betulina may be beneficial for immune system health, as well as having potential applications in cancer treatments. All in all, further research is required in order to fully understand the potential medicinal benefits of this unique mushroom species.
Common Questions About Gilled Polypores
Can polypores have gills?
Most polypores have smooth undersides which is their pore surface. A few, like this gilled polypore have undersides that look like gills, but they aren't actually gills. So, no, a polypore doesn't have gills, even though it really looks like it does.
Can you eat polypore fungus?
There are thousands of polypore species, so it is impossible to clump them all into one broad statement of edibility vs. non-edible. Most polypore mushrooms aren't toxic but also aren't enjoyable to eat because they are tough or just too small to bother with. However, there are also some that are poisonous, so, as with ALL mushroom identification, you must identify the specific species to know whether it is edible or not.