The Caesar mushroom is a prime edible species that's been foraged for thousands of years. It is one of the few Amanita mushrooms that won't kill you, and in fact, it's delicious! The North American Caesar mushroom species aren't the same as the European. However, they are just as highly regarded as edible mushrooms and worth learning about, even if just to admire their striking appearance.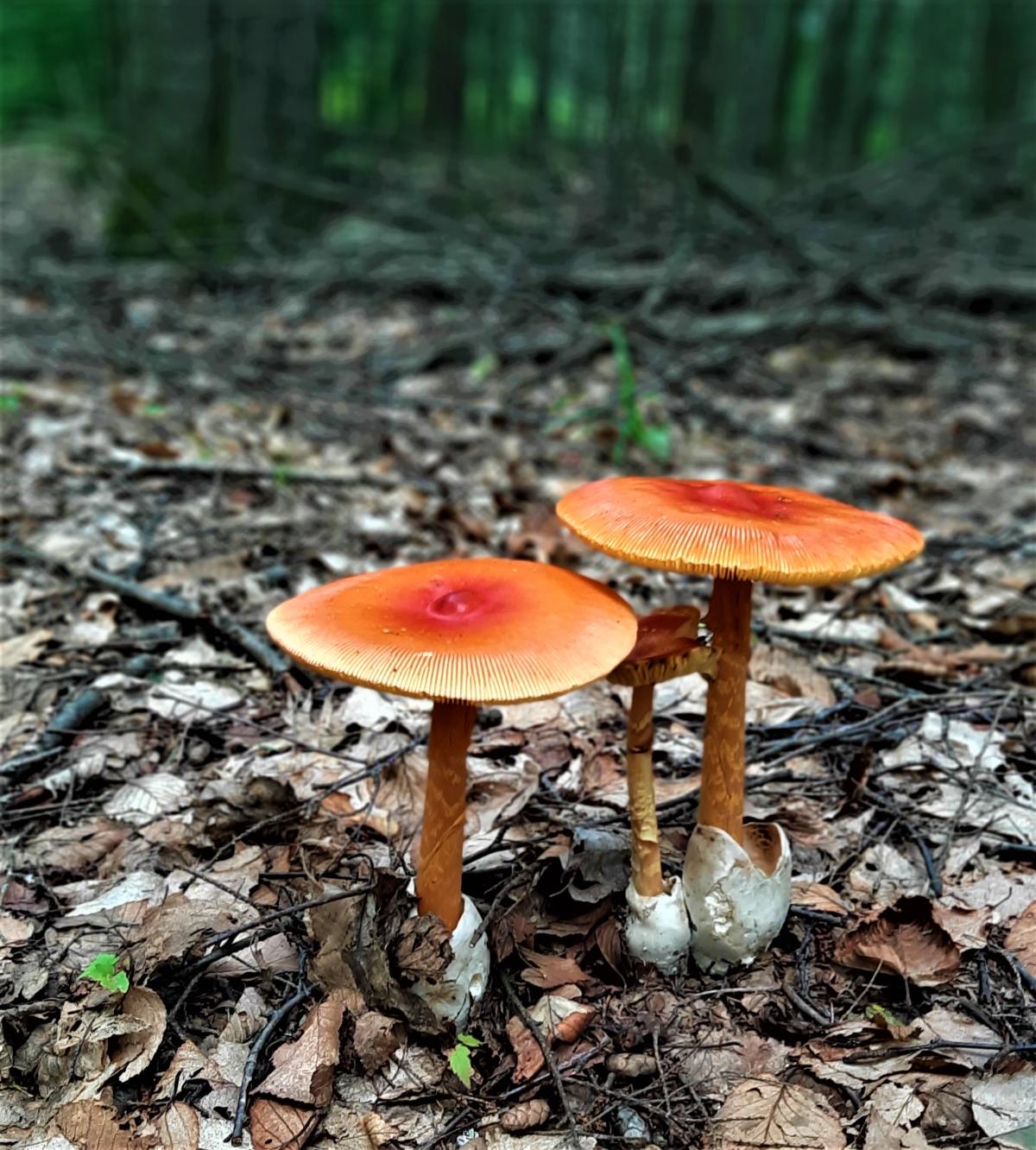 Because this is an Amanita species, which contains some of the most toxic mushrooms, you must be extra attentive when foraging this mushroom. You should always be careful and as precise as possible when foraging anyway, but with this one, just add a little bit more caution.
Jump to:
All About The Caesar Mushroom
Many North American mushroom foraging identification books still list the Caesar mushroom as Amanita caesarea. As it turns out, this is only a European species. Amanita caesarea doesn't exist in North America, but several very similar lookalikes do.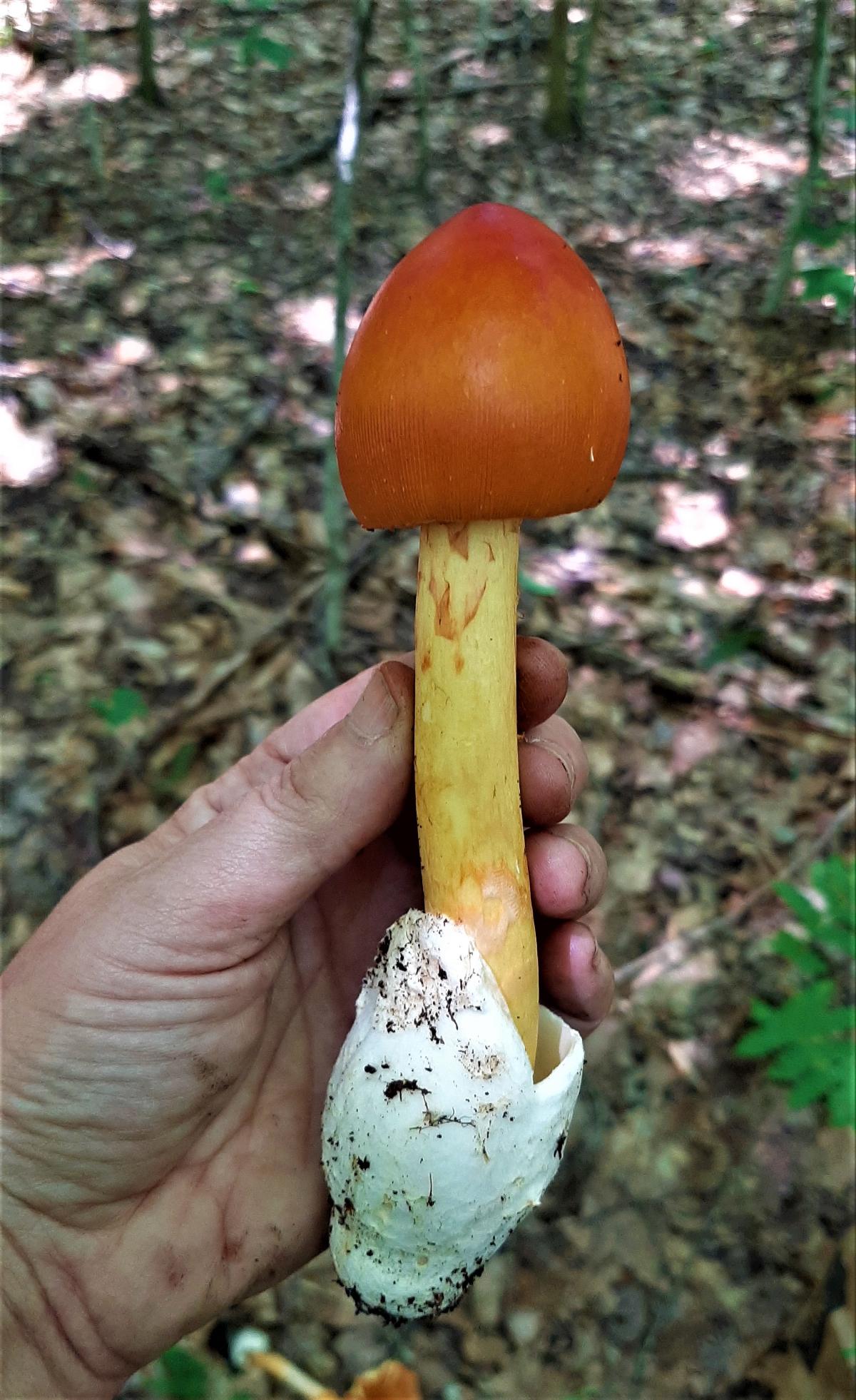 We still use the common name Caesar mushroom for ease of identification and understanding, but we don't mean the European Caesar. Yeah, it's confusing, but that seems to be the way of North American species. Maybe we should call it something different – any ideas?
The Caesar mushroom stands out with its very unique coloring, height, and overall stature. It has a bright red to dull orange or yellow cap, multicolored stem, and a tall, slender demeanor.
Are Caesar Mushrooms Edible?
Yes, the species described here are all edible. And, they're quite delicious. They are actually one of the few wild mushrooms that are eaten raw. Caesar mushrooms have a creamy, slightly sweet flavor.
Not all mushrooms in the Caesar grouping are edible, or their edibility is unknown. Stick to the known ones!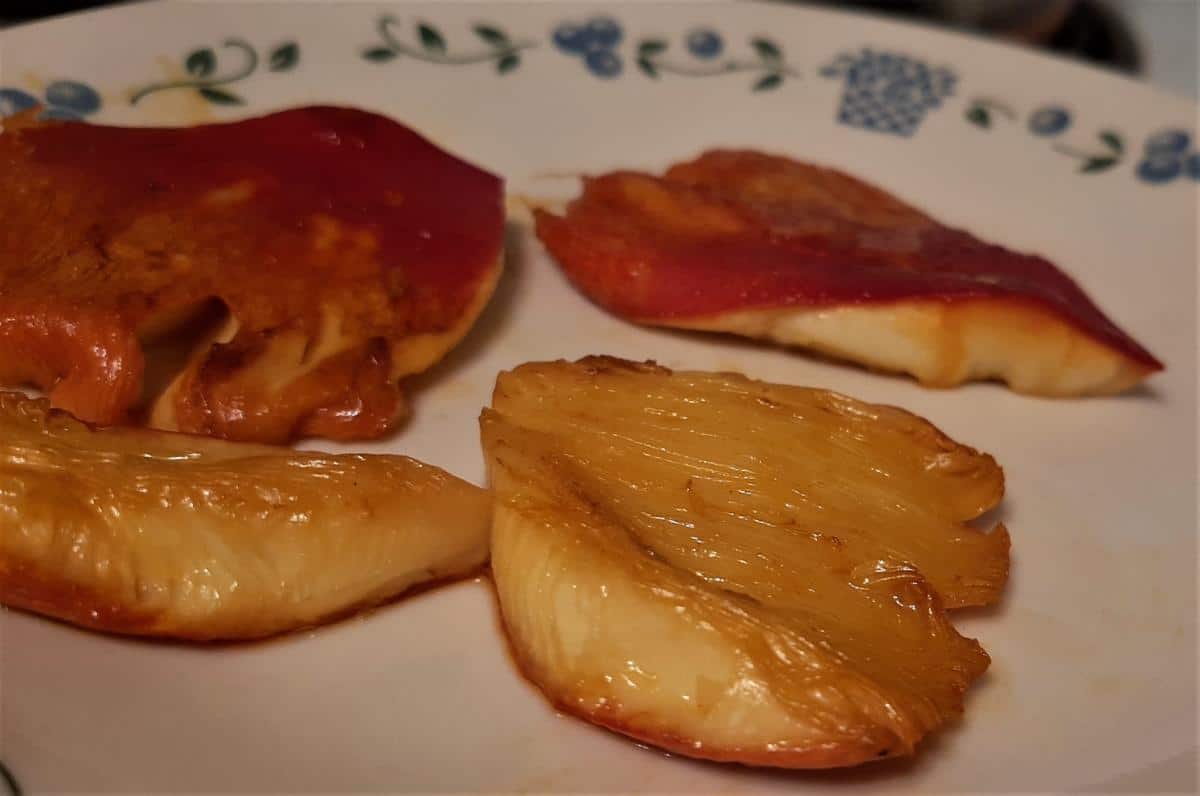 Where Do Caesar Mushrooms Grow?
There are 50-100 Caesar mushroom species around the world, from Asia to Europe to North America to Africa. Not all of them are thoroughly documented, and not all are edible, or at least as far as anyone knows. If you're interested in learning more, the Amanita research nonprofit is incredible – Caesar Amanita species.
Caesar Mushroom Species of the United States
The taxonomy of the United States Caesar species is not complete. There are four well-defined species, but this is not inclusive of all the Caesar mushrooms in North America. Hopefully, soon there will be better-defined descriptions. We are keeping this list to the four known and described species and will update as the science updates.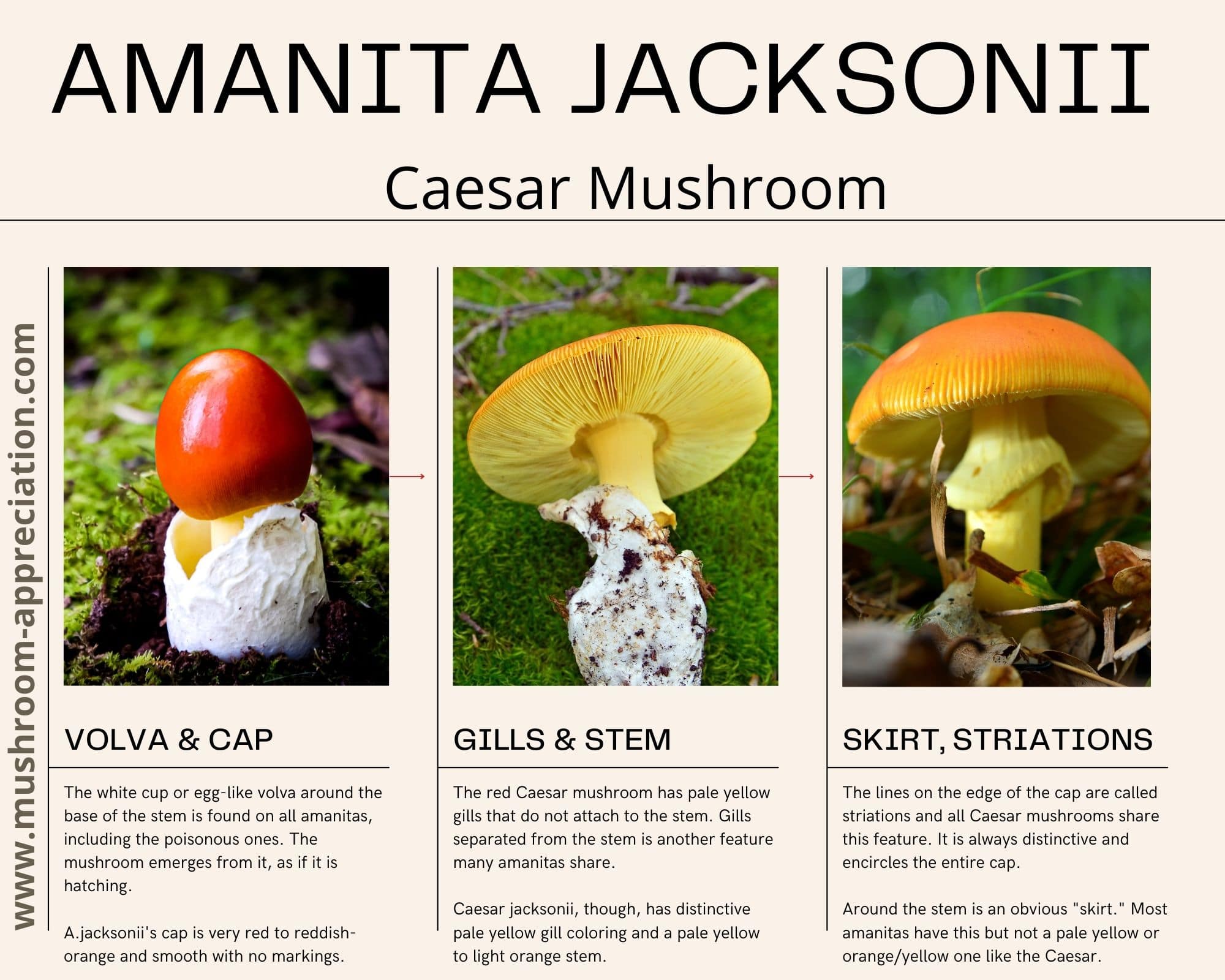 The Lone Red Caesar Mushroom
Jackson's Slender Caesar (Amanita jacksonii)
Region: East coast, east of the great plains
Season: Summer and fall
Habitat: Oaks and pines (mycorrhizal)
Size: Cap – 2-4.75 inches wide, stem – 3.5-6 inches long
Spore Print: White
Description: Bright red cap fades to yellowish-orange. Cap starts out egg-shaped, then turns convex. The cap does not have warts or patches, and the margin is striated. The stem is yellowish-orange with orange streaks and a highly visible skirt around the upper stem. Gills are yellow, crowded, and not attached to the stem. At the mushroom base is a pure white volva casing from which the stem emerges.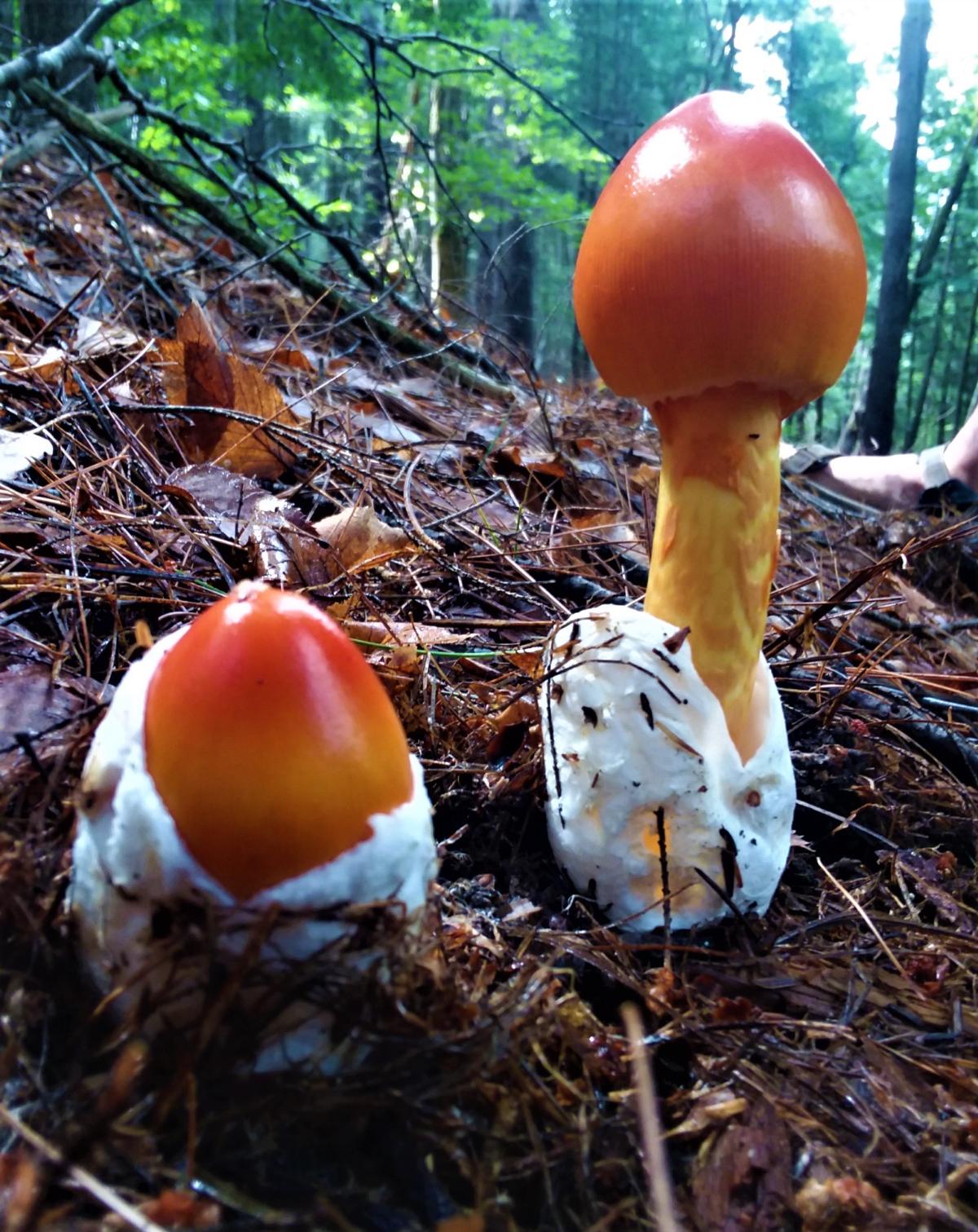 The Yellow Caesar Mushrooms
Arkansas Caesar (Amanita arkansana)
Region: Southeastern, east of the Great Plains, and south of the I-70 interstate.
Season: Summer
Habitat: Oaks (mycorrhizal)
Size: Cap – 3-6.25 inches wide, stem – 4- 7.75 inches long
Spore Print: White
Description: Smooth yellow-orange cap with no warts or patches. Cap is egg-shaped when young and becomes convex. The cap margin is striated. The stem is yellowish, usually pale yellow, with silky yellow streaks. Around the top of the stem is a prominent skirt. The gills are pale yellow and do not connect to the stem. At the stem base is a white sack-like volva (cup-shaped, like an opened eggshell).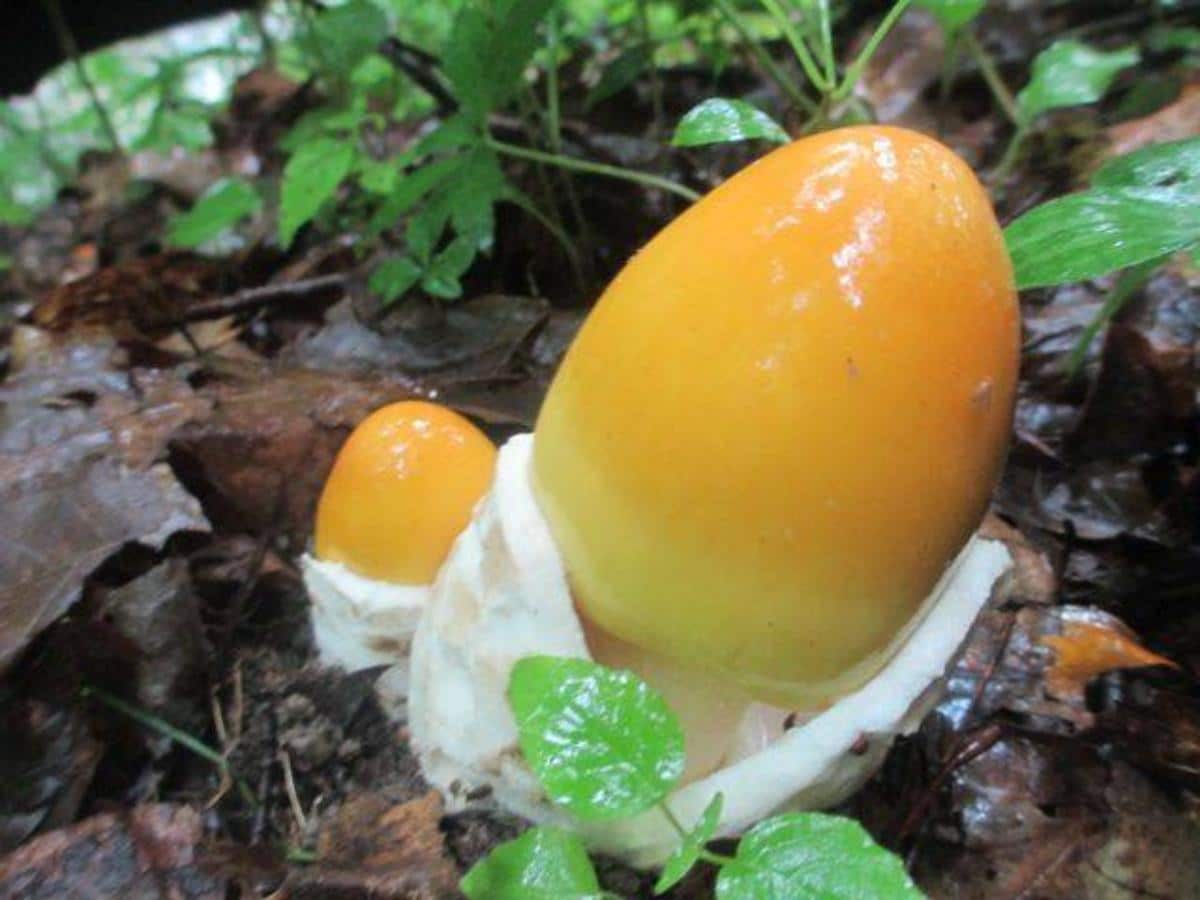 Mary Banning Slender Caesar (Amanita banningiana)
Region: East of the Great Plains and north of the I-70 interstate – range not fully known.
Season: Summer
Habitat: Oaks, beeches, possibly hickory
Size: Cap – 1.5-3.5 inches wide, stem – 3- 475 inches long
Spore Print: White
Description: Very similar to the Arkansas Caesar but significantly smaller and usually has lighter coloring.

Cap is yellow and oval (egg-shaped) when young. Turns lighter yellow with age, usually with a distinctive yellow-brown center. Cap shape changes to convex with age. The stem is white or light yellow with yellow streaks. There is a pale yellow or white skirt around the upper portion of the stem. The gills are light yellow and not attached to the stem. Around the stem base is a white cup-shaped volva from which the stem emerges.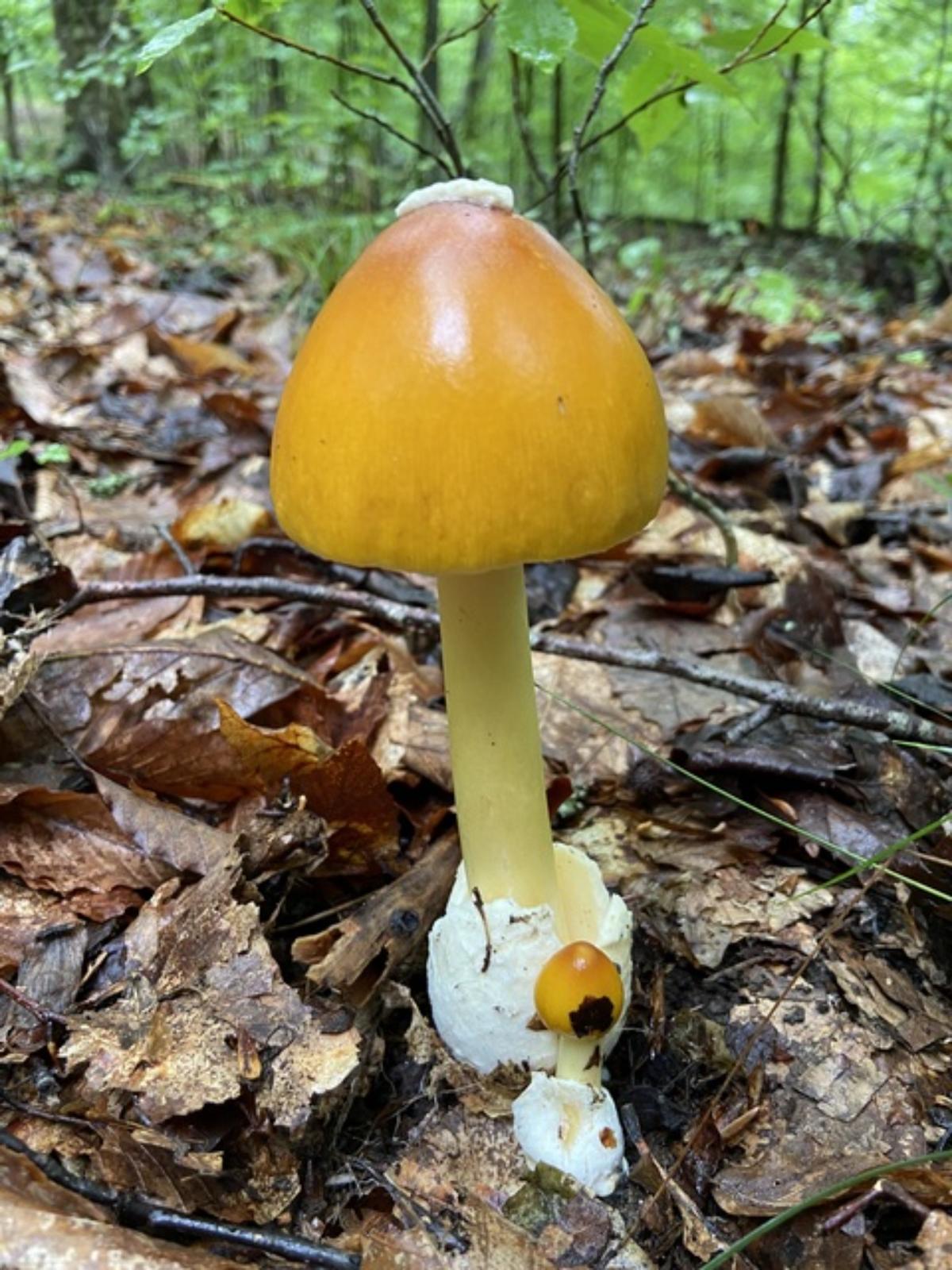 Coccora (Amanita calyptroderma)
Region: West coast, California, and the PNW
Season: Fall and winter
Habitat: Madrone, Douglas fir, and other conifers
Size: Cap 4-10 inches wide, stem – 4-8 inches long
Spore Print: White
Description: Golden-brown bald cap with striated margins. It starts out oval (egg-shaped) but then flattens out. The stem is cream-colored and has a white skirt around the upper portion. Additionally, the stem is partially hollow – it's filled with a white pith). The cap sometimes turns chocolate brown. Gills are cream-colored or pale yellow and not attached to the stem. The universal veil often remains instead of breaking away, forming a large white patch on the top of the cap. Around the base is a white cup-shaped volva. This Caesar mushroom is much stouter than the others.
*Note: There is a similar species that fruits in spring, is much lighter colored, and is often associated with the Coccora. Recent analysis shows it is a separate species. Although it is edible, foraging this one is not recommended because it looks incredibly similar to some very seriously toxic species.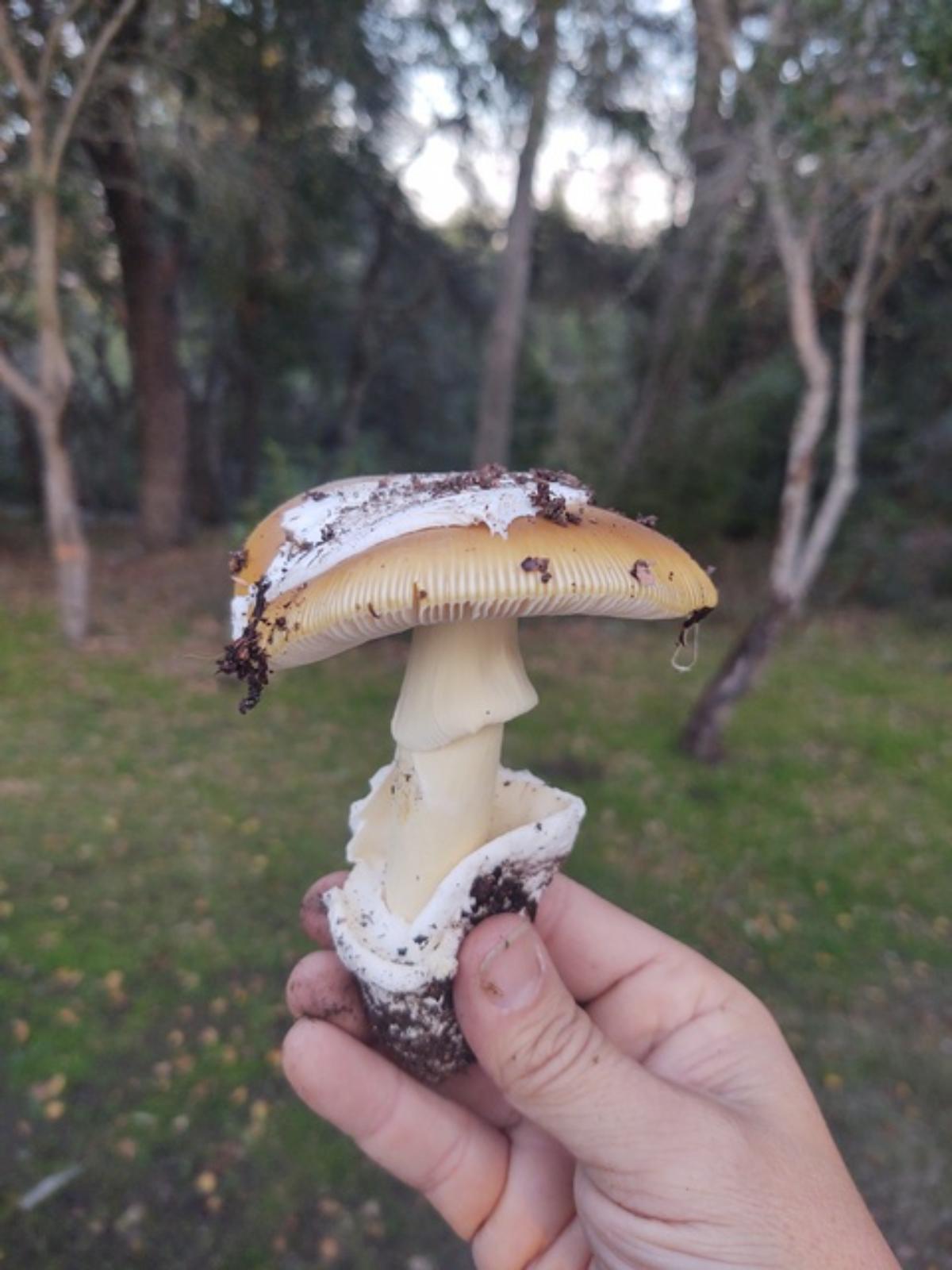 Foraging Caesar Mushrooms
Season
On the east coast, the foraging season is summer through fall. On the west coast, Caesar mushrooms appear in fall and winter.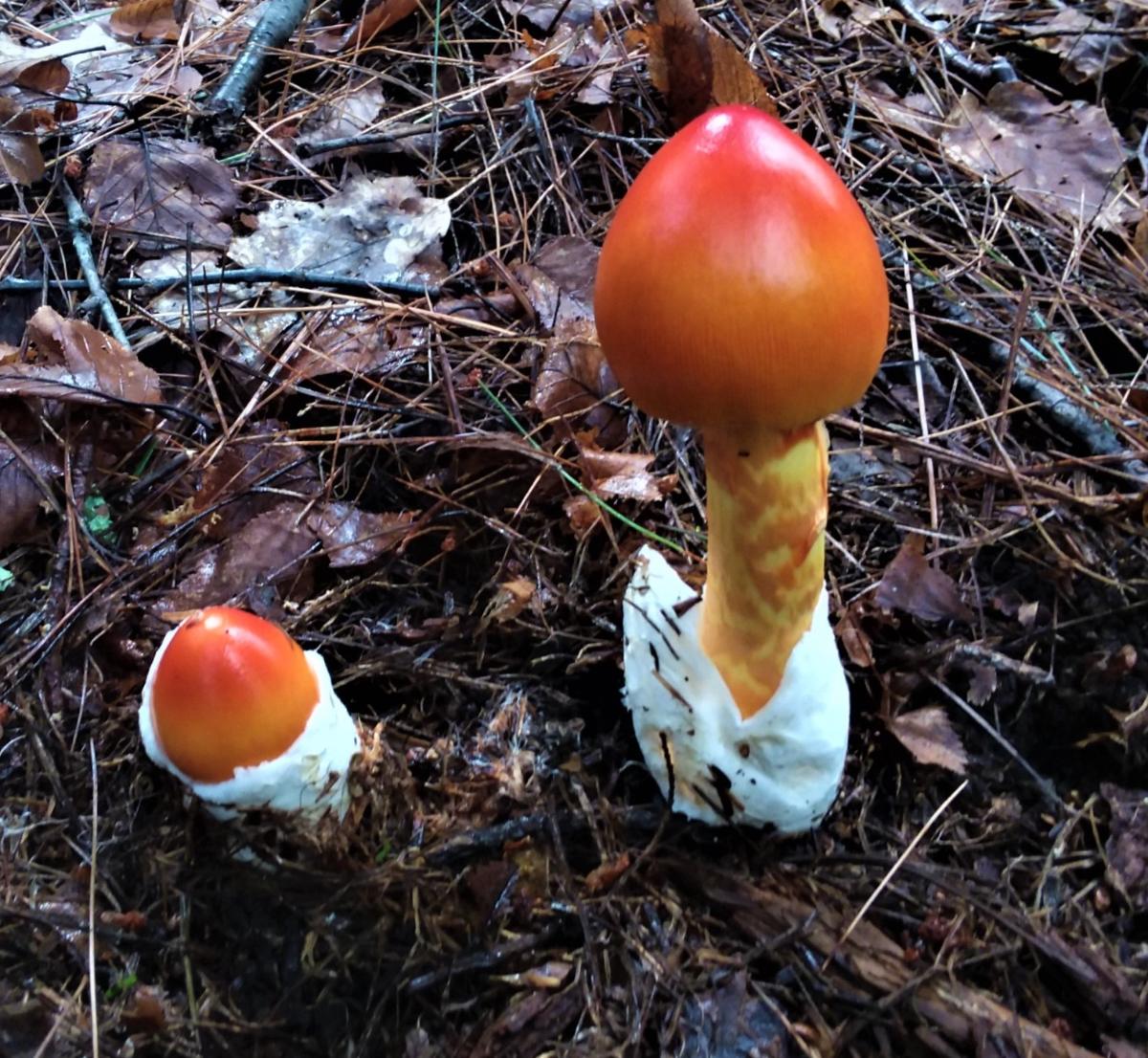 Habitat
Caesar mushrooms are mycorrhizal with trees; they form a symbiotic relationship with specific tree species. The trees vary between the species. All three of the east coast Caesars are found with oaks, and some branch out to other trees, as well. If you're on the east coast, the best place to look is around oak trees.
On the west coast, Caesar mushrooms are found with coniferous trees, Madrone and Douglas fir. In California and southern Oregon, the tree to look around is the Pacific madrone. Folks in northern Oregon and Washington state should look around Douglas fir.
Caesar fungi only grow on the ground. They do not grow from trees or dead wood. You may find them deep in the forest or along forest edges – the important aspect is that its preferred partner tree is nearby.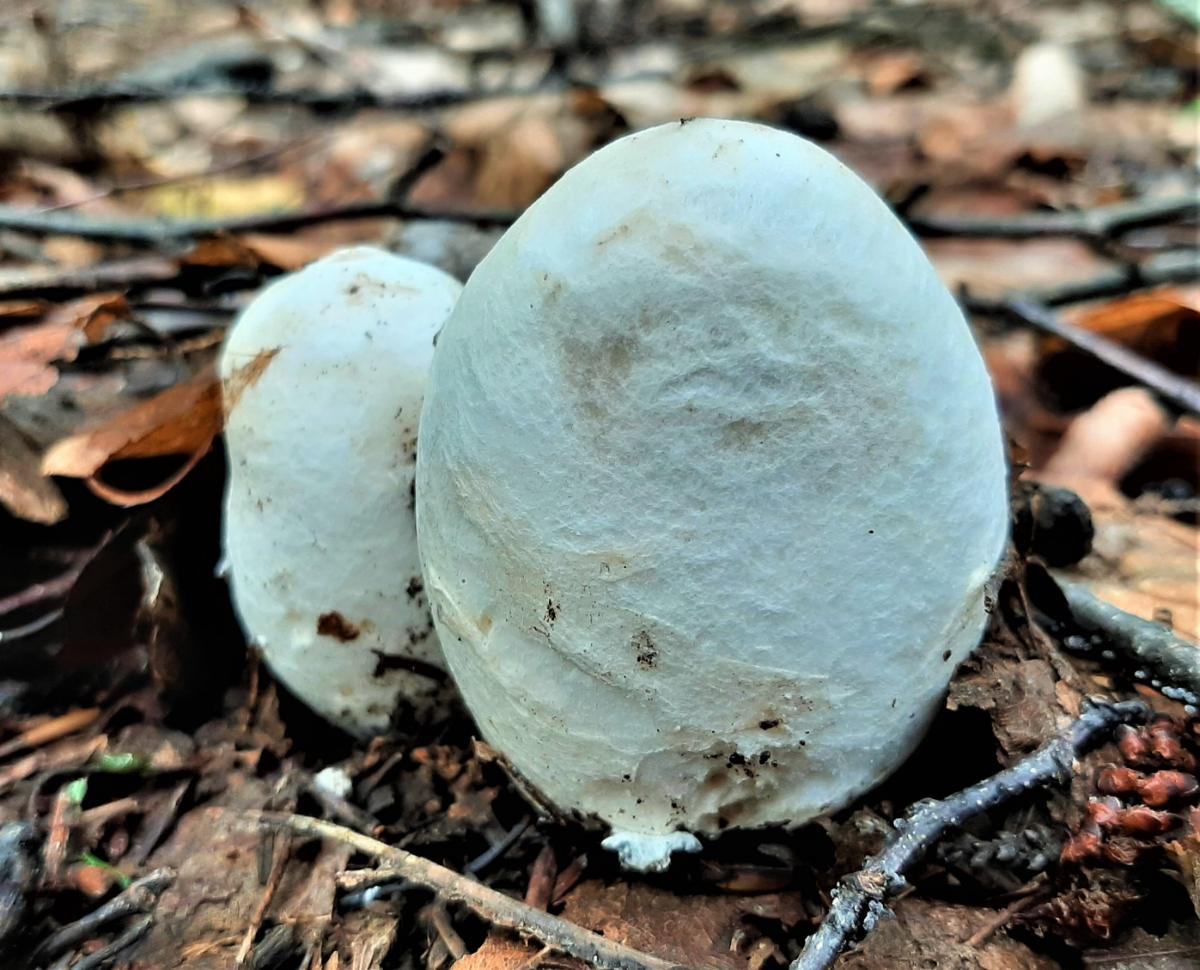 Identification
All the Caesar mushrooms have a few things in common. However, some of these things they also have in common with other poisonous Amanita species, so study each one well.
Their caps start out ovoid or egg-shaped. In fact, they are entirely surrounded by a white volva and look very much like an egg in the soil. They are usually challenging to see at this beginning stage because they are covered by layers of leaf duff or pine needles.
As they mature, they break free from their egg-shaped volva encasement and emerge from the shell. At this stage, the young Caesar mushroom is rounded with an egg-like cap. The caps are brightly colored, deep yellow or bright red, depending on the species. Around the cap's edges are noticeable striations, fine lines that mark the entire cap margin.
As the mushroom grows, the cap stretches outwards to become convex or flat. The cap coloring usually lightens or changes as it matures. At no point do the caps have patches or warts on them – they are smooth, possibly sticky, and have no decoration.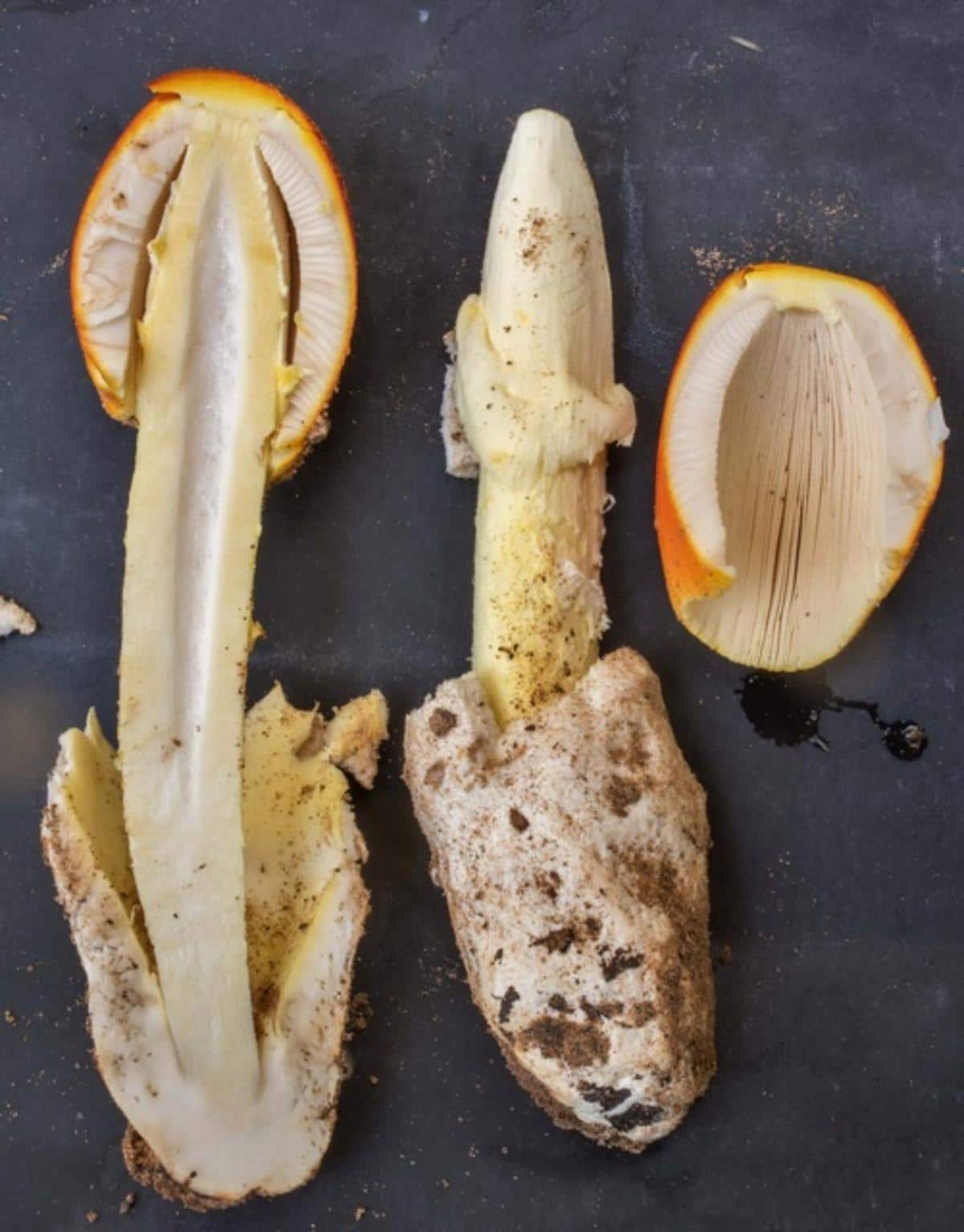 The stems are long and slender, and several species have silky fibers covering the stem. Near the top of the stem is a fibrous skirt or the unmistakable remnants of one.
Caesar gills are closely crowded, do not attach to the stem, and are yellow, pale yellow, or cream-colored, depending on the species.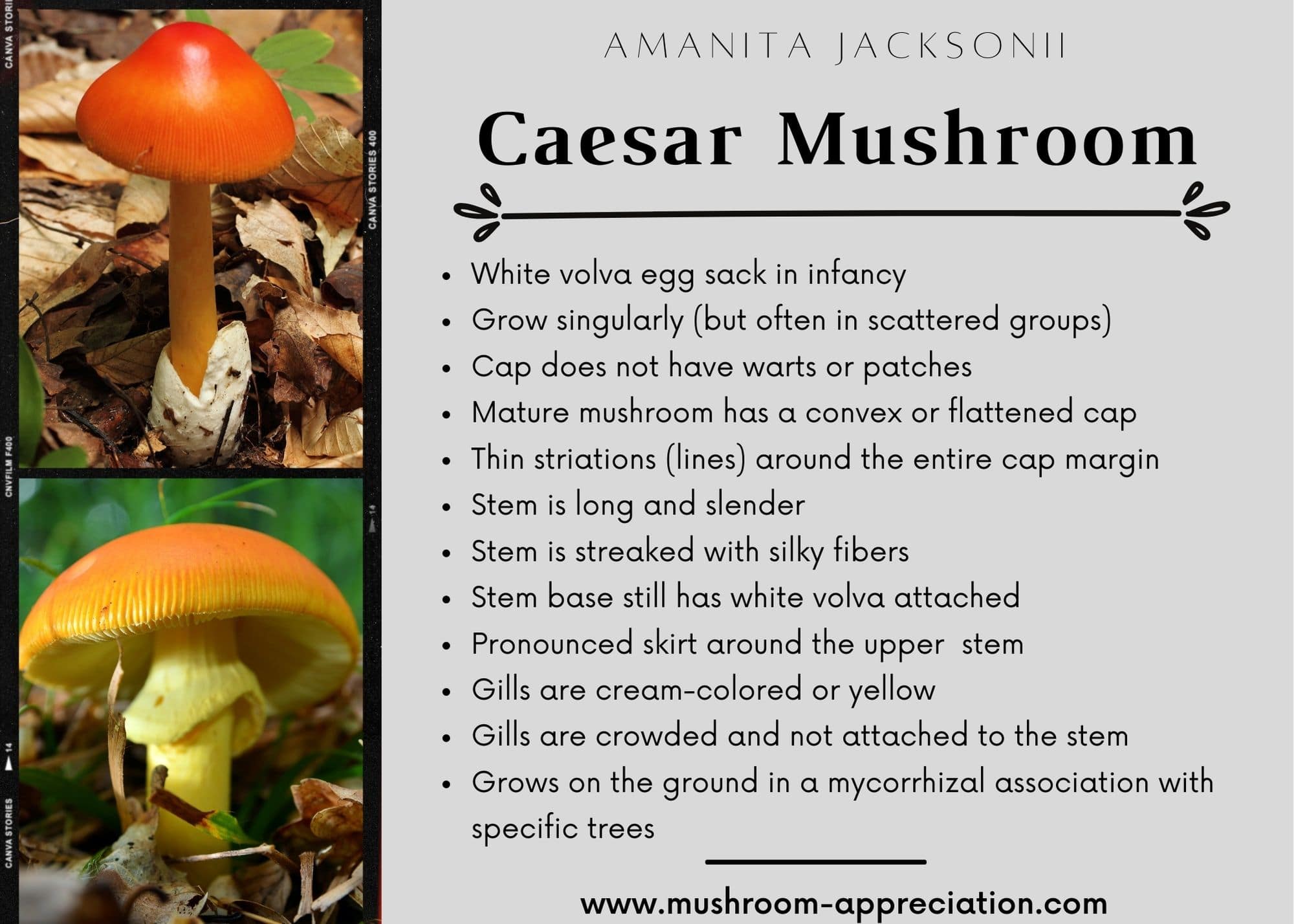 On The Lookout
Caesar amanitas usually grow in scattered groupings. They don't grow in bunches, layers, or clusters – each mushroom is individual. But, there will usually be several to many near each other.
Caesar Mushroom Lookalikes
Study this section as well as you study the one about what the edible mushrooms look like. This is where identification gets a little complicated. Most Amanita species share some commonalities, so it is vital to know the minutest variations.
The Death Cap (Amanita phalloides)
It's not called the Death Cap for giggles – this mushroom will kill you. It is the number one mushroom killer worldwide. Most poisonings happen because of misidentification with the edible species. The Death Cap used to only occur in Europe but, of course, it's one of those mushrooms that likes to travel and adapts easily to new lands. Yay.
Here's an interesting tip about these problematic Amanitas – on the west coast, they tend to prefer oaks, like the live oak and coast oak. And, on the east coast, they prefer pines. This is almost the exact opposite of the edible species. And it's a great way to differentiate the good from the bad.
If you're on the west coast and see what looks like an edible Caesar around an oak, walk away – fast! Sadly, there are recent reports that the Death Cap will grow with pine on the west coast. So, you still have to be very careful when foraging around pines and really pay attention to the tree species.
Folks on the east coast have it a little easier. All the edible yellow Caesars on the east coast grow with oaks or other hardwoods. So, a yellow Caesar around a pine tree should be widely avoided as if your life depends on it because it probably does. The red Caesar mushroom grows with hardwoods and pines, but it is a very different color than the Death Cap and easier to identify.
Death Cap Amanita Characteristics vs. Edible Caesar's:
Greenish-yellow cap (not red or deep yellow)
No striations around cap margin (the edibles have clearly visible lines)
White gills (not cream or yellow)
Stem is white or yellowish
Same white volva
White skirt around the stem
Appears in all seasons on the west coast, but more so in fall and winter.
Those who have eaten this mushroom and lived to tell it report that it has a nice flavor. It's also quite a beautiful, striking mushroom. Don't let it fool you.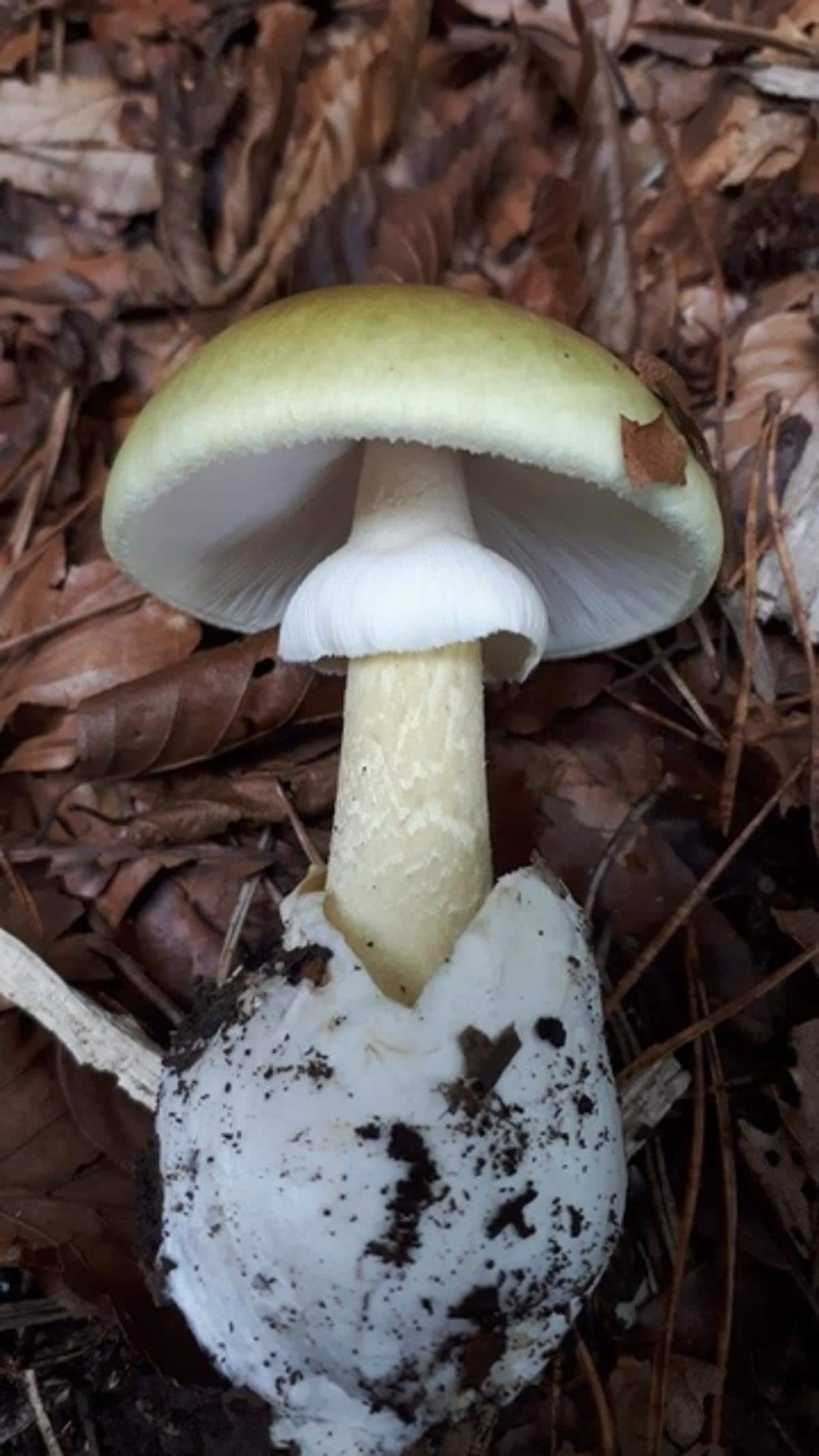 Destroying Angel (Amanita ocreata [west-coast] and Amanita bisporigera [east-coast])
Another gorgeous Amanita with a fantastic and well-deserving name, the destroying angel doesn't mess around. The western species emerge in spring, so that is usually an excellent way to start figuring out if it is an edible Caesar, which is a fall or winter mushroom, or the destroyer.
The east coast destroying angel is a summer and fall mushroom, just like the Caesar's, so it's a bit easier to mix up.
Thankfully, some key points help differentiate the Destroyers from the edible Caesar mushrooms.
Destroying Angel Amanita Characteristics vs. Edible Caesar's
Destroying angels have smooth white caps (not red, not yellow, not yellow-orange)
There are no striations around the cap margins
Gills are white (not yellow or cream-colored)
Stem is white and usually covered in white fibers
Skirt around the stem is white
From top to bottom is overall white in appearance, hence the "angel" nickname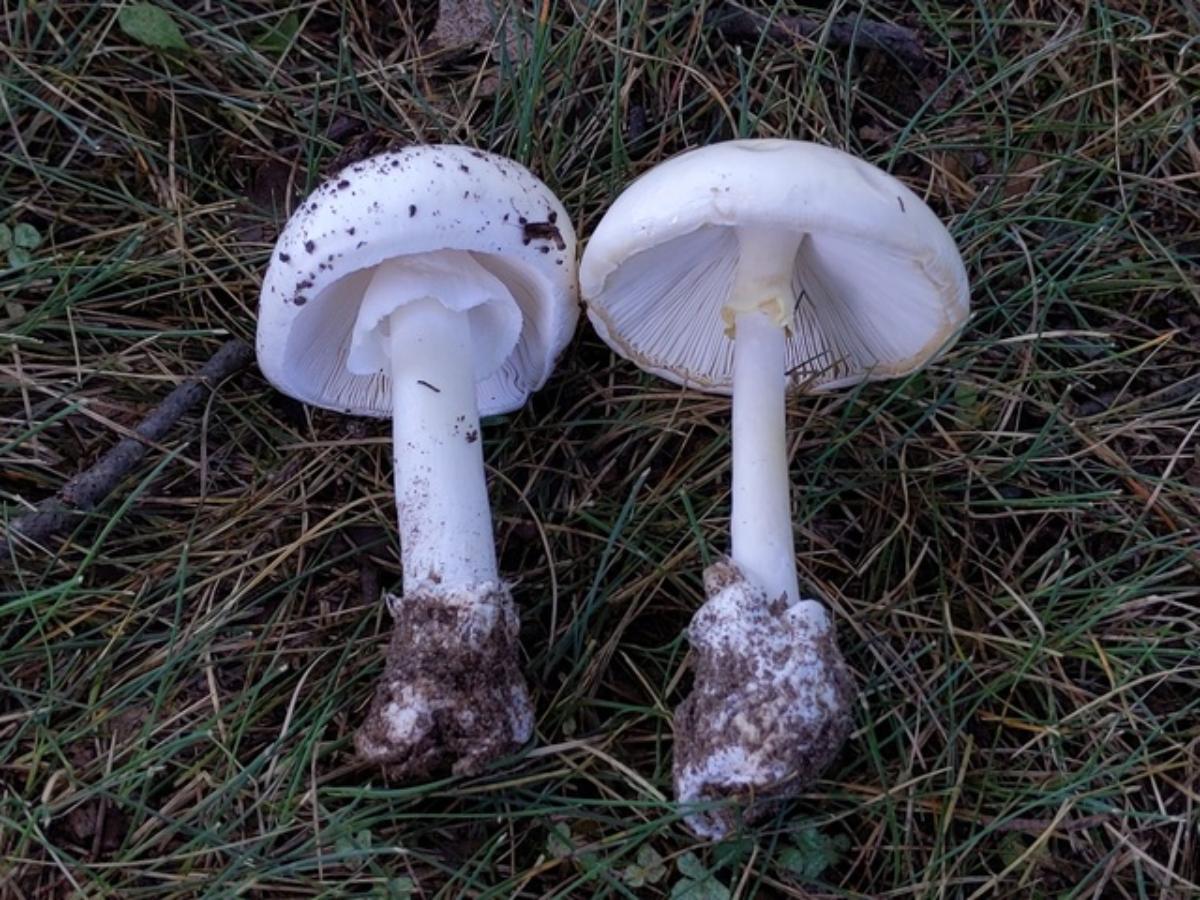 Fly Agarics (Amanita muscaria & Amanita muscaria var. guessowi + others)
Whether the different colors of the widely recognized "toadstool" mushroom indicate different species or just variations is still debated. What is known is that they are poisonous. This species isn't quite as horrible as the Death Cap or Destroying Angles, but still not one you want to mix up at all. For the forager out looking for edible Caesar mushrooms, there are just a few things to remember:
Fly Agarics are often brightly colored with red or yellow or peach or some variation – this is how they are similar to Caesars.
Fly Agarics have white warts or patches covering their caps – look at the images – they are very noticeable and an essential identification key.
The white warts on the cap are usually pyramid-shaped.
As the mushroom ages, the warts become less prominent, but they are still there.
Heavy rains may wash the white warts off to some degree but rarely are they removed entirely – there will still be some patches.
The caps may have light striations around the margins, but if they are there, they are much less defined than a Caesar mushroom.
One of these images is a Caesar Amanita and the other is Amanita Muscaria — can you tell the difference?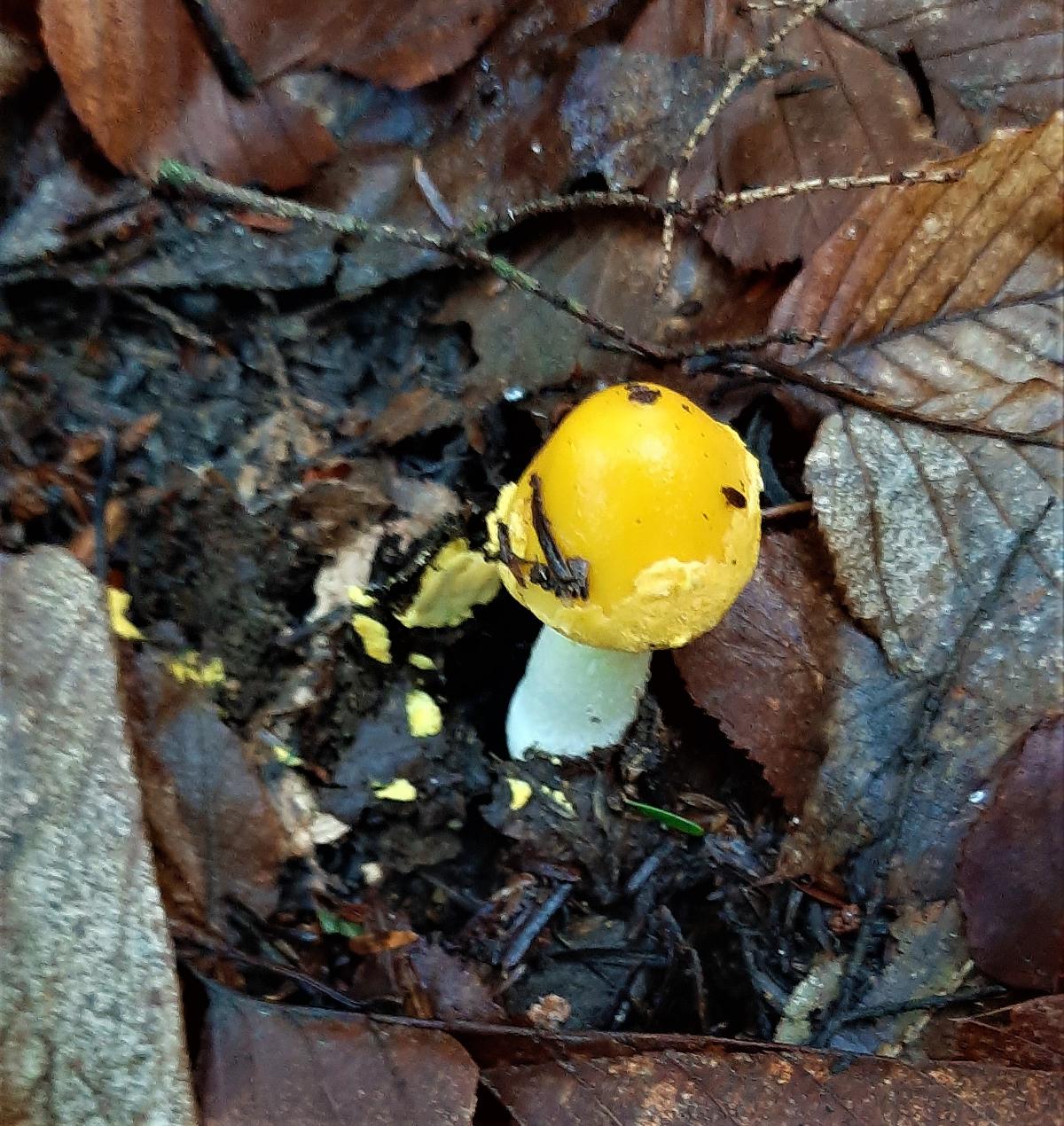 Common Questions and FAQS
Is the Caesar Amanita hallucinogenic?
How do you cook Caesar mushrooms?
A simple saute is ideal – they are fragile mushrooms that fall apart if cooked too aggressively. Sous-vide is also a great way to cook Caesar mushrooms or a very light grilling or roasting. The key is to let the mushroom flavor shine through and not cover it up with a ton of spices, creams, or heavy flavors.
What do Caesar mushrooms taste like?
The flesh is creamy, almost buttery, and the flavor is mild with a bit of sweetness. They're genuinely unlike most other edible mushrooms.