Bird's nest fungi are a unique and spectacular class of fungi. These fungi develop round spore capsules that look just like eggs in a bird's nest. Truly one of the more fascinating fungi species, bird's nests are a delight to find.
North America has at least 30 species of bird's nest-looking fungi. In this guide, we'll just cover some of the most common to get you started recognizing and identifying these unique forest gems.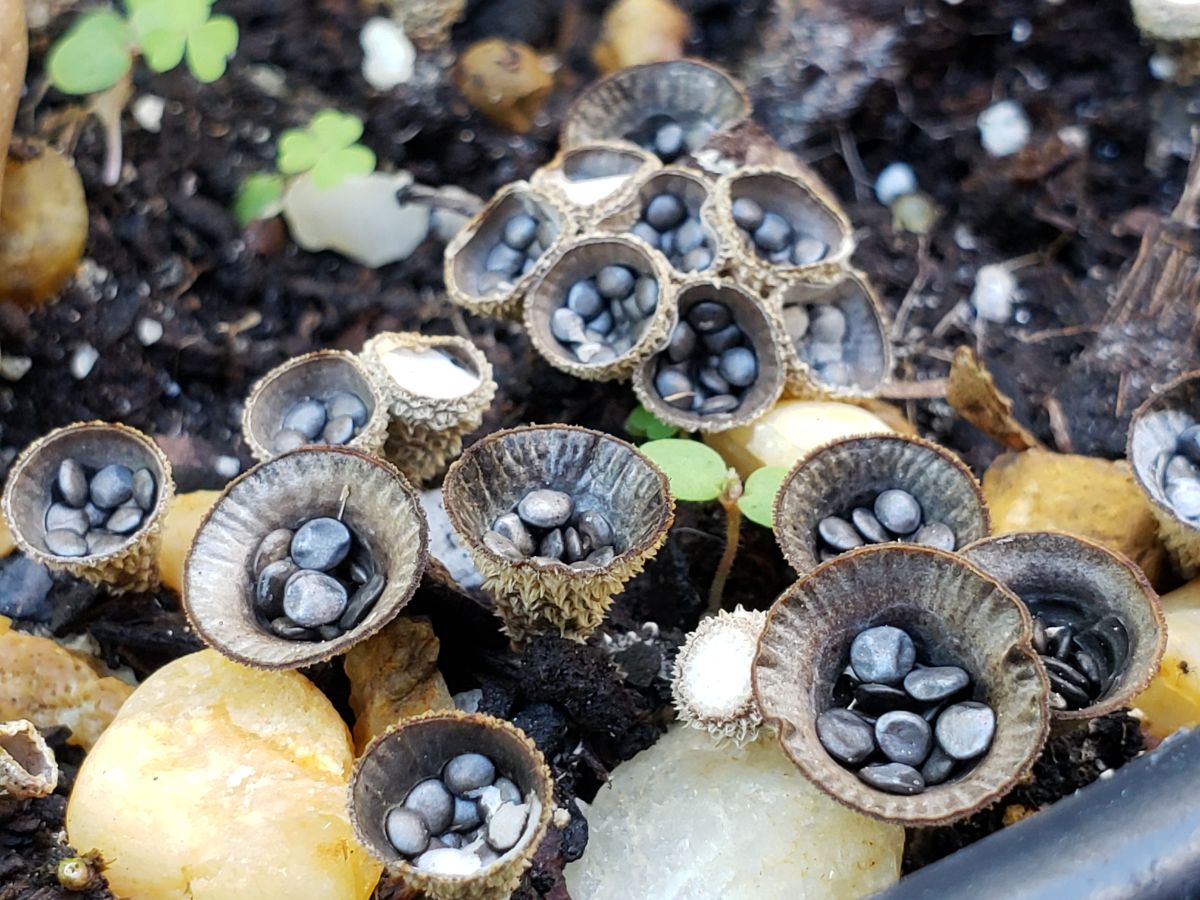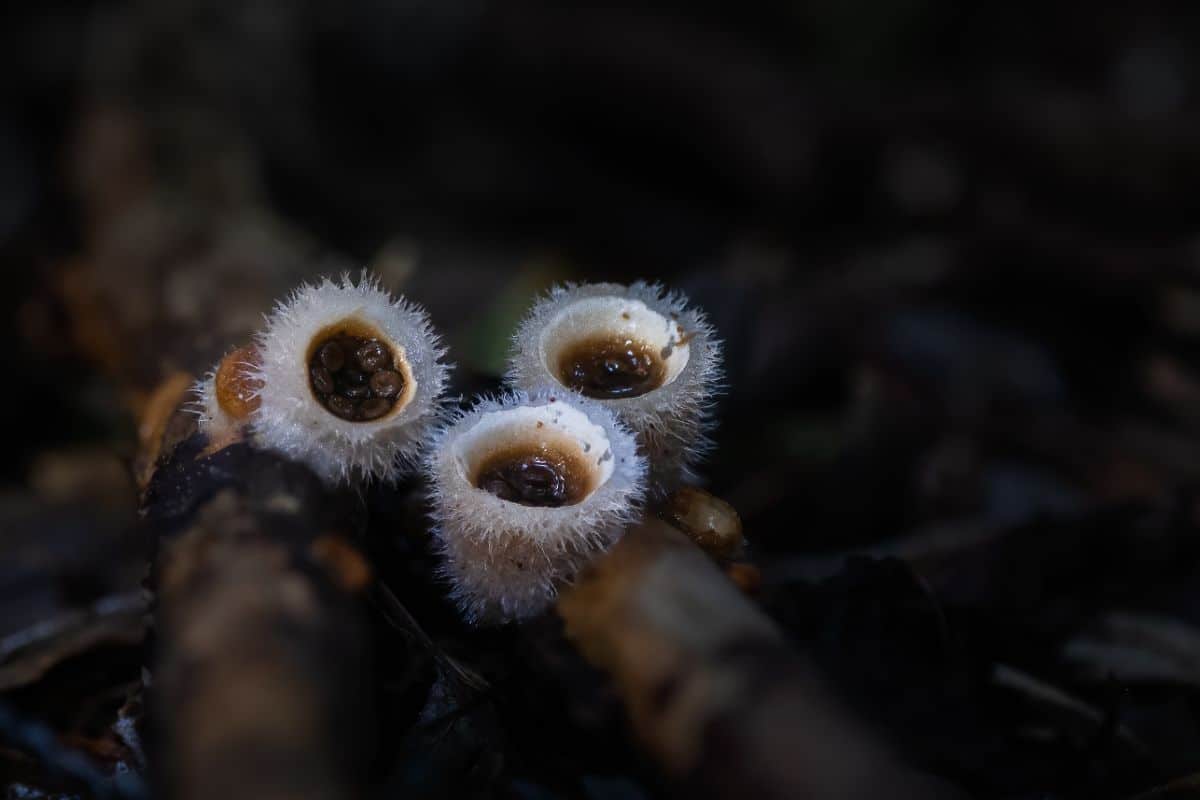 Jump to:
All About Bird's Nest Fungi
Many species (30+) share the common name, bird's nest fungi, which is well deserved. The fruiting bodies of these fungi form tiny bowl-shaped nests which contain tinier spore-filled balls, or "eggs." The outward appearance is remarkably and rather startling, that of a teeny tiny bird's nest. Most of these species are no larger than the nail on your pinky finger.
The bird's nest fungi are all part of the Nidulariaceae family and fall into five genera: Crucibulum, Cyathus, Mycocalia, Nidula, and Nidularia. Yes, it can be quite confusing to identify these species! Many times, it takes very close and careful inspection with a magnifying glass, or you may need to use a microscope.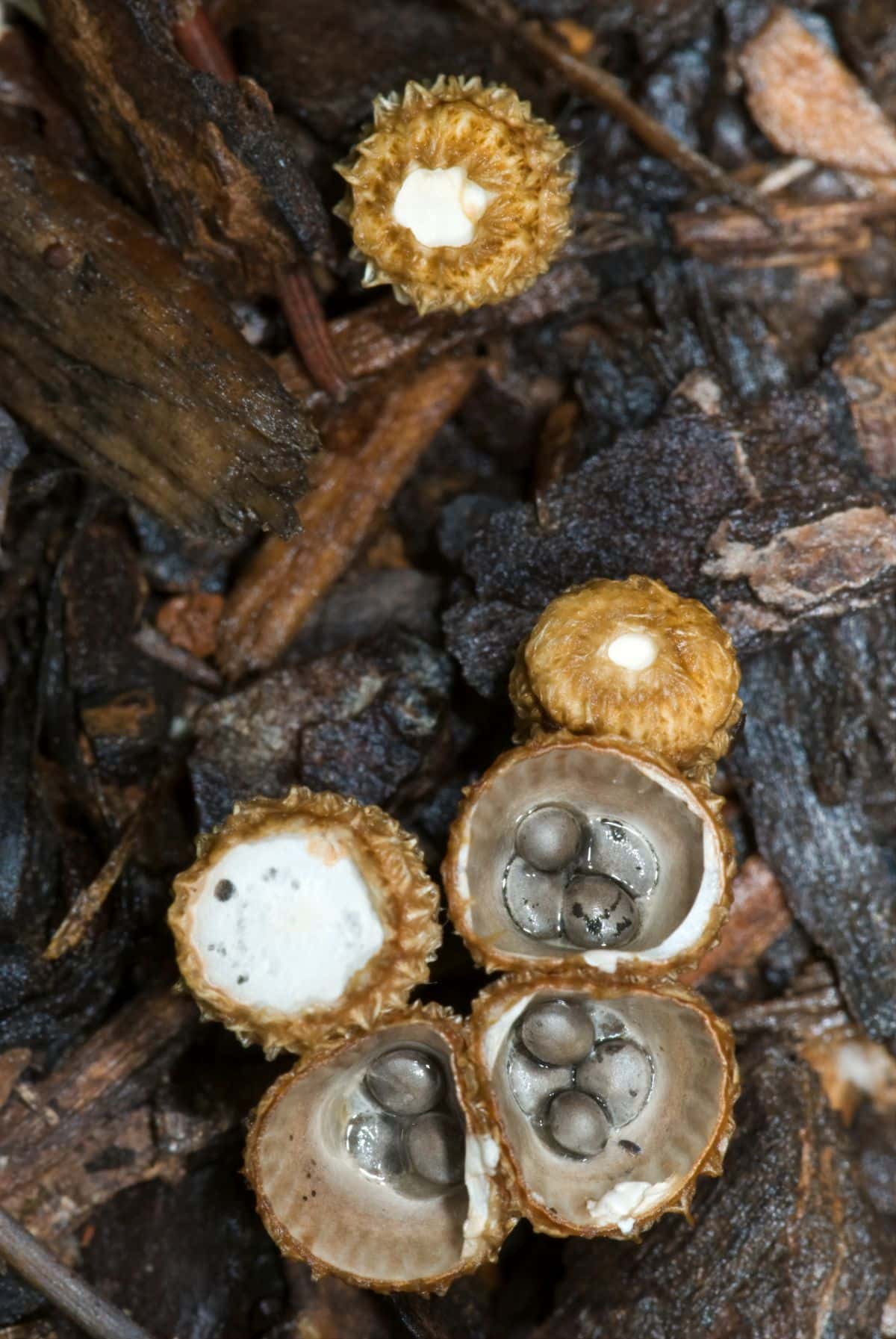 One key to identification lies in the color of the eggs; this will usually at least get you to the proper genera. Cyathus species have black eggs, while Crucibulum have black eggs surrounded by a white membrane, making them look white. Mycocoalia has yellowish or reddish-brown eggs. And, Nidula and Nidularia species have brown eggs.
This fungus functions in an unusual and still not entirely known manner. The nests (scientific name peridia) act as splash cups, which hold the spore eggs (scientific name peridioles). So, when rain hits the inside of the nest, it sends the eggs like projectiles into the air, where they land on leaves, branches, and twigs. The spores then disperse from the eggs to (hopefully) germinate new bird's nest growths.
Bird's nest fungi are saprobic, meaning they feed on decomposing material, like wood, mulch, leaves, and the like. When they land on suitable organic material, they attach to it. It is thought that herbivore mammals that eat organic matter with bird's nest fungi attached spread the fungus's spores in their waste droppings.
When bird's nests were first described to science, there was a lot of debate about how they function. Many experts thought the eggs were actually seeds, which were then dispersed like any other plant seed to take root. It also took a while for scientists and mycologists to figure out how the eggs were ejected from the nest. In the late 1790s, the French botanist Jean-Jacques Paulet suggested that a spring mechanism in the nest propelled them out.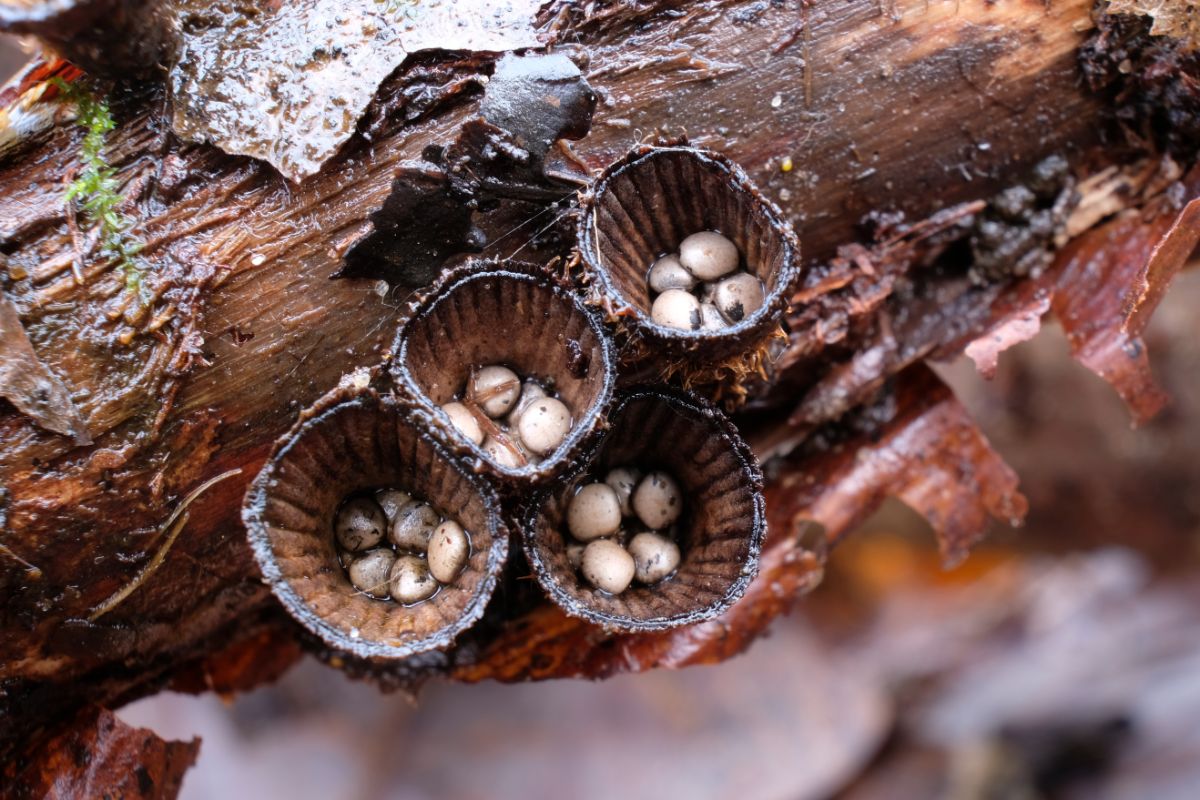 The eggs in the bird's nest splash cups are hard and waxy. They resemble little lenses or tiny lentils. There are usually 3-8 eggs in a cup; rarely is there just one, or more than 8, although it is possible. Spores reside inside the eggs, protected by the hard outer wall. This tough wall allows the eggs to pass through an animal's digestive system without being completely decimated.
The interior of the bird's nest is remarkably precise. Splash cup walls form at a 70-75 degree angle, creating perfect conditions for launching outwards when a raindrop hits.
Finding one of these little nest gems takes a good eye and attention to detail. When I say they are small, I mean very small. Luckily, many species of bird's nest fungus grow in groups. This clustering of fruiting bodies helps make them noticeable as you walk through the forest.
If you want to dive more into the science of bird's nest fungi biology, check out this article, Molecular systematics and taxonomic overview of the bird's nest fungi.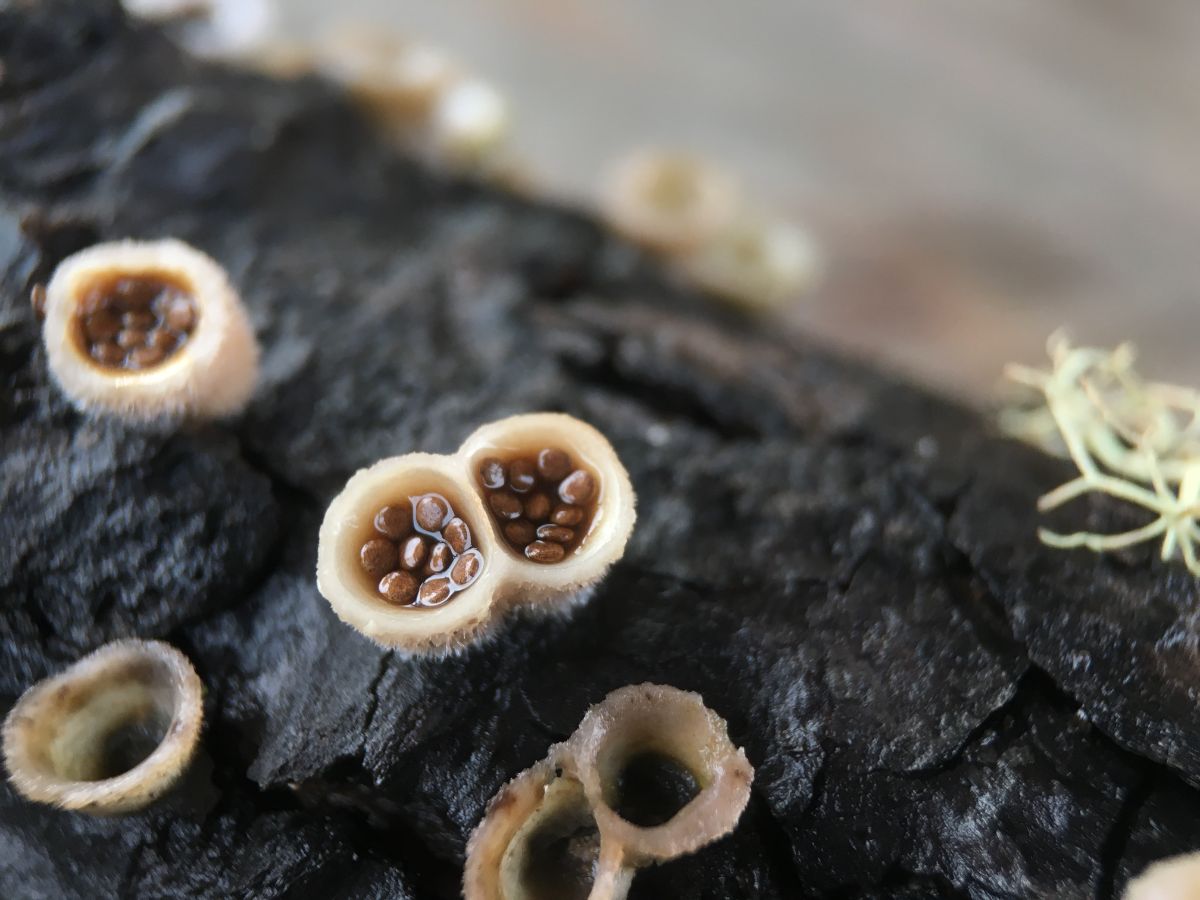 Bird's Nest Fungi Identification
Season
Seasons vary by species.
Habitat
Most bird's nest fungi are tropical or subtropical. This means most of the United States won't see them in their backyards or forests. However, quite a few still occur north of the Gulf Coast.
Most bird's nest fungi grow on decomposing material, like organic forest debris, dead plants, leaves, sticks, and manure.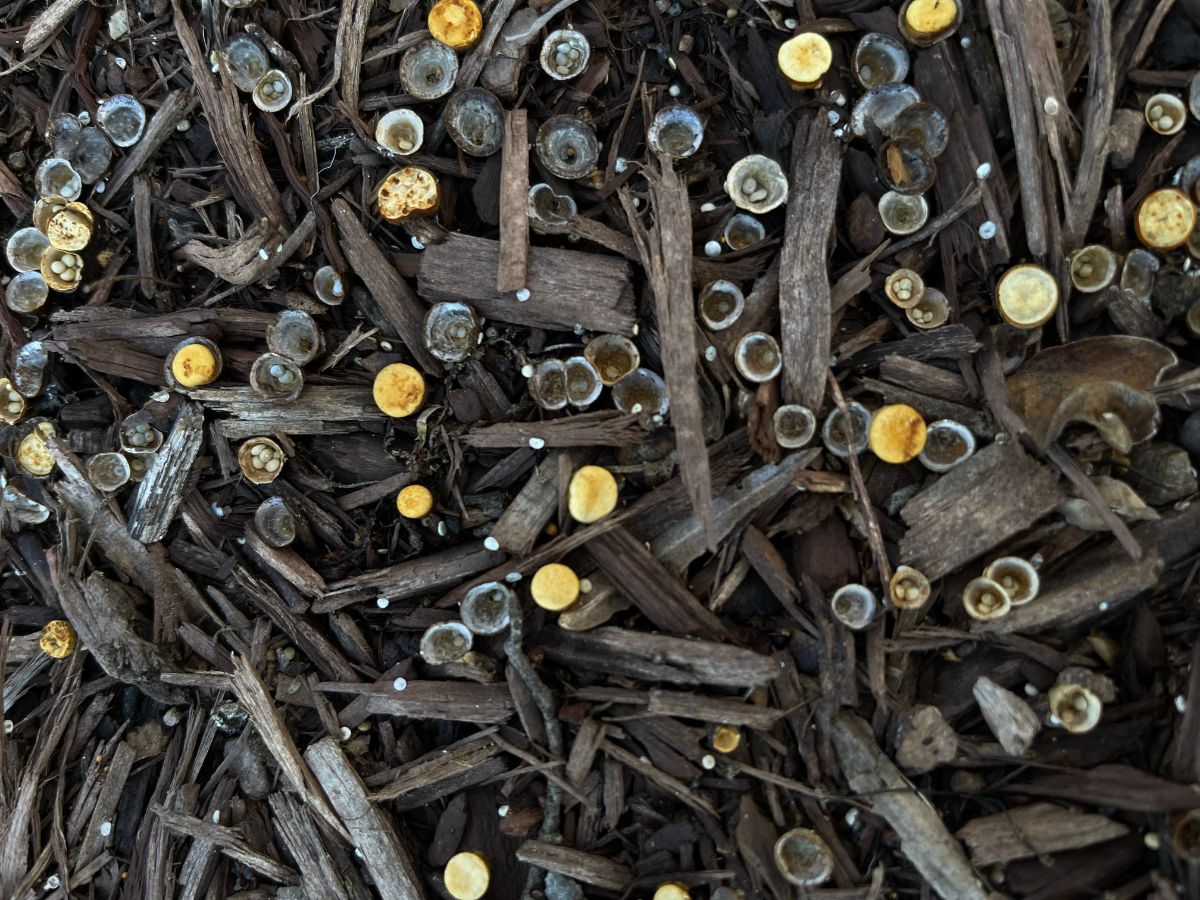 Bird's Nest Fungi Life Stages
Bird's nest fungi grow in two primary forms. Most develop as a bowl-shaped splash cup in which the eggs emerge attached to the cup. However, some bird's nests grow like a closed pita pocket, which is then broken apart with age to reveal the eggs in a gelatinous mass.
Funiculus attachment:
The cord connecting the eggs to the cup's interior is often impossible to see without a magnifying lens. It will take patience and a thin needle or pin to separate the slender cord enough to see it.
This cord is called the funiculus, and it is the apparatus by which the eggs attach themselves to debris once they've been launched from the nest. A funiculus can be several inches long, which is considerable considering the nests themselves are rarely more than 1/2″ wide, and the eggs are even smaller.
It goes like this:
Eggs hang out nestled cozily in their tiny nest.
Raindrops hit the nest, projecting the eggs out of it.
The cord (funiculus) attaching the eggs to the nest stretches to its max until it breaks.
When the cord breaks, it remains attached to the egg
The ends of the cord are frayed from being torn. These frayed edges are adhesive.
As the egg is projected through the air, the adhesive frayed funiculus end attaches itself to random debris it encounters—for example, leaves, twigs, branches, and nutshells.
When the funiculus connects and attaches to the debris, it stops the egg from continuing to fly through the air. The egg is then pulled back like a tetherball and attaches to the debris surface.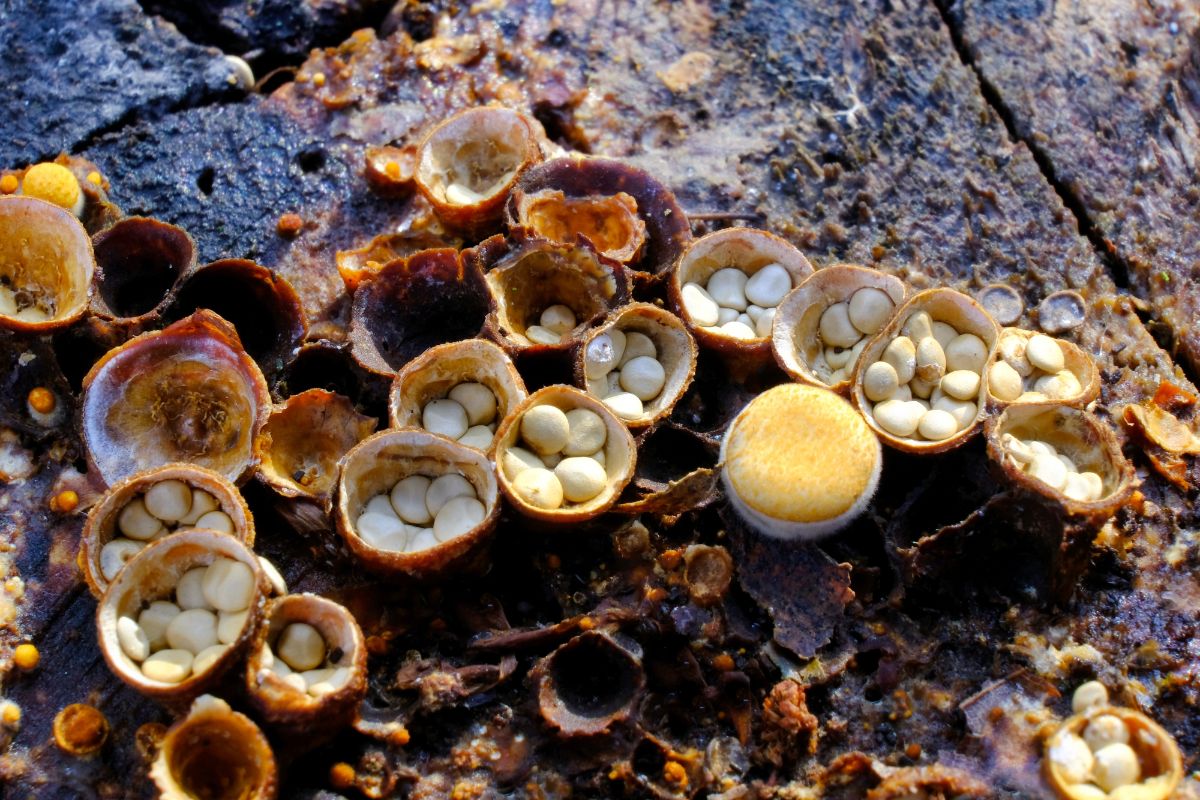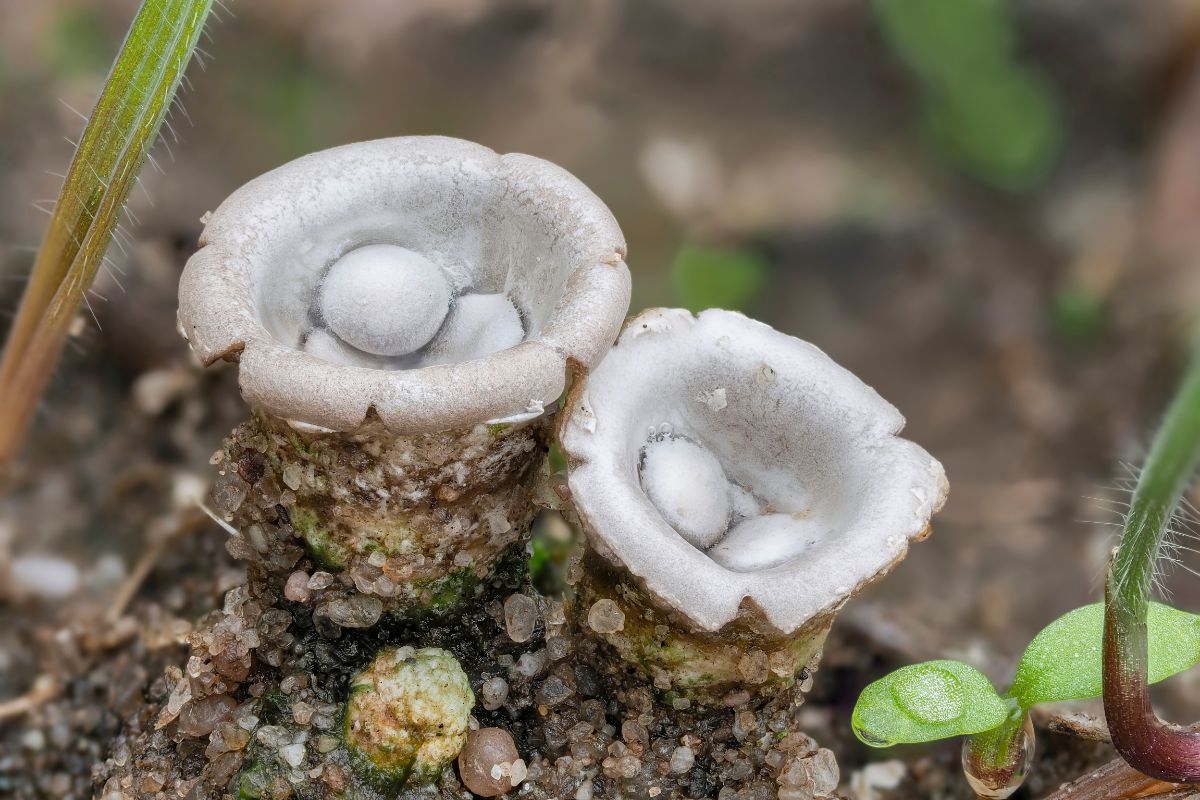 North American Bird's Nest Fungus Species (A selection)
Crucibulum laeve
Likely the most common bird's nest fungus in temperate North America, this specimen is pretty easy to identify. The outer surface is yellowish, from mustard yellow to dullish yellow. At first, the nest is pillow shaped, but as it matures, it turns vase-shaped. The eggs are tan or buff colored. It has been collected from Alaska to Mexico and widely around the world, as well.
Distinguishing features:
Yellow(ish) exterior, 1/8-1/4″ tall and wide
Nest interior is shiny, bald, and grayish
When young, a yellowish lid covers the nest
Grows on forest debris (sticks, nutshells, leaves, etc.), dung, woodchips, old wood
Eggs are tan to buff and around 1/16″ wide
Eggs attached to nest with tiny cords (funiculi)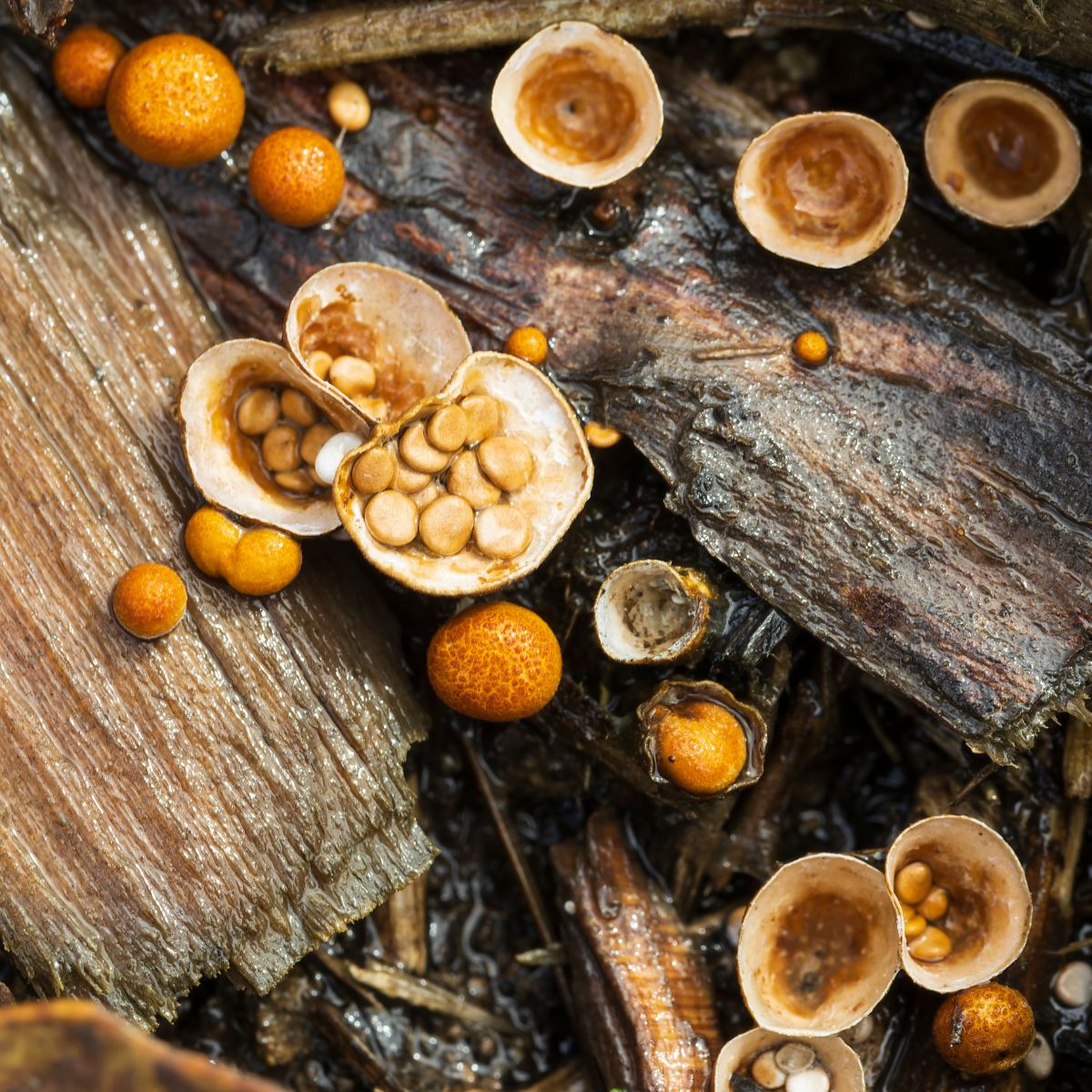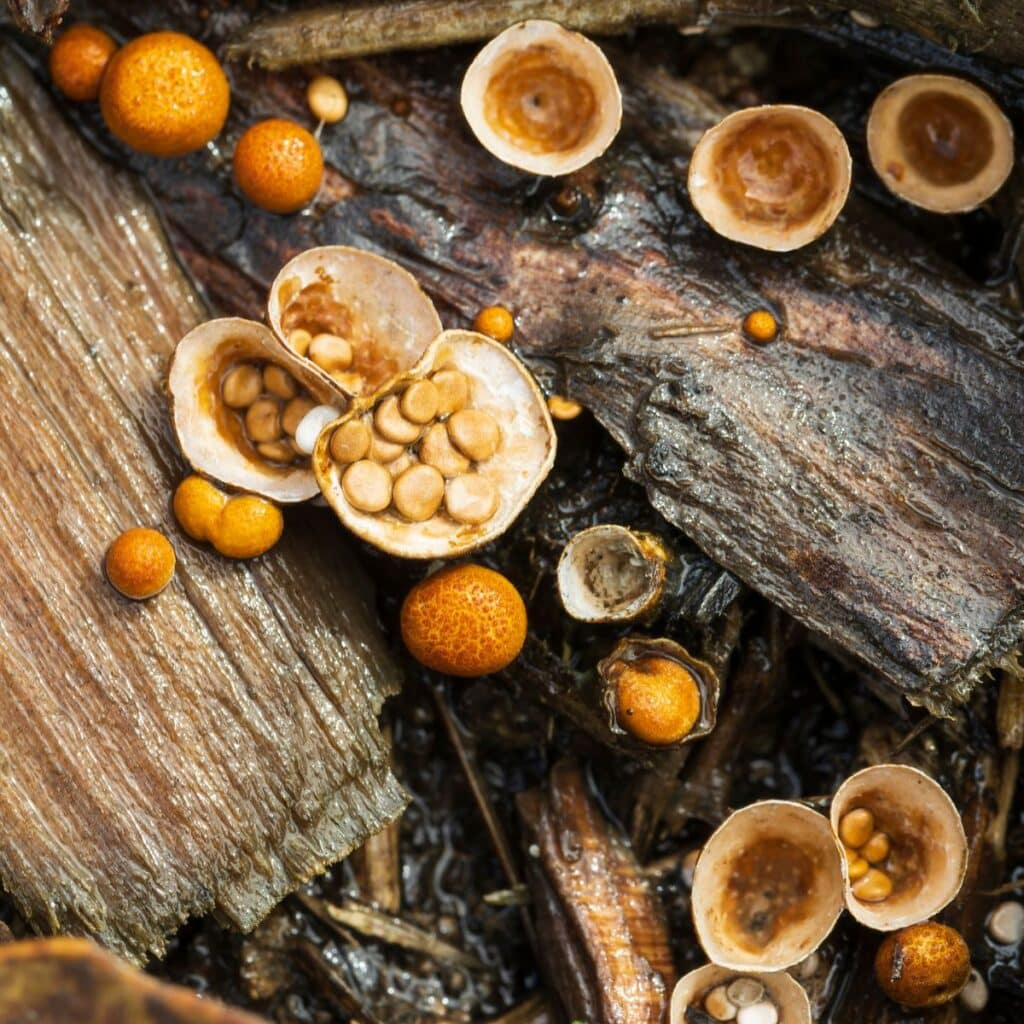 Cyathus olla
This bird's nest fungus distinguishes itself with rather large eggs (and nest) compared to other species. It is widely distributed across North America, growing on woody debris or dead plant stems, like corn husks. It appears in summer and fall.
Distinguishing features:
Brown to gray exterior, smooth or lightly hairy
Nest grows 1/4-3/4" tall and 1/4-1/2" wide
Vase-shaped, nest edges turn wavy and extend with age
Interior is silvery gray and smooth
Grow on woody debris and dead plant stalks
Eggs are gray to almost black and average 1/8" wide
Eggs attached to nest with funiculi cords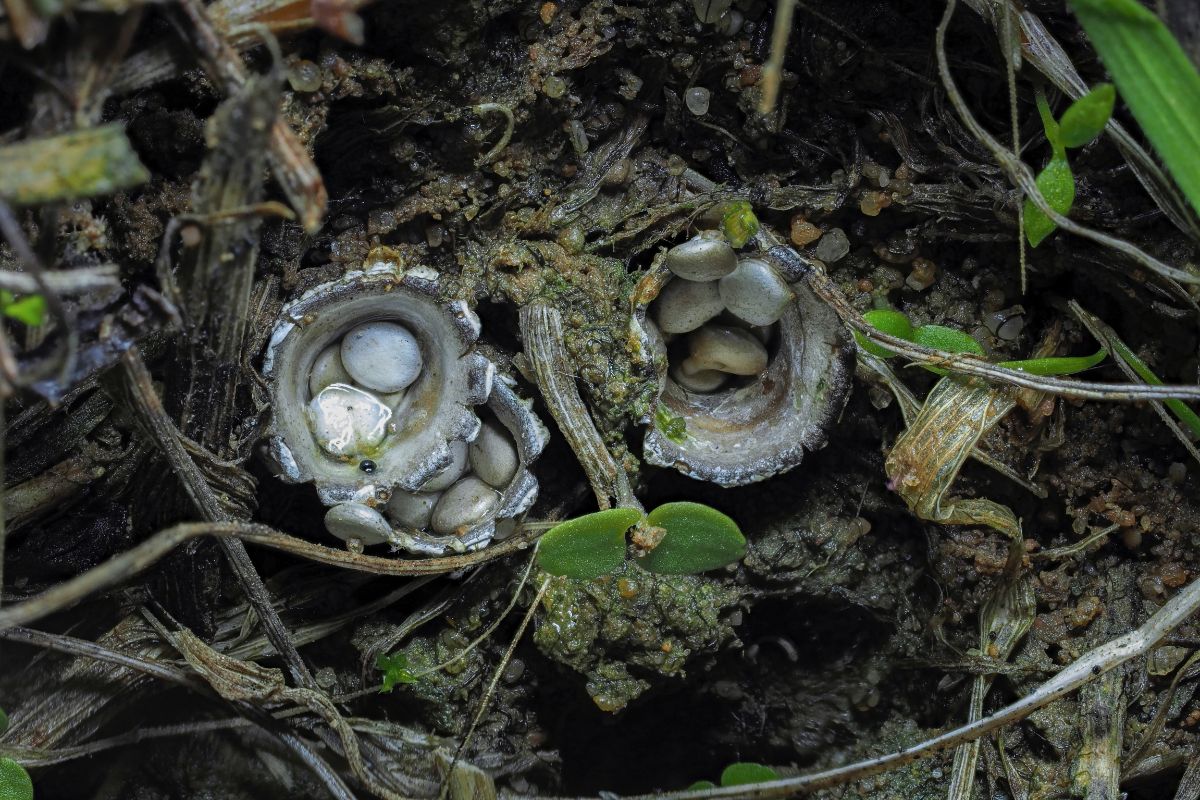 Cyathus stercoreus
Stercoreus translates to "dung" or "filth," which is a great way to remember this little bird's nest species. It happily grows on manure, wood chips, and other organic debris. The outer surface of this species is brown, shaggy, and vase-shaped. It is very tiny and widely distributed across North America in summer and fall. Distinguished from C.striatus (described below) by its unlined interior.
Distinguishing features:
Shaggy, brown exterior, 1/4-1/2″ tall and wide
Vase-shaped
Nest interior is shiny, smooth, and dark brown to black
When young, covered by a whitish lid
Grows on manure and organic debris
Eggs are black, round, and around 1/16″ wide
Eggs attached to nest with funiculi cords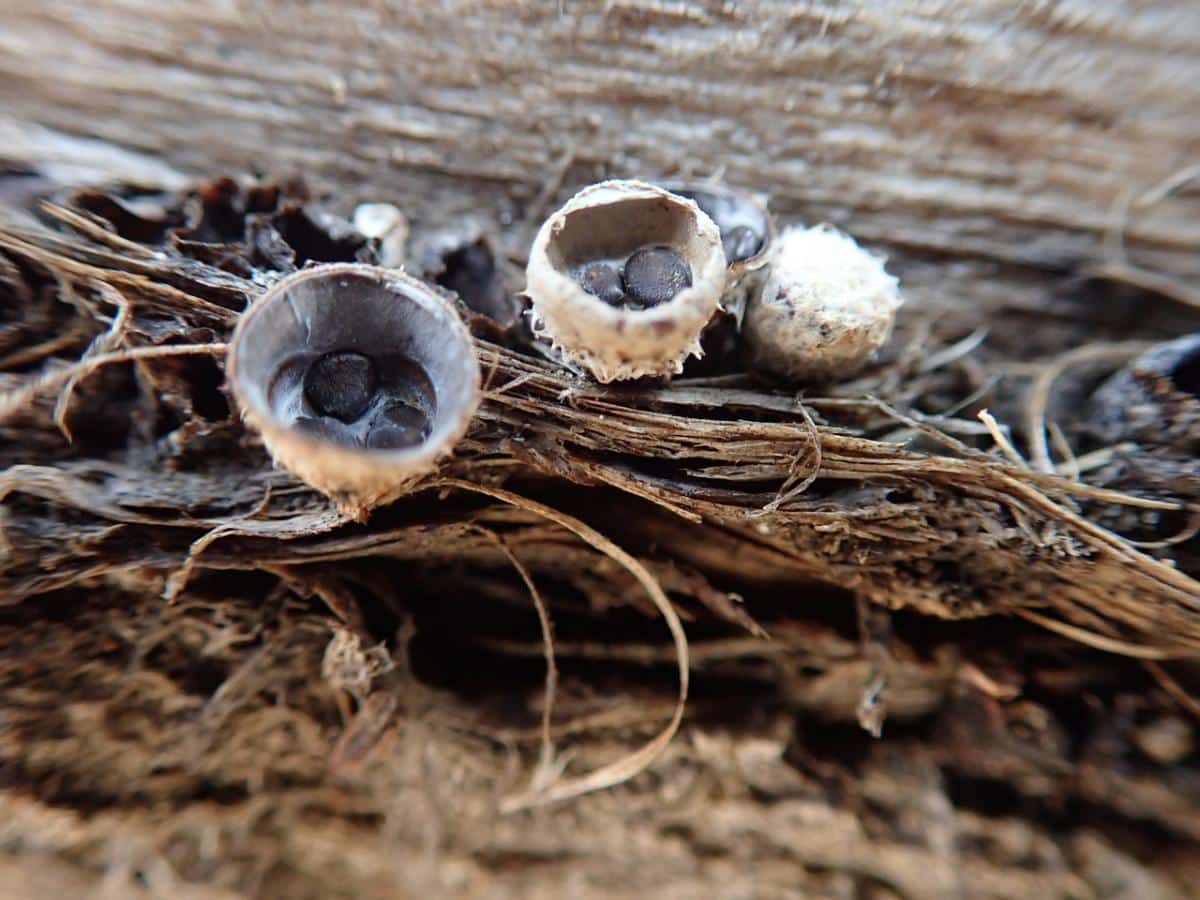 Cyathus striatus
This species is easily identified in temperate North America due to its fuzzy exterior and striated interior. In tropical areas, several grow like this, so it's a bit more confusing there. This bird's nest fungus varies significantly in color, overall appearance, and size, but it always has a shaggy, hairy outer surface. It grows on forest debris and is widely distributed.
Distinguishing features:
Nest is vase-shaped; it grows 1/4-1/2″ tall and about 1/4″ wide
Outer surface of the nest is gray to dark brown and shaggy, hairy, or woolly
Inner nest surface is grooved and shiny (like the inside of a seashell)
Eggs are gray, round, and approximately 1/16″ wide
Eggs attach to next via thin cords (funiculi)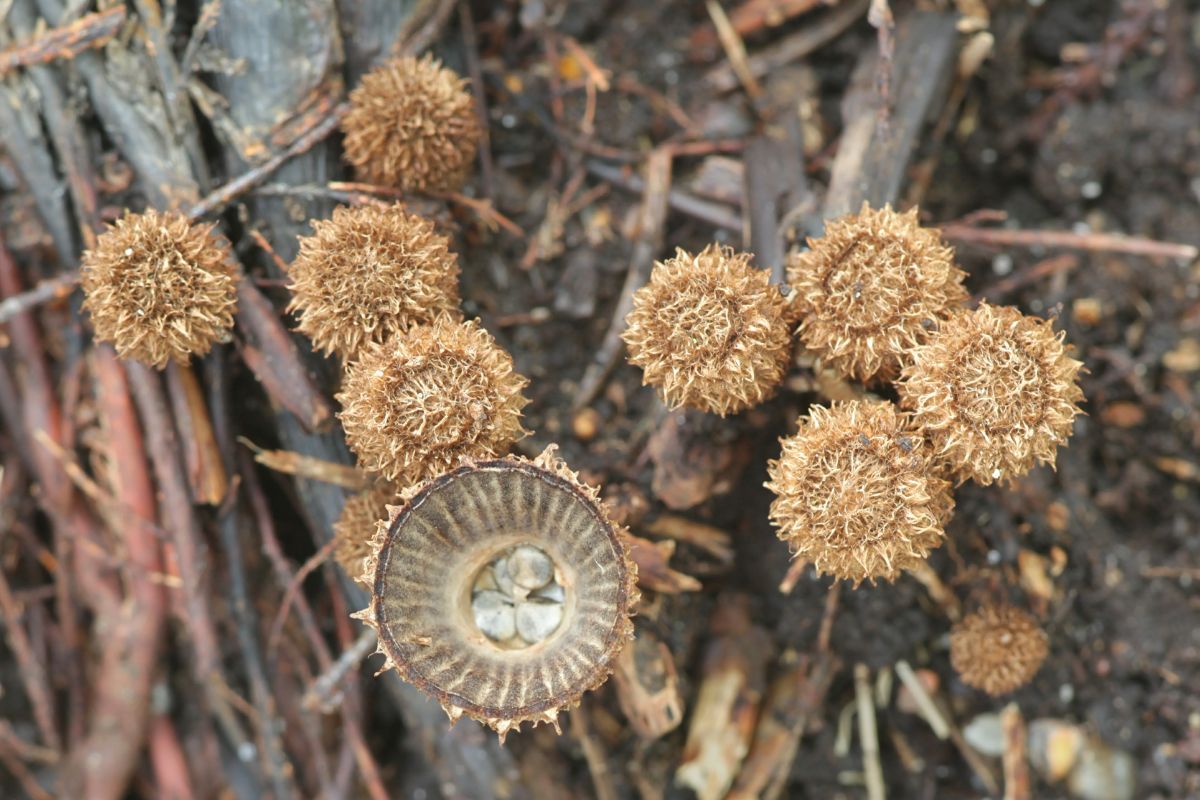 Nidula candida
A bird's nest from the west coast, this species grows on branches, woody debris, stumps, and even berry canes. It appears from fall to winter and is widely distributed in its range, the Pacific Northwest, and California to Alaska.
Distinguishing features:
Urn-shaped nest covered with gray-brown-tan shaggy hairs
Nest is 1/4-3/4" tall with a flared edge
Eggs are light gray or pale brown and approximately 1/16" wide
Eggs covered by a gelatinous substance
This differs from the other common western Nidula species, Nidula niveotomentosa, which is smaller and covered with white hairs.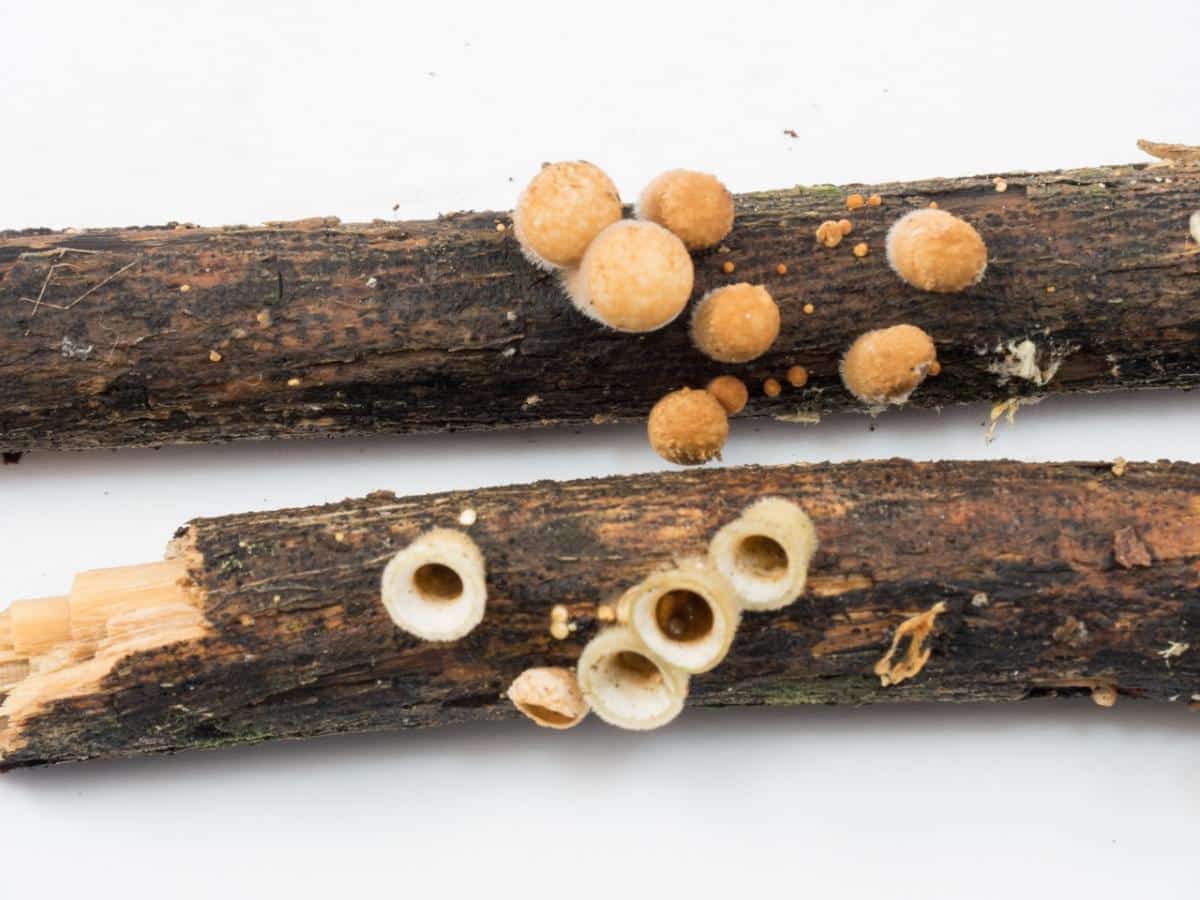 Nidularia pulvinata
This bird's nest occurs across North America, growing on the upper side of dead hardwood and conifer logs in summer and fall. The nest is brown or grayish-brown but then fades to tan or almost white. This is one of the species that grows as a covered pocket. The top surface breaks apart as the fungus ages to reveal a bunch of shiny grayish-brown eggs. Before it breaks apart, it doesn't look like a bird's nest at all and is often mistaken for a small puffball.
Distinguishing features:
Enclosed pocket when young, breaks open with maturity
Nest is brown with a fuzzy exterior, less than 1/2″ wide
Eggs are shiny, grayish-brown, and lens shaped, 1/16″ wide
Eggs are immersed in gel when first exposed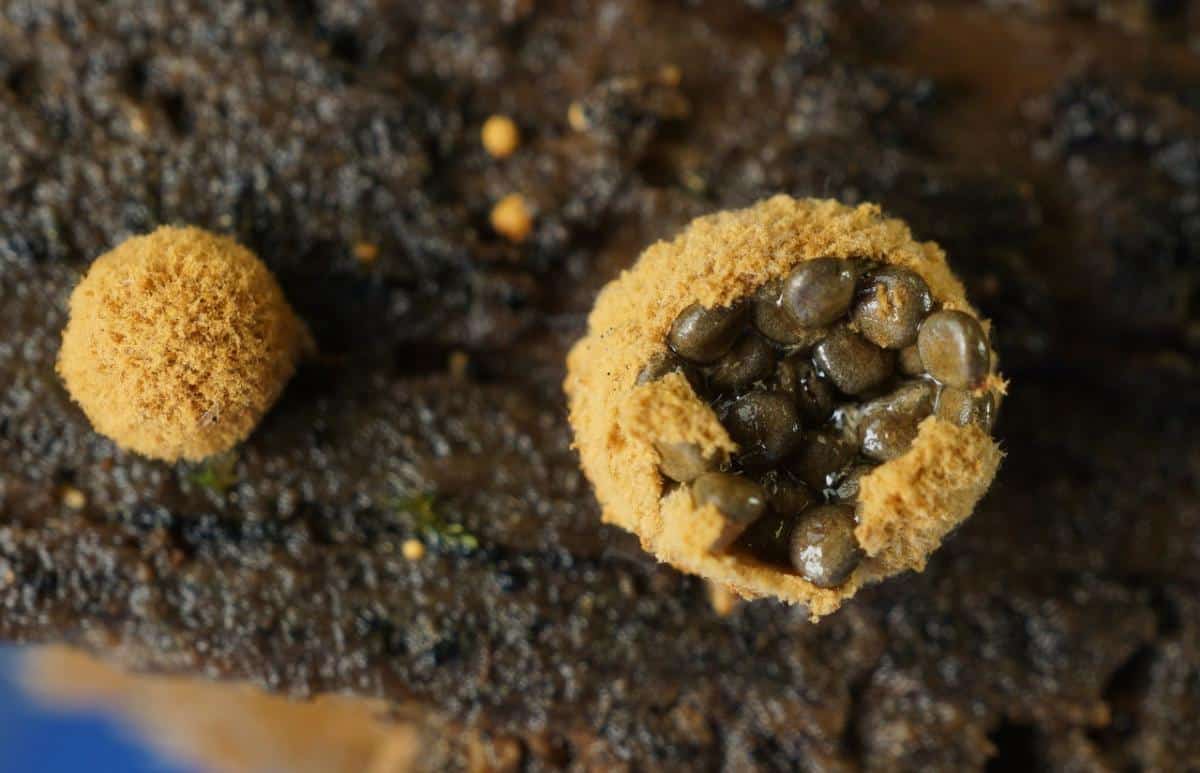 Interested in other bizarre fungi species? Check out witch's butter, and cordyceps.
Bird's Nest Fungi Common Questions
Are bird's nest fungi edible?
No. None of these species are edible.
Is bird's nest fungi harmful to my yard?
No. Bird's nest fungi will not hard your yard or lawn, so there is no need to take measures to control it. We recommend taking the time to observe and embrace the fascinating form of this fungus species.
Are bird's nest fungi poisonous?
No. They aren't poisonous, but they also aren't edible. All these species act as decomposers. They won't harm you, your plants, or your yard.