Cordyceps is having quite a glow-up right now. It is in teas, coffees, pills, powders, energy drinks, candy, and sold whole. All this cordyceps mushroom obsession started with the "original" cordyceps found on the Tibetan Plateau and used in traditional Chinese medicine. But did you know there are a bunch of species in North America, too? And the cordyceps fungus is grown commercially. In fact, you can grow it at home if you want.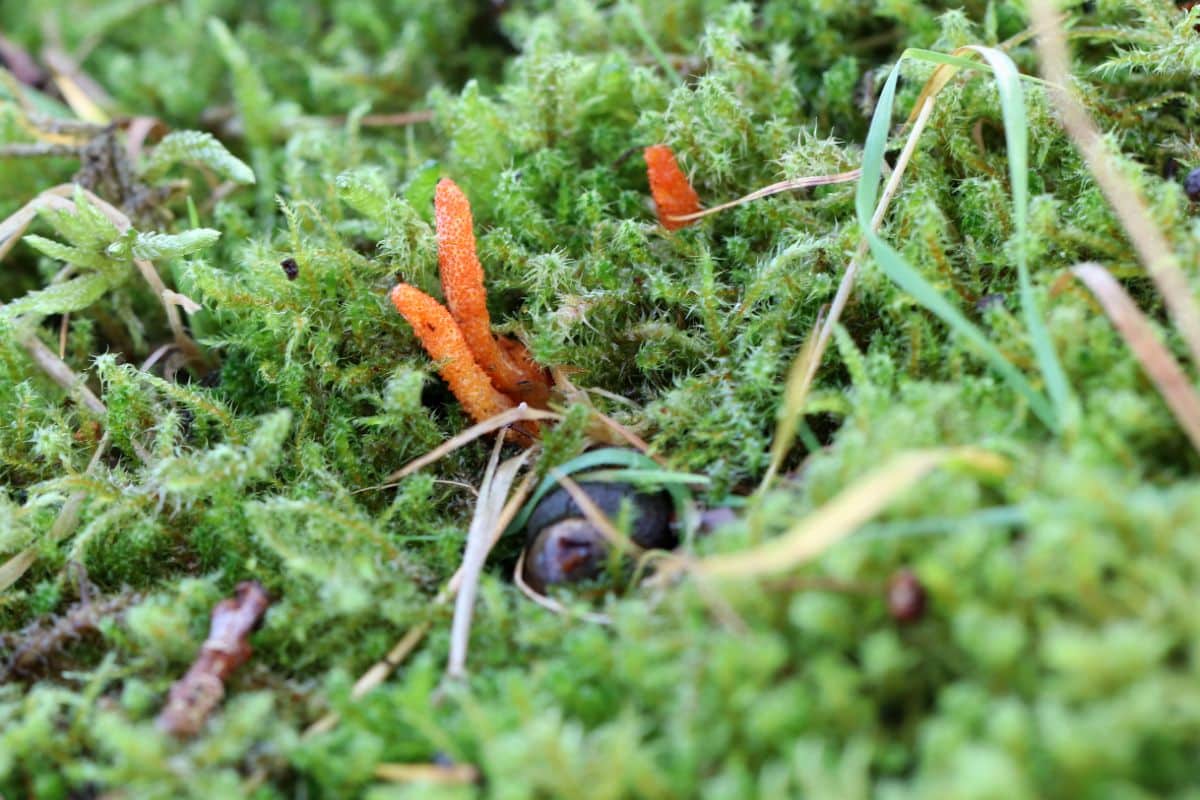 There is a lot of drama, dispute, and mystery surrounding these little fungi. Hopefully, this will help sort at least some of it out for you. But first, we need to talk about what this wacky fungus is, what it does, and why the heck so many people want to eat it!
Jump to:
What is Cordyceps Mushroom?
Cordyceps are small parasitic fungi, known as sac fungi, that attack insects primarily. Technically, they're not mushrooms but many people use the term to describe the fungus. After infecting an insect, they inhabit and use the insect bodies as a food source. The process is actually quite freaky and just a wee bit disturbing.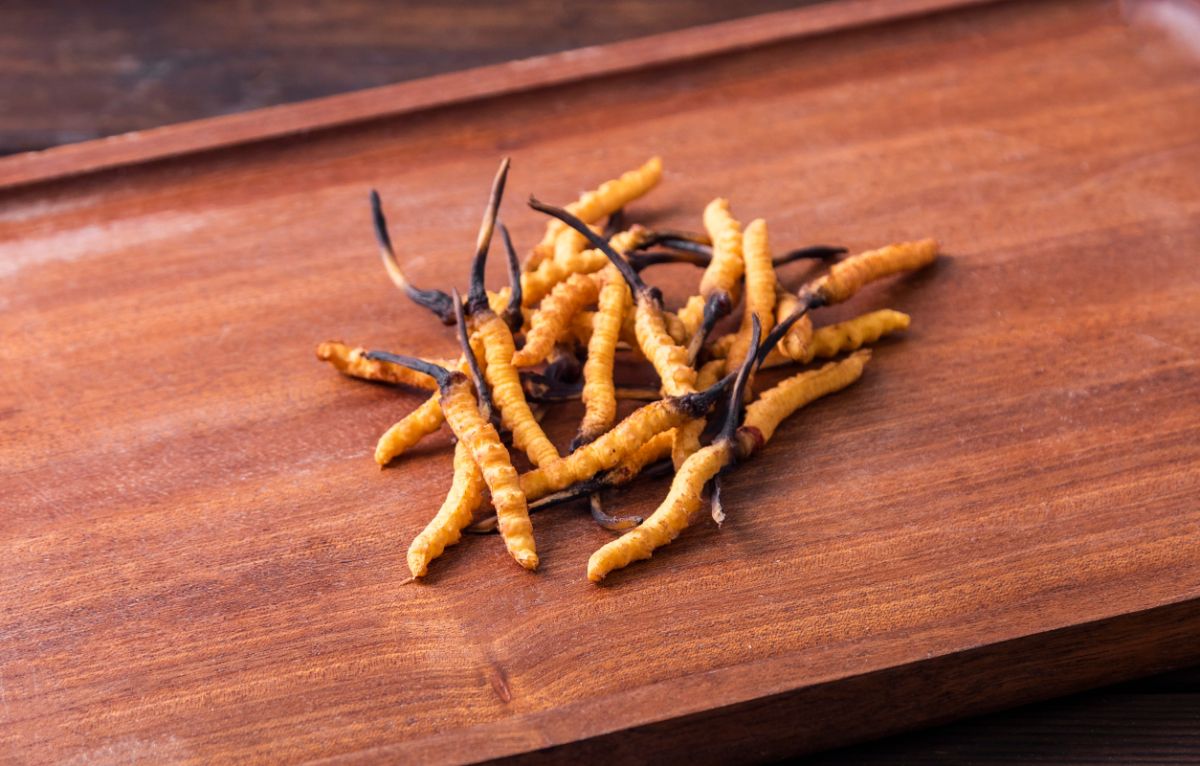 The cordyceps mycelium attacks its preferred host, literally taking over the entire body of the insect. It starts by germinating inside the living insect larvae, then kills and mummifies the body while it feeds off the available nutrition. When the fungi are ready and thoroughly nourished, it shoots a stalk out of the insect's body – this is the fruiting part of the fungus. Once the stalk is out, it matures and releases spores to infect other insect larvae nearby.
In some cases, the cordyceps fungus doesn't just invade the host larvae body; it also exercises a wee bit of mind control. The Zombie Ant Fungus (Ophiocordyceps unilateralis) influences the ants they infect to change their normal behavior. With this particular species, the fungus manipulates the ants to walk around randomly, climb up a leaf stalk, and attach itself to the underside. There, the ant dies.
Once the ant is dead, the fungus continues growing inside the ant, eventually sprouting out of the ant's head. It sounds like something from a science fiction story, but this parasitic action is very real!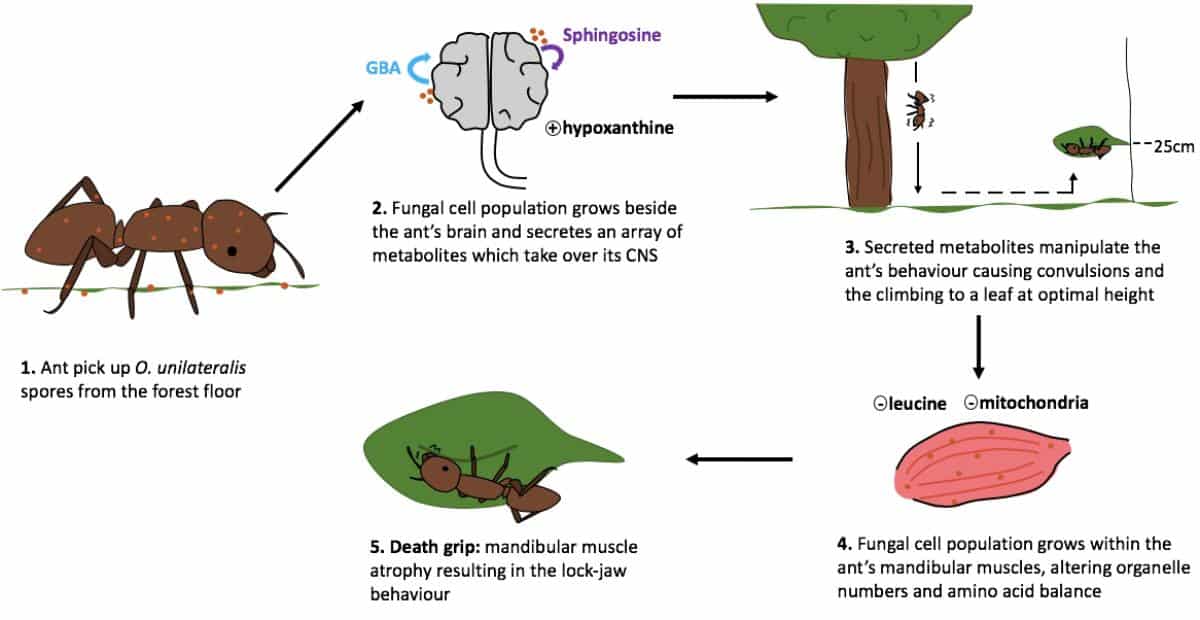 All the cordyceps mushrooms are parasitic, but not all of them use behavior modification or mind control. Many just eat the host where it is and are okay with that. For the majority, this means finding the hosts underground or in decaying wood and infecting them there. When the fruiting stalk emerges, it is the only thing the observer can see since the insect is still below ground.
Many cordyceps fungi have preferred insect hosts, while others are more generalists. Their hosts range from ants to moth larvae to beetles to cicada nymphs to other fungi, and the cordyceps fungus has evolved to make the most of the species available.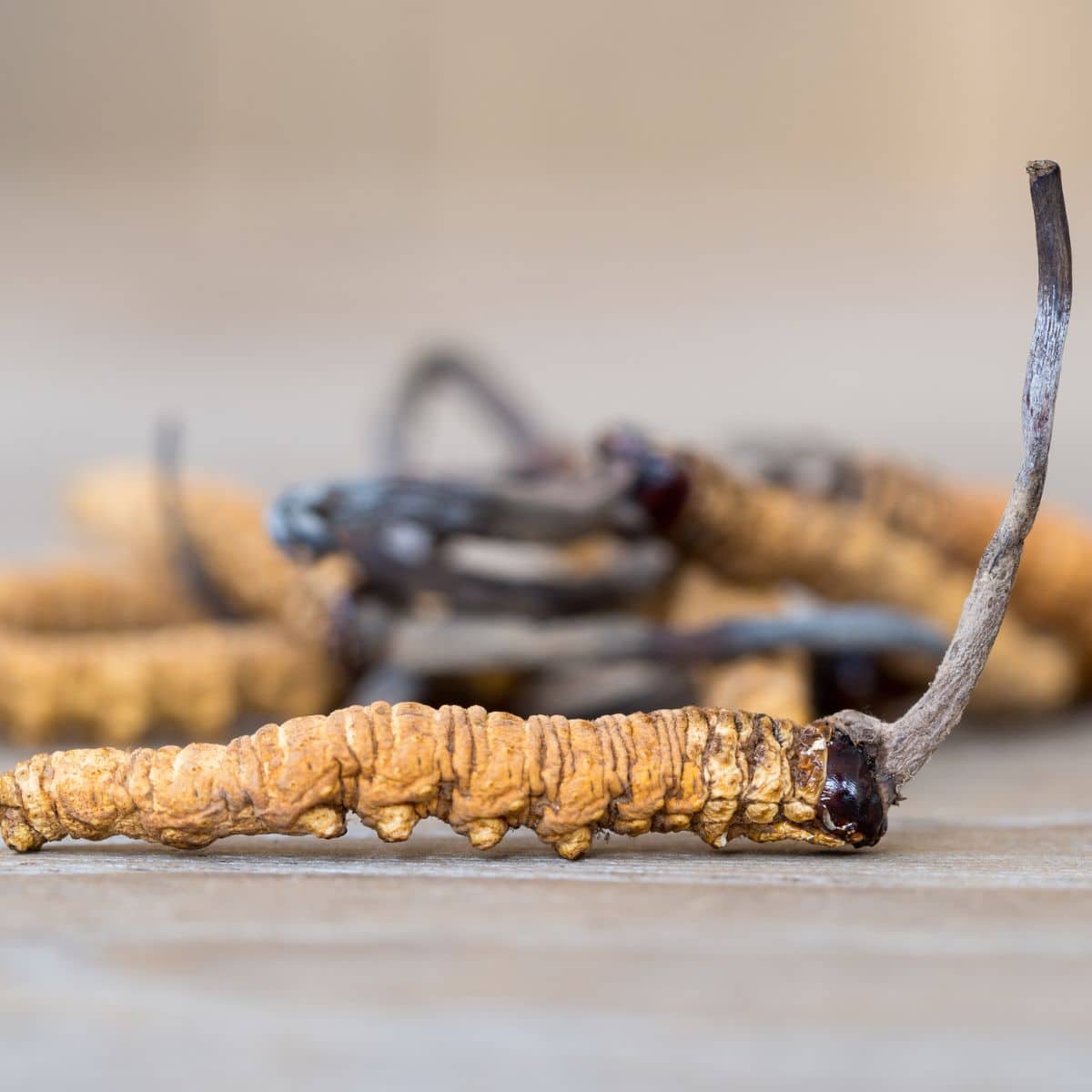 Cordyceps Mushroom Appearance and Biology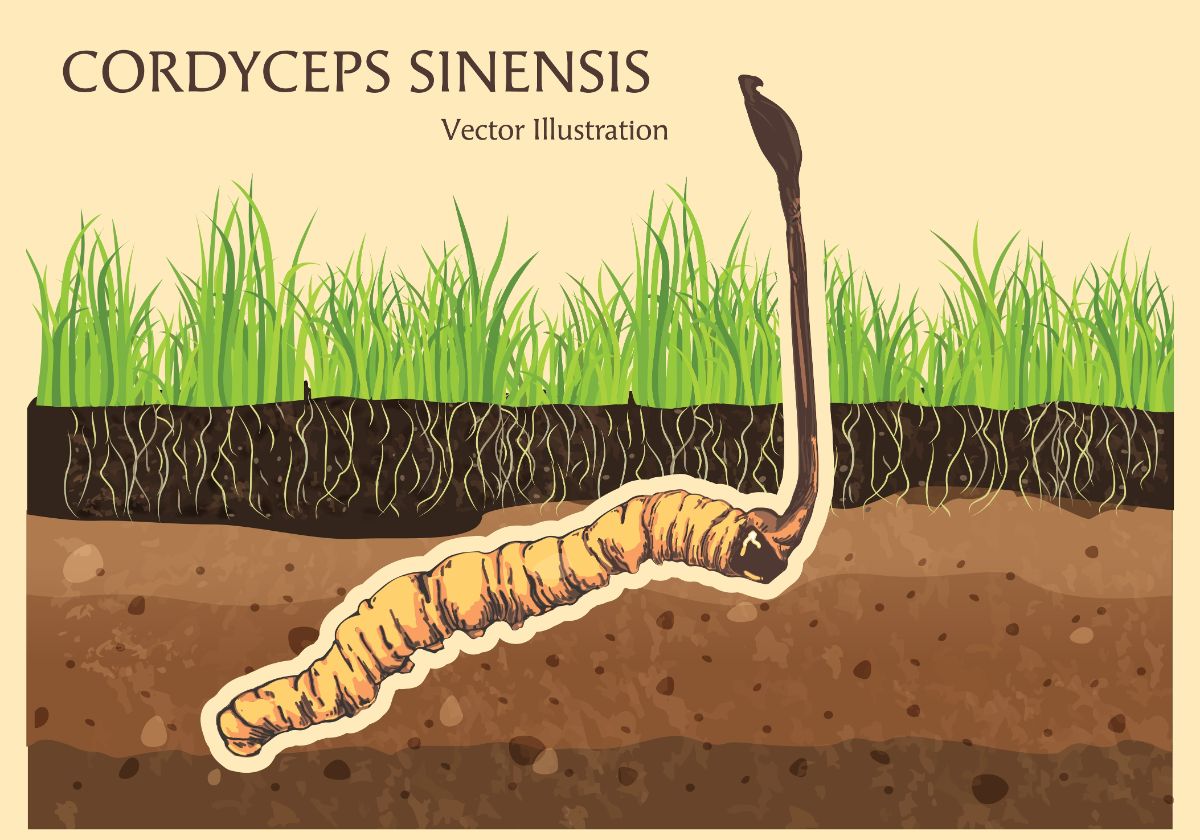 In addition to their unusual behavior, the outer appearance of the cordyceps fungus is also remarkable. The fruiting body, usually the first thing a person sees, is thin, spindly, and just a few inches in height. It is easily overlooked, especially if other club fungi are known in the area.
It isn't usually apparent that the mushroom is fruiting out of an insect since the insect is, in most cases, still buried in the wood decay or soil. Most cordyceps do not operate like the zombie ant fungus, sending their host insect into an easy-to-see location. You must pay attention to the small fruiting body, how it is shaped, and when it appears.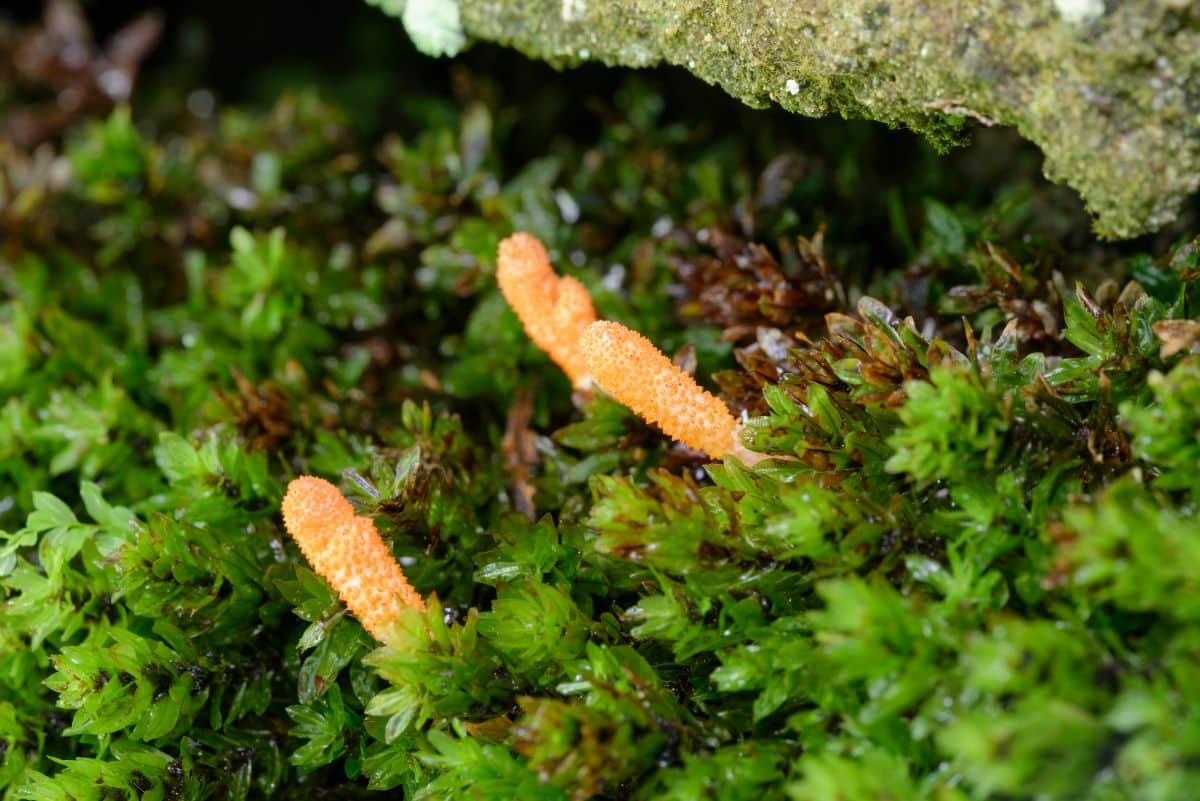 Cordyceps' fruiting body is weird, yet not eye-catching. It is easily missed due to its size and, with many species, mediocre coloring. Some species are easier to find than others due to rather brilliant orange coloring. The most well-known cordyceps species are vibrant orange, but the majority are black, brown, or a very pale orange-tan-buff. But, still, you might overlook the vividly colored ones because there are common club fungi that are even more brightly colored.
This commonality in appearance with club fungus actually keeps cordyceps a bit more secret. Unless you know to dig under the soil surface for the insect, you may pick the fungus like any other, and that's that. It will detach from the insect body without much trouble as if you're picking any other mushroom from the ground. The insect is usually buried quite well and does require digging to find.
Now, after I've said this, you might start digging up every club-looking mushroom you see, just in case. This isn't a bad idea but can be avoided if you focus on some key identification factors detailed in the species list further down in this article.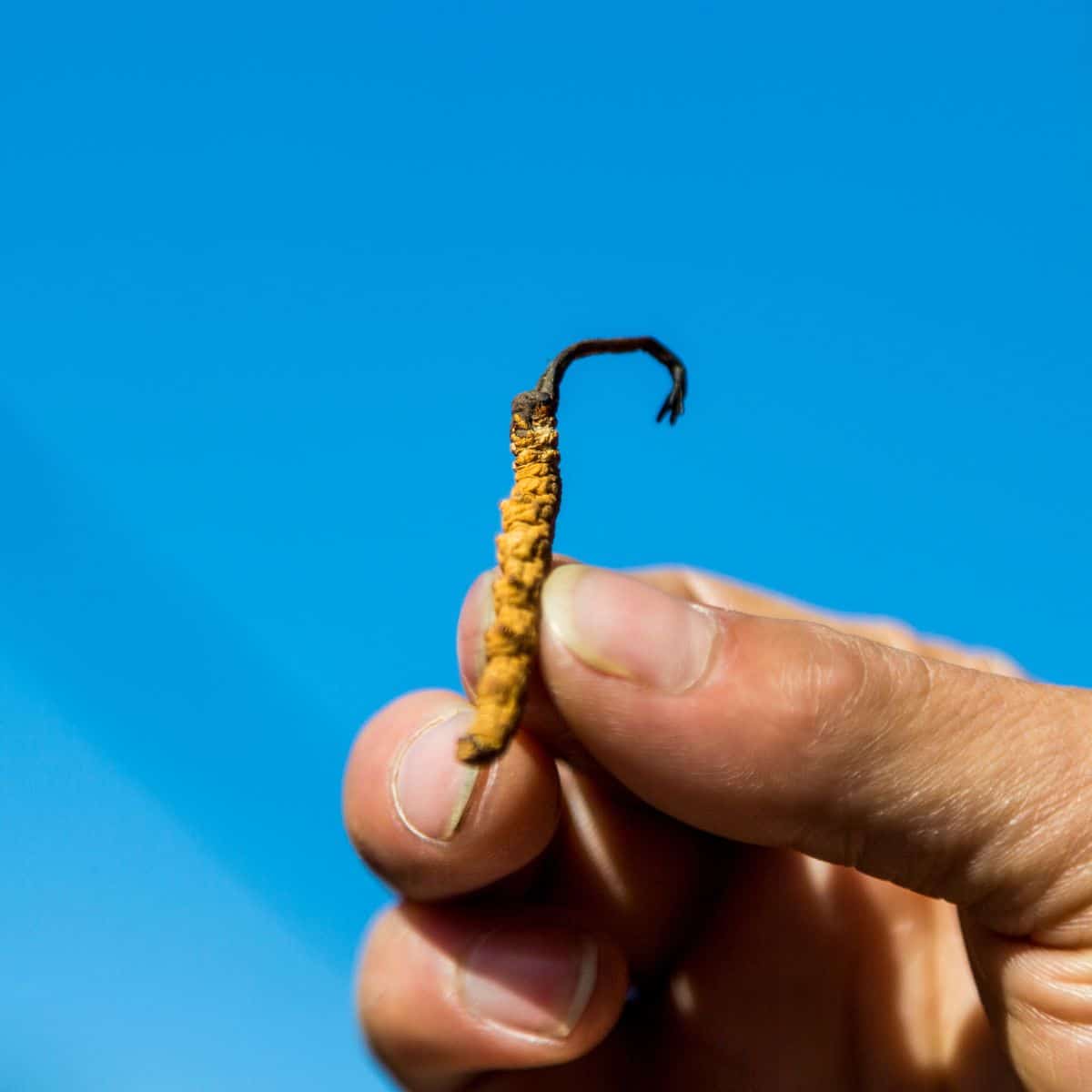 Cordyceps Around The World
There are over 600 species of Cordyceps in the world, but the one most people know or think of is the one used in Chinese medicine: Ophiocordyceps sinensis. You may notice the genus name isn't cordyceps, and that's for a good reason. And it also is part of the turmoil around this fungi genus. To learn more about the issues around Ophiocordyceps sinensis, the people who gather it, and why it is becoming problematic, check out this article on Cordyceps, Facts & Benefits.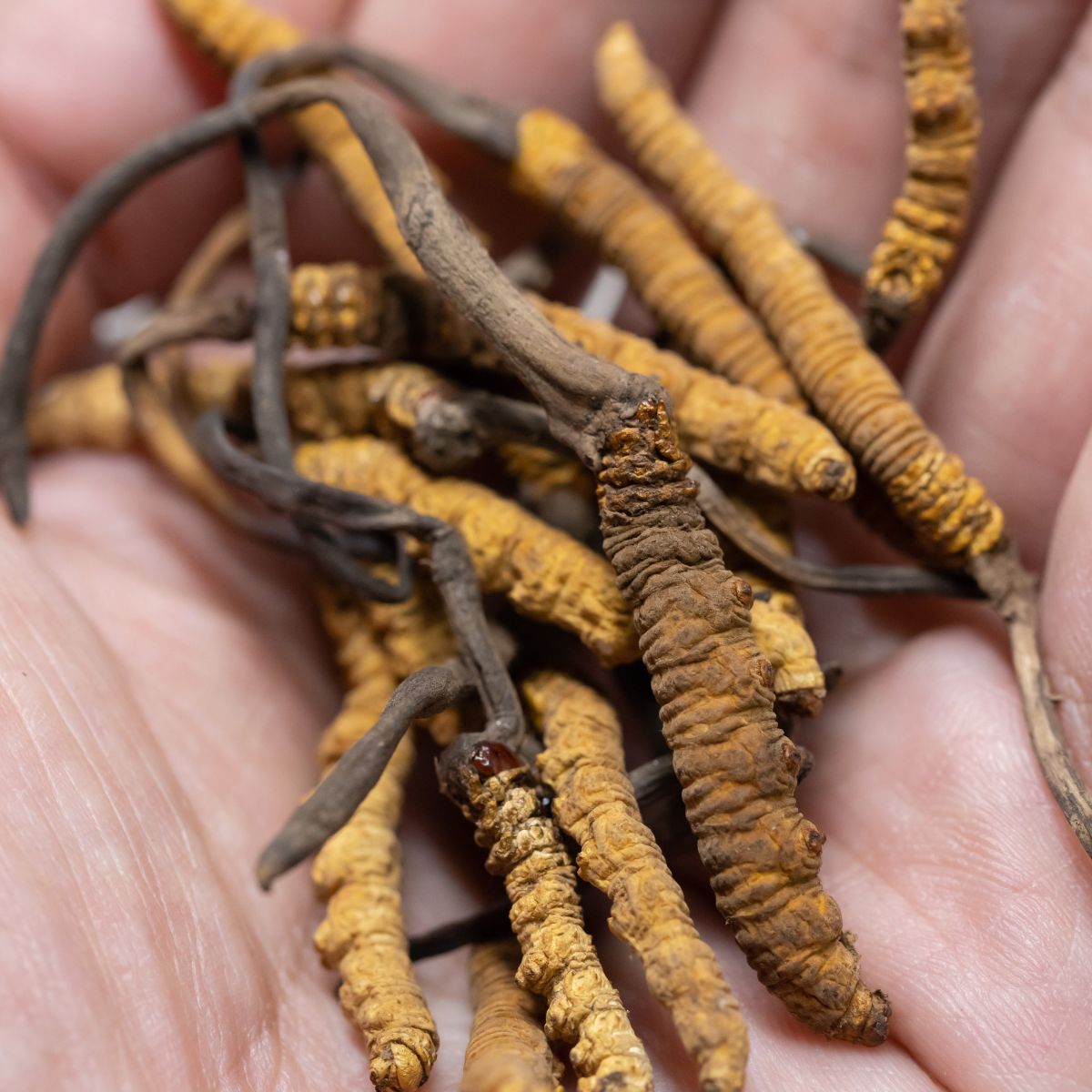 Ophiocordyceps sinensis was known as Cordyceps sinensis until 2007 when it was discovered that it belonged to a different family. In fact, it is unrelated to most other species with which it shared the Cordyceps genus, even though they all look and act similarly. The genus Ophiocordyceps was then created, and several other cordyceps species moved over to it, along with C. sinensis.
Why Is Cordyceps In Everything?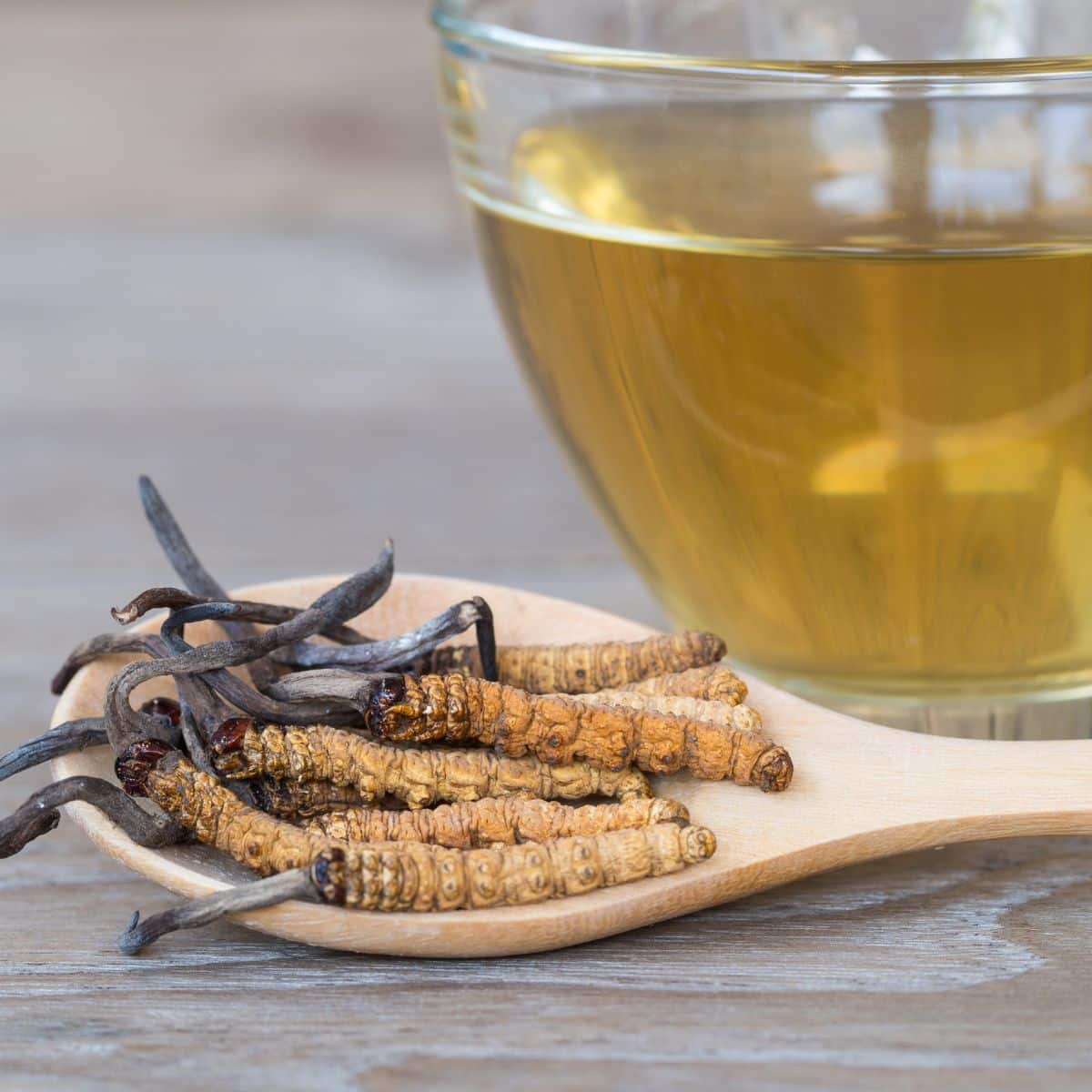 Cordyceps fungi are famous in traditional Chinese medicine and have been for a very long time. The reported benefits of taking a cordyceps supplement regularly include:
Increased stamina, especially pertaining to the circulatory system
Enhanced immune system
Improved recovery from chemotherapy
Improved sexual function (maybe the most popular reason to take this fungus — has earned the title "Himalayan Viagra")
Increased energy, stamina, and strength
In the last 10-20 years, North Americans have become much more interested in eastern medicines, seeing them as more natural and effective than western medicine and pills. This website isn't going to weigh in either way since we're not doctors by any means. But, it is essential to know why cordyceps fungi are experiencing such a glow-up.
More and more people are reaching for more "natural" remedies for their ailments and to improve performance and increase immunity. This is good and bad for the cordyceps – as with all things that become a hot item and are potentially difficult to source, the environment, ecosystem, and fungi themselves suffer.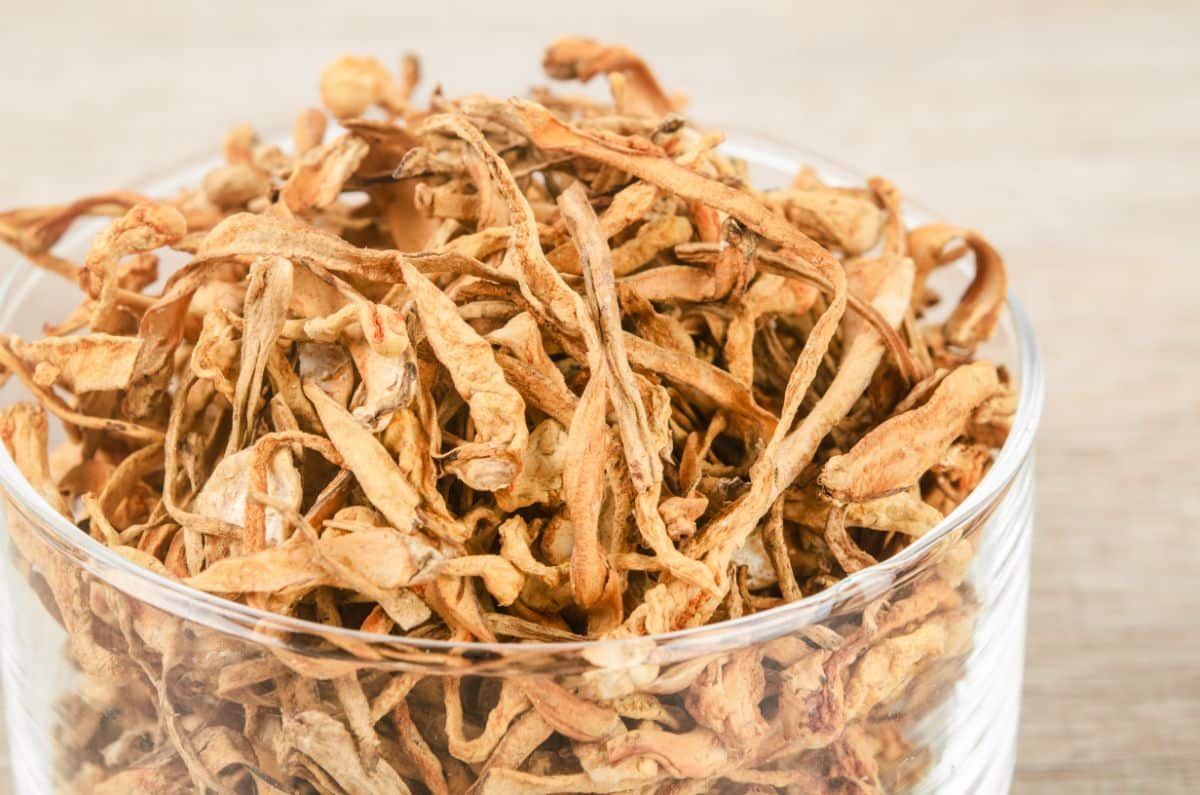 The Cordyceps Species of North America
There are at least ten cordyceps species in North America. O.sinensis does not grow here, so even though that is the most well-known medicinal and gathered species, it does not occur in the wild in N. America.
Ophiocordyceps unilateralis
This zombie ant fungus known primarily from South America is also found in the southern United States. Or, at least a very closely related species is — the species is commonly written as O.unilateralis sensu lato (sensu lato means "broadly speaking").
Region: In warmer parts of North America, i.e., Florida, South Carolina, Missouri
Season: Summer through fall
Habitat: With its preferred ant species (Camponotus) in large, warm, temperate forests. Ants are forced to cling to the underside of twigs.
Size: 1-4 inches tall
Shape: Like a tomato on a skewer except much smaller and brown. The stem is super thin, continues through a ball-like mass, and emerges on the other side. The rounded mass may also be at the top of the stem. Growth habit is variable.
Color: Brown or light tan.
Notes: Unlike the South American species, which cling to leaves, the N. American species cling to twigs or log undersides. This is because many trees lose their leaves in fall/winter, which would be bad for the fungus trying to spread its spores.

Also, due to the weather, the mummified fungus-controlled ants often don't have time to complete their entire life cycle in one season. Instead, they stay stuck to the twig all winter, and then the fruiting stalk emerges in spring or summer. It is not uncommon to find patches or ant graveyards, with many specimens congregated in close proximity.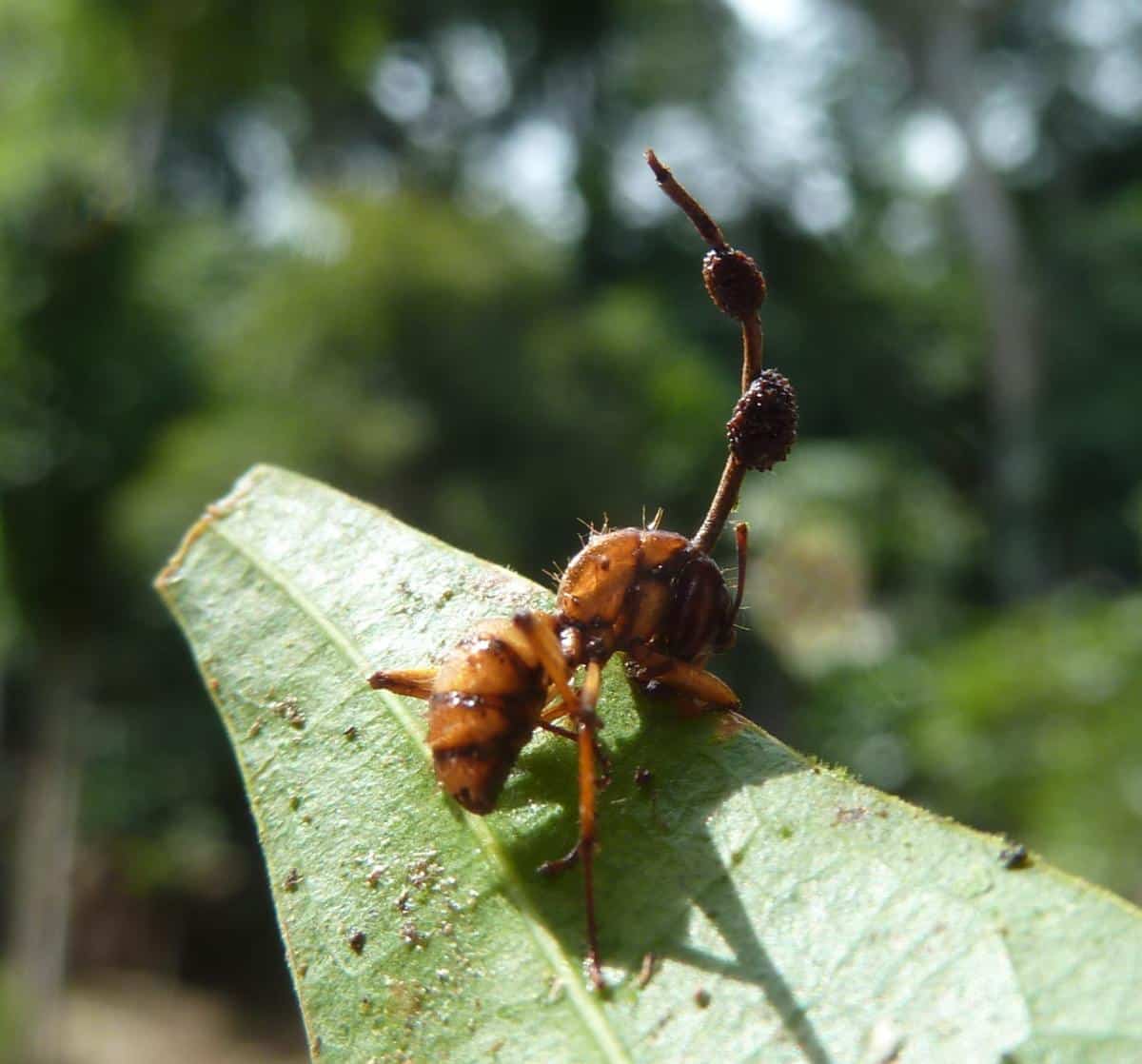 Ophiocordyceps sphecocephala
This cordyceps infects wasps, specifically wasps in the Polistes, Vespa, and Tachytes genera.
Region: Southern US, probably more widespread
Season:
Habitat:
Size: 1-4 inches tall
Shape: Long, skinny stem with a rounded egg-shaped head.
Color: Creamy yellow head, lighter colored stem
Notes: Uncommon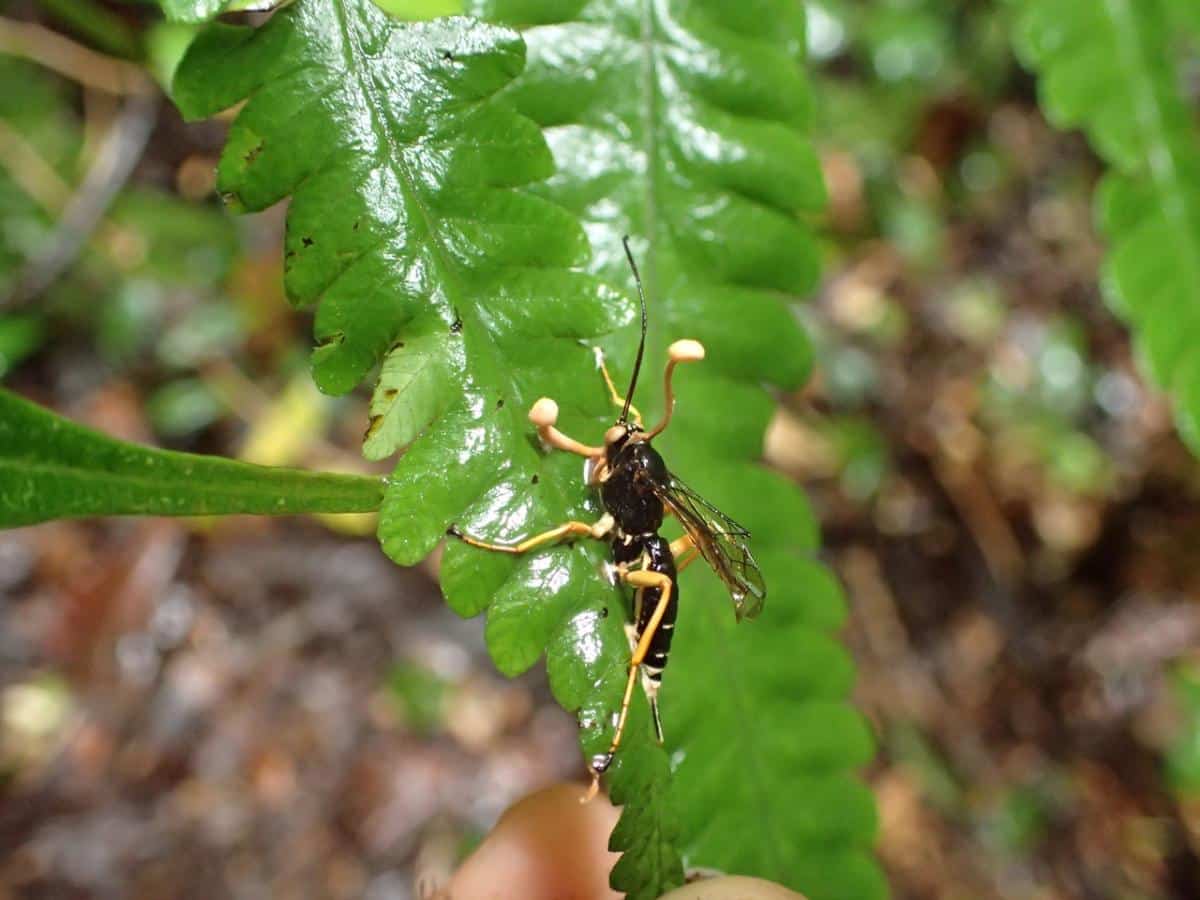 Cordyceps militaris
This is the most well-known cordyceps in North America because it is widespread. It also looks much like O. sinensis, so people recognize it easier. C.militaris infects the pupae of moths and butterflies, attacking them underground and fruiting from their mummified bodies.
Region: Widespread but more common east of the Rocky Mountains.
Season: Summer and fall
Habitat: Mossy rich
Size: .75-3 inches tall
Shape: Club-shaped with a wide top and slender bottom. The top portion is pimply, while the lower portion is smooth.
Color: Pale to vibrant orange exterior, usually lighter colored on the lower section. Pale orange flesh.
Notes: Look very much like an orange club fungus, Clavulinopsis sp.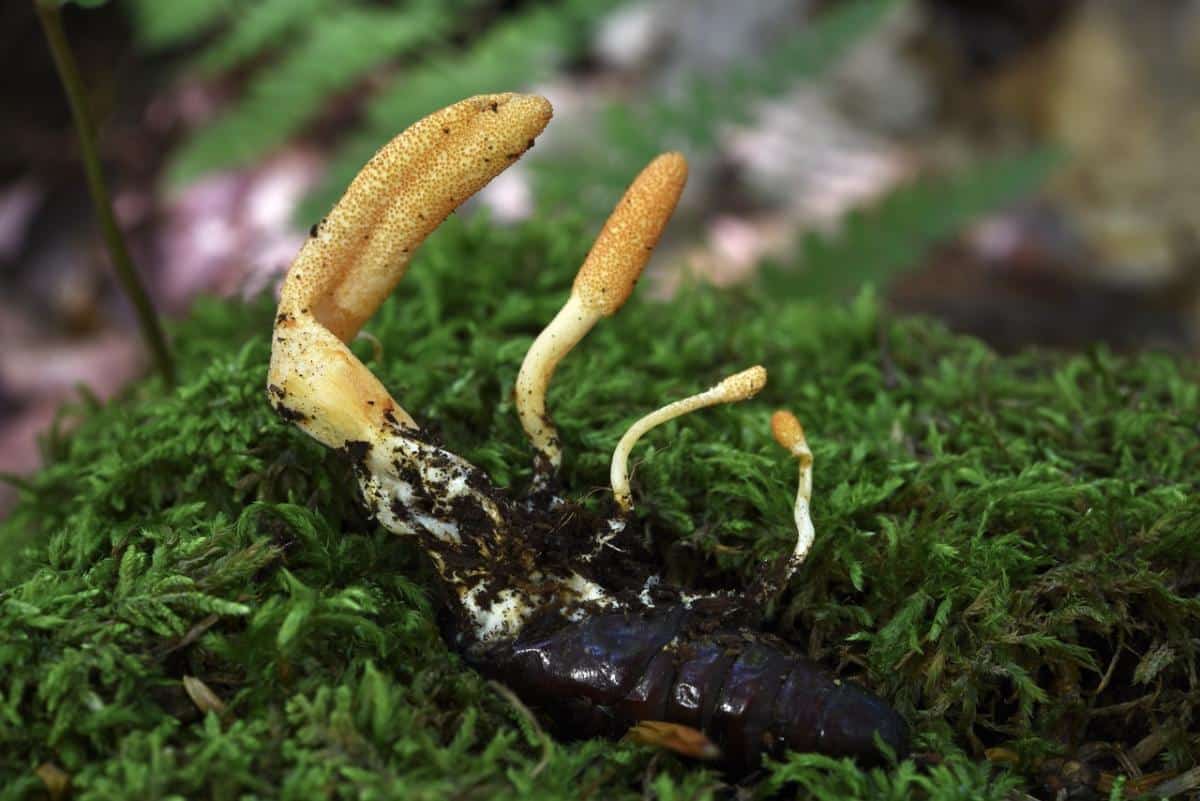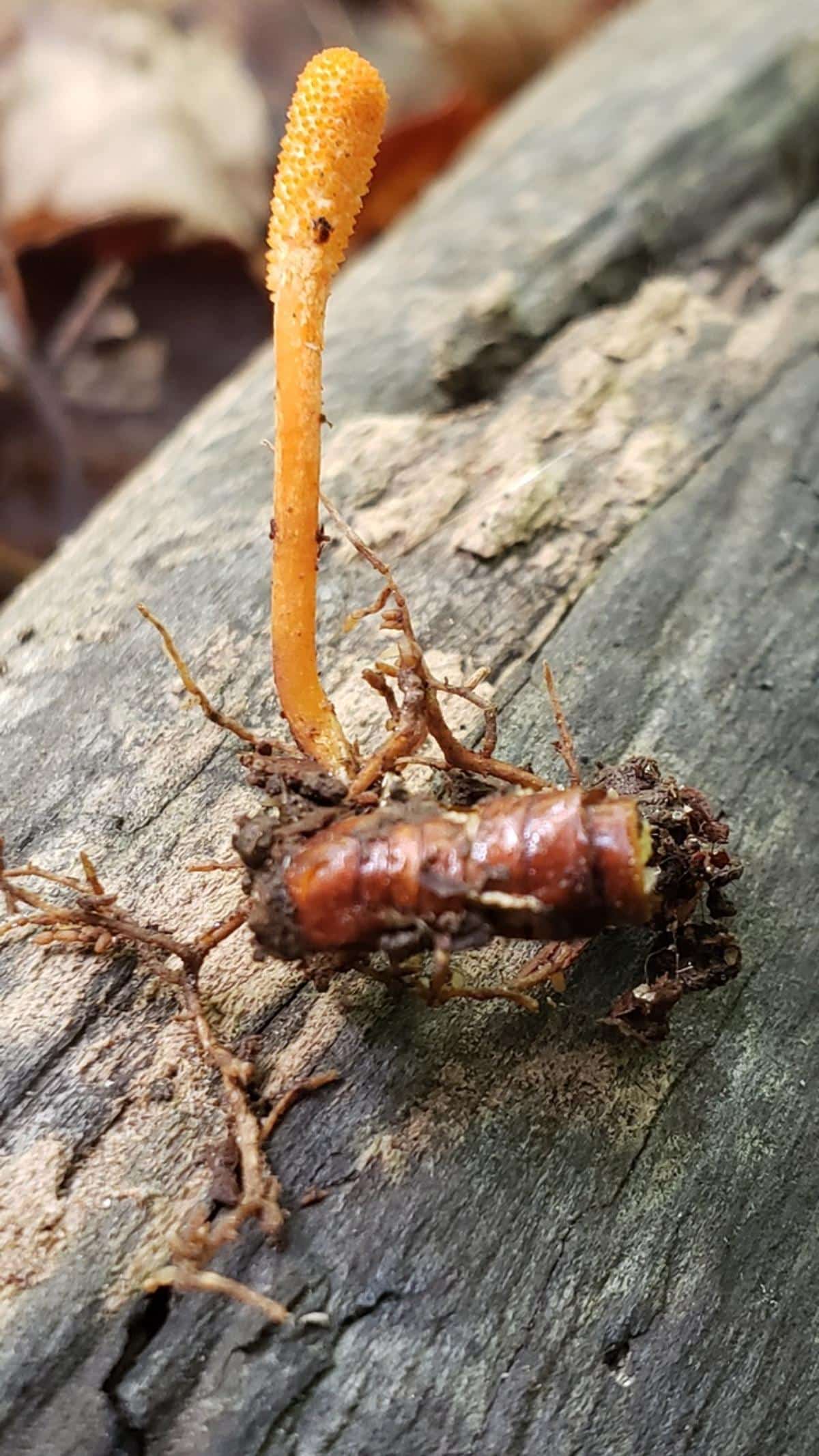 Cordyceps ophioglossoides (aka Tolypocladium ophioglossoides)
This cordyceps species parasitize other fungi. In particular, it seeks out underground species of Elaphomyces. Elaphomyces are commonly known as the deer truffle or false truffle, and there are about 25 species in the genus. The false truffle species vary in tree preference, but all grow in the soil near trees.
Region: Eastern North America, possibly wider distribution
Season: Late summer into fall
Habitat: Under trees, in association with Elaphomyces species
Size: .75-3 inches tall
Shape: Club-shaped, the top is clearly wider than the base
Color: Reddish-brown when young; with maturity top becomes blackish and rough while the bottom remains reddish or brown. The flesh is whitish.
Notes: The base is attached to yellowish cords that lead to the Elaphomyces species below. When mature, the black pimply club-shaped upper portion looks quite like earth tongues (Geoglossum sp.). This species is considered inedible.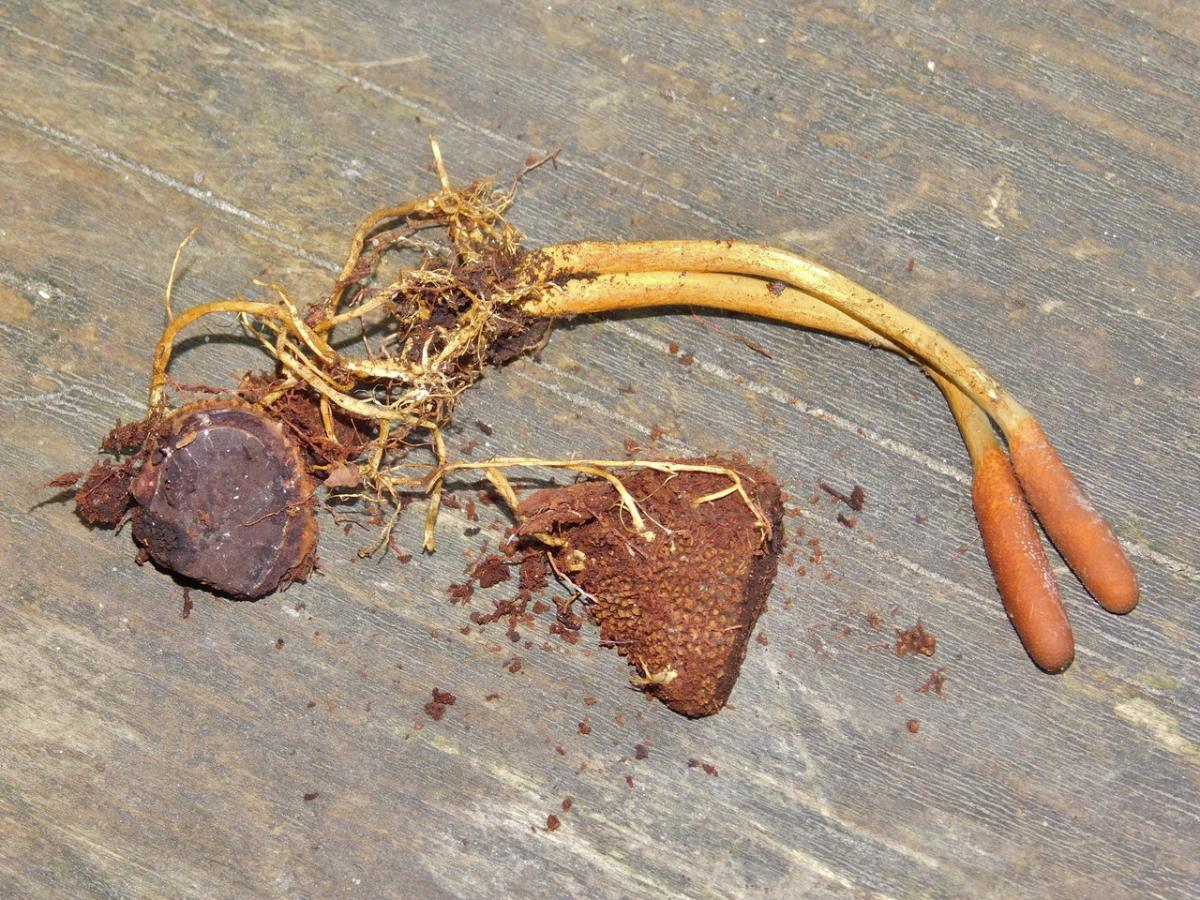 Cordyceps canadensis, Cordyceps valliformis, Cordyceps capitata
It's probably unfair to lump all these together, but there isn't much (easily accessible) information about them online or in books without being a mycologist. Or being able to understand super scientific texts. Anyways, all of these cordyceps species parasitize Elaphomyces deer truffle fungi species, just like C.ophioglossoides.
These species vary in regionalism but tend to be rare or uncommon wherever they do fruit. The common scientific name for these is Cordyceps, but as of 2017, they are all actually part of the Tolypocladium genus.
Region: Widespread but rare
Season: Summer and Fall, Winter on the west coast
Habitat: With Elaphomyces
Size: 1-4 inches tall
Shape: Drumstick-like, with an enlarged top section. Looks like a thin stalk with a larger brown hat/cap on top. The stem is usually yellow or yellow-brown.
Color: Yellowish stem, dark brown to black cap
Notes: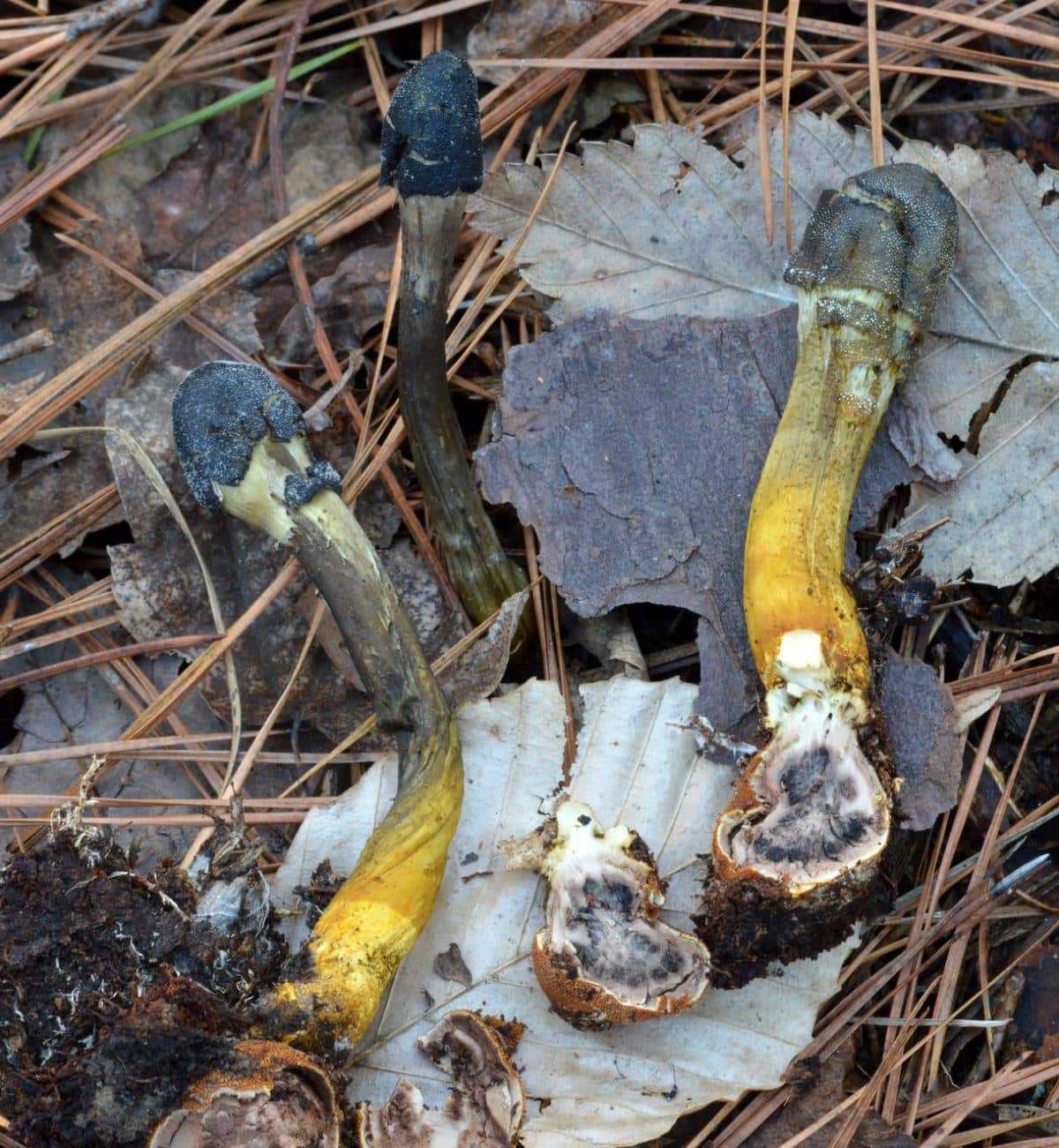 Cordyceps cardinalis
Newly described to science in 2004, this cordyceps species appears in the southern Appalachian Mountains. Its preferred host insect is moth larvae.
Wild Cordyceps vs. Cultivated Cordyceps
This is where things get challenging. Traditional medicine enthusiasts and practitioners tend to advocate that the wild species found on the Tibetan Plateau, O. sinensis, is the pinnacle of medicinal cordyceps. This is usually with good reason; it's the most studied, used, and collected and has been for centuries. There is a lot of purism in traditional medicine.
However, this also means that other cordyceps species are discounted and thought to be lesser than. Putting O. sinensis on a pedestal also means that it is more likely to be overharvested due to demand and the money involved in collecting it.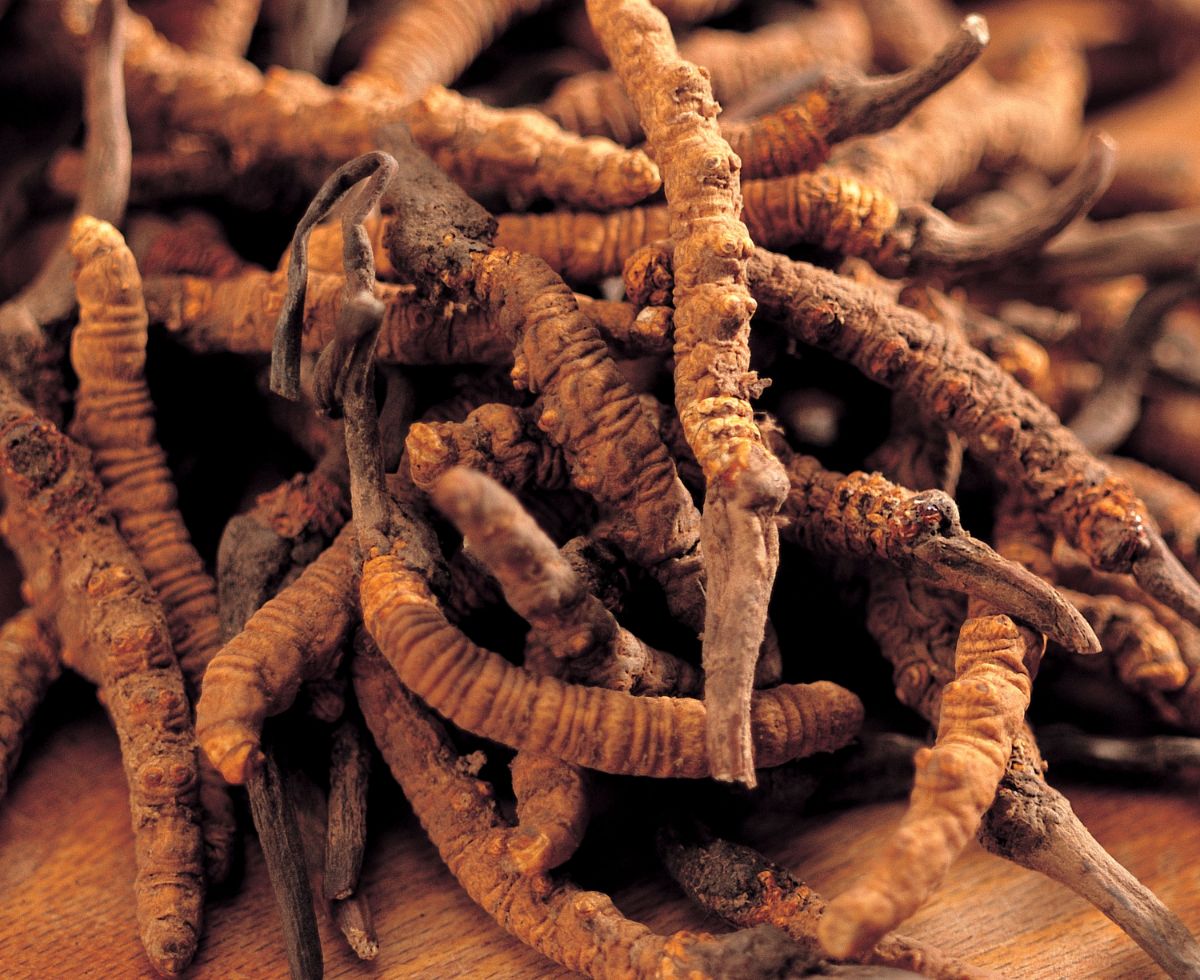 In addition to the issue of purism, there is also the struggle of cultivation. Cordyceps can be cultivated, but no one in North America knew how to reliably do it for a long time. Chinese growers had figured it out after decades of research and trials but were closely guarding their techniques – there's a lot of money involved with this fungus and its growth.
Cultivating cordyceps is also extremely labor-intensive and expensive, so most growers stay away from it. One of the biggest hurdles was sourcing the proper insects for the cordyceps to parasitize, or to find a substitution. This isn't your average fungi!
However, very recently, in the last five years or so, one American mycophile and cultivator has made huge strides in cordyceps cultivation. William Padilla-Brown almost single-handedly turned cordyceps cultivation into a possibility for everyone, and he has shared his knowledge freely. Now, many commercial cultivators are diving into growing cordyceps in North America.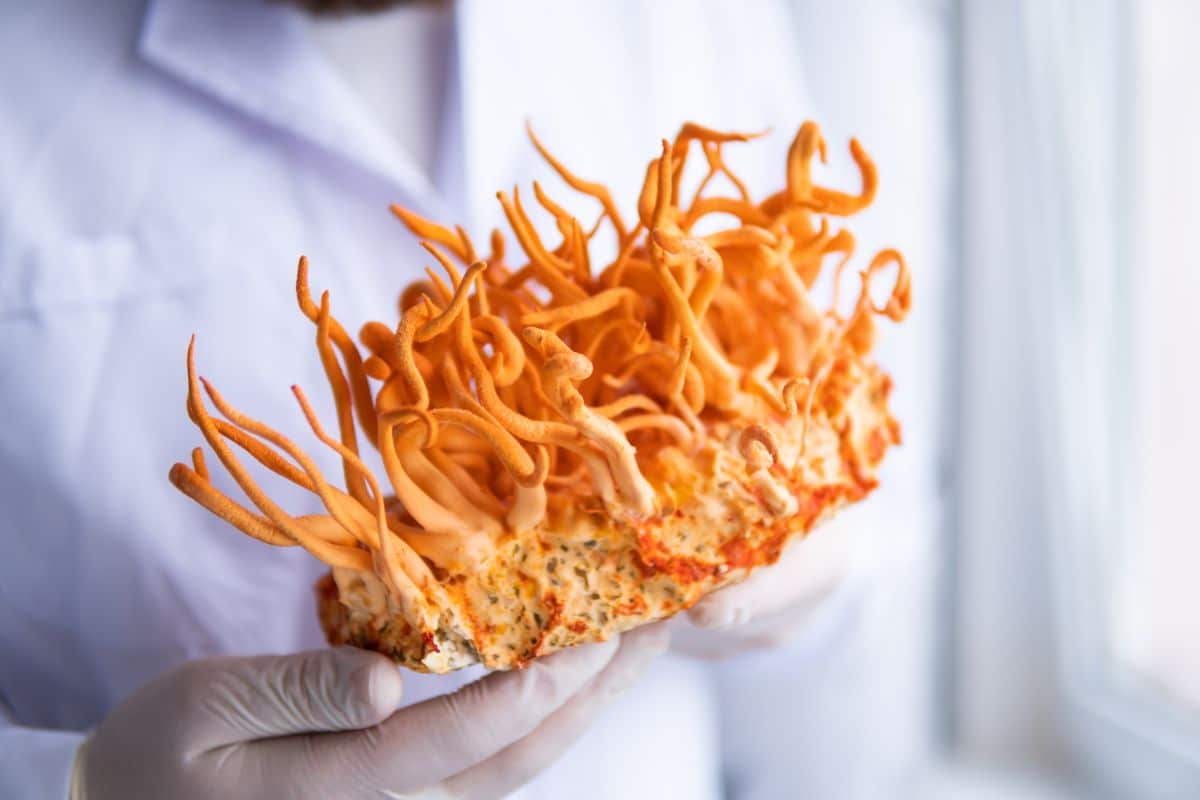 In North America, the cordyceps species that is primarily cultivated is C.militaris. Of course, there is debate about whether this species is as medically viable as O. sinensis. But, there are very few studies to say otherwise, so until there is definitive science on the actual medicinal properties of each one, people will choose what they want to stand behind.
On the financial side, C. militaris is way less expensive than O. sinensis because it doesn't have the same centuries-old reputation and cult following. This is good for those that want access to cordyceps without emptying their bank accounts!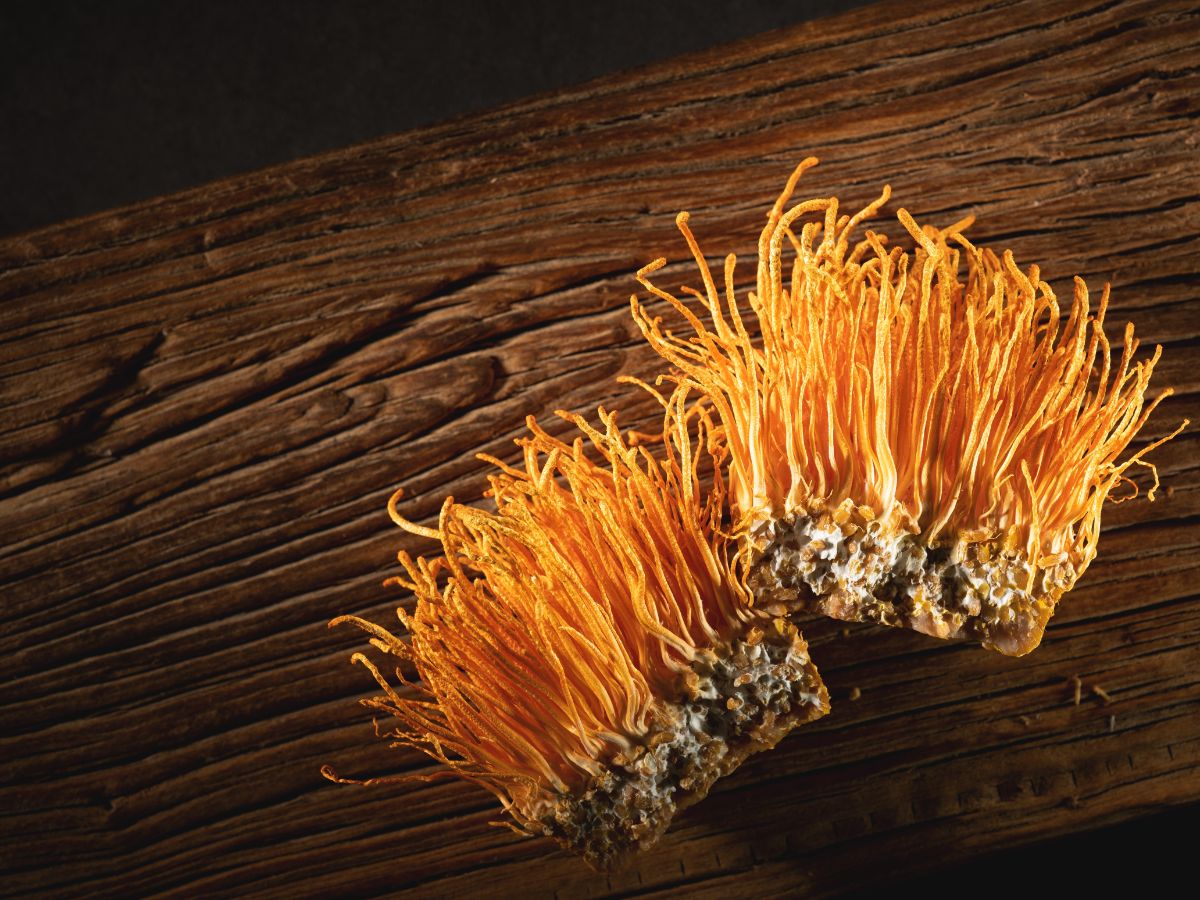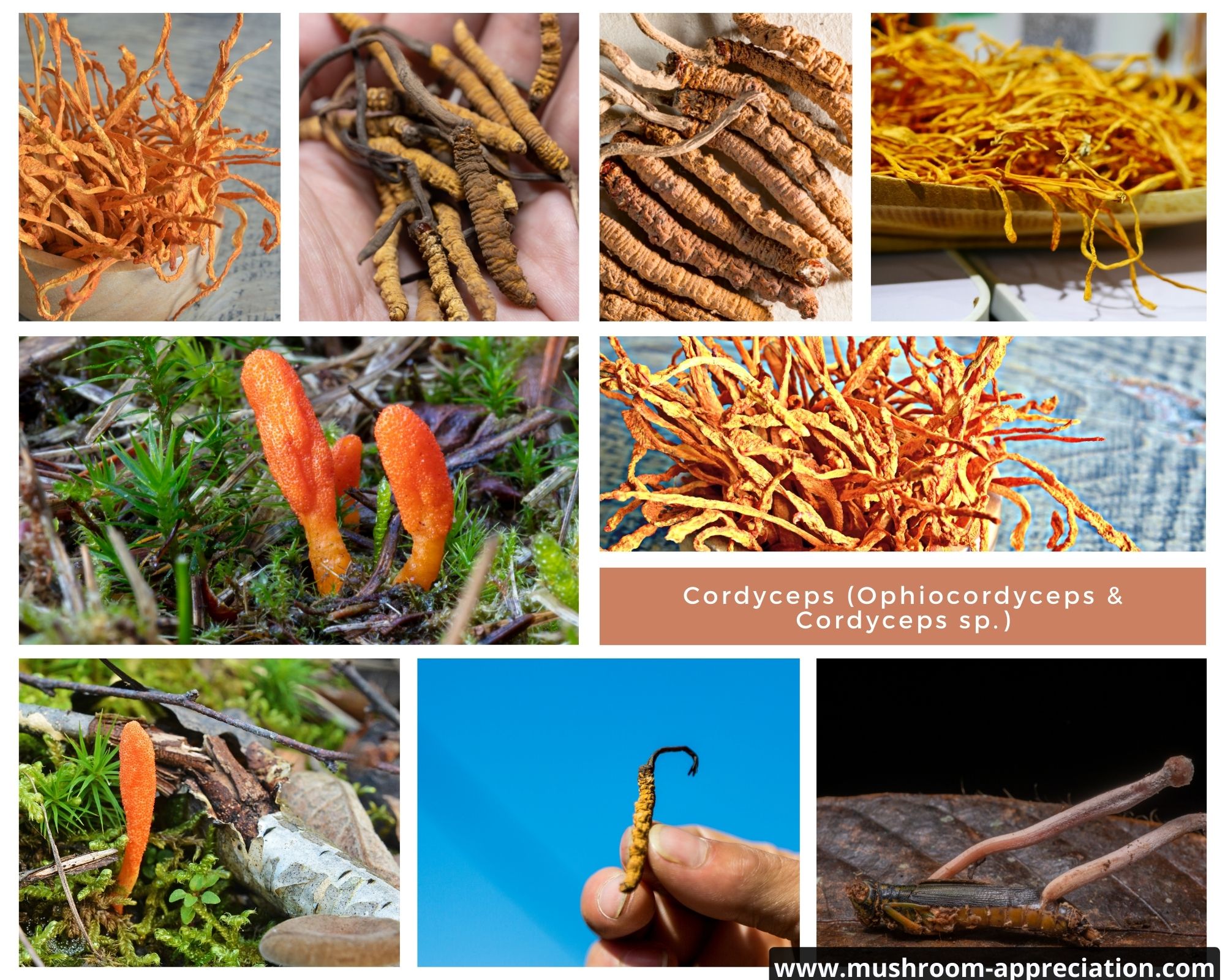 Cordyceps Fungus Common Questions
Are there side effects to taking cordyceps?
There is the possiblity of side effects, as there is with any new substance you introduce to your body. The most common side effects are dry mouth, nausea, and gastric upset. You might also have an allergic reaction, but that is uncommon.
Can cordyceps attack humans?
No! Thank goodness; we will not be their zombie hosts
How can you tell the difference between real and "fake" cordyceps?