The wrinkled peach (Rhodotus palmatus) is a captivating and visually striking mushroom that has captured the attention of mushroom enthusiasts and photographers alike. This mushroom, with its vibrant colors and distinctive ridged and veined cap, is truly a sight to behold if you find it when it's still looking fabulous.
While it may not be suitable for consumption, the wrinkled peach's visual appeal and its presence in nature make it a true delight for mushroom enthusiasts and nature lovers alike. Keep an eye out for this mushroom on your next woodland adventure and marvel at the wonders of nature.
Scientific Name:

Rhodotus palmatus

Common Names:

Wrinkled peach, Netted Rhodotus, Rosy veincap

Habitat:

Decomposing hardwoods

Edibility:

Inedible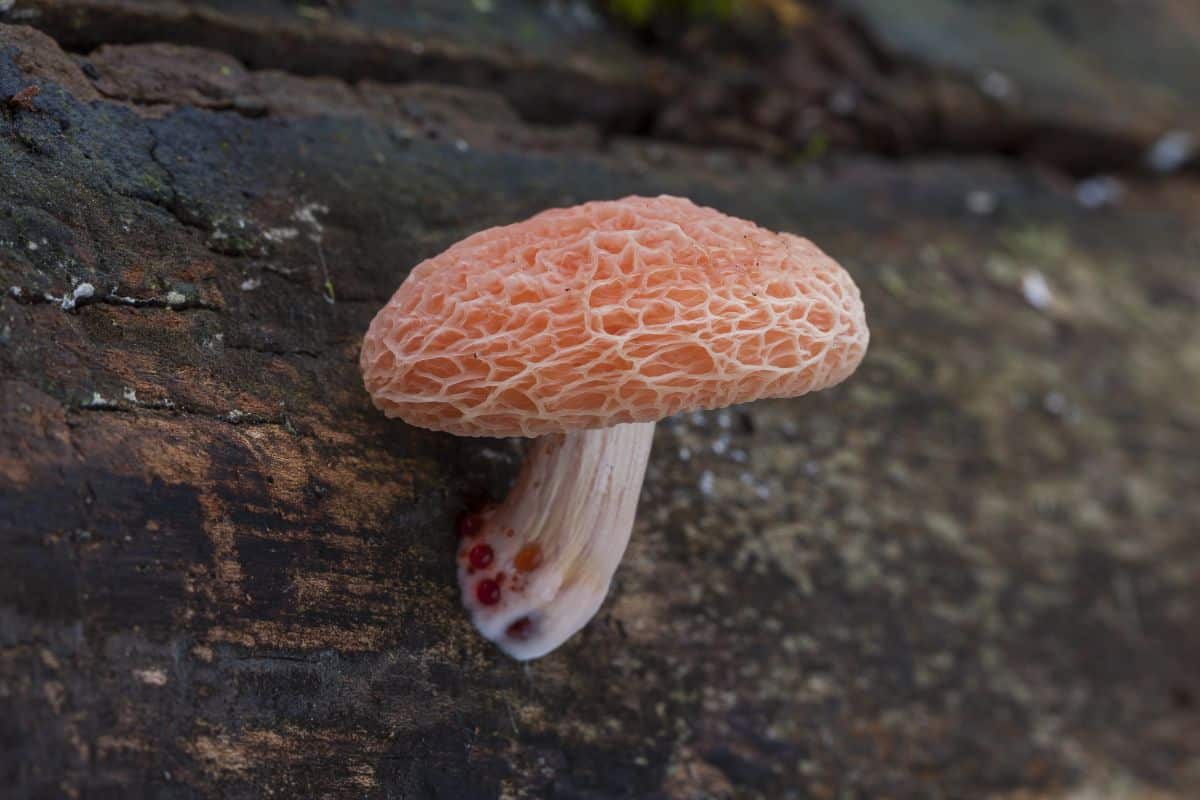 Jump to:
All About The Wrinkled Peach Mushroom
The wrinkled peach is a globally distributed mushroom found in various regions of North America, Europe, Asia, and even northern Africa. While it was once more commonly observed, declining populations in Europe have led to its appearance in over half of the European fungal Red Lists of threatened species. In Hungary, is it legally protected and against the law to pick. Lithuania, Latvia, and Estonia report it as regionally extinct, meaning it is extinct or probably extinct.
The wrinkled peach exhibits a range of captivating features that set it apart from other mushrooms. Its surface is sticky when fresh and displays a reticulated pattern of whitish ridges and veins reminiscent of a delicate net. The color of the cap ranges from pinkish orange to pale peach, creating a visually stunning display. The flesh of the the mushroom is rubbery and gelatinous, adding to its unique texture.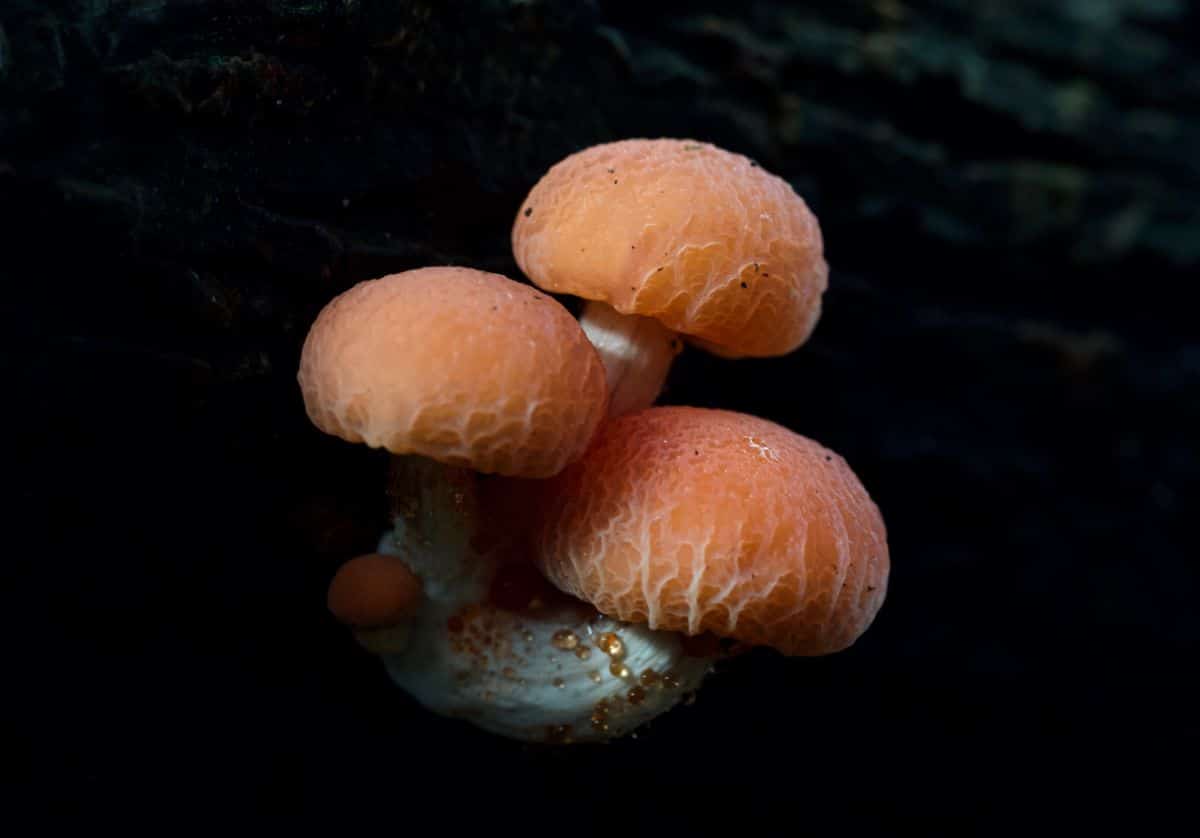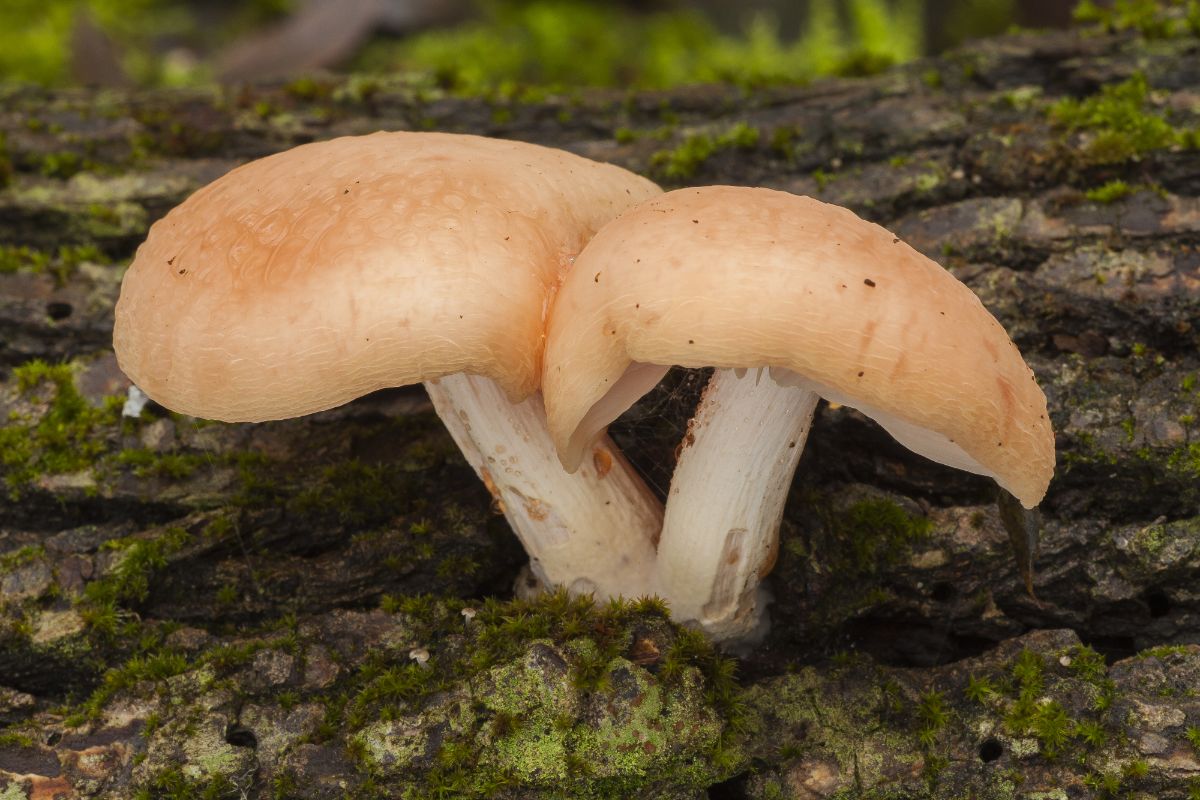 It takes some luck to find it in this stage, though, as it is also very common to find this stunning mushroom in less than stunning picturesqueness. It actually may not develop distinctive or remarkable ridges.
This mushroom thrives in the presence of well-decayed hardwoods, particularly on the stumps and logs of rotting trees. It can often be found in stream beds and lowlands, adding to its allure as a species closely associated with wet environments.
The wrinkled peach mushroom underwent several reclassifications before finding its place in the monotypic genus Rhodotus. It is the only species in this genus. The specific name "palmatus" refers to the wrinkles on the cap surface, resembling the lines on the palm of a hand.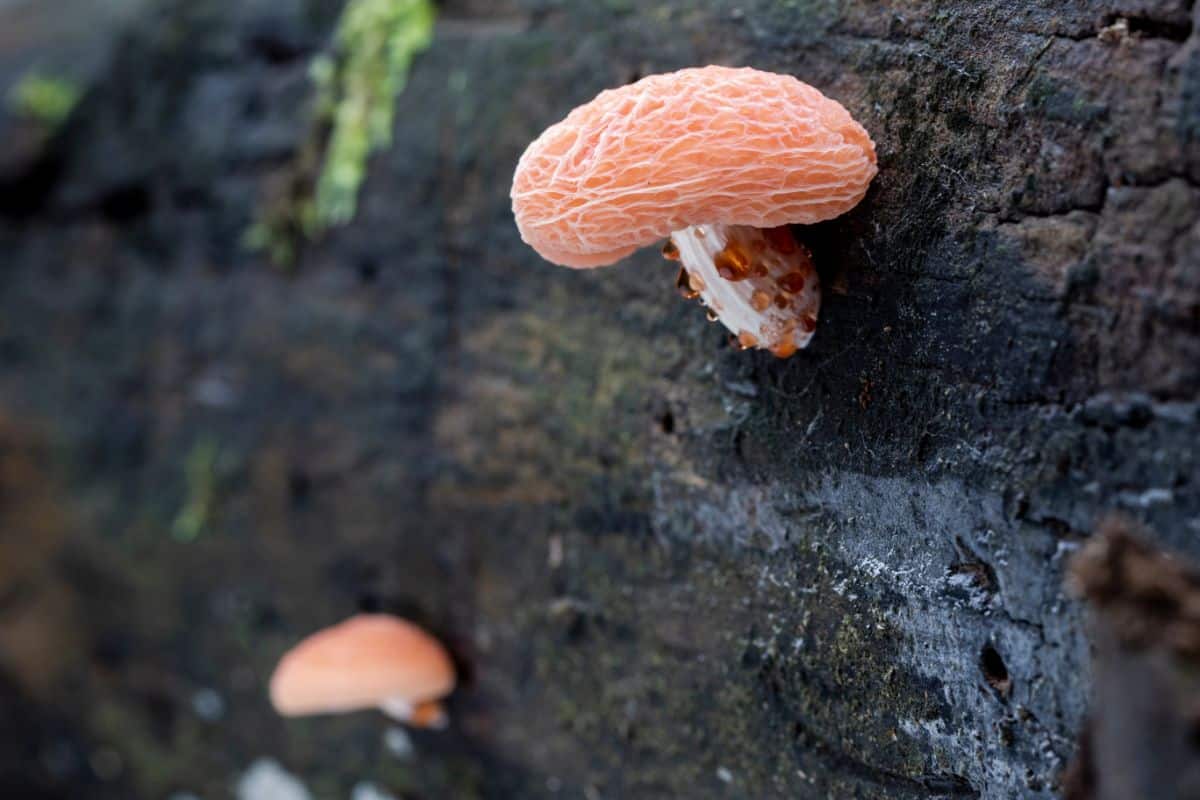 Wrinkled Peach Identification
Season
The wrinkled peach appears from late spring through fall.
Habitat
Wrinkled peach mushrooms are saprobic, obtaining nutrients from decaying organic material. They grow on dead hardwood logs, like maple, elm, and basswood.
They especially like wet, decaying, and low-lying logs, preferably ones that are flooded periodically. Wrinkled peach mushrooms are most often found in shaded forests, which don't receive a lot of light. They appear alone or growing in scattered groupings or clusters. They grow east of the Great Plains.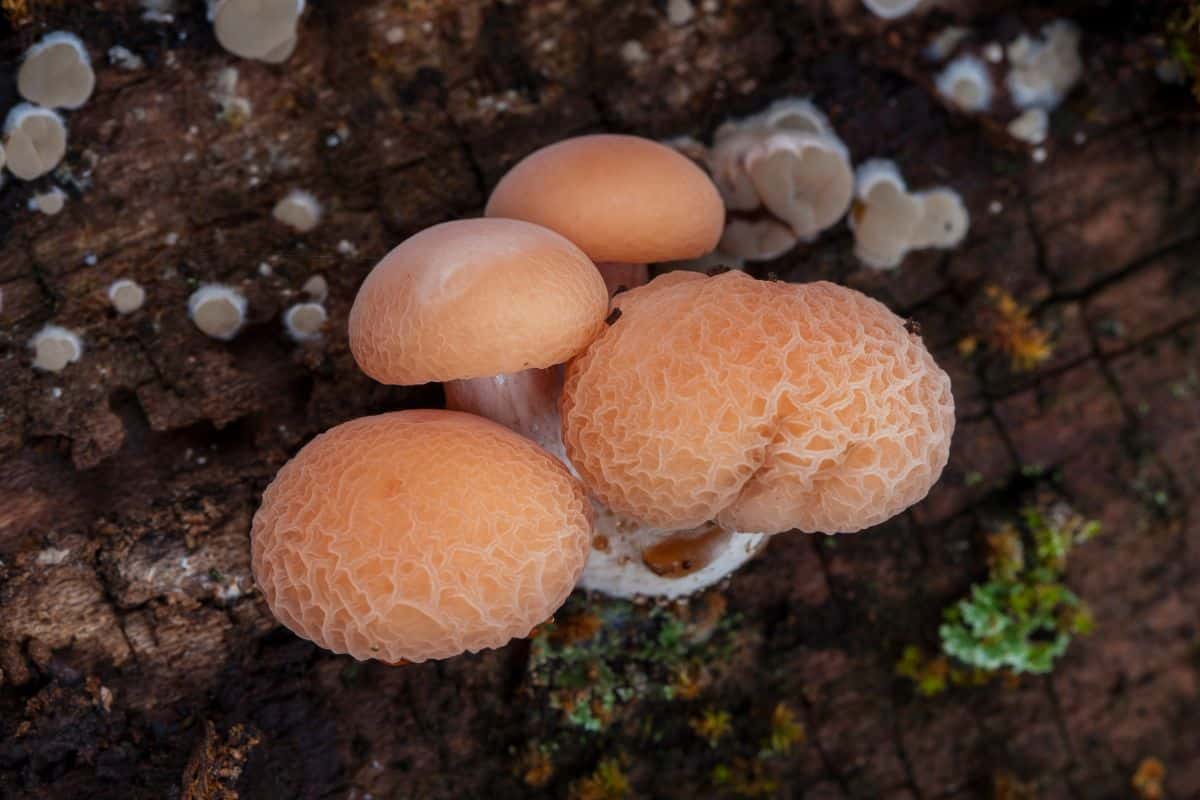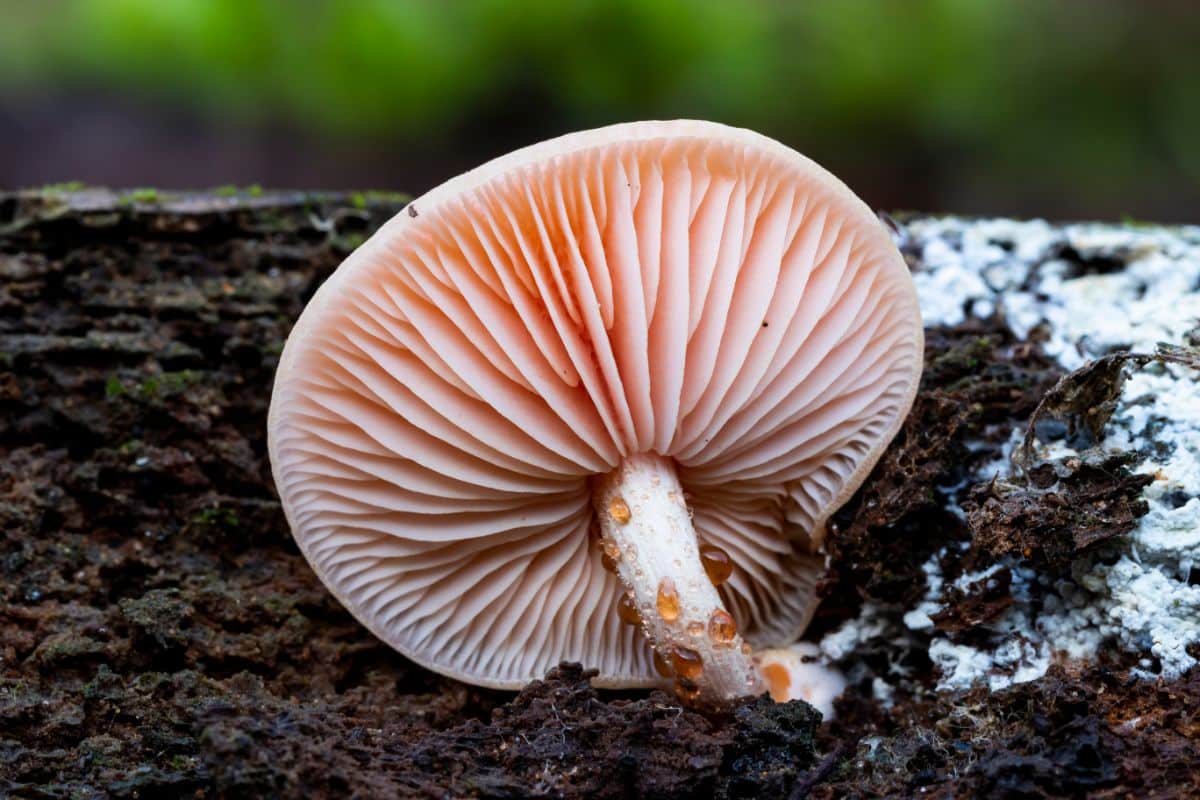 Identification
Cap
The cap is pink when very young but becomes more peach-colored with age. At first, it is very rounded but then matures to convex with its edges rolled under. With maturity, it will eventually flatten out. The cap shape and color resemble a peach, often developing a deep reddish orange coloring.
Wrinkled peach mushroom caps are thick and gelatinous, with skin that can be peeled off completely. The skin is sticky and often bald, without any decoration. They may also feature a broad white netted pattern with interconnected veins and ridges that make them look wrinkled. The caps range from 1-3.25 inches wide.
When the wrinkled peach chooses not to develop a deep reticulation, the mushroom is a lot less remarkable and often overlooked. Non-netted caps are dullish orange to orange-tan and plain. Check the flesh texture and growth habitat to verify your find.
The variances in shape, size, and coloring are due to how much light the mushroom receives as it is growing.
Gills
The gills of the wrinkled peach are closely spaced and attached to the stem. There is a combination of short and long gills, with some not reaching all the way to the stem. When young, the gills are white, but they turn light pink or peach with maturity. They are usually paler than the cap color.
The stem is sometimes seen with reddish or orangish droplets that make it look like it is bleeding. These droplets actually appear before the fruit body does and usually disappear with age.
Stem
Wrinkled peach stems are usually a little off-center, equal in length, and .25-1.5 inches long. They start out whitish or pinkish but may also be a light tan. They don't have any decorations. The stems often are curved due to their growing habit, which has them fruiting out of the side of a dead log. Stems also vary in size due to how far the mushroom has to stretch out to receive adequate light.
Flesh
The flesh of the wrinkled peach mushroom is whitish to pinkish and does not change color when cut or bruised. It is firm and rubbery in texture.
Odor and Taste
The odor of the wrinkled peach is undistinctive, and the taste is bitter.
Spore Print
Very pale pink or possibly whitish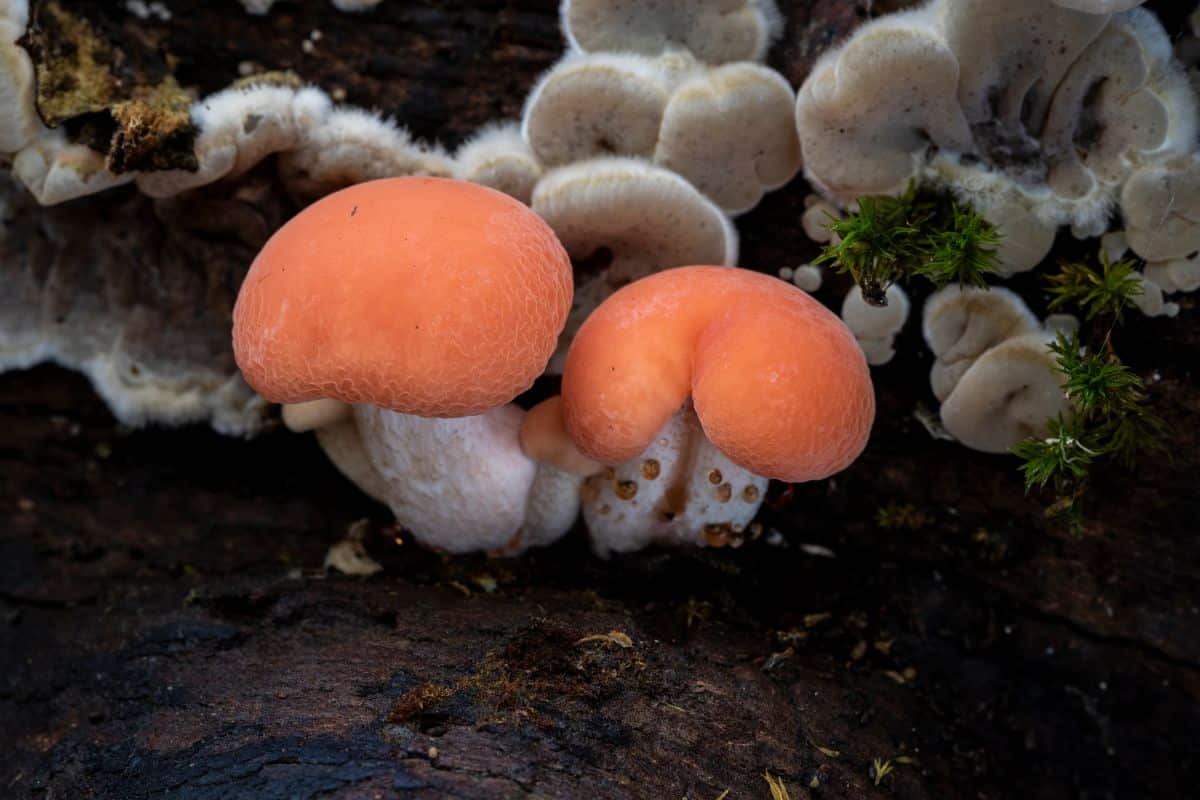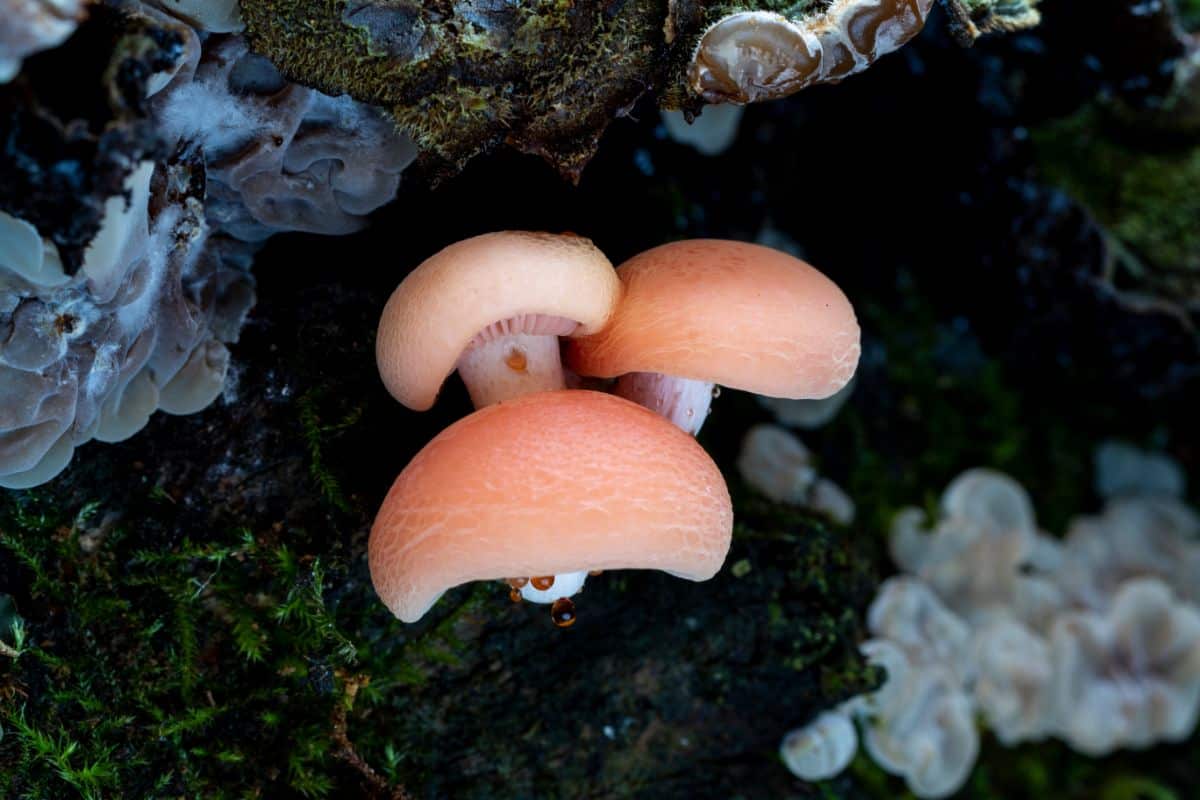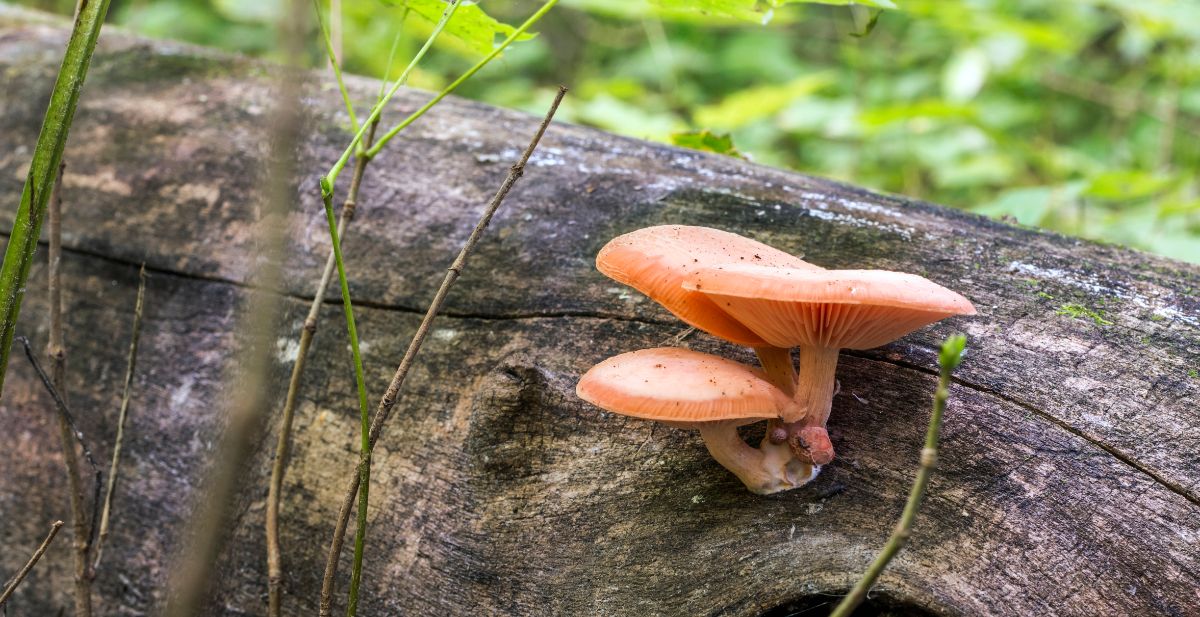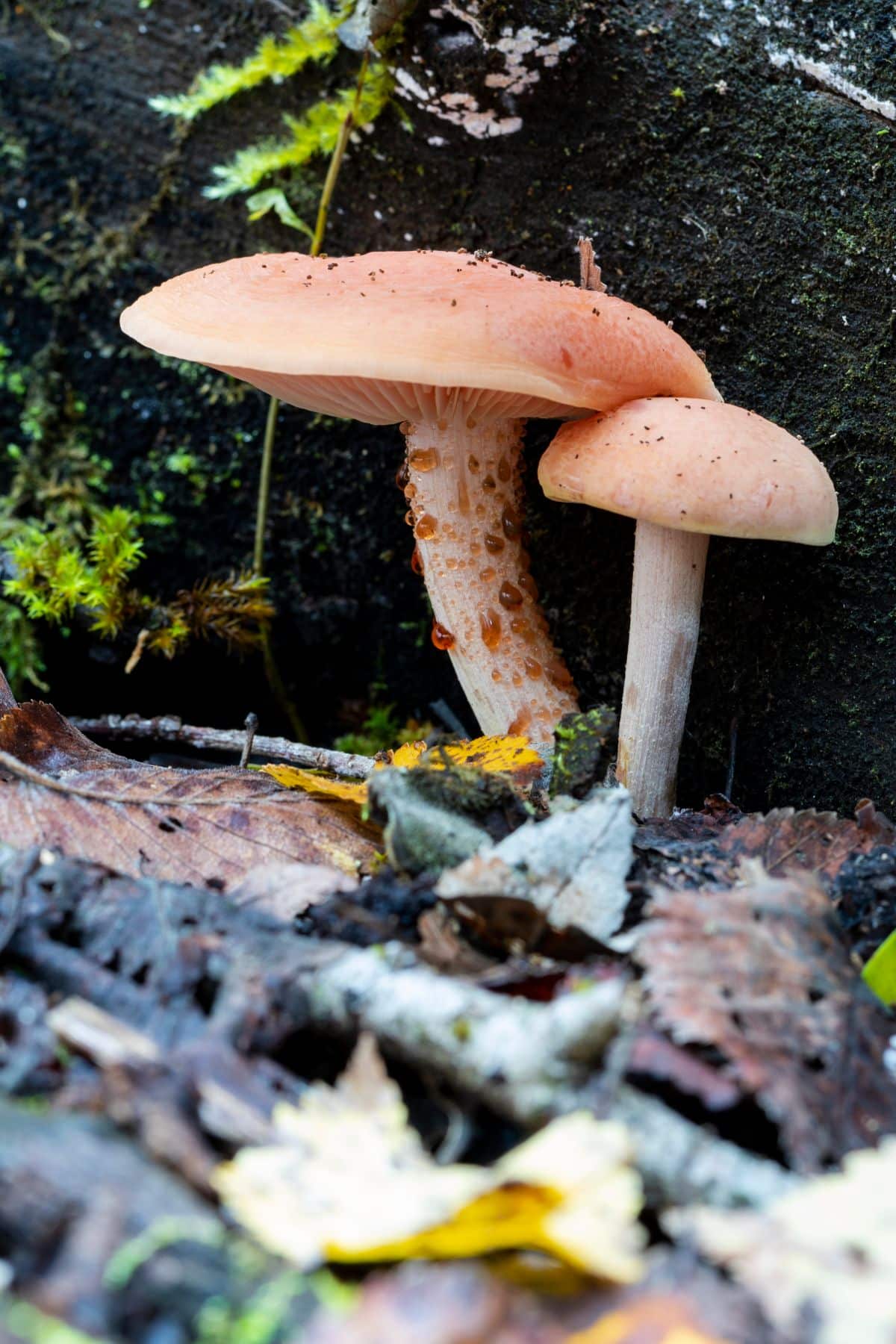 Wrinkled Peach Lookalikes
While the wrinkled peach is a unique mushroom, there are other species that may bear some resemblance to it. It is important to be aware of these lookalikes and understand how to differentiate them from the wrinkled peach.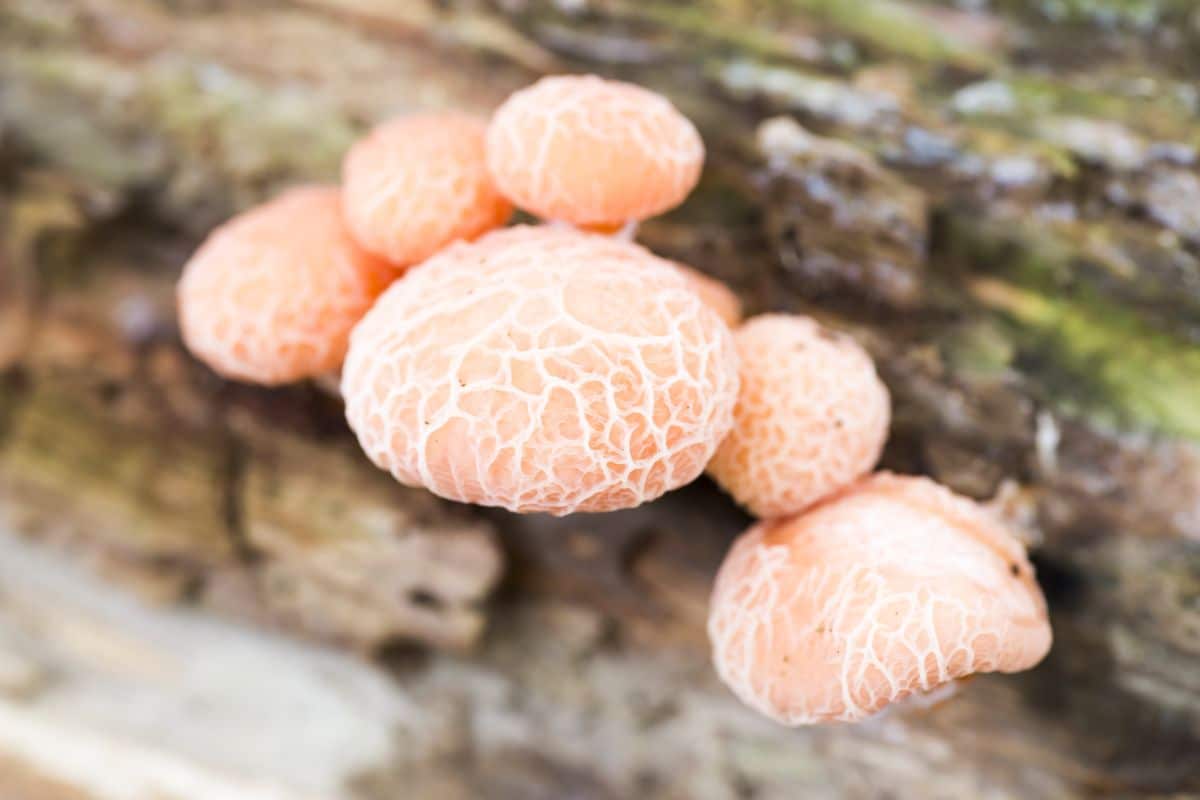 Wrinkled Peach Edibility
The wrinkled peach, despite its captivating appearance, is an inedible mushroom. Its rubbery and gelatinous texture, along with its bitter taste, makes it unappealing for culinary purposes.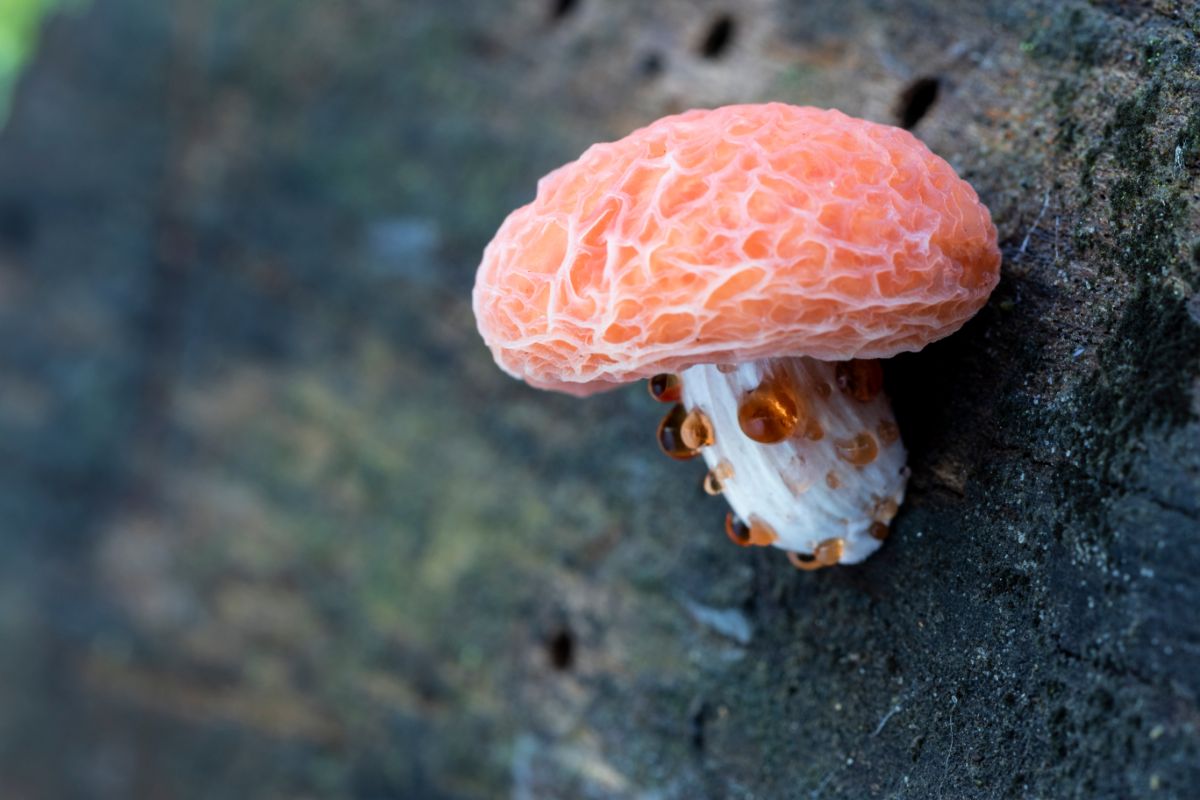 Wrinkled Peach Mushroom Common Questions
Is Rhodotus palmatus poisonous?
Rhodotus palmatus, the wrinkled peach, is not poisonous. However it is very rubbery and has a bitter flavor, so not worth eating.