The white coral fungus, also known as the crested coral fungus, is a common and edible species. However, it is not usually collected for the table due to its bland taste and insubstantial volume. White coral mushrooms (Clavulina coralloides) grow widely across North America and are a regular forest find.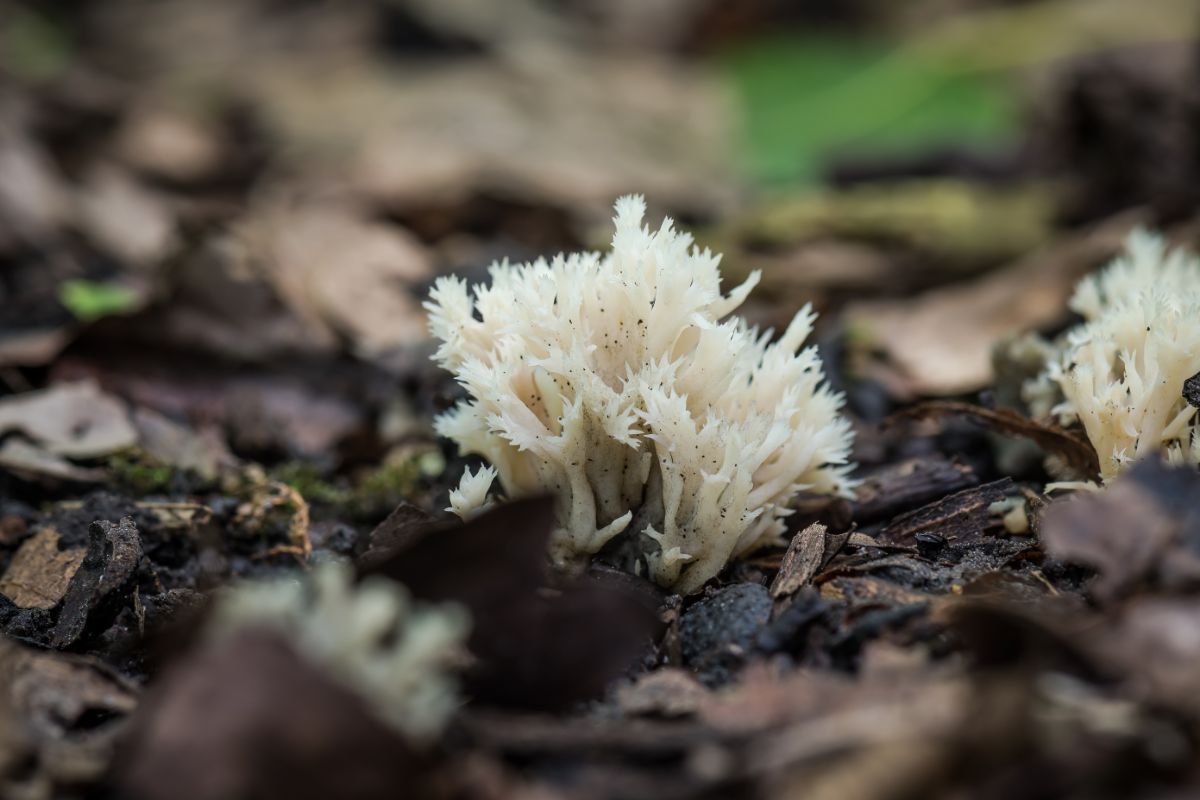 Jump to:
All About White Coral Fungus
White coral mushrooms are commonplace in the forests of North America, most often around conifer trees. However, they don't limit themselves to just conifer. This species is edible, but few people forage it. It's an excellent mushroom to know, though, due to its prevalence.
Coral mushrooms look like coral from the ocean, and the crested coral is no exception. The multi-branched growth, thin extensions, and wispy appearance make it look like it belongs deep underwater. But you won't find this mushroom in any body of water; it grows from the ground on forest floors.
Due to naming conventions, the scientific name for this species should be Clavulina coralloides. However, the name Clavulina cristata is still very widely used across guidebooks and is just more common in general. At this point, either of these names is "acceptable" for this species, so don't be surprised to see both.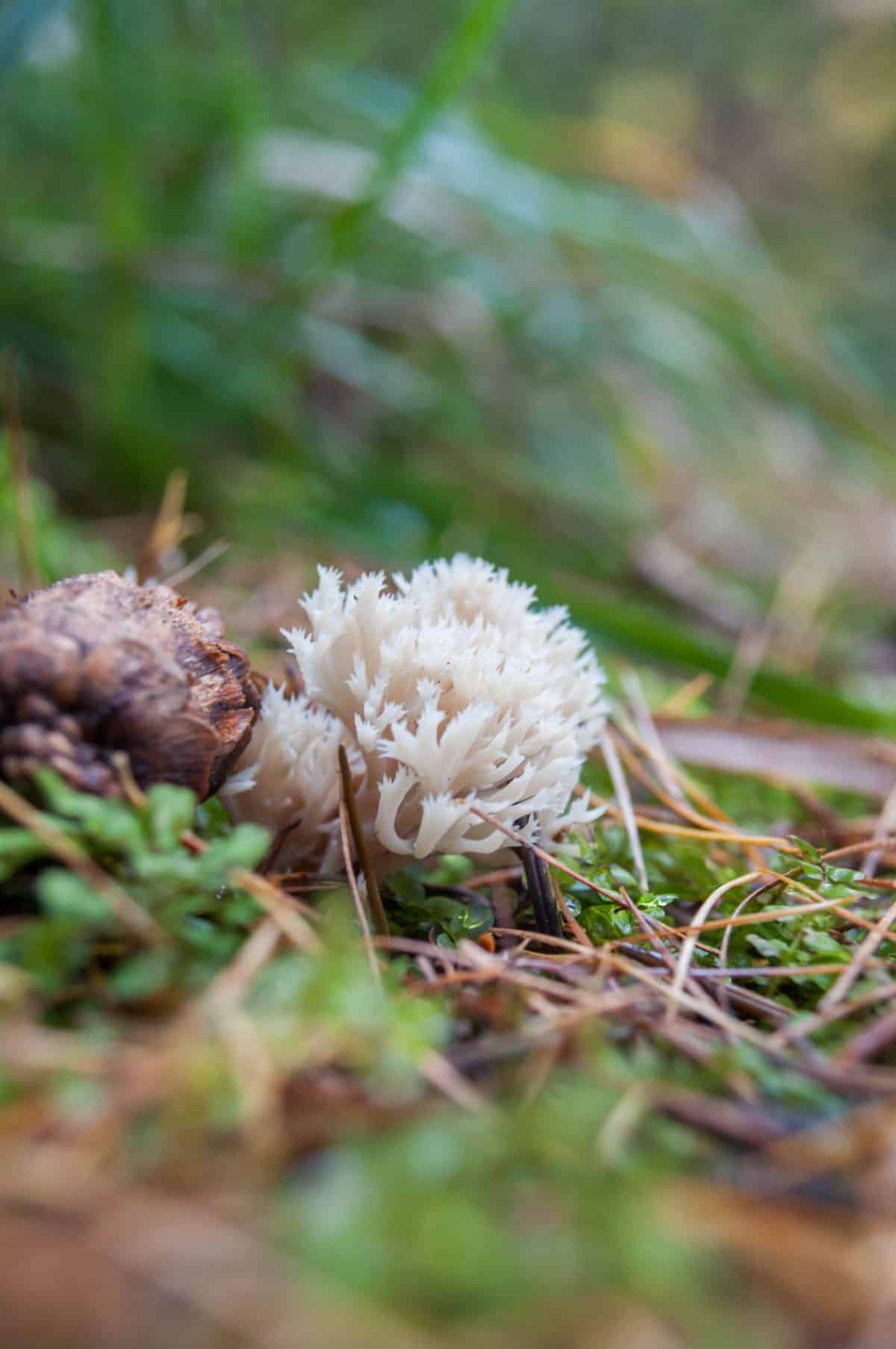 White Coral Fungus Identification Guide
Season
Late summer into winter.
Habitat
White coral mushrooms grow primarily from the ground but are sometimes found on very rotten wood. It appears in conifer and hardwood forests and is thought to be mycorrhizal with conifer. And probably hardwoods, too, though less is known about that. It is most commonly found around pine trees.
The coral grows singularly or in dense groupings or in dense clusters.
Identification
The white to cream-colored coral fungus grows between .75 – 4 inches tall and is between 1 – 4 inches wide. Its branches are usually white and smooth and grow sparsely or somewhat densely. Each specimen branches approximately 3-4 times, often with the branches fusing together in the middle or closer to the base. Sometimes, the fruiting bodies look pretty large, but closer inspection shows it is more than one specimen growing in very close proximity.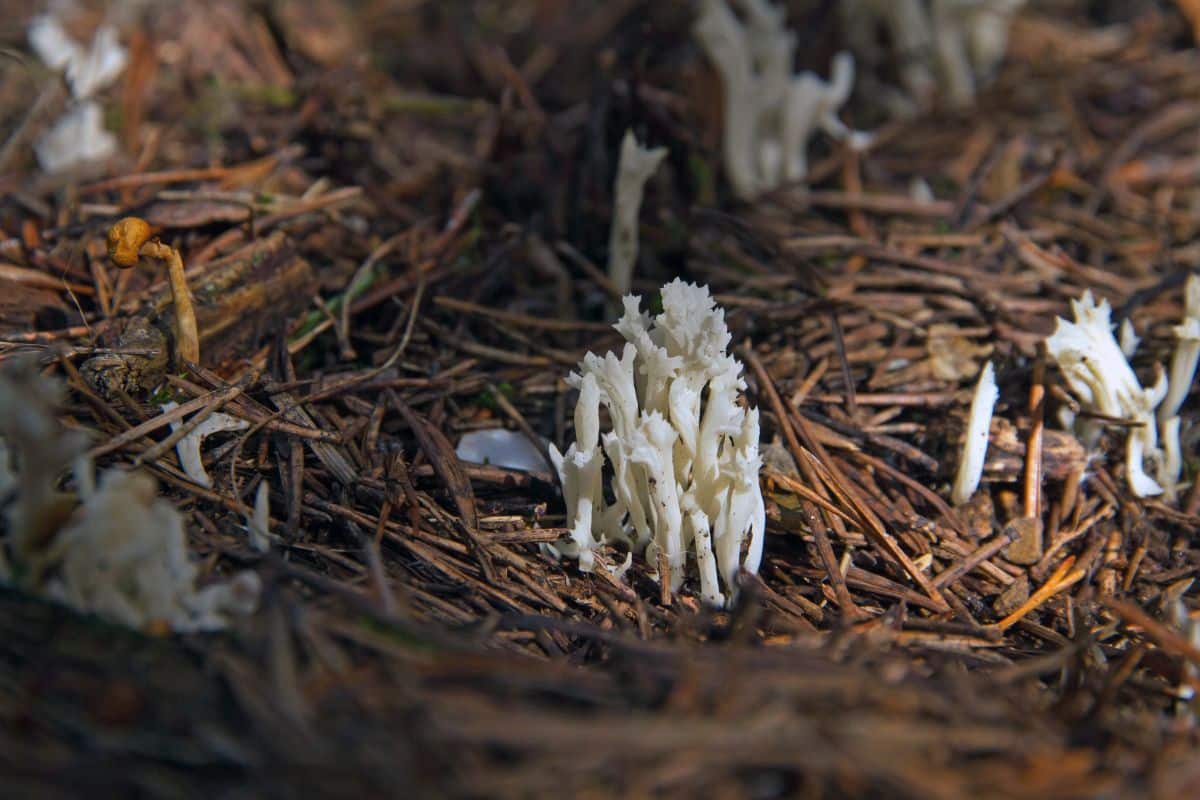 The branches are thin with tips that are either the same color as the rest of the fungus or tan. When very young, the tips are usually rounded without much definition. As it matures, though, each tip flattens out and forms tiny little teeth, creating a cristate pattern – a crest or tuft that sprawls widthwise to resemble a fan. It looks a bit like a little spork at the top of the branch. Or a multi-pointed mohawk haircut. At the base of the coral, the flesh is usually white.
White coral fungi generally start out white, but they do vary quite a bit in coloring as they mature. The branches turn pale pink or deep pink, then morph to brown. The flesh is white and quite brittle, and there is no distinctive smell or taste. Spore prints are white.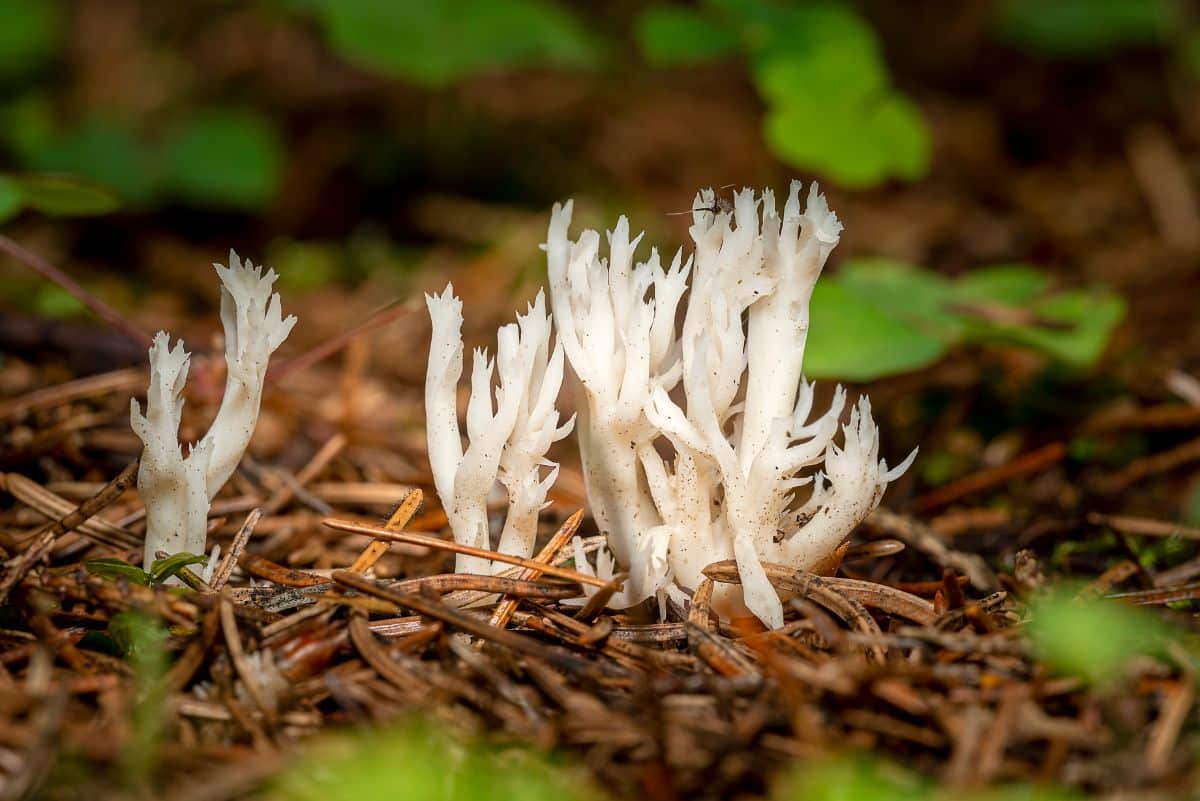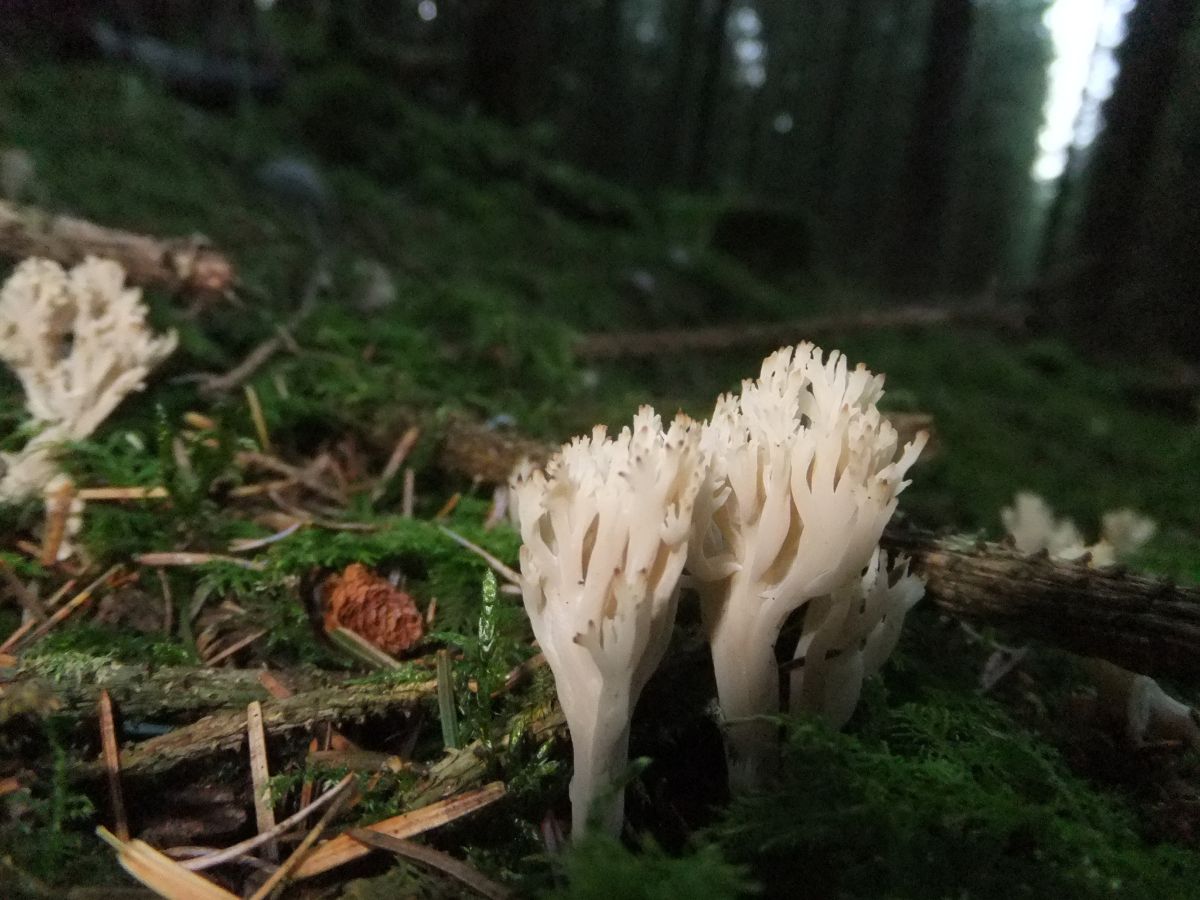 White Coral Fungi Parasitization
White-crested corals are prone to parasitization by the fungus Helminthosphaeria clavariarum. This secondary fungus attacks from the base of the white coral and causes gray to black coloring. At first, the parasitizing fungus creates minuscule black dots near the bottom of the white coral. Then, it morphs and spreads across the entire mushroom.
H. clavariarum is a common parasite of the white coral fungus and should be included as part of the identification process.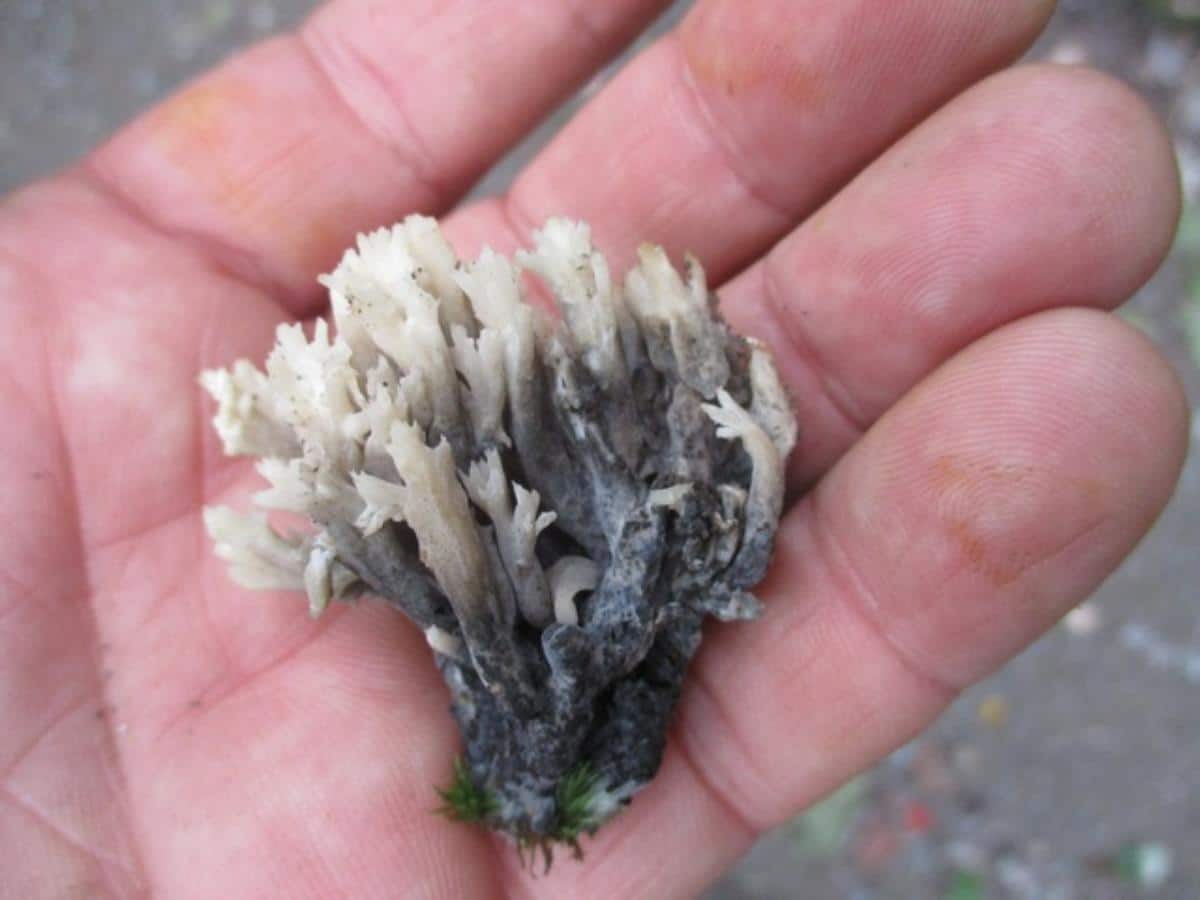 White Coral Fungus Lookalikes
Wrinkled Coral Fungus (Clavulina rugosa)
In its "normal" form, Clavulina rugosa is quite different looking from the white coral fungus. It has minimal branching, a rough surface, and blunt branch tips. However, it is not uncommon for this fungus to morph into other forms for reasons we don't fully understand. And these other forms look remarkably like the white crested coral, including the profuse branching and cristate tips.
This species even is a frequent victim of the Helminthosphaeria clavariarum parasite, which causes the blackening of the base and branches. It has been suggested that these two coral fungi are, in fact, the same species, but more research needs to be done to clarify this issue. For now, they are separate species that can look very different or basically identical.
The wrinkled coral is edible, so there are no worries about mistaking them for the dinner table. However, like the white crested coral, it is considered not worth foraging due to its small size and lack of flavor.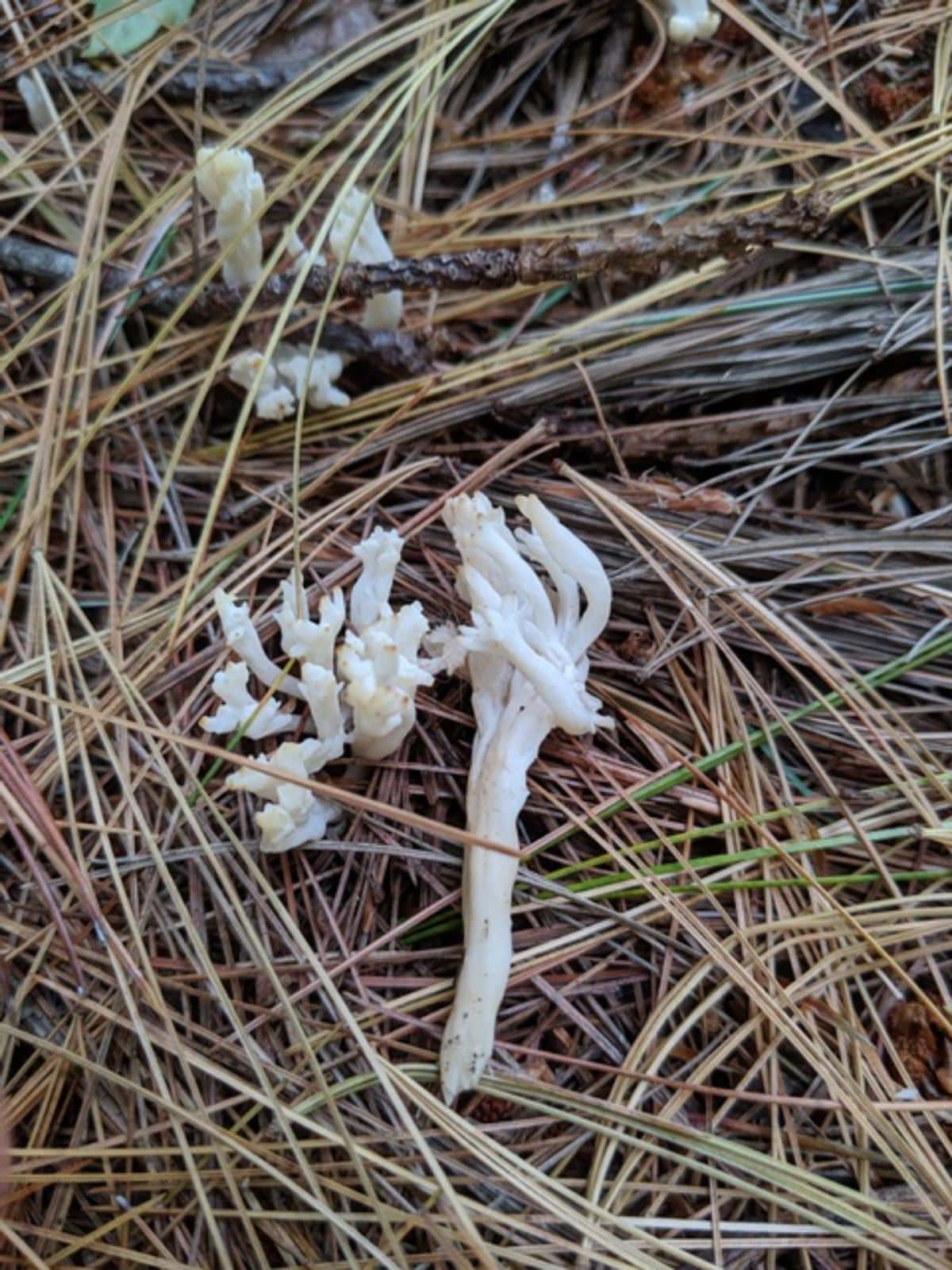 Clavulina cinerea
This widespread coral fungus is easier to identify when young, with pretty lilac-tinged branches. With age, though, the coloring turns bland brown or grey, making it very unremarkable and often overlooked. It appears in mixed hardwood and conifer forests late in the season. It is also edible but rarely foraged because of its insubstantial body and bland taste.
The confusion starts with the branch tips. C. cinerea might have blunted branch tips or cristate tips. When it has cristated tips, it resembles older, darker versions of the white coral fungus. Or specimens of the white coral that have been parasitized and become darker due to that.
It may be that these three lookalike species (c. cristata, c. rugosa, and c. cinerea) are all actually the same. Studies in the future will hopefully clarify this issue. For the forager, though, the differences aren't as important as all species are edible and treated the same.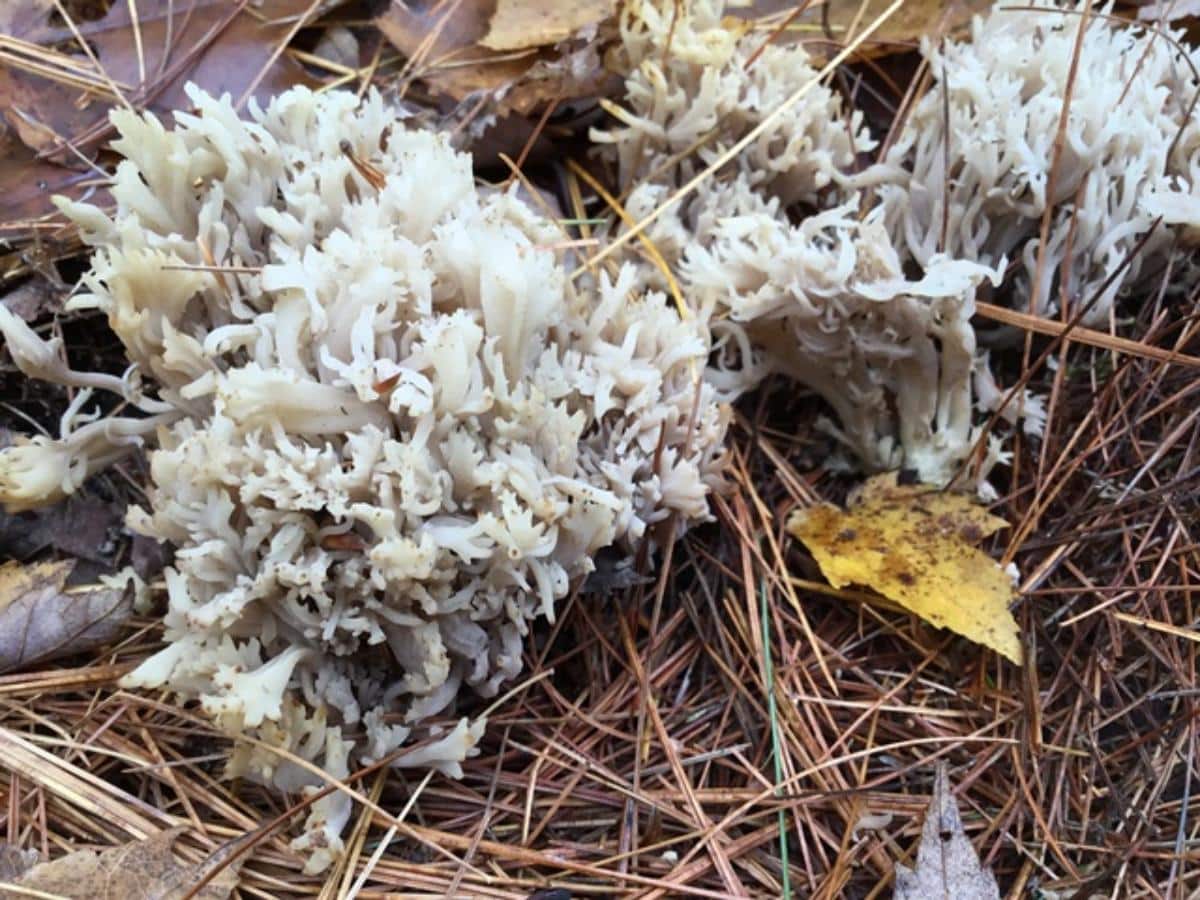 Crown Tipped Coral (Artomyces pyxidatus)
The crown-tipped coral only superficially resembles the white coral fungus. But, the crown-tipped is a choice edible that everyone hopes to find, so there is some confusion. Usually, this confusion is by hopeful foragers looking for an excellent culinary treat.
There are several keys and easily discernible differences, though. Crown-tipped corals grow from rotting wood, not from the ground. And they grow on dead hardwood and are not associated with conifers like the white coral fungus. The branch tips feature a cup-like depression which is surrounded by 3-6 "crown" points. There is no cristate pattern.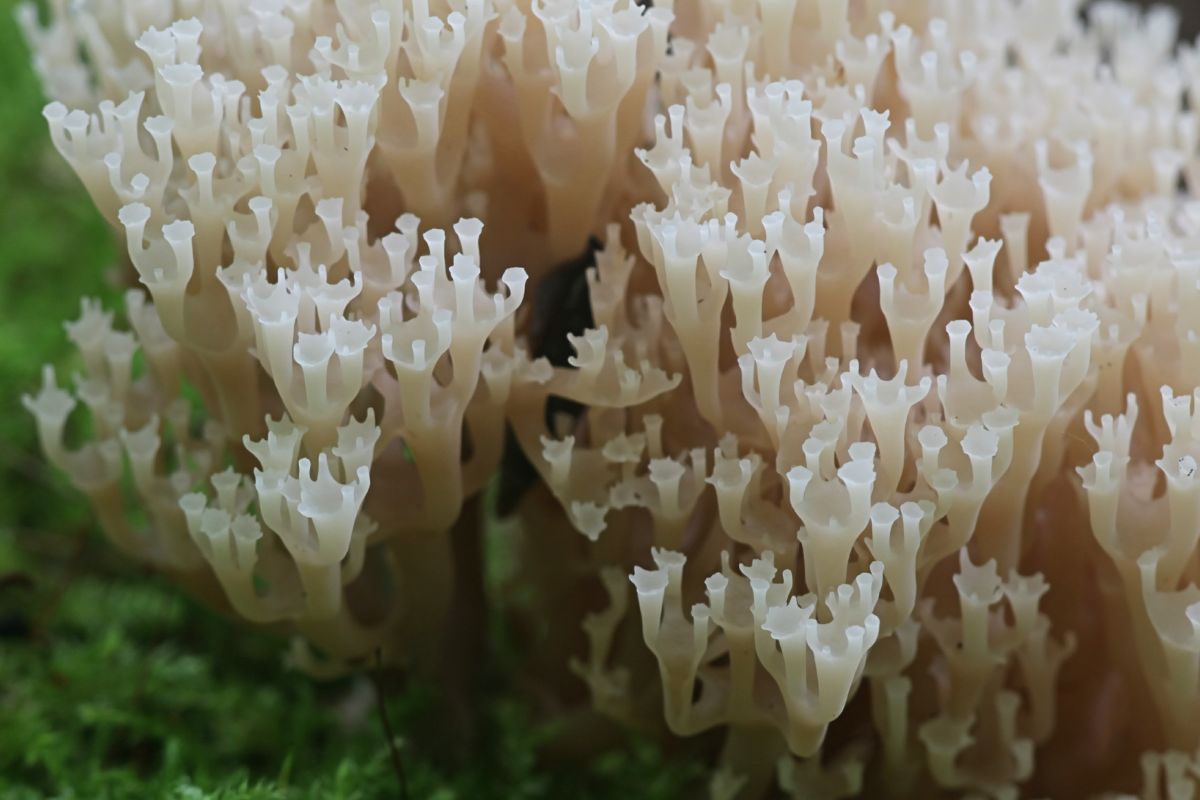 Foraging The White Coral Fungus
The white coral is quite fragile. Put foraged species in a separate bag or container to keep them from getting crushed. Only pick young specimens, as older ones are tougher.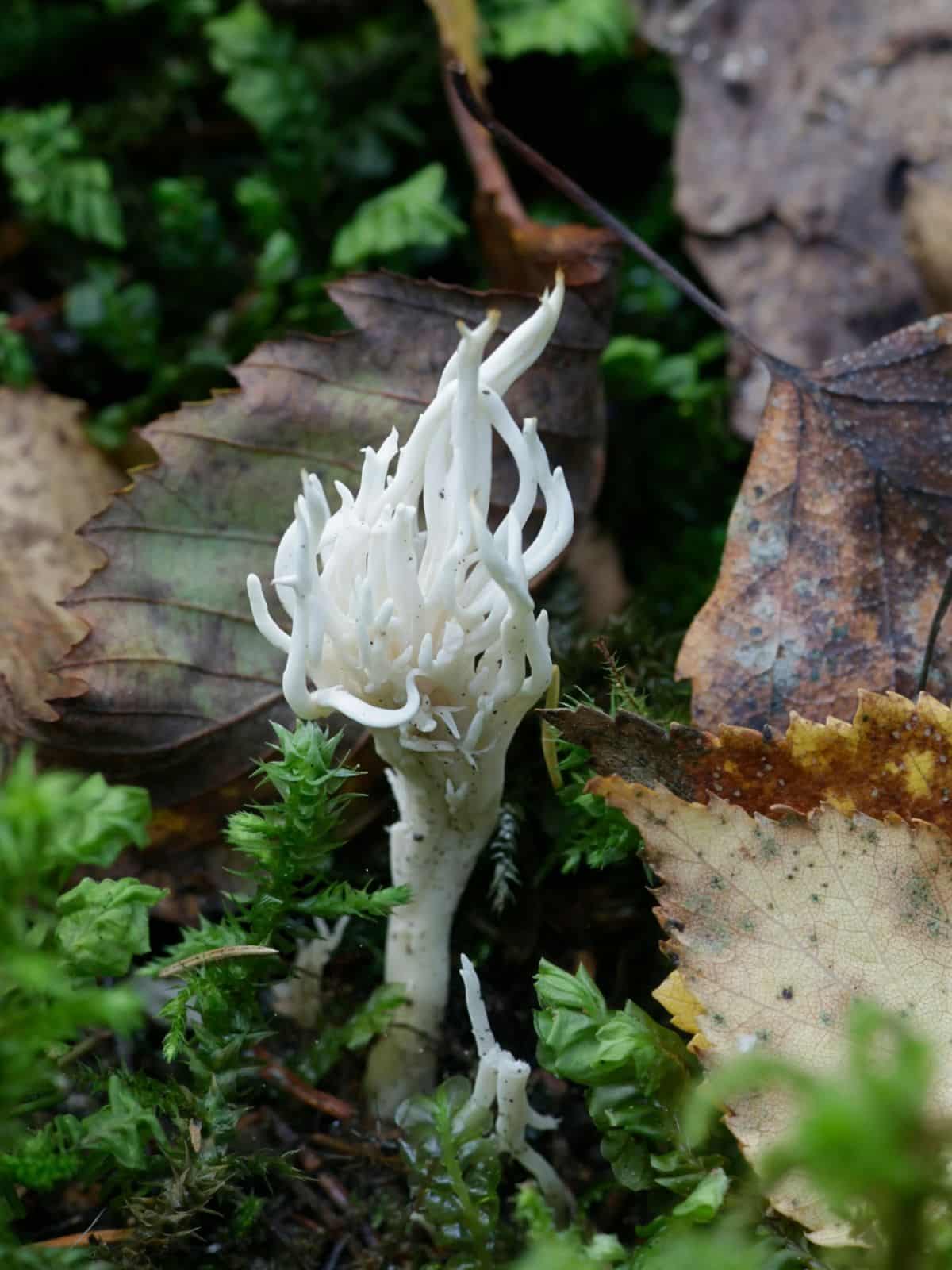 White Coral Mushroom Edibility
This mushroom is edible and considered choice by some. Others find the small fruiting bodies, tough-ish flesh, and bland flavor a deterrent. The white coral fungus is lovely pan-fried with lots of garlic and herbs to enhance its flavor and crisp it up. Cook them first, then use them as pizza toppings, salad garnish, or a small side dish.
If you have any recipes, we'd love to see them!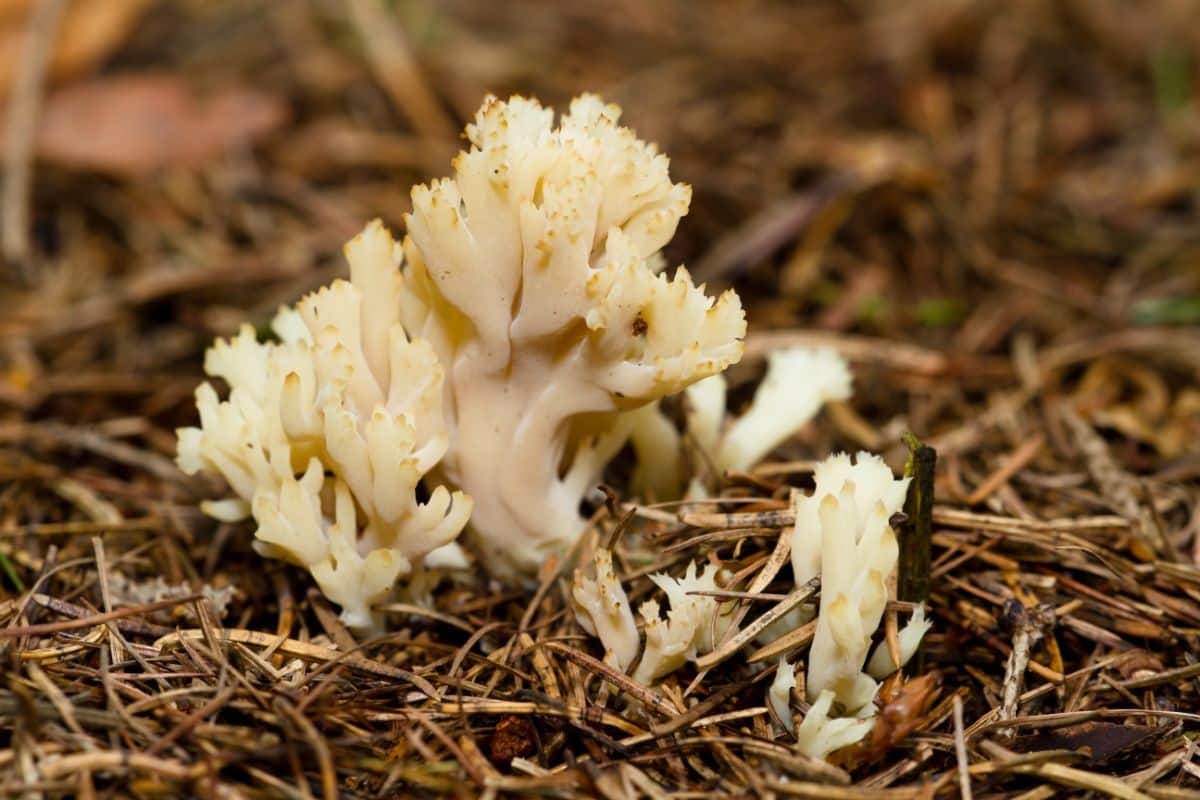 Are coral mushrooms toxic?
There are hundreds of coral mushroom species; some are edible, and others are toxic or poisonous. To determine toxicity or edibility, you must identify the species first. White coral mushrooms, described in this article, are edible but not generally collected because it lacks substance and flavor.